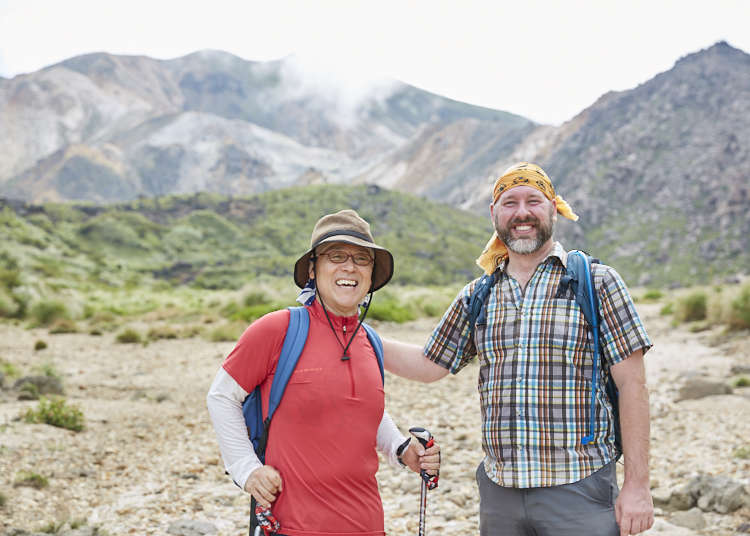 Today, we join Mr. Tetsu Morita, a Japanese tourist spot hunter for Michelin Green Guide Japan, in Kyushu's Aso-Kuju National Park. Here, beautiful grasslands abound and volcanoes such as Mount Aso tower above some of the world's largest calderas.

The locations here are also easily accessible to and from the venues of the Rugby World Cup, including the Oita Sports Stadium Showa Denko Dome and the Kumamoto Egao Kenko Stadium. Such convenience is sure to make for a fun and enjoyable trip.
Features of Aso-Kuju National Park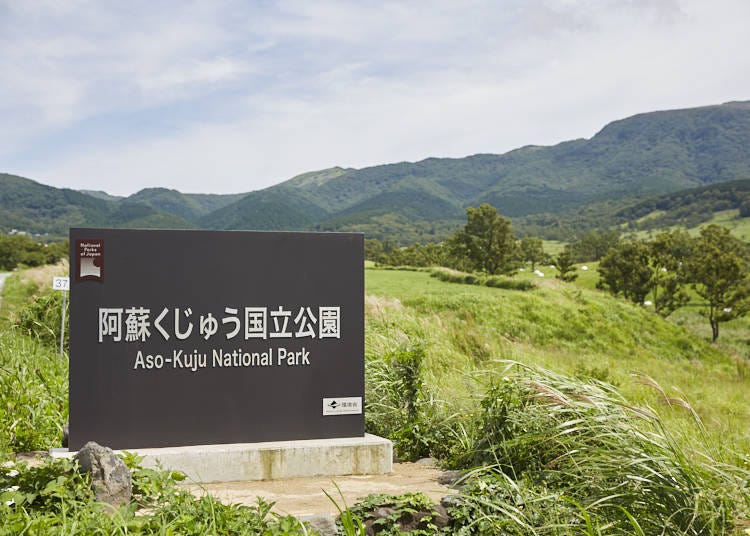 Our trip begins from the Chojabaru Visitor Center, one of the entry points to the Kuju Mountain Range of Aso-Kuju National Park. It is located about 2 hours away by car from Fukuoka Airport, the main airport used by tourists visiting Kyushu, Japan.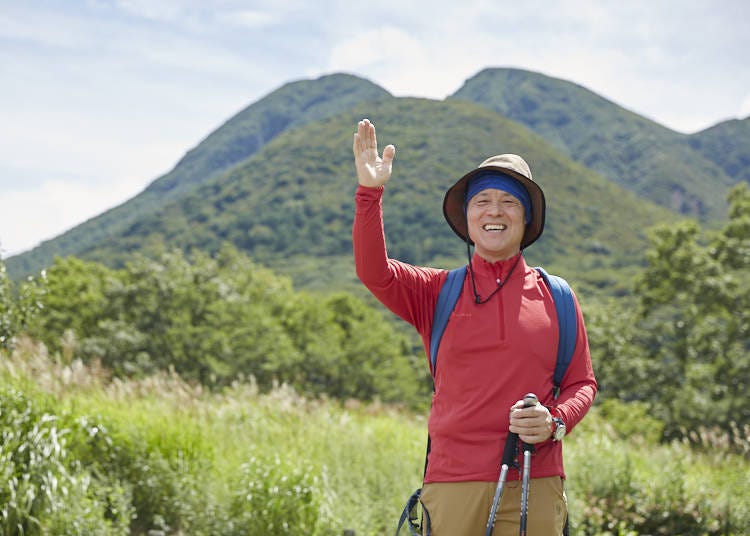 Morita: "Today, we will start our trek from this Chojabaru trailhead. As a volcanic mountain, this course offers many unique natural landscapes that you can see in a single day, such as wetlands, grasslands, and climbing rocks. There are even wasteland areas that make you feel like you're on Mars, with steam rising up from the ground. It's sure to be a satisfying journey even for those may be accustomed to hiking."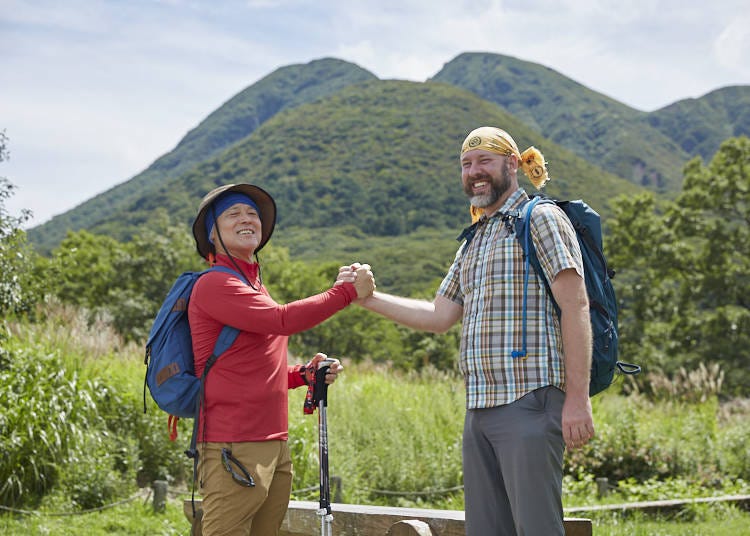 Timothy: "This is a national park, right?"

Morita: "Yes. This national park is managed by the Ministry of the Environment to protect Japan's beautiful, natural landscapes. Aso-Kuju National Park spans Kumamoto and Oita Prefecture, with Mount Aso and Mount Kuju at the center, and covers an area of over 70,000 hectares."

Timothy: "So this entire area is a designated national park. What are some of its features?"

Morita: "Undeniably, it's the volcanic nature of the mountains that you can not just see, but feel. The caldera formed from the eruption of Mount Aso is said to be amongst the largest in the world, with a length of 18km from east to west and 25km from north to south. Remnants from the eruption, such as piled-up volcanic ash, caused part of the mountain to collapse, resulting in the formation of a gigantic crater in the center of the volcanic cones. That is what is now the caldera. It has a unique terrain surrounded by the outer rim and spectacular sight of vast expanses of grass and smoke rising from the central crater."

Timothy: "I heard that cattle are also pastured around this caldera."

Morita: "Yes, this is where the brown cows that Akaushi Beef comes from are raised. The Aso Plateau is a grassland where Akaushi cattle graze for food, which is also a factor behind the maintenance of Aso's grasslands."
Chojabaru Visitor Center: Everything You Need to Know Before Your Hike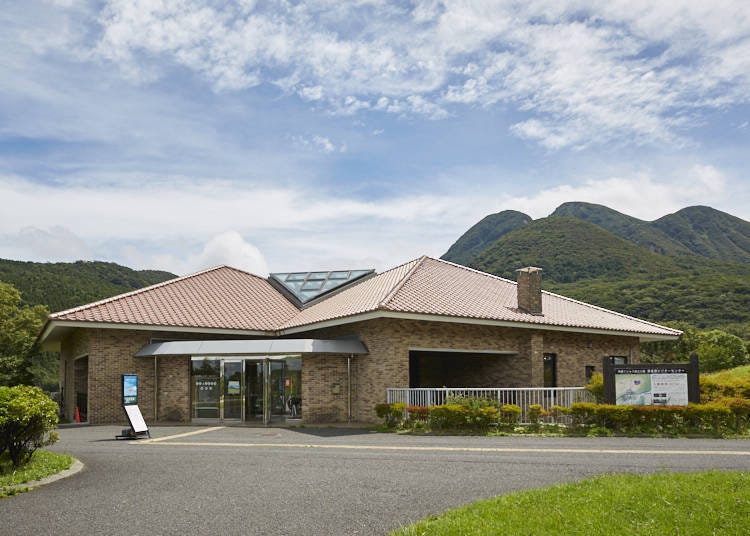 We meet at the Chojabaru Visitor Center, one of the facilities you definitely want to visit before setting out on your hike. The bright, clean building was recently renovated in 2015.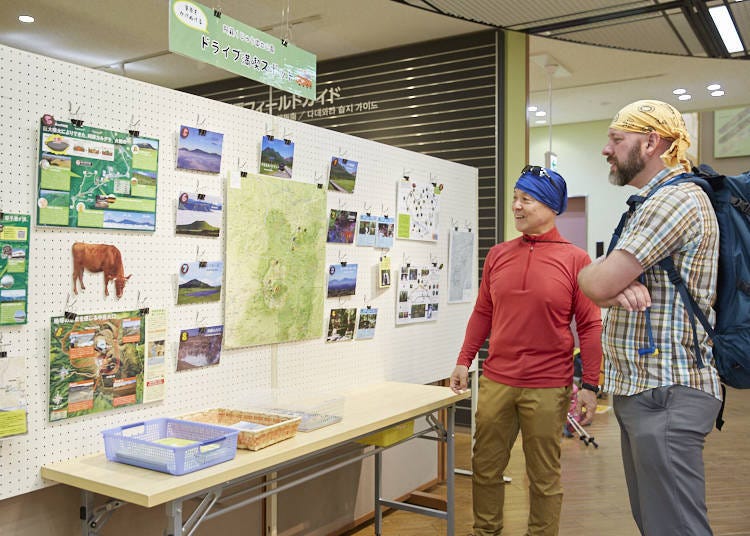 There is a staffed information corner where you can get information about the mountain trails and weather forecasts, as well as a seasonal display about the mountains and a video screening on the controlled burning process of the plains. There is also a viewing space overlooking the scenery of Tadewara Marsh and Mount Mimata.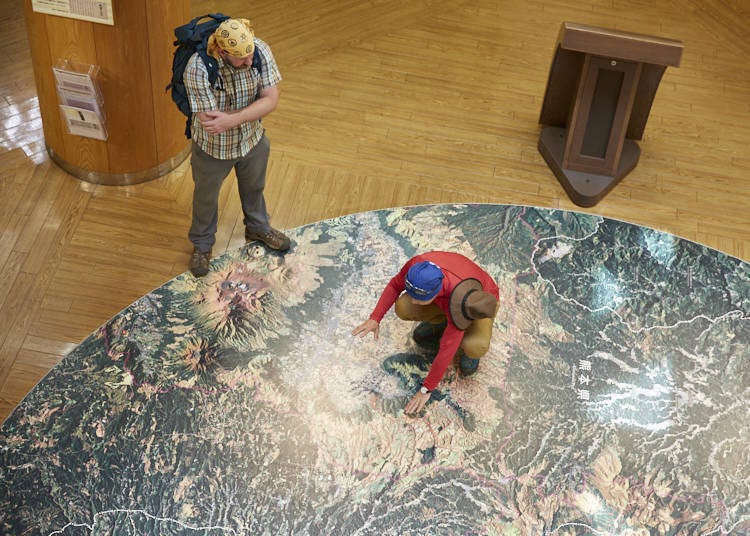 Morita: "Despite being a volcanic area, the surrounding mountains are very green, and the neighboring Tadewara area is a wetland. There's an amazing contrast between the hot and humid monsoon climate of the forests and the appearance of the volcano. The top of the mountain may look dry, but actually it's an area that receives a lot of rain from the Pacific Ocean and the South China Sea. This is what leads to the growth of these lush wetlands and forests of broadleaf trees.
長者原ビジターセンター

Address

255-33 Tano, Kokonoe, Kusu District, Oita 879-4911

Phone Number

0973-79-2154

Hours of Operation: 9:00AM~4:00PM (~5:00PM from May~October)
Regular Holidays: 12/29~1/3
A Trekking Course of Wetlands, Hot Springs, Forests, Rock Climbing, and More!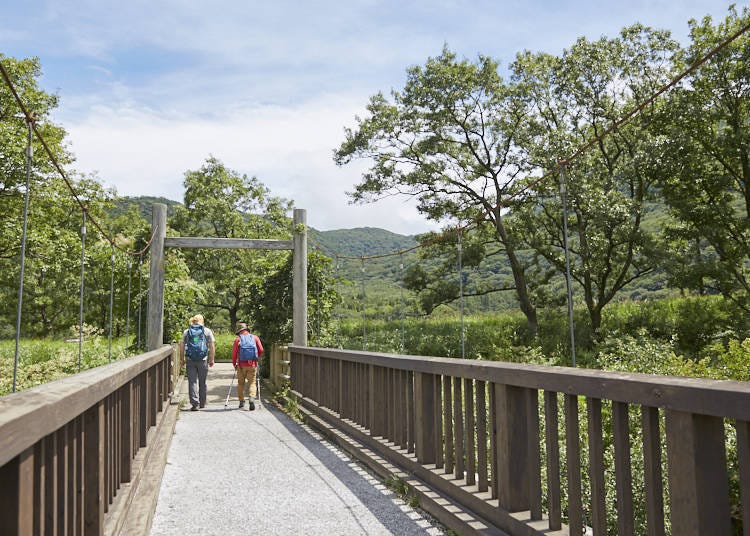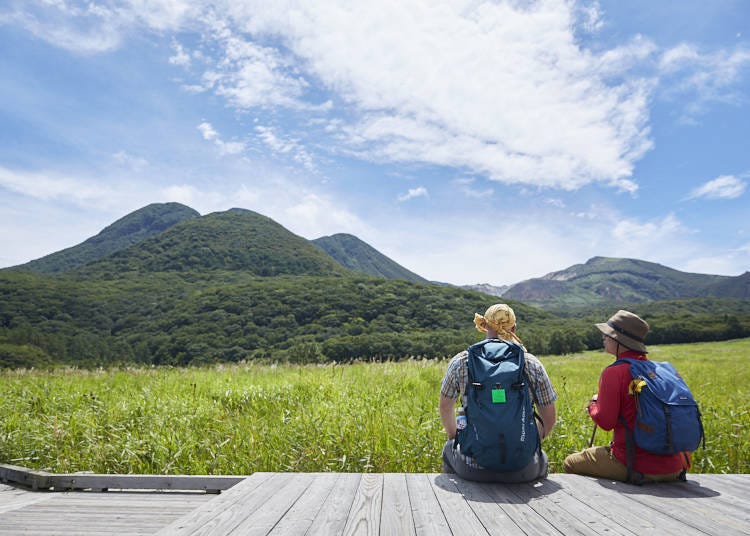 Morita: "Now let's begin. You can probably see those three peaks up ahead. That's Mount Mimata. Today, we will cross the Tadewara Plains, climb up through the forest on the slope of the Mount Yubiyama, and arrive at Amagaike Pond. Then we will descend and come to the Bogatsuru Marsh, a wetland registered with the Ramsar Convention together with the Tadewara Wetlands. Inside the wetlands is the Hokkien Sanso Onsen, where we will take a break. Afterwards, we will proceed to climb up the steepest and rockiest trail of today, where we will come to Sugamori Pass near Mount Iwo. Then we will descend from there. It's about a five-to-six hour course."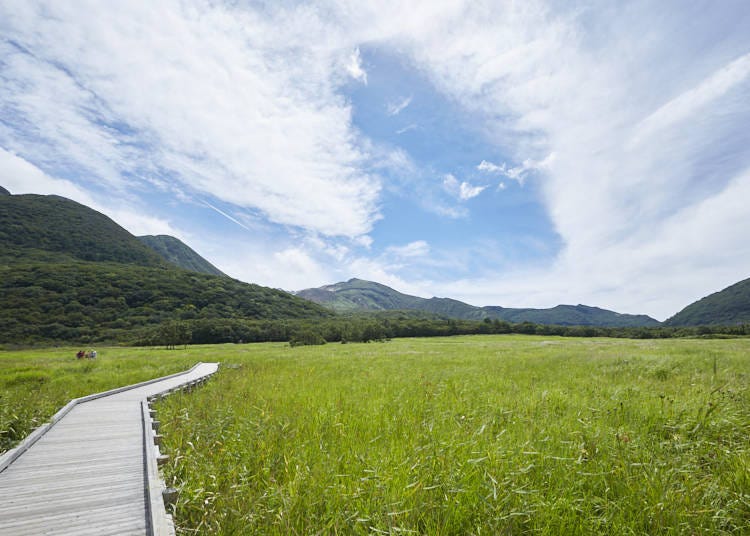 First, we head towards the mountain through the Tadewara Plains. Because there are wooden paths set up through the marshes, it is easy to walk through comfortably wearing light clothing.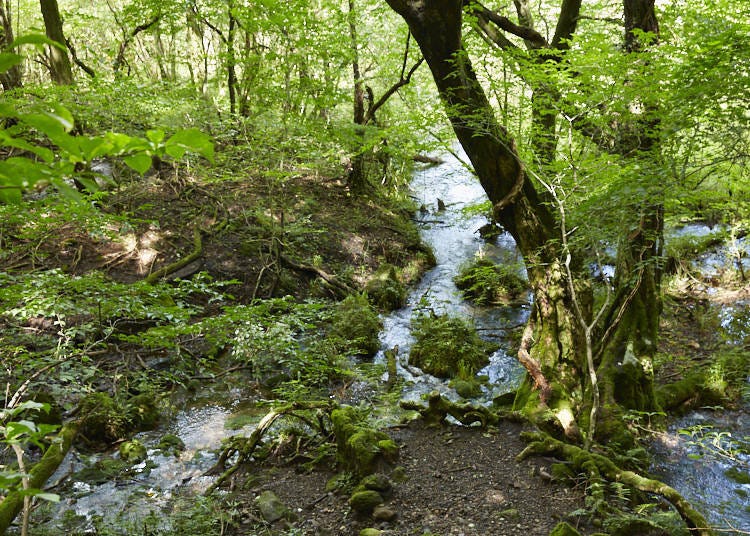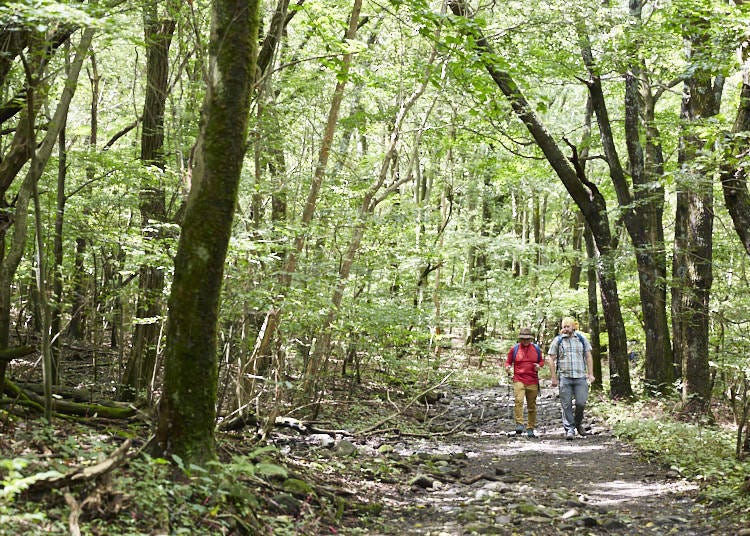 Emerging from the marshes leads into the wetland forest. You will have to do a bit of climbing from this point, so it is recommended to wear good hiking shoes. This course will involve climbing through the forest for about an hour.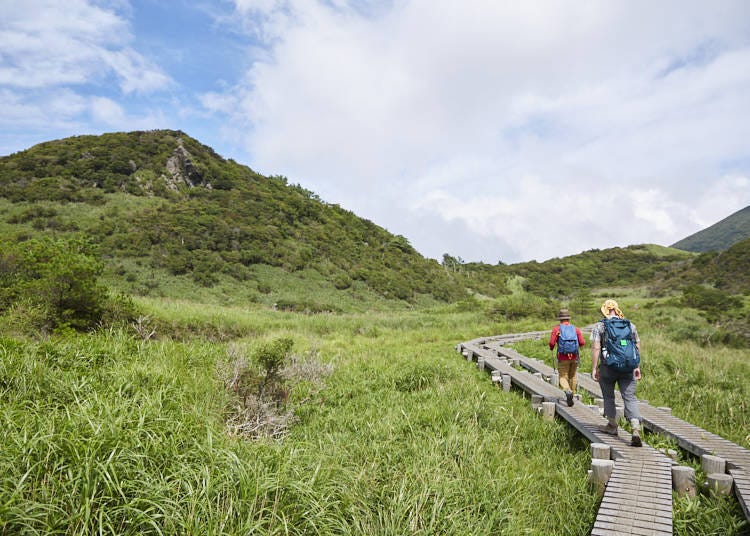 After getting through the forest, we arrive at Amagaike Pond. When it rains, this area becomes submerged and forms into a pond. There is a wooden path here as well. The walk through Amagaike Pond takes about 30 minutes.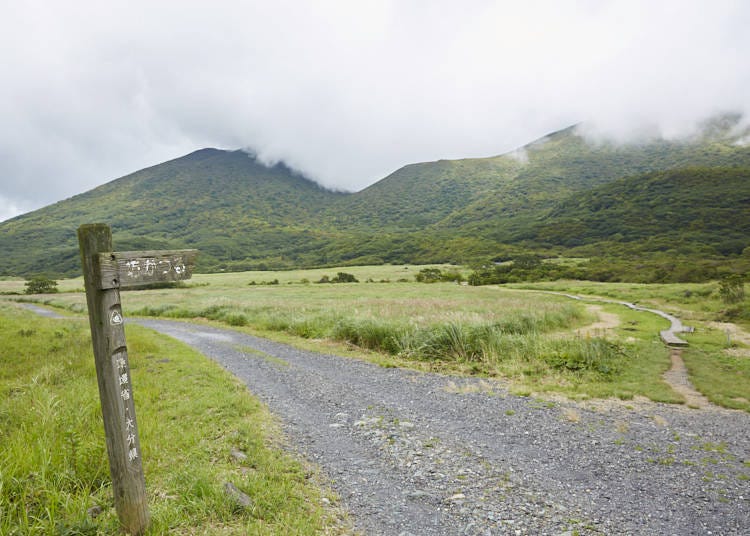 We exit Amagaike Pond and arrive at Bogatsuru. This is a grassy area that stretches as far as the eye can see. We walk for about 20 minutes. The bare mountain surfaces, surrounded by neighboring peaks and soft ground soddened by rain, creates a powerful image of a damp, mountainous area unique to rainy Japan.
Hokkien Onsen Sanso: Soothe Fatigue with a Break at the Hot Springs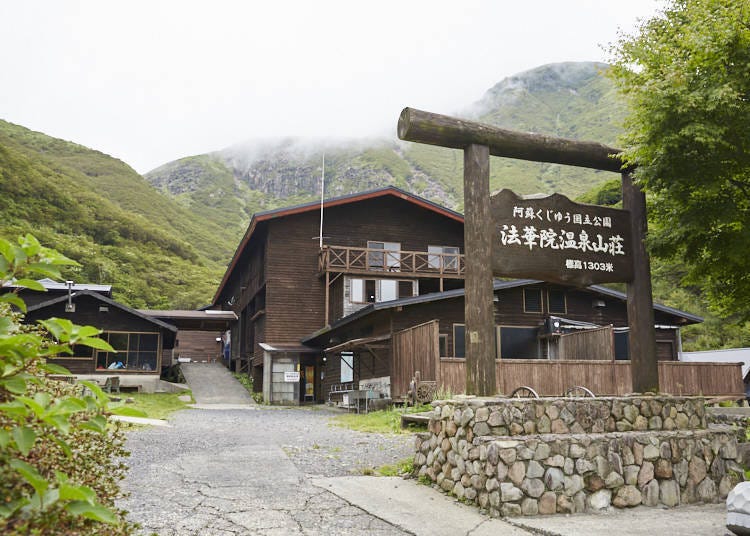 At last, we make it through the plains and arrive at Hokkien Onsen Sanso. Long ago, this place was a Buddhist Temple. It was abolished during the Meiji Period's "Shinbutsu Bunri" and "Haibutsu Kishaku," the movements by the government to separate Shinto from Buddhism, however the Kannon statue that stood in the main temple hall remains enshrined in the corner to this day. Now, the building serves as a mountain villa rest stop and lodging for tired travelers to take a break from their long hikes.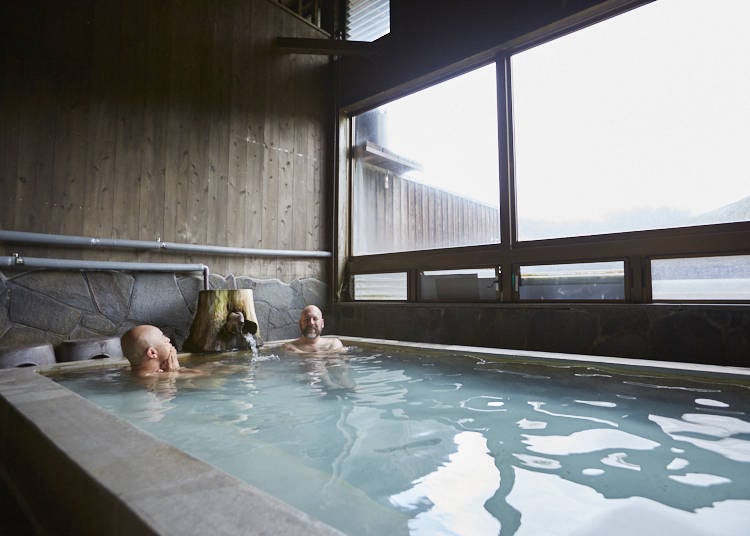 As the name suggests, there is a hot spring in this mountain villa, where you can enjoy a relaxing soak while looking out over Mount Taisen, Mount Hiiji, and Mount Tacchu. You can spend the night at their inn, or you can enjoy the hot springs alone for 500 yen. Mr. Morita and Timothy decide to check out the hot springs.

Morita: "Soaking in the springs while relaxing at such an amazing view really melts the stress away. This simple hot spring seems to be good for recovery from fatigue and nerve pain. It must be nice to stay here at night, too. You can see the starry sky from the wooden deck attached to the tub."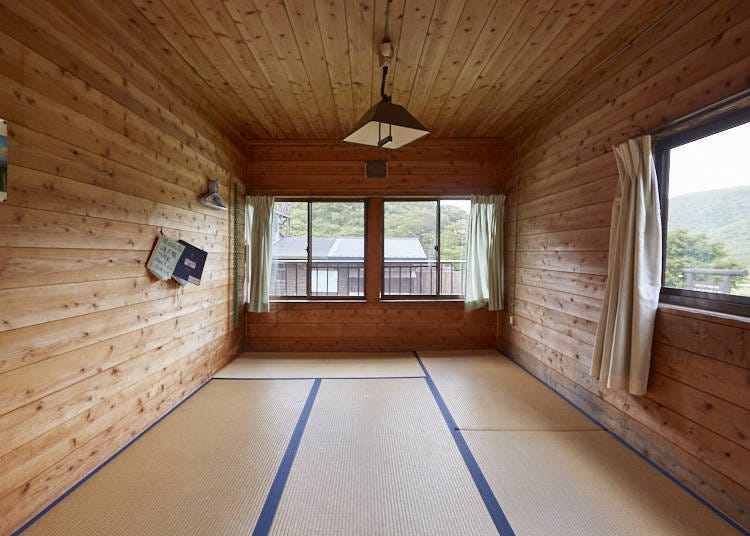 Timothy: "It's nice how clean this little mountain hut is. I can also appreciate that they have Western-style flushing toilets."

Morita: "It's rare to find such a clean, well-maintained mountain hut such as this one. While we are staying for only a short break today, if you spent a night here, you could also hike the other mountains of the Kuju Mountain Range. There are many other hiking courses, including on Mount Nakadake, Mount Taisen, and Mount Hiiji."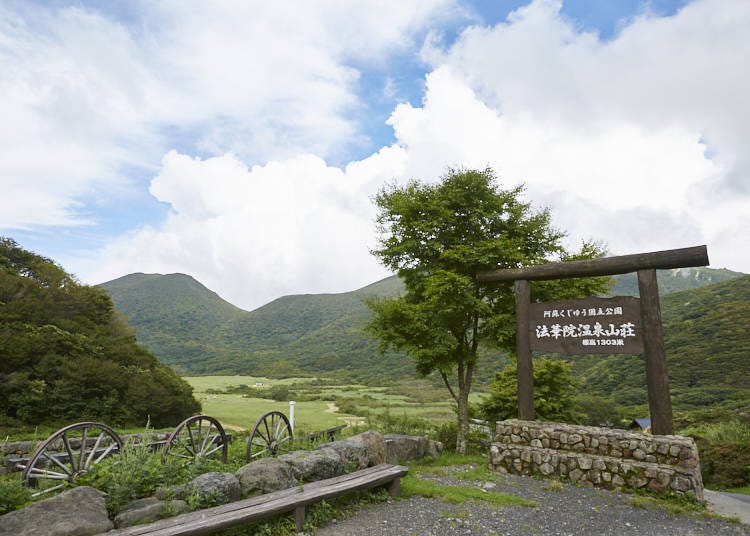 法華院温泉山荘

Address

1778 Kuju-machi Oaza Aruiji, Taketa-shi, Oita-ken

Phone Number

090-4980-2810

(Advance reservations required for lodging)
The Course's Greatest Challenge: Climbing Through Rocky Sugamori Pass, and a View
of Mount Iwo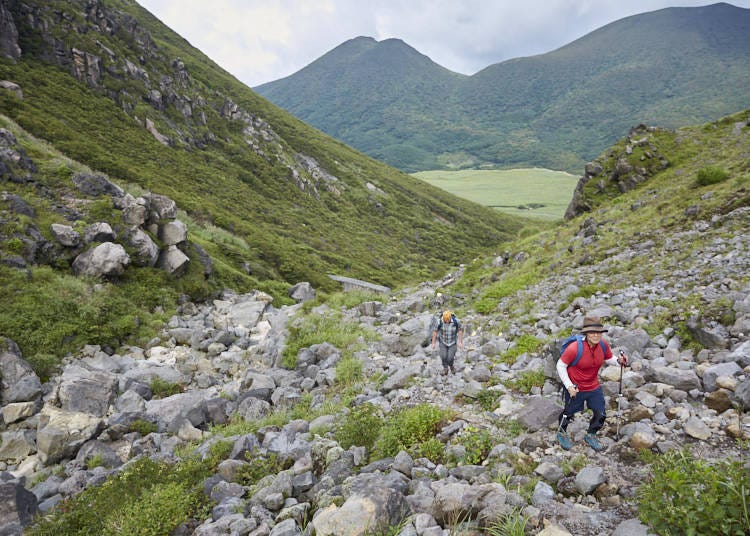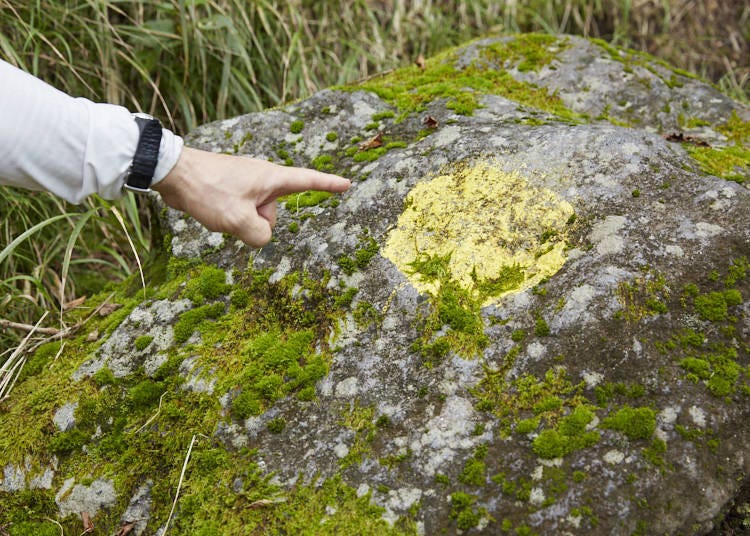 Once we've had the chance to recoup at Hokkien Sanso, we are prepared to tackle the biggest challenge of this course: the Sugamori Climb. The Sugamori Climb is a course that takes you over a rugged terrain, where you will use your entire body to scale the rocks as you follow the yellow markers.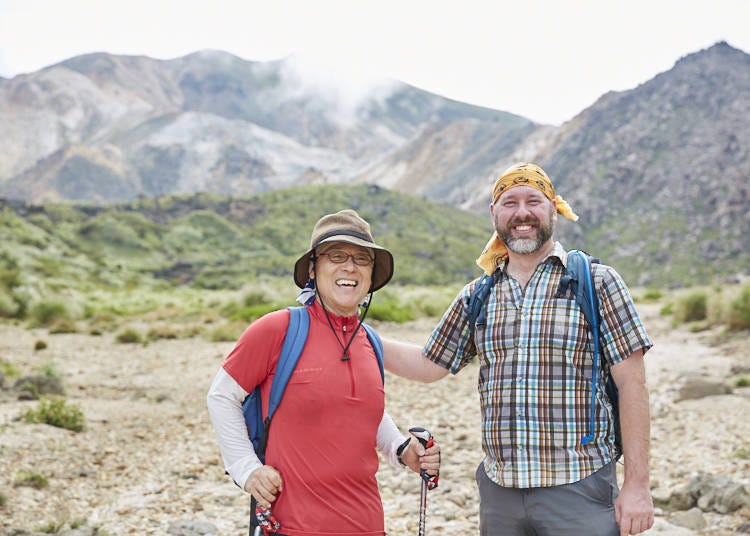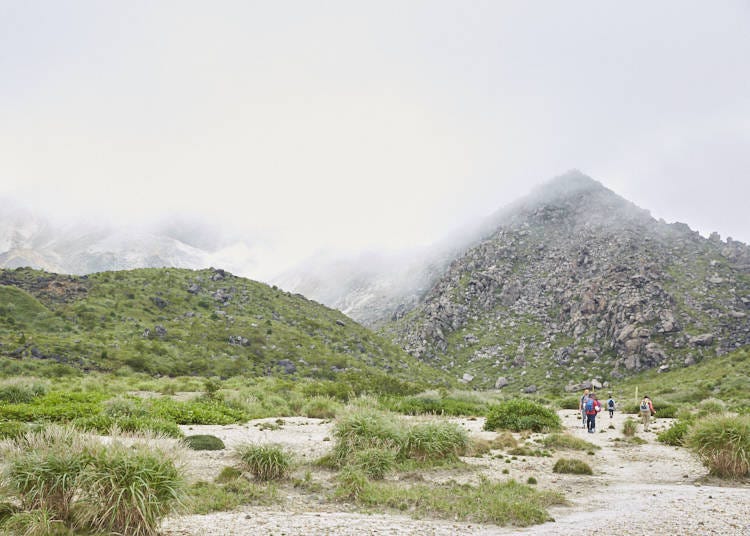 Climbing over the last rocks leads us to a place that made it seem as if we had just landed on Mars. This landscape is a scenery unique to areas of volcanic activity. As you walk along, you will see spouts of steam blowing out from various spots of the bare mountain surface.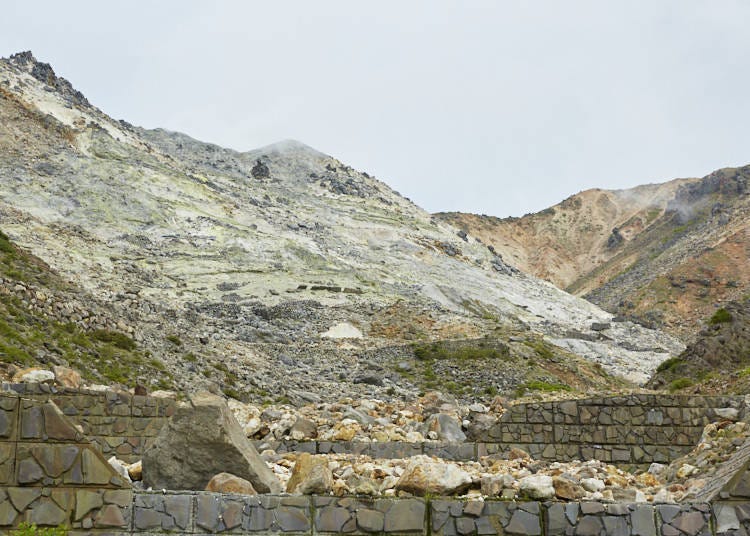 As we descend Sugamori Pass, we can see Mount Iwo on our left. In the past, people used to mine for sulfur in this area, however it is currently off limits. Though we didn't see any today, you can sometimes catch steam spewing from the mountain, depending on its level of volcanic activity.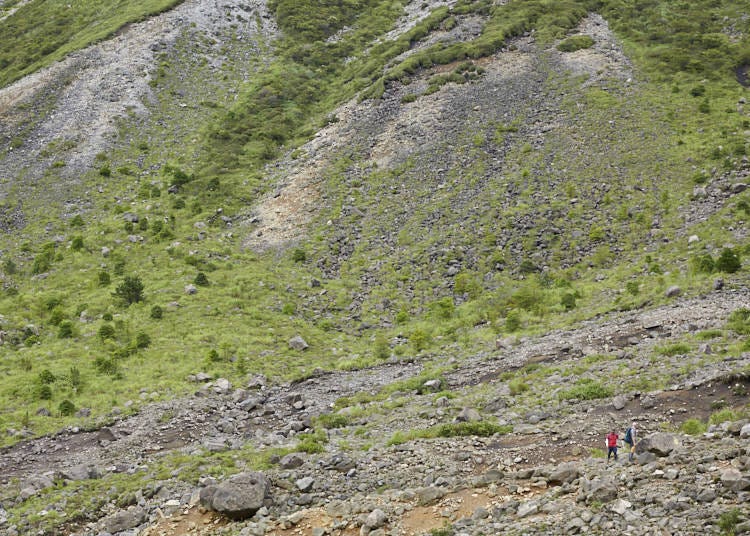 Morita: "There are many active volcanoes in Japan. Being able to walk through areas of volcanic activity is just one of the great attractions of Aso-Kuju National Park."

Timothy: "I think many foreigners see Japan as an island country, but the truth is, it's actually a mountain country, isn't it?"

Morita: "That's right. You can definitely tell when you walk through Aso-Kuju National Park. The Japanese archipelago is located just above where the Pacific and Eurasian Plates collide. The Eurasian Plate rises when the Pacific Plate slips underneath it. Depending on the seasonal winds, water-heavy clouds blow north from the Pacific Ocean and South China Sea."

Timothy: "And those clouds are what bring so much rain to the bare mountain surface."

Morita: "The large amount of rainfall forms into a rapid stream, which flows down the mountain, carving away the soft areas of the surface grounds. That mountain is a perfect example."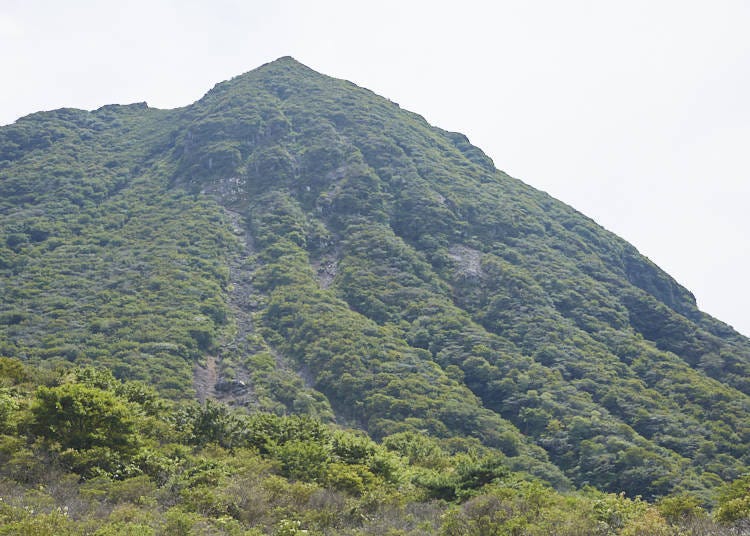 Morita: "When the plates collide, a huge crustal energy is formed, resulting in volcanic activity. This can also create some pretty frightening earthquakes, but one benefit of such activities is the formation of hot springs. People in the ancient times regarded these mountains as sacred, which lead to mountain and volcano worship in certain religious beliefs."

Morita: "There are a variety of trekking courses available in the Kuju Mountain Range, so you may enjoy spending the night and hiking a few of them. In addition to the Hokkien Onsen Sanso that we visited, there is another small hotel where you can enjoy a longer stay called BBC Nagayu, located about 30 minutes down the mountain. It's very convenient if you want to hike even more."
B・B・C長湯

Address

7788-2 Naoirimachi Oaza Nagayu, Taketa, Oita 878-0402

Phone Number

0974-75-2841
Beautiful Scenery and Starry Skies: Relaxing at San'ai Kogen Hotel
After a 6 hour long trek, Morita and Timothy head to the inn.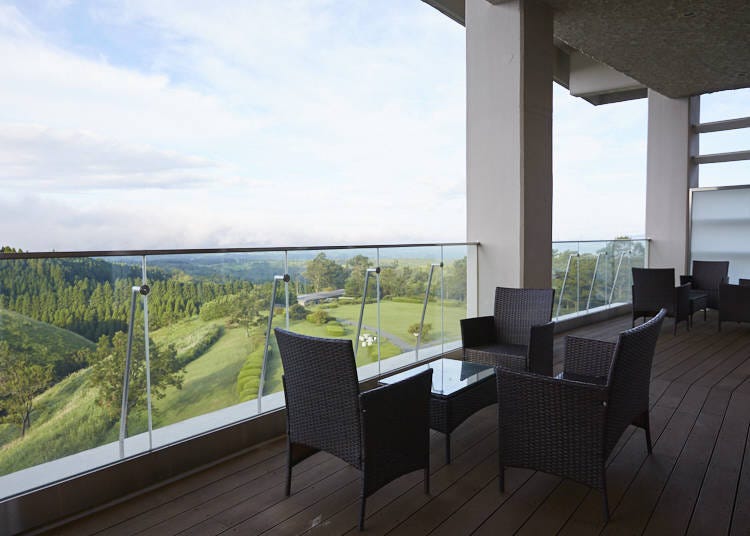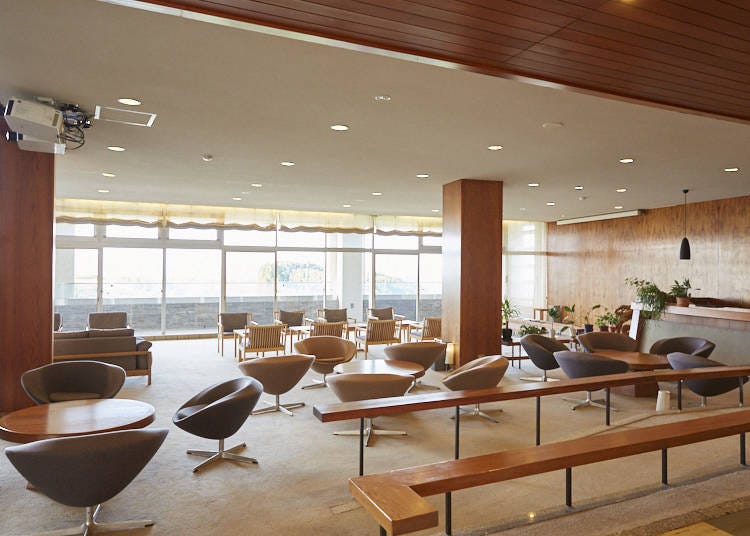 We take the Yamanami Highway that connects Oita and Kumamoto Prefecture, and arrive at the San'ai Kogen Hotel in under an hour. The hotel is located in a grasslands area of Minamioguni-machi, Aso-gun, and sits at 920 meters above sea level. It has a nice view overlooking Aso Gogaku (Give Peaks of Mount Aso)and the Kuju Mountain Range.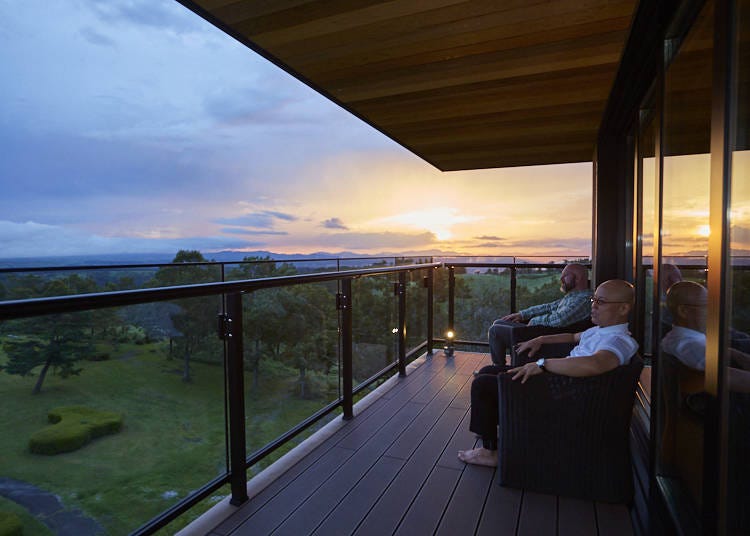 Today, we stay in the new building of the San'ai Kogen Hotel. The special guest rooms of this new building have an open-air bath where you can relax while enjoying the beautiful nature of Aso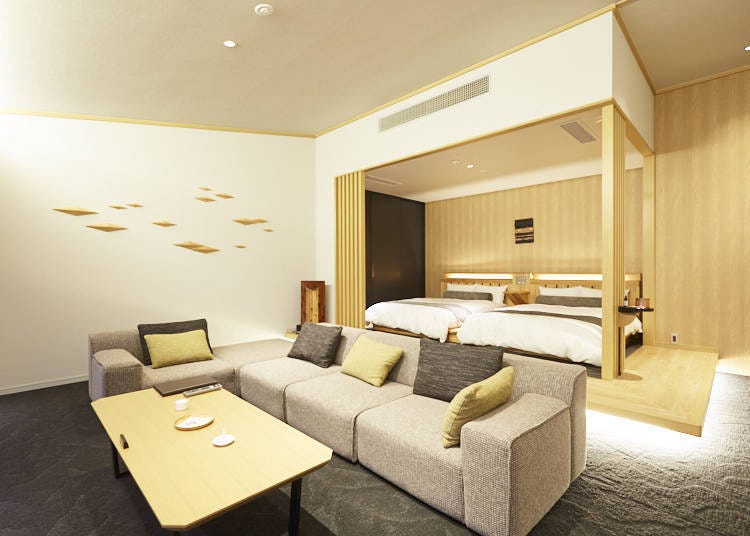 There are plenty of hot springs here, including the natural hot springs of Nishi-Kurokawa, with their expansive, scenic views, as well as reservation-required baths, such as the open-air baths overlooking Aso Gogaku.

Guests who stay at the new building can also enjoy a meal at the dining hall, "Nishi-kan Dining Taikan." As the name "Taikan" (which translates to "overlook") suggests, you can see a spectacular panoramic view of Aso Gogaku from the large window. The view of this beautiful landscape changes with the seasons, from the lash green grasslands in summer, to Japanese silver grasses in autumn, to the snow that falls in winter.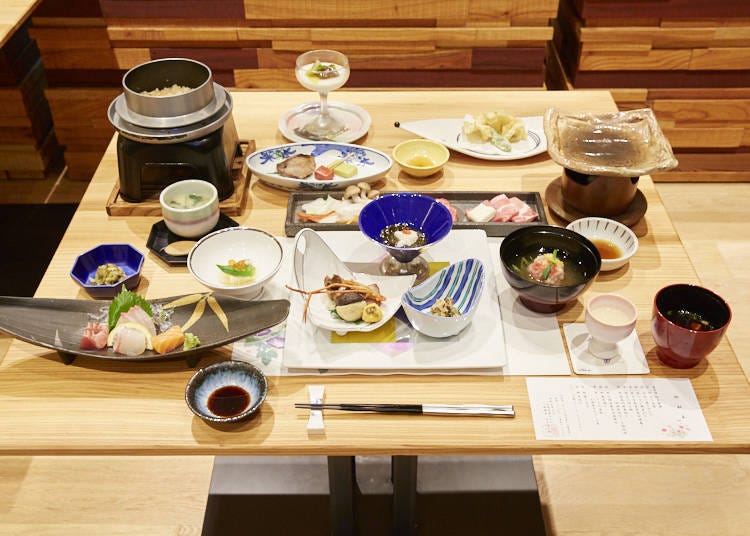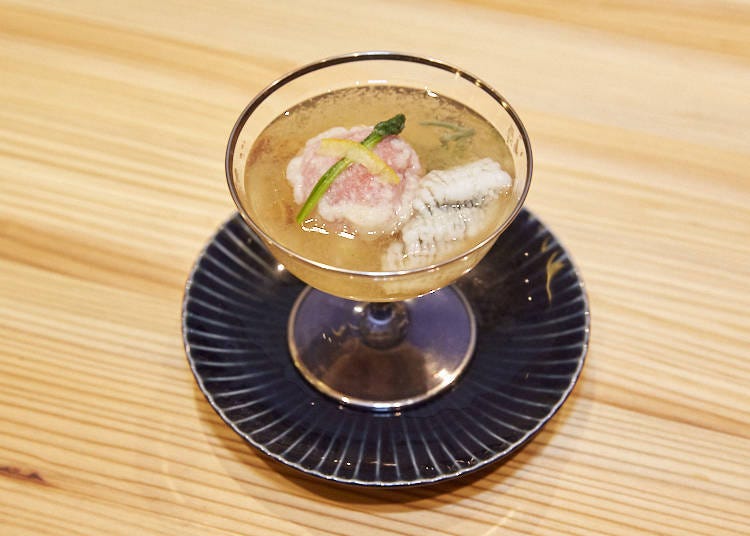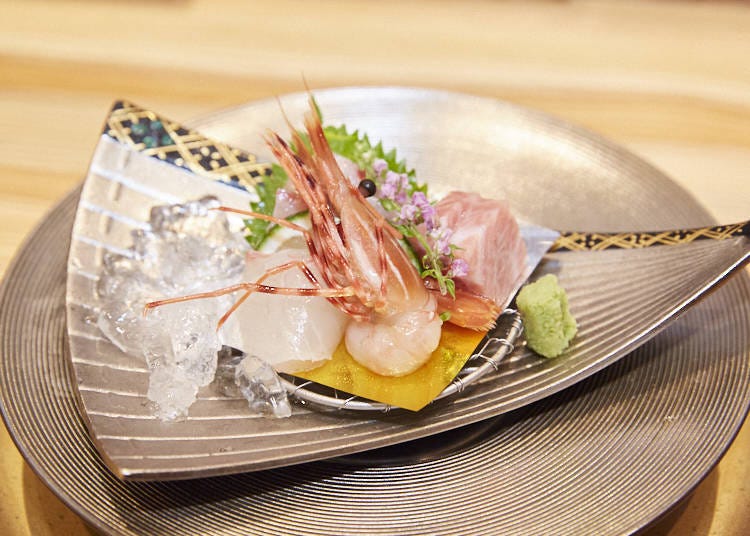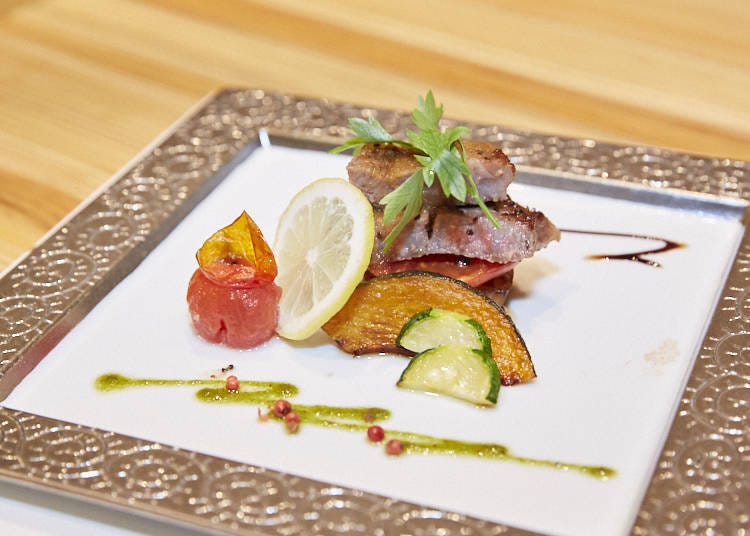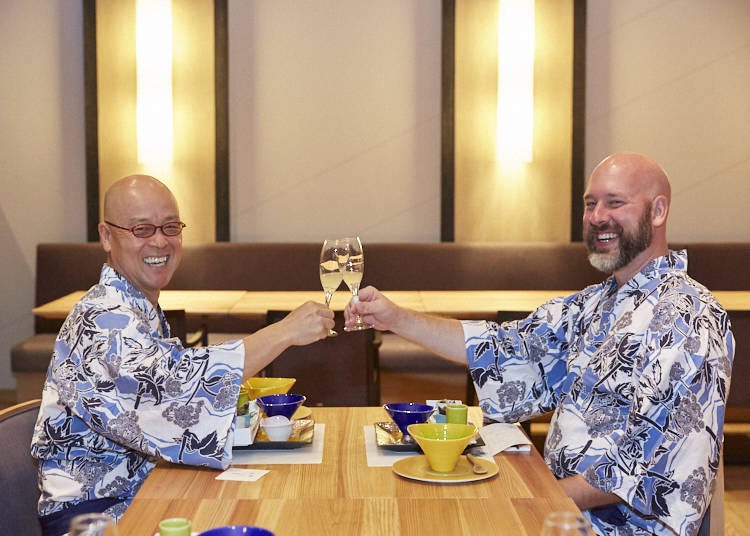 The meal is a traditional Japanese course, made with fresh local ingredients from Kyushu, including vegetables from Aso and fish from Oita and Fukuoka, Asobi-ton (local pork), and locally-produced Shichifuku soy sauce.
Timothy, a sake-lover at heart, is also quite pleased with today's sake choice, "Reizan."
三愛高原ホテル

Address

〒869-2402 5644 Manganji, Minamioguni-machi, Aso-gun, Kumamoto-ken

Phone Number

0967-44-0121
Sakamoto Zenzo Museum: A World of Abstract Paintings Born in the Nature of Kuju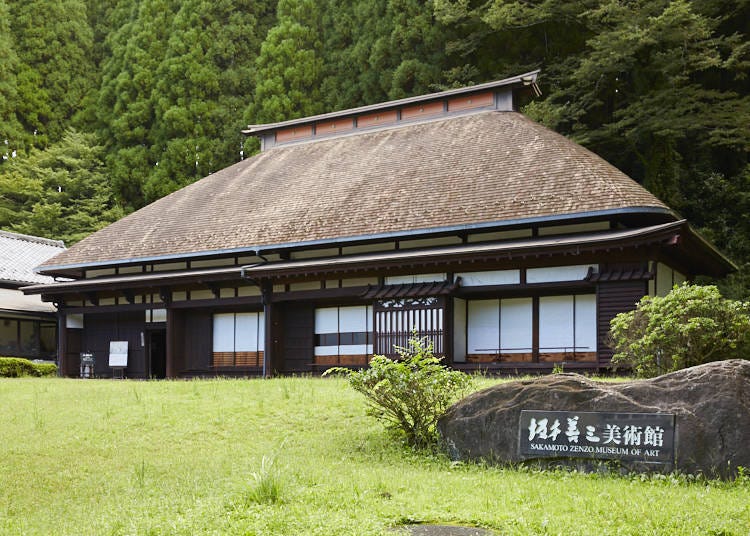 In continuation of our trip around Aso Kuju National Park, we begin the next day at Sakamoto Zenzo Museum in Oguni-machi, which is 30 minutes by car from San'ai Kogen Hotel.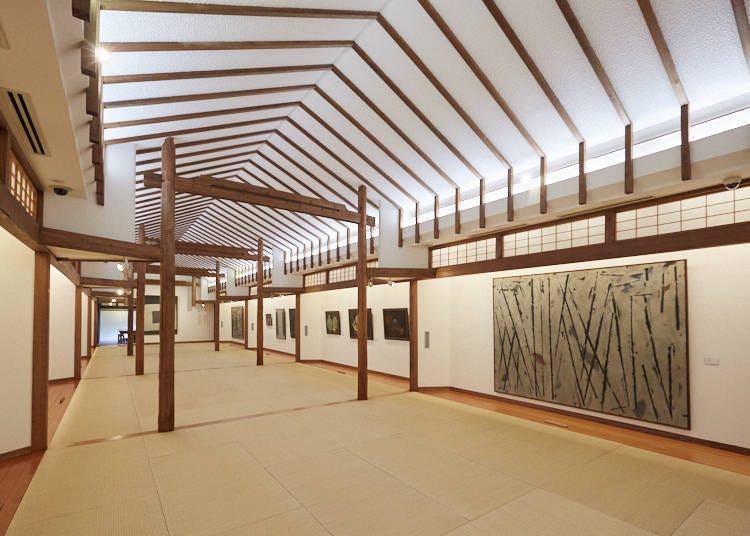 This museum is an art museum dedicated to a painter from Oguni-machi, Sakamoto Zenzo. As artwork that was "born from the nature of Oguni," it is quite fitting to have a museum of Sakamoto's works right here in Oguni. Relocated to a private home built in Oguni-machi in 1894, it is also the only tatami-style museum in the world. We view the works while lending an attentive ear to museum curator, Yamashita.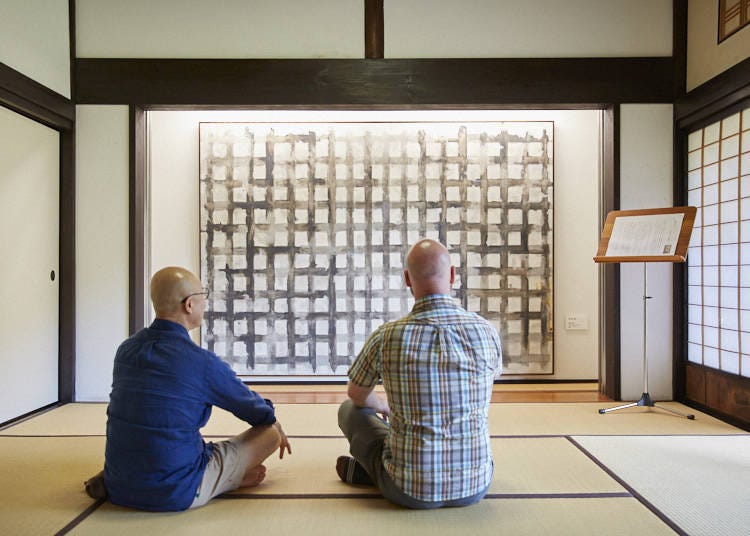 Morita: "Sakamoto Zenzo was a painter from Oguni-machi born in 1911. He was said to have visited Paris in his late 40s in 1957. Fascinated by the walls, buildings, and streets of Paris, he was inspired to begin abstract painting when he returned home."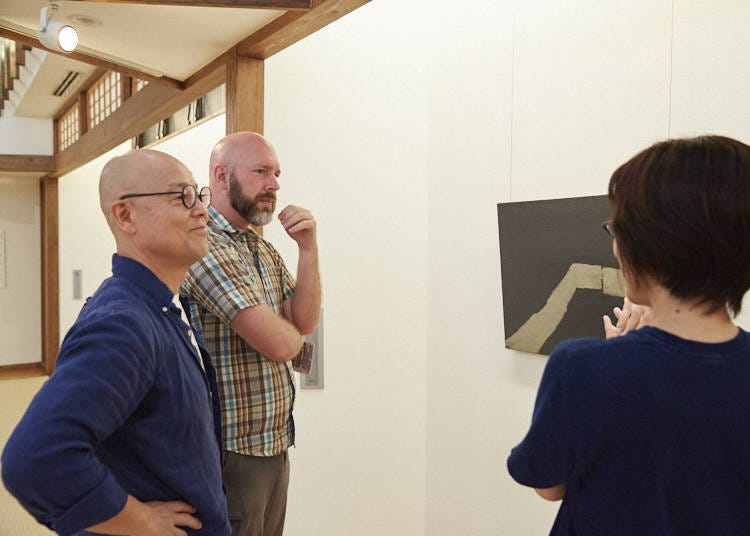 Yamashita (curator): "After returning from Paris to his own hometown, Zenzo began to consider the nature of Kuju and Aso, where he was born and raised, more seriously."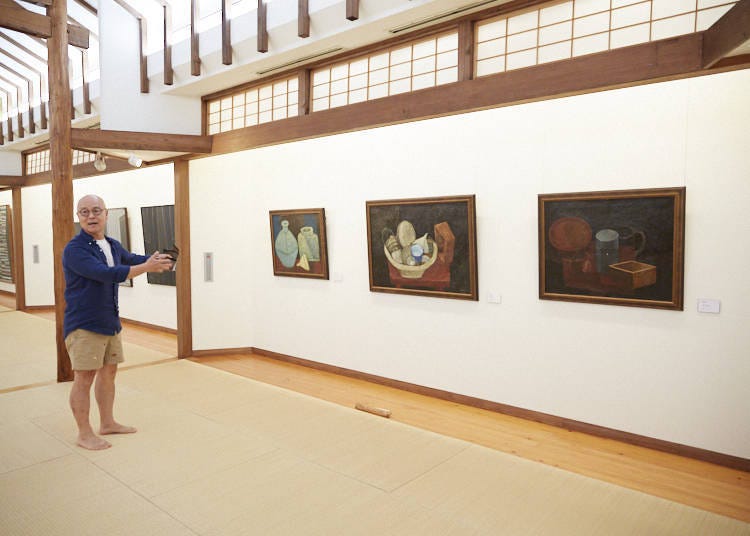 Morita: "That is where he discovered his own unique lines and colors. Don't the lines in this painting look like the surfaces of the rocks of Sugamori Pass, where we climbed down yesterday? I feel like being able to experience the nature of Kuju yesterday allows us to feel closer to Sakamoto Zenzo's work today."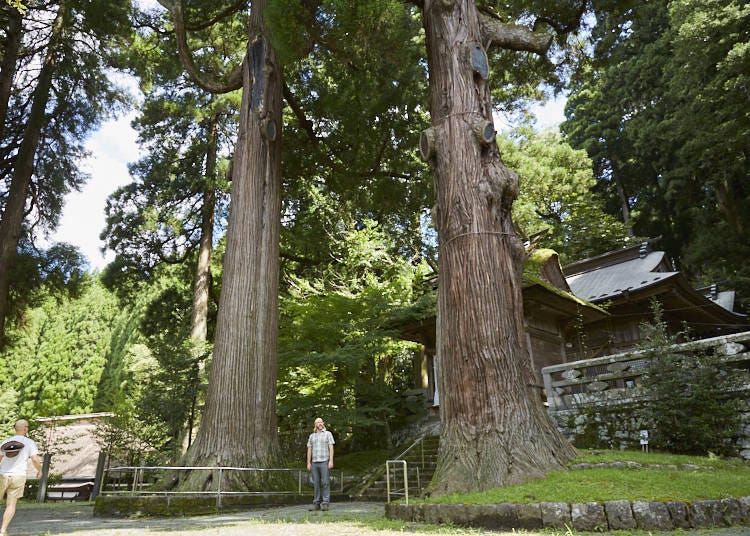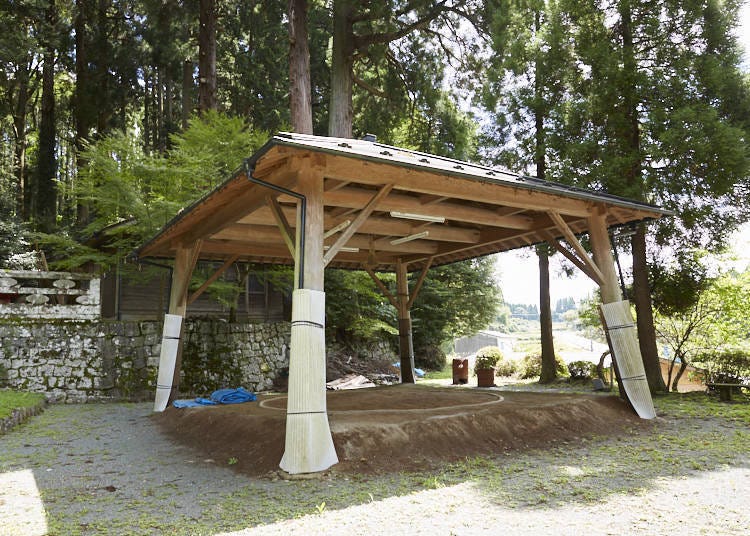 Neighboring the Sakamoto Zenzo Museum of Art is a shrine called Hokonomiya. Inside the shrine area is a large Wedded Cedar, said to be 700 years old. There is even a sumo ring in the back.
Sakamoto Zenzo Museum of Art

坂本善三美術館

Address

2877 Kurobuchi, Oguni-machi, Aso-gun, Kumamoto-ken, 〒869-2502

Phone Number

0967-46-5732

Hours of Operation: 9:00AM~5:00PM (Last entry 4:30PM)
Holidays: Mondays (closed the following day in event of public holiday)
*Please contact for info on other exhibitions
Nabegataki Falls: A Miracle of Nature Created by Volcanoes with Purifying Negative Ions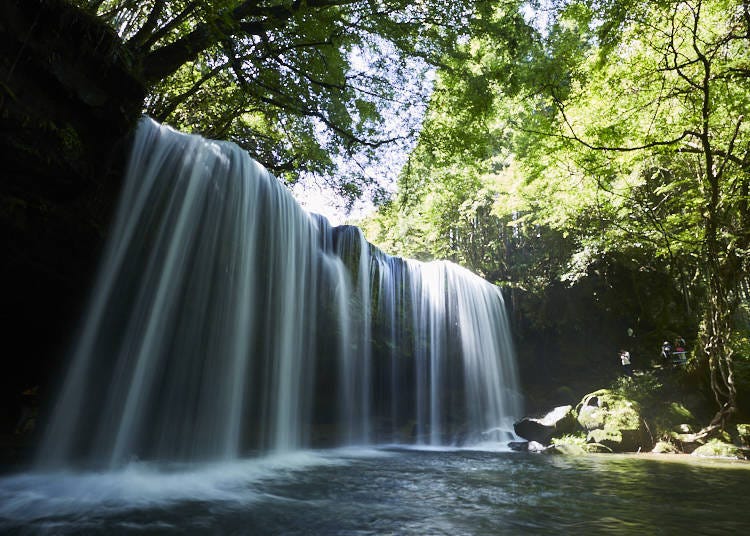 Next, we head to Nabegataki Falls, located 2 km away from the Sakamoto Zenzo Museum and HokonomiyaShrine.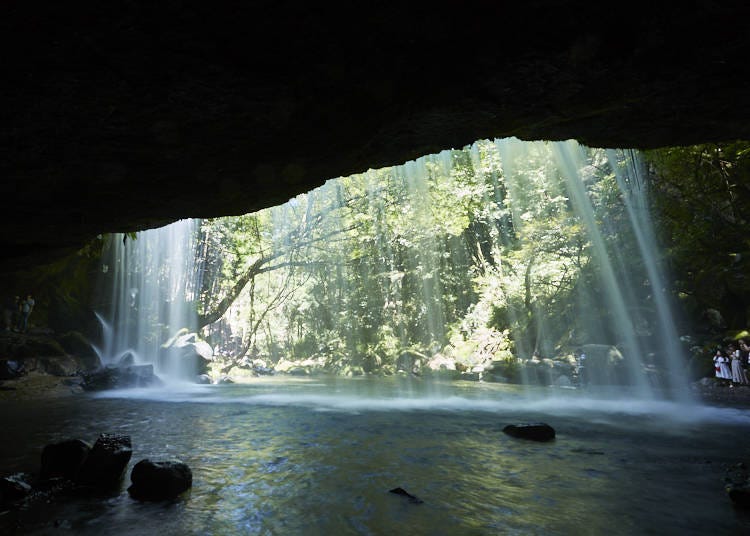 The Nabegataki Falls is a waterfall about 20 meters wide and 10 meters high. You can enter from underneath and see the waterfalls from behind.

Morita: "Timothy, you can also see this waterfall from behind. An eruption of Mount Aso over 90,000 years ago left a deposit of pyroclastic flow on the sandy gravel riverbed, which solidified into rock due to the heat and pressure. The softer layer underneath that hardened rock was then eroded by the water flow, creating the space behind this waterfall."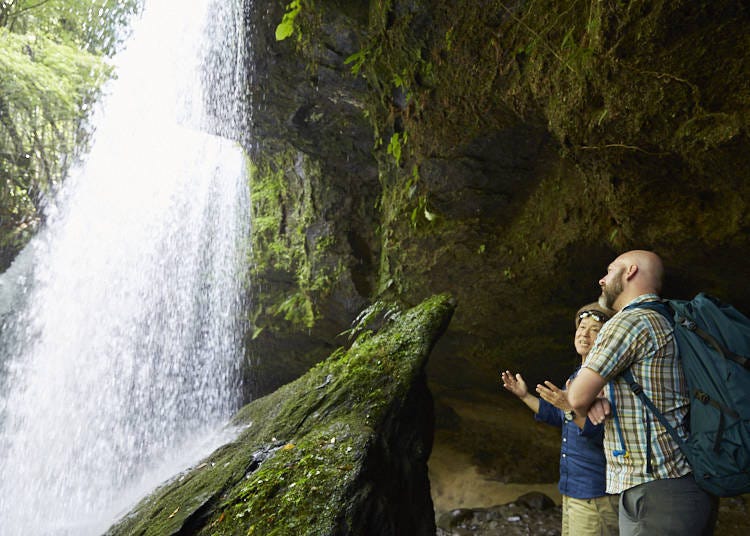 鍋ケ滝

Address

Kurobuchi, Oguni-machi, Aso-gun, Kumamoto-ken, 〒869-2502

Phone Number

0967-46-2113

Fee: 300 yen (high school and older); 150 yen (elementary school); free for children under
Hours of Operation: 9:00AM~5:00PM (Last admission 4:30PM)
Holidays: New Year's Holidays (12/28~1/3)
Cuisine Rakuda: Enjoying the Chef Special 'Aka-Beef' on a Terrace Overlooking Aso
After enjoying the beautiful natural scenes of the Sakamoto Zenzo Art Museum, Hokonomiya Shrine, and Nabegataki Falls, Morita and Timothy head to lunch at a French restaurant in Minami-Aso called Cuisine Rakuda. Timothy seemed particularly excited about this restaurant, as it is one of the locations listed in the Michelin Guide Kumamoto/Oita 2018 Special Edition. On their way there, Mr. Morita tells Timothy about Akaushi Beef as they watch the passing scenery of the outer rim of the crater of Mt. Aso.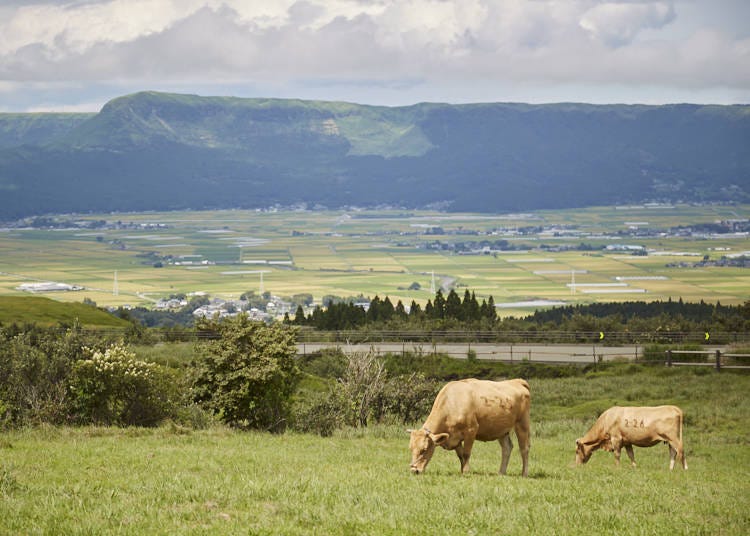 Morita: "Akaushi Beef may be famous here in Aso, however the reason we even have Akaushihere is because of the caldera. The upper part of the outer rim surrounding the Aso caldera is a grassland. It was the ancestors of these Akaushi cattle were used to carry grass from the grasslands to the basin of the caldera."

Timothy: "Were they normal agricultural cattle at first?"

Morita: "Yes. The basin of the Aso caldera was unsuitable for farming rice as it was filled with volcanic ash. In order to improve the quality of the soil, the cattle were used to bring grass from the outer ring of the mountain into the basin, which was then composted and mixed into the soil."

Timothy: "And now, those cattle are used as a source of food."

Morita: "Well, agricultural cattle are not typically suitable as food, so they were crossbred with the Swiss Simmental cattle. That cross between the two breeds is what gave birth to the improved cattle now used to farm Aso's famous Akaushi Beef."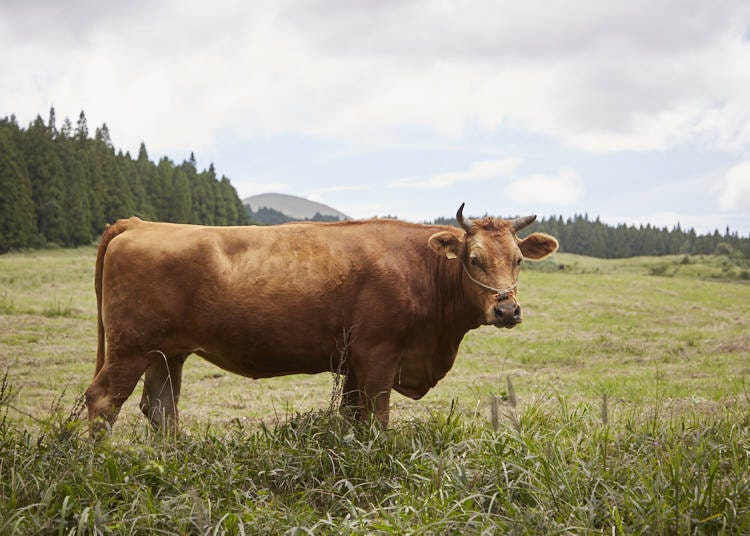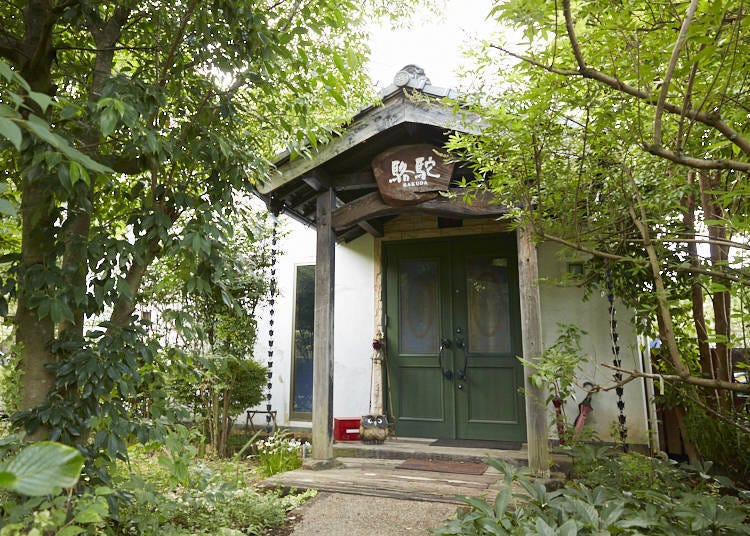 We arrive at Cuisine Rakuda. The restaurant is located just behind National Highway 28, and feels somewhat like a hidden retreat.
The atmosphere is both modern and nostalgic, with a building made of old materials including stained glass. There is a huge window in front of the counter area from which you can see the Aso mountains.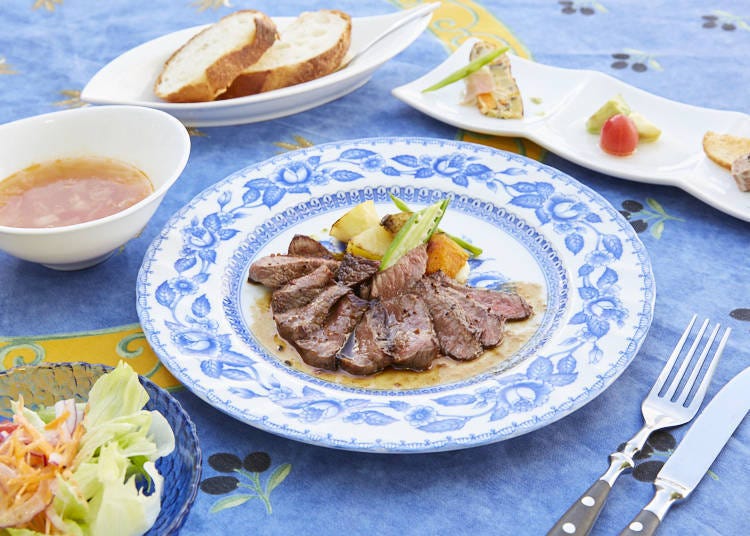 Today, we decide on a terrace seat and order the Akaushi Steak Set. The set is a great value at 2500 yen, and also includes hors d'oeuvres, salad, soup, dessert, and coffee.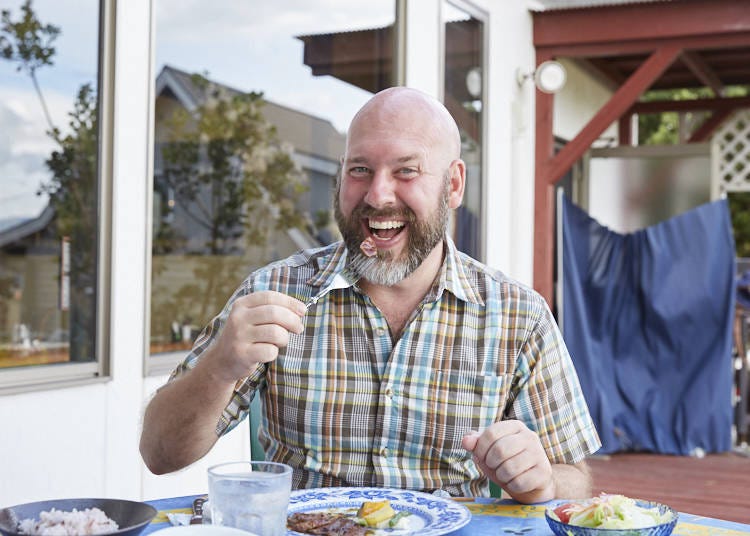 Eagerly awaiting the steak, Timothy digs in right away!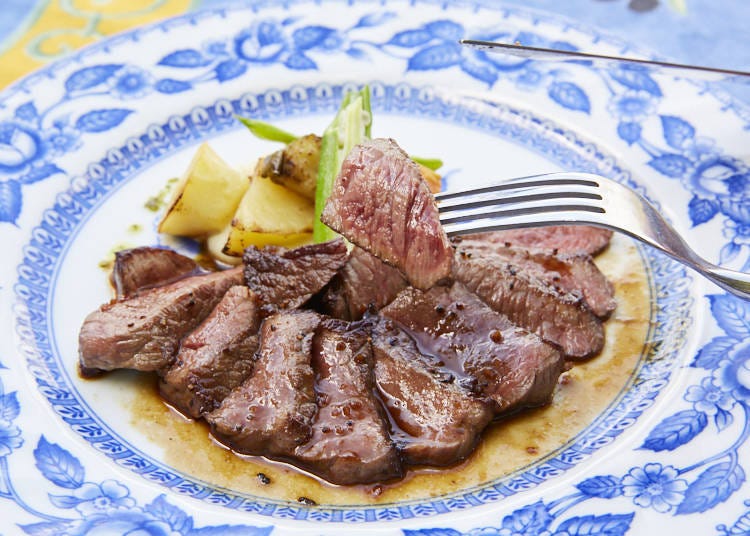 Timothy: "It's very delicious! The texture is not too hard and not too soft. I can see why Akaushi is so popular. It would be a big hit in America, too!"

Morita: "The meat is perfectly cut and cooked. The chef's dedication really shows, and I also enjoy hearing the waitress' Kumamoto dialect. There are many restaurants like this in the French countryside, as well. It makes me a bit nostalgic."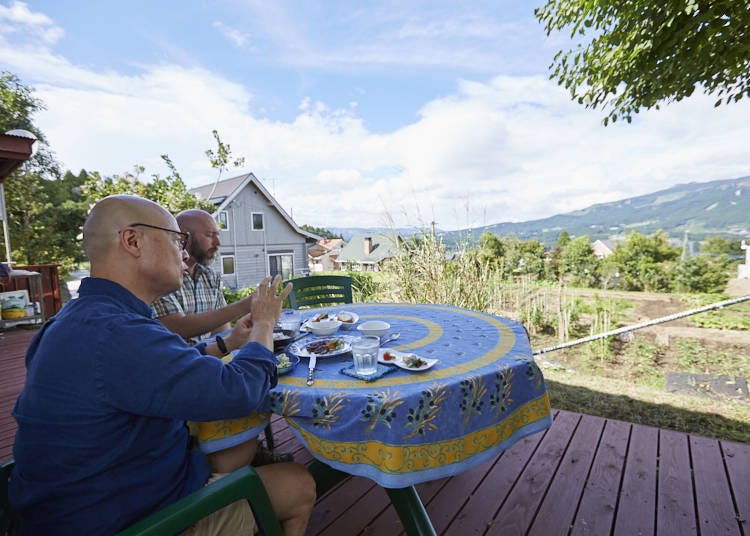 Cuisine Rakuda Restaurant

キュイジーヌ 駱駝 (らくだ)

Address

3972-2 Kain, Minamiaso, Aso-gun, Kumamoto-ken, 〒869-1411

Phone Number

0967-67-4567

Hours of Operation: 11:30AM~3:00PM (L.O. 2.30PM)
Regular Holidays: Tuesdays, Wednesdays
Road Station Aso: Meeting a Resident from France Who Shares Japanese Culture
The next stop is Road Station Aso in Aso City, a place where you can find local specialty products such as seasonal fruit and vegetables, dairy and sweets, bento lunches, and more. There is even a lounge area where you can freely relax and enjoy the bento lunches and sweets you purchase.
At the Information Corner we meet Mr. Frank Limoges, a guide fluent in English, French, and Japanese who is married to a woman from Kumamoto. Morita and Timothy begin an interview with Frank.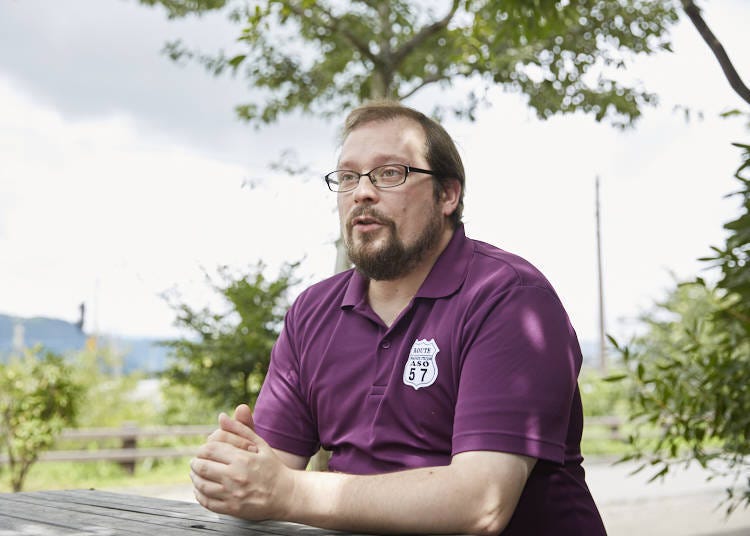 Morita: "Frank, you share information about Aso on social media in both English and French, right? What do you feel is the biggest theme of working here?"

Frank: "I would like to let more people know about Aso. I myself didn't even know the name Aso until I moved to Kumamoto. There is such a unique, natural environment here. A volcano that frequently erupts and the surrounding caldera, the scenery of the rice fields growing in the Aso Basin, the Aso Shrine, and even the friendly people who live in the area. I think one will find it to be a unique experience just being here."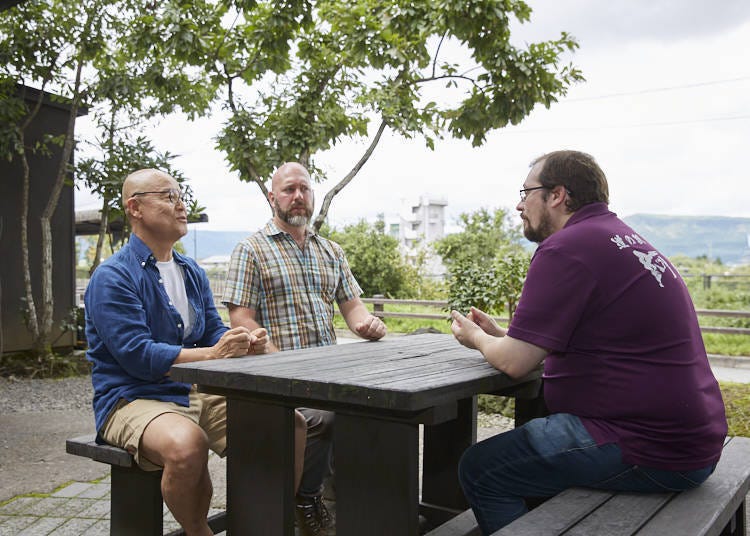 Morita: "It's really encouraging to have someone like you, who speaks English, French, and Japanese, and knows both Western and Japanese culture pretty well, as a guide. What kinds of questions do you often get?"

Frank: "Aside from general tourist information, I often get asked culture-related questions. For example, the other day a French couple asked me why some Japanese people seemed startled when they greeted them. They worried they were saying something rude. But I told them not to worry, and explained that many Japanese people are shy, and may just have been confused about how to react when greeted by foreigners."

Morita: "A person such as yourself would certainly convince more people thinking about visiting Aso-Kuju National Park to come and do so."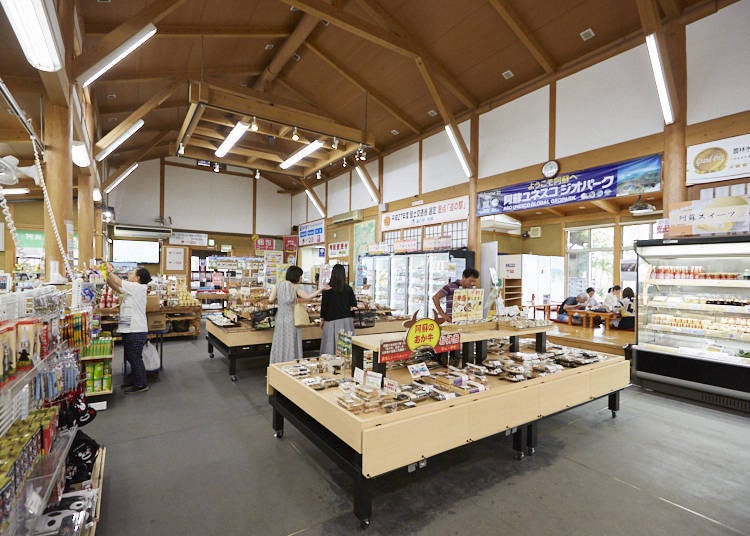 道の駅 阿蘇

Address

1440-1 Kurokawa, Aso-shi, Kumamoto-ken, 〒869-2225

Phone Number

0967-35-5077
Remembering the History and Mountain Faith of the Hunters and Gatherers at Aso Shrine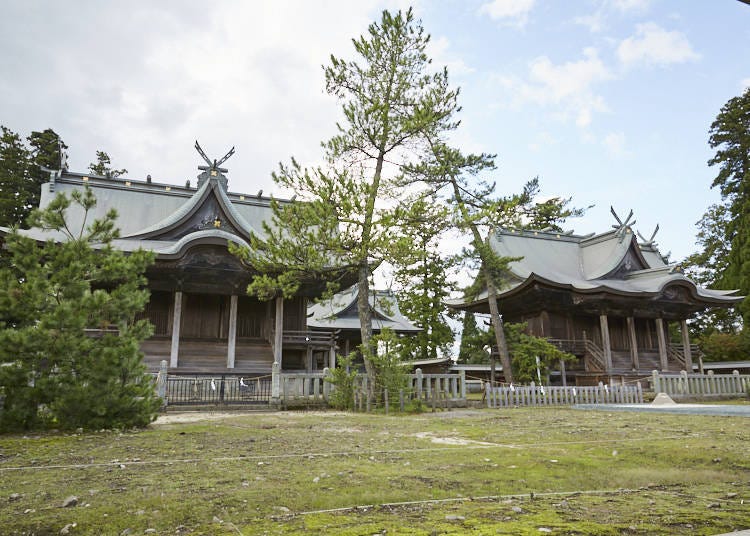 At last, we reach the final stop of our trip: the Aso Shrine.

Aso Shrine was the chief shrine of the Higo Province, and enshrined the local deities of Higo. The tower gate and worship hall were destroyed in the Kumamoto earthquake of April 2016 and is currently undergoing reconstruction. The first, second, and third shrines that were once hidden behind the worship hall are now in front and visible to worshippers.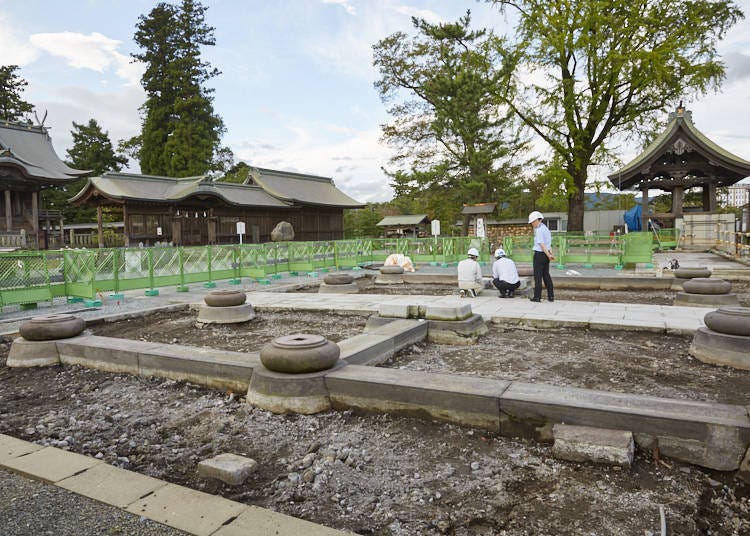 Morita: "Aso Shrine is dedicated to thirteen deities, but the main deity is actually the crater of Aso Nakadake. As you can see, volcanoes were very sacred."

Timothy: "That's really interesting. I knew about the hunting and gathering people of Western society for a long time, but now I'm learning even more."

Morita: "The Jomon Period, which is said to have lasted about 13,000 years, was an era of hunters and gatherers. Their influences still remain in Japan, especially seen through Shintoism. In that period, the culture of rice cultivation was gradually spreading from the main continent through Japan and small state organizations were forming. However, because the Aso Region was blanketed with a thin layer of volcanic ash, the construction of rice paddies was not possible. But the people of Aso had already developed a culture of maintaining the rich hunting grounds of the outer rim grasslands through periodic field burning. They were able to thrive as a society of hunters and gatherers, without having to rely on cultivating rice. I think that was their greatest strength. However, the smaller rice-cultivating nations merged over and over, eventually growing larger and larger until the land here also came under its control."

Timothy: "And that lead to the establishment of the Yamato Nation."

Morita: "Exactly. However, at that time, the victorious side did not enslave the losing side. Instead, they built shrines for the deities of the losing side, and established a reconciliation policy."

Timothy: "So that's why the Aso Shrine was built."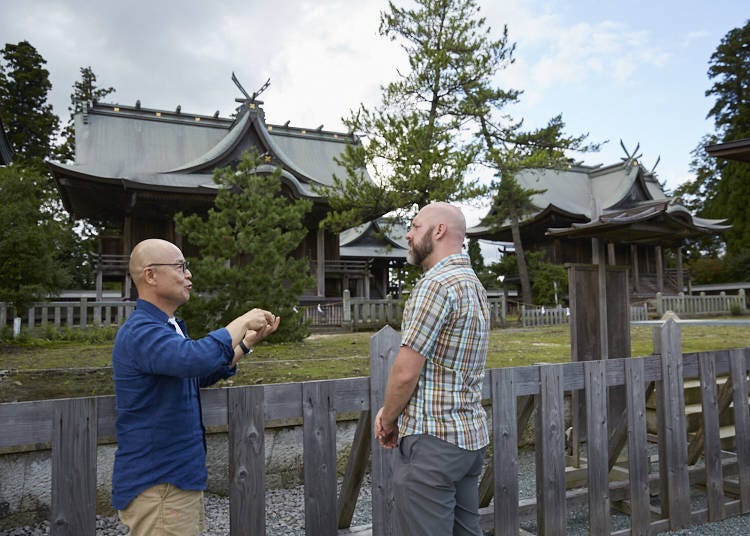 Timothy: "Why is the Aso Shrine crest an image of bird feathers?"

Timothy: "So that's why the Aso people were hunting masters. They were certainly the "top of the top" civilization of hunters and gatherers!!"

Timothy: "So that's why the Aso people were hunting masters. They were certainly the "top of the top" civilization of hunters and gatherers!!"

Morita: "Yes! That is how they learned many of their unique hunting knowledge and skills."
阿蘇神社

Address

3083-1 Ichinomiya-machi Miyaji, Aso-shi, Kumamoto-ken, 〒869-2612

Phone Number

0967-22-0064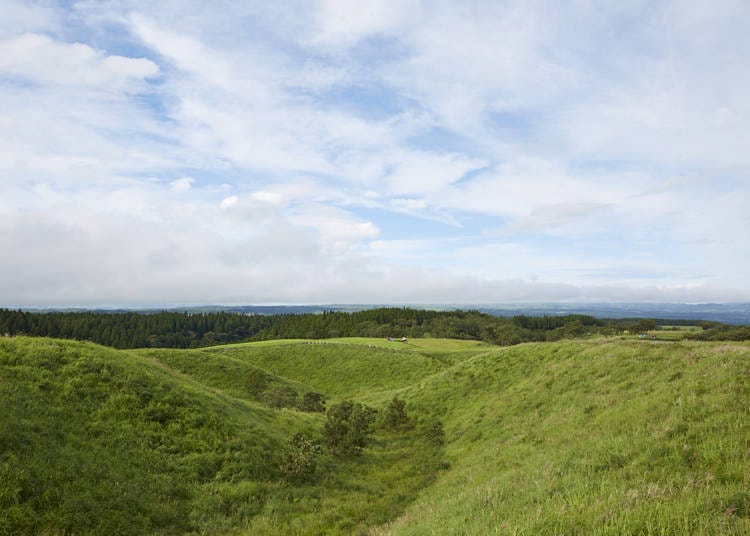 This journey around Aso and Kuju took us around a majestic natural landscape unique to the land created from a volcanic eruption over 90,000 years ago. We hope that many tourists taking a trip to Japan will visit this beautiful area and learn more about its charming nature.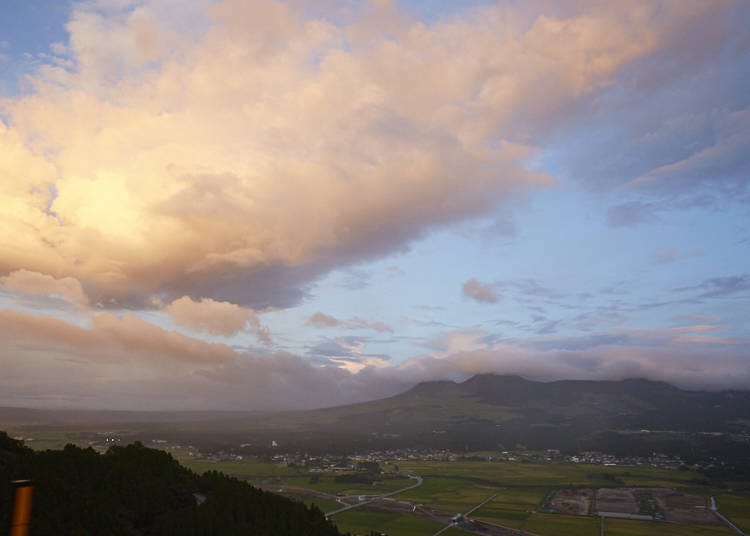 *This information is from the time of this article's publication.
*Prices and options mentioned are subject to change.
*Unless stated otherwise, all prices include tax.