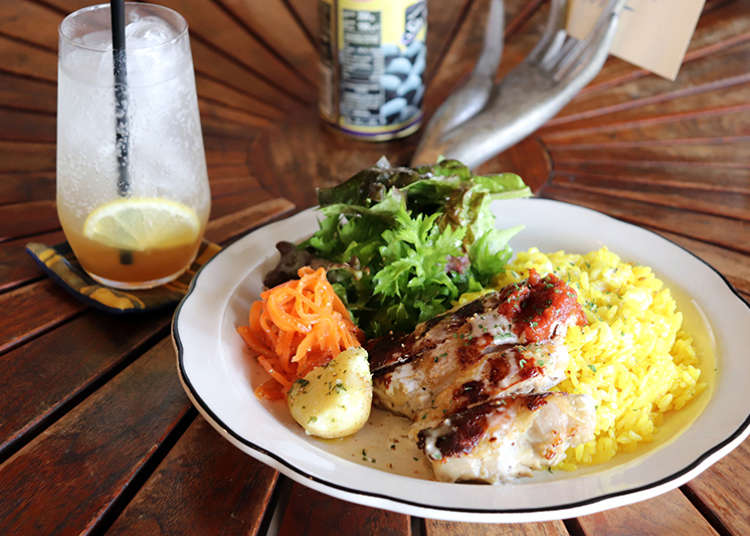 Only a 90-minute train ride away from Tokyo, the Miura Peninsula is a natural resort surrounded by the mountains and the sea. In the same area lies Hayama, a quiet residential area full of Western-style buildings and little villas. With many chic cafes, it's a great place to take some time to relax.

Let's take a look at five of the trendiest cafes, complete with photos that bring these shops to life.
■H and Cafe: A Veggie-full Menu for your Vegetarian Diet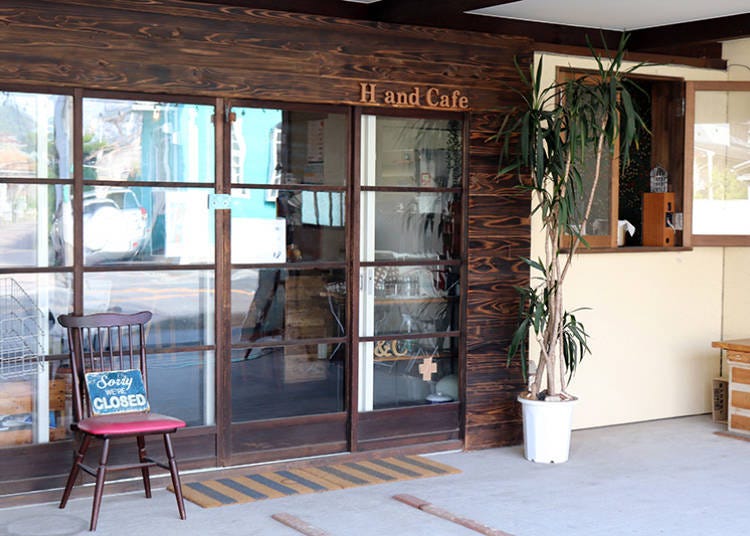 Near the Hayama Imperial Villa is "H and Cafe," a restaurant that serves vegetable based multinational cuisine. As you stroll around the area, enveloped in the aroma of the beach, you can really sense a closeness to the sea.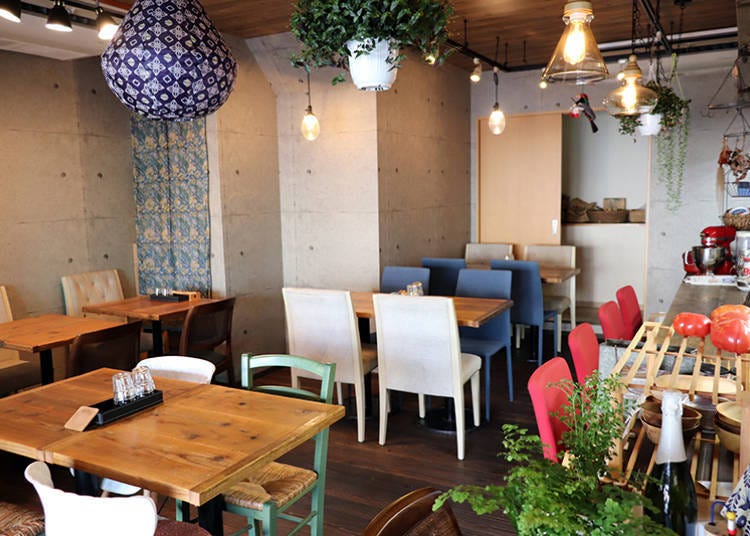 The inside of the restaurant has a relaxing atmosphere, decorated with wooden tables and chairs and house plants. Lunchtime is the most popular time to visit, especially with local housewives, yet you will also find many visitors from Tokyo, Yokohama and Yokosuka. It opens at 11:00AM, and many spend a leisurely time here until the 3PM after-lunch closing time.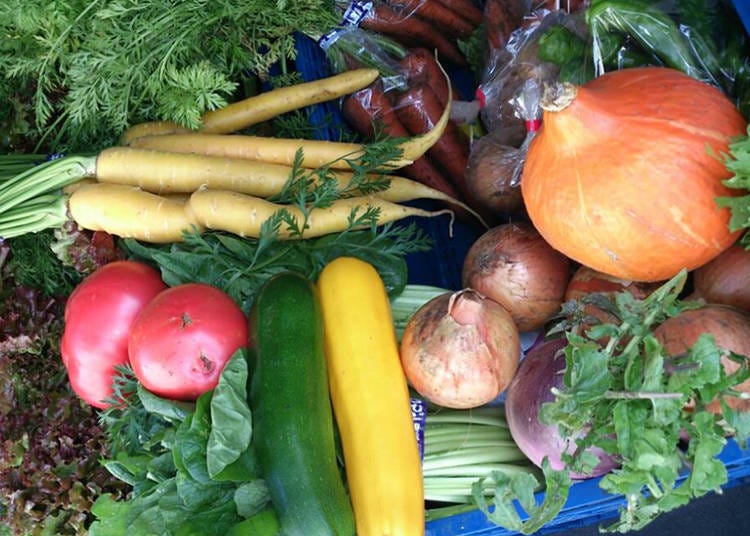 One of the reasons this place is so popular is because of their use of fresh vegetables in their delicious dishes. There is a wide variety of healthy vegetarian meals that will cleanse your body from the inside out, such that you could only expect to find in a vegetarian-themed shop.

The owner is also very knowledgeable on the subjects of the body and the health benefits of vegetables. All dishes are homemade and additive-free, using no ready-made ingredients or chemical seasonings.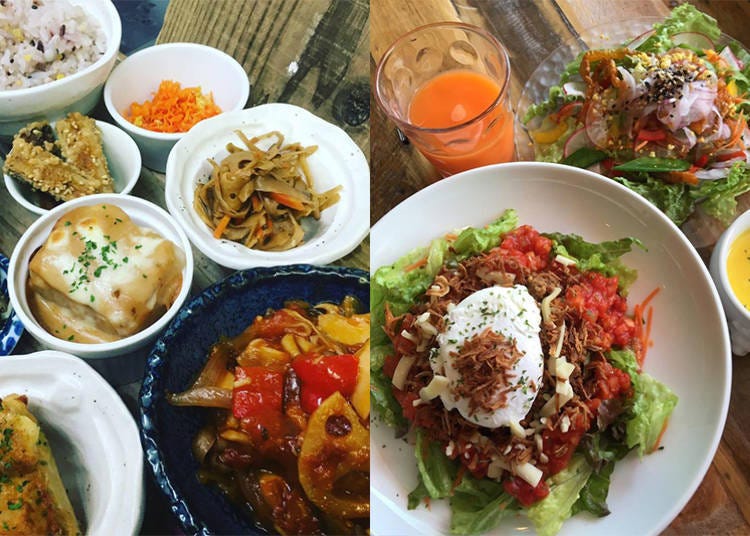 「彩りHAYAMAブランチ」1,650円(税込)、「タコライスセット」1,500円(税込)
As seen on the shop signboard menu, the Colorful Hayama Brunch is a top recommendation. It is a set meal that includes small veggie-rich dishes such as gratin, boiled and grilled foods, smoothies and salads, all made with seasonal vegetables. You can also choose between mixed-grain rice and organic homemade bread.

There is also a variety of menu options such as vegetable taco rice, a seasonal vegetable curry dish, and fresh veggie pasta. Each meal includes a beautifully arranged salad dish, so no matter what you order, you can expect to get plenty of vegetables! Why not pay a visit and enjoy a leisurely time indulging in delicious, body-nourishing foods?
H and Cafe(アッシュアンドカフェ)

Address

1494 Shimo-yamaguchi, Hayama-machi, Miura-gun, Kanagawa-ken

Nearest Station

From JR Zushi Station/Keikyu Railway, Shin-Zushi Station: take bus to Hayama Koen-Mae; 2 minutes on foot


Phone Number

046-884-9702

Hours: Lunch Time: 11:00AM~3:00PM (L.O. 2:00PM);
Bar Time: 6:30~10:00PM (L.O. 9:00PM)
*Advanced reservations recommended due to lunch time crowd
Closed: Every Mon and second Tues (following day in the event of public holiday)
■DAYS386 Cafe & Diner, located on the corner of Hayama City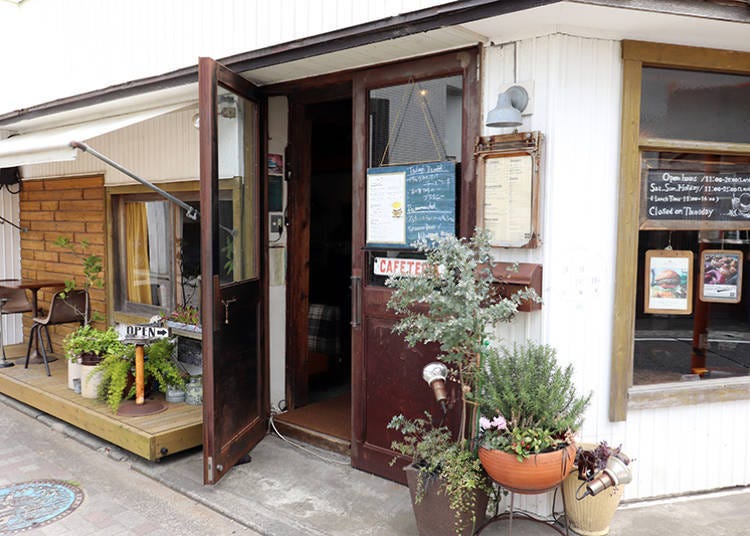 About 2 minutes on foot from Morito Beach is DAYS386, a cafe and diner popular for its homemade breads and menu items. Located at the corner of the town of Hayama, it is frequented by the locals during the week, as well as couples and families on the weekends.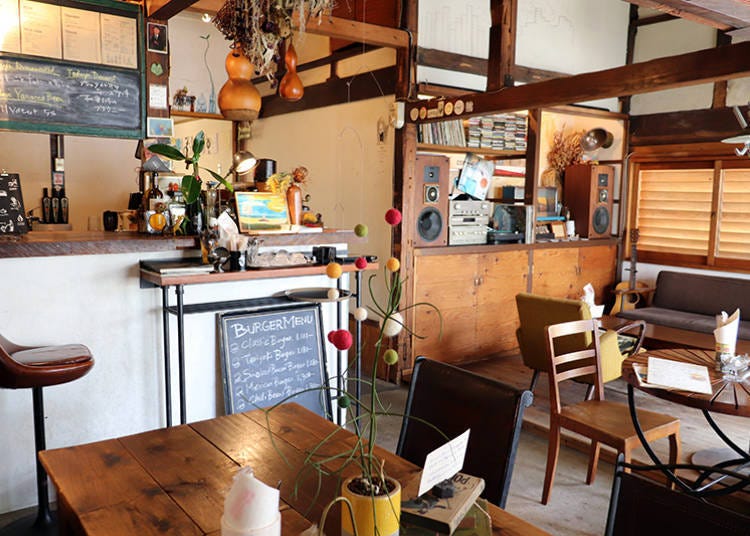 The natural light that flows into the shop creates a peaceful atmosphere, perfect for relaxing. Its appearance is stylish, with vintage furniture and sundries surrounding the inside of the shop. The owner from Yokohama loves collecting items and has run this shop for 7 years. It's fun to look around at the furniture items that have slowly increased over time.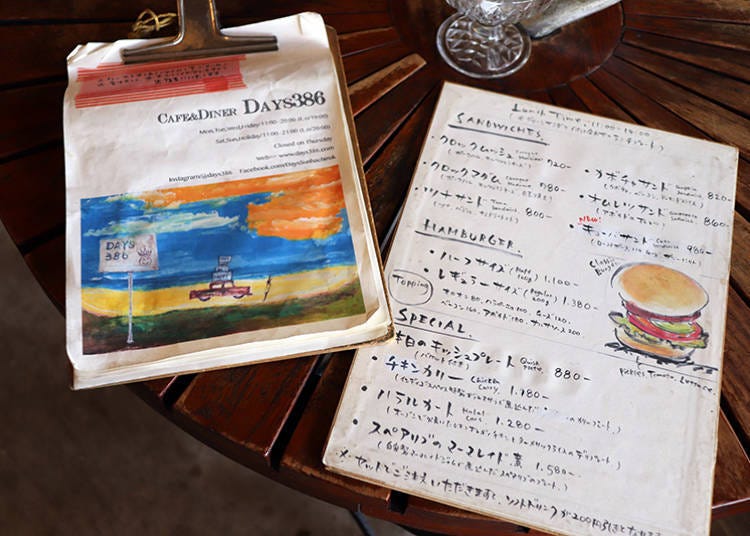 The entire menu is written in both Japanese and English, making it convenient for overseas visitors to order as well. Take your time and peruse the rich variety of options.

The most popular items are the sandwiches and burgers made with bread baked fresh in the shop. Other recommended homemade items are the curries, cakes, and even ice creams.
Halal Cart \1280, Homemade Ginger Ale ¥500 (tax included)
The dish I ordered today is quite popular with regular customers and locals: the Halal Cart. It is a hearty deli platter with oven-baked oregano chicken, turmeric rice, and salad served on a single plate. I also tried the Homemade Ginger Ale, a distinct combination of the peppery zing and the sweetness of ginger.

If you take the time to visit, you may also want to try the Zushi craft beer, Yorocco Beer. A local beer only available in the Shonan area, it is a hidden gem known to bring in visitors from afar, as well as from overseas, just to try it.
DAYS386

Address

377 Horiuchi, Hayama-machi, Miura-gun, Kanagawa-ken

Nearest Station

From JR Zushi Station/Keikyu Railway Shin-Zushi Station: Ride bus to Motomachi; 1 minute walk


Phone Number

046-876-5750

Open: 11:00AM~8:00PM (L.O. 7:00PM0, Sat/Sun/Holidays 11:00AM~9:00PM (L.O. 8:00PM)
*Lunch Time: until 2:00PM
Closed: Thursdays
■"Hinode-en," a long-established teahouse loved by those in the know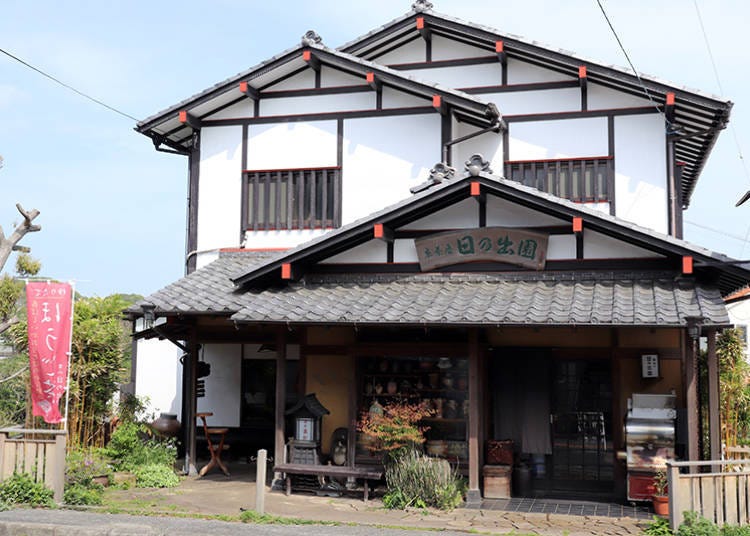 This long-standing tea house, Hinode-en, was established by its local Hayama owner about 45 years ago. Inside is a tea and confectionary shop, as well as a cafe.

Many customers visit regularly to purchase tea, and even more visit in the summer, sometimes from afar, to enjoy their shaved ice.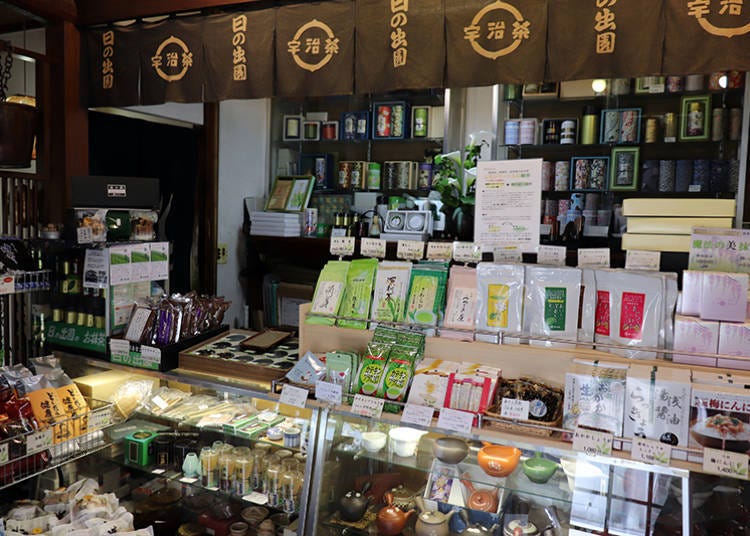 At the front of the shop is a Hojicha machine for roasted green tea, which welcomes you with the wafting aroma of tea from the moment you walk in. They also sell authentic tea products such as Hojicha, Hayama Ginger Tea, and Fukamushicha tea leaves in tea bags.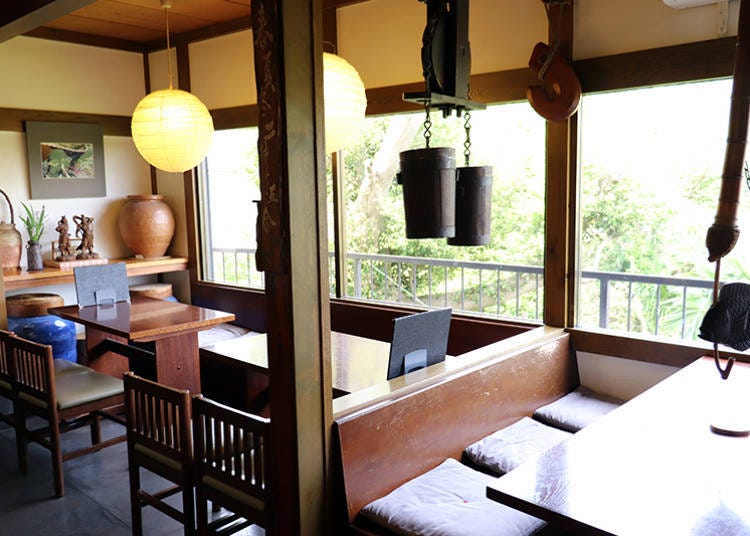 One corner of this old-fashioned house is a cafe. On one side, you can take in the beautiful green scenery from the window and fully enjoy the expansive Japanese atmosphere. The spotlight of the cafe menu is sweetness, such as that found in "anmitsu," "oshiruko," and "zenzai."

Everything on the menu includes Hojicha, a nice touch. Hojicha, or roasted green tea, contains less caffeine than regular green tea, so it is also an easy alternative to water. Enjoy the fragrance of the teas, and enjoy some well-deserved leisure time.

The menu is only available in Japanese, so this is a great chance to experience firsthand Japanese culture and communication, along with the flavors of the teas!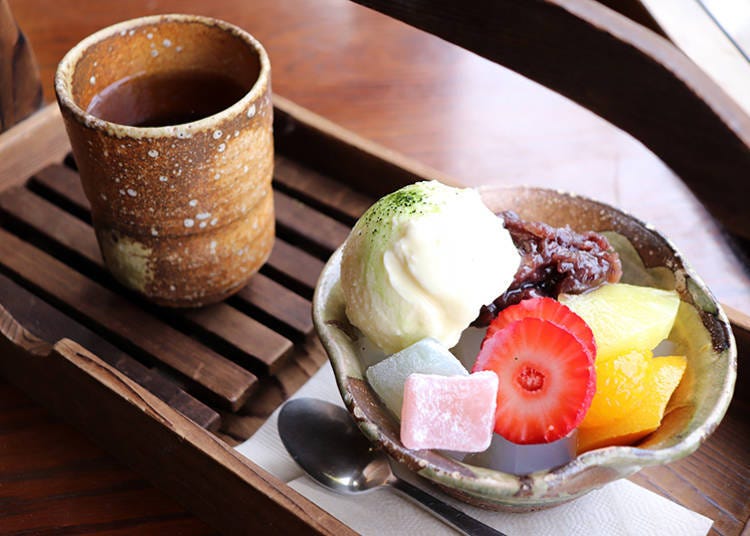 「クリームあんみつ」600円(税込)
Today I tried the Cream Anmitsu. It perfectly combines the sweetness of seasonal fruits and white honey, anko paste, and vanilla ice cream, along with the texture of kanten, a vegetable gelatin. For the kanten, local fishermen gather amakusa, a red algae, from around Hayama and Najima, and repeatedly wash and dry it, a time-consuming process. Because the kanten is made fresh in the shop, the finished product has a large and irregular shape, adding to the unique atmosphere.

The shaved ice available at Hinode-en in the summertime (June to September) is also quite popular. You can enjoy flavors unique to this tea shop such as Hojicha, Ujikin-toki (matcha), Genmaicha, locally-produced Black Tea, and locally-harvested Hayama Red Shiso Syrup. Feel free to try them all when you visit!
日の出園

Address

1413-212 Nagae, Hayama-machi, Miura-gun, Kanagawa-ken

Nearest Station

From JR Zushi Station/Keikyu Railway Shin-Zushi Station: take bus to Itohpia; 9 minutes on foot


Phone Number

046-875-5134

Open: 10:00AM~7:00PM (Cafe: 11:00AM~6:00PM, L.O. 5:30PM)
Closed: none (Cafe closed Mondays, except on public holidays), Wednesdays
■Enjoy local seafood and seasonal vegetables on a terrace overlooking the sea at "LA MARÉE"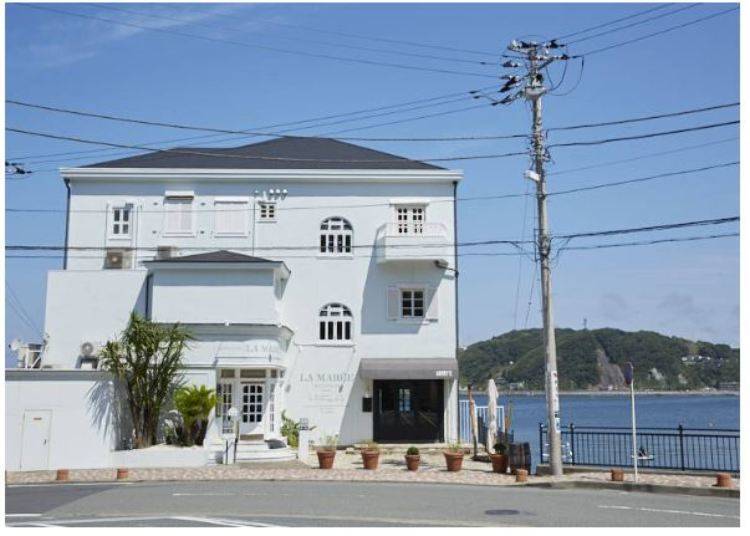 LA MARÉE is a restaurant established in 1977, built as if floating atop the sea of Hayama. As the name "shiosai," or "the sound of waves" suggests, you can dine on the terrace you overlook the sea. On the first floor is a casual cafe-brasserie, and the terrace where you can casually enjoy a beer.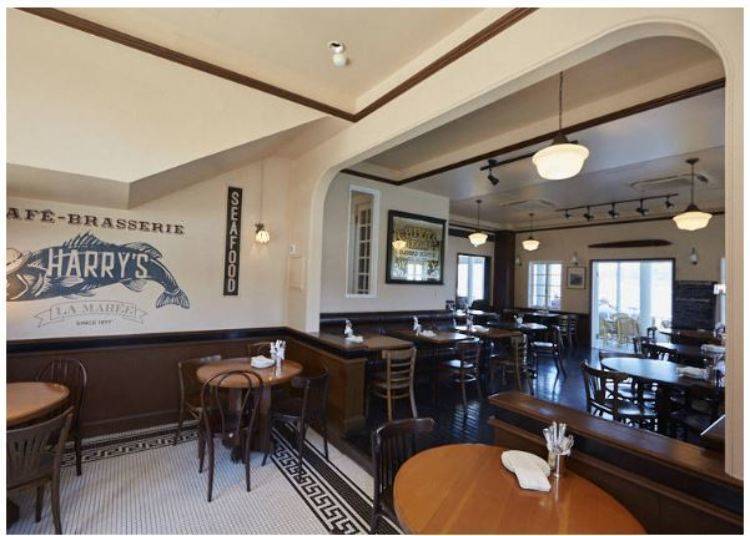 If you're in the mood for some fine wine and French seafood cuisine in a chic environment, then the second floor is for you. The third floor is a banquet room that can be rented out, great for holding feasts and parties.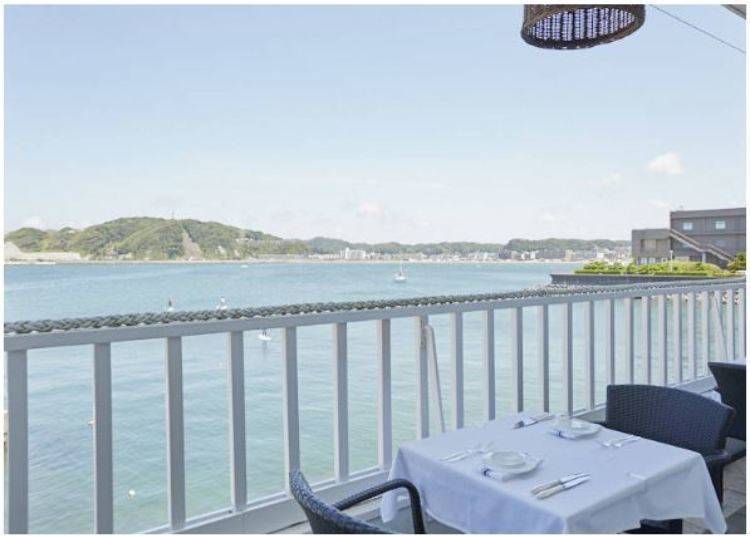 The seats on the terrace overlook the entire shore of Zushi Beach. You can even see the coast from Enoshima to Chigasaki, and on clear days, can spot Oyama, Hakone, Izu Peninsula, and Mt. Fuji. The winter view of Mt. Fuji capped in snow is especially beautiful!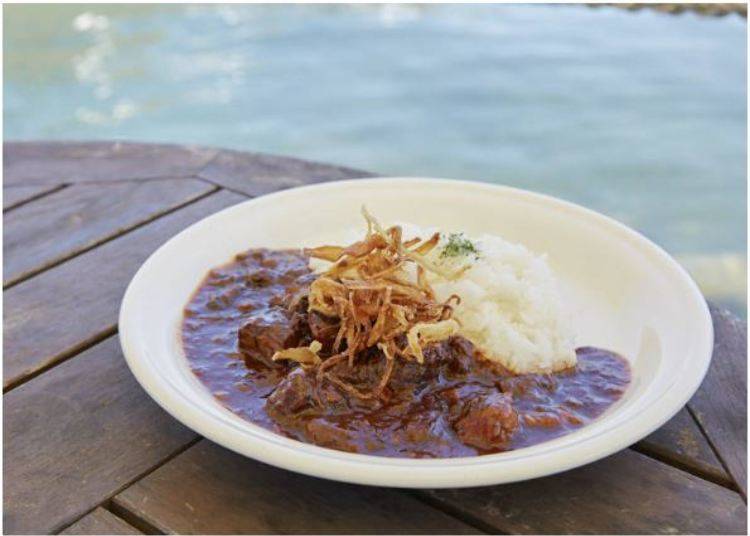 Weekday Lunch La Maree Special Hayashi Rice, \1944 (tax included) *A la carte \1620 (tax included)
LA MARÉE lets you experience Hayama through creative, French-style seaside cuisines, made with an abundance of freshly harvested fish and seasonal Miura vegetables. The cafe brasserie also takes advantage of the fresh seafood and vegetables that are brought in daily, offering a la carte dishes to enjoy with the alcoholic beverages.

The photo shows the most popular item, the La Marée Special Hayashi Rice. You can also order hamburgers, pasta, and original cocktails that all use herbs and seasonal fruits harvested from La Marée's very own farm. Take some time during your trip to simply relax on the terrace and look out over the sea.
LA MARĒE

Address

24-2 Horiuchi, Hayama-machi, Miura-gun, Kanagawa-ken

Nearest Station

From JR Zushi Station/Keikyu Railway Shin-zushi Station: Ride bus to Abuzuri; 1 minute on foot


Phone Number

046-875-6683

Closed: Mondays (in the event of a public holiday, following day will be closed)

1F Cafe & Brasserie HARRY'S
Hours:
Weekdays
Lunch: 11:30AM~2:30PM
Tea: 2:30PM~5:00PM
Dinner: 5:00PM~9:00PM (last order)
Saturday, Sunday, Holidays
Lunch: 11:30AM~2:30PM
Tea: 2:30PM~4:00PM
Dinner: 4:00PM~9:00PM (last order)

2F, 3F RESTAURANT LA MARÉE
Hours:
Lunch: 11:30AM~2:30PM (last order)
Dinner: 5:30PM~9:00PM (last order)
■ "Orange Blue," the best place to relax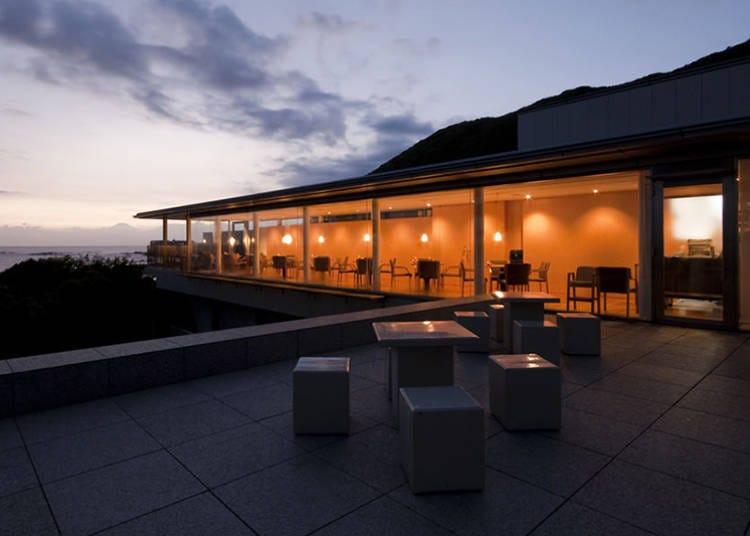 Orange Blue is a restaurant and cafe located in the Kanagawa Prefectural Museum of Modern Art. In the beginning of the shop's opening, the majority of customers were visitors of the art museum, but over the span of 15 years, word of the great location and delicious food spread, and now all kinds of people come from all over to visit the restaurant.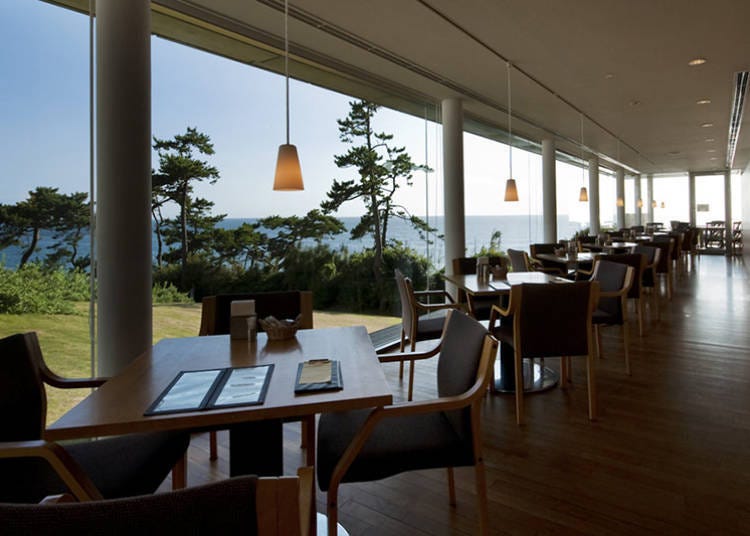 There are table seats as well as terrace seats, but the scenic view is amazing from any spot! This is a great place to escape the bustle of daily life and enjoy some delicious food and relaxation. I really wanted to experience the cafe from the terrace.

There seem to be many people who go there to relax with their "Chiffon Cake Set," which includes homemade chiffon cake and Darjeeling tea.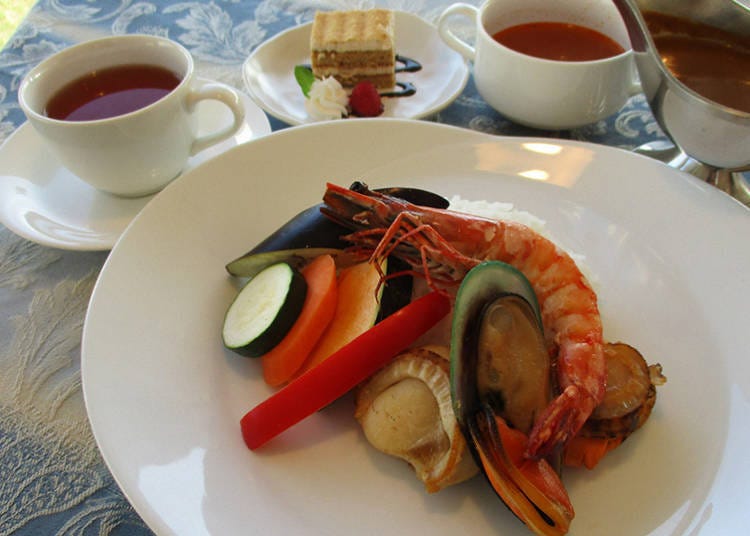 Luxury Seafood Curry Set \2400 (tax included)
The dishes are brimming with the shop's specialty. The top ranking popular item, the Luxury Seafood Curry Set, is indeed a luxurious plate as the name suggests, using fresh and abundant seafood and Miura vegetables. Soup, dessert, and coffee or tea is also included. This curry, flavored with the taste of delicious seafood, is popular with Japanese locals and overseas visitors alike.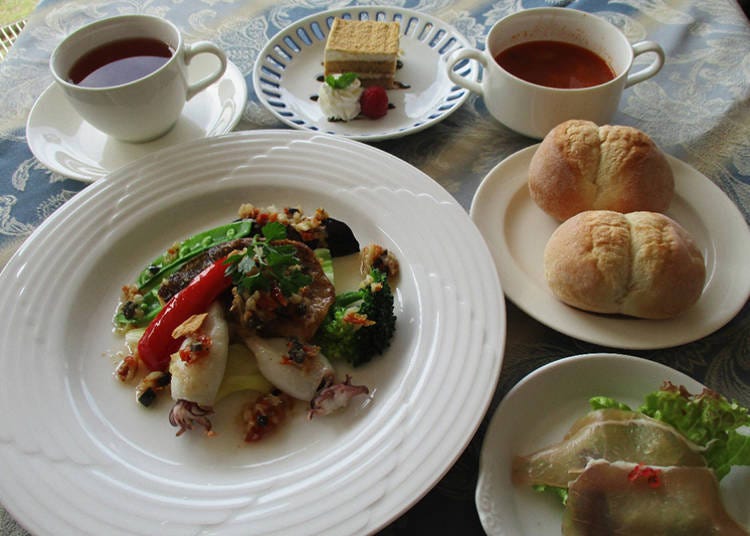 A menu of "Lunch Courses to Savor Leisurely" with main dishes of meat and fish is another recommendation. The set includes amuse-bouche, dessert, and coffee or tea, and as the name suggests, are dishes you will want to enjoy slowly as you take in the scenery of the Hayama Sea stretching out right before your eyes.

At Orange Blue, you can enjoy a number of dishes made with fresh Miura vegetables in a prime location. The hearty hamburger dish with a side of fries is another popular choice for overseas visitors. Take your time and enjoy your meal as you bask in the scenery during your visit.
オランジュ ブルー

Address

2208-1 Isshiki, Hayama-machi, Miura-gun, Kanagawa-ken

Nearest Station

From JR Zushi Station/Keikyu Railway Shin-zushi Station: Ride bus to Sangaoka/Kanagawa Prefectural Modern Art Museum Front Bus Stop; 1 minute on foot


Phone Number

046-875-0919

Hours:
Tues~Sun, Public Holidays:
Tea: 10:00AM~5:00PM (L.O. 4:30PM)
Lunch: 11:00AM~3:00PM
Closed: Mondays
*Open if Monday is public holiday, New Years Holiday (12/29~1/3)
*This information is from the time of this article's publication.
*Prices and options mentioned are subject to change.
*Unless stated otherwise, all prices include tax.