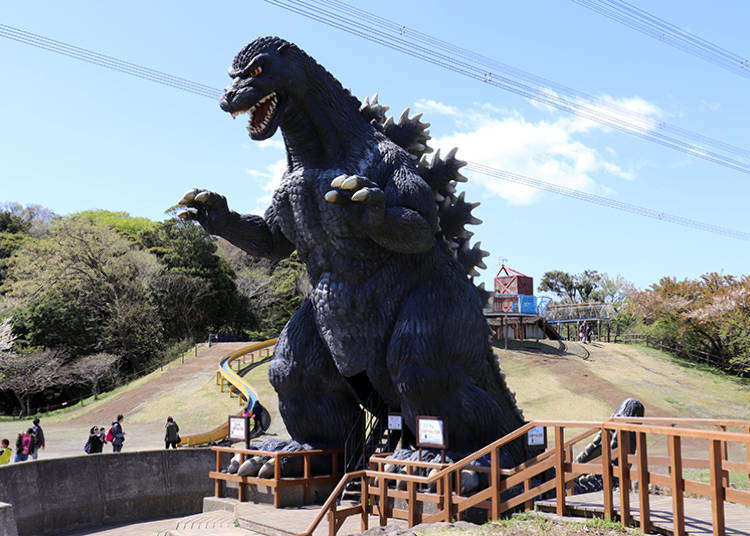 Kurihama is in the eastern part of Yokosuka City, Kanagawa Prefecture - just south of Tokyo. This suburb situated in a lush natural setting is about an hour and half away from Tokyo. Kurihama is just the place to experience nature up close.

Here we will tell you about the Kurihama Flower Park, a park in which many types of flowers bloom throughout each of the four seasons! It's perfect for a day trip from Tokyo with family.
■ What is Kurihama Flower Park?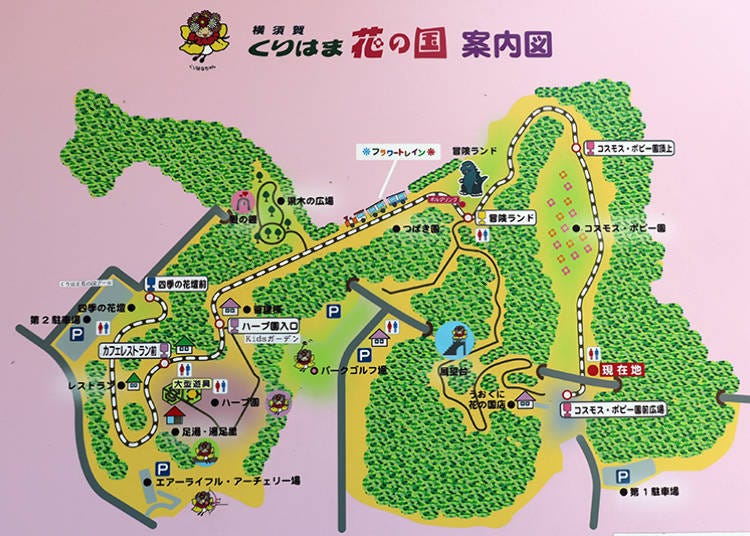 Kurihama Flower Park is a Yokosuka City park located about a 15-minute walk from either the JR Kurihama Station or Keikyu Kurihama Station. This luxuriant park utilizes the natural terrain and features seasonal flowers throughout the year, such as poppies in the spring and cosmos in the fall.

There are also other facilities, too, such as an athletic playground, restaurant, miniature golf course, and archery range to provide you with a full day of entertaining activities!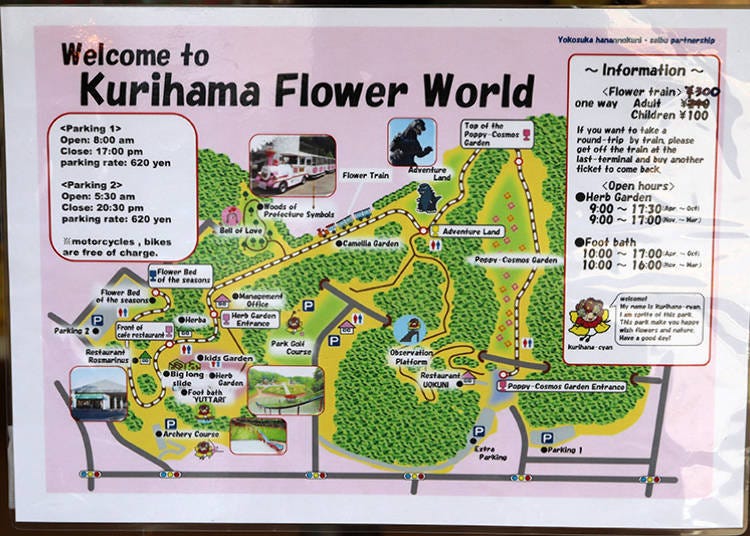 There is also an English version of the park map. There were many foreign visitors enjoying the park when we visited it to write this report.

So, without further ado, let's take a look at all these facilities!
■ Lots of seasonal flowers! Poppy and Cosmos Gardens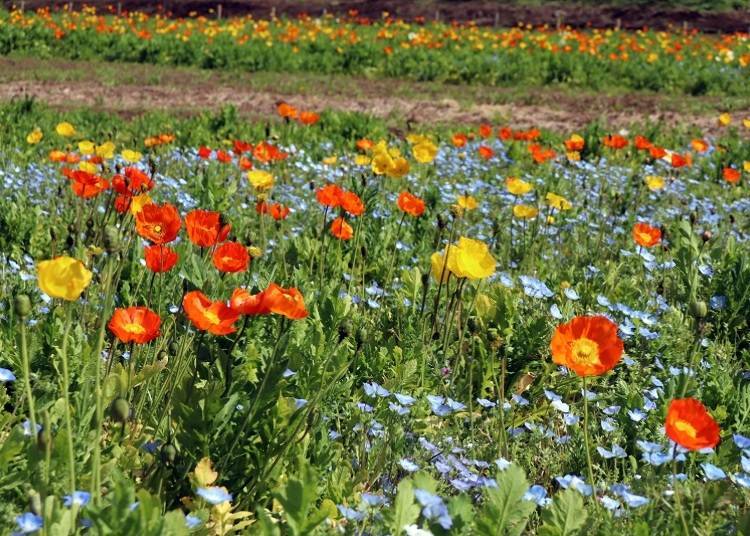 The first thing you will see when you enter the park is the Poppy and Cosmos Gardens. These fields boast more than a million poppies in the spring and cosmos blooming in the fall. Every year as the season for each approaches a Poppy Festival and a Cosmos Festival are held and on the final day of each, there is a Free Flower Picking Event which allows park visitors to pick and take home poppies in the spring or cosmos in the fall.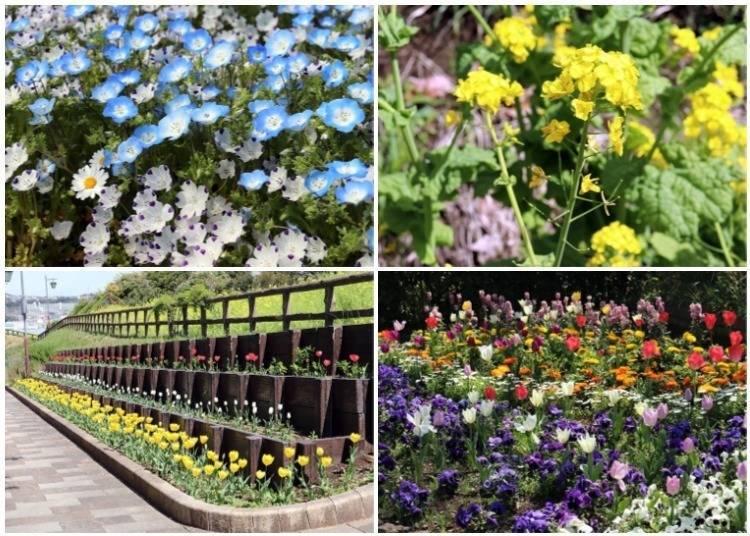 Elsewhere in the park there are many other gardens containing different flowers of all the four seasons, so the park is always resplendent in colorful carpets of flowers. Set amongst the greenery of the trees, the colorful flowers are really beautiful! Other spring flowers include Nemophila, rape blossom, and tulips.
■ The Flower Train is a convenient way to get around inside the park
The terrain inside the park is hilly, so an easy way to get about is to take the Flower Train which is a bus simulating an old steam engine train. The driver also provides explanations about the park and its features. Normally it makes about four runs every hour.
There are two types of Flower Train: the white and orange Poppy and the white and pink Cosmos. While going about in the park it also sounds like a steam locomotive passing which is an added thrill for park visitors.

Flower Train
Hours: 10:00 a.m. ~ 4:00 p.m. (Schedule varies according to season)
Out of Service: Monday (if Monday falls on a national holiday then the following day), end of year and beginning of New Year, when it rains; *during the summer holidays and off season it always is in operation.
Fares: Adults (Junior high school and older) 300 yen (one way), children (3 years of age to elementary school age) 100 yen (one way
■ Impressive giant Godzilla slide! Adventure Land athletic playground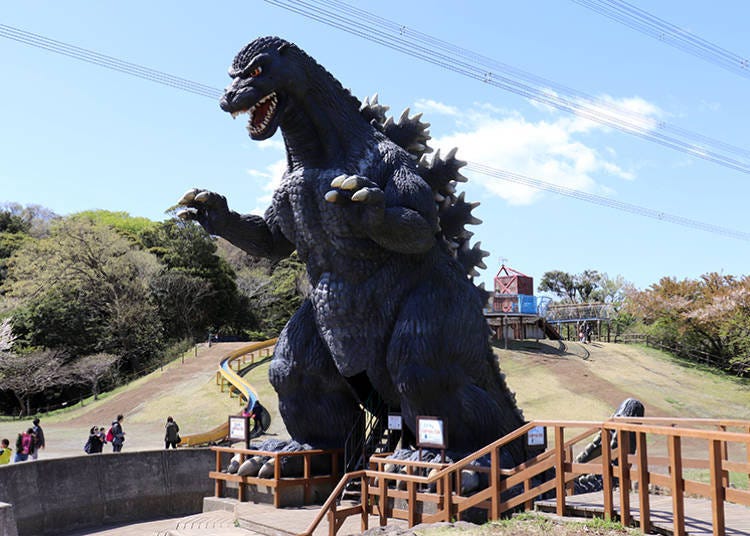 The gigantic Godzilla slide is certain to get your attention in Adventure Land. Only children between the ages of 6 and 12 are allowed to use it.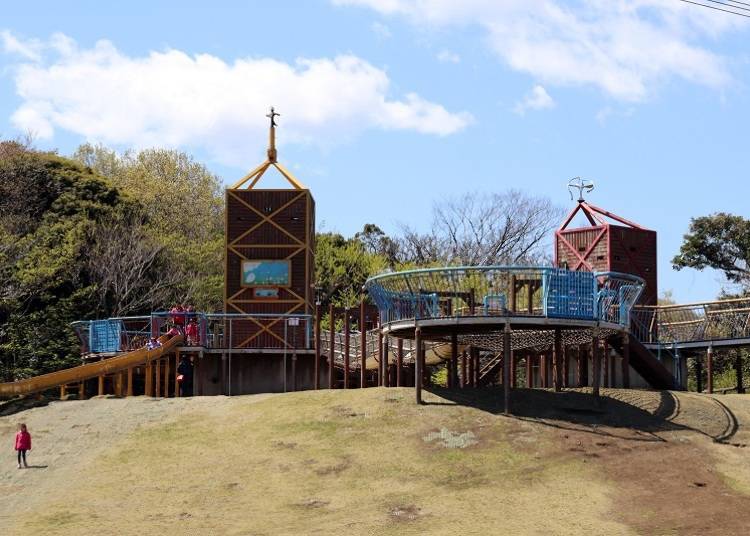 There are also a 45-meter-long roller slide and a large-scale obstacle course in Adventure Land. This is a fun place for the whole family where children can play to their hearts' content.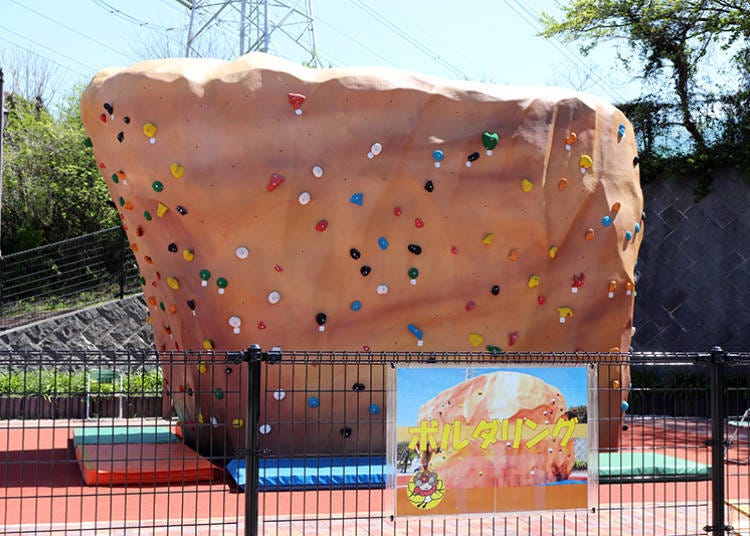 Also, a bouldering facility was added in 2018. Bouldering is a form of rock climbing that is performed on small rock formations or artificial rock walls, known as boulders, without the use of ropes or harnesses. It is 3 meters 85 centimeters high, 5 meters 59 centimeters wide, and 3 meters 9 centimeters thick, something both beginners and parents with children can enjoy.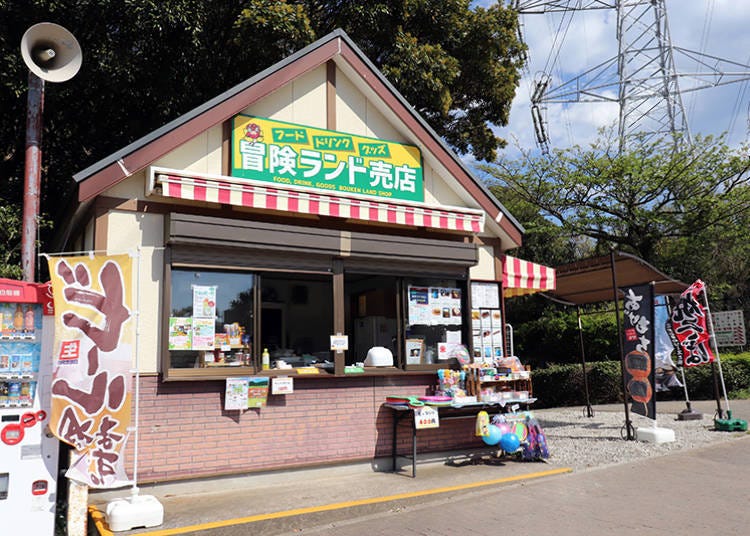 The Adventure Land Shop, which operates seasonally, is located nearby and offers a selection of light meals. It also sells toys that can be used within the open area.

Adventure Land
Hours: 10:00 a.m. ~ 4:00 p.m.
Closed: Mondays (if Monday falls on a national holiday then the following day) *never closes during the off season *stays open during the Poppy and Cosmos Festivals
■ Lots of places for taking photos!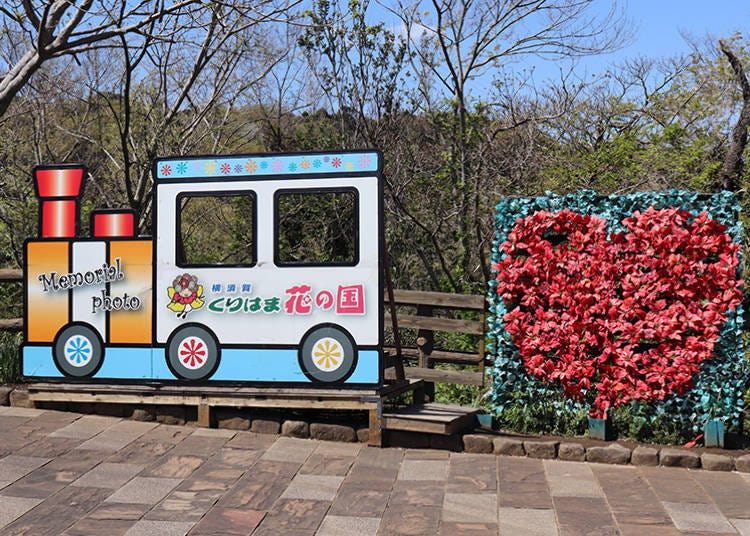 This is a photo spot set up near the administration building. Lots of flowers are fashioned into the shape of a heart being pulled by the Flower Train and you can stand behind it as though you are looking out from the window for taking commemorative photos.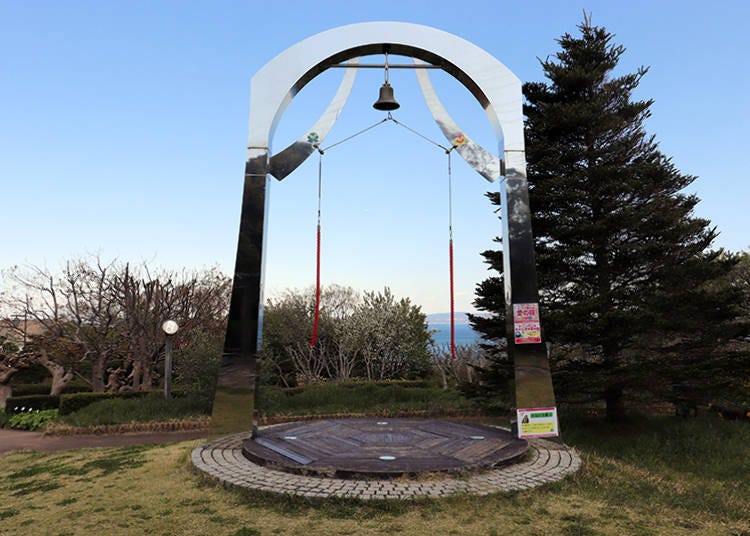 At the aptly named Prefectural Trees Square there are prefectural trees from each of Japan's prefectures and you can see the ocean through the arches of the Bell of Love. If you get a Lovers Certificate here, you also will be given a free drink. This romantic location is the best place for taking a memorable photo.
■ Los Marinos: Restaurant with a view of the sea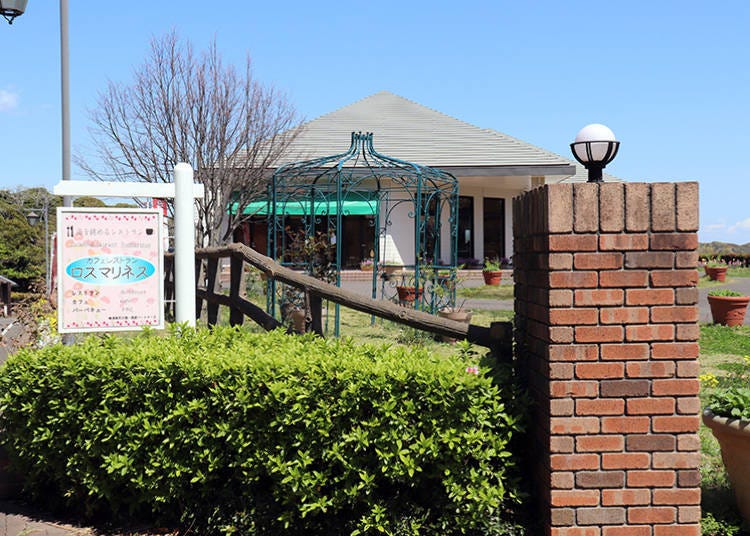 If you walk along the path past the administration building and Prefectural Trees Square you will come to the Los Marinos garden restaurant where you can enjoy a meal with a view of the sea. Enjoy a meal or something light like ice cream or sweets while enjoying the excellent view.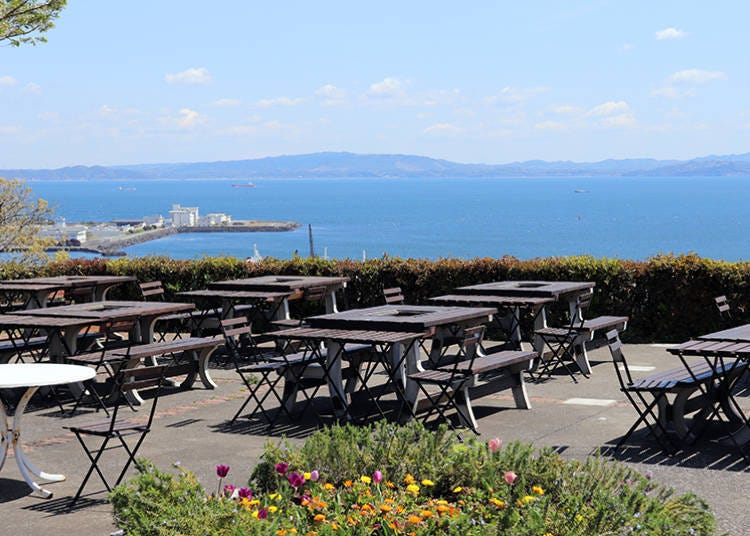 The Open Air BBQ offers an excellent view of Tokyo Bay, plus if you make a reservation in advance, you can rent barbecue equipment and be provided with food for it so you don't need to bring anything. Enjoying the sea breeze while barbecuing is very relaxing!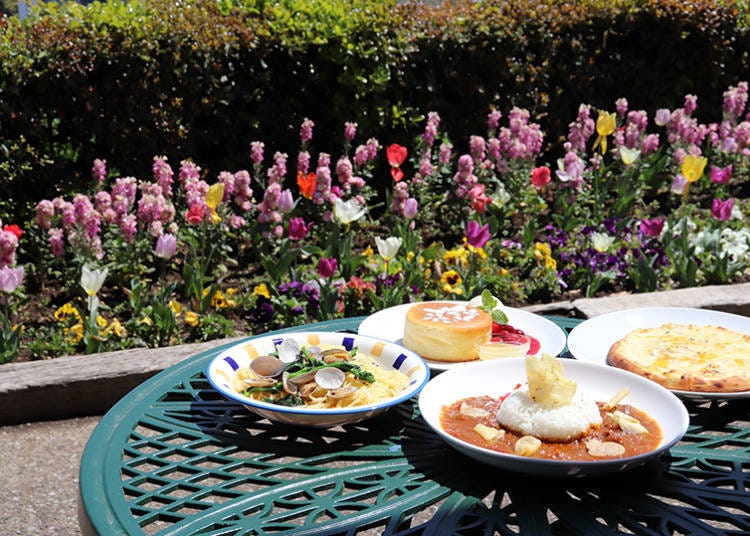 You can also bring your pet to the terrace with you. This is a good place to while away the time while enjoying all the colorful flowers and view of the sea. This uses the food voucher system whereby you purchase a ticket for the food you wish to order. In addition to lunch plates, there are also curries and pastas as well as various ala carte sweets. There also are seasonal menus of recommended dishes to enable you to enjoy flavors popular at those times.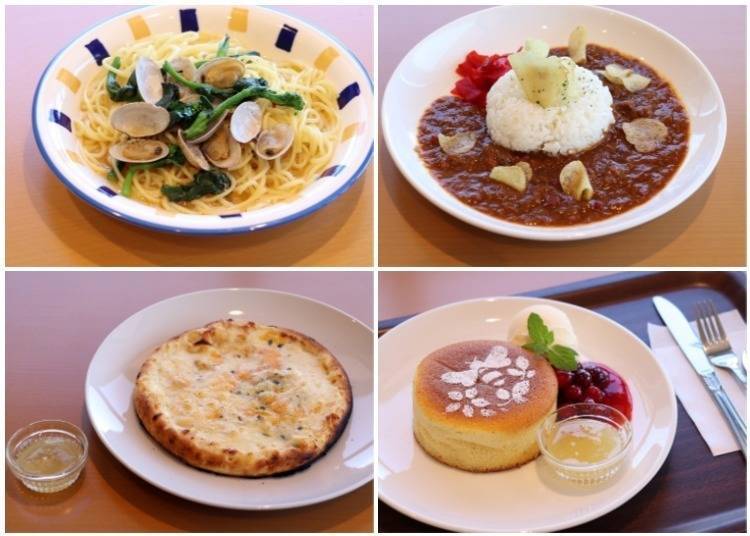 The Rape Blossom Vongole (850 yen including tax), recommended in the spring, is a tasty spaghetti dish made with rape blossoms, large Manila clams, white wine, and garlic. Famous Flower Park Potato Chip Curry (800 yen including tax) is a vegetable curry topped with potato chips.

5-Types of Cheese Pizza with Flower Land Honey (850 yen including tax). Western honeybees, maintained by park beekeepers, gather nectar from all the park flowers to make the honey used in this pizza. Flower Park Honey Pancake (700 yen including tax) uses pure honey made at Kurihama Flower Park. This honey has just the right sweetness that goes perfectly with both pizza and pancakes.

Restaurant Los Marinos
Open: 10:30 a.m. ~ 4:00 p.m.
*Last order: food 3:00 p.m., drinks 3:30 p.m.
Closed: Mondays (If Monday falls on a national holiday then the following day)
■ Enjoy athletics at the Playground Complex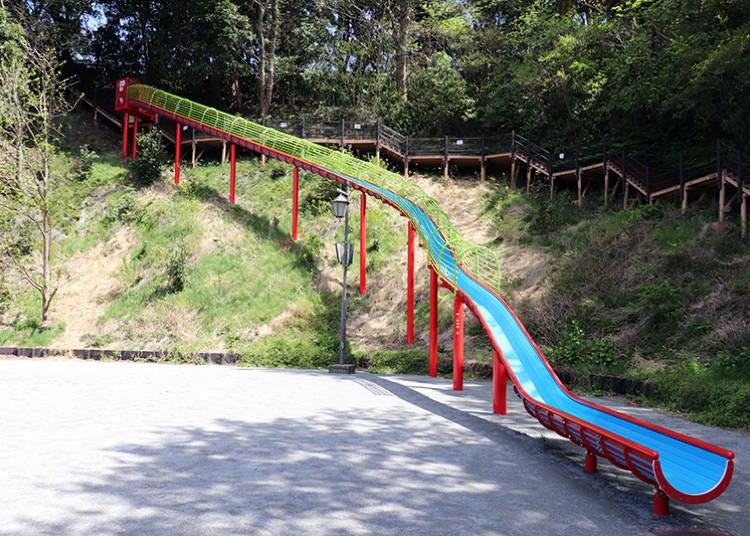 The Playground Complex contains a variety of athletic challenges in a space next to the Herb Garden where all sorts of herbs are gathered in one place. For thrill seekers there is the exciting large-scale long slide! You can try it as often as you like.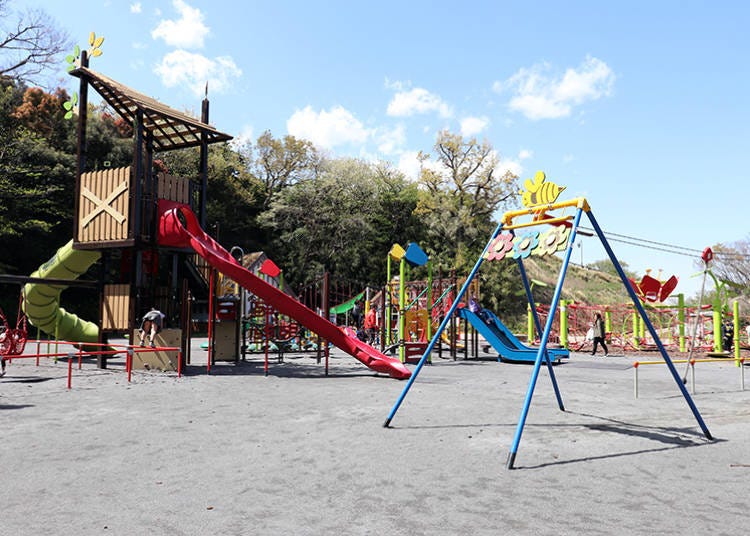 There are many other fun challenges, too, such as the Adventure Tree, Honeybee Tarzan, Flower Net, and Kids Park. There are benches and tables near the play areas where you can sit and relax anytime you like.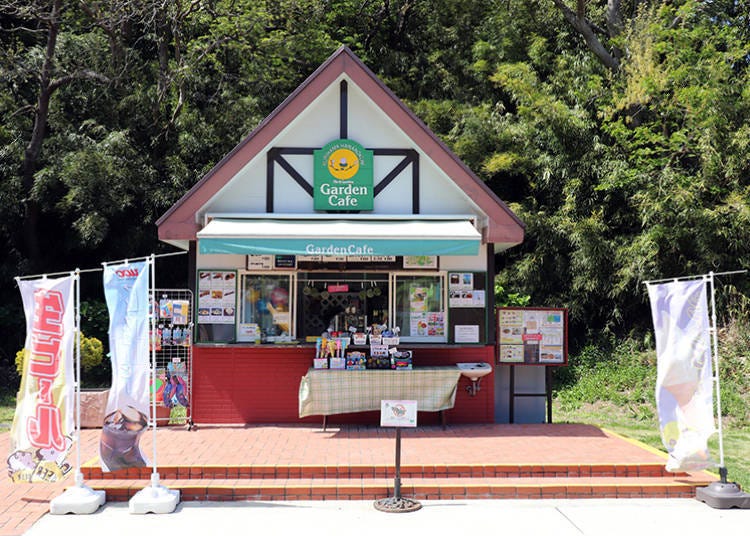 At the nearby Herb Garden Cafe you can get snacks, drinks, ice cream, and even toys.
■ Take a break at the herb foot bath Yuttari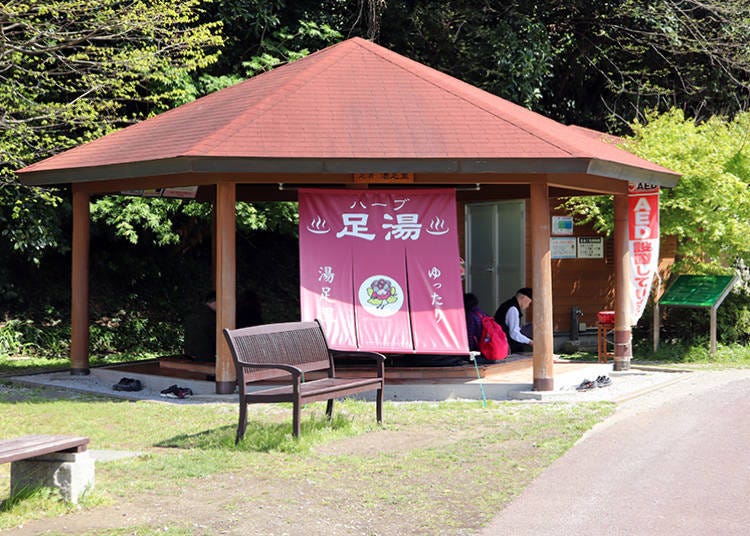 Unobtrusively tucked away near the Herb Garden is the Flower World secret hot spring Yuttari herb foot bath. Herbs are gathered and blended according to the season and added to the foot bath which is enjoyed by many of the park visitors.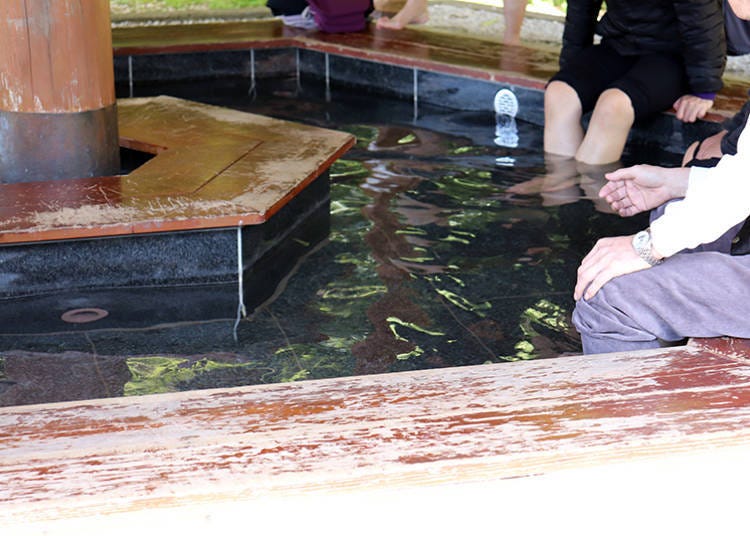 Soaking your feet in the slightly hot foot bath will warm you through and through. When you resume walking in the park after the foot bath your step will feel much lighter. Sitting and soaking your feet while viewing the seasonal flowers is very relaxing.

Yuttari
Hours: 10:00 a.m. ~ 5:00 p.m. (April ~ October), 10:00 a.m. ~ 4:00 p.m. (November ~ March)
Fee: Free
Park closed: Monday (if Monday falls on a national holiday then the following day), end of year and beginning of New Year
■ To commemorate your visit to the park buy a souvenir at the Cosmos House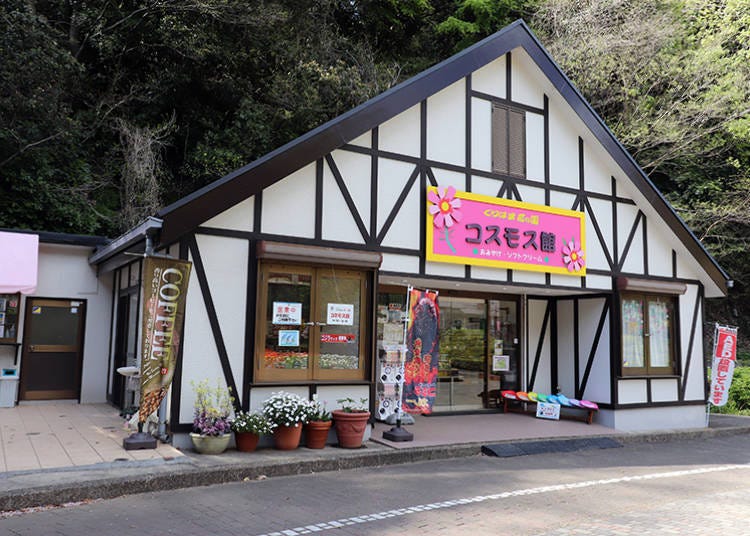 The Cosmos House is located just inside the entrance to the park and sells Kurihama Flower Park souvenirs and other items. In addition to Kurihama Flower Park souvenirs, there are also Godzilla goods and various local Yokosuka products all of which make fine gifts.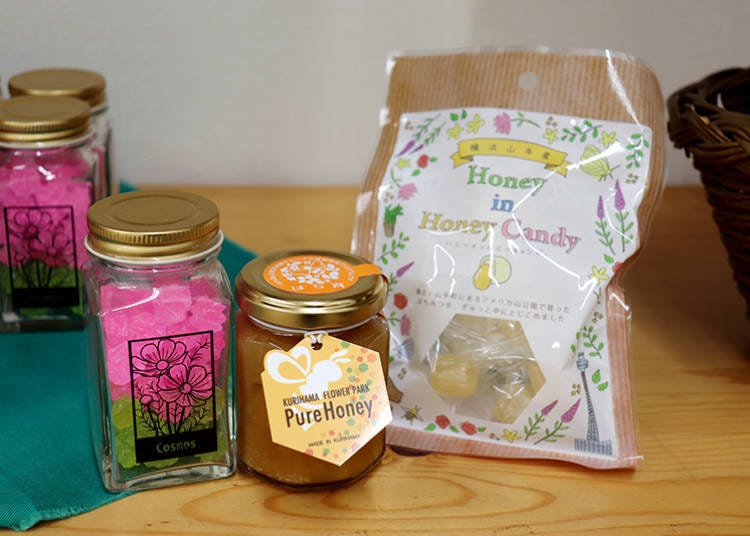 We especially recommend the Made In Kurihama Flower Park Natural Honey (35 gram, 540 yen including tax). This is the same honey that is served in the Restaurant Los Marinos so you can get some to take home with you. Flower Park Candy in colorful combinations of strawberry flavored pink and melon flavored green also make good gifts (600 yen including tax) as does the Honey in Honey Candy (500 yen including tax).

Cosmos House
Open: 10:00 a.m. ~ 4:00 p.m.
Closed: None


Also in Kurihama Flower Park are an archery range, a miniature golf course, and an air rifle shooting range. The many attractions and activities available in this natural setting resplendent with flowers is a place where you can happily spend the whole day.
くりはま花の国

Address

1 Shinmeicho, Yokosuka City, Kanagawa Prefecture

Phone Number

046-833-8282

Open: 24 hours a day
Closed: Open daily
* Some facilities in the park are closed during open hours.
* Please check with each facility for more details.
*This information is from the time of this article's publication.
*Prices and options mentioned are subject to change.
*Unless stated otherwise, all prices include tax.