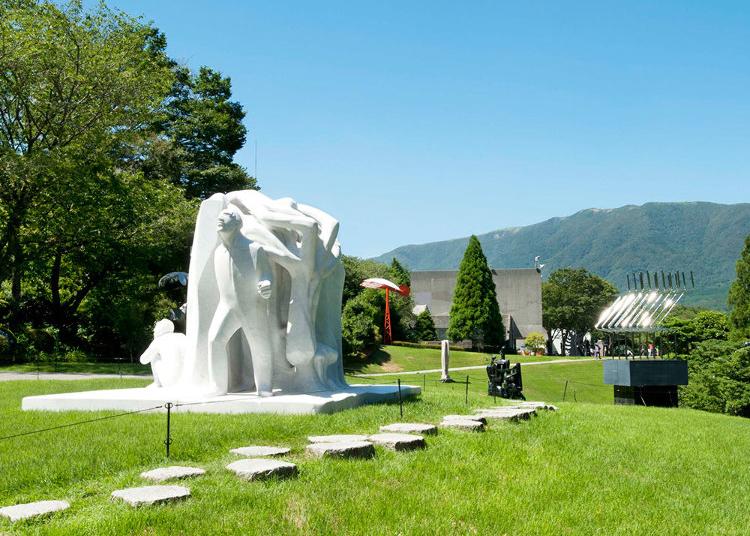 Here are the best Art Museums in Hakone / Odawara, with travel tips and more, according to LIVE JAPAN, a top-class travel website for visitors to Japan. Our ranking is based on the most popular pages viewed by foreign visitors in a given category. For instance, Venetian Glass Museum, Narukawa Art Museum, Hakone Open-Air Museum and other related spots will be listed. Be sure to check them out during your visit to Hakone / Odawara!
No.1:Venetian Glass Museum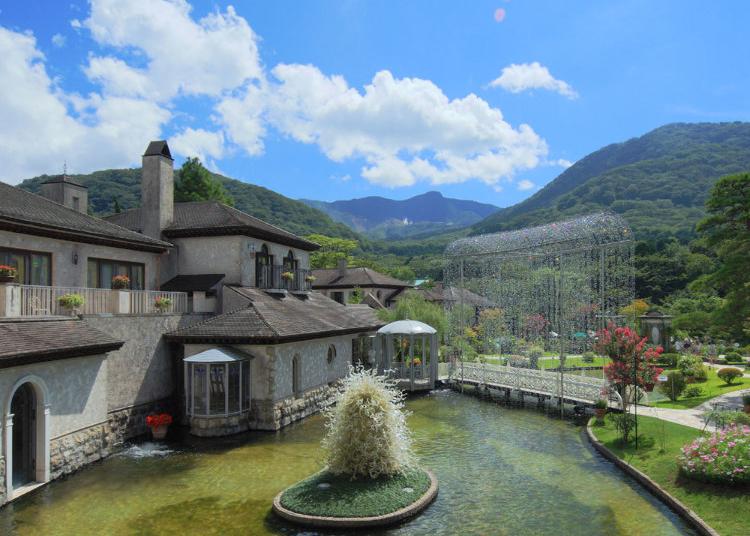 Hakone Garasu No Mori Museum, or the Venetian Glass Museum in Hakone, is the first museum to specialize in Venetian glass in Japan. On the premises, there are the Venetian Glass Museum, which exhibits 100 excellent works of Venetian glass objects from the 15th century to 19th century, and the Modern Glass Museum, which exhibits glass sculptures of contemporary artists. In the garden, from which the entire Owakudani Valley can be viewed, "Hikari-no-Kairo," a crystal glass arch sparkles in seven colors reflecting the sunlight. Also, the seasonal exhibits such as cherry blossoms, Japanese silver grass, and Christmas trees made of crystal glass are must-see. There is a workshop where you can experience glass making, and you can create your original work there. A restaurant where you can enjoy live canzone sung by an Italian singer (six performances a day) and a museum shop that handles 100,000 items of Venetian glassworks and accessories are also on the premises.
Address

940-48, Sengokuhara, Hakone-machi, Ashigarashimo-gun, Kanagawa, 250-0631
View Map

Nearest Station

Hakone-Yumoto Station (Hakone Tozan Railway)


Phone Number

0460-86-3111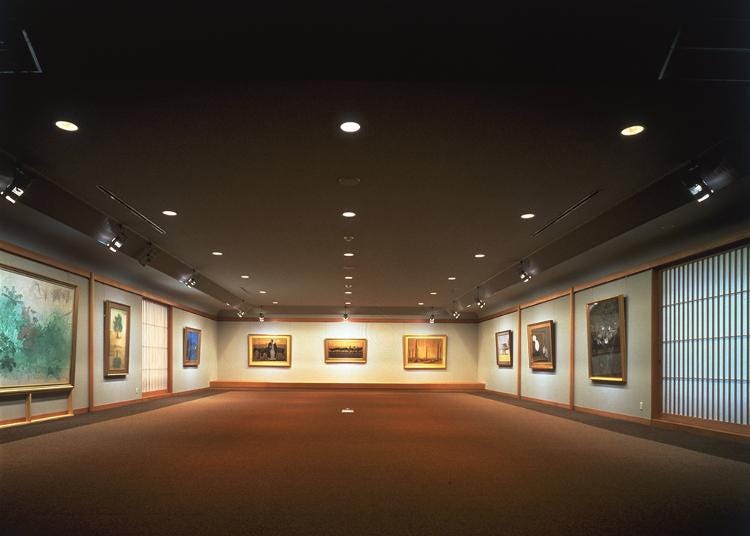 Located near Lake Ashino-ko in Hakone, the Narukawa Art Forum opened for the purpose of creating a future genre of Japanese painting. The majority of the collection is contemporary Japanese paintings, over 4,000 works. It also contains 150 works by Kyujin Yamamoto, a recipient of the Order of Cultural Merit; and 40 works by Ikuo Hirayama, notable for his scenes of the Silk Road. Works by these two painters form the core of the collection. The permanent exhibition displays Chinese hidden treasures (works of jade and ivory, giant balls, and sculptures). Special exhibitions are held four times a year, with each exhibition displaying works that fit the theme, regardless of a painter's status. The museum also commands magnificent views; its panorama of Lake Ashino-ko through a 50-meter-wide window is the best in Hakone. In the cafe, you can enjoy powdered green tea in fine porcelain.
Address

570, Motohakone, Hakone-machi, Ashigarashimo-gun, Kanagawa, 250-0522
View Map

Nearest Station

Odawara Station (Tokaido Shinkansen Line / JR Tokaido Main Line / JR Shonan Shinjuku Line / JR Ueno Tokyo Line / Odakyu Odawara Line / Hakone Tozan Railway / Izuhakone Railway Daiyuzan Line)


Phone Number

0460-83-6828
No.3:Hakone Open-Air Museum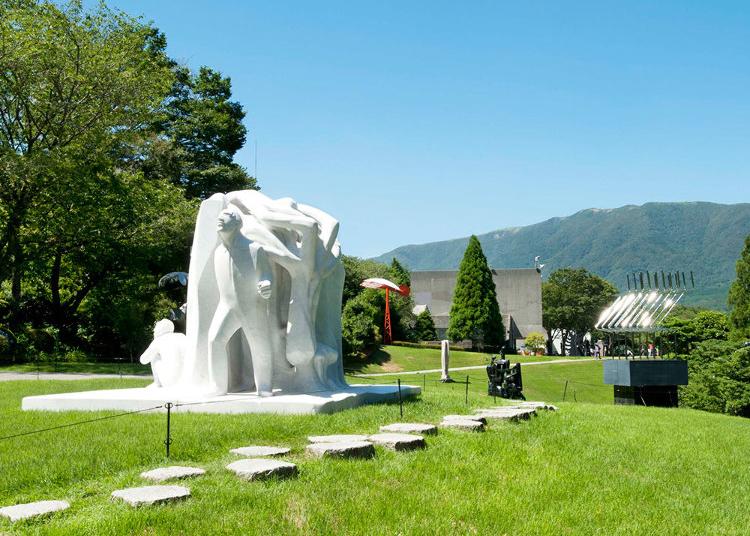 The Hakone Open-air Museum is the first open-air museum in Japan, where one can enjoy viewing sculptures and other works of art surrounded by magnificent nature. Exhibited in the extensive 70,000-square-meter grounds are close to 120 works produced by sculptors representing the modern and contemporary eras. One can admire these works while enjoying the nature of each season. In addition to the Picasso Pavillion, where close to 300 of the world-famous artist's works are exhibited sequentially, and the five indoor galleries, various events and exhibitions are held at this museum. Also inside the premises are all-you-can-eat restaurants, cafés, shopping malls, and a foot-bath with water flowing right from the natural hot spring.
Address

Hakone-machi, Ashigarashimo-gun, Kanagawa nino flat 1121, 250-0493
View Map

Nearest Station

Chokoku-no-Mori Station (Hakone Tozan Railway)
2 minutes on foot


Phone Number

0460-82-1161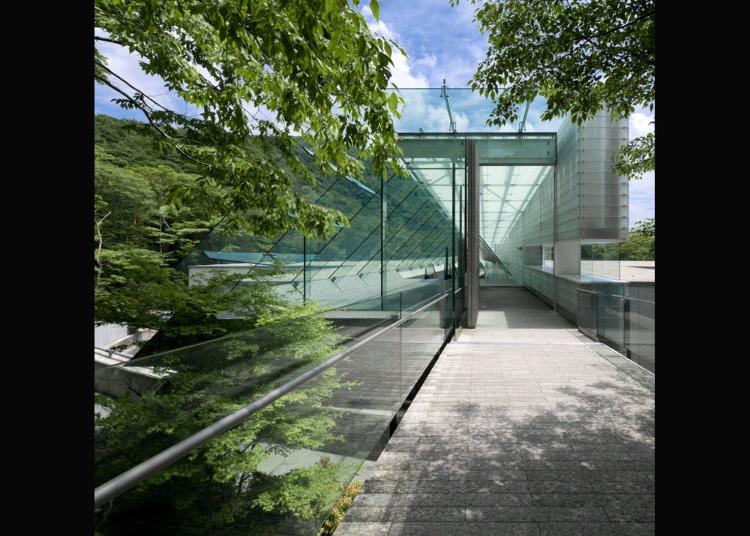 Pola Museum of Art, built among the forests of Hakone with the concept of achieving a "symbiosis between Hakone's natural beauty and the works of art," has a structure limited to 8 meters in height in consideration of the nature and landscape of Hakone. The 9,500 pieces of art at this museum were collected by Tsuneshi Suzuki, the second-generation owner of the cosmetics company, Pola. It includes a variety of genres, such as European paintings, European-style Japanese paintings, Japanese-style paintings, prints, oriental ceramics, glassworks and historical and modern cosmetic utensils from around the world. It also opened a promenade in July, 2013, on which you can enjoy a stroll among the Japanese beech and camellias of Fuji Hakone Izu National Park. The opportunity to relax among nature in the restaurant serving authentic European cuisine and the casual café is also an attraction. The museum shop on the first floor, where you can buy French herbal tea, honey, imported candies, Hakone crafts and other souvenirs, can be accessed without entering the museum.
Address

Mt. Sengokuhara, Hakone-machi, Ashigarashimo-gun, Kanagawa Kozuka 1285, 250-0631
View Map

Nearest Station

Gora Station (Hakone Tozan Railway / Hakone Tozan Cable Car)


Phone Number

0460-84-2111
No.5:Lalique Museum, Hakone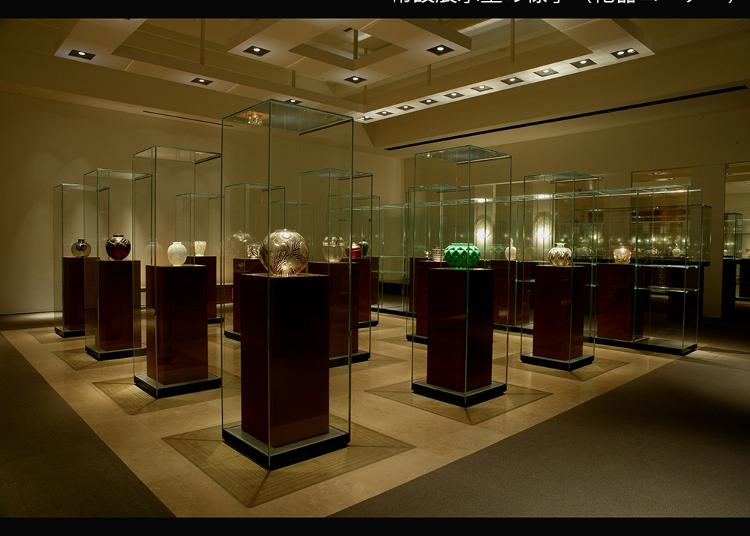 Lalique Museum, Hakone owns the collection of more than 1,500 of Lalique pieces including about 200 precious jewelry. The selection in the permanent exhibition section is frequently changed according to the theme or the season of the year. In the temporary exhibition room, various exhibitions on different themes on Lalique such as Japonism, nature or the craftsmanship are organized.
In the restaurant, we offer you afternoon tea in the gorgeous wagon of "Orient express". Surrounded by more than 150 pieces of Lalique's glass panels, visitors can fully enjoy luxurious café in the wagon. Booking is required after the admission.
Address

186-1, Sengokuhara, Hakone-machi, Ashigarashimo-gun, Kanagawa, 250-0631
View Map

Nearest Station

Hakone-Yumoto Station (Hakone Tozan Railway)
30 minutes by bus


Phone Number

0460-84-2255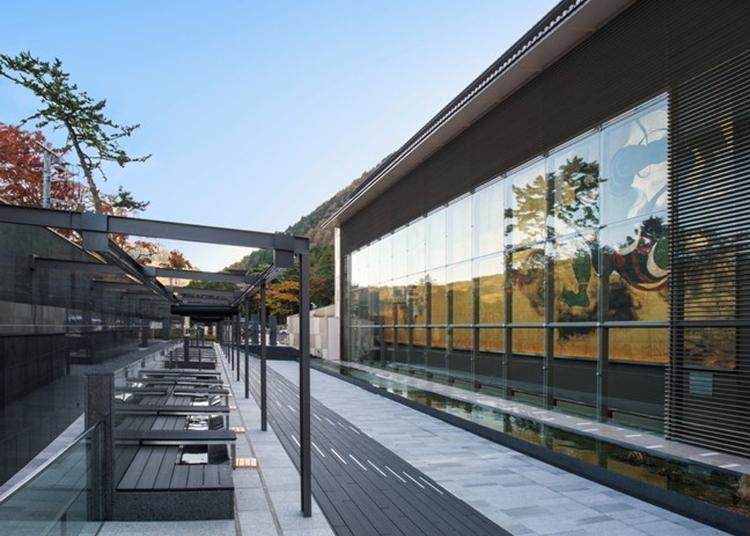 The Okada Museum of Art opened in fall 2013 as a museum that brings together Japanese and Asian artworks. The 5-story large museum regularly exhibits about 350 items of modern and contemporary Japanese paintings, East Asian ceramics, and various other artworks. Kaika-tei, which is an elegant restaurant rebuilt from a Japanese traditional house, is on the premises along with a garden with a seasonal view (300 JPY admission) and a café with a pure hot spring ashi-yu footbath from where you can appreciate a giant mural of Fujin Raijin while soaking your feet. Special exhibitions of porcelain titled, "Kokutani, Kakiemon, and Nabeshima" and "the world of Koimari" are held on Friday, April 8 and Tuesday, August 30. In addition to Kokutani, Kakiemon, and Nabeshima, which are the leading Hizen ceramics, many pieces of Koimari porcelain, which has been loved by people in their everyday lives because of its pleasant and lovely appearance, are also displayed. You can enjoy the world of pottery from the Edo period (1603-1868), including various luxury and ordinary pieces.
Address

493-1, Kowakudani, Hakone-machi, Ashigarashimo-gun, Kanagawa, 250-0406
View Map

Nearest Station

Kowakidani Station (Hakone Tozan Railway)


Phone Number

0460-87-3931
No.7:The Museum of The Little Prince
The museum opened in June 1999 to commemorate the 100th anniversary of the author of The Little Prince, Saint-Exupéry's birth. In the exhibition hall, photos, letters and his favorite belongings are displayed to introduce his life. They also reproduced his rooms when he was child and when I was in NY. The theater is equipped with a 400-inch screen to show the film about the story of The Little Prince and his life. In addition to these exhibits, you should also spend time in the garden. The European garden produced by a garden designer, Keiko Yoshiya has four themed areas featuring cherry blossoms, hydrangeas, roses and Christmas roses. You can enjoy a variety of flowers through the year and here is an ideal place to shoot photos. The museum shop handles the largest selection of The Little Prince goods in Japan.
Address

909, Sengokuhara, Hakone-machi, Ashigarashimo-gun, Kanagawa, 250-0631
View Map

Nearest Station

Hakone-Yumoto Station (Hakone Tozan Railway)
30 minutes by bus


Phone Number

0460-86-3700
*This information is from the time of this article's publication.
*Prices and options mentioned are subject to change.
*Unless stated otherwise, all prices include tax.