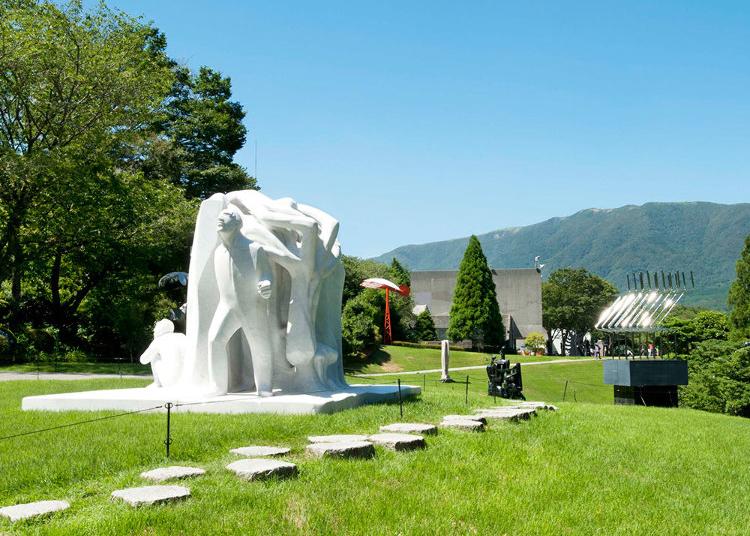 In the tranquil hills of Hakone, six exceptional museums reveal a diverse artistic narrative that transcends time and place. Explore glasswork, outdoor exhibits, Venetian glass, contemporary sculptures, and Japanese crafts in a soul-enriching journey amidst nature's beauty.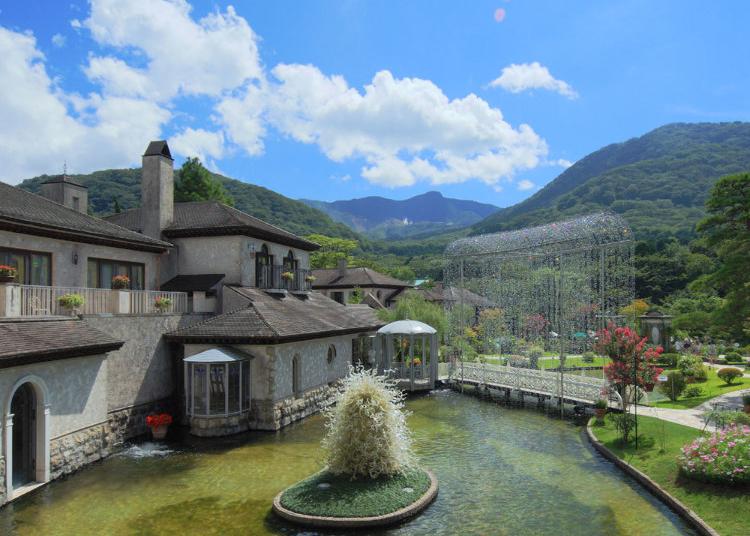 The Hakone Garasu No Mori Museum, translated as the Venetian Glass Museum in Hakone, holds the distinction of being Japan's pioneer museum dedicated to Venetian glass. The premises house two distinct museums: the Venetian Glass Museum, displaying a curated selection of 100 remarkable Venetian glass pieces from the 15th to 19th centuries, and the Modern Glass Museum, which celebrates the innovative spirit of contemporary artists through glass sculptures. The garden offers a panoramic vista of the entire Owakudani Valley, where the "Hikari-no-Kairo," a radiant crystal glass arch, casts a spectrum of seven colors with the sun's touch. Seasonal displays, featuring cherry blossoms, Japanese silver grass, and crystal glass Christmas trees, add a rhythmic charm to the museum's ambiance. Guests are invited to explore the magic of glass creation at the onsite workshop, crafting a personalized masterpiece. Additionally, the museum's restaurant offers a taste of Italy with live canzone performances by an Italian vocalist (six performances daily), creating a melodious backdrop to your exploration. The museum shop completes the experience, with a treasure trove of 100,000 items encompassing Venetian glassworks and accessories, awaiting your discovery.
Address

940-48, Sengokuhara, Hakone-machi, Ashigarashimo-gun, Kanagawa, 250-0631
View Map

Nearest Station

Hakone-Yumoto Station (Hakone Tozan Railway)


Phone Number

0460-86-3111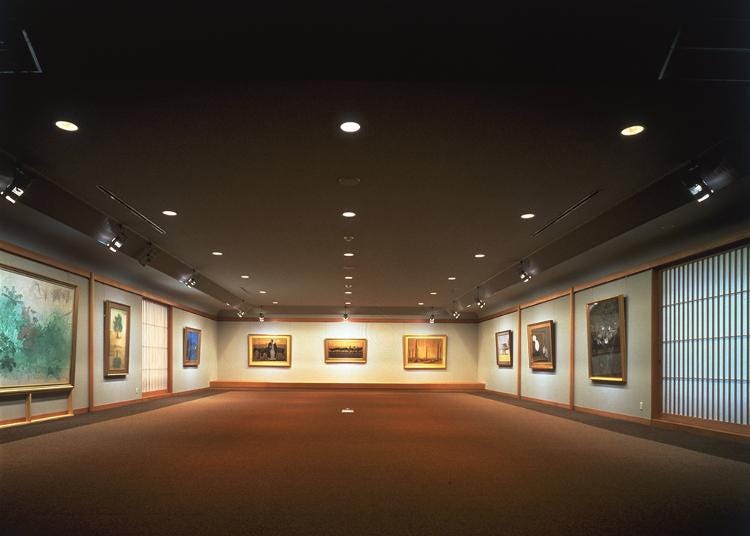 Nestled near the scenic Lake Ashino-ko in Hakone, the Narukawa Art Forum was established with a vision to foster a new epoch in the realm of Japanese painting. The heart of its collection beats with contemporary Japanese artistry, encompassing over 4,000 works. Among these treasures are 150 creations by the distinguished Kyujin Yamamoto, honored with the Order of Cultural Merit, and 40 masterpieces by Ikuo Hirayama, famed for his evocative depictions of the Silk Road. The oeuvre of these two painters forms the cornerstone of the museum's repertoire. The permanent exhibit unveils a trove of Chinese hidden gems, including intricate works of jade and ivory, colossal balls, and sculptures. Through the changing seasons, the forum welcomes art aficionados to its special exhibitions, held quarterly. Each exhibit is a thematic odyssey, showcasing works transcending the renown of the artists. The museum architecture too, is a silent poem to the beauty of Hakone, offering a breathtaking panorama of Lake Ashino-ko through a sweeping 50-meter-wide window, arguably the finest vista in the region. Amidst this haven of art and nature, the cafe invites visitors to a moment of reprieve, serving powdered green tea in fine porcelain, making the Narukawa Art Forum not just a visual, but a holistic cultural experience.
Address

570, Motohakone, Hakone-machi, Ashigarashimo-gun, Kanagawa, 250-0522
View Map

Nearest Station

Odawara Station (Tokaido Shinkansen Line / JR Tokaido Main Line / JR Shonan Shinjuku Line / JR Ueno Tokyo Line / Odakyu Odawara Line / Hakone Tozan Railway / Izuhakone Railway Daiyuzan Line)


Phone Number

0460-83-6828
3. Hakone Open-Air Museum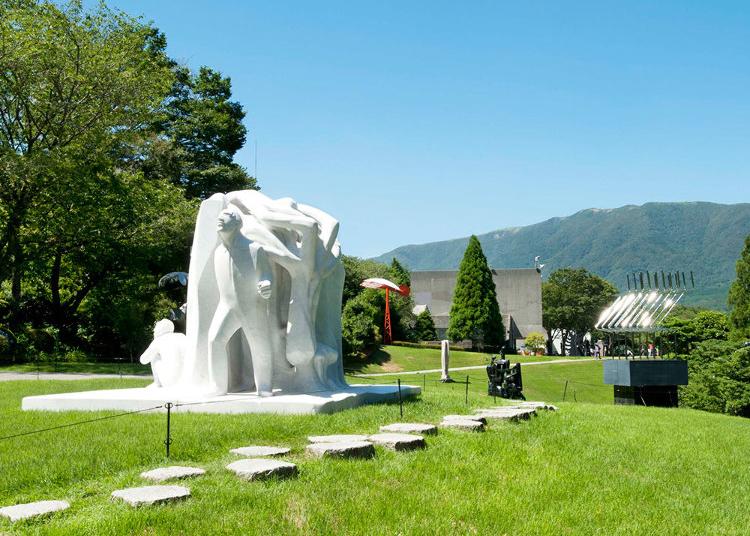 The Hakone Open-Air Museum, heralded as Japan's maiden open-air museum, orchestrates a harmonious dialogue between art and the lush tapestry of nature that cradles it. Spread across a sprawling 70,000-square-meter canvas, the museum proudly exhibits nearly 120 sculptural narratives crafted by modern and contemporary maestros. As you wander through this expansive garden of creativity, the ever-changing whispers of nature accompany your journey through the seasonal beauty that enfolds these artistic expressions. Among the museum's prized features is the Picasso Pavilion, an ode to the legendary artist, housing close to 300 of his creations in a sequential exhibit that offers a voyage through Picasso's prolific career. Complementing the outdoor exhibits are five indoor galleries, each a sanctuary of artistic exploration. The museum's calendar is punctuated with various events and exhibitions, inviting a deeper engagement with the art and the artists. The premises extend the experience beyond visual artistry into a culinary and sensory adventure with its all-you-can-eat restaurants, cozy cafés, shopping arcades, and a rejuvenating foot-bath. Here, the warm embrace of water, flowing directly from the natural hot spring, invites a moment of reflection after a day of artistic exploration, encapsulating the holistic essence of the Hakone Open-Air Museum.
Address

Hakone-machi, Ashigarashimo-gun, Kanagawa nino flat 1121, 250-0493
View Map

Nearest Station

Chokoku-no-Mori Station (Hakone Tozan Railway)
2 minutes on foot


Phone Number

0460-82-1161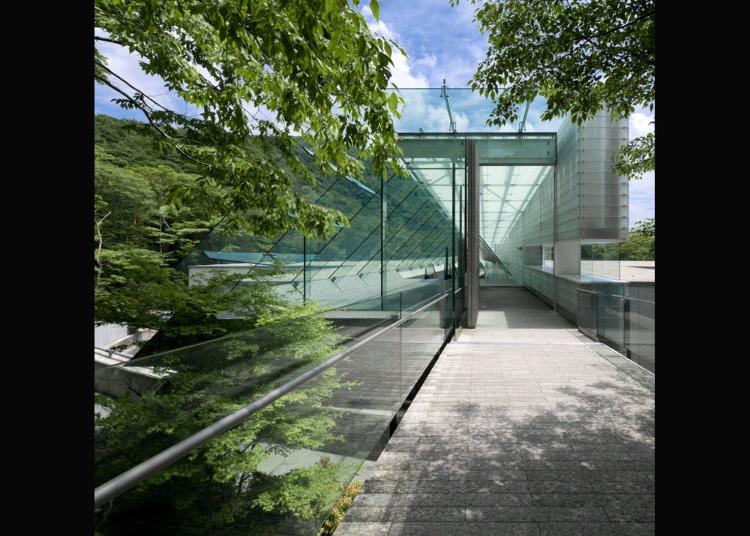 Constructed in the verdant embrace of Hakone's forests, the Pola Museum of Art emerges as a serene dialogue between nature's splendor and the human artistic endeavor. The museum, conceptualized to achieve a "symbiosis between Hakone's natural beauty and the works of art," exhibits a humble stature, its structure limited to 8 meters in height, paying homage to the pristine landscape of Hakone. The museum is home to a treasure trove of 9,500 pieces of art, meticulously curated by Tsuneshi Suzuki, the second-generation custodian of the cosmetics powerhouse, Pola. This vast collection spans a spectrum of genres, embracing European and European-style Japanese paintings, traditional Japanese-style paintings, prints, oriental ceramics, glassworks, along with an intriguing array of historical and contemporary cosmetic utensils from across the globe.

In July 2013, the museum unveiled a promenade, inviting visitors to a tranquil stroll amidst the Japanese beech and camellias of the Fuji Hakone Izu National Park. The experience extends into the realms of culinary delight at the museum's restaurant, where authentic European cuisine is served amidst nature's calm. The casual café also offers a space for relaxation and reflection. The journey culminates at the museum shop on the first floor, where a curated selection of souvenirs awaits. From French herbal tea, honey, and imported candies to local Hakone crafts, the shop offers a memento of the serene interlude between art and nature, accessible even without museum entry, ensuring the Pola Museum of Art's essence resonates beyond its walls.
Address

Mt. Sengokuhara, Hakone-machi, Ashigarashimo-gun, Kanagawa Kozuka 1285, 250-0631
View Map

Nearest Station

Gora Station (Hakone Tozan Railway / Hakone Tozan Cable Car)


Phone Number

0460-84-2111
5. Lalique Museum, Hakone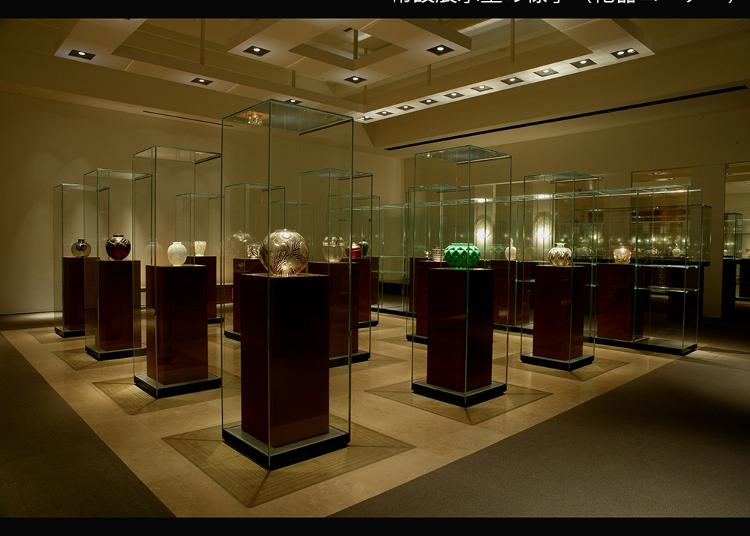 The Lalique Museum in Hakone is a tribute to the enduring legacy of René Lalique, boasting a collection of over 1,500 pieces, including about 200 exquisite jewelry items. The museum is an ever-evolving homage, with the permanent exhibition section frequently refreshed to reflect various themes or the seasons, ensuring a new experience with each visit. The temporary exhibition room delves deeper into Lalique's multifaceted legacy, organizing thematic exhibitions exploring facets such as Japonism, nature, and the intricate craftsmanship synonymous with Lalique.

A unique blend of art and indulgence awaits visitors at the museum's restaurant, where the charm of afternoon tea is served amidst the opulent setting of an "Orient Express" wagon. Surrounded by over 150 pieces of Lalique's glass panels, guests are transported to an era of elegance as they savor a luxurious café experience within the wagon. This whimsical journey through art and culinary delight requires booking post-admission, promising an exclusive experience in the heart of Hakone, where the magnificence of Lalique's creations and the allure of the Orient Express converge.
Address

186-1, Sengokuhara, Hakone-machi, Ashigarashimo-gun, Kanagawa, 250-0631
View Map

Nearest Station

Hakone-Yumoto Station (Hakone Tozan Railway)
30 minutes by bus


Phone Number

0460-84-2255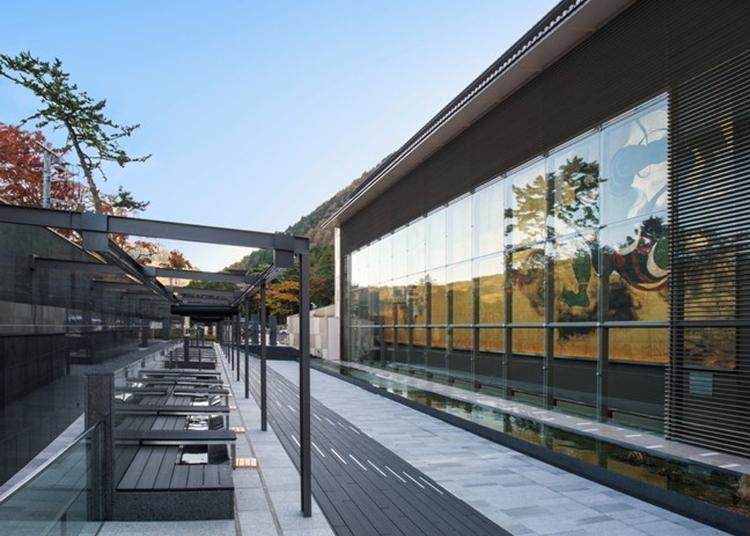 The Okada Museum of Art, inaugurated in the fall of 2013, stands as a harmonious confluence of Japanese and Asian artistic heritage. Housed within its five expansive stories is a regular exhibit of about 350 items, encompassing modern and contemporary Japanese paintings, East Asian ceramics, and a diverse spectrum of other artistic creations. Amidst this rich cultural tapestry lies Kaika-tei, an elegant restaurant reincarnated from a traditional Japanese abode, offering a serene dining experience.

The museum extends its narrative beyond its walls into a picturesque garden, which unfolds a seasonal narrative for a nominal admission of 300 JPY. Further enriching the Okada Museum experience is a quaint café, home to a pure hot spring ashi-yu footbath. Here, visitors can soak in the therapeutic warmth while admiring a colossal mural of Fujin Raijin, melding relaxation with aesthetic appreciation.
Address

493-1, Kowakudani, Hakone-machi, Ashigarashimo-gun, Kanagawa, 250-0406
View Map

Nearest Station

Kowakidani Station (Hakone Tozan Railway)


Phone Number

0460-87-3931
*This information is from the time of this article's publication.
*Prices and options mentioned are subject to change.
*Unless stated otherwise, all prices include tax.
Limited time offer: 10% discount coupons available now!