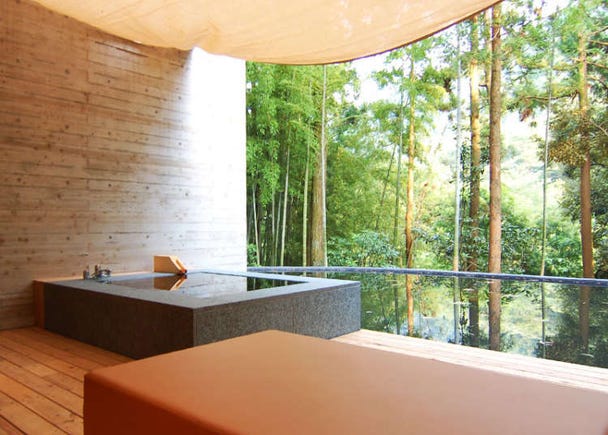 Hakone, not far from Tokyo, is loaded with attractions such as hot springs, natural scenery, art, and traditional crafts and how these can best be enjoyed depends on the area. This is an easily accessible tourist area only an hour and a half outside of Tokyo when taking the express train from Shinjuku.

That makes it perfect for a day trip, but if you wish to explore it more leisurely, then we recommend you spend a night there! This article will introduce recommended inns and hotels by genre in Hakone.

Whatever type of room you are looking for, be it one for a single traveler, one for a family or group, one in which you can have a lively time, or one that is luxuriously appointed with an ideal sense of privacy for an adult couple, you should be able to find the perfect one for you here!
1. Hakone Yutowa: Offering a new type of room and ways to pass the time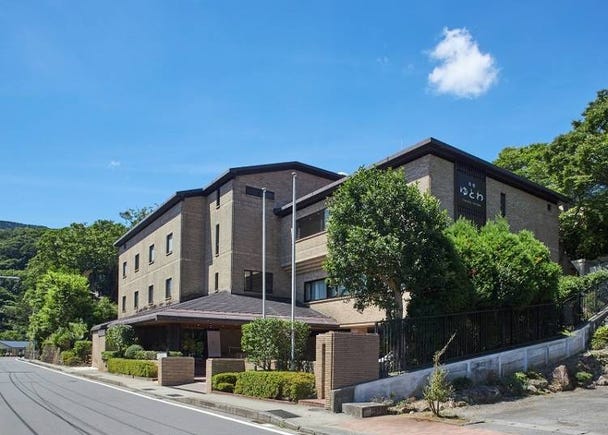 Hakone Yutowa, newly opened in August 2019, is a 5-minute walk from Gora Station, the starting point of the Hakone Tozan Railway. This is a new style of lodging facility where attention has been paid to the guest rooms, a hot spring having its own original source has been added, and there are several other kinds of mutually shared facilities for passing the time such as a library lounge and inner courtyard. The warmth and comfort inspired by the image of a "hot spring" are everywhere.
There is a wood deck with a foot bath fed by a private hot spring source, a Spa Lounge and Inner Court with a wood-burning stove, and a Library Lounge where you can enjoy about 700 books. This is a fully utilized space where you can relax as though you were in your own private residence. Each has its own drink corner where you can enjoy complimentary beverages.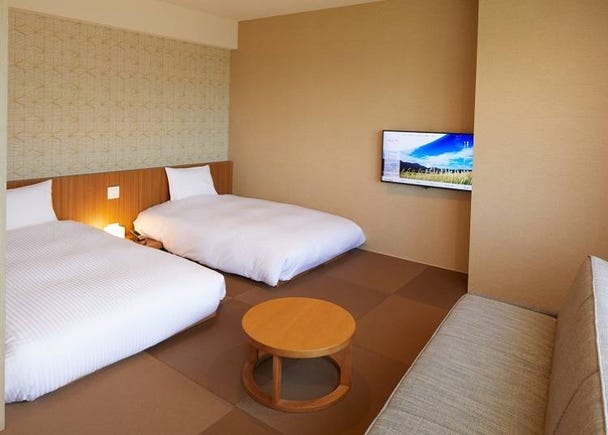 There are two types of guest rooms; a standard hotel type and a condominium style that is convenient for families and long stays.
The hotel rooms are pleasant and functional being in a modern Japanese style which means beds are on tatami flooring.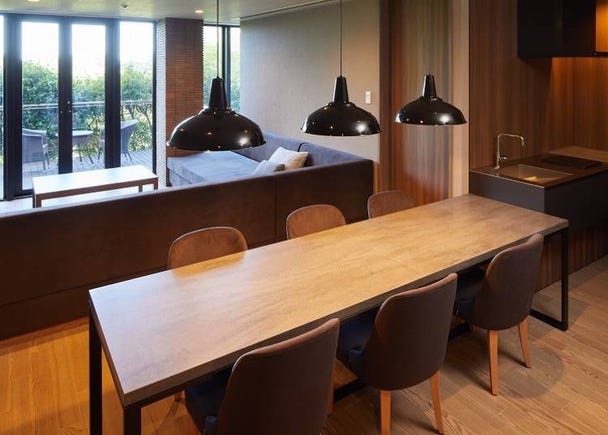 The condominium-style rooms have a bath with a view and their own private hot spring, a living space with a mini-kitchen equipped with cooking utensils, refrigerator, and microwave oven. This is ideal for those who wish to leisurely prepare their own meals with local Hakone ingredients. Whether staying a short or long time, this room can be used in many ways.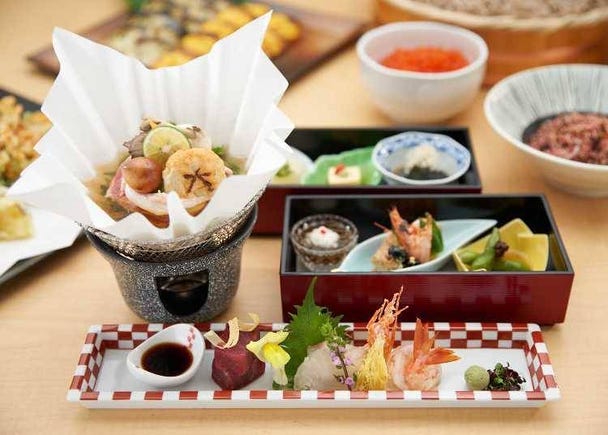 That said, however, there are some dining recommendations. The restaurant primarily serves Japanese cuisine in a relaxed atmosphere. Hotel and room information is also provided in English and sometime during 2019 an English language homepage is scheduled to be added.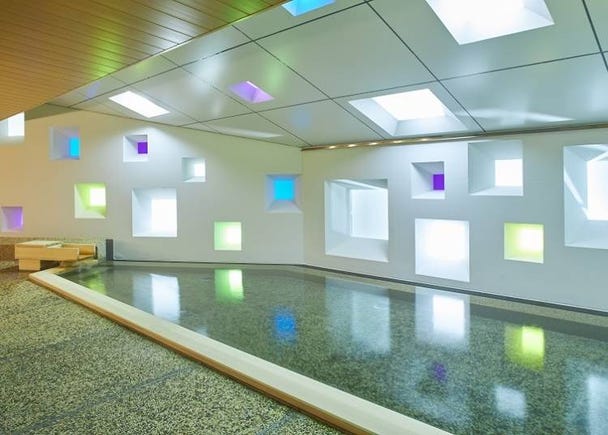 In addition to the large hot spring bath fed by a private source, two guest rooms are outfitted with their own private baths. Among them, the large bath for women has a special design that uses lighting effects.

Hakone Yutowa is an inn that takes comfort a step forward in a more personalized way. A single day spent leisurely here will certainly be a rewarding experience. By all means visit when you have the chance.
箱根 ゆとわ

Address

1300-27 Gora, Hakone-machi, Ashigarashimo-gun, Kanagawa Prefecture 250-0408

Phone Number

0460-82-0321

・Hours: Check In is from 3:00 p.m. and Check Out is until 10:00 a.m.
・Number of rooms: Total of 62 rooms in Hotel East Wing and West Wing; total of 10 rooms in the Condominium Wing
 Double room from 11,000 yen; twin room from 17,000 yen; Superior Room from 23,500 yen
 * Charge is per person when room is occupied by two or more.
* Charge is for room, dinner, breakfast, and 90-minute free-drinks service in restaurant tax included
* Separate 150 yen bath tax per person
Condominium A and B from 28,000 yen (up to 4 people)
Condominium C and D from 38,000 yen (up to 6 people) 
* Those are just room rates.
* Rates include room charge and tax
* Separate 150 yen bath tax per person
・Hot spring bath *Individuals with tattoos may not use communal bath (use of reserved bath is possible). Bathing suits not permitted.
・Wi-fi is available in all rooms
2. Hakone Suimeiso Annex Posada: Perfect for solo travelers - Single room and a luxury hot spring bath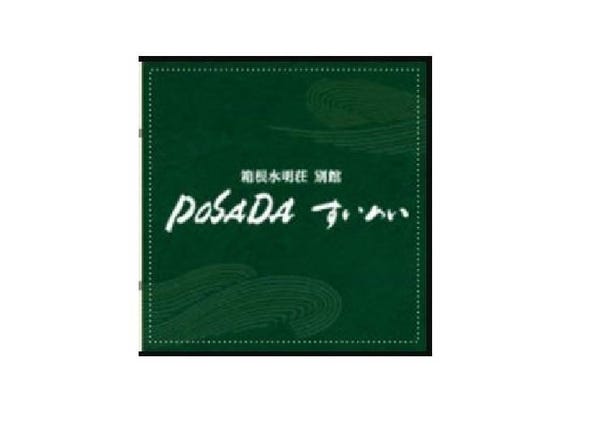 The Odakyu Line Hakone Yumoto Station is the starting point for touring Hakone. Hakone Suimeiso Annex Posada is just a 2-minute walk away making it the ideal location for an inn catering to individual travelers.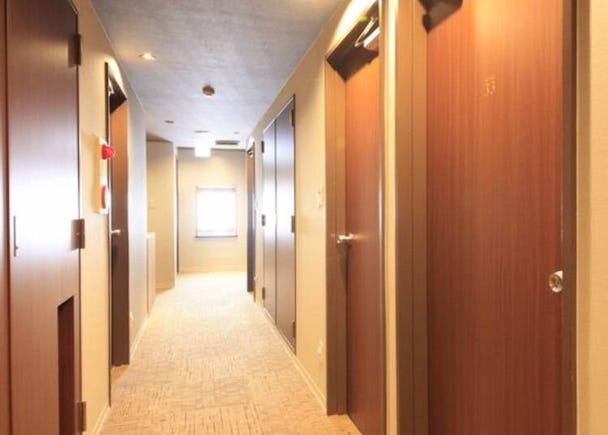 Not many hot spring towns have inns specifically accommodating individual guests. This inn meets those needs at a reasonable price and also has a hot spring bath. This establishment is similar to a business hotel, of which there are few in Hakone, and designed for individuals traveling light or traveling alone. Prices are reasonably set for individuals.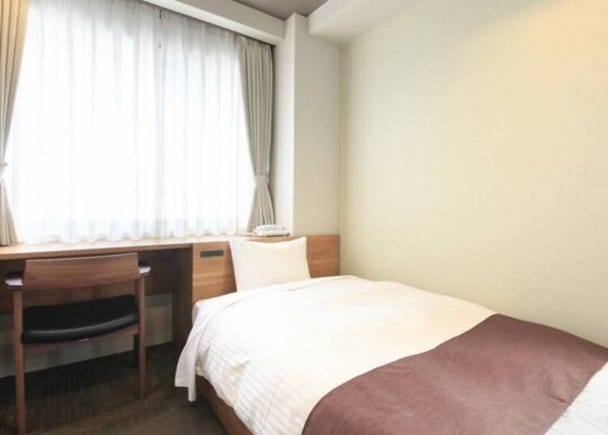 All twelve guest rooms are for individual use. Each comes equipped with a bed, TV, refrigerator, air conditioning, towels, yukata, and toothbrush set - everything necessary for an overnight stay in a hot spring inn. Each room also has a bath, shower, and toilet.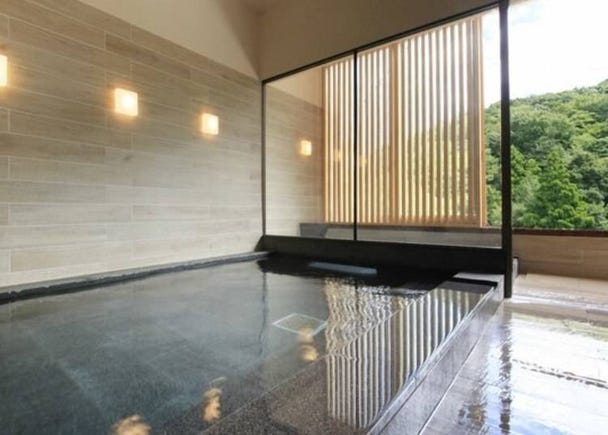 As its name suggests, Posada is an annex of the main building of Hakone Suimeiso, which is popular for its river view rooms, beautiful atmosphere and beautiful open-air baths the design of which is used in railway company poster, and it is located close to Hakone Yumoto Station. Thus, if you stay at the Annex Posada, you can also freely use the hot spring in the adjacent Hakone Suimeiso main building. Both the women's communal bath, which was refurbished in 2016, and the men's communal bath, the windows of which overlook the trains below, have both been well received.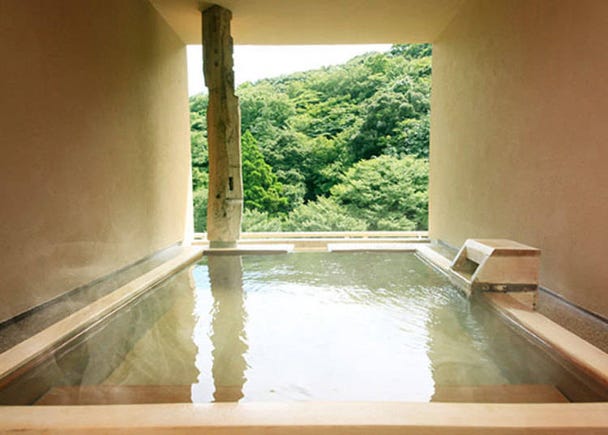 In addition to the large bath in the main building, there is also an outdoor bath that can be reserved and used privately (room charge 2,000 yen) and it is also possible to wear swimsuits in them. This is for foreign tourists who are uncomfortable bathing naked in communal baths. For an individual luxurious experience, leisurely soaking in the outdoor bath is one way to do that. Information is also provided in English on the premises and in the rooms.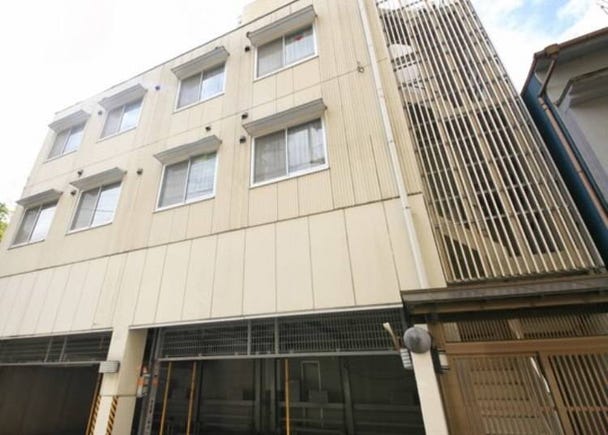 There is no front desk in the annex, so it is necessary to make reservations and perform other procedures, such as checking in, at the Hakone Suimeiso main building, so you need to first go there. This is a convenient and comfortable simple business-style hotel and at the same time an inn where you can enjoy a hot spring which gives you the best of two worlds. This is highly recommended for individual travelers.
Hakone Suimeiso Annex Posada

箱根水明荘 別館ポサーダ

Address

702 Yumoto, Hakone-machi, Ashigarashimo-gun, Kanagawa Prefecture 250-0311

Phone Number

0460-85-5381

・Hours: Check In is from 3:00 p.m. and Check Out is until 10:00 a.m.
・Number of guest rooms: 12; all single occupancy
 Weekday rate: 7,850 yen (including tax, 150 yen bath tax separate); day before holiday 9,350 yen (tax included, 150 yen bath tax separate) 
<The tax will be increased from October 2019> Weekday rate: 8,050 yen (including tax, 150 yen bath tax separate); day before holiday 9,550 yen (tax included, 150 yen bath tax separate)
・Has hot spring *possible to use large bath (hot spring) in main building.
・For reservations: by telephone on online
・Wi-fi is available in all rooms

Vacancy search, reservation

Please enquire directly about rates.

Check with our partner site as the latest rates, rate details, and guest room requirements may vary.
3. Kinnotake Tonosawa: Hideaway inn for adults in a verdant setting!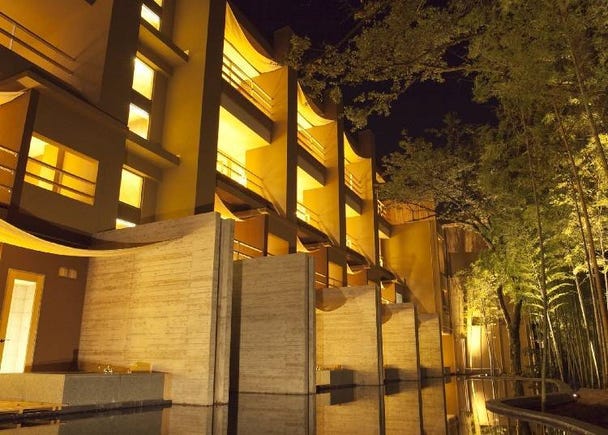 Kinnotake Tonosawa is recommended as a retreat where you can relax in a quiet and open space surrounded by nature, away from the hustle and bustle of the city.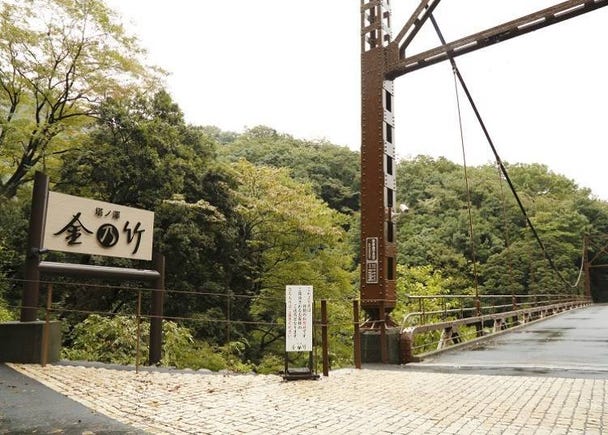 After crossing its own suspension bridge over the gorge, you will find yourself in another world. A space unparalleled in soothing comfort awaits you.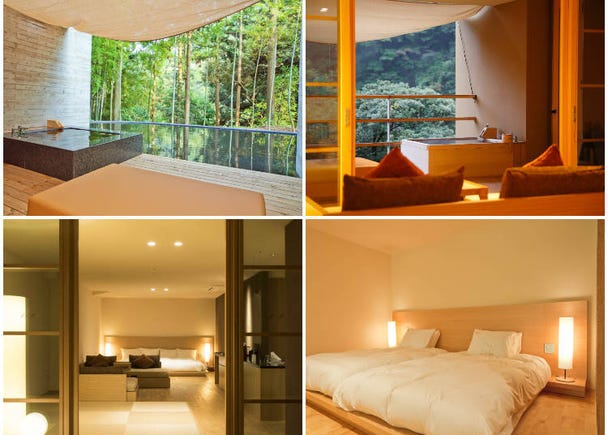 The concept for this inn is "a space where adults can feel fee". The rooms evoke a feeling of openness and freedom having been designed with few partitions to enable a sense of being one with nature and each room is equipped with its own outdoor bath. You can choose the size and style of Japanese-Western style rooms and Western-style rooms according to your preference.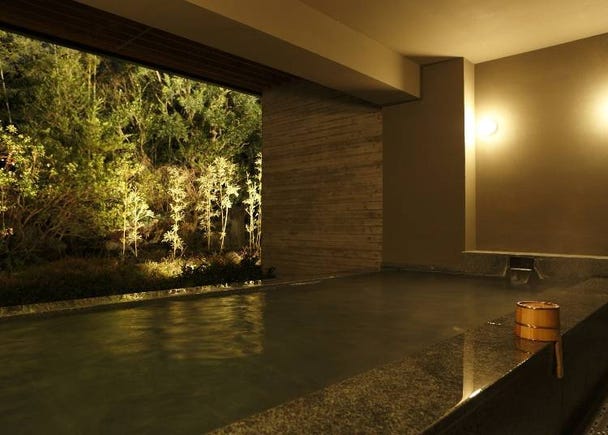 The large bath is full of atmosphere. This hot spring has its own dedicated source only for Kinnotake Tonosawa, and the quality of the spring is smooth leaving your skin feeling soft and supple afterwards.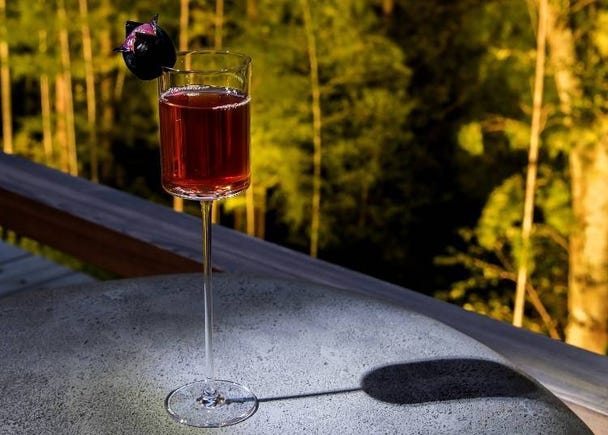 You can also enjoy complimentary alcoholic beverages, coffee, and other drinks in the lounge (order system). In addition, the full-scale treatment at the treatment salon Mori no SPA in the inn is also well received by customers from overseas.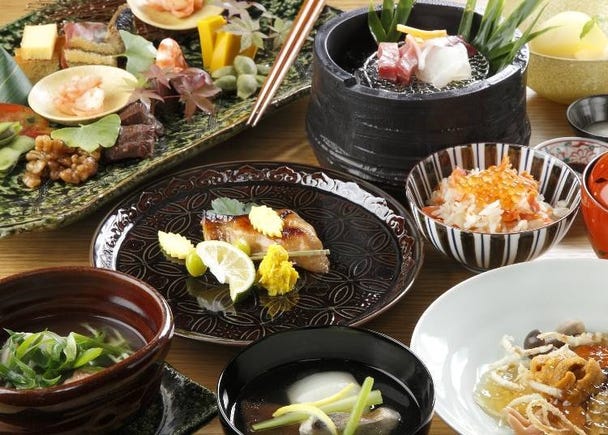 About 30% of the guests are foreign tourists, primarily from China, Taiwan, and Hong Kong, so there are always staff members able to speak English and Chinese and the restaurant menu is also in English, so communication is not a problem.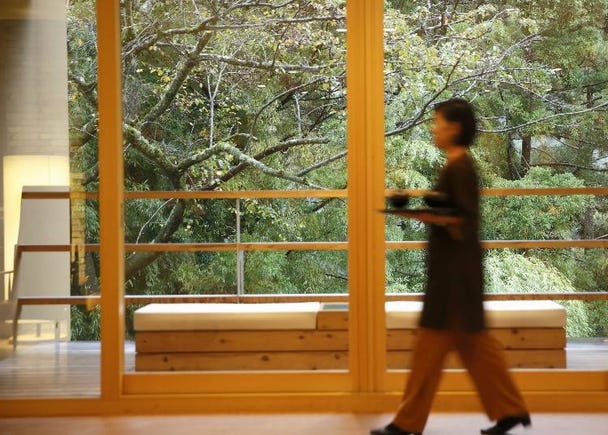 Hakone Mountain Tour Bus operates a shared shuttle bus (100 yen per ride) that will conveniently deliver guests to the inn. In addition, there are also pick-up services from Haneda and Narita Airports to Hakone (paid / flat-rate), which is a nice service for tourists.

Although it is a secluded hideaway inn, it is conveniently located near famous sightseeing spots in Hakone such as Lake Ashi, Sengokuhara and Owakudani. This is definitely a restful place where you can create fond memories of your stay in Hakone.
金乃竹 塔ノ澤

Address

191 Tonosawa, Hakone-machi, Ashigarashimo-gun, Kanagawa Prefecture 250-0315

Phone Number

0460-85-9800

・Hours: Check In for the room with dinner plan is from 3:00 ~ 5:00 p.m., and 3:00 ~ 10:00 p.m. For the room only plan; Check Out is until 11:00 a.m.
・Number of guest rooms: 23 (5 Western-Japanese type and 13 Western type)
 From 34,000 yen (including service; excluding tax)
・Hot spring bath *Individuals with tattoos may not use communal bath. Individuals with tattoos may use outdoor baths in individual guest rooms.
・For reservations: by telephone on online
・Wi-fi is available in all rooms
Inns designed to meet your mood and purpose - perfect good for leisurely sightseeing when in Hakone
Has this piqued your interest? If so, for a change of pace during your stay in Japan, come and stay at one of these inns in Hakone. I'm sure you will find your stay to be a memorable one!
*This information is from the time of this article's publication.
*Prices and options mentioned are subject to change.
*Unless stated otherwise, all prices include tax.