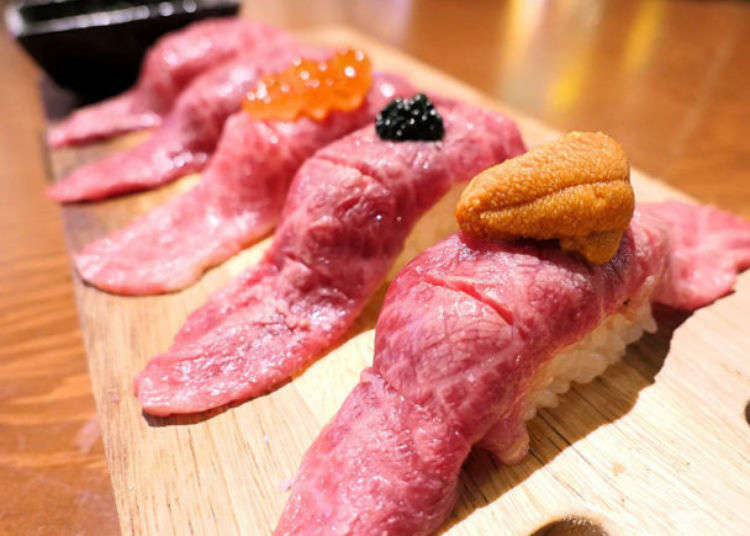 Narita Niku Yokochō is a meat lovers paradise with four restaurants, Buta Yarou, Wagyu GANG, Torimaru Kacho, and Dode Kalbi, on one floor of the building. Narita Niku Yokochō is truly a Japanese-style alley providing "meat entertainment" that you'll never forget! If you are staying near Narita Airport or Narita Station and fancy something meaty, this is the place to go.

Located 3 minutes from JR Narita Station on foot and about 15 minutes from the Keisei Electric Railway's Narita Airport Station (Narita Airport Terminal 1) by rapid train and foot, Narita Niku Yokochō has a total of 150 seats. It is divided among the four restaurants, but no matter which restaurant your seat belongs to, you can order from any restaurant's menu. This means that you can choose a seat based on your preferred atmosphere and order up what you desire.

Here, we will introduce popular and recommended meat dishes from the four restaurants, mainly focusing on Buta Yarou.
Enjoy Buta Yarou's famous veggie rolls in a truly Japanese-style restaurant!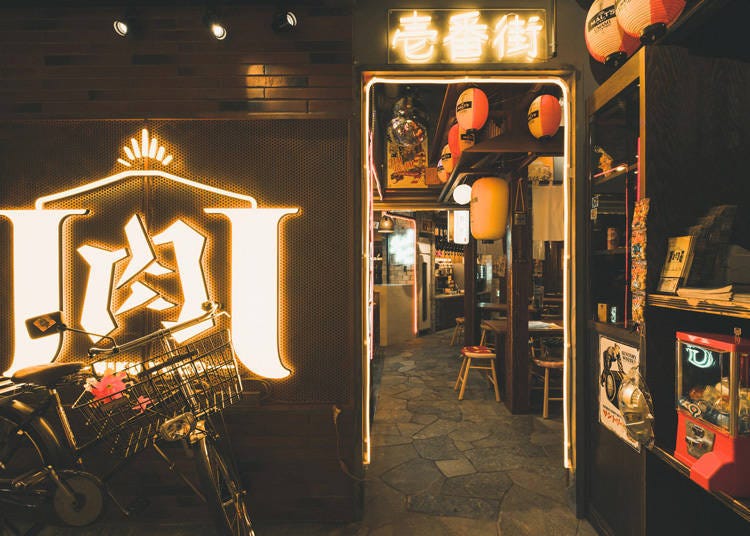 The long and narrow area spanning approximately one kilometer and sandwiched between the Naka River and Hakata River in Hakata, Fukuoka Prefecture, is called "Nakasu" and is the birthplace of open-air food stalls, called yatai. Some stalls are famous for oden, ramen, and gyoza, but particularly famous are ones that serve "vegetable roll skewers," a specialty of Fukuoka.

Vegetable roll skewers go very well with wine and are healthy, making them hugely popular with ladies. Buta Yarou is a popular restaurant that focuses on these vegetable roll skewers while also offering dishes such as "Tennabe Kurobuta pork gyoza," which is popular with men.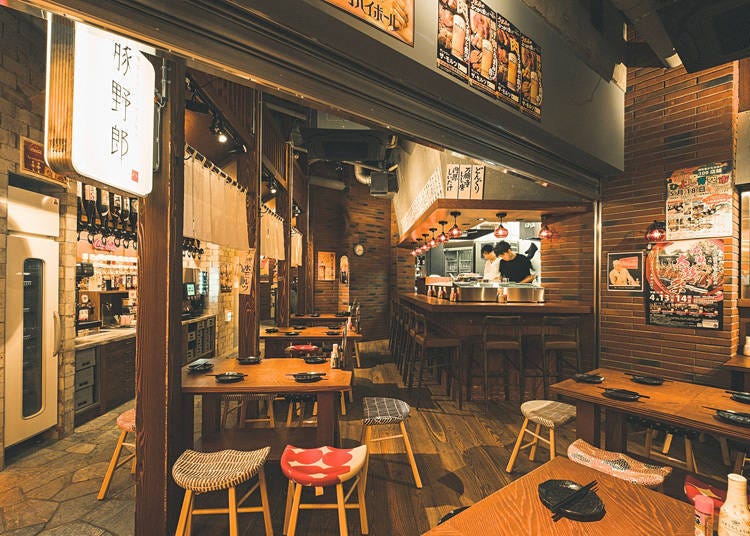 Vegetable roll skewers are bell peppers, asparagus, cherry tomatoes, and other veggies that are wrapped in pork, skewered, and grilled. Pork belly meat and vegetables have always been a great combination. When the meat is wrapped around vegetables, the colors look brilliant together, and one can understand why Instagrammers also love this dish.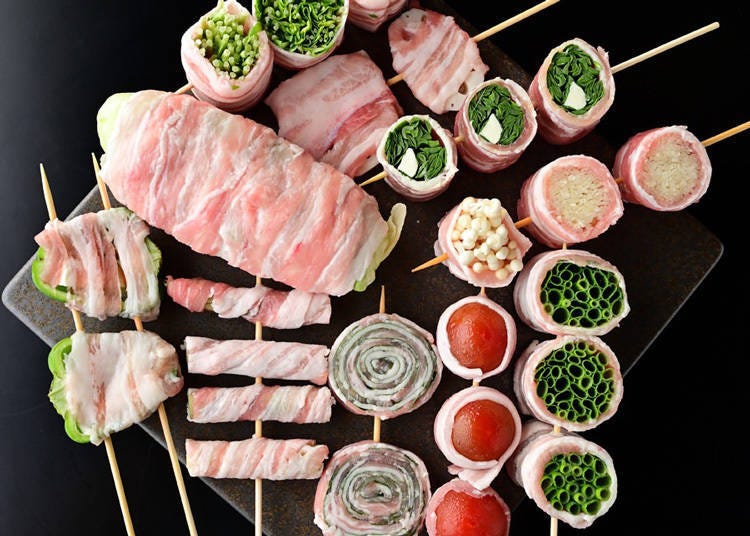 The pork that, when grilled over the grilling net, loses its excess fat and grows fragrant, and goes perfectly with the vegetables, the flavor of which in turn sweetens. There might be some who are unsure about the cherry tomatoes, but the sweetness and subtle acidity of tomatoes are the best matches for the sweetness of the pork fat. It leaves a surprisingly refreshing aftertaste that is really addictive!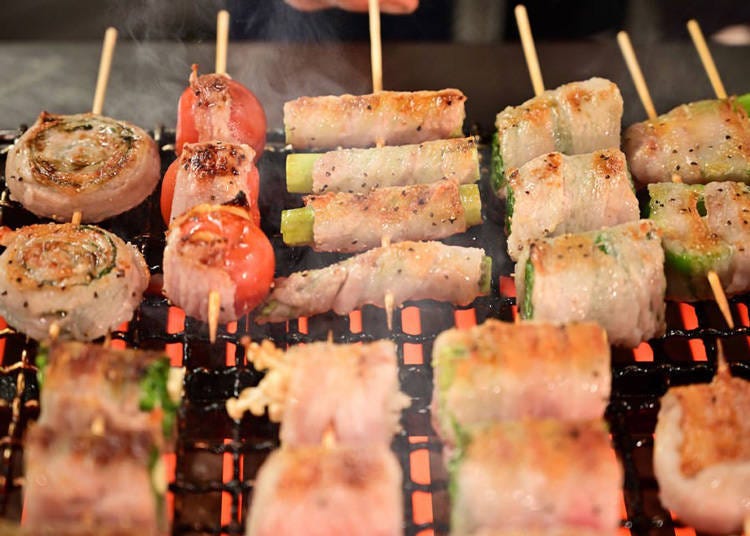 Vegetable roll skewers, 5-skewer platter
The photograph shows the "vegetable roll skewers, 5-skewer platter" (1,320 yen, including tax), consisting of recommendations of the day that the boss will grill for you. On this day, there were five types: an asparagus roll, cherry tomato roll, pork belly shiso roll, chive cheese roll, and large lettuce roll.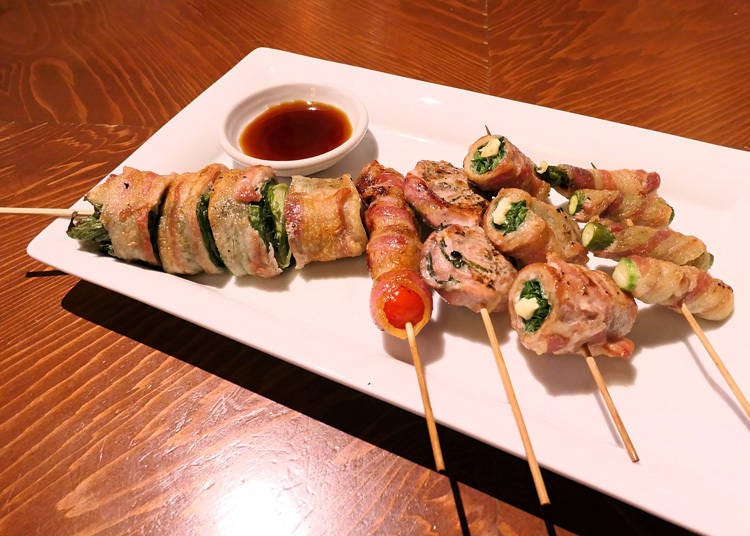 The asparagus roll, which is asparagus wrapped in pork, is a golden combination that has been proven with bacon as well. The pork belly shiso roll is also a classic combination with the wonderful fragrance of shiso (beefsteak plant leaf).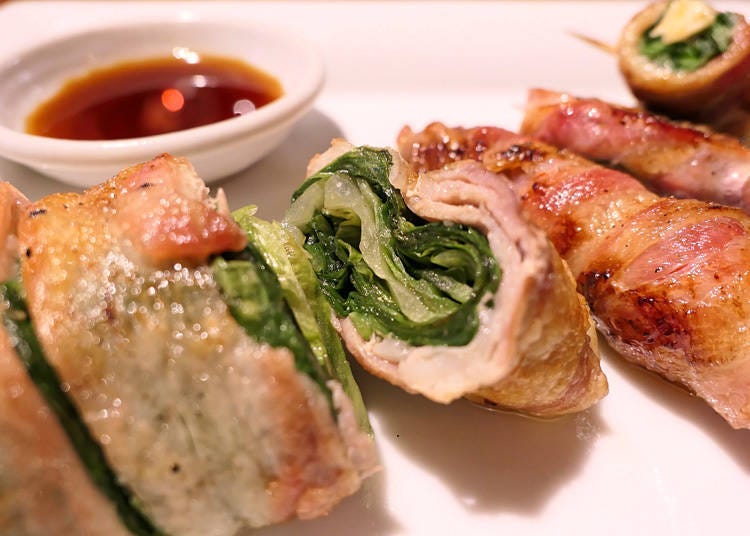 Large lettuce roll
The large lettuce roll, which is fresh lettuce wrapped in pork belly meat, was very innovative. Other vegetable roll skewers are seasoned with salt, grilled, and eaten as they are, but the large lettuce roll is recommended to be eaten with the ponzu sauce that is served separately in a small saucer. The crunchy lettuce has a strong flavor, so when dipped in ponzu, the flavor is balanced out, and you can taste the refreshing pork belly meat in this roll as well.

The beautiful thing about these vegetable roll skewers is that they make you feel less full than just eating pork by itself. They are a great dish to enjoy while drinking wine or sake.

The photograph below shows the "assorted vegetable roll skewer platter," a classic item on the menu that has been temporarily unavailable for some time. This vegetable roll skewer dish is perfect for sharing when visiting the restaurant as a group. It seems that it will make a return soon, so please give it a try when visiting Narita Niku Yokochō.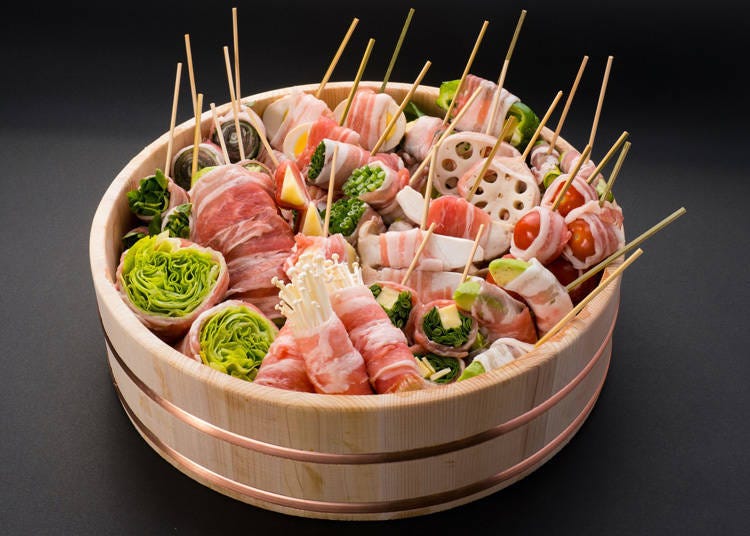 Assorted vegetable roll skewer platter
Next up is another specialty of Buta Yarou, their Kurobuta pork gyoza served on an iron platter. One portion comprises six pieces for 329 yen (including tax). The minimum order is two portions.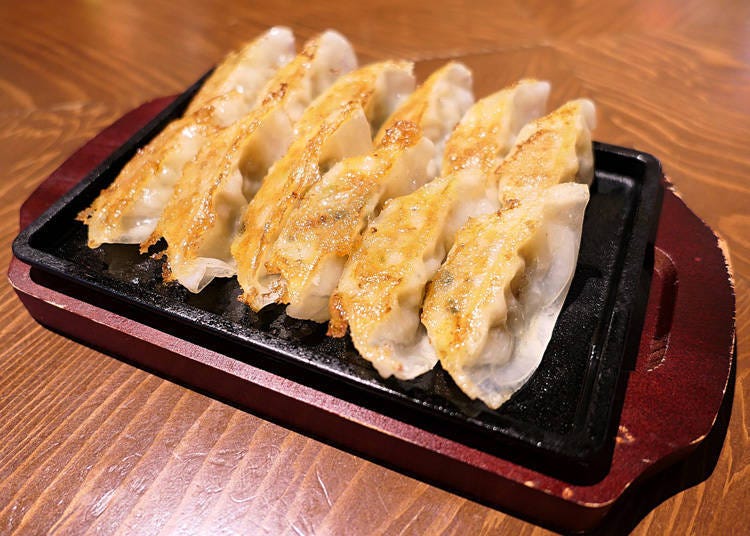 2 portions of "Tennabe Kurobuta pork gyoza"
This dish is brought to the table while piping hot and sitting on an iron plate. The gyoza are a little on the small side, so if you're hungry, you will easily be able to polish off two portions on your own. The flavor is a rich one unique to Kurobuta pork and packs a punch. Even without dipping in soy sauce, they are delicious enough on their own. If you are going to order alcohol at the same time, we think that beer will go well with these gyoza.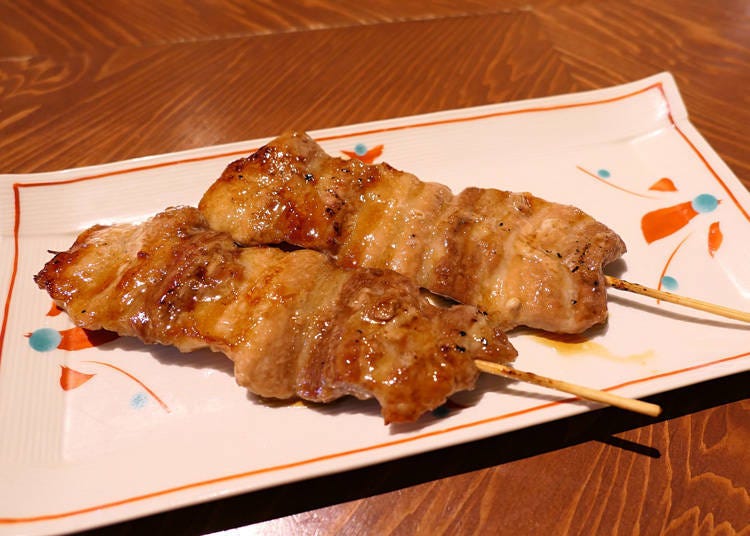 Kurobuta pork belly skewers
Next up is Kurobuta pork belly skewers, which are hugely popular even at food stalls in Hakata. These cost 439 yen (including tax) for two skewers.

This Kurobuta pork in the Kurobuta pork gyoza has a unique taste as well, but this one allows the pure flavor of the Kurobuta pork itself to fill your mouth. The grilled Kurobuta pork belly skewers are thoroughly soaked in a sweet and savory yakitori sauce (typically used for grilled chicken), and its magnificent luster stimulates the appetite. The lean meat is chewy and much juicier than you might think, with the juice increasingly flowing out as you chew. If you want to taste the original flavor of Kurobuta pork to your heart's content, we recommend the Kurobuta pork belly skewers.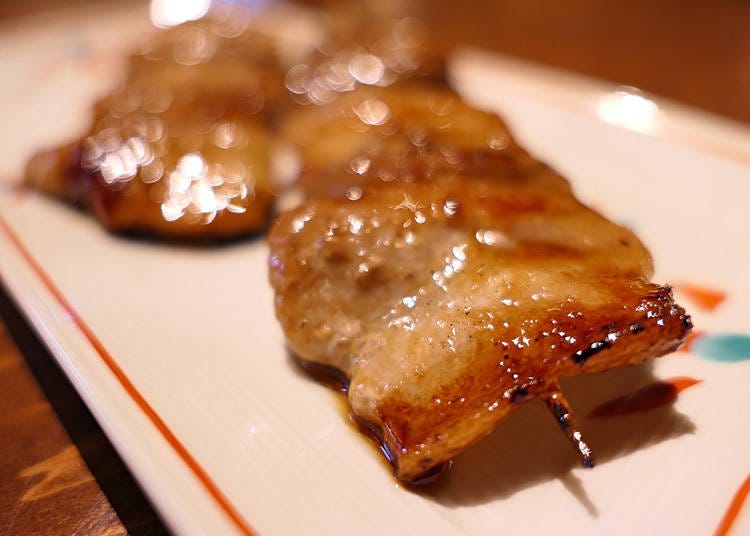 Order meat dishes from other restaurants without moving from your seat!
When you start drinking with your friends and are in high spirits, you want to avoid moving to different seats as much as possible, right? Of course, if you want a change of mood, you can also walk to a second or third restaurant, but at Narita Niku Yokochō, no matter which restaurant you are in, you can freely order dishes from other restaurants. The menu on each table also contains the menus of each restaurant, so you can go ahead and order whatever you want.

For example, this is Wagyu GANG, a shop situated beside Buta Yarou. As its name suggests, it is a restaurant with a range of meat dishes centered around wagyu beef.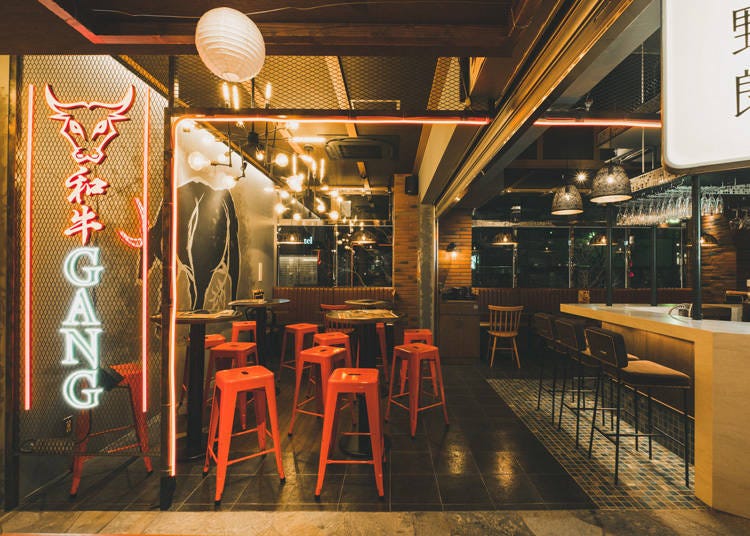 We tried ordering the "wagyu misuji-nigiri taste comparison" (1,969 yen, including tax), which has five types of meat sushi with different flavors for your enjoyment. The flavors are, starting from the right: sea urchin, caviar, salted salmon roe, salt, and plain.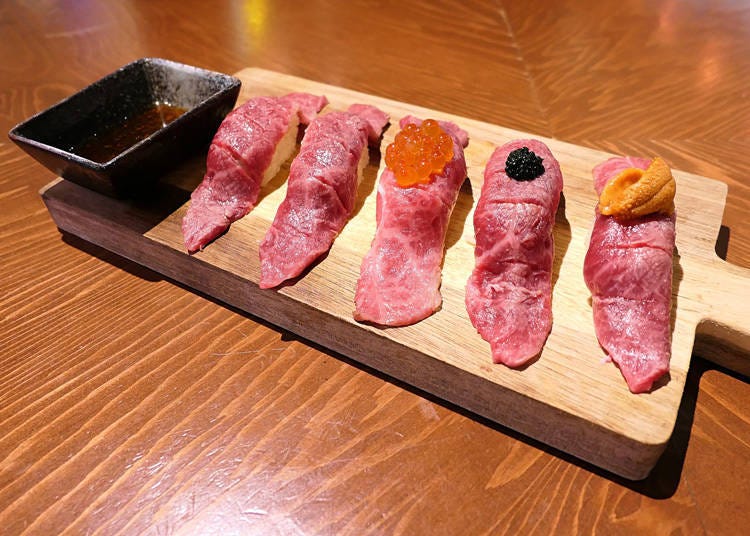 Wagyu misuji-nigiri taste comparison
The sauce that comes with the meat sushi is Wagyu GANG's original sukiyaki sauce. It draws out the deliciousness of the beef without overpowering it. Please dip the plain one in the sauce, while the sweet sea urchin and salty caviar and salted salmon roe can be enjoyed as they are.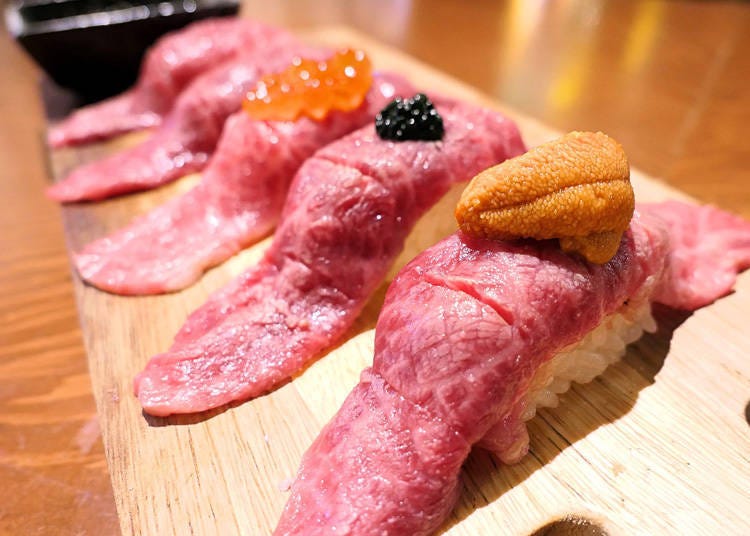 At Wagyu GANG, other dishes allow you to fully enjoy meat, such as steak and yukhoe. We especially recommend the "GANG steak set" (3,289 yen, including tax), which has 300g of a mix of standard, high-grade, and rare cuts; and the "50cm extra-large sakura yukhoe sushi" (2,629 yen, including tax) made with horse meat that can be enjoyed as a group. You'll be able to enjoy wagyu and horse meat to your heart's content.

Besides pork, wagyu, and horse, only chicken is left. At Narita Niku Yokochō, there is also Torimaru Kacho, which specializes in chicken dishes.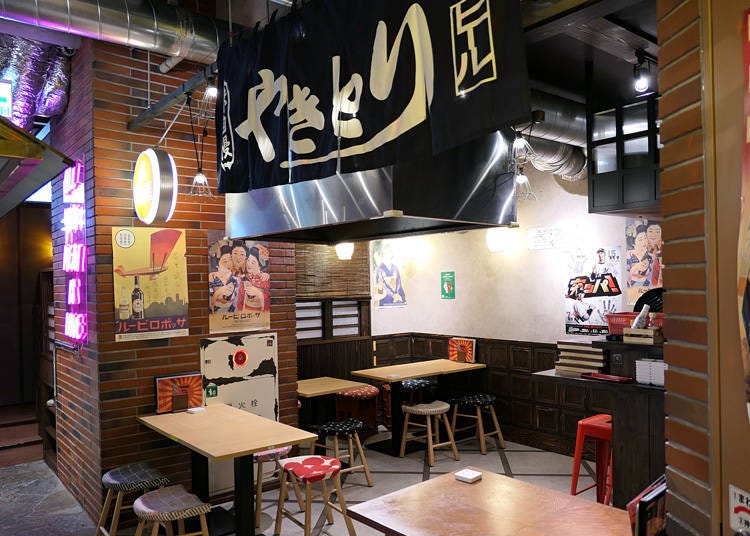 At Torimaru Kacho, other than being able to enjoy standard grilled chicken skewers (boneless meat, chicken and scallion, tail, gizzard, heart, white leek, and so on) at 329 yen for two skewers (including tax), there is a range of chicken dishes such as the "Daisen chicken teppanyaki" (879 yen, including tax) and the "Daisen chicken thigh zangi" (549 yen for four pieces, including tax), which is soaked in a secret sauce. It might be a good idea for chicken meat lovers to secure a spot near Torimaru Kacho and order other dishes.

Narita Niku Yokochō also has another restaurant called Dode Kalbi, which a little different from the others. This restaurant specializes in "Shitamachi yakiniku" and "kalbi." Here, you can taste various meats little by little. We recommend the "Dode Kalbi best-in-Japan course" (4,500 yen, including tax) that comes with self-service free-flow drinks. And you can taste a full course of Shitamachi yakiniku, which includes salted offal, miso-flavored offal, their famous Dode Kalbi grilled with sauce, and simple skirt steak. This course is perfect for those who want to enjoy all of the restaurant's recommendations instead of looking at the menu and being unable to choose,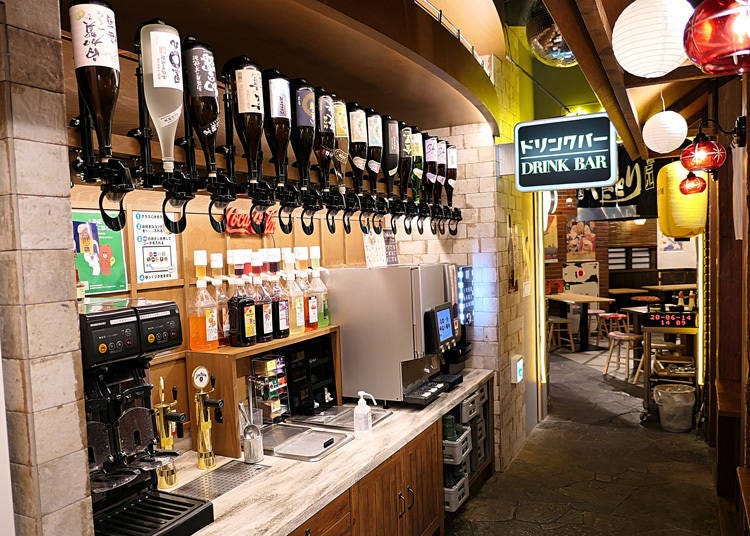 Narita Niku Yokochō's interior has an atmosphere that allows one to subtly experience the Showa period, making it worthy of being called a "yokochō," which is Japanese for "alley." Visitors can leisurely enjoy meat while surrounded by props and kitsch that are oddly calming and fun without being over the top. Chinese and English menus are available for foreign visitors and it is also equipped with free Wi-Fi.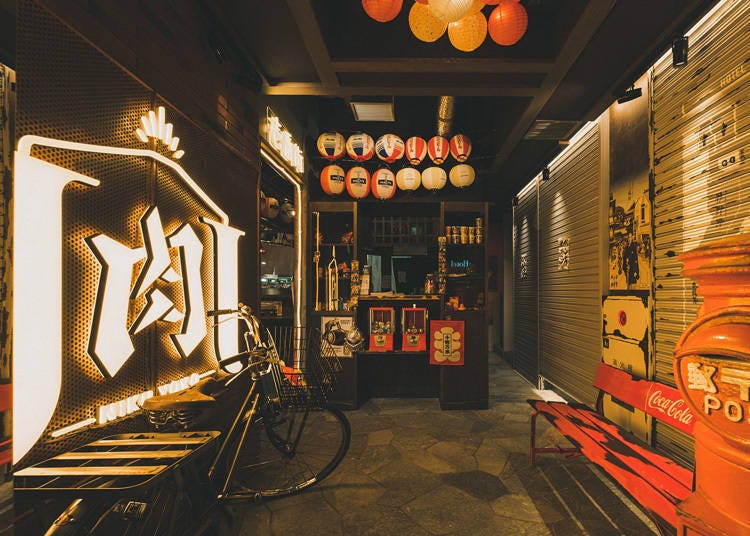 Lastly, let us tell you about the steps that Narita Niku Yokochō is taking to prevent the spread of COVID-19.

・All employees wear masks and frequently disinfect their hands.
・Ventilation is turned on fully, and the air in the restaurant is replaced approximately every three minutes.
・When customers arrive, seats are prepared at a distance from others.

Also, Narita Niku Yokochō asks for their customers' cooperation to prevent the spread of COVID-19. When entering the restaurant, you should first disinfect your hands with alcohol. Sanitizer is always available in the restroom as well, so please frequently disinfect your hands when visiting the restroom.
What do you think? Narita Niku Yokochō has a selection of restaurants specializing in various kinds of meat for your enjoyment. It is visited by many people, from tourists to people working at Narita Airport, but it seems that it has been receiving acclaim from abroad as well. Bento boxes are also available for takeout, so feel free to drop by.

*Opening hours have changed for the time being due to COVID-19
Address

Meat in Narita 1F,904, Hanazakicho, Narita-shi, Chiba, 286-0033
View Map

Nearest Station

Keisei Narita Station (Keisei Main Line)


Phone Number

0476-36-5890
Written by Nagata Kotageru, DALI CORPORATION

*The above article is based on information from July 2020
*This information is from the time of this article's publication.
*Prices and options mentioned are subject to change.
*Unless stated otherwise, all prices include tax.