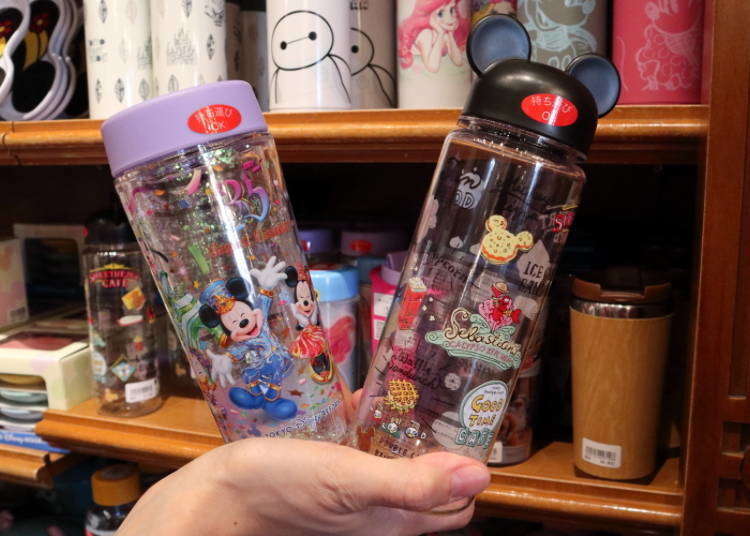 Tokyo Disney Resort has produced more and more excitement since the beginning of its 35th anniversary. There are tons of character items available in a variety of goods, making it hard to pick just one because there are too many kinds! Today, our Disney-loving editorial staff will announce their specially selected miscellaneous goods, which are popular with foreign guests. Bring some joy to your family and friends with these unique souvenir ideas!
Hot & Cold Insulated Stella Lou Water Bottle, 3200 yen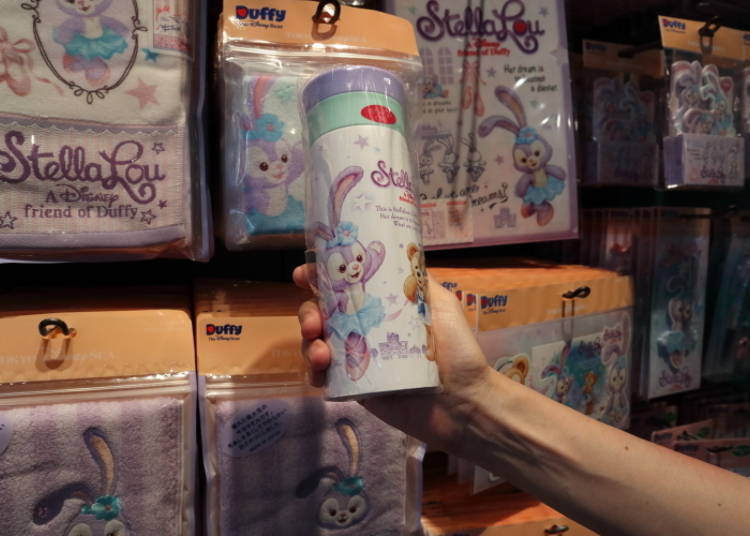 A stainless steel Toyko Disney Sea limited edition Stella Lou water bottle. It can be used to keep drinks either hot or cold, regardless of season. It is slim and easily portable, but also sturdy and easy to use. The light and airy pastel-on-white design is also really nice. Capacity: 390 ml
Stay hydrated during the summer!
35th Anniversary Drink Bottle, 1600 yen; Mickey Mouse Ears Bottle, 1800 yen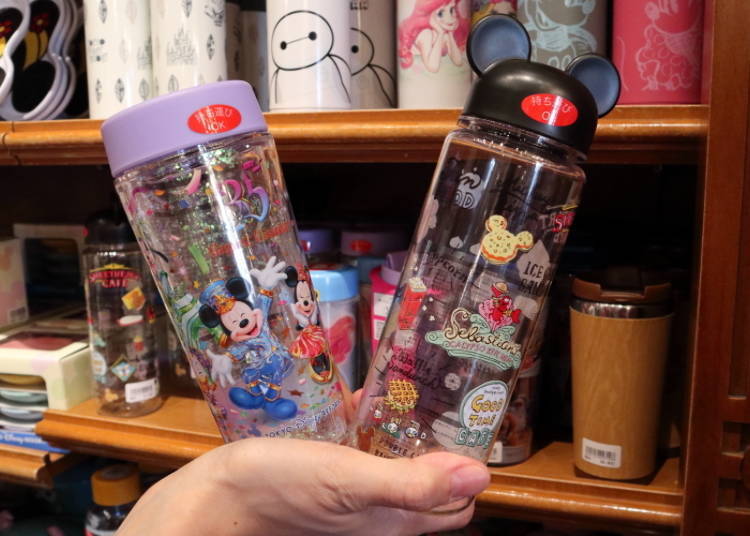 Transparent, see-through drink bottles. On the left is the Tokyo Disney Land 35th Anniversary commemorative bottle with a smiling Mickey and Minnie image printed on it. Because of its compact size it is easy to carry around, and it is heat resistant. Capacity: 350ml

On the right is a cute design of the popular park foods that can be enjoyed at Tokyo Disney Land and Sea, such as the Mickey Cookie Ice Cream Sandwich and Mickey Pizza, and Ukiwa-man (a swimming ring shaped bun). The cap is shaped like Mickey's ears and also very cute. Capacity: 500ml
Mickey and Minnie Rice Spoon & Stand, 500 yen each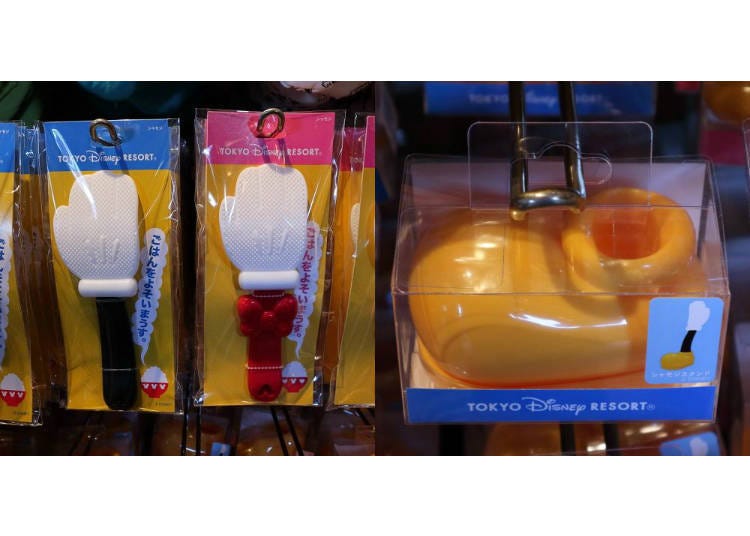 Rice paddle spoons shaped like Mickey and Minnie's hands. The Minnie hand is decorated with a red bow, and both are so cute and inviting, they just might pull you in to eat more than you planned! The rough surface makes it difficult for rice to stick. You can also use it with the adorable boot-shaped stand, doubling its use as a gorgeous interior kitchen decor!
Simple Design, Easy to Use! Minnie Pot Holder, 900 yen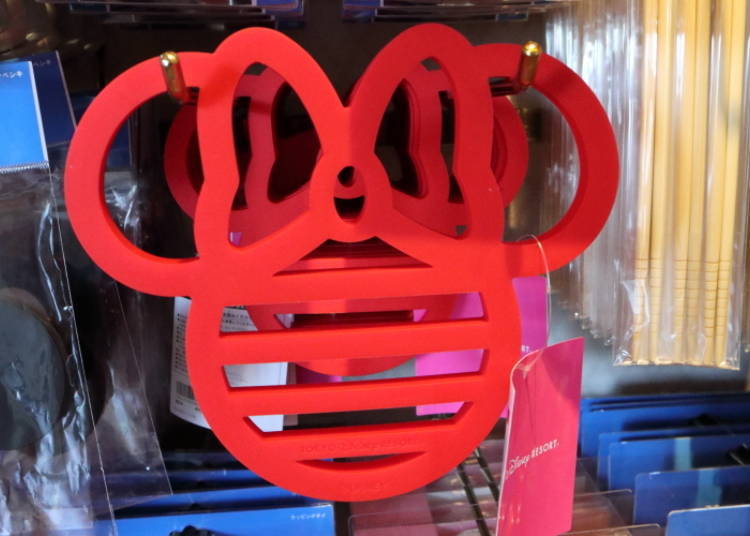 A silicone rubber potholder shaped like Minnie Mouse, with her very familiar big-bow design. Simple but functional, an excellent product, and a great decorative piece to add some color to your kitchen.
Fight Ultraviolet Rays with Donald's UV Sunscreen! 950 yen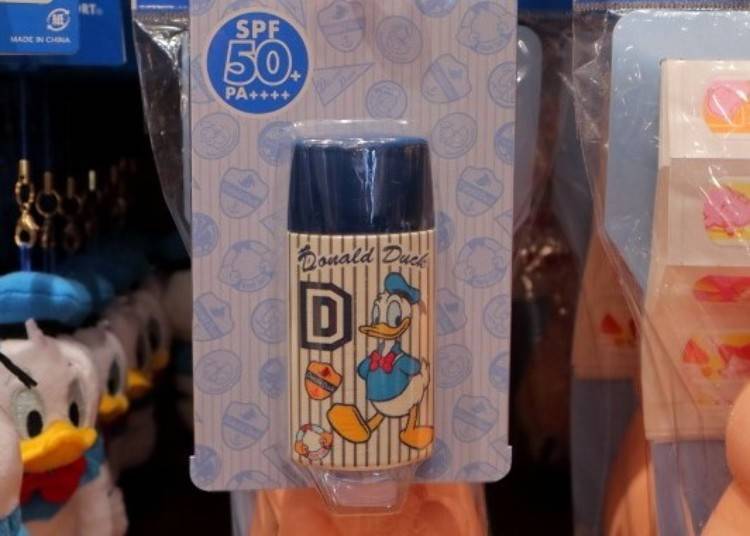 Sunscreen is essential when walking through the park, especially when the ultraviolet rays are strongest between spring and autumn. This product stands at the highest level of UV protection at 50+ SPF. It is long lasting, and boasts the highest-level PA (Protection Grade of UV-AI) of ++++ against age inducing Ultraviolet A waves (UV-A). Additionally, it is waterproof, has the crisp aroma of herbal mint, and comes in cute packaging with American style Donald Duck. Capacity: 30 ml
Winnie the Pooh & Mickey Mouse Waffle Scented Hand Cream, 800 yen each
Hand cream that will gently nourish your hands. The left Pooh bottle contains honey as a moisturizing ingredient to soften your hands. The right Mickey bottle is not only waffle themed, based on the popular Mickey Waffles sold throughout the park, it is also maple scented. Which do you prefer? Capacity: 50g
Transform into your Favorite Character! Character Face Mask, 450 yen each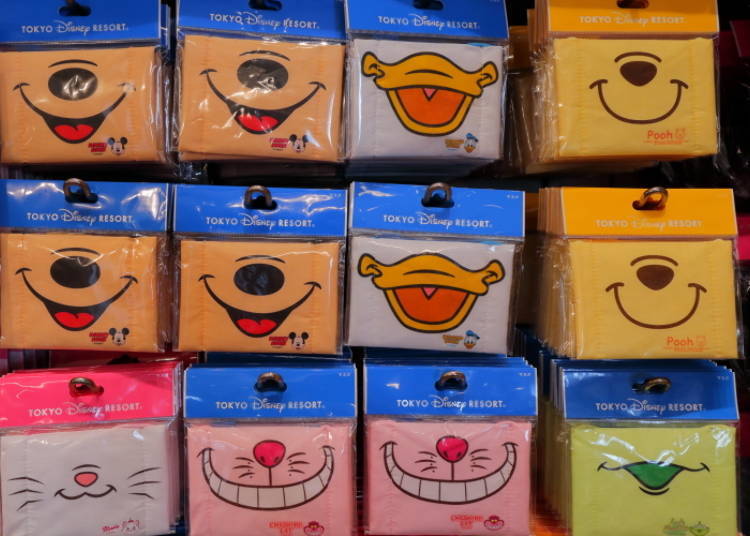 Facemasks are especially popular between winter and spring. If you use one with a Disney character print, you can easily use it as a fashion item as well because of the cute design which will easily transform you into your favorite character! Below the mouth drawn on the mask is also the name and a small picture of the character, and the color of the strap also matches the design. That's one way to create an impact!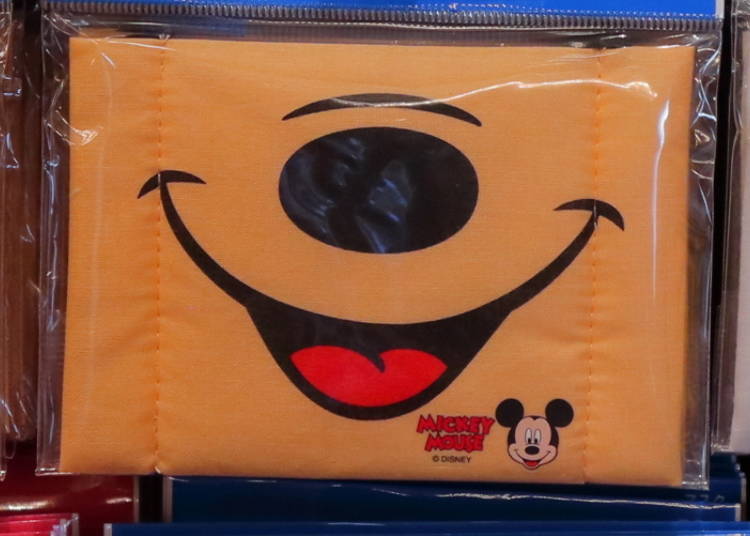 Easy-to-Use Character Nail Clippers, 1200 yen each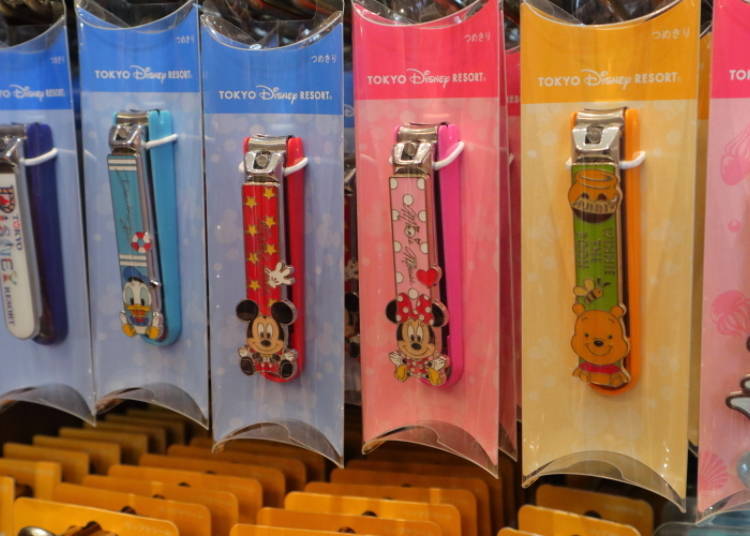 These are colorful nail clippers, each in the color representing a different character. Japanese nail clippers are known for their good quality and are especially popular with overseas guests. The clippers have a firm sharpness, and include a cover which helps keep the clipped nails from flying out. With a cute caricature design on each one, now even clipping nails can be fun!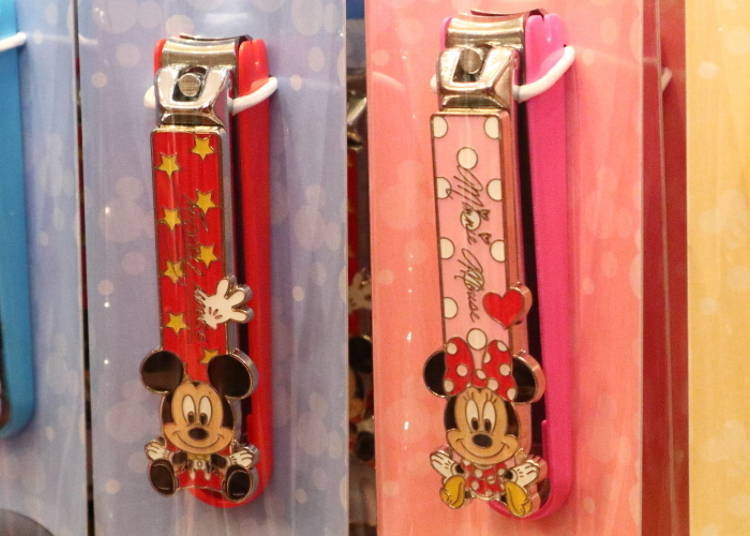 Clean Hands Anywhere! Hand Gel Set, 1600 yen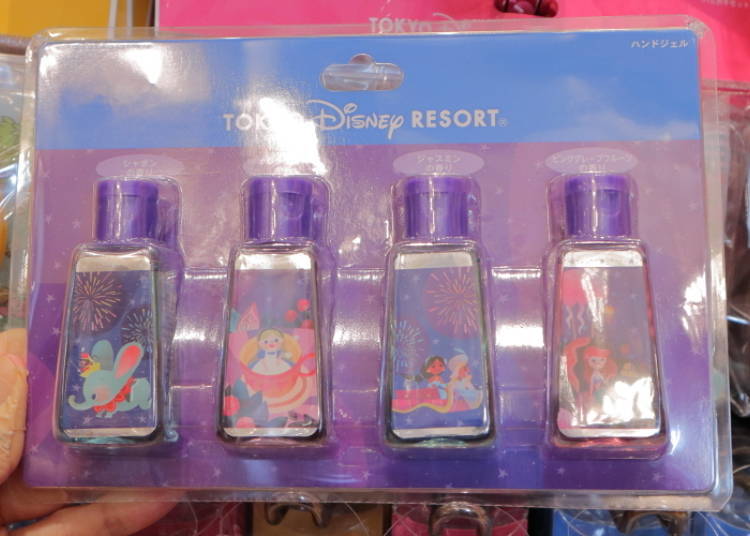 Alcohol hand sanitizers are great for disinfecting the hands with just a small amount, and is perfect to quickly clean your hands before a meal. Because they are small they are easy to carry around, in the park and anywhere you go. The design is based on the characters featured in their newly restored attraction from April of this year, It's A Small World. From the left, Dumbo = Bubble Soap Scent, Alice = Orange Tea Scent, Aladdin and Jasmine = Jasmine Scent, and Ariel = Pink Grapefruit Scent. There are 4 pieces total. Capacity: 26ml.
Pick Up Dust and Small Trash with Minnie Mouse Mini Dust Roller, 1200 yen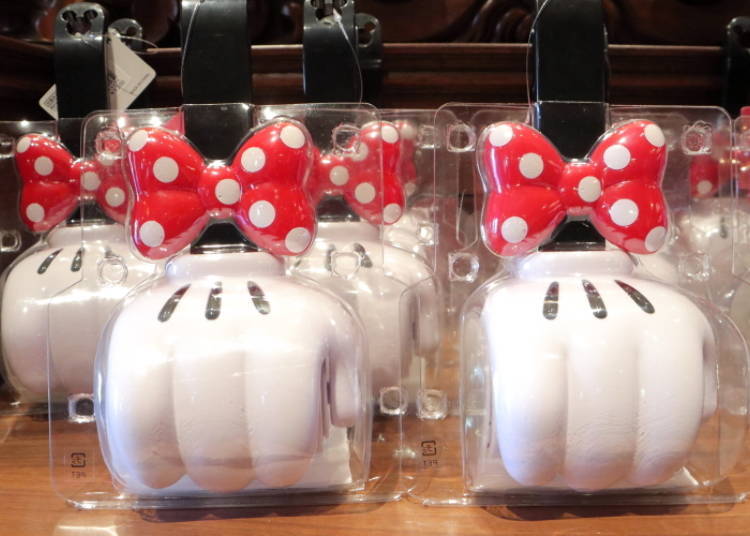 An adhesive-tape dust roller that can remove dust, lint on clothes, etc. Because it is a mini size, it does not take up much space, and can be quickly and conveniently used as needed. Once the tape is used up you can easily replace it with the widely available 8cm tapes found in most home goods centers. It is an adorable design featuring Minnie's glove and bow.
Character Face Kadokeshi Eraser Set, 1440 yen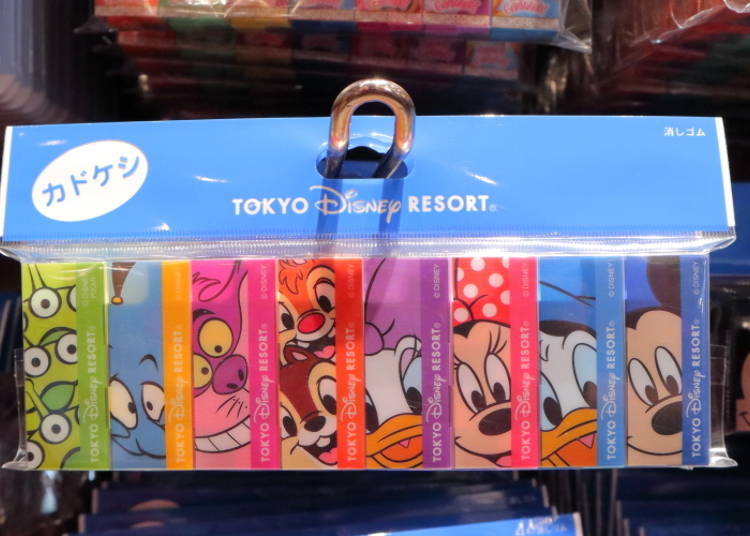 Kadokeshi is a recently popular style of eraser that has many corners, so that you always have a clean corner to use to erase with ease. Because of the corners and size you can easily erase small areas. Not only are they practical, the character designs make them very cute, too. It comes with 8 erasers, so it is also a good souvenir idea to give out to your friends!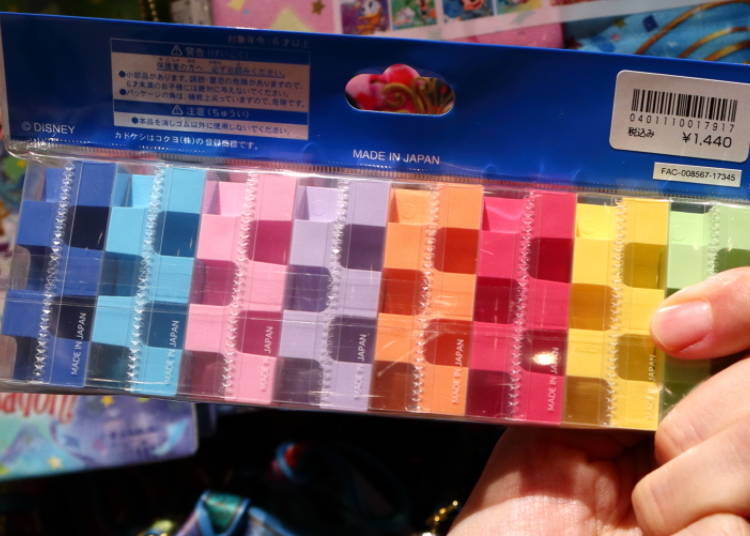 Character Heads Ballpoint Pen Set, 2300 yen)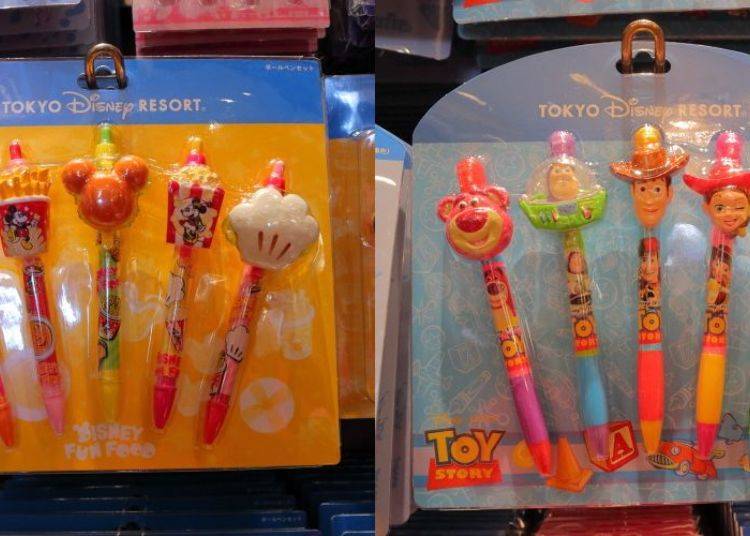 This is a set of 5 black ballpoint pens. The set on the left side depicts popular food items sold in the park, such as the Mickey Waffle and Mickey Burger. The right set shows characters of Pixar's popular movie Toy Story, including Woody and Buzz Lightyear. There is no doubt this would also make a pleasant souvenir to give out to friends individually.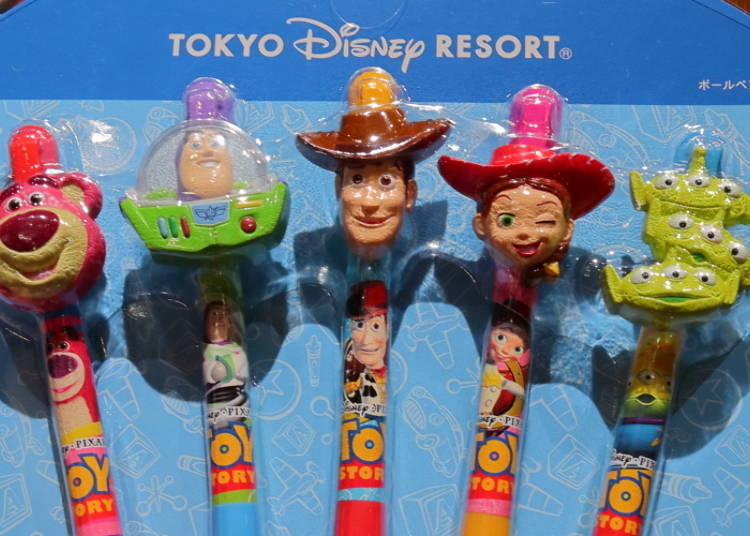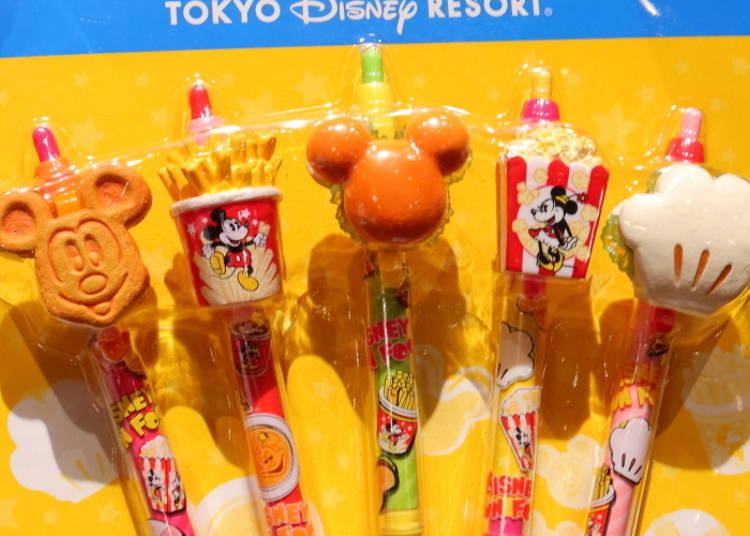 Mickey & Minnie Ballpoint Pen Set, \1200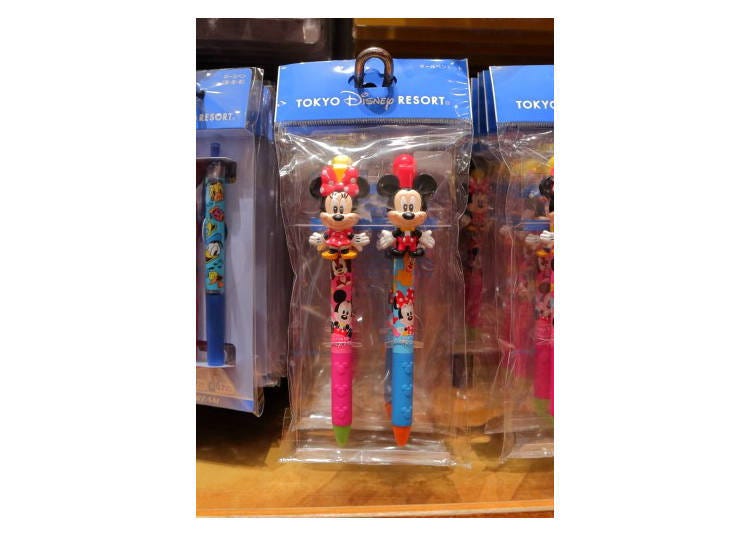 A two-pen ballpoint pen set of everyone's favorite, Mickey and Minnie Mouse. Mickey is in his tailcoat, and Minnie wears her signature dotted dress. There is also a Mickey design on the grip part of the pen. They make great souvenirs for just about anyone, and are also adorable decorative pieces to keep in your home.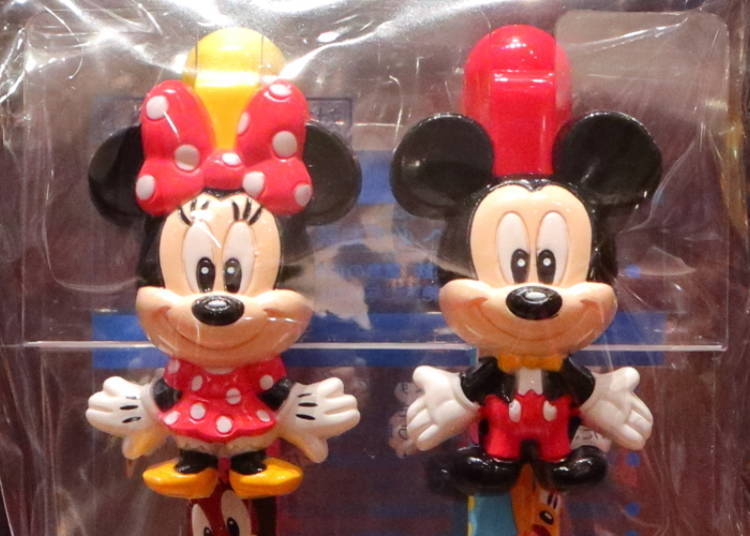 Excellent and Practical, Friction Ballpoint Pen Set, 1240 yen
This set contains the popular, ground-breaking type of pen, the friction ballpoint pens, which has an eraser on the tip that can actually erase the letters written with this pen! This pen is less flashy, so you can easily and comfortably carry it around for daily use in your pen case. 4 color set: Mickey = black, Minnie = pink, Donald = blue, and Daisy = violet.
Unique Origami Memo Set: Left, 800 yen; Right, 1080 yen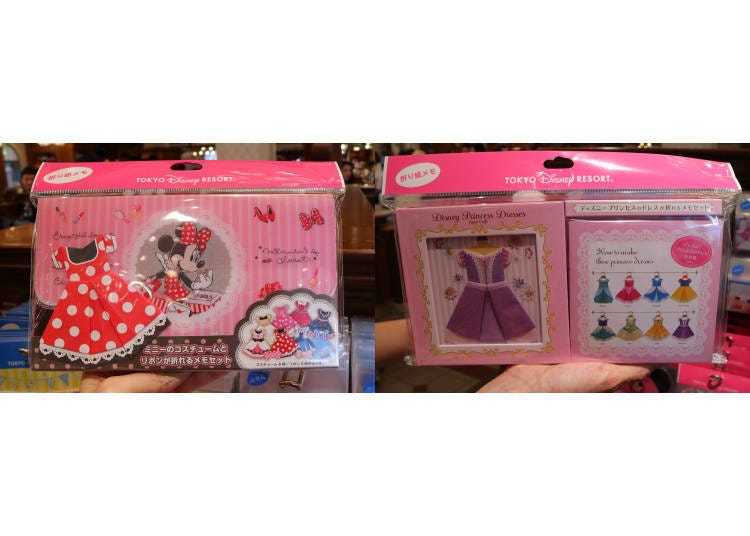 Cute, stylish memo pads shaped like a dress to write cute notes to your friends. The left features park areas such as Toon Town and Big Band Beat, and 8 of Minnie's attraction themed dresses with 2 types of bows. The right set features 8 gorgeous Disney Princess dresses, such as Cinderella and Belle. They come with origami instructions, too, so anybody can do them!
Park Foods Memo Notepad, 680 yen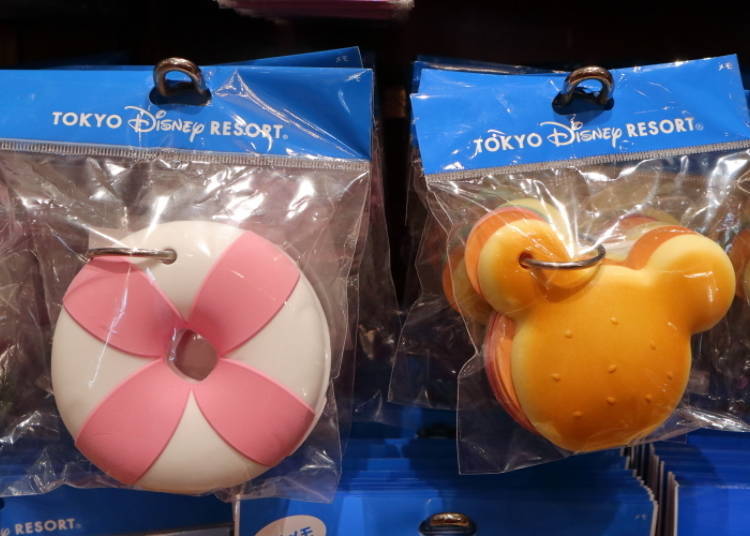 Ringed memo pad in the shape of the popular park foods sold at Tokyo Disney Land and Sea. The left pad is shaped in the design of Donald's "ukiwaman," the pink and white floating ring. The right is in the shape of a Mickey Burger, with the pages inside designed to look like cheese, tomatoes and lettuce, 20 pages each. They are cute, soft, and very fashionable items.
Mr. and Mrs. Potato Head Salt & Pepper Shakers, 2,000 yen (Cruet Set)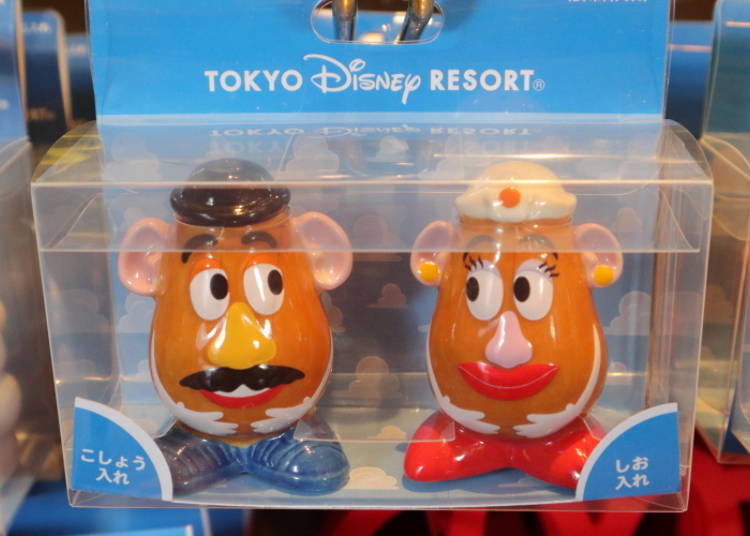 This set of salt and pepper shakers features the characters from Pixar's Toy Story, Mr. and Mrs. Potato Head. Their cute, large eyes looking at each other and their cute facial expressions make any kitchen table more fun and colorful. Recommended as a gift! (*Salt and pepper not included.)
Address

1-1, Maihama, Urayasu-shi, Chiba, 279-0031
View Map

Nearest Station

Maihama Station (JR Keiyo Line)
4 minutes on foot


Phone Number

0570-00-8632
Address

1-1, Maihama, Urayasu-shi, Chiba, 279-0031
View Map

Nearest Station

Maihama Station (JR Keiyo Line)
13 minutes on foot


Phone Number

0570-00-8632
*Information as of June 2018
*Menu items subject to change without notice. Please note inventory and sale endings.
*Business hours vary by restaurant and shop location. Closings may be issued due to traffic, weather, and other reasons.

*This information is from the time of this article's publication.
*Prices and options mentioned are subject to change.
*Unless stated otherwise, all prices include tax.
Recommended places for first-time visitors to Tokyo