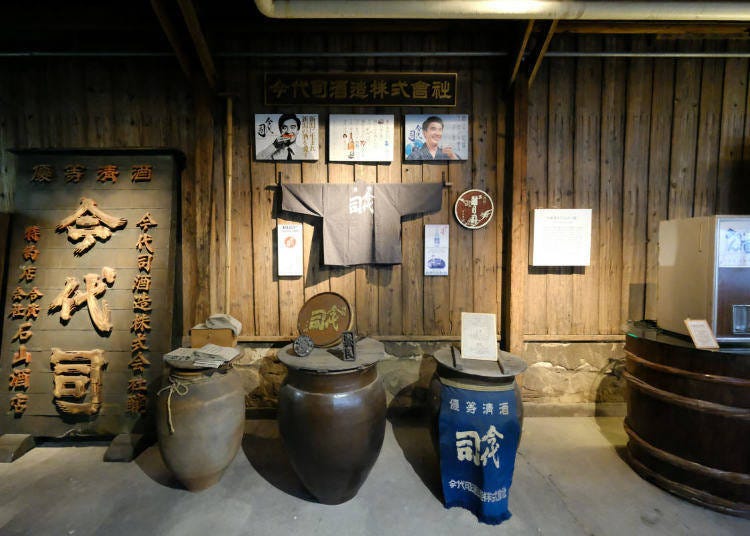 Japanese sake is becoming more and more popular around the world, and tons of people make it their first and most important souvenir on their Japan travels. Niigata sake in particular is a go-to buy for many visitors. However, surprisingly few people know the process behind how sake is actually made.

So, today, we take a look at this process and the commitment that goes into sake brewing at Niigata's largest brewery, Imayo Tsukasa Shuzo.
High-Quality Niigata Sake Comes from Attention to Detail... Even Water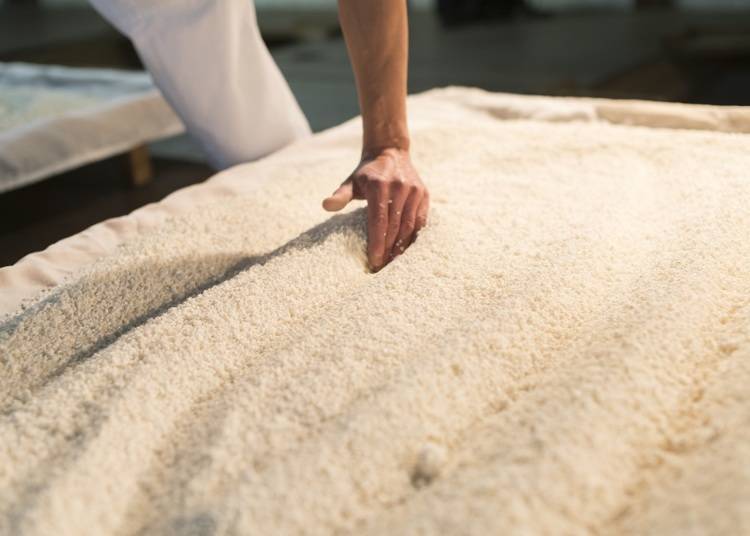 Photo Courtesy of: Imayo Tsukasa Sake Brewery Co., Ltd.
Niigata Prefecture boasts the largest number of sake breweries in Japan, with 89 breweries and the highest production volume in the country (as of January 2020). Fans of Niigata sake are dispersed throughout every prefecture. The secret of Niigata's delicious sake is the quality of the rice and water, the main ingredients of sake. Niigata has been long recognized for having the some of the most refined rice cultivation techniques in all of Japan.

Niigata is also known for accumulating the highest amount of snowfall in the country. When all that mountain snow melts, the water it provides the land is of the purest quality. With the best environment and the best ingredients, it's no wonder Niigata Prefecture is said to have birthed the best sake, as well.
Imayo Tsukasa Sake Brewery: Right Near Niigata Station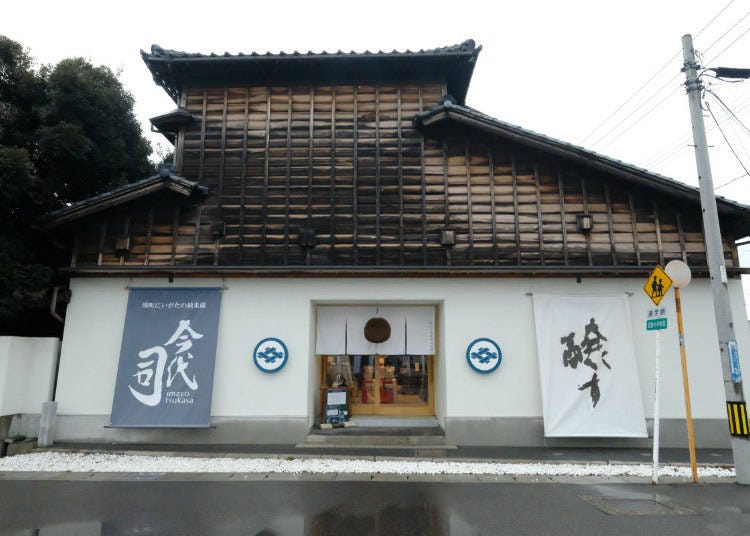 Nuttari, Niigata City, is a region that thrives on the fermentation of sake, miso, and soy sauce, and is only a 15-minute walk from JR Niigata Station.

Within this region lies Imayo Tsukasa Shuzo, a sake warehouse with a long history, established in 1767. At the time of its founding, its main operation was as a liquor wholesale and hotel business. However, since the mid-Meiji Period when the sake brewing process was introduced to Nuttari, Niigata has continually pursued the best tasting sake with some of the top brewers in the prefecture. Niigata was even once considered to be one of the major Hanamachi Districts, together with Tokyo and Kyoto.
A Commitment to Pure Sake: The Only Ingredients are Water and Rice!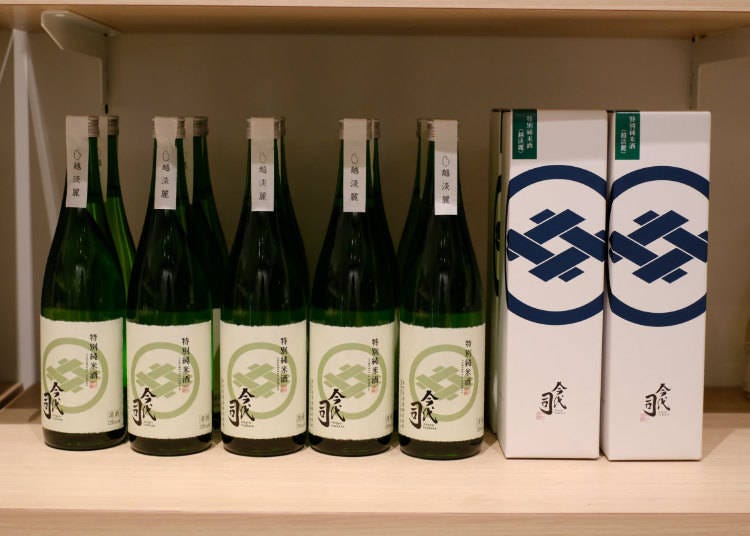 Since 2006, Imayo Tsukasa Brewery has continually produced pure, high-quality sake, using only rice, koji, and water, and without adding alcohol. By foregoing the addition of other ingredients, that also means the taste and aroma of the sake remains as-is after brewing, without any alterations.

Because they can't hide behind additives, sake brewers take their work very seriously. And while currently they only produce pure rice sake, the taste is anything but plain. They are also working on developing a variety of sake that even the younger generation can get behind, including sake that pairs well with oysters, and sake with a sweet, fruity aroma.
Niigata Sake Brewery Tour: All About the Brewing Process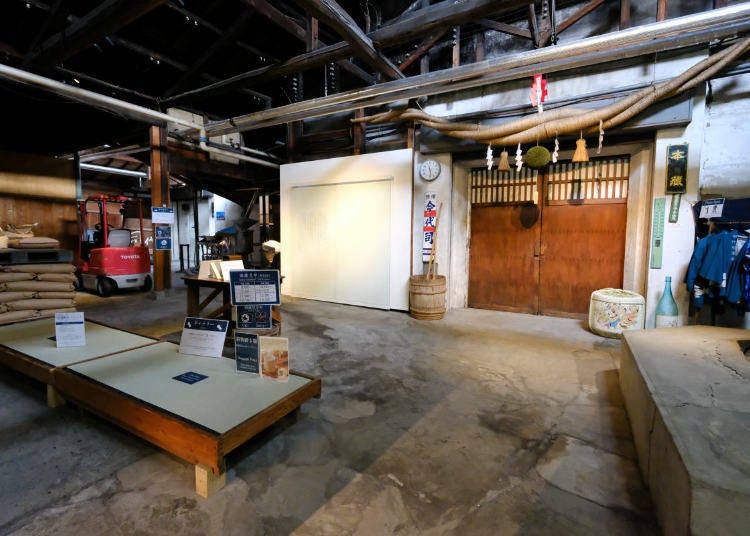 You can visit the Imayo Tsukasa Brewery for free, and reservations are not required. Tours run hourly from 9:00AM to 4:00PM. On weekdays, you can attend an English tour with an English-speaking guide from 2:00PM.

*Advanced reservations required for parties of 8 or more.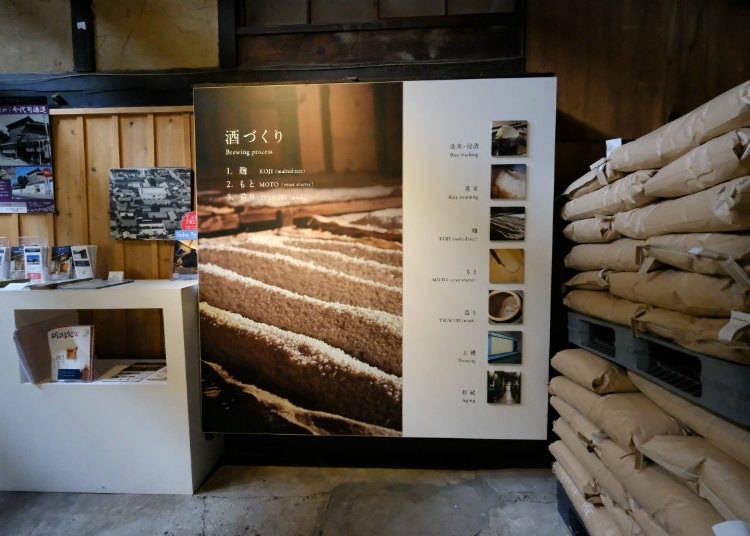 Go through the curtain in the back of the shop. Here you will be asked to change your shoes, and wait in the warehouse until your guide is ready. The tour begin begins with an explanation of the sake brewing process. First, the rice is washed and left soaking to absorb the water. Then, it is steamed and cooled. This is when the "koji," a kind of mold used in the fermenting process, begins to grow and reproduce on the rice.

The result is called "moto" or "shubo," which is the yeast starter. The moto is combined in a tank with the koji, steamed rice, and water for fermentation. The fermented product is called "moromi," or fermenting mash, which is then compressed and heat up before being preserved. Finally, it is bottled and sent off to shops, where it is sold as sake. After learning all about the sake brewing process, it is time to visit the actual workshop.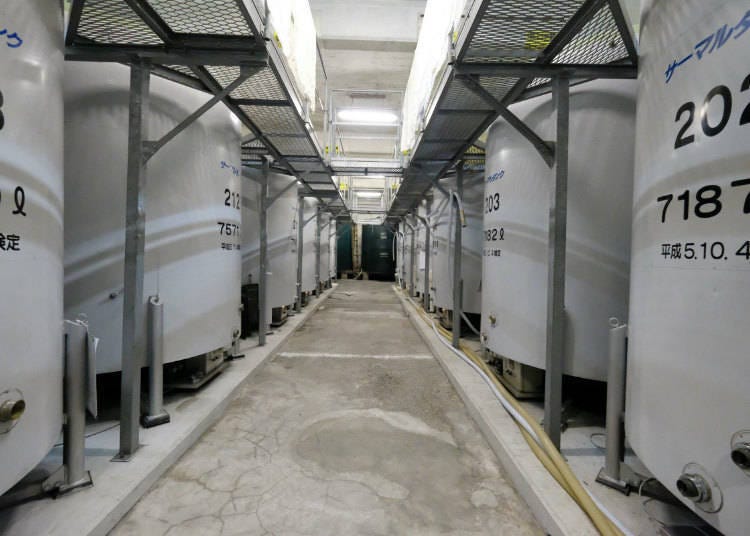 Follow your guide to the brewery site, past the doors, where you are greeted by... a huge iron tank! This tank contains the moto, koji, steamed rice, and water. It is fermented at a low temperature for a long period of time to bring out the sake's flavor and create the "moromi," or fermenting mash.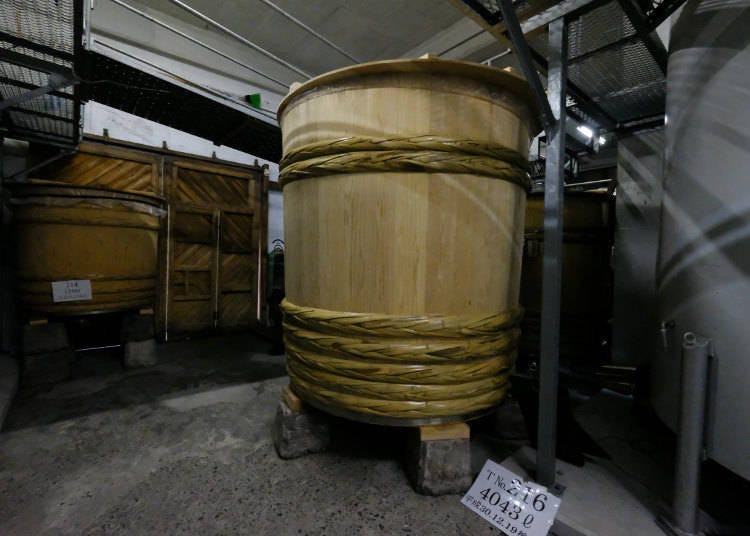 As they explained more about what goes on in the tank, my attention was drawn to a large, wooden "kioke," or traditional wooden fermenting barrel. Kioke barrels are important because of their ability to maintain otherwise difficult-to-control temperatures. It is said that this is the only sake brewery in Niigata Prefecture that still uses them. This kioke-prepared sake is available for purchase at the shop. The fragrant cedar sent will grab you by the first sip.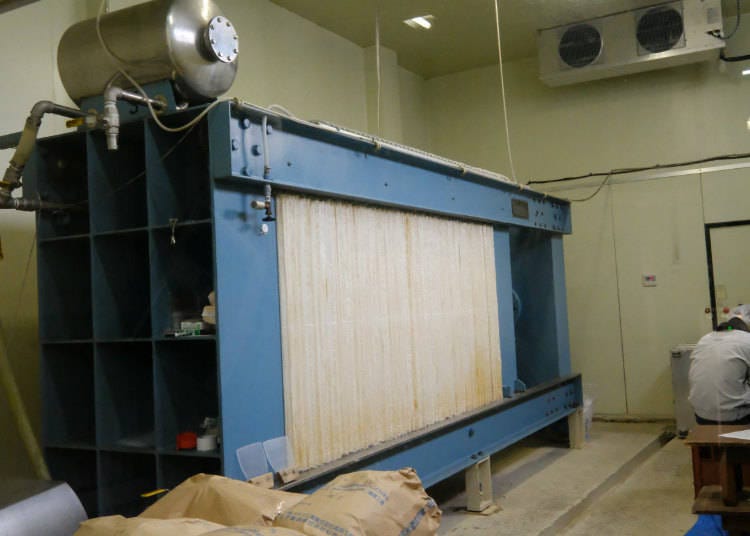 Next, the guide took us through the compression process of the moromi. This process is called "jousou." In this step, the alcohol is squeezed out from the fermented moromi by applying pressure to the sides.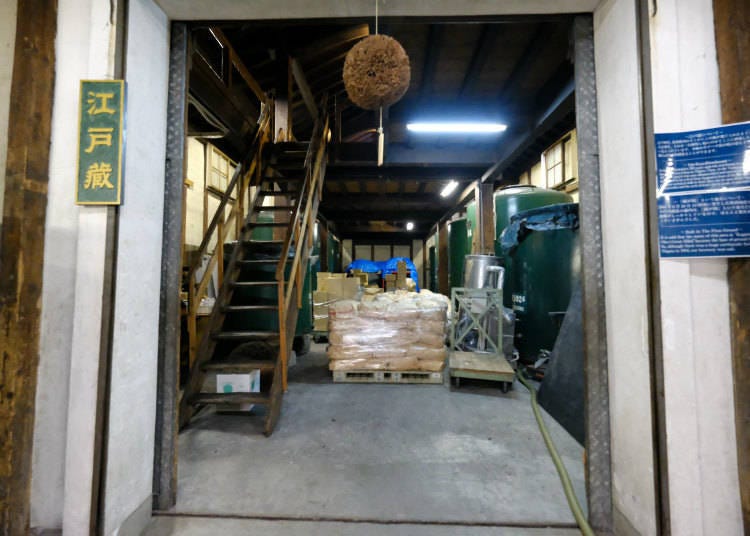 Looking back at the jousou workshop, there was a sign written that said "Edo Warehouse." As the name suggests, this warehouse was indeed built during the Edo Period, but was moved and reconstructed here from its previous location. Currently, it is being used temporarily to store sake. Take a moment to enjoy the Edo Period architecture, then proceed to the corridors lined with a miscellany of materials.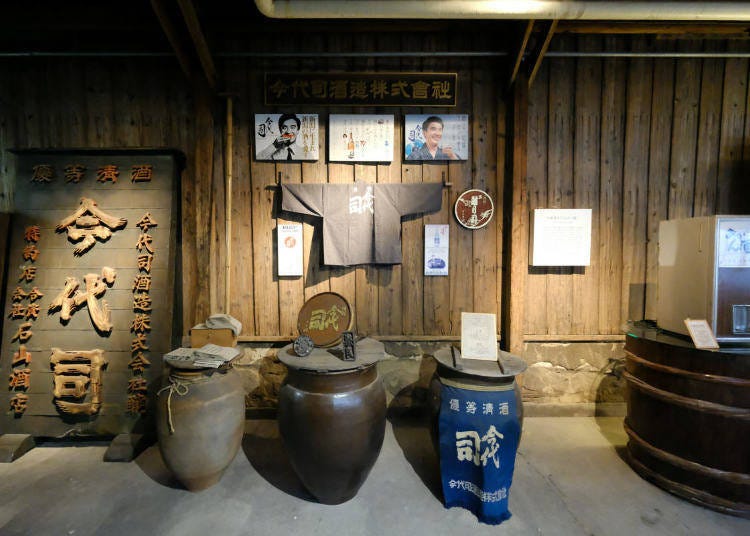 The corridors are decorated with all kinds of tools and items that were used once upon a time in these warehouses: signs from old liquor stores, account books, "ochoko," or special sake-tasting cups, and more.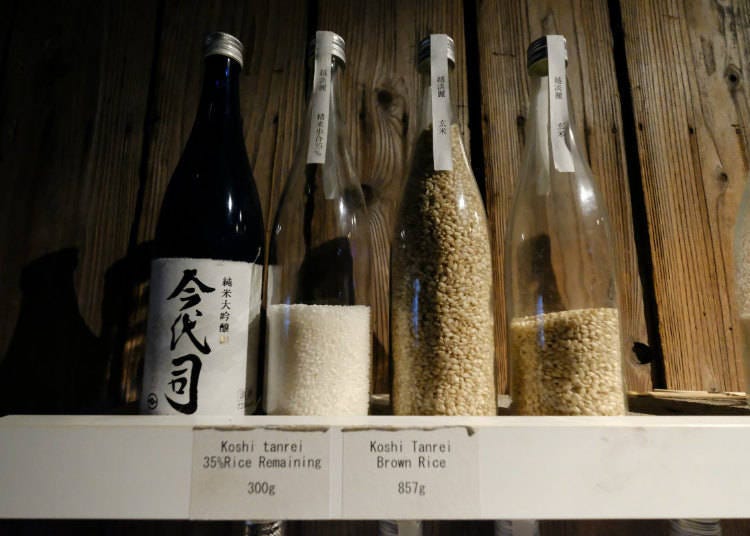 Out of all of these interesting items, some of particular interest are the sake bottles displayed to show the "seimai buai," or rice polishing ratio, at a glance. Many people probably wonder, "Why is Daiginjo sake so expensive?" These sake bottles make it clear with one look at the ratios. The more polished it is, the more expensive it is. So you can see why Daiginjo is on the more pricey side.

Finally, we return to the area where we first gathered, ending the tour with a look at the storage tanks. You will learn many new things during this 30-minute tour, from the sake brewing process, to the unique story of this long-established brewery, Imayo Tsukasa.
A Tasting Space with Over 10 Types of Sake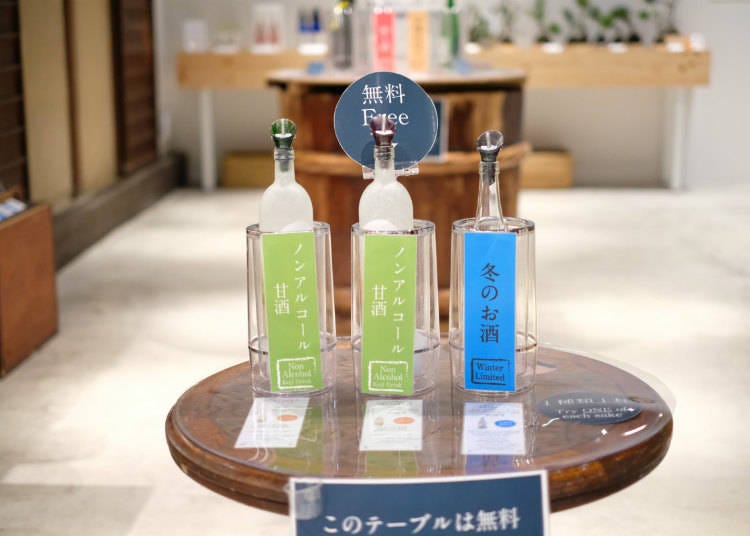 After the tour, head to the tasting space. While there is sake you can taste for free, if you purchase an original sake cup for 1,000 yen, you will be able to taste over 10 different varieties (as of January 2020). Available brands may vary by season, however amazake is a standard product and is almost always available. It is only mildly sweet, therefore delicious and easy to drink, even for those who may not be too fond of sweet sake.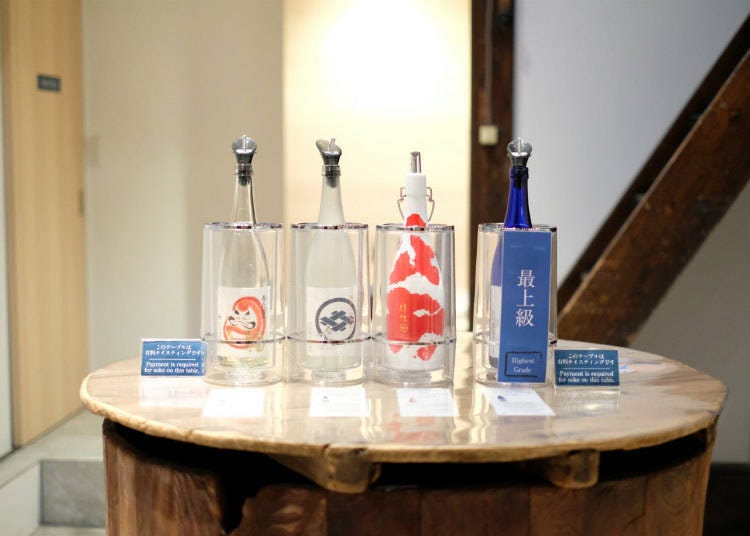 Nishikigoi is a particularly popular item that has won more than 30 design awards. You can really appreciate their attention to detail in the display - the bottle of Nishigikoi looks just like a fish swimming in a tank! Next to that is the Imayo Tsukasa sake boasting the highest grade and price tag, the Junmai Daiginjo Imayo Tsukasa Gokujo. It is slightly sweet, and recommended for lovers of wine.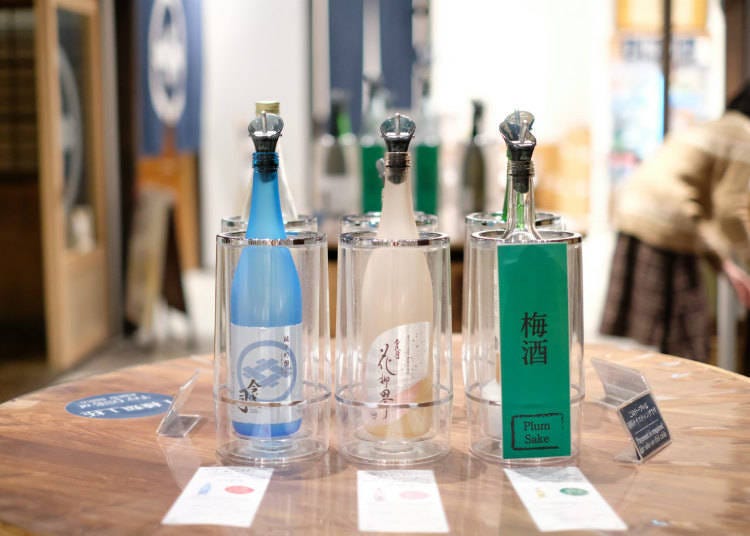 Other sake brands on display were Junmai Ginjo Imayo Tsukasa, known for its smooth, refreshing texture, Karyukai Amakuchi Junmai Ginjo, recommended even for those who are not particularly fond of liquor, and Tougorou Umeshu, a Junmai sake with pickled Niigata-produced Togoro plums. Whether you prefer dry or sweet, this sake tasting has something for everyone.
The Souvenir Shop: More Than Just Sake!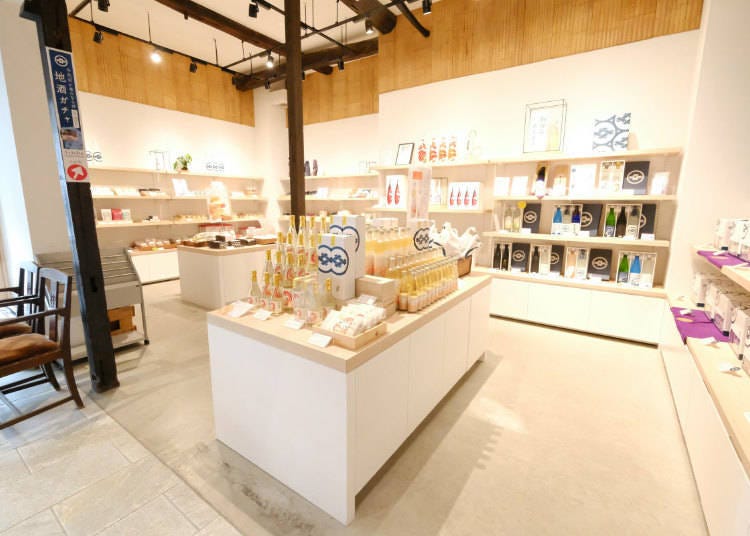 After the tasting, it's time to pick up some souvenirs. As previously mentioned, the most popular sake is Nishikigoi (5,000 yen for 720ml, tax not included). There are a variety of other sake as well, from dry to sweet, and some that taste like wine. Sample a few and pick your favorite, or consult the staff to learn more.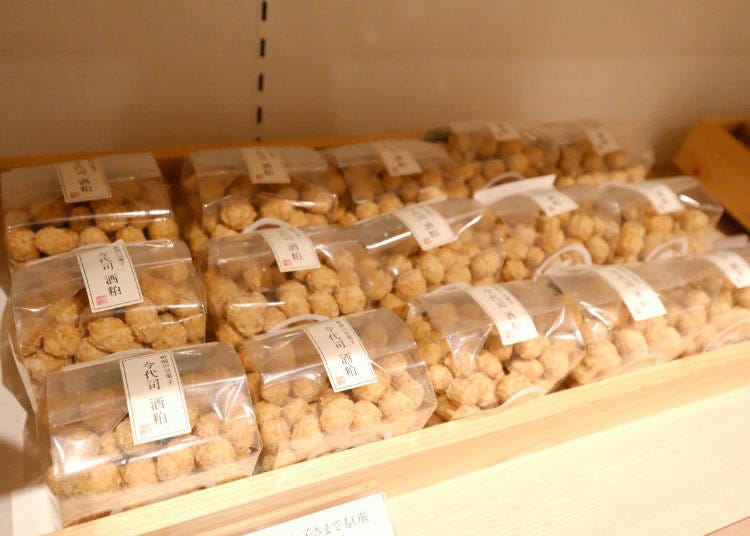 Souvenirs aren't limited to just sake. They also sell Mamekasu, a Japanese peanut snack, made with sake lees (300 yen, tax not included), as well as the deliciously fragrant Junmai Daiginjo Cake (861 yen for a set of 4, tax not included). If you do not drink alcohol, you may consider purchasing some sweets instead!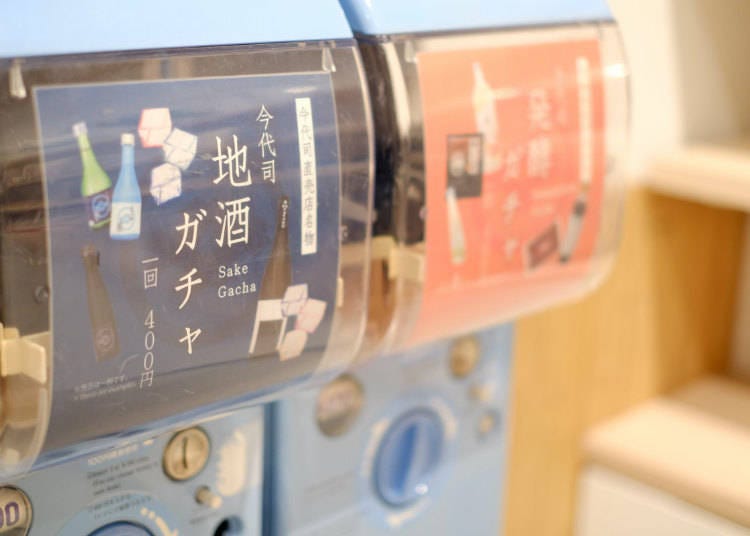 While walking around the souvenir shop, something a bit out-of-place caught my eye: a gacha-gacha machine! This coin-operated vending machine is a great value for its price of 400 yen, with the chance to win prizes worth way more, such as sake and amazake. Why not give it a shot? If you're lucky enough, you just might win your favorite sake!
Relax in Style at a Japanese Home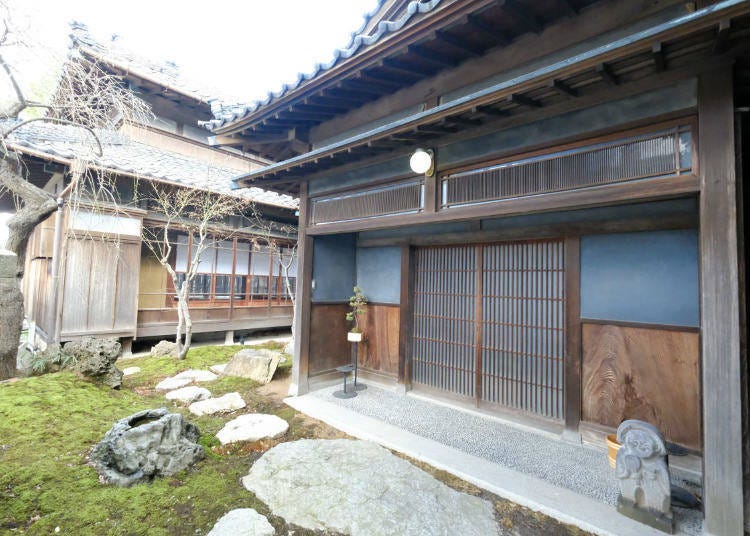 With that, souvenir shopping comes to a close... But wait, there's more! As of October 2019, Imayo Tsukasa has opened the neighboring building, previously the founder's home, as a rest area. The inside was left mostly as-is from the time it was inhabited, so you can get a taste of the old-fashioned Japanese life when you go inside.

Why not end your brewery tour experience with some nice, warm amazake or soft-serve sake ice cream, leisurely enjoyed in a real Japanese house?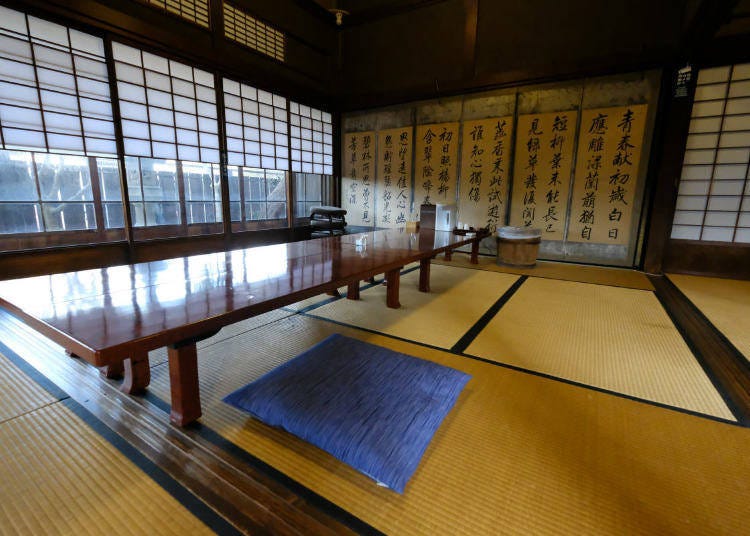 Imayo Tsukasa Brewery is within walking distance of Niigata Station. In addition to the sake brewery tour, you can enjoy a rich lineup of sake samples and other great products. If you are a lover of sake, then this Niigata brewery, known for its stellar quality and having the most locations in Japan, is a must-visit!
Imayo Tsukasa Sake Brewery Co. Ltd.

今代司酒造株式会社

Address

1-1 Kagamigaoka, Chuo-ku, Niigata City, Japan 950-0074

Phone Number

025-245-3231

Hours: 9:00AM-5:00PM
Holidays: New Year's Holidays
Text by:長谷川円香
*This information is from the time of this article's publication.
*Prices and options mentioned are subject to change.
*Unless stated otherwise, all prices include tax.
Limited time offer: 10% discount coupons available now!