On the outskirts of Sendai City looms the massive Sendai Daikannon (Huge Statue of the Goddess of Kannon), the main building of Daikanmitsuji Temple.

Standing at an impressive height of 100 m (328 ft), the Sendai Daikannon statue can be easily seen from many places within Sendai City!

Being greeted by this incredible sight immediately upon stepping out of home has led to a recent influx of excited discussions on social media, with input from residents ranging from "Totally unreal!" to "Like the final boss of a video game!"

While the giant statue is the most prominent landmark on temple grounds, there are other curious spots visitors may be interested in as well, such as areas that promote fulfillment in romantic relationships and more. Let's explore!

Main photo courtesy of Sendai Tourism, Convention and International Association
What sort of Kannon statue is the Sendai Daikannon?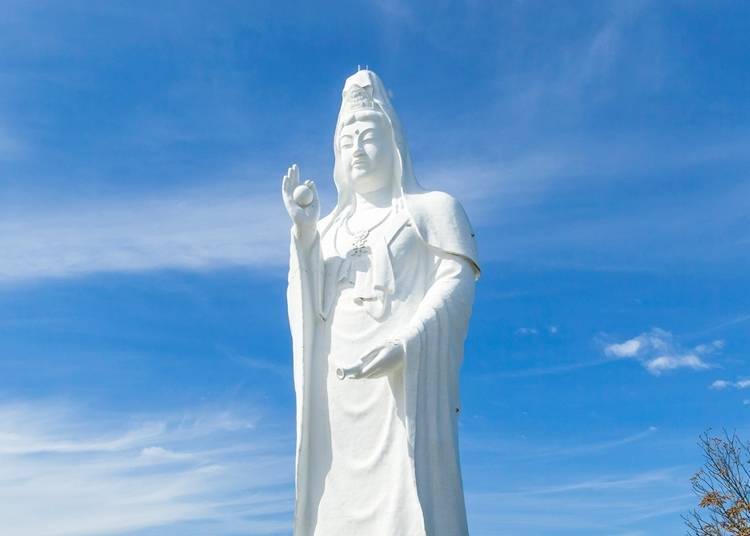 Photo courtesy of Sendai Tourism, Convention and International Association
"Sendai Tendо̄hyakue Daikannon" is the full name of the large statue more popularly known as the Sendai Daikannon, which was built in 1991 as a symbol of world peace and protection for Sendai.

As previously mentioned, the statue is 100 meters (328 feet) tall, making it the second tallest Kannon statue in all of Japan. On an international level, Sendai Daikannon is a whole seven meters (23 feet) taller than New York's well-known icon, the Statue of Liberty, which means it's one of the taller statues among its ilk around the world as well!

Why 100 meters, though? Because in 1989, Sendai City celebrated its 100th year of municipal administration, and the statue was constructed facing the direction of Sendai Station on the JR Lines, to make it look as if it was keeping a watchful gaze upon the streets of Sendai from above.

There's also an underground space beneath that's 21 meters (69 feet) deep, as an embodiment of the temple's wish for prosperity for all in the 21st century.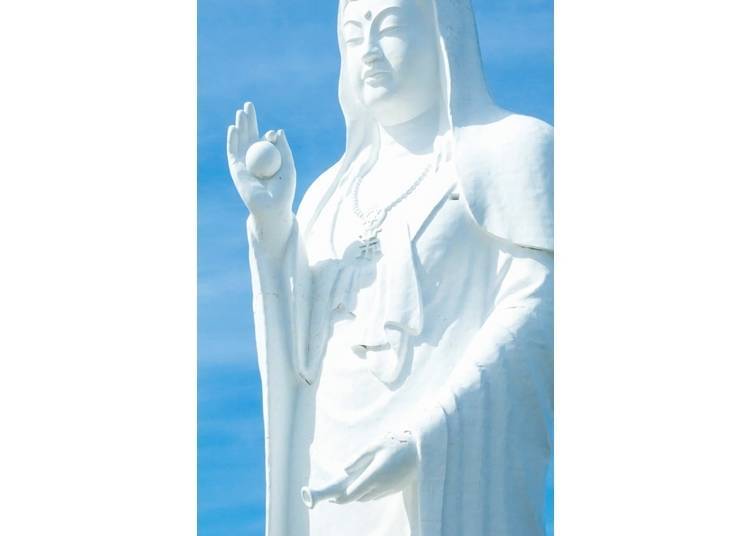 Photo courtesy of Sendai Tourism, Convention and International Association
The Kannon statue holds the cintamani - a jewel that is said to fulfill all wishes - in its right hand, and a jug with the water of wisdom in its left. The mouth of the jug is tipped towards the streets below to bless the residents there. The statue's face is set in a gentle smile that is meant to give those who glance at it a sense of peace and reassurance.
Getting to Sendai Daikannon: Taxis and buses
You can take a taxi or bus to the Daikannon statue from Sendai Station on the JR Lines. This is the gateway train station to Sendai City, the largest city in Japan's Tohoku region, and there are many ways to easily get here from all over the country.

From Sendai Station, it takes about 25 minutes to reach the statue on a taxi, or 50 minutes on a bus. For those planning on taking a bus, go to berth 14 of the terminal outside Sendai Station's West Exit and take the Sendai municipal bus bound for Izumi Village or Kitanakayama/Nishinakayama.

Stop at the Sendai Daikannon-mae bus stop and you'll be right in front of the huge statue. You can't possibly get lost once you're here, as long as you walk towards the statue's general direction!
Touring the inside of the Sendai Daikannon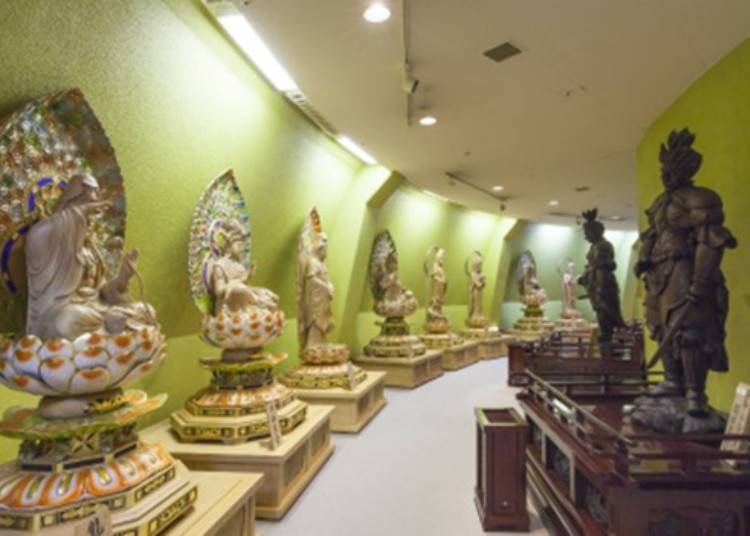 Visitors can buy tickets to tour the 12 floors of Kannon-related artifacts inside Sendai Daikannon. Our recommended route for this tour is to go around the first floor in a circle, viewing the exhibits.

Once you're satisfied, take the elevator up to the top floor, then look at the exhibits on each floor as you go down the spiral-like staircase. This minimizes the chances of missing out on an interesting exhibit or two without realizing it.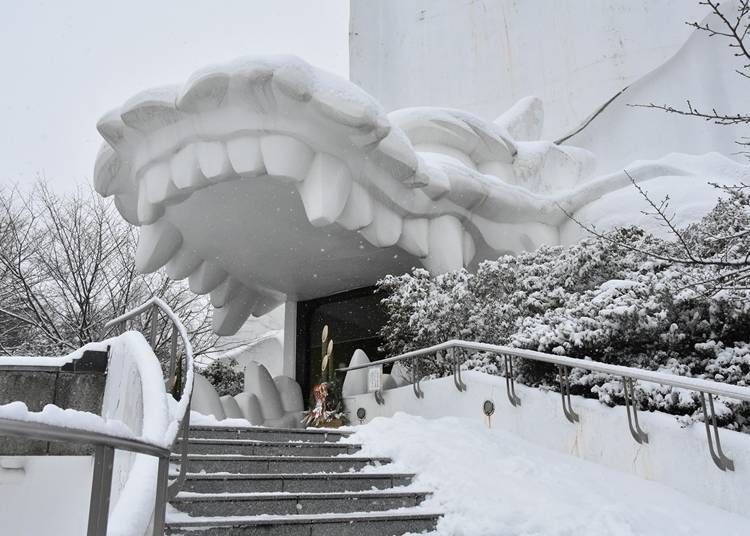 The entrance of the statue is shaped in the opened mouth of a dragon that symbolizes good luck. Upon stepping into the first floor, you'll see 33 Kannon statues in various poses, collectively known as the Sanjūsan Kannon, along with the Jūnishinshо̄, or 12 guardian deities associated with the Chinese zodiac.
Enshrined in the goshinden exhibit on the 12th floor is the goshintai, a sacred shrine said to house the spirit of a deity. On this floor, there are also small viewing windows looking out from the abdomen and back region of the statue.

On fair weather days, you can even see Sendai Station or the Pacific Ocean from these windows! Located through the second to 11th floors of the statue interior are 108 Buddha statues, collectively known as the Hyakuhattai Hotoke.

This number is based on the Buddhist belief of there being 108 "worldly desires" that plague mankind with all sorts of troubles and anxieties.

Note that the elevator only stops at floors 2, 6 and 10. If you need a break halfway through your walking tour, there are rest benches strategically located through the building that you can use. If the stairs get too tiring, feel free to take the elevator so as to save more of your energy and attention for the artifacts on display!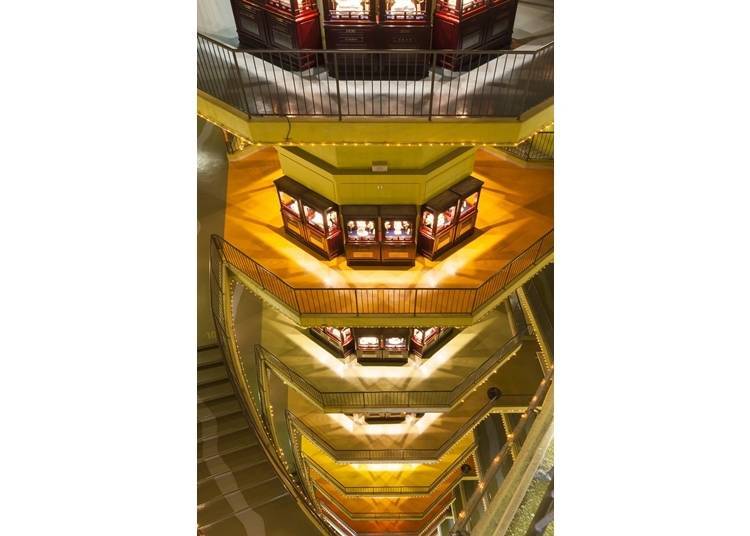 Photo courtesy of Sendai Tourism, Convention and International Association
The open ceiling design means that visitors can see right through to what's going on in all the floors whether they're on the ground or top floor. Coupled with the bright lights used to illuminate the display spaces, you'd be forgiven for thinking you've wandered into an alternate dimension altogether.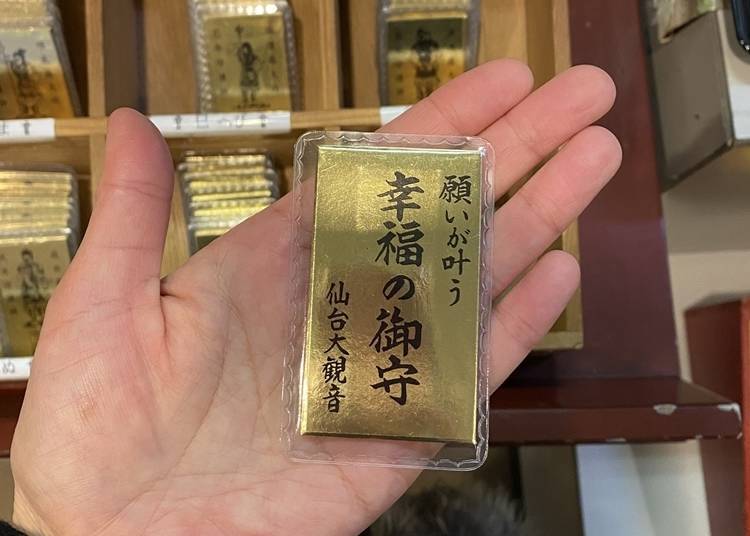 Don't forget to check out the "Amulet of Happiness" next to the reception counter. This bright golden charm - only sold here! - is purportedly imbued with the ability to help its wearer fulfill their wishes.

If you need help understanding how best to do a circuit around the building interior efficiently, or more information about the amulet, feel free to ask a nearby staff for an English pamphlet. The staff may also be able to help you with any simple questions you may have in English.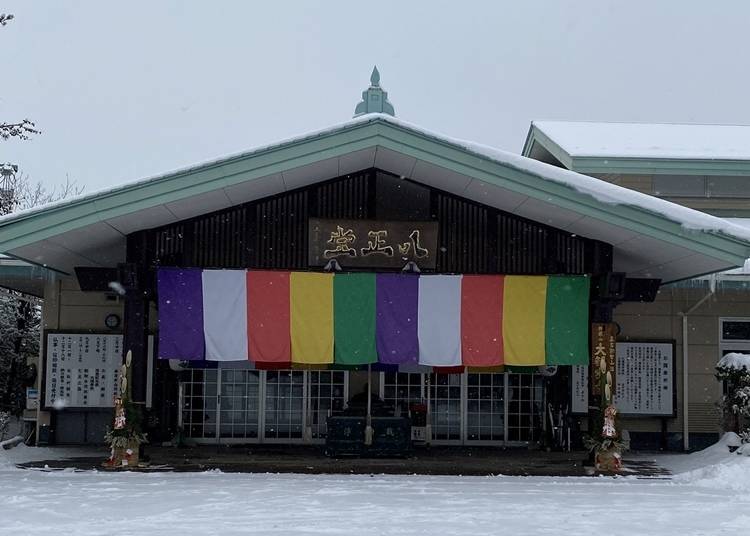 At the back of the statue is the Daikanmitsui Main Hall, and according to the steward, Mr. Toshiyuki Aida, many who visit the building to offer up worshipful gratitude assert that they're doing this because they recovered from their illnesses after praying daily to Kannon from their hospital beds, where the large statue is visible from.

The building is where gomakito prayer rituals are being held. Wood chips known as gomaki are burned in this ritual performed to help adherents fulfill their wishes. Do you have a wish needing fulfillment?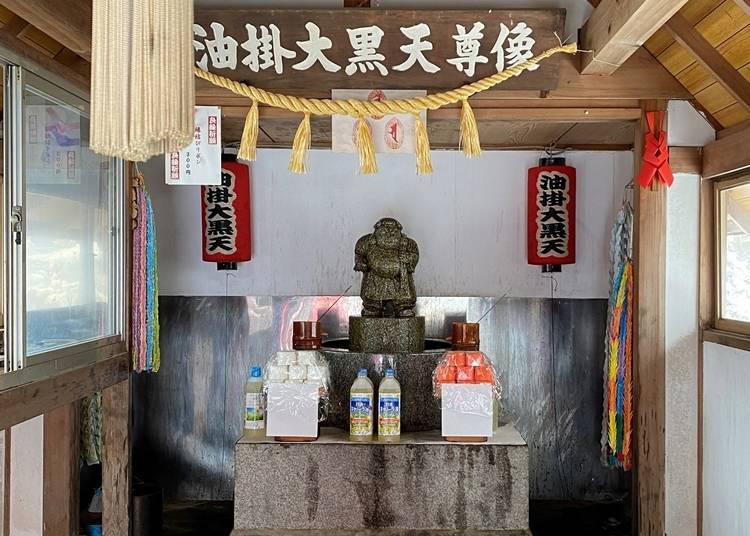 Something else about the temple is making the rounds on social media besides the Sendai Daikannon statue. Right in front of the Daikanmitsui Main Hall is an altar dedicated to Aburakake Daikokuten.

This deity is touted by many as being highly effective in bringing romantic partners together. Needless to mention, plenty of visitors flock to visit him in hopes of gleaning some blessings in this aspect of life as well!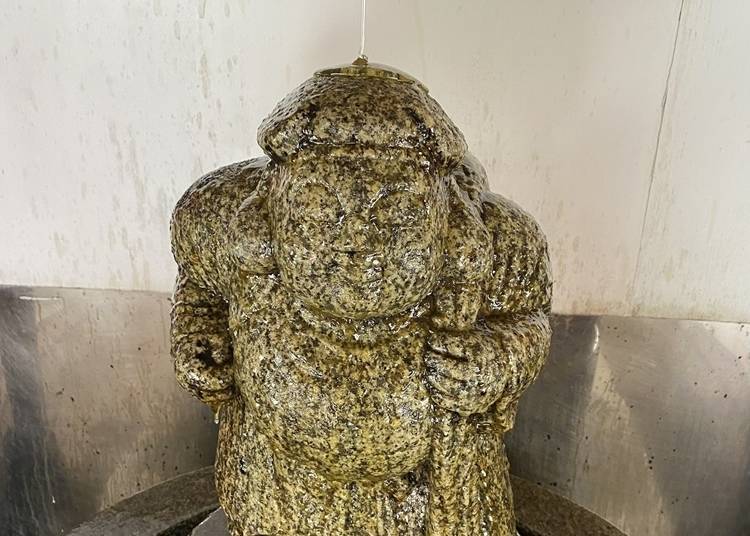 How does one obtain said blessings, you ask? First, light up a candle, then an incense stick. Chant your wish seven times while pouring oil onto the deity's statue in a ritual known as yokuho, a secret rite not just anyone is permitted to perform, but this temple bucks that trend by allowing everyone to do so if they wished, without even requiring a reservation.

Without a doubt, this is one of the main reasons everyone is hyped up about the temple.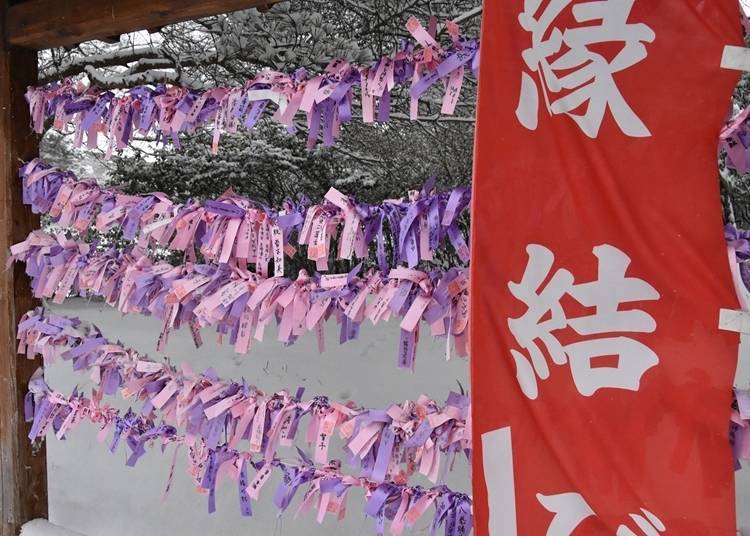 Countless visitors also try to improve their chances of getting their wishes fulfilled by buying a "Marriage Ribbon" being sold on temple grounds.

Apparently, all you have to do is write your wish on one of these purple and pink ribbons and tie it up. The temple office also sells adorable amulets with heart-shaped prints for those looking for a further luck boost!
Where to go for great photo ops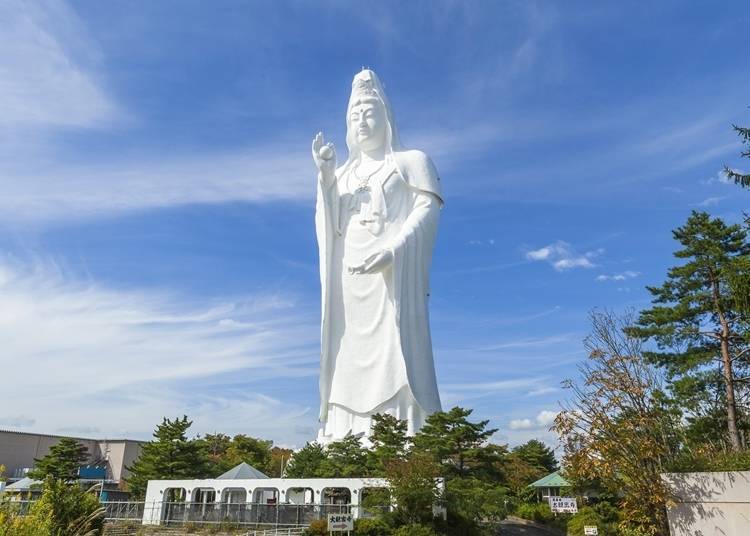 Photo courtesy of Sendai Tourism, Convention and International Association
Last but not least, allow us to share some excellent spots you can camp out at for great photo ops of the huge Sendai Daikannon statue.

Much will depend on what exactly you're hoping to capture, of course. The best place to get a full head-to-toe picture of the statue would be in the vicinity of the Sendai Daikannon-mae bus stop, which is about 100 meters (328 feet) away from the statue.

The view from the bus stop is unblocked by trains and has a good balance of green vegetation and blue sky, which makes the pure white statue really stand out on clear days during the seasons of spring to summer, resulting in many beautiful and memorable photographs.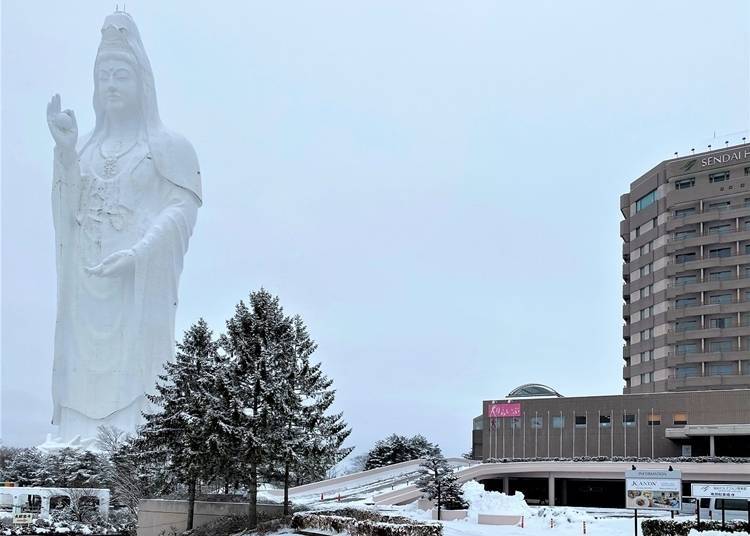 There's a hotel near the Sendai Daikannon-mae bus stop that you can include in your photographs with the statue, just to show off exactly how tall and large it is!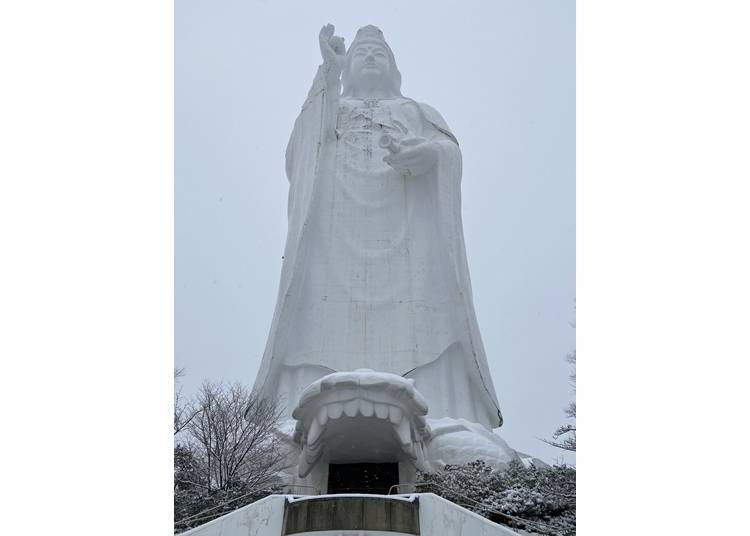 Another interesting shot you could go for is to take a picture looking up from the base of the statue, right at the dragon mouth entrance. From here, it almost looks as if Kannon is ready to zoom off any time now on her noble steed!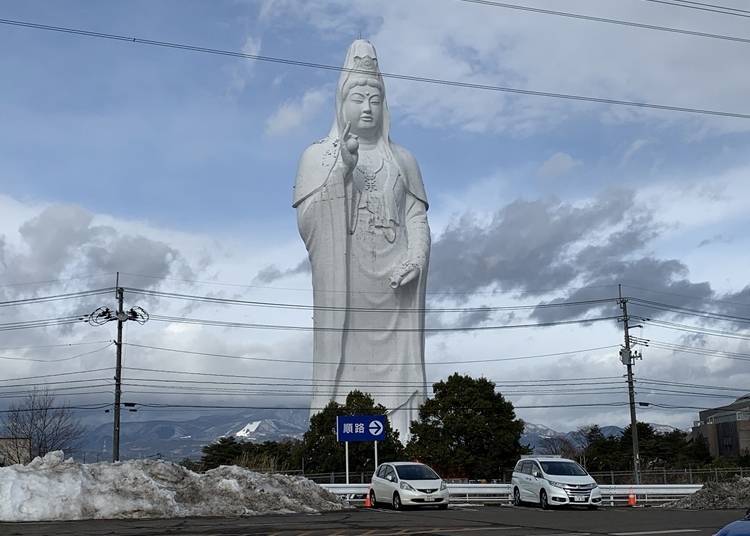 The carpark of the commercial establishment facing the statue is a great spot to take a clear, front view picture of it. Be considerate when taking your shots, though, and remember that the carpark is reserved for the establishment's customers first and foremost.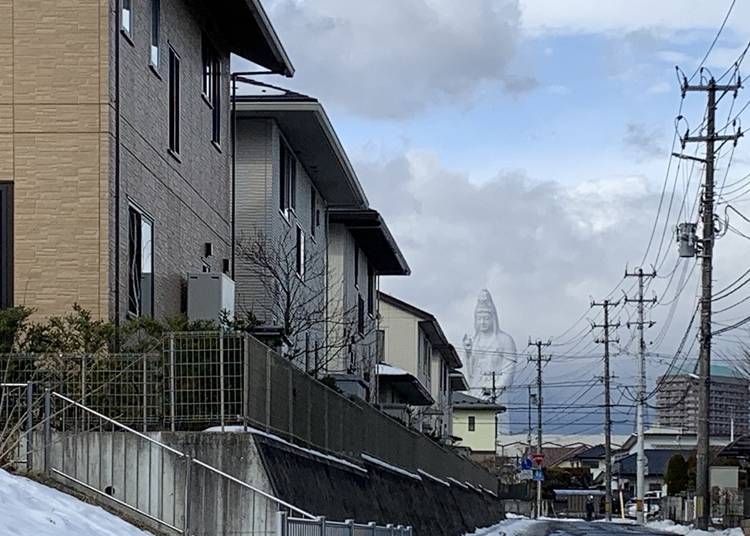 For a truly otherworldly vibe, snap a shot of the statue from one of the residential areas nearby! This would require a little bit of traveling away from the temple site, though, since you'll have to take a bus to the Nakayama Nanachome bus stop that's four stops before Sendai Daikannon-mae and walk for about three minutes to Nakayama Nanachome Park. The pathway beside the park is a great spot to get your fantasy-like shot done just right!

Play with perspectives using your camera's zoom function and see if you can make the statue and residential zone look closer than they actually are for some added intensity! This does depend very much on what sort of lens is installed on your camera, of course, so don't feel bad if you can't seem to get the desired result. Whatever your equipment, we're confident you'll enjoy putting in the effort to get the perfect shot you want, no matter the season, weather, or distance!

Sendai Daikannon, located in the Shingonshūchisanha Shinsekai Daikanmitsuji Temple, is the only place in Japan where you can get plenty of unique and impressive pictures of a large Kannon statue. Don't forget to show off your favorite shots to your social network!
Daikanmitsuji Sendai Daikannon

真言宗智山派 新界山 大観密寺

Address

Azanakasanna 31-36, Sanezawa, Sendai Shi Izumi Ku, Miyagi Ken, 981-3217, Japan

Phone: 022-278-331 (Representative)
Hours: 10:00 a.m. -- 3:00 p.m. (Hall closes at 3:30 p.m.)
Fee: For touring the interior 500 yen (16 and above) * Free for minors below 16 accompanied by an adult guardian
Closed: Open daily
Text by: ShoePress
* Information in this article is accurate as of January 2021. Check the official website for the latest updates.
*This information is from the time of this article's publication.
*Prices and options mentioned are subject to change.
*Unless stated otherwise, all prices include tax.
Limited time offer: 10% discount coupons available now!