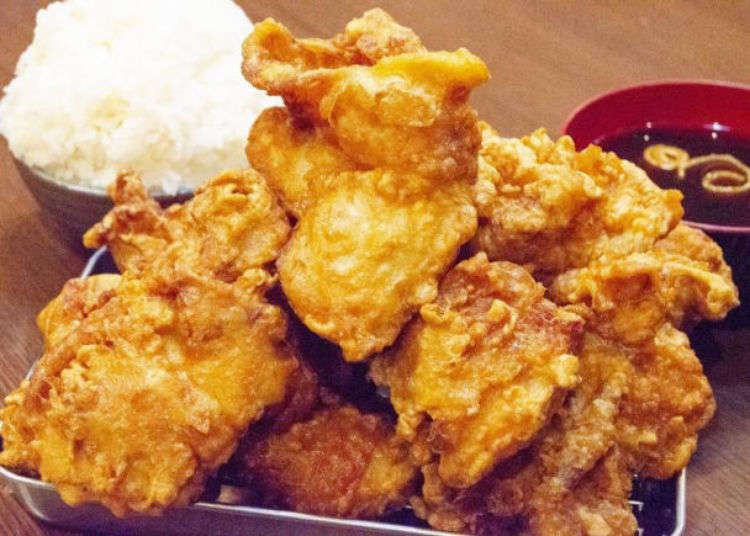 Osaka is a gourmand's delight where you can find a wide variety of gourmet dishes such as food made with flour, skewered cutlets, and puffer fish. Osaka is a town of merchants and for them food must not only be delicious by inexpensive as well.

In keeping with this Osaka style, we have assembled information in this article about places where you can eat as much as you like of meat dishes in true gourmand fashion for under 2,500 yen (around $25). All of these places are located conveniently close to stations making them easy to drop in while out seeing the sights of Osaka.
1. Sushi Tempura Yakitori Jiro: All-you-can-eat standard meat dishes!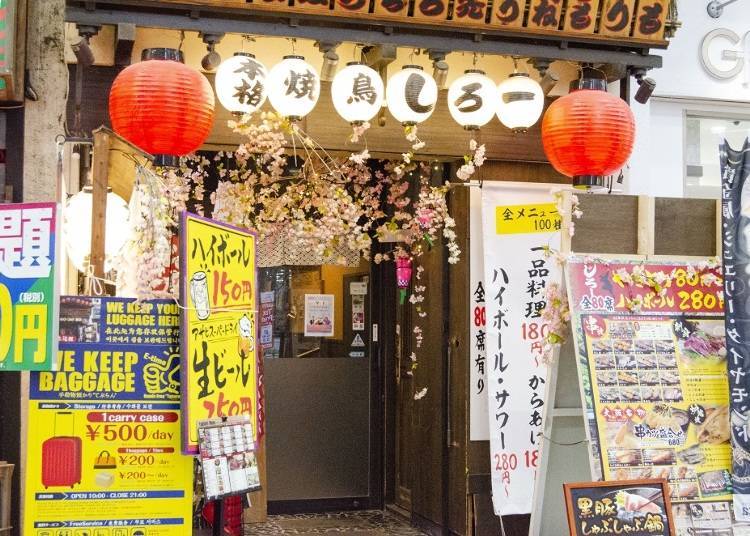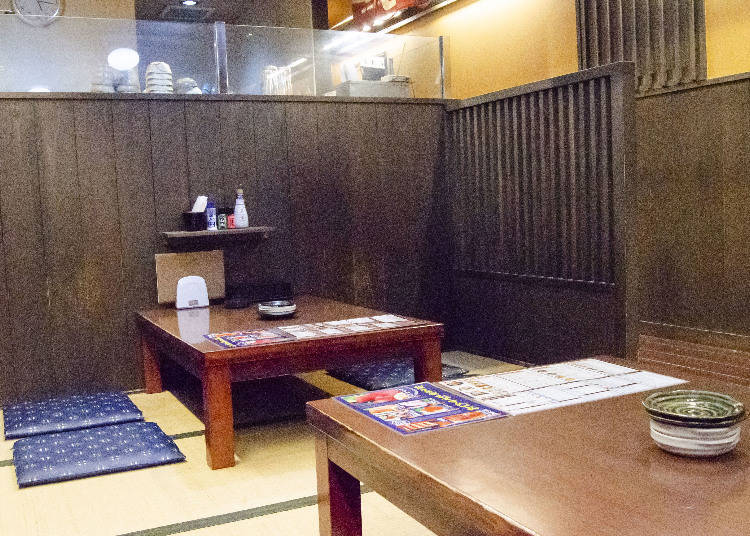 As its name suggests, Sushi Tempura Yakitori Jiro Nankai Dori Main Shop offers yakitori, skewered cutlets, sushi, and tempura, as well as okonomiyaki and takoyaki.

This shop is very popular with foreign tourists who come to enjoy its rich selection of Osaka dishes; the shop also has menus in English, Chinese, and Korean. It is also conveniently located in Namba Nankai Dori which is directly connected to the E5 exit of the underground shopping mall Namba Nannan.

The first floor is mainly for casual counter seats, and the second and third floors are tatami mat seats that can be used for banquets.
The all-you-can-eat lunch including extra helpings of rice is immensely popular!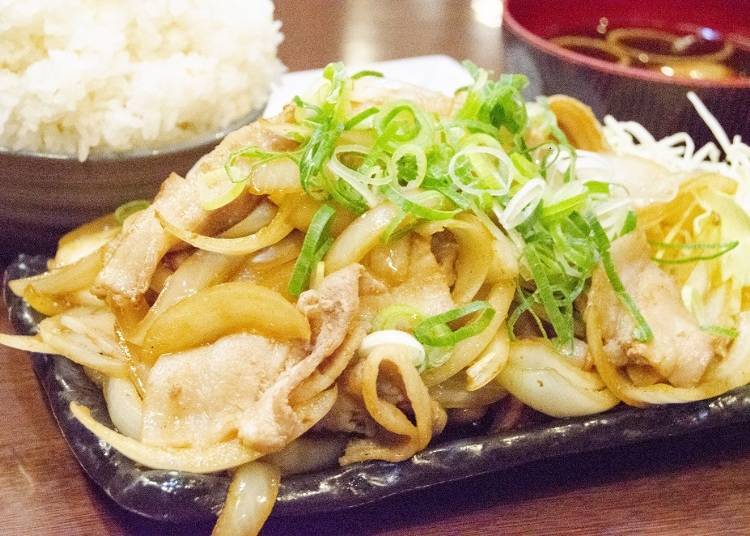 The lunch menu runs until 2:30 p.m. and has a wide variety of dishes such as seafood bowls and nigiri sushi set meals, but the most noteworthy is the all-you-can-eat set meal including a main dish and rice. There are three types from which to choose: tempura, fried chicken, and pork ginger, all of which are popular with both men and women.

All-you-can-eat fried chicken set lunch 799 yen (excluding tax); 15 kg of chicken is fried each day and on some days it becomes sold out. Chicken thigh meat soaked in a secret sauce made with garlic, ginger and a little sesame oil in a soy sauce base has a juicy flavor that goes perfectly with rice. The fried chicken comes in sizes perfect for eating. The photo shows a plate of 10 pieces, but normally the first dish consists of 5 pieces and thereafter it is possible to order extra single pieces. We heard that some customers are able to eat 20 pieces in a sitting.

The set menu most ordered, according to the shop manager, is the Pork Ginger Set Lunch that costs 899 yen (less tax). The ginger flavor is just right and the sweet and spicy sauce adds to the savory flavor of the pork in this all-you-can-eat appetizing pork ginger set.
There also are all-you-can-eat side dishes and rice ensuring that you definitely will not leave unsatisfied!
In addition to the all-you-can-eat menu, if you order a set meal for lunch, you can help yourself freely to the mentaiko [seasoned cod roe], kimchi, and takana [leaf mustard] fried in sesame oil set out on a side table. Those who order from the all-you-can-eat menu can have as many extra servings of rice as they wish and try different side menu dishes when they go back for more. Eating your fill of freshly cooked meat dishes for less than 1,000 yen will without a doubt leave you happily full and satisfied.
Sushi Tempura Yakitori Jiro Nankaidori Honten

寿司・天ぷら 焼鳥じろー 南海通り本店

Address

12-33 Nambasennichimae, Chuo-Ku, Osaka 542-0075

Nearest Station

5-minute walk from Namba Station on the Subway Midosuji Line and Sennichimae Line


Phone Number

06-6632-1261

Hours: 9:30 a.m. ~ 12:00 a.m. (L.O. 11:30 a.m.); currently from 10:30 a.m.
Closed: always open
2. Nabeya Darumado: A perfect place to enjoy hot pots at your own pace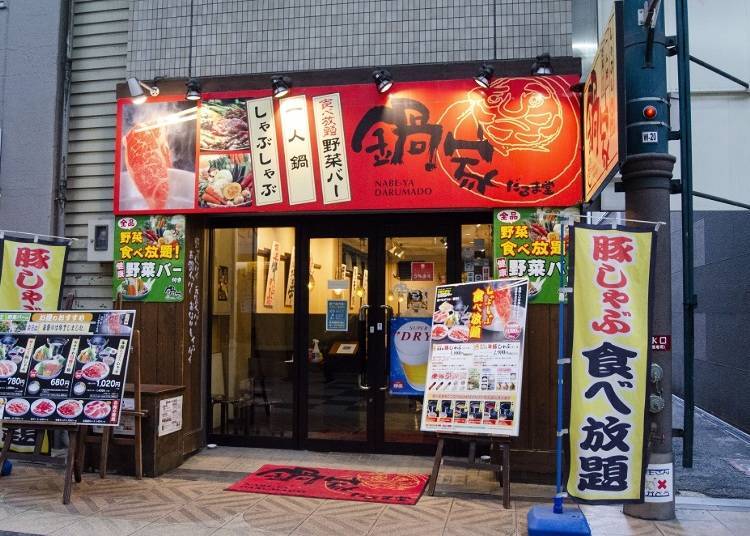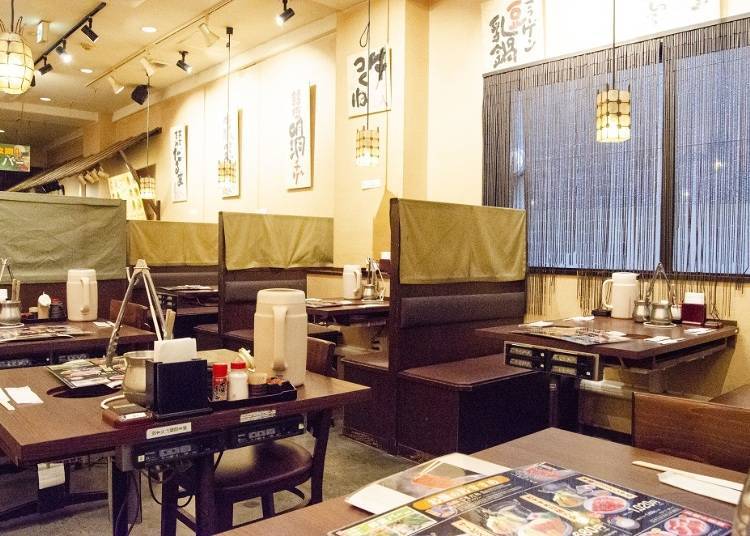 Nabeya Darumado is first of all a shop specializing in shabu shabu. One small pot is prepared for each person, so dishes can be enjoyed at your own individual pace.

There are 6 types of pots including shabu shabu, sukiyaki, curry pots, and salt tonkotsu pots. You can enjoy ingredients mainly consisting of beef and pork, and the lunch menu of around 1,000 yen is very reasonable.

One of the secrets to the shop's success is that a vegetable bar is included with the orders. The shop is located in Tenjinbashisuji Shopping Street, the longest shopping street in Japan that is popular with tourists, so you can visit without getting wet even on rainy days.
There are four kinds of all-you-can-eat pork shabu shabu for just 1,880 yen!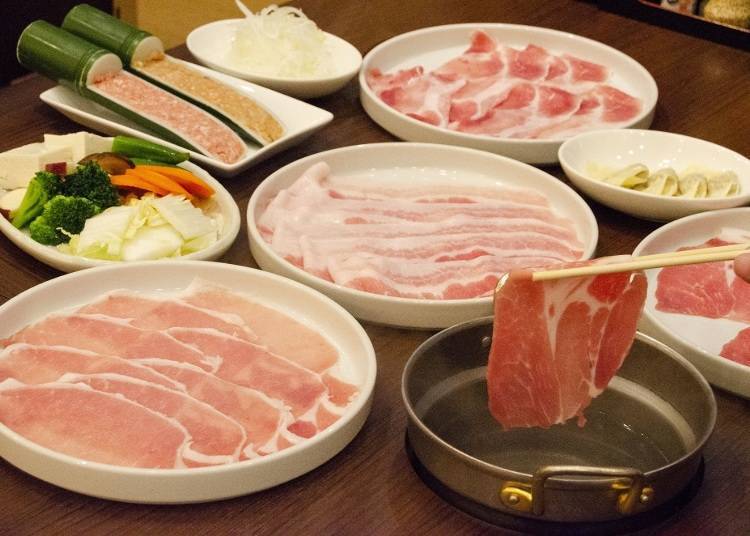 We recommend the 1,880 yen (excluding tax) Ton Shabu Course. The 90-minute all-you-can-eat menu offers 4 types of meat: pork shoulder loin, fine pork loin, pork loin, and pork belly. It should be noted that there are six types of soup stock from which you can choose including that used in sukiyaki, Japanese-style hot pots, and shabu shabu.

In the normal menu, an additional charge of 150 yen (excluding tax) is required to select a soup other than the one for shabu-shabu, but the price is the same for whichever you choose for the all-you-can-eat menu. In addition to a wide selection of ingredients, such as spicy fish balls, lotus root fish balls, chicken thighs, and meat wonton, you have a selection of udon or porridge sets towards the end of the meal as well as a dessert of sorbet or ice cream.

If you also opt for the all-you-can-drink plan that costs 1,380 yen (excluding tax), bringing the total to 3,260 yen, it is still a good deal and great for a drinking party.
There more than 10 types of vegetables, too! Vegetable bar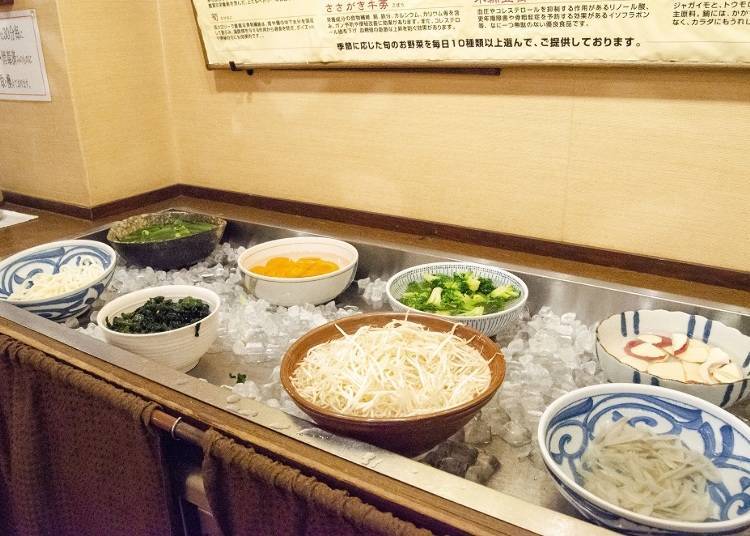 The vegetable bar in addition to the meat is also very popular. The salad bar is included in the lunch hot pot menu and you can help yourself freely to more than 10 types of vegetables including onions, broccoli, bean sprouts, and mushrooms. The many vegetables along with the meat provide for a well-balanced meal.
鍋家 だるま堂

Address

4-chome-7-33 Tenjinbashi, Kita-ku, Osaka 〒530-0041

Nearest Station

short walk from Ogimachi Station on the Sakaisuji Subway Line


Phone Number

06-6881-1754

Hours: 11:00 a.m. ~ 12:00 a.m.; (LO 11:00 p.m., for drinks 11:30 p.m.)
Closed: always open
3. Doyama Shokudo: Inexpensive pub serving all-you-can-eat ham cutlets for cheap!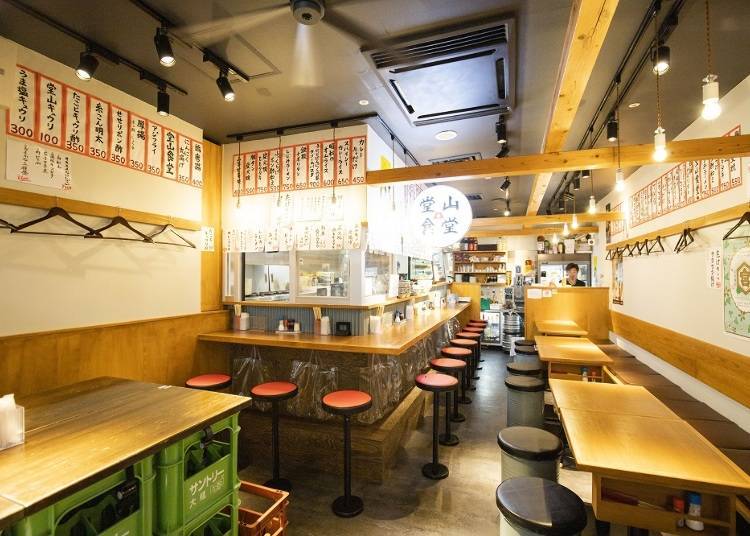 Doyama Shokudo is a popular shop in Doyama where you can find popular izakaya menu items such as chicken skin with ponzu sauce and chicken liver stew. The third store opened on March 10, 2020 in the first basement of the Osaka Station No. 3 Building. Just like at the main store, beer cases are used for standing and drinking tables giving the interior a nostalgic air.

This shop is noted for its all-you-can-eat ham cutlets. The ham cutlets normally sell for 165 yen (including tax) each, however on the 90-minute all-you-can-eat plan you can eat as many as you like for only 550 yen (tax included).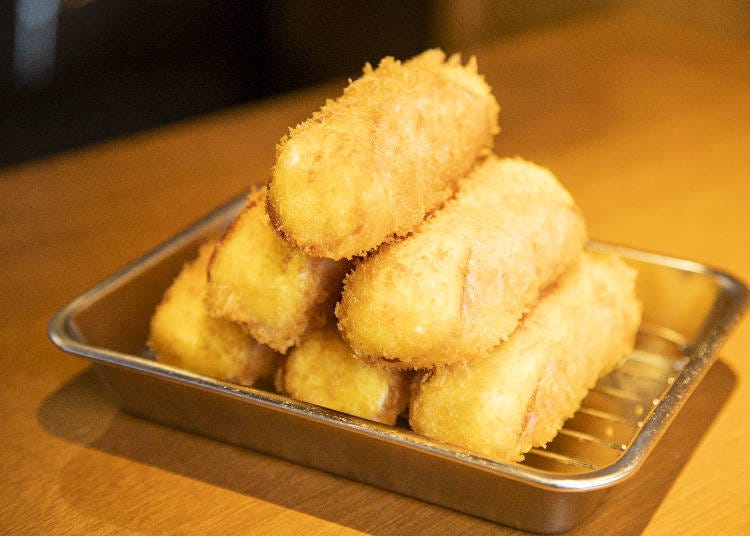 Hamho (all-you-can-eat ham cutlet) 90 minutes 550 yen (tax included)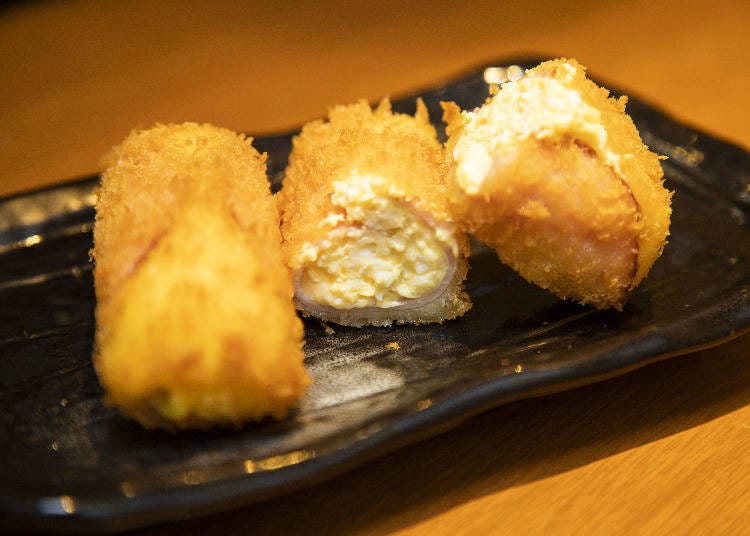 A great deal of attention goes into the making of this famous ham cutlet which is quite different from the normal slice of ham that has been dipped in batter and deep-fat fried.

Egg salad is rolled up in a slice of ham loin, dipped in batter and then deep-fat fried. It is like an egg sandwich made with bread crumbs instead of bread and then deep-fat fried. The saltiness of the ham and the sweetness of the egg salad are exquisite, and the thick, creamy texture is pleasant.

The popularity of this ham cutlet has garnered so many fans that it is ordered by just about every customer who comes to the shop. So delicious is it that it has been the subject of TV programs. Shop No. 1 has seating for 28 and sells about 300 ham cutlets in a day.

The all-you-can-eat menu was introduced to commemorate the opening of Shop No. 3. In the case of groups, everyone in the group must order the same service and at least 1 drink, but even so it seems that 20 to 30 people order in groups daily. Incidentally, a group of four men set the record for most cutlets consumed at one time when they each ate 12 apiece! The men in that group ranged in age from 40 to 50.
The menu in this entertaining pub is solid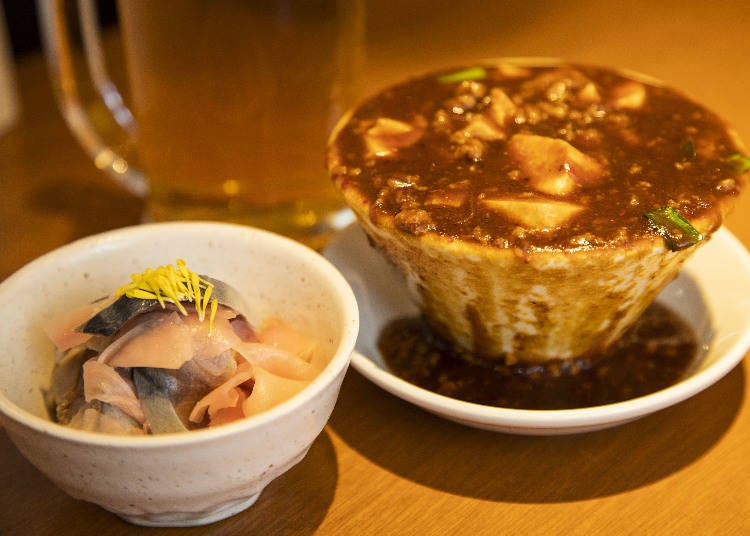 In addition, there are about 80 types of attractive popular bar-like snacks such as Koboshi [overflowing] Mapo Tofu (495 yen (tax included)) and Gari Saba Kizushi [ginger and grilled mackerel sushi] (495 yen (tax included)) that overflow from the bowls. There are about 50 types of drinks, including The Premium Malt beer (medium-sized mug) 418 yen (tax included), lemon sour 418 yen (tax included), and Jim Beam Highball 418 yen (tax included).

Text by:Efeel
堂山食堂 3号店

Address

Osaka Station 3 Building, B1, 1-chome-1-3 Umeda, Kita-ku, Osaka 530-0001

Nearest Station

5-minute walk from the JR Kitashinchi Station


Phone Number

06-6225-7324

Hours: 5:00 p.m. ~ 11:00 p.m. (L.O. 11:00 p.m.)
Closed: always open

* Closed from Monday, April 6 until further notice
*This information is from the time of this article's publication.
*Prices and options mentioned are subject to change.
*Unless stated otherwise, all prices include tax.