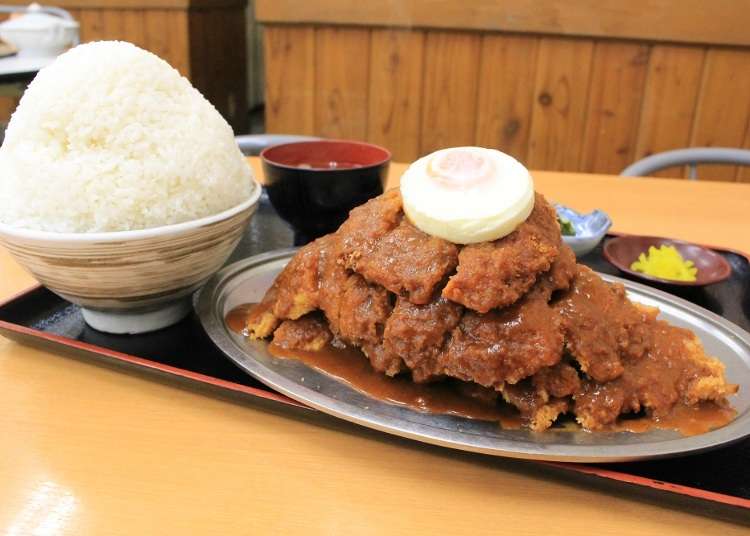 Osaka food is out of this world. Osaka, given the nickname "The World's Kitchen," is famous for having plenty of cheap and delicious food joints.

Today, we will introduce some of the top "supersized" restaurants, featuring high-quality, thick, voluminous cuts of some of the most delicious beef, pork, and chicken in Osaka - a meat lover's dream!
1. 1 Pound Steak & 'Hamburg' Takeru (Fukushima)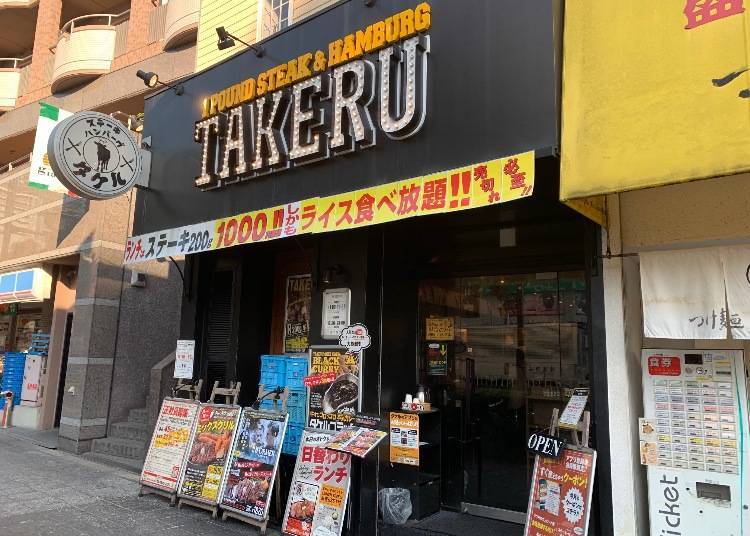 When thinking of Osaka food, you have to start with beef. 1 Pound Steak Hamburger Takeru Fukushima is a steak shop about 3 minutes on foot from Fukushima Station on the JR Osaka Loop Line. The concept of this Osaka food shop is to provide large quantities of meat dishes at affordable prices, including delicious and voluminous beef steaks.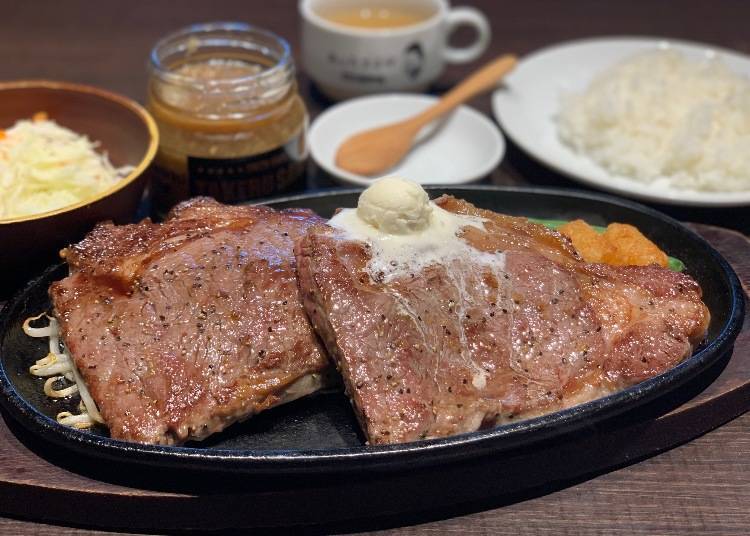 Rib Steak (1 pound/453 g) 4,520 yen + Rice Set (rice, soup, salad) 300 yen
One of the top recommendations for tourists is the Rib Roast Steak, weighing in at a whole whopping pound (453g)!

The juicy texture of these fatty ribs practically melt together with its undeniably beefy flavor. It is the shop's signboard menu item, and also known as the "Original Takeru Steak."

This Takeru Steak is the popular go-to dish of many regulars who visit almost every day. It is that standard size at 200g, and only costs 1,000 yen.

And similar to how you can order extra noodles at a ramen shop, Takeru lets you can order extra meat in increments of 100 grams. Of course, if you want to try different kinds of meat, you can simply say so in the beginning of your order. If you go for lunch time, the rice, soup, and salad set are included, with rice refills on the house.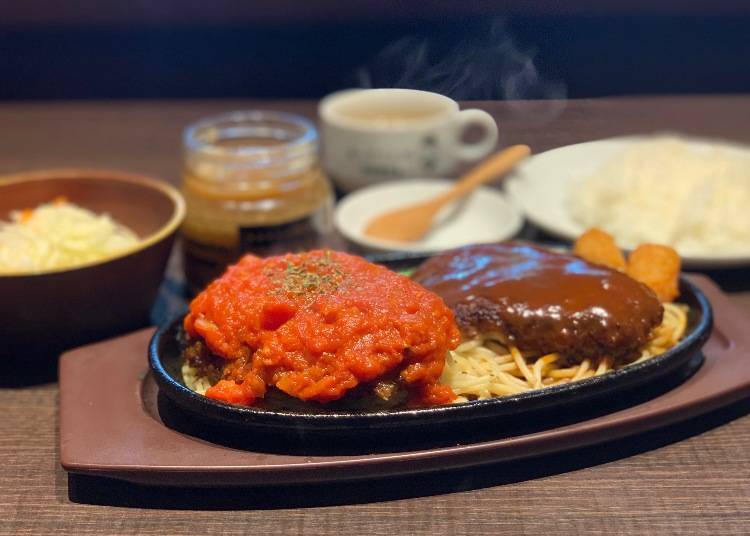 Choice W Hamburger (150g x 2) 1,220 yen + Rice Set (300 yen)
Takeru is not only known for their steaks, but their hamburg steaks, as well! In Japan, 'Hamburg' basically means a hamburger patty without the bun, and often comes with delicious sauces and sides.

There are two general types of hamburg you can find here: those made from super-finely ground meat, and those with a softer texture. Of the softer kind, there are a total of 6 varieties, including the classic Demi-glacé sauce. The menu offers plenty of flexibility when ordering, including double and triple layers, and is a great option for those who want to try different things from the menu.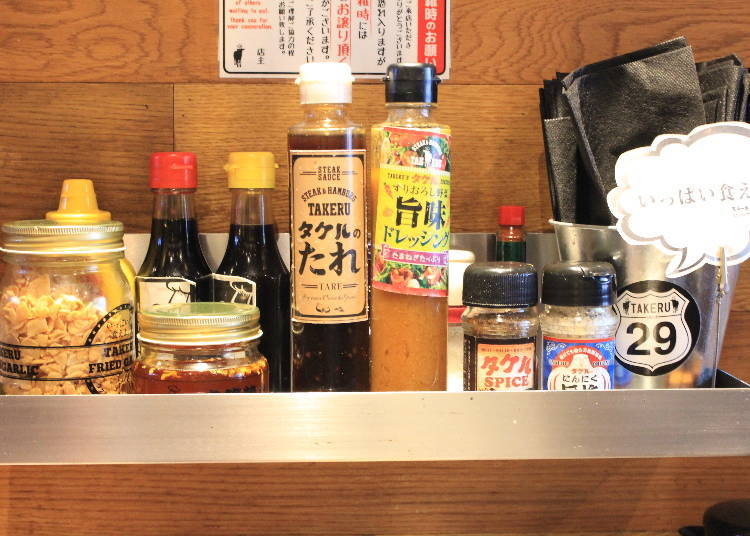 Takeru's unique services don't end there. Their steaks are mildly seasoned with only salt and pepper, so you can spice it up to your liking with the available seasonings at each table. There are dozens of flavorings to choose from, including ponzu, soy sauce, wasabi, and even Takeru's own homemade sauce. We recommend mixing and matching your favorite. Trying different meats with different flavors is part of the fun!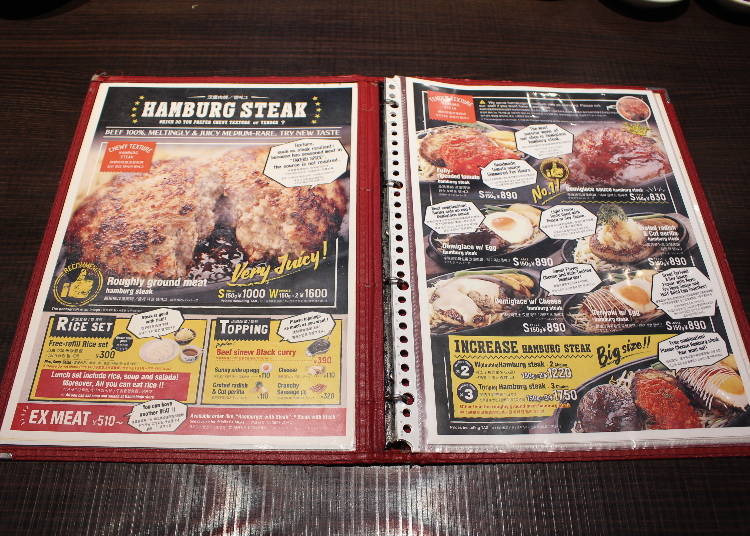 Takeru's menu is available in English, Chinese, and Korean. Because of its proximity to the nearby Hotel Hanshin, it has become a rather popular dining spot for foreign tourists. And while Takeru does indeed have many returning locals in search of its giant Osaka food, it seems much of their reputation comes from their popularity with tourists.

*All prices include tax.
*Menu prices subject to change.
1 POUND STEAK & HAMBURG TAKERU Fukushima Branch

1ポンドのステーキハンバーグ タケル 福島店

Address

Fuku Building 1F, 5-6-11 Fukushima, Fukushima-ku, Osaka City, Osaka 553-0003

Phone Number

06-6457-2929

Hours: 11:00AM-3:00PM (L.O. 2:30PM), 5:30PM-11:00PM (L.O. 10:30PM)
Regular Holiday: None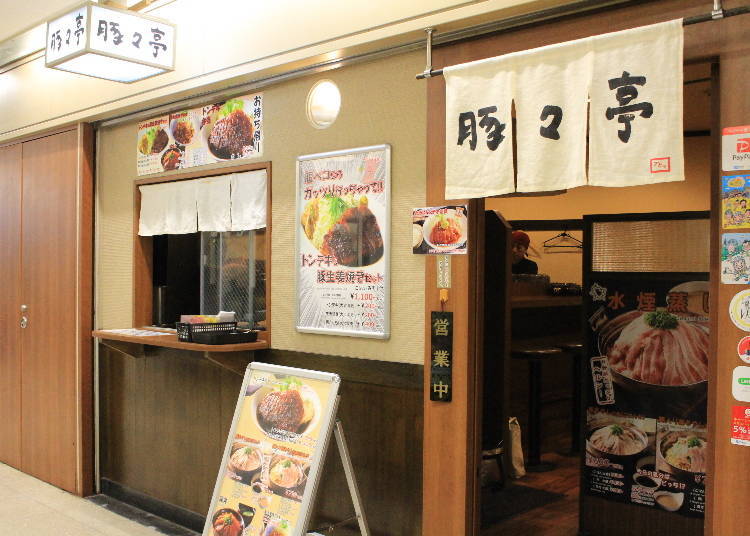 Next up is pork. Tontontei offers a wide variety of pork dishes, from clean and healthy to purely indulgent. Located on the second basement floor of Osaka Ekimae Dai-ni Building, it is easily accessible from Osaka Station. You can also order your meals as take-out.
Tonteki Meal Set (200g) 850 yen
Pictured above is the Tonteki Meal Set. Tonteki is a dish of thickly-sliced steak from carefully selected pork shoulder loin. The pork is firm yet tender, and goes especially well with Japanese-style soy sauce. The photo shows a standard 200g serving, however you can also opt for the larger 300g size.

It seems that this giant Osaka food particularly draws in lines of customers on the daily. Some regulars even come as many as 2 to 5 times a week to grab an order of their favorite Tonteki dish!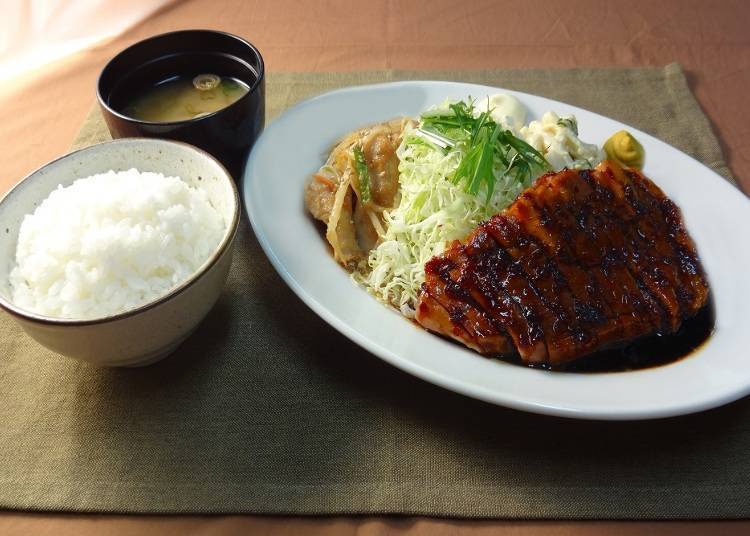 Tonteki & Pork Ginger Set 1,100 yen
This is the meal for those with no inhibitions: the Tonteki & Pork Ginger Set. There is also a customizable super-size menu. Opt to upgrade the tonteki or the ginger roast individually, or supersize both.

Both the Tonteki Meal Set and the Tonteki & Pork Ginger Set come with a serving of large rice and free rice refills, so they both land a perfect score in terms of volume and value.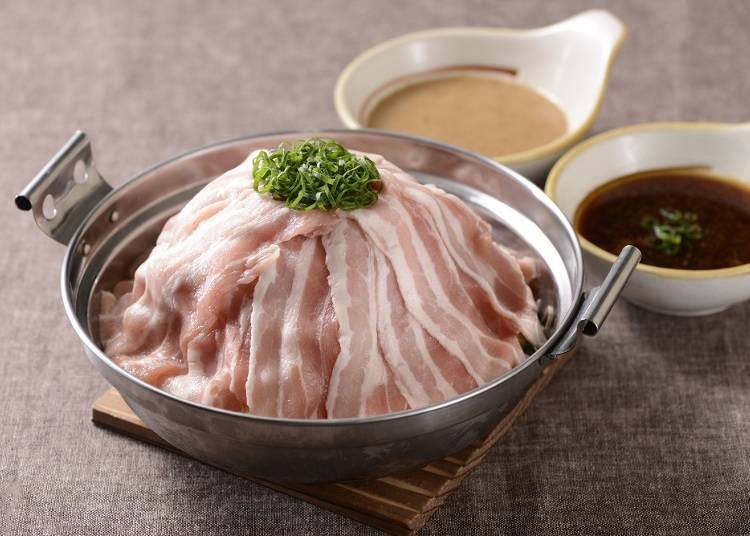 Pork Moyashi Meal Set (with rice) 630 yen
Joining the thickly-sliced Tonteki Meal Set in popularity is the healthier steamed dish, Pork Moyashi Meal Set. This dish includes plenty of sliced pork belly topping a generous serving of vegetables such as moyashi bean sprouts, leeks, and carrots, and steamed to perfection. For sauces, you can choose ponzu, sesame, or both. A variation of this dish is the Pork Moyashi Meal Set with Noodles (730 yen, includes rice), which is also recommended.

*All prices include tax.
豚々亭

Address

B2F Osaka Ekimae Daini bldg. 1 Chome-2-2 Umeda, Kita-ku, Osaka, 530-0001

Phone Number

06-6341-7123

Hours: 11:00AM-10:00PM (L.O. 9:00PM), Sundays/Public holidays: Open till 9:00PM (L.O. 8:00PM)
Regular Holiday: None
3. AKAMARU SHOKUDO (Bentencho)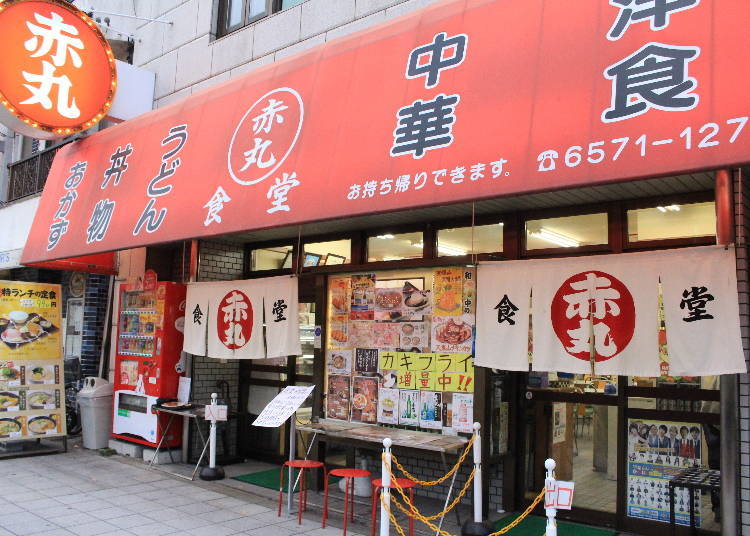 Last up is chicken. Founded in 1945, Akamaru Shokudo is a long-established restaurant 7 minutes away from the Bentencho Station on the JR Loop Line. This restaurant, reminiscent of the Showa Era, has been loved by the locals of the Minato Ward for nearly 75 years.

Their giant Osaka food menu boasts over 100 different items, including Western-style foods such as hamburgers and beef cutlets, Chinese-style dishes such as chop suey and fried chicken, and Japanese food such as rice bowls, udon, and soba.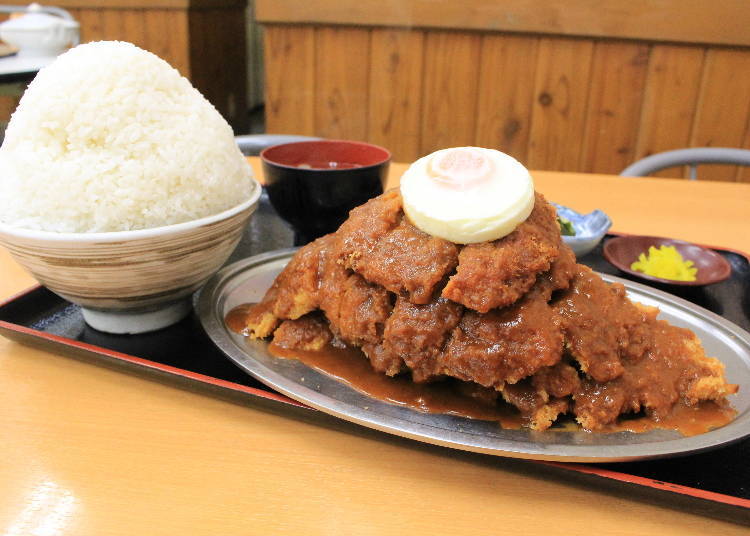 Tempozan Chicken Katsu Manga-Mori Meal Set (with miso soup) 1,270 yen
Out of all the menu items, this here is the most popular: the Tempozan Chicken Katsu. Five palm-sized chicken cutlets are stacked on a bed of shredded cabbage, served with plenty of Demi-glace sauce and topped with fried egg. It is accompanied with a serving of mashed potatoes and Napolitan (Japanese spaghetti) on the side.

At only 880 yen, the giant Osaka food portions are surprising (Note this price is for the chicken only, not the set). If it's too hefty to manage on your own, you can share it. You can even ask the staff to pack your leftovers to-go at no extra cost if you can't finish it in one sitting.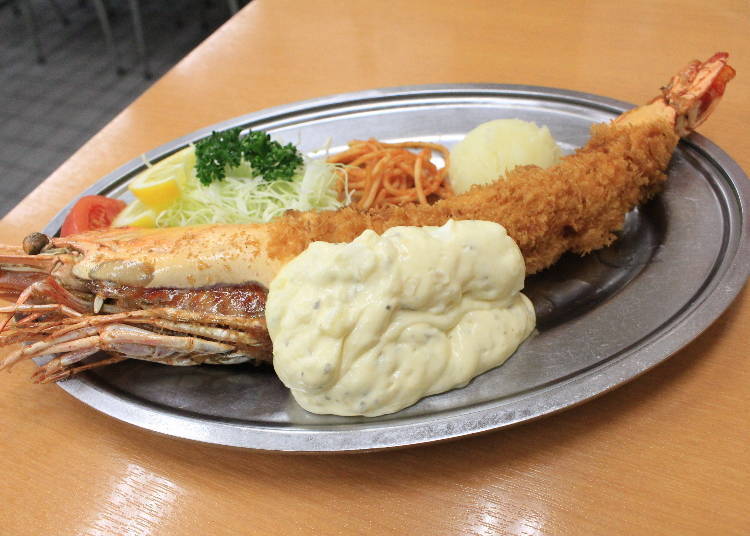 Akamaru Super Dragon (1,780 yen)
The Akamaru Super Dragon is another specialty dish of Akamaru. This extra-large fried shrimp dish uses some of the largest shrimp in the history of Akamaru, reaching as much as 35cm in length. This fried shrimp shrimp dish is hard to come by, and boasts an amazing size as well as taste.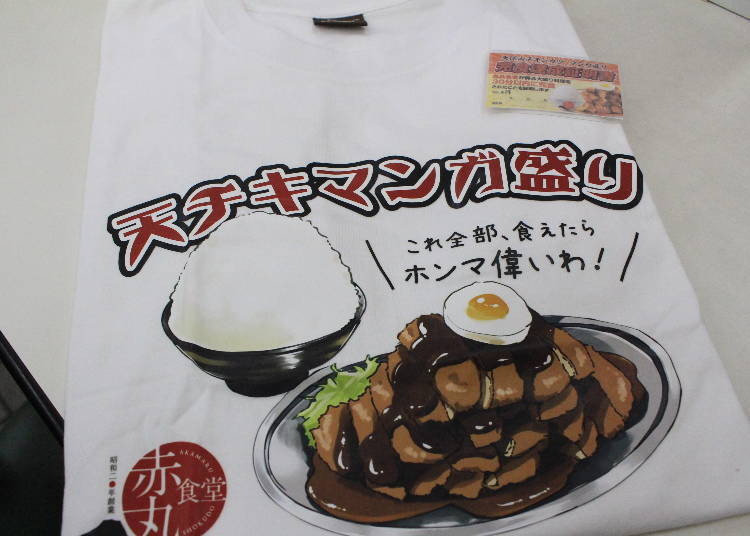 The Tempozan Chicken Katsu Manga Set even has a challenge, in which you compete to complete the meal within 30 minutes. If you can eat the entire thing within 30 minutes, you will be presented with a certificate of completion and a special Akamaru Shokudo t-shirt. If you want to show pride in your indulgence, by all means take the challenge!
赤丸食堂

Address

2-6-3 Isoji, Minato-ku, Osaka City, Osaka 552-0003

Phone Number

06-6571-1275

Hours: 11:00AM-10:00PM (L.O. 9:45PM)
Regular Holidays: Wednesdays, 2nd and 4th Tuesdays
And there you have it, three new and unique shops, offering the best in both volume and taste. So eat up, enjoy the excitement, and indulge in the lively Osaka atmosphere.

Text by:WESTPLAN
We also recommend these restaurants in addition to those above. Save time and hassle - book your table online today!
*This information is from the time of this article's publication.
*Prices and options mentioned are subject to change.
*Unless stated otherwise, all prices include tax.