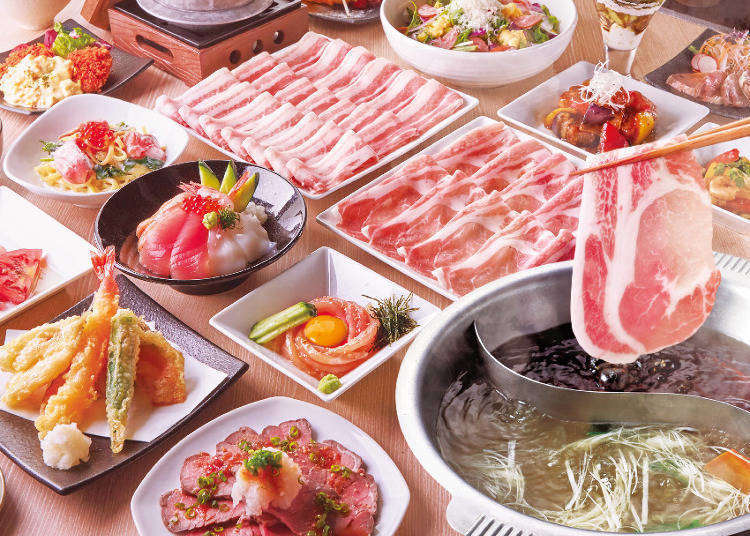 Japan has this incredible thing called "tabehoudai", which means "all-you-can-eat". Osaka all-you-can-eat is something else entirely. It comes in so many different forms, from general buffet-style to more specific offerings like sushi, bread or meat buffets.

Osaka is known for its delicious food, and here are a few value-priced, all-you-can-eat lunch options that are popular with local residents and tourists and are easily accessible from Osaka, Umeda, and Shinsaibashi Stations.
1. The Platinum: Western food and sweets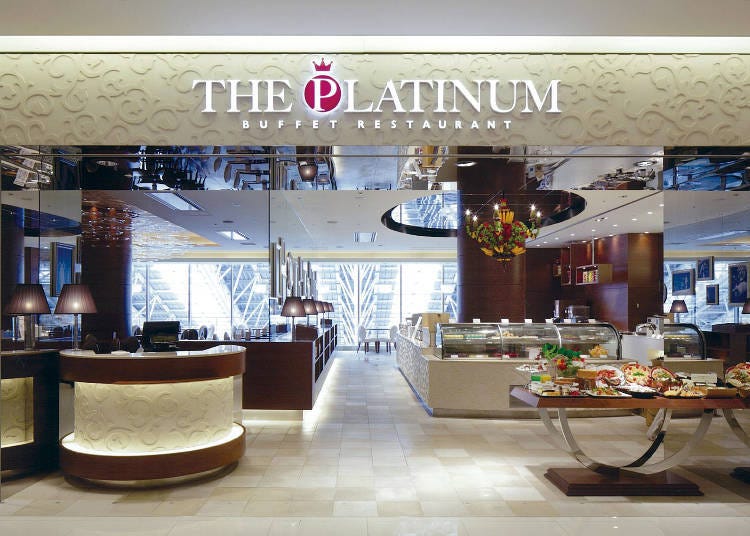 The Platinum is located on the 10th floor of Lucua Osaka, directly connected to JR Osaka Station. The Platinum's Osaka all-you-can-eat lunch buffet features 90 Western foods, a dessert bar, and a drink bar. Sixty minutes of dining is 1,699 yen for adults on weekdays and 1,799 yen on Saturdays and Sundays (excluding tax).

This popular restaurant opens at 11:00 every day and fills to capacity soon after. Wait times can reach 60-90 minutes on weekdays, and up to 120 minutes on Saturdays, Sundays, and holidays; but (thankfully) you can make advance reservations until 11:30 on weekdays.

Without a reservation, simply take a ticket from the machine near the reception desk. Using your mobile phone to read the ticket's QR code, you can easily check your wait time, making it possible to leave the restaurant and go shopping while you wait for a table.

Additionally, if you present your ticket at the Osaka Station Cinema on the upper floor, you'll receive a 10% discount!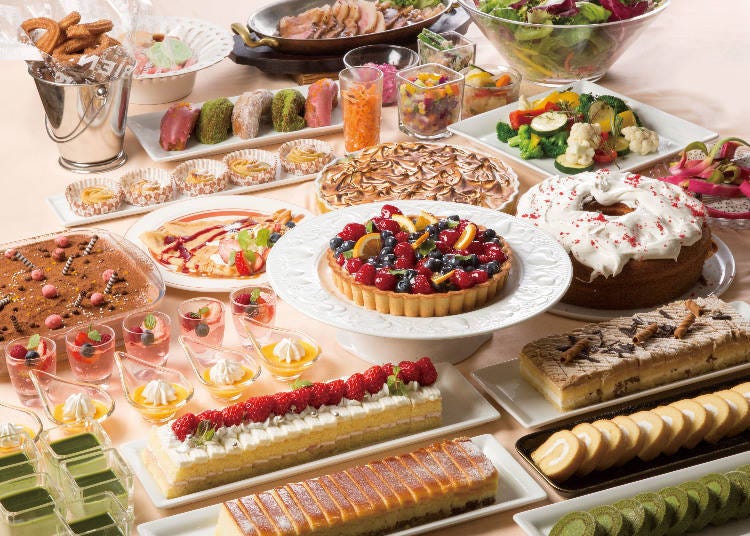 The lunch menu is available until 17:00. The dessert buffet features more than 25 kinds of sweets, so The Platinum is usually busy even after typical lunch hours.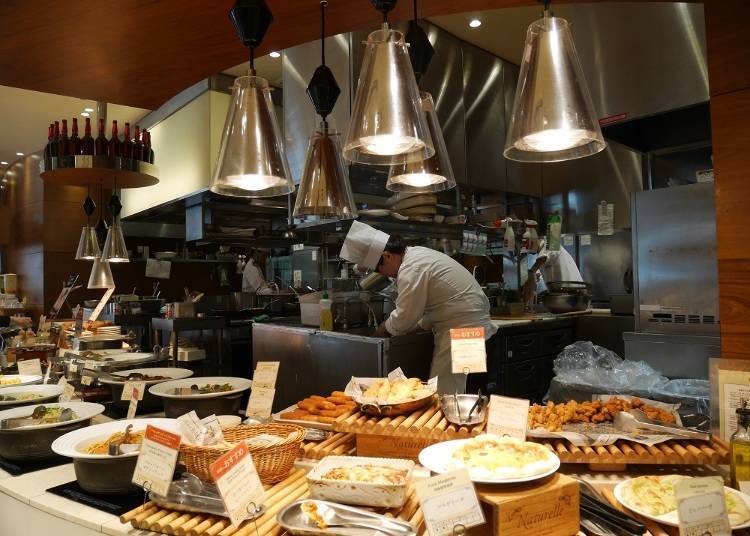 The menu consists mainly of Western dishes like pasta, fries, and hamburgers; and there are always freshly prepared dishes served from the open kitchen.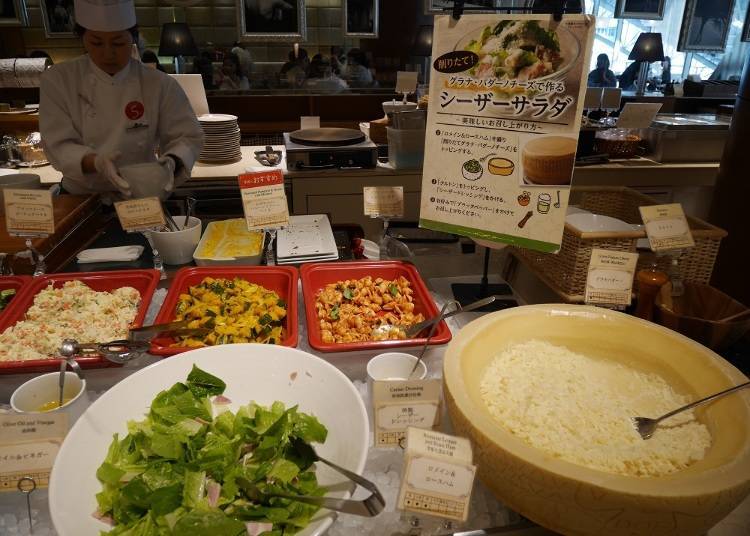 At the salad bar, you can make your own Caesar salad and even shave your own cheese from the barrel-shaped wheel of Grana Padano. Making your own hamburger and other dishes provides further opportunities for customization.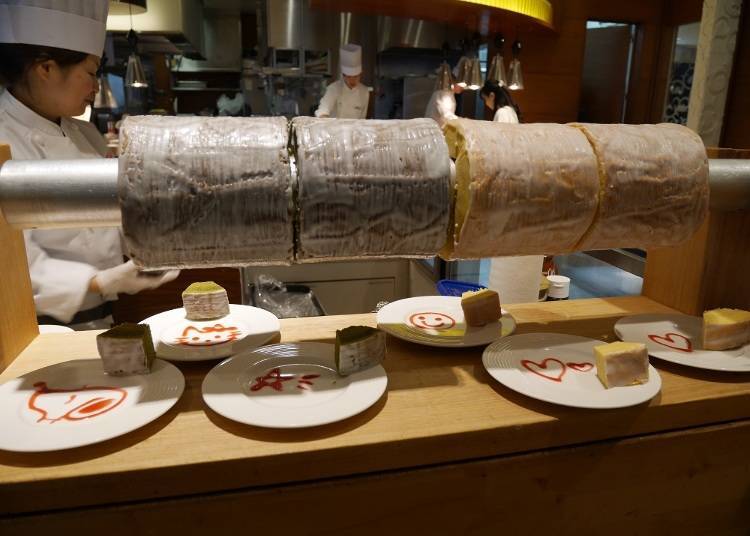 The desserts are always popular and cute drawings on the baumkuchen plates are extra fun for children! (Baumkuchen is a German-inspired sweet and fluffy cake, by the way!)
Crepes are made to order right in front of you, using ingredients like ice cream, fruits and nuts, cassis and orange sauces, and fluffy whipped cream.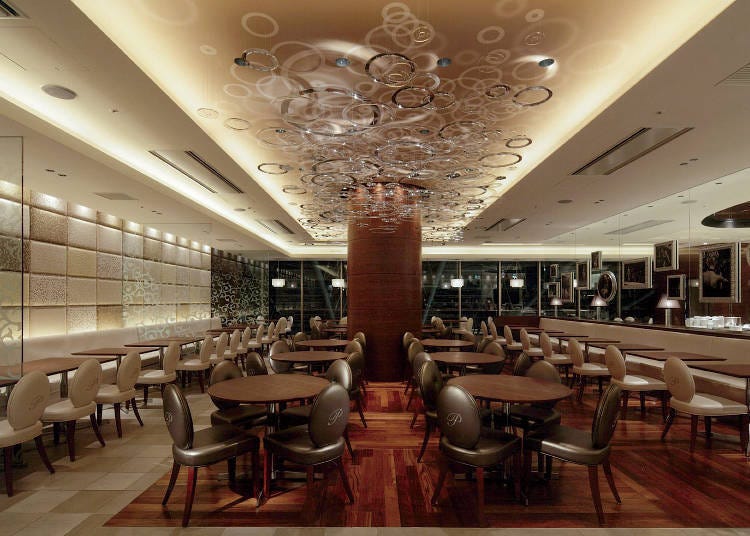 The floor is spacious and open, with about 125 seats, and is barrier-free so strollers and carry-on bags won't be problematic. The menu is available in English and Chinese versions.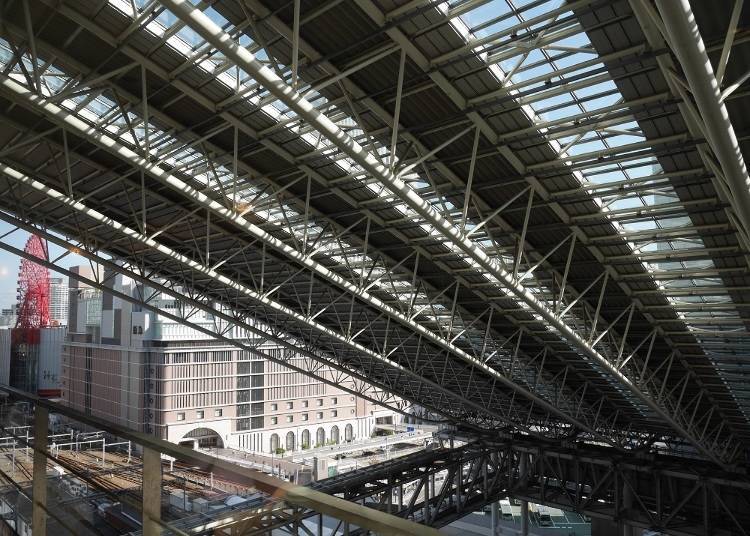 From the large open windows, you can watch trains coming and going from JR Osaka Station. However, but the atmosphere is perfect for almost any situation, which adds to The Platinum's appeal for many.
ザ プラチナム ルクア大阪

Address

10F LUCUA Osaka 3-1-3 Umeda, KIita-ku, Osaka, 530-8558

Phone Number

06-6347-0542

Hours: Lunch 11:00 - 17:00, Dinner 17:00 - 23:00
Price (excluding tax):
Weekdays: Lunch 1,699 yen (90 minutes), Dinner 2,399 yen (120 minutes)
Saturdays and Sundays: Lunch 1,799 yen (90 minutes), Dinner 2,599 yen (120
minutes)
2. C+: Humble name for a great Osaka all-you-can-eat spot for bread!
C + is a comfortable café where you can indulge in all-you-can-eat bread. Lunch is served from 11:00 to 16:00, but please note that dining time restrictions may be imposed depending on how crowded the café is.

There are several types of bread baked fresh every morning, from hard types that match your meal to sweet and soft butter rolls and focaccia.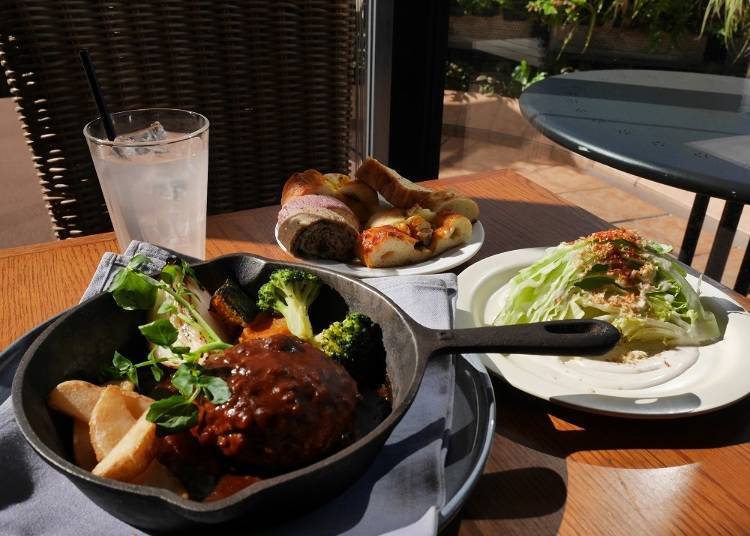 Lunch includes all-you-can-eat bread, as well as a main, salad, and use of the drink bar. The main dish is a choice of six different types of pasta, gratin, fish, chicken, or hamburger, served seasonally. Depending on which main you choose, the lunch price varies from 1,200 yen to 1,660 yen (excluding tax).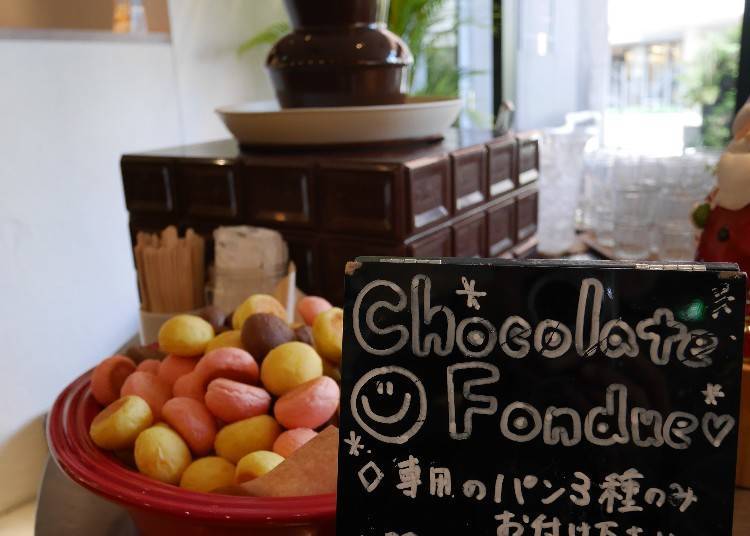 Scones and chocolate fondue make for a delightful dessert.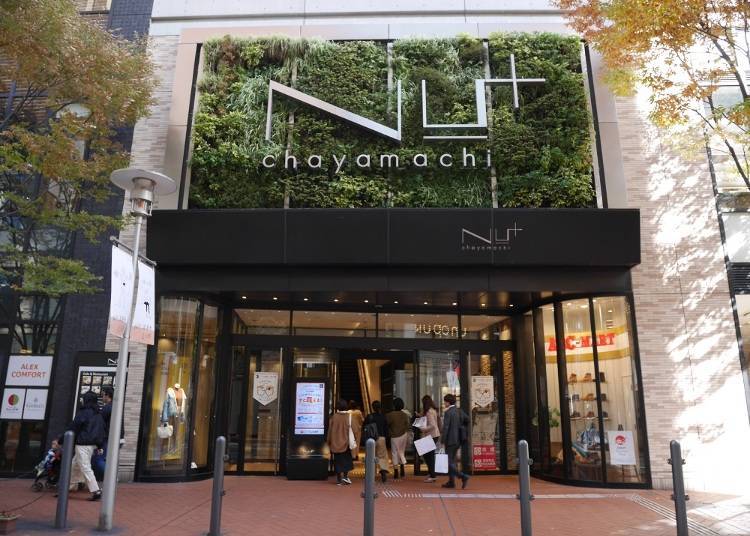 C + is on the third floor of Nu Chayamachi Plus, just a 3-minute walk from the Chayamachi Exit of Hankyu Osaka Umeda Station.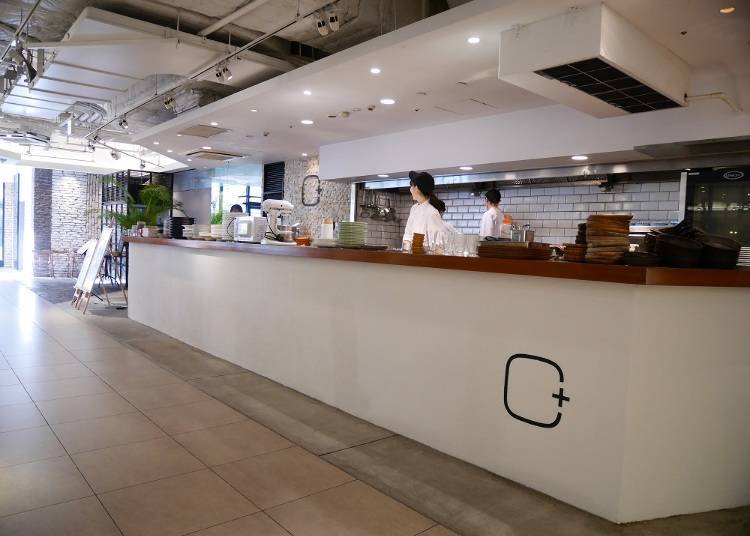 Upon entering, you'll see the clean, white, open kitchen.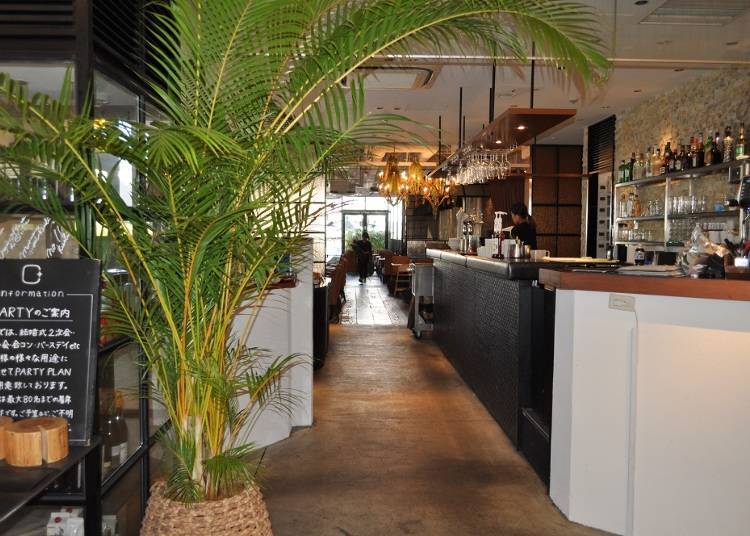 The entrance is barrier-free so you can visit the store with a carry-on bag or stroller, and opens up to a spacious seating area. Attractive terrace seating is also available on sunny days from spring to autumn.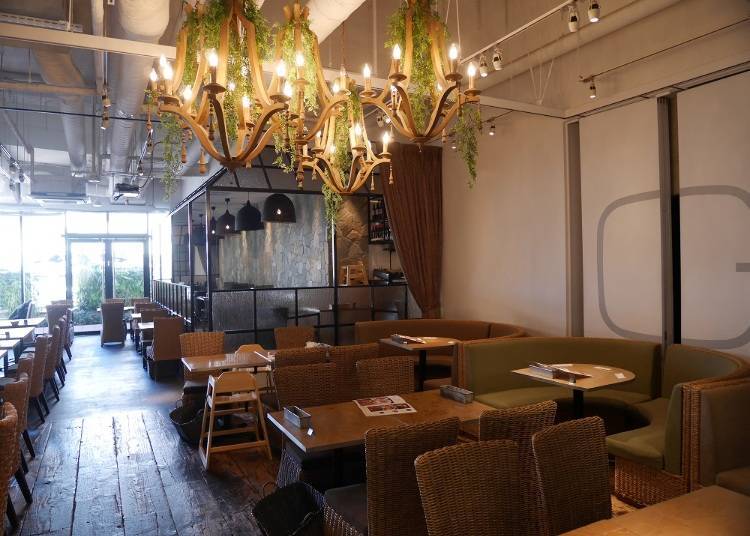 C + is highly regarded for providing a stylish Umeda lunch. With high ceilings, a relaxing interior, and family-friendly seating, it makes for a truly refreshing experience.
ツェープラス

Address

Address: Nu Chayamachi Plus 3F, 8-26 Chayamachi, Kita-ku, Osaka, 530-0013

Phone Number

06-6485-7107

Hours: 11:00 - 23:00 (Last order: food 22:00, drinks 22:30)
Price (excluding tax): Lunches starting from 1,200 yen
(Dishes and bread may change, depending on the season)
3. Kinnobuta Premium Shinsaibashi: The finest shabu-shabu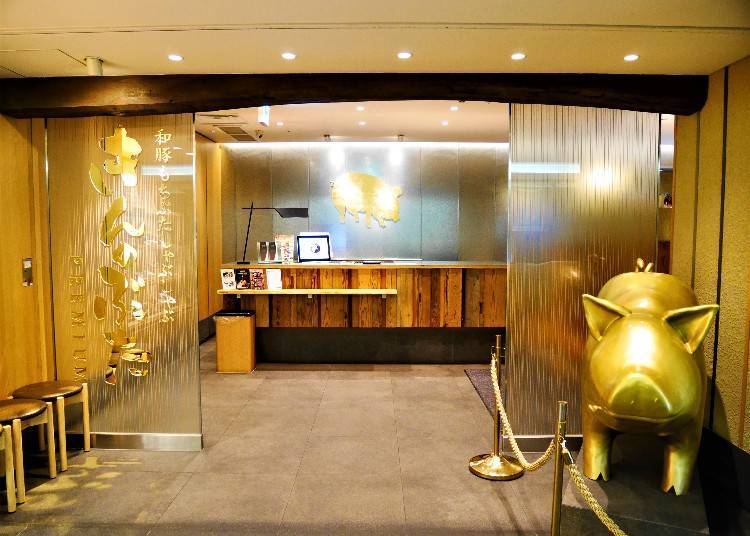 Kinnobuta Premium Shinsaibashi is located on the second basement floor of Nikko Hotel Osaka, directly connected to Shinsaibashi Station on the Osaka Metro Midosuji Line.

Here, you can enjoy the Osaka all-you-can-eat Mochibuta Pork Shabu-Shabu lunch for 120 minutes for 2,450 yen or the Mochibuta Pork and Black Beef Shabu-Shabu lunch for 3,550 yen (excluding tax).

Discounts are offered for infants, elementary school students, and customers over 50 years old, making Kinnobuta Premium Shinsaibashi advantageous for families. Easy on your wallet, it's popular with both locals and travelers on a budget.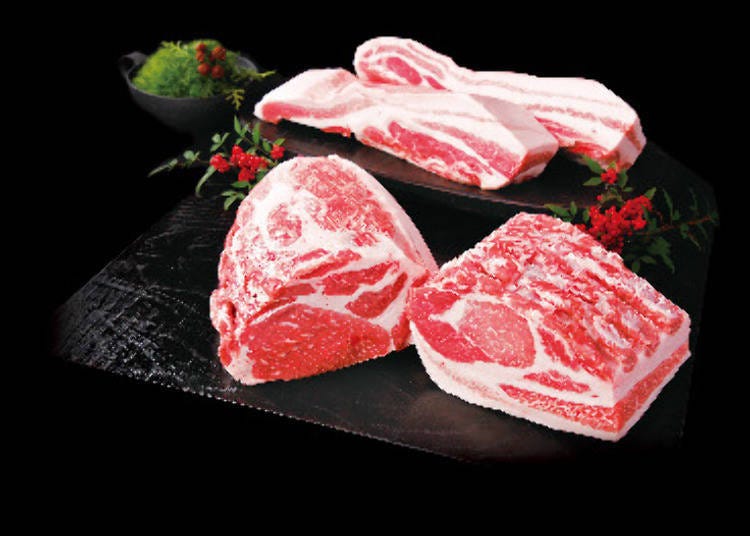 Kinnobuta Premium Shinsaibashi's specialty shabu-shabu lunches feature, brand-name "Waton Mochibuta" pork, which is raised with care, carefully selected by professionals, and served fresh.
The taste of shabu-shabu changes according to the thickness of the meat, so the staff skillfully slices it in the shop with the appropriate thickness for each type of meat, and giving Kinnobuta Premium Shinsaibashi a reputation for easy to eat meals.

You can choose two of the eight types of dashi (shabu-shabu broth) available, from classic "Collagen-rich Tonkotsu Dashi" to seasonal varieties like "Hanasaki Crab Seafood Miso Dashi." All-you-can-eat rice and noodles as well as vegetables, appetizers, salads, and special side dishes are also included, as is a choice of seven seasonal desserts.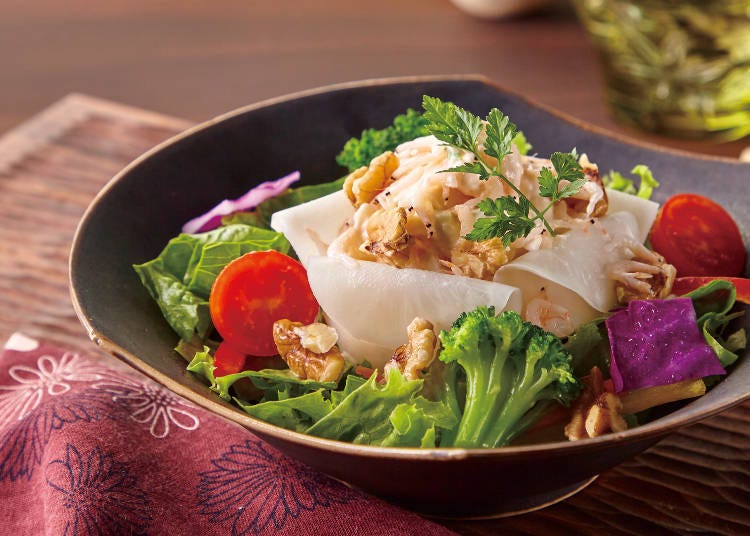 Seasonal "Crab, Potato, Walnut and Turnip Salad" with honey dressing.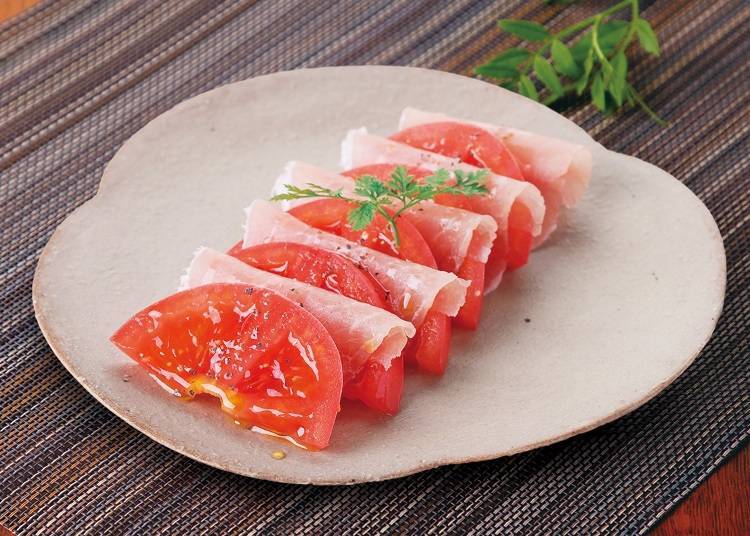 "Marinated Ham and Chilled Tomato" is another recommended gem.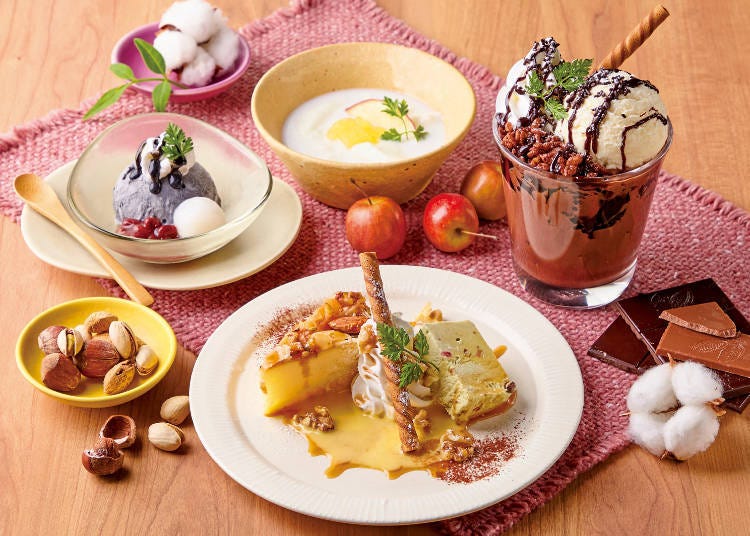 Desserts include "Nut Cake and Pistachio Ice Cake with Hazelnut Sauce," "Sophisticated Rich Chocolate Latte," "Seasonal Fruit Annin Dofu," and "Seasonal Gelato." They're all delicious so you'll have a hard time choosing just one!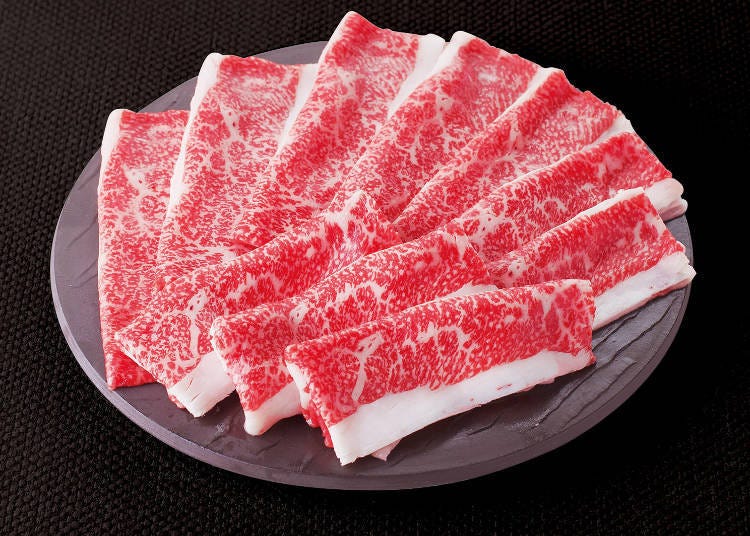 The Mochibuta Pork and Black Beef Shabu-Shabu lunch course makes it possible to not only enjoy the contents of the Mochibuta Pork Shabu-Shabu lunch, but also Japanese Black Beef and other domestically-produced beef like Hokkaido marbled loin.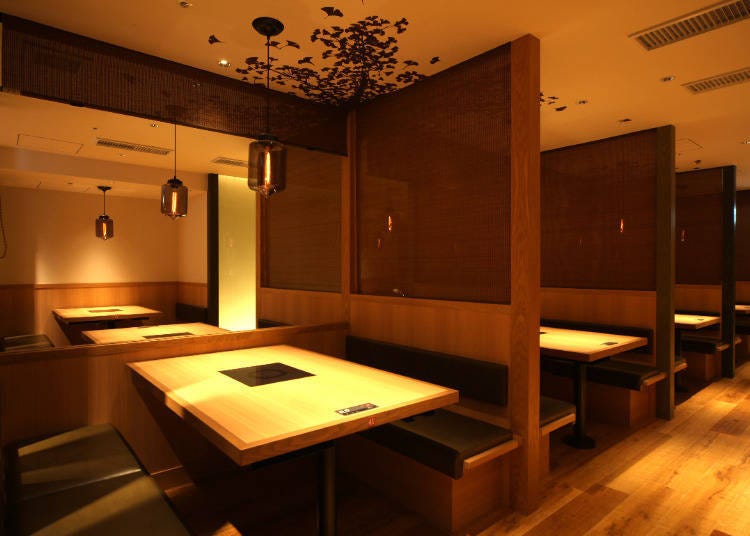 Kinnobuta Premium Shinsaibashi's all-you-can-eat lunch isn't served buffet style, but rather by table order, resulting in a calm meal time, and the menu is available in English and Chinese.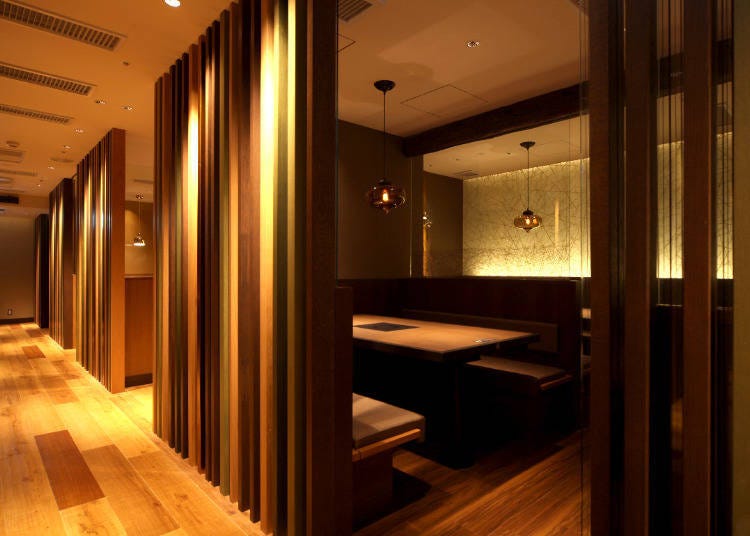 The stylish interior has a relaxed atmosphere and offers semi-private seating throughout. There are seventeen 4-person booths and seventeen more 6-person booths, and larger groups can also be accommodated.
Kinnobuta Premium Shinsaibashi

きんのぶた プレミアム 心斎橋店

Address

Hotel Nikko Building B2F, 1-3-3 Nishishinsaibashi, Chuo-ku, Osaka, 542-0086

Phone Number

06-6282-4129

Hours: Lunch 11:00 - 15:00, Dinner 17:00 - 23:00, closed January 1st
Price (excluding tax): Mochibuta Pork Shabu-Shabu lunch 2,450 yen, dinner 3,550 yen; Mochibuta Pork and Black Beef Shabu-Shabu lunch 3,550 yen, dinner 4,750 yen; All-you-can-drink, 1,250 yen
(Discount for customers aged 50 and over and children elementary school and under)
(Salads, desserts, and soups change seasonally).
Osaka is full of all-you-can-eat restaurants, so taking a stroll and finding one that suits your appetite!

Text by:WESTPLAN
We also recommend these restaurants in addition to those above. Save time and hassle - book your table online today!
*This information is from the time of this article's publication.
*Prices and options mentioned are subject to change.
*Unless stated otherwise, all prices include tax.