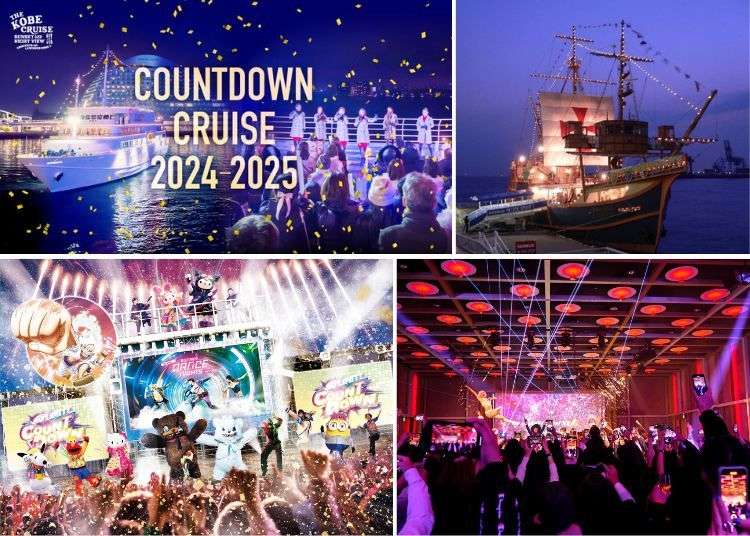 Everyone wants to welcome 2023 at a special place, right? Well, look no further. This article features 3 amazing countdown spots for people heading to Osaka for the New Year's holiday.

Plan ahead who you want to share the holidays with and how you want to spend it. Create special memories with your loved ones this New Year's holiday at a place unique to Osaka.

Due to Covid-19, many countdown events have been canceled for 2020-2021. Be sure to check official websites for the latest information. Information in this article is from 2019-2020.
1. Countdown cruise departing from Osaka Port!
Osaka Port's countdown cruise is a popular annual event wherein people welcome the New Year in Osaka aboard a ship called "Santa Maria". This year, the ship departs from Osaka at 11:30 pm on December 31, 2020.

For approximately 1 hour, the ship will go around the spots in the bay area such as the Osaka Aquarium Kaiyukan and Universal Studio Japan. This cruise ship is about twice the size of "Santa Maria", the flagship of Columbus which reached the New Continent.

With its gigantic sail and subtle retro vibe, the ship certainly seems like a pirate ship from an adventure novel. You will be filled with excitement even before boarding the ship.
A live band, who mainly performs in Osaka plays music in the calm atmosphere of the ship and a grand lottery with amazing prizes is held to liven up the people for the countdown. You can also enjoy the lights of the Tempozan Harbor Village and Osaka Aquarium Kaiyukan.

It's also a good idea to marvel at the sight of Osaka from a different angle at sea. Nothing beats the feeling of drinking cocktails sold on board while watching the slow flow of the scenery! This cruise is perfect for couples. Reservations for this year has already started. They only reservations, so be sure to place one early on before it sells out.

[Telephone] Osaka Water Bus Reservation Center 0570-07-5551 (9:00 am - 5:00 pm)
[Internet] Goto Travel
https://www.cruising.gt-net.co.jp/restaurantship/santamaria/plan/cd19001.php
Osaka Port Santa Maria Countdown Cruise

大阪湾周遊クルーズ カウントダウンクルーズ

Address

KAIYUKAN West Wharf (Tempozan Harbor Village) 1-chome-1-10 Kaigandori, Minato-ku, Osaka, 552-0022

TEL No.: 0570-07-5551 (Osaka Water Bus Reservation Center, 9:00 am - 5:00 pm)
Business Hours: 11:30 pm December 31, 2019 - 12:30 am January 1, 2020
Fee: Adult 3,600 yen, Elementary school students 1,800 yen *Inclusive of one person's boarding fee, service fee, and consumption tax
2. Grand Front Osaka Countdown: A Grand Celebration in the Middle of Umeda
Grand Front Osaka, a large commercial facility directly connected to JR Osaka Station, is a hot spot filled with popular stores. The UMEKITA FLOOR, housed on the 6th floor of the north building, is open until 4:00 am and is bustling with young people and businessmen. This floor features 17 popular restaurants, where you can eat and drink Japanese, Western and Chinese cuisine. They also host a popular Osaka New Year's Eve Countdown Event.
Kicking off at 11:30 pm, performers will pour in from various places to sing and dance culminating in a lively celebration to welcome the new year in Osaka.

At the Grand Front Osaka, which is usually teeming many foreign tourists and businesspeople, you can enjoy delicious food and drinks served at each restaurant while counting down together with everyone, and celebrating the New Year with the finest sake. The whole floor is filled with excitement as strangers toast and talk to each other. Many people gather here thinking there might be something interesting going on because Grand Front Osaka usually holds amazing events. It's located at the center of Osaka and Kita, so it's easily accessible and is perfect for meetups with friends.

*The photo is of the countdown event last year
Address

4-20 Ofukacho, Kita Ward, Osaka 530-0011, 530-0011
View Map

Nearest Station

Osaka-umeda Station (Hankyu-kyoto Main Line / Hankyu-kobe Main Line / Hankyu-takarazuka Main Line)


Phone Number

06-6372-6300
3. Experience the Osaka New Year Holiday at the Sumiyoshi Taisha Shrine
Sumiyoshi Taisha located in Sumiyoshi-ku, Osaka is the main shrine of the Sumiyoshi Shrine, which has about 2,300 shrines nationwide.

This historical shrine in Osaka is also popular for being a power spot and is visited by several people every year. It's so popular that people call it "Sumiyossan" during their first shrine visit of the New Year.

On December 31, people gather in front of the Kōjūmon at 5:00 pm to participate in the Shiwasuōharaishiki, a ritual that purifies the sins and impurities accumulated by people for the entire year.

Next, as the sun sets, a New Year's festival called Joyasai is held to thank the passing year and to pray for the arrival of the new year. The shrine gates temporarily close at 5:00 pm and open again at 10:00 pm. The place is teeming with people, but it has become a New Year's Eve custom in Osaka.

This place is a 3-minute walk east from Nankai Main Line "Sumiyoshi Taisha Station" or a 5-minute walk west from Nankai Takano Line "Sumiyoshi East Station". It's an easily accessible place just off "Sumiyoshi Torii-mae Station" on the tram line running through the city of Osaka.
At the beginning of the year, Wakamizu-no-gi, a ceremony where water from the well called Shini is offered to the Gods, is held from 5:00 am. From 6:00 am, an Osaka New Year's Day festival called Gantansai is held to pray for the prosperity of the country and for bountiful harvests.

On December 31, the gates will reopen at 10:00 am. The shrine will be open 24 hours until 10:00 pm on New Year's Day. There are also a lot of food carts lined along the shrine road and within the shrine's vicinity, so you can eat udon or thick wheat noodles and cotton candy and buy lucky charms.

For the Japanese, New Year's Eve allows them to reset the events that occurred on the passing year and welcome the new year with newfound hope. Please enjoy the lively atmosphere unique to the New Year's Eve celebration at Sumiyoshi Taisha, dubbed as the busiest place in Osaka during the New Year's holiday.
住吉大社

Address

2-chome-9-89 Sumiyoshi, Sumiyoshi-ku, Osaka, 558-0045

Phone Number

06-6672-0753

Business hours: Shiwasuōharaishiki and Joyasai: 5:00 pm, December 31; Wakamizu-no-gi: 5:00 am January 1; Gantansai: 6:00 am, January 1
A cruise ship, a lively spot in the city, and a historic shrine. There are 3 countdown spots that you're sure to enjoy a fantastic countdown – whether you are looking for a party or something more laid back!

People in Osaka are known to be very friendly even toward people they've met for the first time. Join in the fun and excitement with other people as everyone counts down to the new year! We hope that you will have a blast celebrating the New Year holidays in Osaka.

Text by:WESTPLAN
Osaka 2021 Countdown Events and Experiences: Book Now!
Make your trip extra memorable by booking one of these recommended experiences on our partner site, Voyagin!
*This information is from the time of this article's publication.
*Prices and options mentioned are subject to change.
*Unless stated otherwise, all prices include tax.