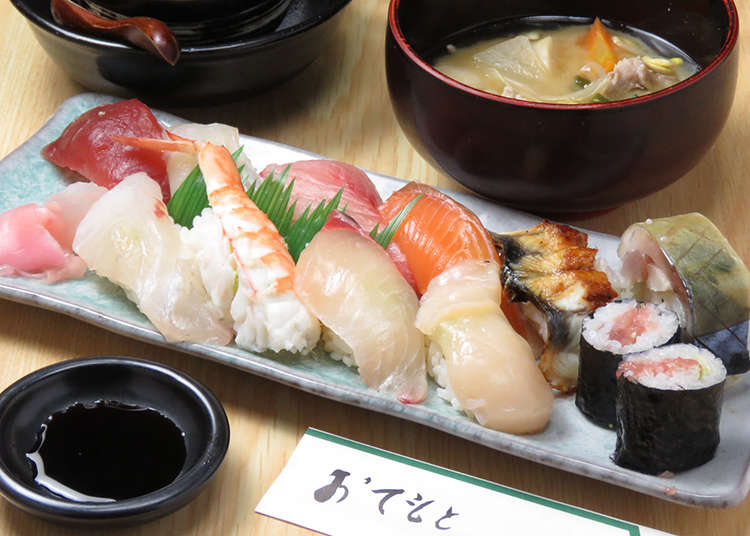 The Osaka Castle area has many great sushi restaurants nearby that are perfect for lunch. Food near Osaka Castle comes at a couple of different price tiers, so we've gathered some of the bargains and a bit of luxury in our list to fit your mood perfectly.

Here are the top three sushi picks around Osaka Castle from a local writer.
1. Kenzan: Have some of the best sushi in Osaka for lunch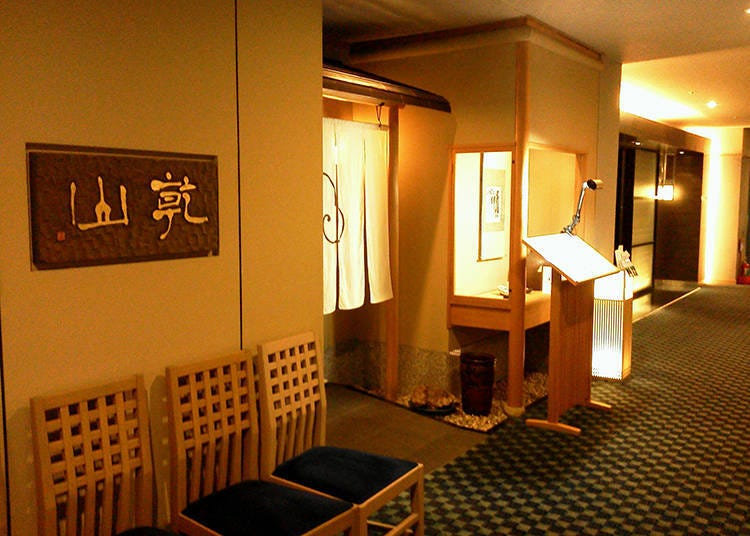 You'll find Kenzan in the Hotel Newotani Osaka, near Osaka Castle. There's a river between the hotel and the castle, so you can enjoy your sushi in peace even during peak tourist season. The restaurant offers classy Edomae-zushi, with fish flown in from Tokyo locations such as Toyosu Market.

They also stock seasonal seafood in from Osaka's central markets, allowing for maximum freshness. If you're looking for a quiet place to enjoy beautiful sushi made by masters, look no further.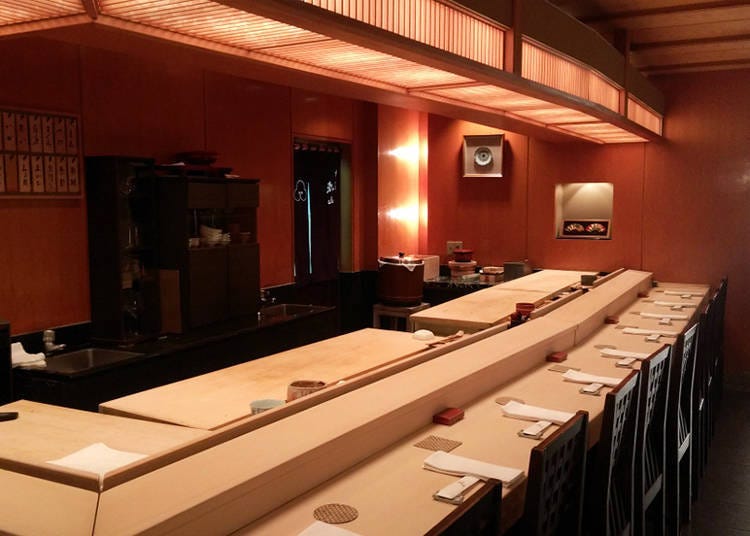 In addition to elegant cypress counter seating, there are well-lit tables and private traditional cushion seating. If you're visiting as a couple or with a group, try the more open and well-lit table seats.

If you're alone, it might be best to sit at the counter, where you can get an impressive look at the chefs' work.

At the tables, you can get a view of Osaka Castle through the windows. If you want the private cushion seats, you'll have to reserve them beforehand for 10% of what your meal costs.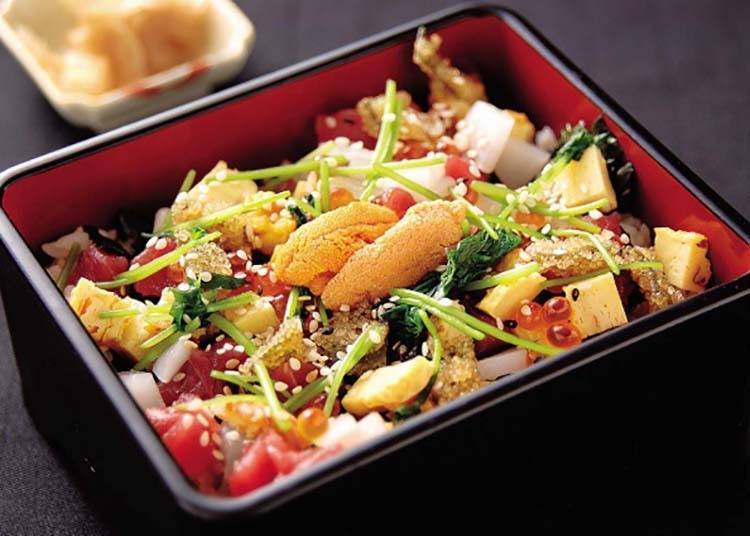 Lunch-exclusive Barachirashi (3,600 yen, service fee included. Exclusive to this item)
Being inside a hotel, its dinner prices are about as expensive as you'd expect. Lunch, however, is fairly well-priced. The lunch-exclusive Barachirashi is a satisfying set, coming with two hors d'oeuvres, miso soup, pickles, and dessert.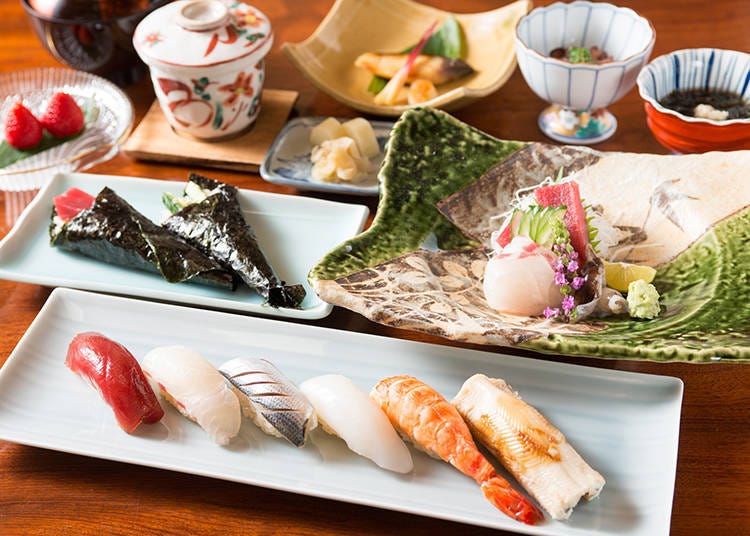 Dinner Menu: Otegaru Sushi Kaiseki "Hamakaze" (6000 yen, 10% tax and service fee not included)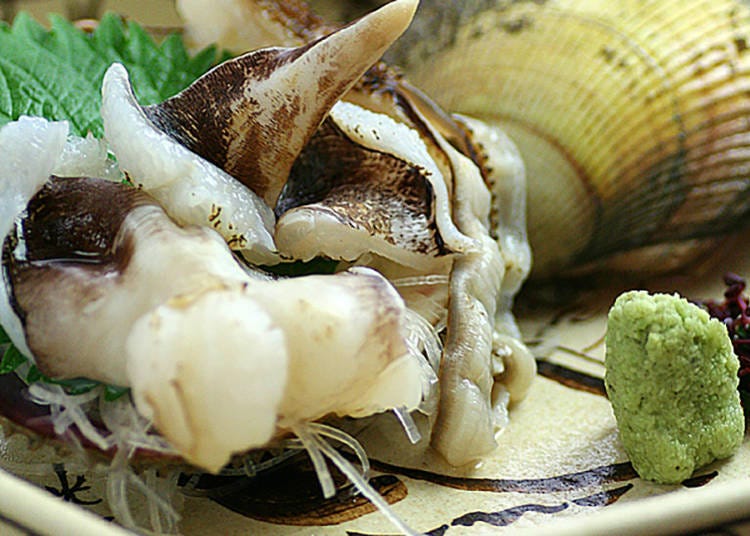 Conger eels and shellfish are available at night
If you're having dinner here, try the course meals. The Otegaru Sushi Kaiseki has 6 nigiri sushi joined by otsukuri and chawanmushi, so you can enjoy some traditional dishes.

There are two possible courses: The 8 item Shiokaze (5,000 yen, 10% tax/sales fee not included) and the 9 item Hamakaze (6,000 yen, 10% tax/sales fee not included), and each have selectable sushi rolls: one for Shiokaze, and two for Hamakaze. Shiokaze will be plenty of food for the light eater. With the number of dishes served, you might want to reserve a table seat for the space.

The menus are only in Japanese, but the staff can communicate in simple English. Most credit cards (Visa, JCB, Mastercard, Amex, Diners) are also usable.
すし 乾山 ホテルニューオータニ大阪店

Address

1 Chome-4-1 Shiromi, Chūō-ku, Osaka

Nearest Station

Five-minute walk from Osaka Metro Osaka Business Park Station


Phone Number

06-6944-1575

Hours: 11:30AM to 2PM (last order 1:30PM), 5PM to 9PM (last order 8:30PM)
Closed: Open Daily
2. Kissui: Some of the largest sushi in Osaka you'll see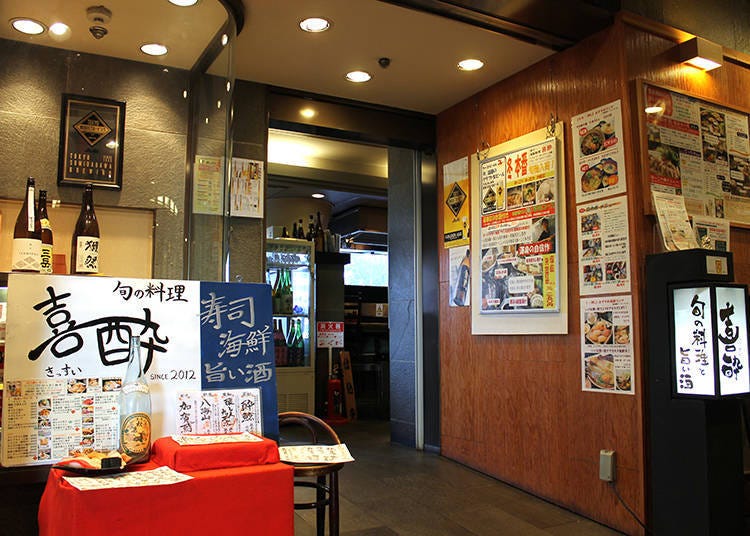 On the other and, if you want to casually enjoy some sushi in Osaka, try out Kissui. Close to the JR Kyobashi Station, it has 8 counter seats, some tables for groups and families to sit at, and rooms that 5-7 people can sit down in, making it perfect for large groups.

The menu has an impressive variety, boasting tempura, otsukuri, and wagyu beef in addition to sushi. This establishment offers fresh seafood stocked daily from the markets at a reasonable price.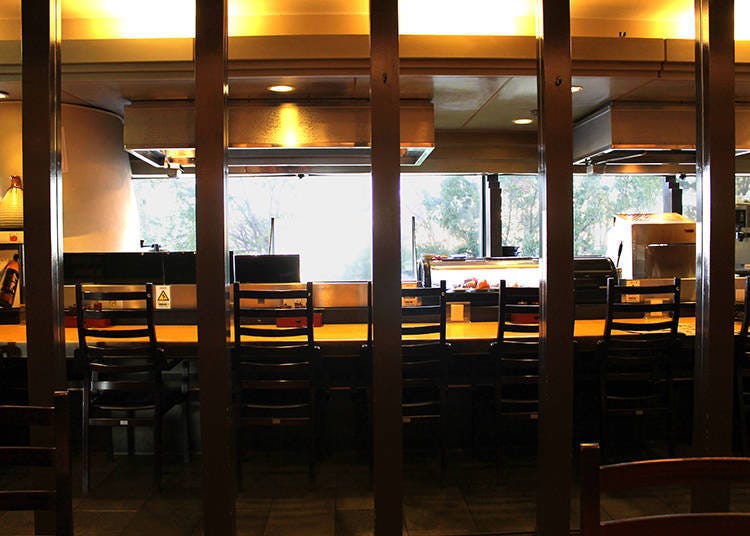 The counter seats feel open, having windows directly in front of them. You also get to see the chef's masterful movements for yourself, so it's definitely somewhere you want to sit if you're with a small group. There are also English menus, making ordering a breeze.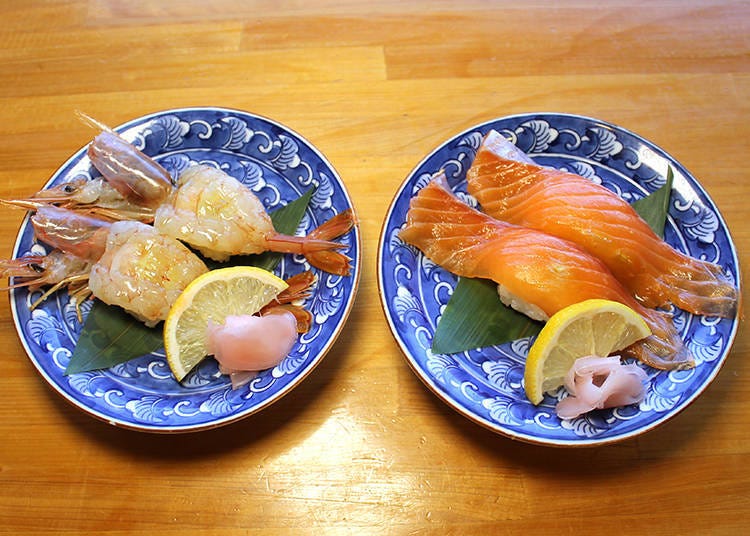 The establishment stands out for its hefty-topped sushi. The size won't leave you wanting! You can order standard fresh nigiri in singles or pairs, but when you want an assorted variety, try the "Tokusen Nigiri Sushi" (1,026, tax included). Another popular item is the lunch-exclusive "Dekaneta Nigiri Teishoku", a meal that includes large nigiri sushi, udon, and chawanmushi.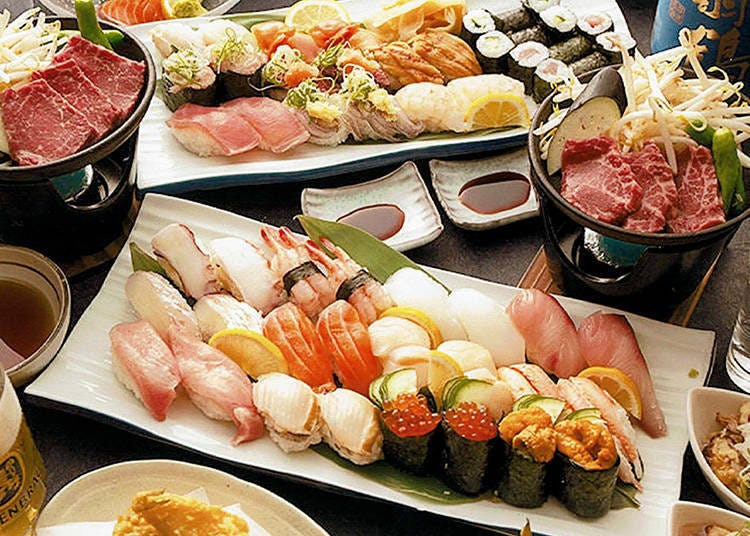 All you can eat sushi, with 35 kinds!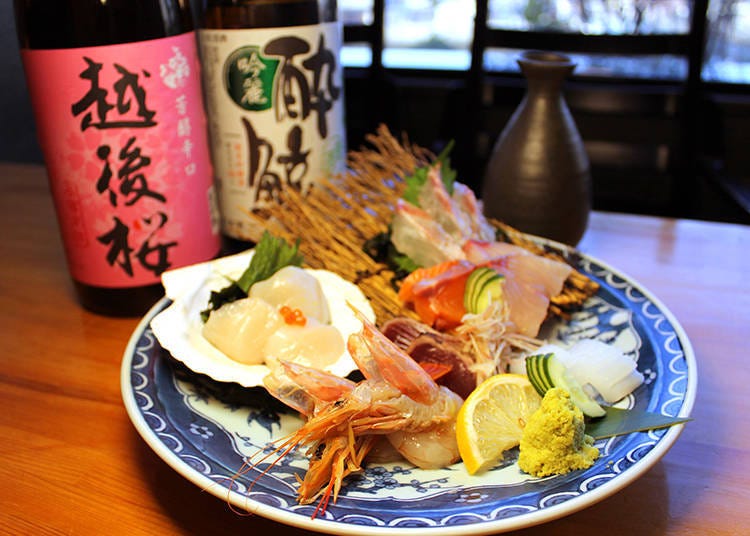 Try the fresh otsukuri and tempura, too!
If you want to enjoy sushi and money's no object, go with the "Koshoku Teikyo Kaiseki Course" (5,500 yen, tax included). You can have all of the sushi you want for 2 hours, from a choice of 35 types!

On top of that, you'll get 7 kaiseki dishes and all the drinks you want, making for a luxurious course. However, you need to reserve it 2 days in advance with three or more people.

Sushi isn't all Kissui has to offer. There's also shrimp tempura (518 yen, tax included), the Otsukuri Moriawase (made for two, 1,944 yen tax included), and meat dishes such as the thick Atsugiri Gyu-tan Teppan-yaki 3 piece set (810 yen, tax included).

Their alcohol selection is no slouch either, with sake, shochu, wine, draft and craft beer, and more, making it work as an izakaya as well!
寿司 海鮮料理 喜酔

Address

2 Chome-1-61 Shiromi, Chūō-ku, Osaka

Nearest Station

Five-minute walk from JR Osaka Kanjo Line Kyōbashi Station West Exit


Phone Number

06-6947-5559

Hours:
Mon – Fri
Lunch 11:15AM to 3PM (last order 2:30PM)
Dinner 5PM to 10:30PM (last order 9:30PM, drink last order 9:30PM)
Sat/Sun/holidays
11:30AM to 9PM (last order 8PM, drink last order 8PM)
Closed: Irregularly, Summer, New Year's Period
3. Kaidou: Enjoy chatting with the Osaka sushi chef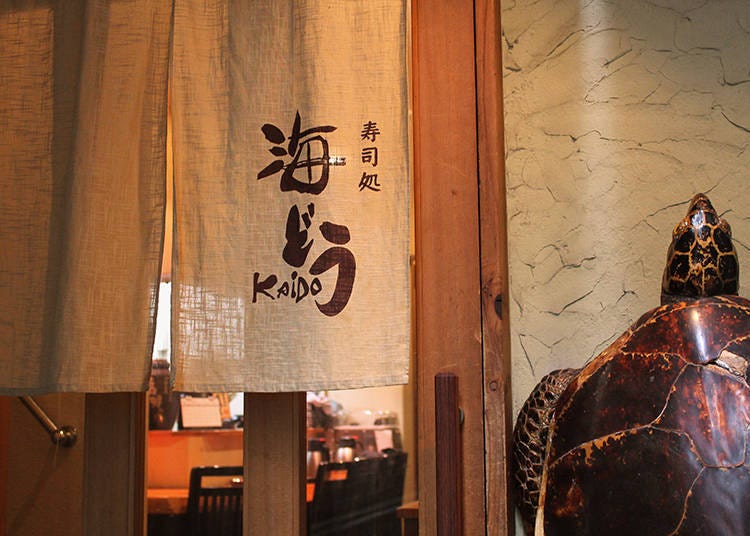 Sushi-dokoro Kaidou is a nice little hole-in-the-wall spot for sushi in Osaka, hidden in a back alley about a minute from Tenmabashi Station, close to the Osakajo Kyobashi Exit. The first floor has counter and table seats, while the second floor has cushion seats for 15-30.

The chef stocks the seafood at the market every morning himself, guaranteeing its freshness. The hand-written menus have lists of the day's recommendations, which change every day based on the day's stock. This makes repeat visits all the more fun.

As for drinks, there's sake, beer, cocktails and more, and the weekly local drinks are popular.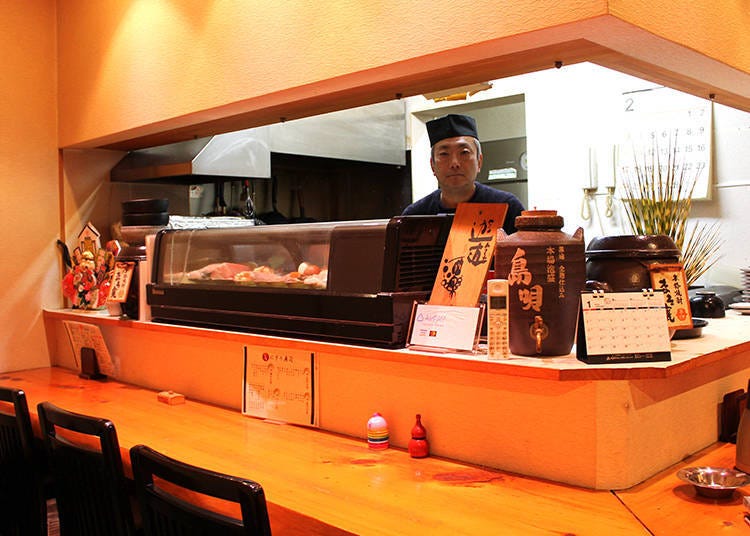 There's little distance between the chef and the counter seats
There's an English menu for easy ordering, and the counter seats are so close to the chef that plenty of overseas guests enjoy conversations with him using translation apps.

The nigiri plates generally go for 324 yen, while sushi rolls go for 162 yen. The side dishes also come in at a reasonable 324 yen (tax included for all prices listed). Grabbing some sushi, sides and a drink at the counter will really make you feel like a regular!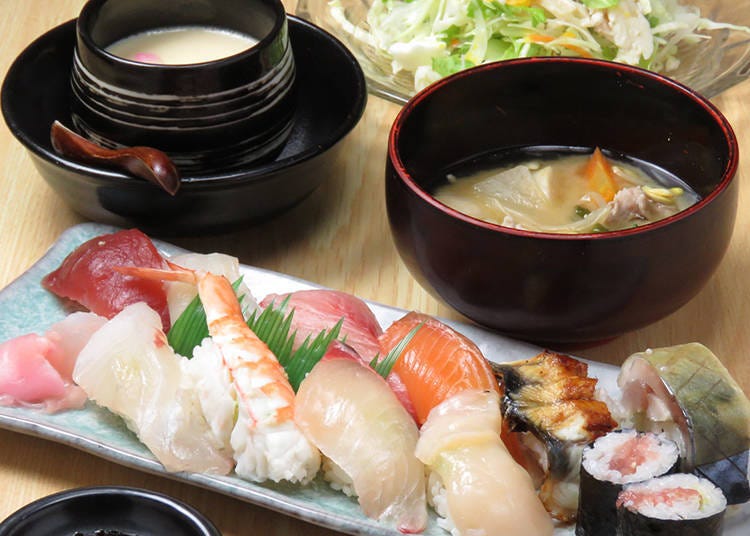 Lunch Set (1,000 yen, tax included)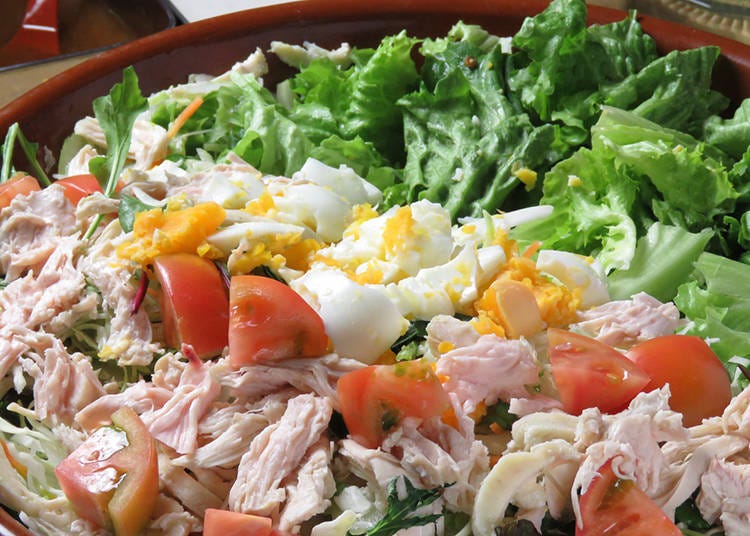 The salad at lunch is all-you-can-eat
The lunches are popular, allowing you to casually taste all kinds of sushi. The lunch set has 10 nigiri and two sushi rolls, chawanmushi, red miso soup, and all the salad you can eat.

When you see all the nigiri on your plate, you'll feel like you've picked up a steal. There's also the large lunch set, with 10 meals per day, that includes 10 large nigiri, one sushi roll, chawanmushi, red miso soup, and all the salad you can eat. It's a great choice if you want to eat a lot of nigiri.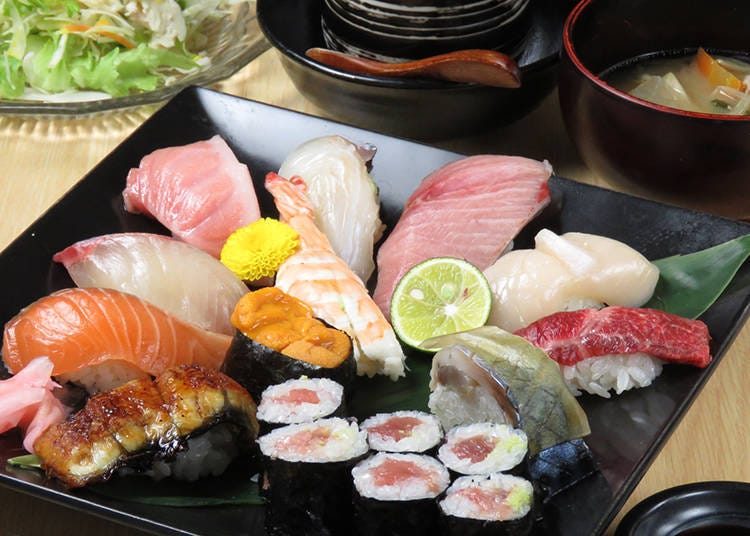 Large lunch set (1,800 yen, tax included)
For dinner, you can pick up the well-priced Horoyoi Set (1,620 yen, tax included) that includes alcohol, five sushi, and five appetizers.

The chef's choice course that combines sushi with more standard dishes starts at 3,240 yen, which you'll want to reserve in advance. If you're lucky, you might catch a glimpse of the "apprentice chef" cat that visits the restaurant every day.
天満橋 寿司処 海どう

Address

1 Chome-2-9 Kokumachi, Chūō-ku, Osaka

Nearest Station

One-minute walk from Osaka Metro Tenmaebashi Station 4th Exit


Phone Number

06-6941-8848

Hours: 11:30AM to 2PM (closes when sold out), 5:30PM to 11PM (last orders 10:30PM)
Closed: Sunday
Text by:Niki Shigemi
*This information is from the time of this article's publication.
*Prices and options mentioned are subject to change.
*Unless stated otherwise, all prices include tax.