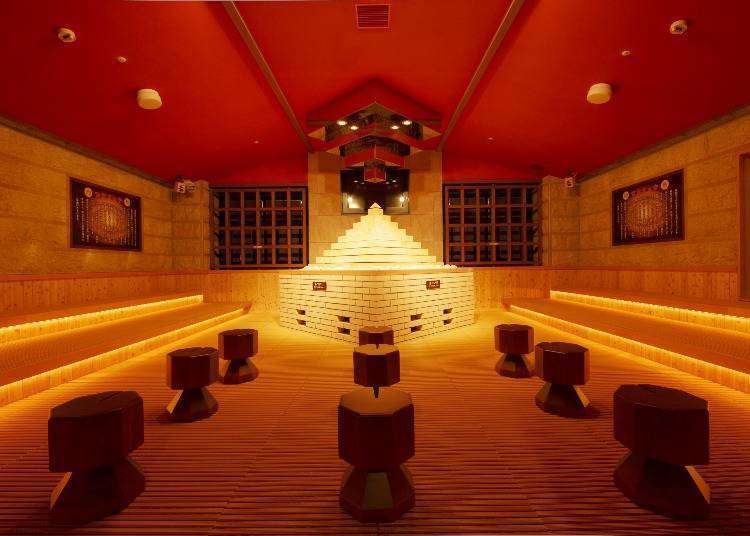 Near Osaka's Tsutenkaku tower, you'll find Spa World. The 24-hour facility features pools, hot stone spas, a gym, hotel, and characteristic baths from around the world. It's the perfect place to relax and enjoy the good life! Let's take a dip inside Osaka Spa World.
Spa World offers internationally-themed hot springs!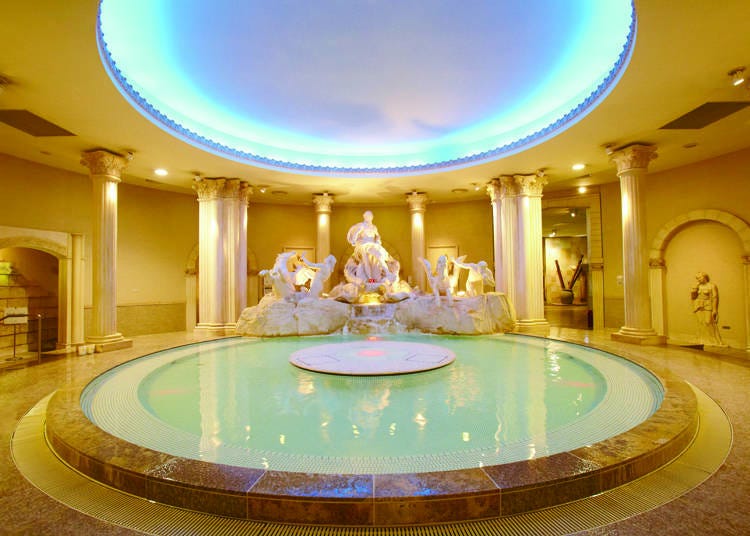 Ancient Rome
The 4th and 6th floors are home to the European and Asian zones, respectively. The European Zone is characterized by elegant traditional baths including the ancient Roman Jacuzzi with a striking recreation of Trevi Fountain, the open-air Spain bath with its large waterfall, the Greek herbal bath decorated with goddess statues and resembling the Parthenon, and many others.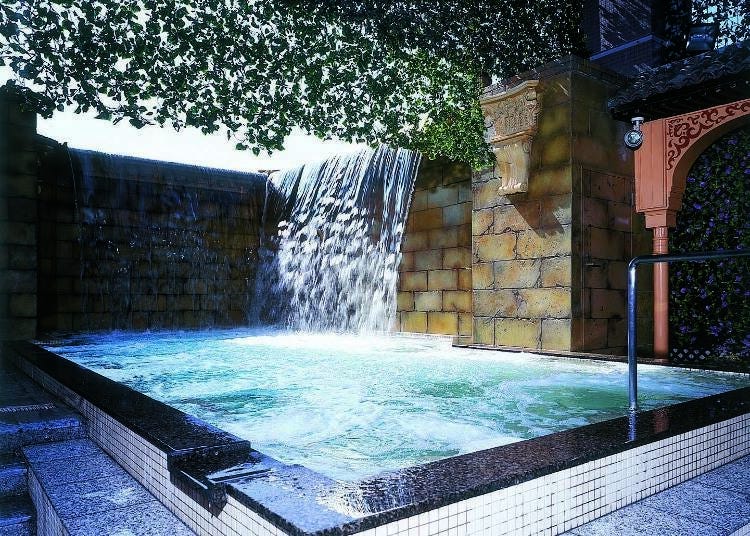 Spain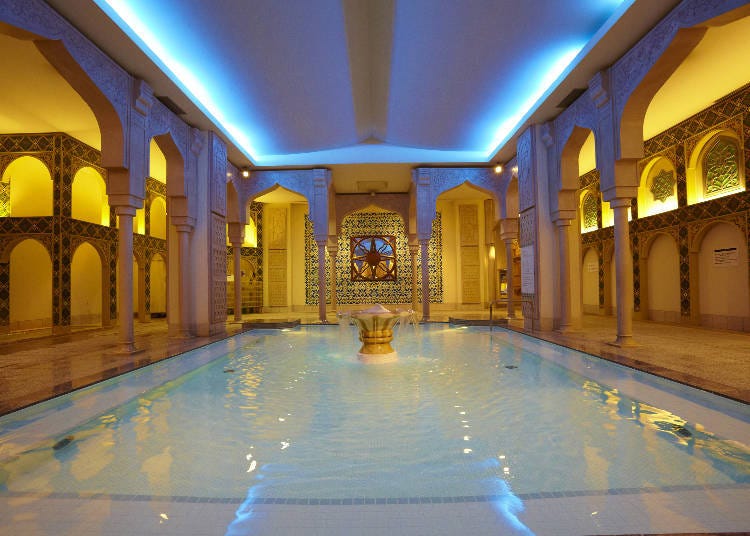 "Islamic Style"
The Asian zone includes the mysterious "Islamic Style" and its myriad of colored tiles, the Japanese mountain stream open-air bath, and the comfortable Persian bath designed to resemble the palace of Percepolis. Entry to each zone alternates by gender every other month, and guests can enjoy a refreshing world tour!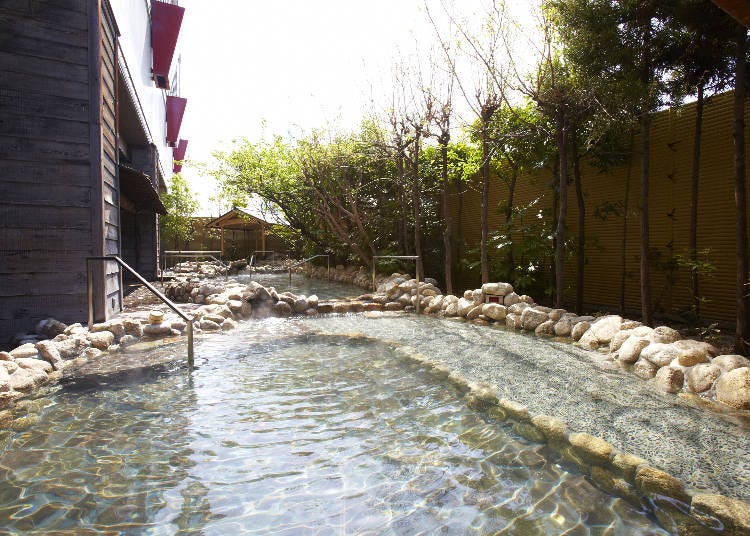 Japanese mountain stream outdoor bath
In addition to the baths, there are themed saunas on the 4th and 6th floors, offering aromatherapy, steam, salt, and high-temperature saunas that use different herbs every month.
Hot stone spas from eight countries!
Egypt (loyly)
On the 3rd floor, you can enjoy eight internationally-themed hot stone spas. The baths are separate by gender, but the stone spas can be used by men, women, and children. In the Egypt spa, a pyramid-shaped ceramic furnace warms patrons as they relax. The Turkey spa is decorated with a large, glowing globe.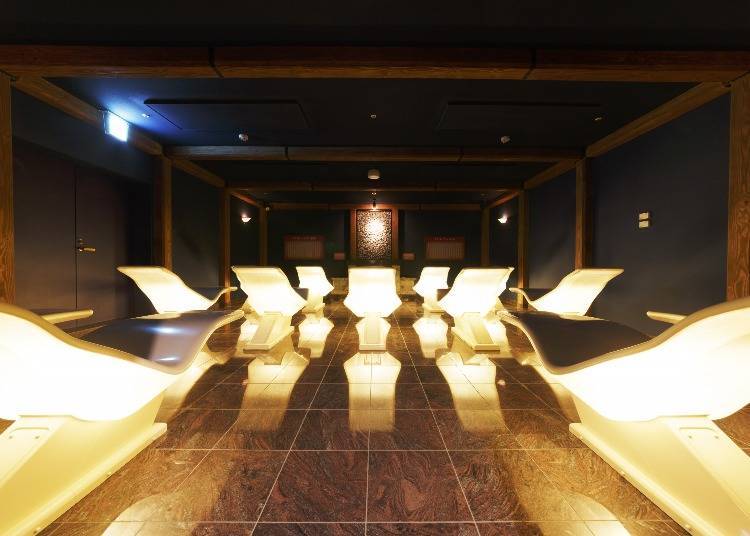 Turkey (hot floor)
Turkey (hot floor)
Loyly facilities generate steam by sprinkling water on heated sauna stones, and the heat relieves fatigue. Three spas -- Egypt, Korea, and Russia – utilize the loyly technique and regularly host special events such as "Macho Loyly" and "Cute Loyly."
Enjoy year-round fun at "Spapoo"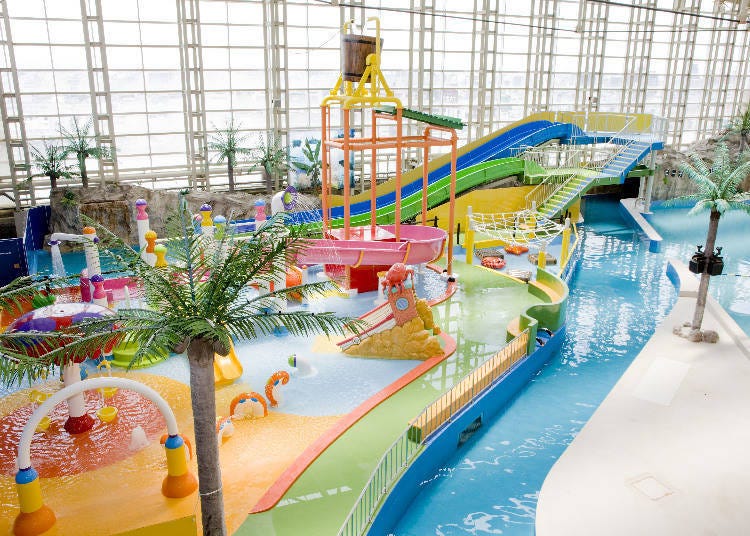 Spapoo Kids'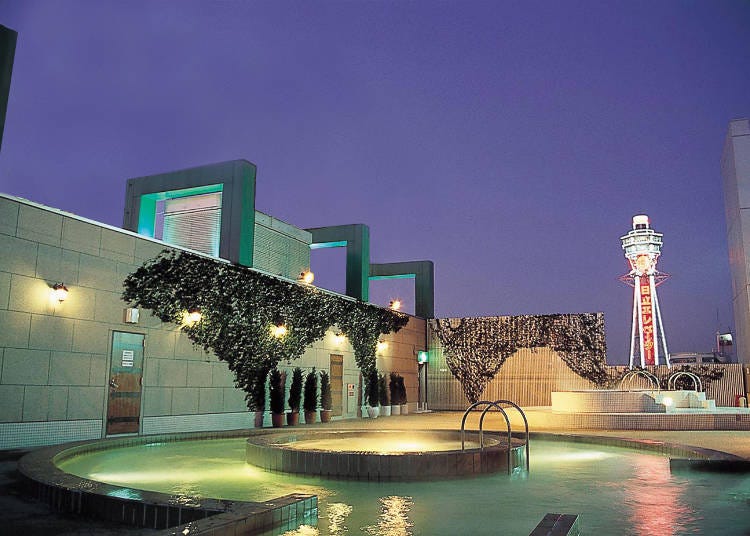 Observation bath
Spapoo was reopened in 2017 and the water temperature is adjusted seasonally to maintain warm water all year round. Spapoo Kids' is equipped with 16 kinds of play equipment suitable for infants and children up to 12 years old (accompanied by parents). A warm circular pool and observation bath with a view of Tsutenkaku are also higly recommended.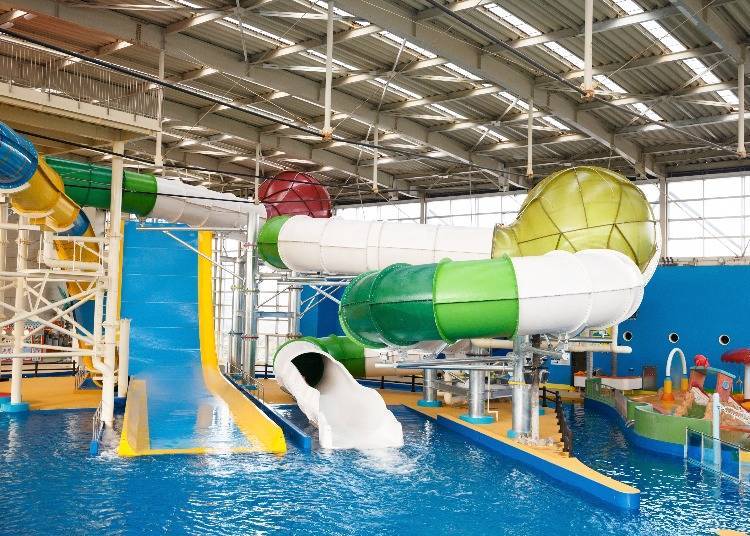 Spapoo's most popular attractions are its two water slides. The "Panic Tornado" is a thrilling 105 meter-long high speed slide. More thrilsl and excitement can be experienced on the "Pinnacle Burn" slide with its 70-degree angle. The slides require and additional fee of 500 yen per ride or 1,500 yen for unlimited rides, and guests must be over 115cm to use them.
Plenty of Osaka food specialties at Spa World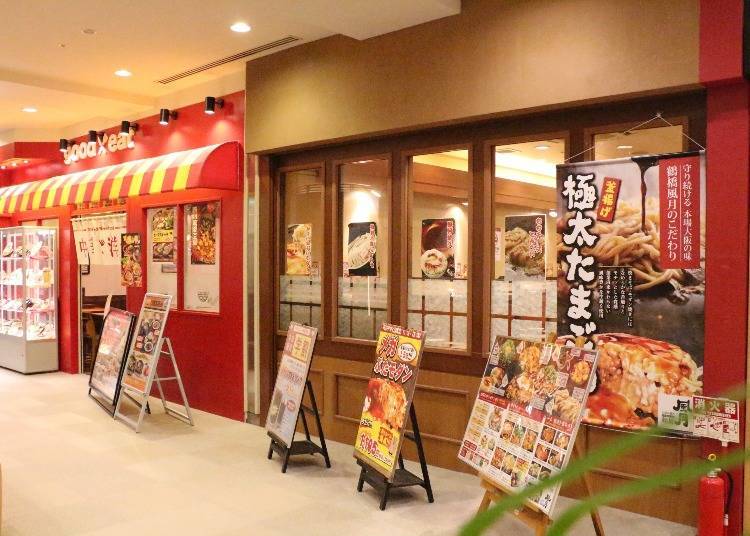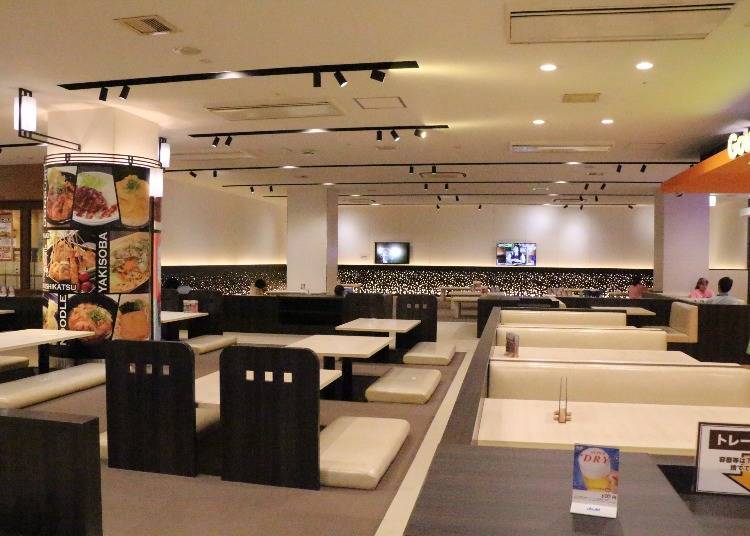 A relaxing food court
The food court features many of Osaka's most well-known restaurants including Tsuruhashi Fugetsu with its 60-year-old history of serving okonomiyaki. Ramen, takoyaki, oden, and Western dishes are also available, as are garlic kushikatsu and local sake. The spacious dining area's numerous booths and tatami seating offer guests a comfortable place to cool down and enjoy light meals.
Many other refreshing facilities!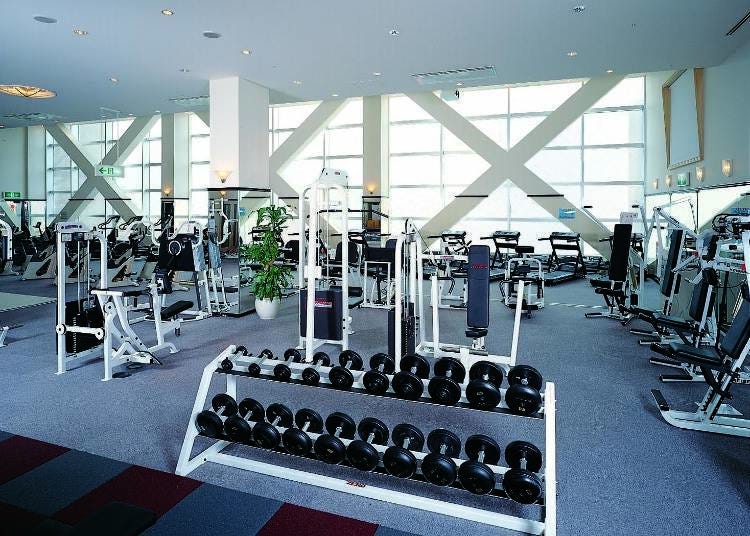 Osaka Spa World also has other enjoyable facilities for the whole family. There are TV watching rooms on the 4th and 6th floors, the 3rd floor has a play room for preschoolers, and the 4th floor is home to "Kiddy Park" where children up to 3rd grade can play. There's even a gym on the 6th floor, and relaxation corners on the 3rd floor, 4th, and 6th floors offering various services.
Enjoy a walk around Shinsekai!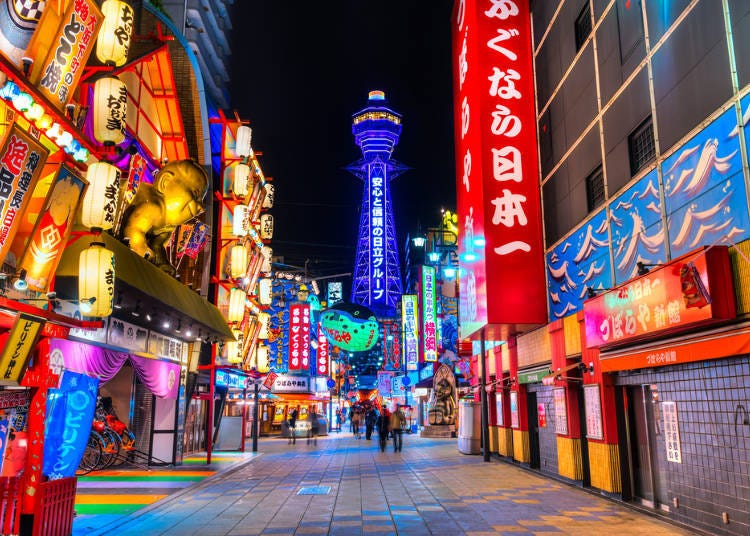 Luciano Mortula - LGM / Shutterstock.com
As you head down the stairs upon exiting Spa World, you'll be stepping directly into Osaka's Shinsekai neighborhood with its flashy signs and neon lights. It's an enjoyable area for eating and taking in the retro atmosphere.

Osaka Spa World's reasonable admission fees, rental towels and swimwear, and daily in-house events make it a popular place to spend a day of relaxation and fun for the entire family. Be sure to plan a visit when you're in Osaka!
スパワールド世界の大温泉

Address

3-4-24 Ebisuhigashi, Naniwa-ku, Osaka 556-0002

Phone Number

06-6631-0001

Hours: 10:00 to 8:45 the next day
Admission: Weekdays, Adults 1,200 yen; children under 12, 1,000 yen; Weekends and holidays, Adults 1,500 yen, children 1,000 yen. From midnight to 5:00, 1,300 yen midnight fee and 150 yen bathing tax charged in addition to entrance fee.
Stone spa fee: Weekdays, 800 yen; Weekends, holidays, and other special days, 1,000 yen.
Other rules: No tattoos, no re-entry, no food and beverages allowed
Text by: WESTPLAN
*This information is from the time of this article's publication.
*Prices and options mentioned are subject to change.
*Unless stated otherwise, all prices include tax.
Limited time offer: 10% discount coupons available now!