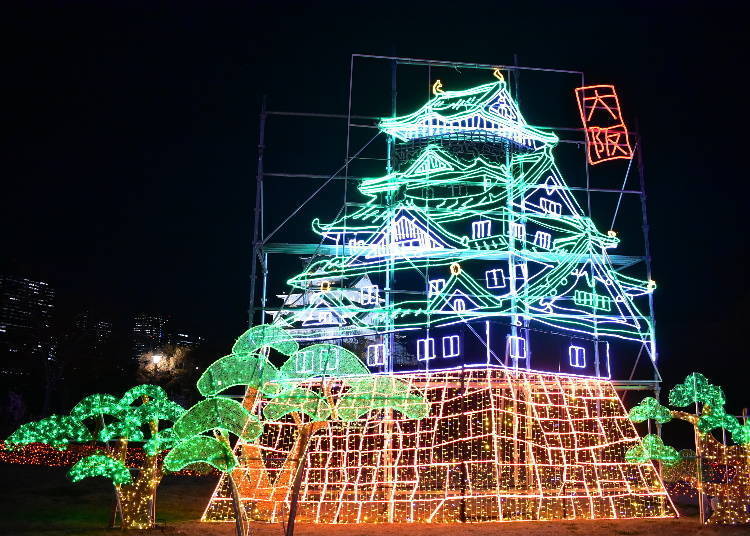 At the heart of Osaka, Osaka Castle is hosting a light-up display themed around Japanese history and culture between November 22, 2022, to February 26, 2023. You'll be wowed at this unique show presenting Japanese castles, temples, famous samurai, and more in dazzling light!

This is the 5th time the event has been held and the first in two years. COVID-19 countermeasures are firmly in place, so you can relax and enjoy Osaka Castle, enhanced by illuminated art in peace!
What Is Osaka Castle Illuminage?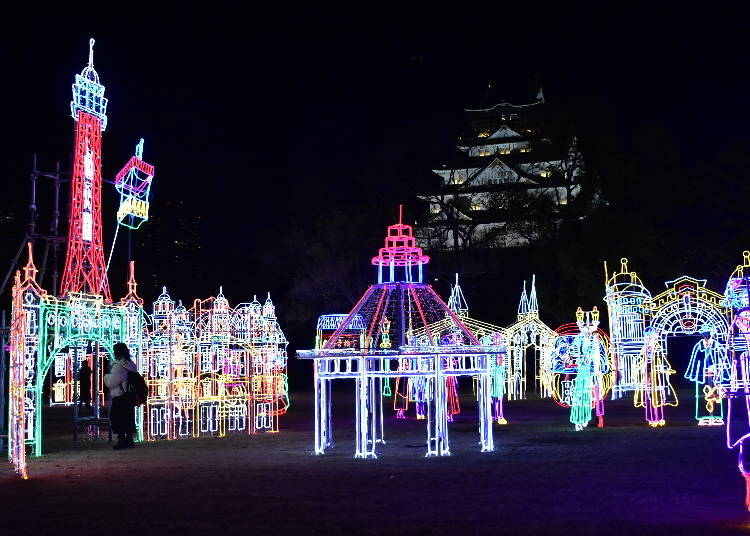 As mentioned, this is the 5th iteration of Osaka Castle Illuminage. Japanese history and culture centered around Osaka, stretching from the Sengoku Period, when Osaka Castle was built, to the modern Taisho and Showa Periods, when Osakan culture flourished, will be brought to life through 3.5 million bulbs.

Osaka Castle, built in 1597 by Sengoku Period general Toyotomi Hideyoshi, is holding the Osaka Castle Illuminage in its Nishinomaru Garden.
Photo credit: PIXTA
Unfortunately, the original Osaka Castle that was built by Hideyoshi was buried, and the castle was reconstructed by Tokugawa Hidetada, who ruled over Japan later as shogun. The Osaka Castle tower can be entered, which boasts indoor exhibits exploring local history, and stunning panoramas of the city can be enjoyed from the top floor. Within the grounds of Osaka Castle is the Nishinomaru Garden, which is mostly used for weddings, musical performances, and other events, and is now hosting the current winter illumination festival.

You can reach Osaka Castle by walking to Higashi-Umeda Station on the Tanimachi Line from JR Osaka Station. Take the train and get off at Tanimachi Yonchome Station and walk 10 minutes to the Otemon Gate. From the gate, walk a little further to the Osaka Castle Nishinomaru Garden entrance.
Right From the Entrance, the Exciting Illumination Appears!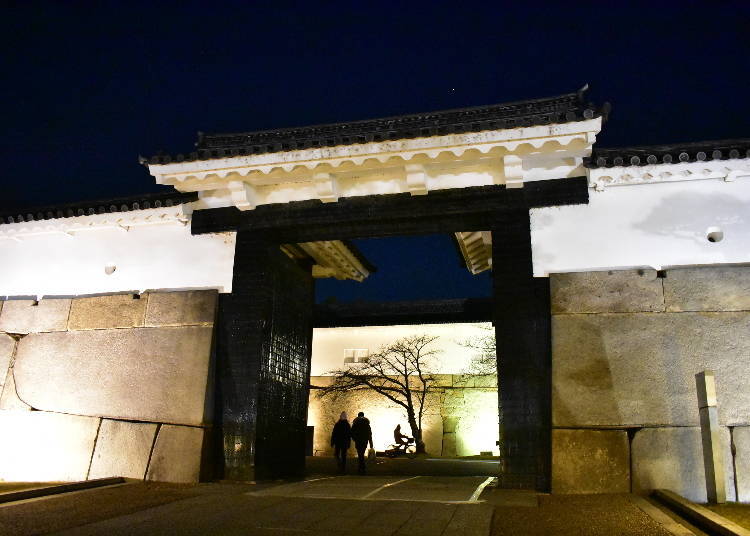 As you head toward the Otemon Gate, the entrance to the venue, you will be greeted by the gate shining in night time lights.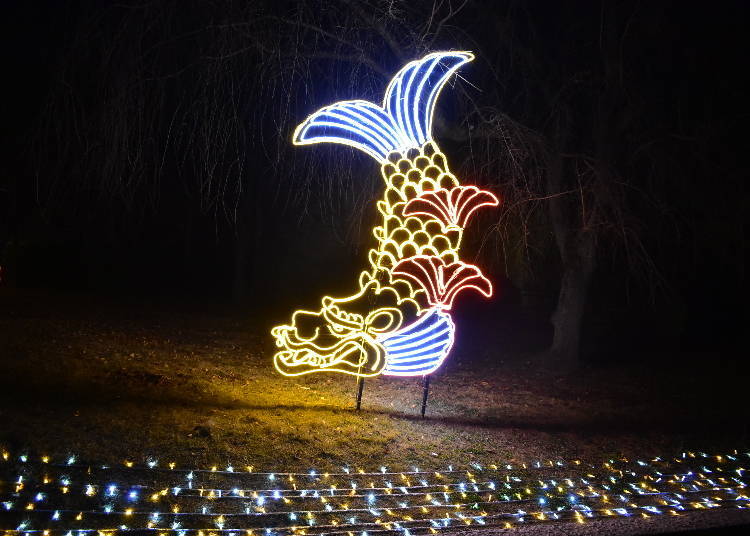 The grounds of Osaka Castle are very spacious, and it would be easy to get lost in the dim light. However, there are illumination displays near the venue, making it a breeze to find.

Near the entrance is an illuminated "shachihoko," a mythical creature with the head of a tiger and the body of a carp. Shachihoko often adorn the tiled roofs of castles, and are believed to be deities protecting the castle from disaster.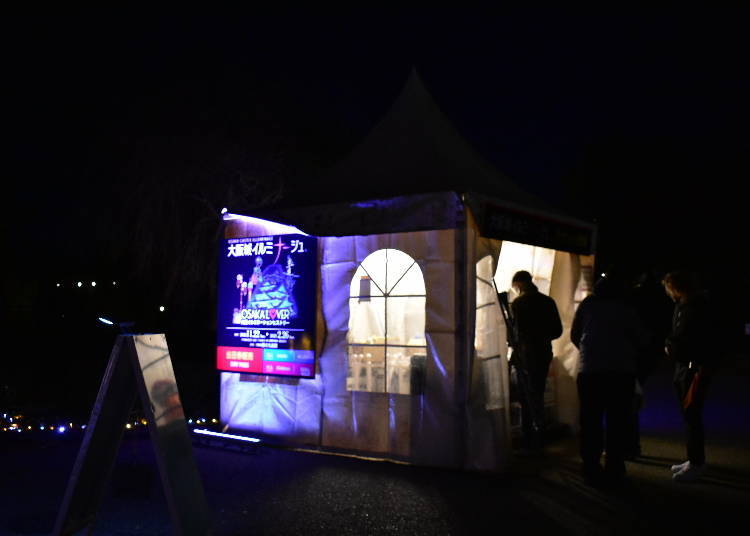 Near the entrance of the Nishinomaru Garden is an information tent where you can purchase tickets on the day.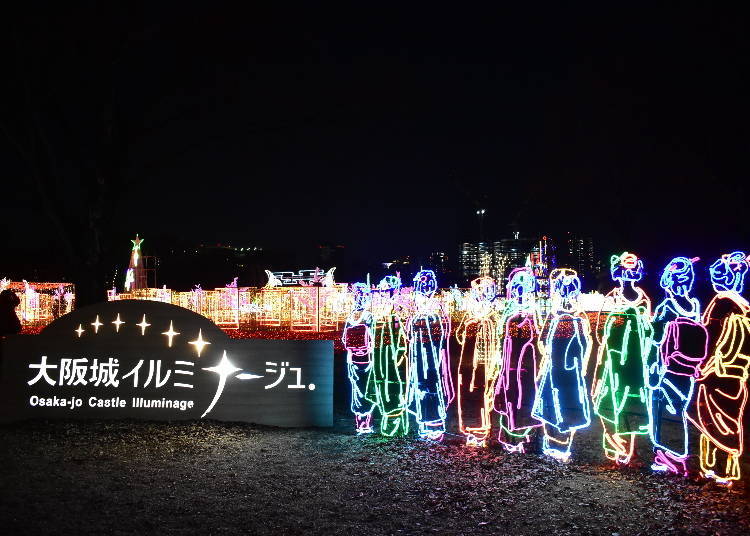 Enter and continue walking for a bit and you'll come across the event signboard accompanied by a line of colorful kimono-clad women.

Please do not touch the illuminations, but feel free to take photos.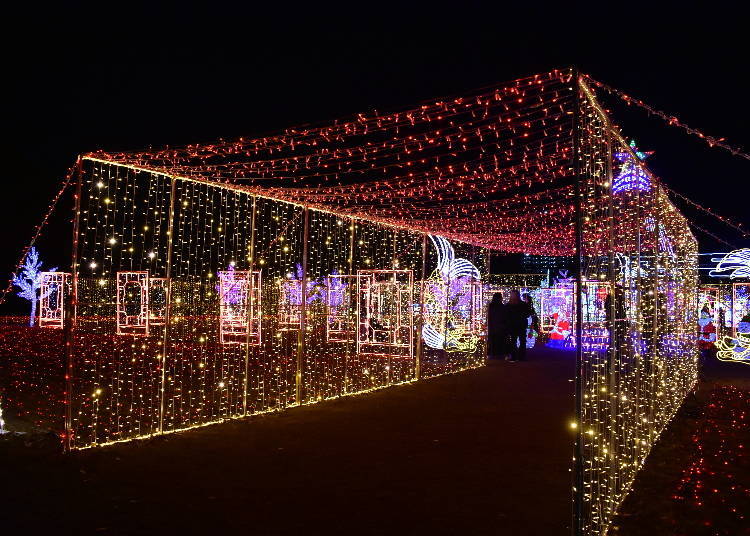 Pass under a tunnel of lights into the venue. In the background plays a soundtrack of Japanese "kayokyoku" retro pop music.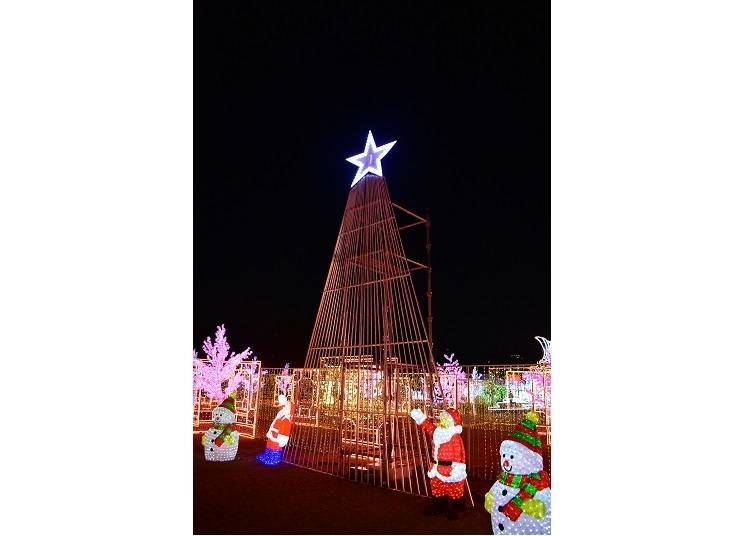 Generally, the illuminations relate to Japanese culture and history, however, we visited closer to Christmas, so there was also a seasonal Christmas tree on display too.
Osaka Castle and Toyotomi Hideyoshi Recreated as an Illumination!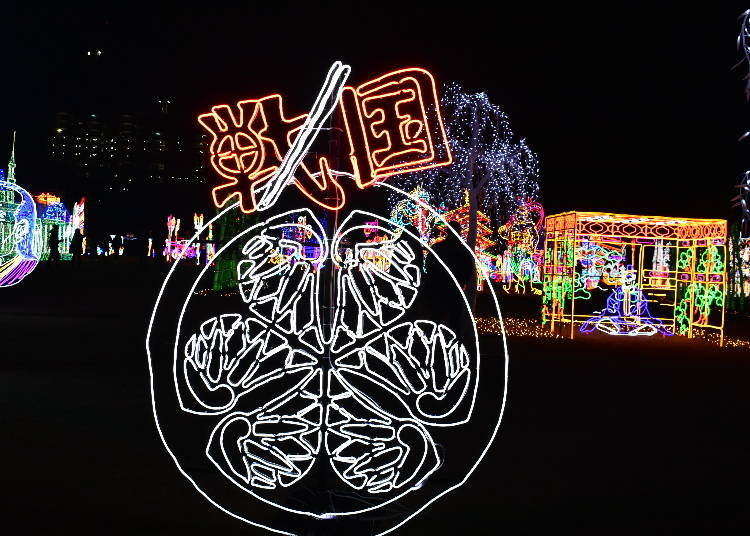 Near the entrance is a collection of illuminations recreating Toyotomi Hideyoshi, the general who built Osaka Castle, along with the subsequent castle lords of the Tokugawa Clan, plus a rendering of Osaka Castle itself. As you continue further in, you'll pass through the eras of Japan getting closer to the modern day. The Meiji and Taisho period sections show how Japanese people changed from wearing kimono to Western clothing, and how streetlights were beginning to be installed. The final segment showcases the retro and nostalgic Showa Period, complete with classic Osaka icons like Tsutenkaku Tower and Dotonbori in splendid light.

As we visited on a Thursday, it was relatively free of crowds and we could take our time photographing.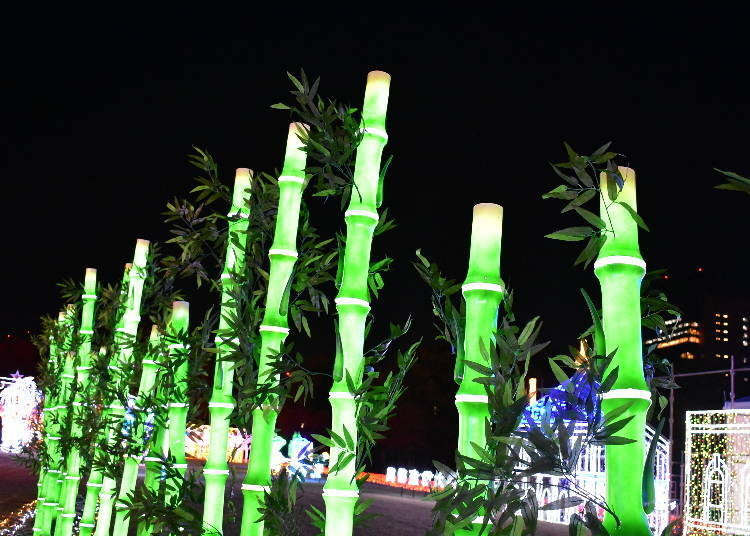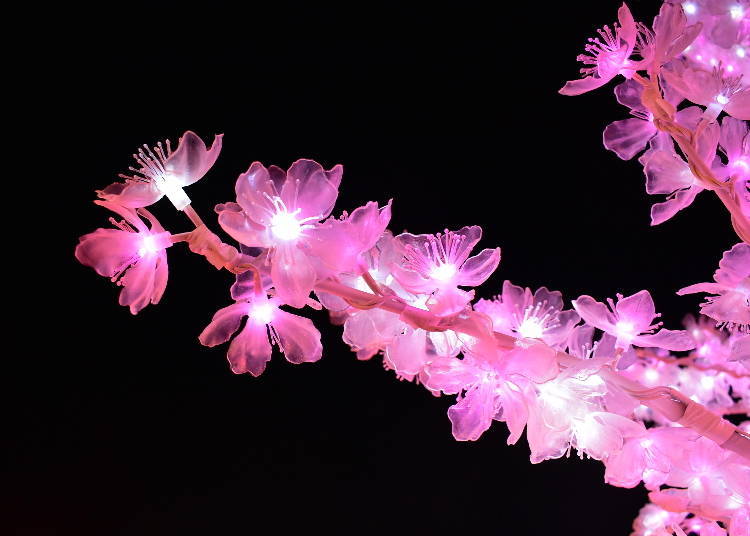 There are also nature-based illuminations, like bamboo and cherry blossoms. The pink light emanating from the cherry blossom petals is truly breathtaking - like spring had come early!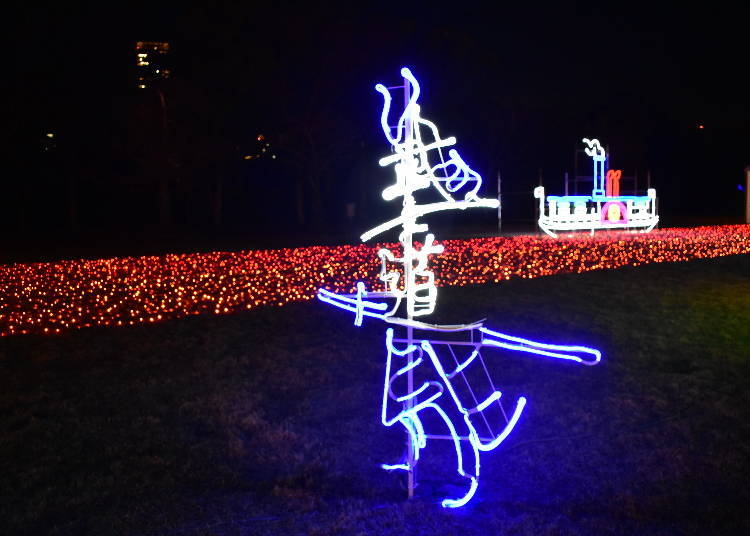 We also found a fantastic rendering of a "bushi" samurai warrior, who were active during the Sengoku Period. Taking another look, we realized that the kanji characters for "bushido" (武士道), a collection of codes and attitudes valued by Japanese samurai at the time, were cleverly intertwined into the design.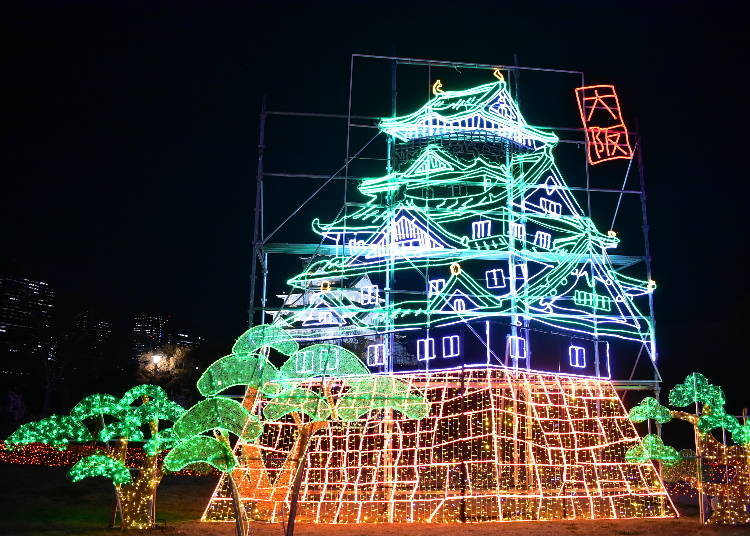 The illumination of Osaka Castle is utterly magnificent.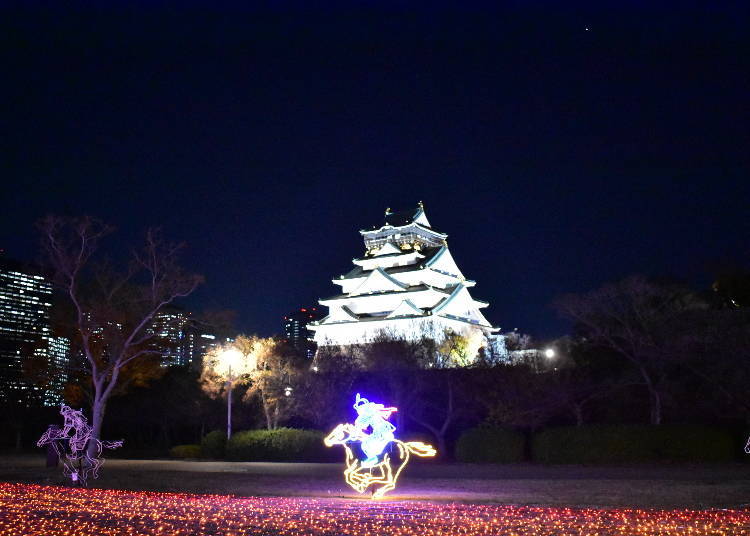 There are also displays of illuminated horseback warriors dashing through the grounds in a line. They are designed to flash in a way that gives off the illusion of movement and speed, making it feel like watching a movie. With Osaka Castle behind, we were able to take enthralling photos of gleaming samurai backed by an authentic slice of history.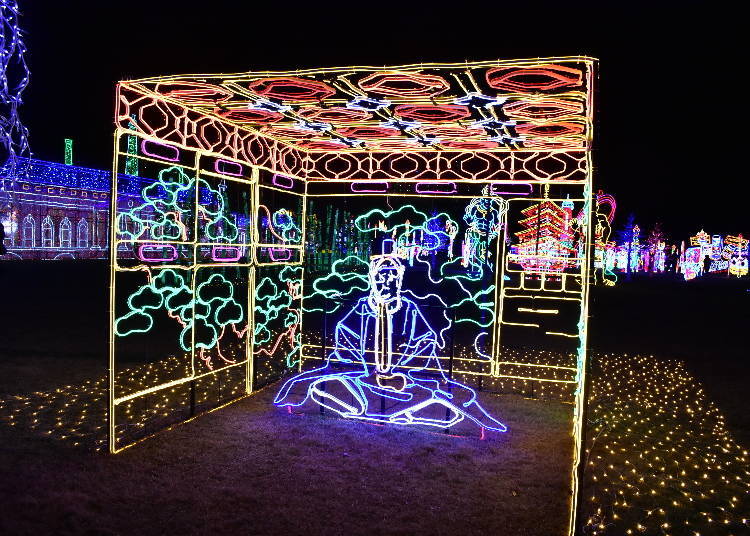 This is the famous Toyotomi Hideyoshi, who built Osaka Castle.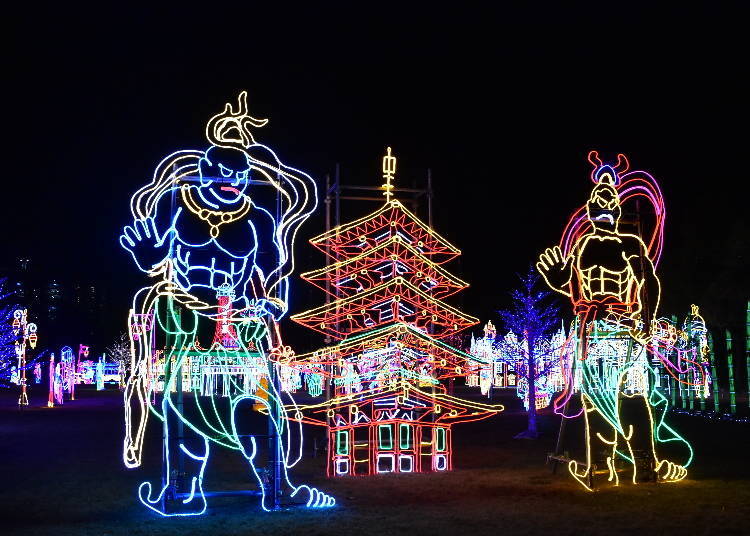 This is Todai-ji, a deeply historical temple in Nara Prefecture, which neighbors Osaka, along with the ancient statues of Kongorikishi, who stand in Todai-ji's gate.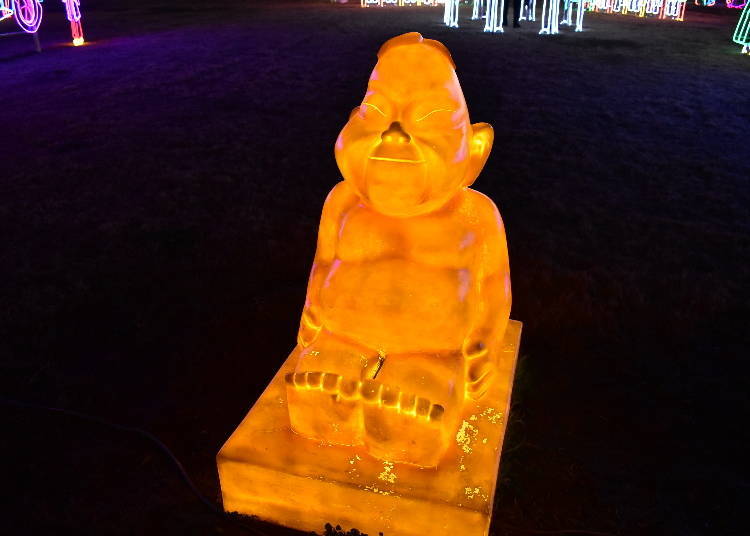 Sitting alone is a statue of Billiken, who is beloved in Osaka as a deity of good fortune. It is said that touching him will give you luck, so be sure to give him a pat!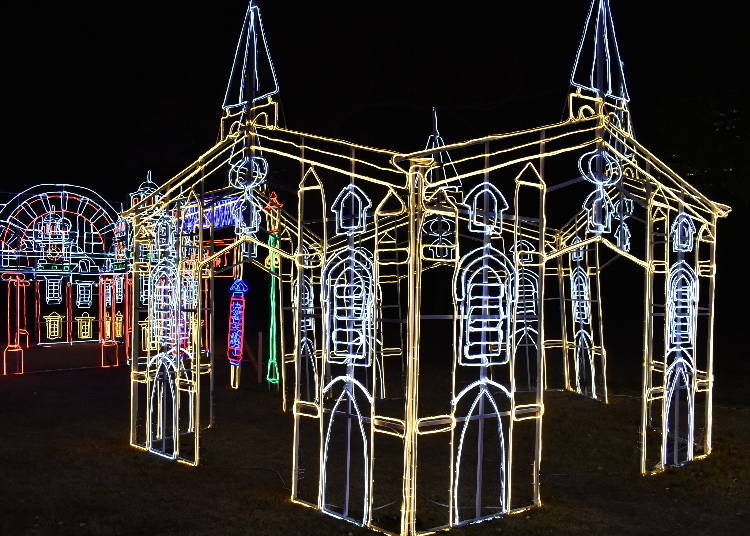 This mansion illumination can be entered just like a real house, embracing you in a romantic, glittering aura.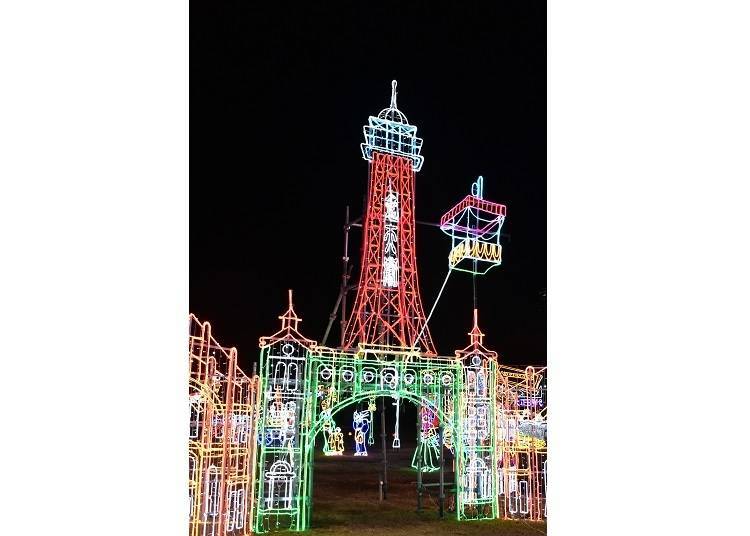 Another of Osaka's big icons, Tsutenkaku Tower, has also been beautifully rendered as an illumination. Squat down to take a photo, and you should be able to capture the entire structure.
Enjoy a Light-Up See-Saw in the Zoo Area!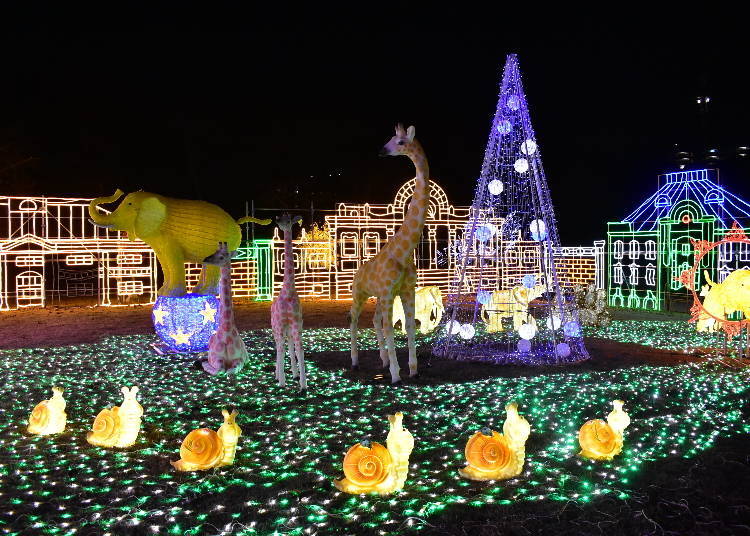 At the very back of the venue, near to Tsutenkaku Tower, is a spot recreating Osaka's Tennoji Zoo.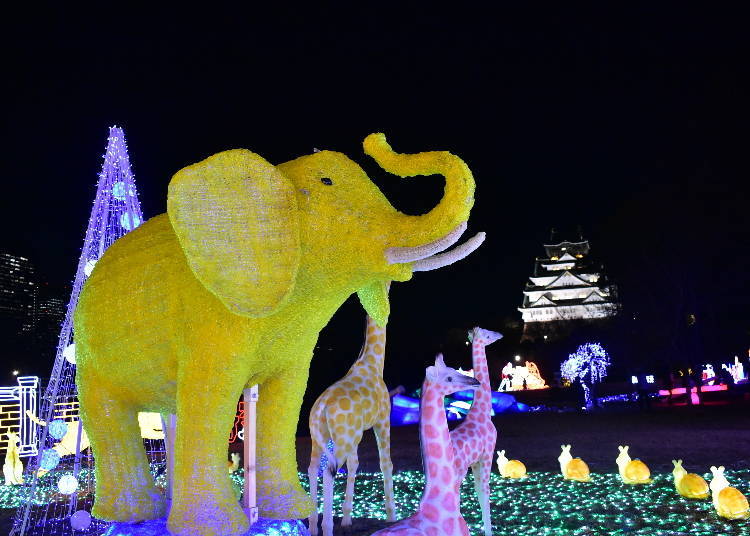 Here you can stroll between adorable illuminated elephants, giraffes, rabbits, and more, in an alluring zoo like no other.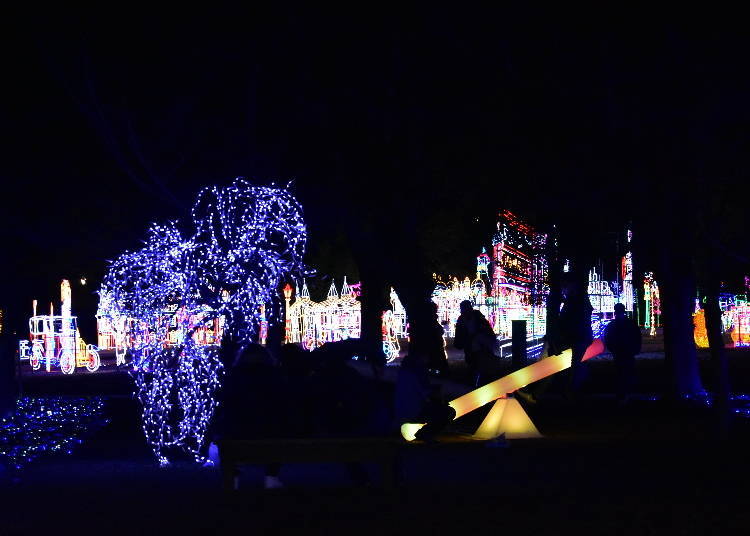 Another must-see is the shining see-saw, which you can actually get on and ride for a spot of childhood fun with a partner or friend!
Special Ultraman Exhibits!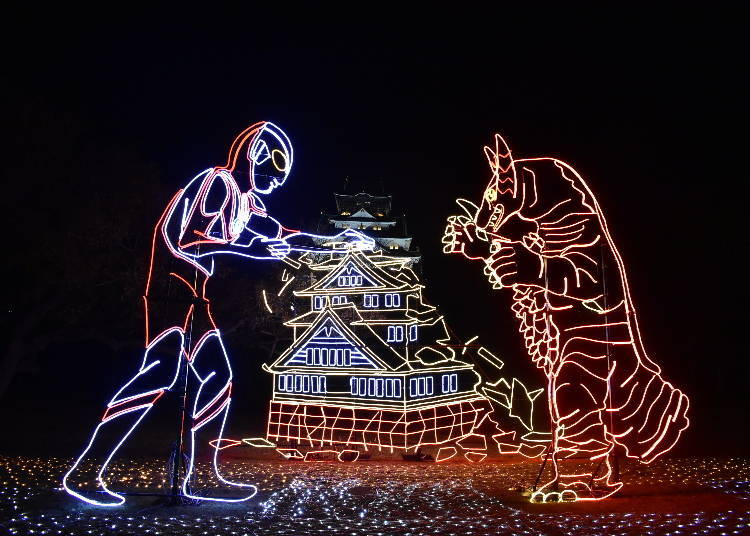 Ultraman, a popular TV series about a transforming superhero, has been airing since 1966 and celebrated its 55th anniversary in 2022. Osaka Castle Illuminage has included Ultraman exhibits in its lineup, including a recreation of the 27th episode where Ultraman fights kaiju Gomora near Osaka Castle. By getting the angle right, you can even capture the real Osaka Castle in the background!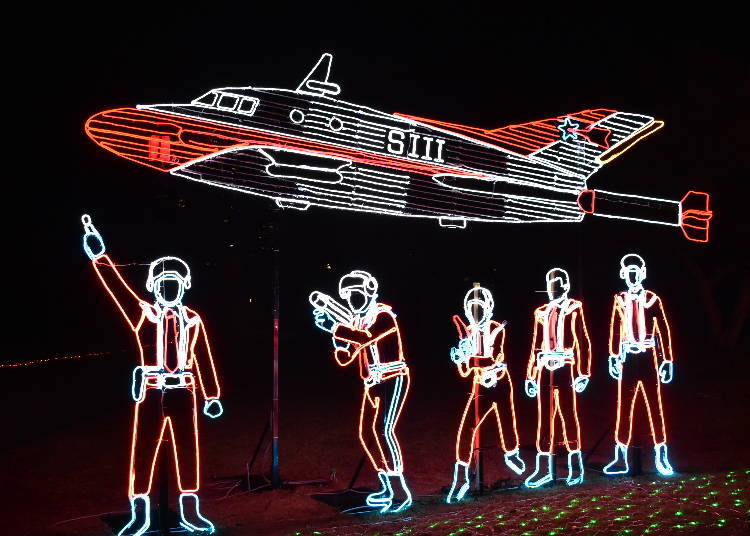 There is also a display of the "Ultra Keibitai," an organization who fight to protect the world.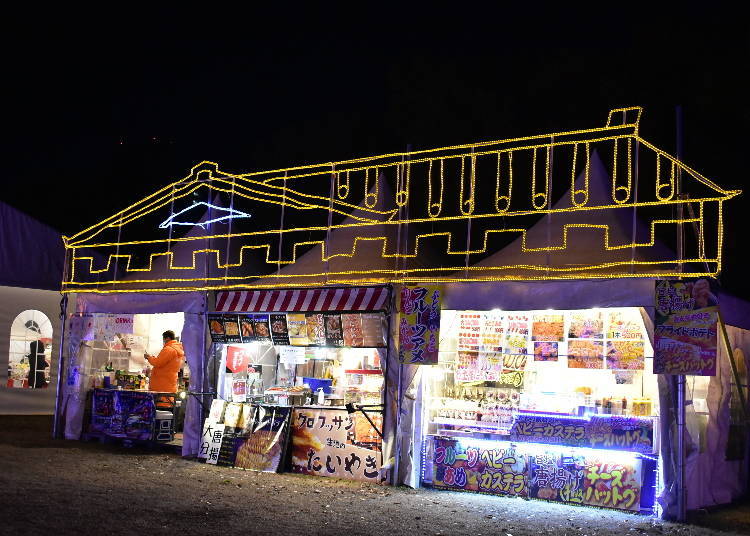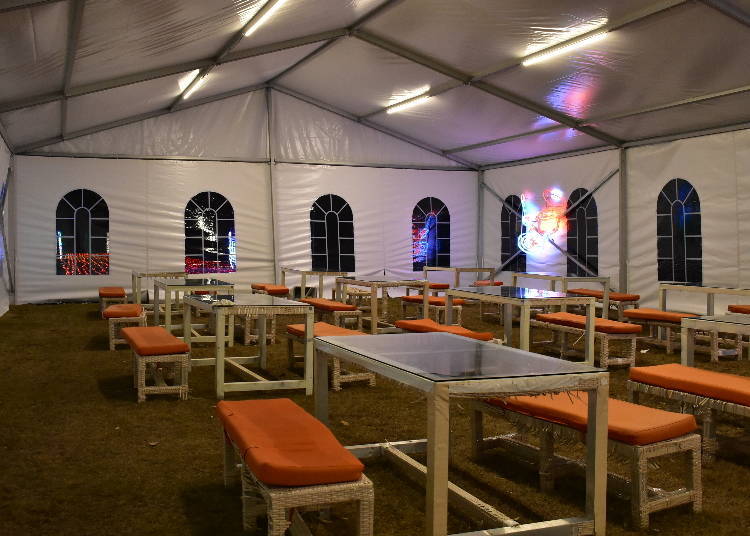 Within the center of the venue are stalls selling drinks and snacks as well as rest spaces, so you can sit down and fully soak in the atmosphere.

Osaka Castle Illuminage boasts a staggering lineup of dazzling exhibits, from famous Japanese and Osakan figures and sights to Buddhist statues, popular TV shows, and even a brilliant rendering of the castle itself. There's plenty of great photo opportunities to be had, so don't miss out! You can purchase tickets on the day, making it easy to slot it into your Osaka sightseeing itinerary.
大阪城イルミナージュ

Address

2 Osakajo, Chuo Ward, Osaka City, Osaka 540-0002

Opening Period: November 22, 2022 - February 26, 2023 *Open everyday, even if raining
Opening Times: 5:00 pm - 10:00 pm (Light-up: 5:30 pm - 9:30 pm)
Admission:
- Adults (Middle school students and over): 1,500 yen
- Children (Elementary school students and younger): 800 yen
*Priority tickets without waiting times are also available.
Address

1-1, Osakajo, Chuo-ku, Osaka-shi, Osaka, 540-0002
View Map

Nearest Station

Osakajokoen Station (JR Osaka Loop Line)


Phone Number

06-6941-3044
*Information current as of December 2022. The duration and time may be changed or cancelled, or the contents may be changed depending on the situation. Please check each official website before visiting.
Written by: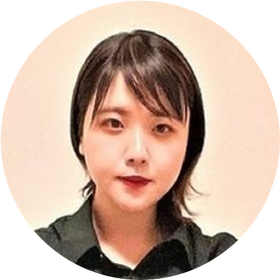 *This information is from the time of this article's publication.
*Prices and options mentioned are subject to change.
*Unless stated otherwise, all prices include tax.