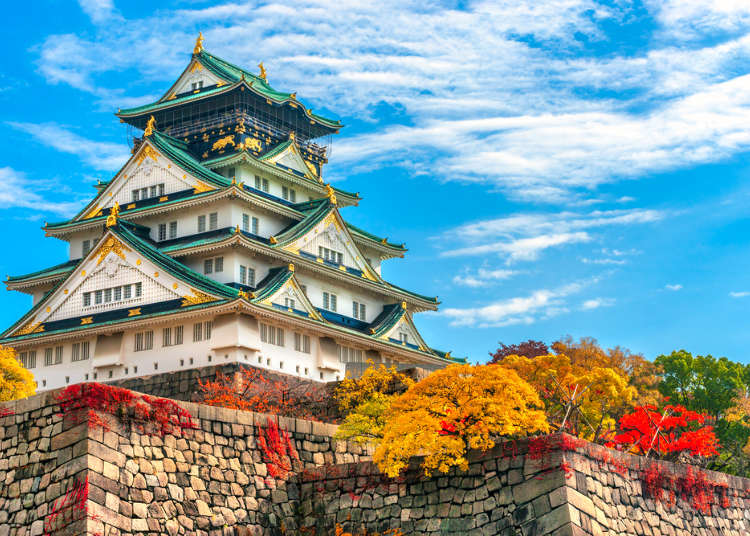 Osaka Castle Town, aka Osaka Jokamachi, is where you can experience the thrill of a ninja virtual reality while also sampling various delicious flavors of select ramen restaurants from all over Japan! This article will provide a comprehensive guide to this facility, packed to the brim with distinctly Japanese activities and fun.
What kind of place is Osaka Castle Town?
A castle town, or jokamachi, is a uniquely Japanese city form that developed primarily around castles. A place for people to pass through and visit during their daily lives, castle towns were lively, bustling communities where culture and food flourished.

Osaka Castle Town is an updated, modern-day facility based on such castle towns. It was opened as a place for travelers, families, and couples to discover Japan's best food and products, as well as a place for active and interactive communication.
Osaka Jokamachi is made up of four zones: the Ramen Alley with an array of famous ramen restaurants, the Wagyu Teppanyaki area where you can eat Japanese wagyu beef with a view of Osaka Castle, the Japanese Sake Tasting Bar where you can drink and compare different types of sake, and the Ninja VR & Ninja Teahouse where you can experience what it's like to be a ninja. Let's go through each zone and take a look at their best features.
Osaka Jokamachi Ramen Alley boasts seven famous ramen shops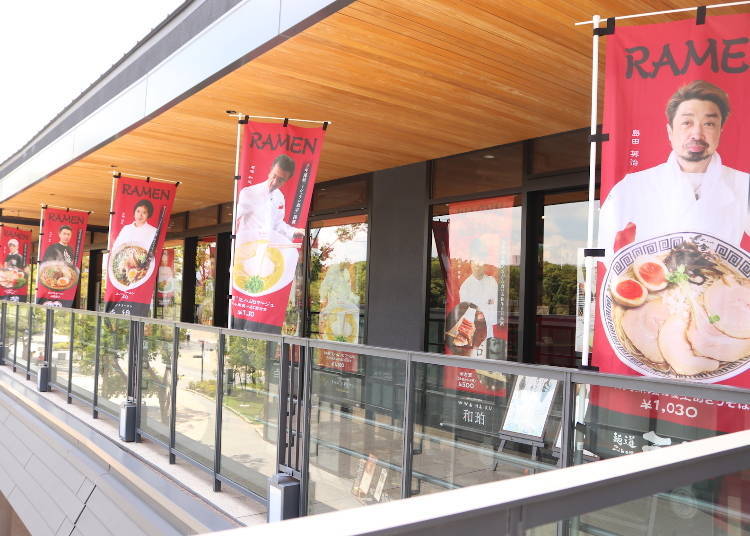 Ramen is one food you can't leave Japan without eating, but with so many different restaurants, you might feel confused about which one to choose. When you're feeling conflicted, a visit to Osaka Castle Town will solve all your problems. Here there are seven restaurants specially selected from Osaka, Tokyo, Okayama, and all around Japan, all congregated in one place. Each restaurant is popular enough that people line up outside to get in, so you're sure to discover some delicious ramen no matter which one you choose.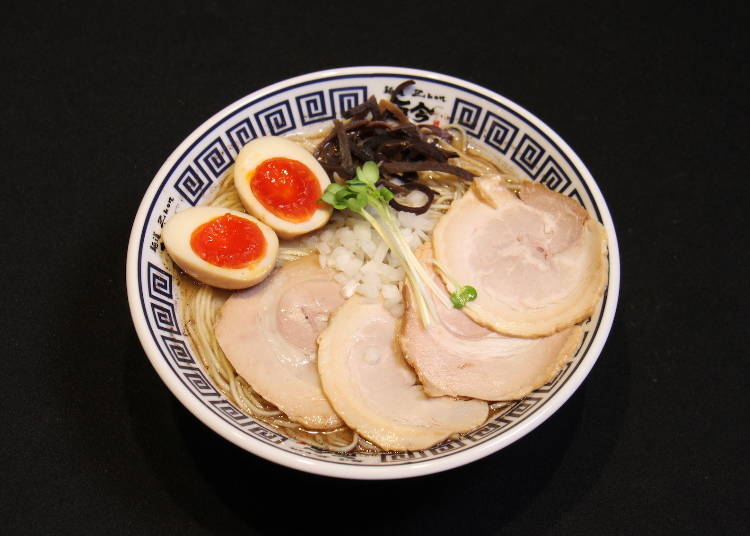 Ramen Zikon's Shio (Natural Salt) Ramen Special Asari Clam Broth, 1,030 yen (tax included)
You can enjoy a blast of rich and savory umami flavor at Osaka's Ramen Zikon. Along with the broth made from chicken and pork bone, clams added to the salt flavored ramen or dried sardines added to the soy sauce ramen make the taste even more profound. This savory bowl of ramen is so good, you'll want to drink every last drop.
Suwaki Koraku Chinese Soba's Golden Sesame Ramen, 950 yen (tax included)
Okayama's Suwaki Koraku Chinese Soba is a ramen restaurant that is hugely popular even with foreign visitors. Their ramen uses fragrant golden sesame seeds roasted by professionals, and you can adjust the spiciness and flavor by adding soybean flour (kinako) pepper, a special blend of two kinds of Sichuan pepper, and Okayama-grown roasted soybean flour (kinako)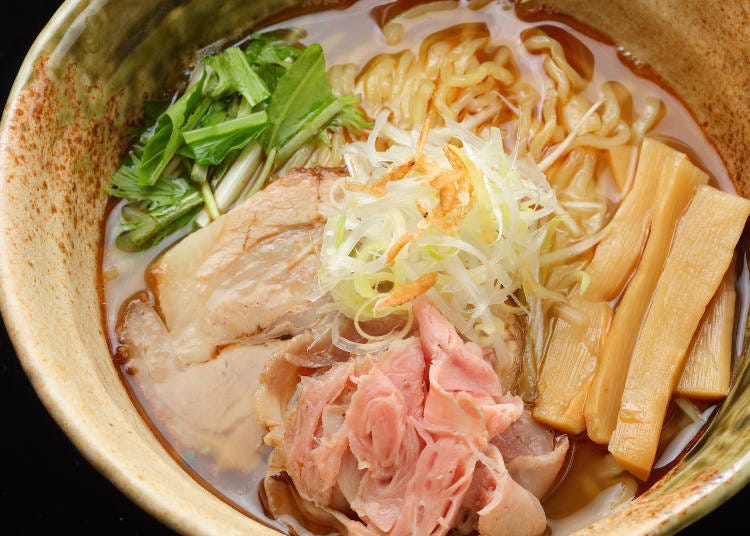 Ramen Takahashi's Grilled Flying Fish Salt Ramen, 800 yen (tax included)
Takahashi, where you'll be entranced by the profound taste of the salt-flavored ramen using extravagant amounts of grilled flying fish in its soup, are both ramen restaurants originally established in Tokyo.
Lunch at Wagyu Teppanyaki as you gaze out at Osaka Castle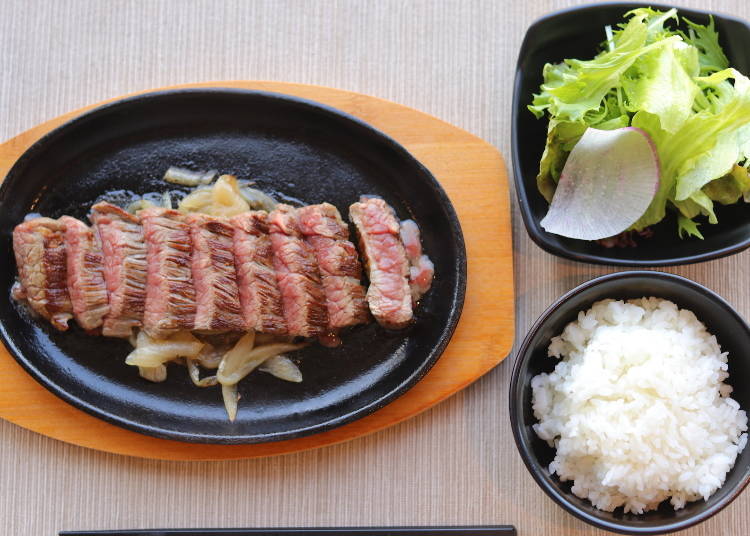 Chuck Steak Set, 1,280 yen (tax included)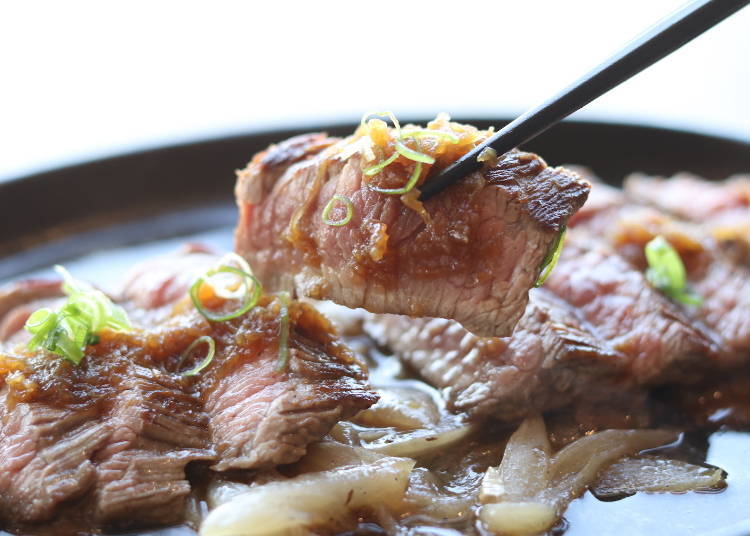 In the Wagyu Teppanyaki zone, you can eat fragrant Japanese wagyu beef grilled on an iron plate (teppan). Chefs will prepare you dishes such as a lunch set with a main course of steak grilled up on the giant iron plate, or a large and filling garlic steak on rice. Seasoning the beef with only salt and pepper really makes the meat's natural flavors stand out. With a variety of sauces available, you can try the light and refreshing taste of the ponzu vinegar with grated daikon radish, or the punch of the garlicky soy sauce. The delicious way the sauce mixes with the distinctive rich flavor of the wagyu beef is sure to keep your appetite roaring.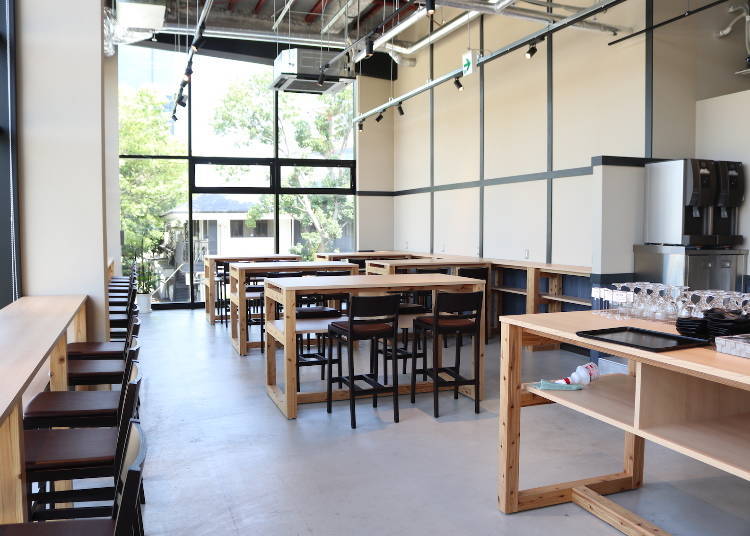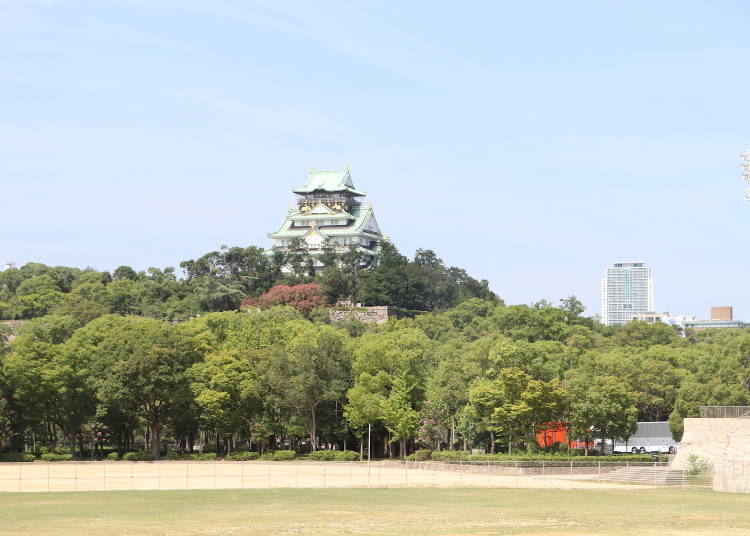 The dining area faces Osaka Castle Park, so you can gaze out at the majestic Osaka Castle from the large window. The luxurious moments you spend eating steak as you view the castle are sure to become precious travel memories.
Find all kinds of sake at the Japanese Sake Tasting Bar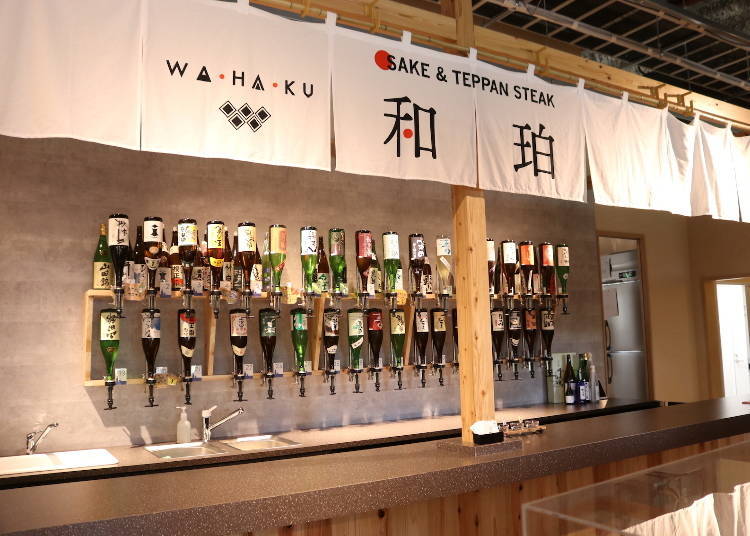 Sake Tasting Set, 500 yen (tax included)
Different brands of sake can have completely different tastes, so why not try several and find your favorite? At the Japanese Sake Tasting Bar, there are 36 varieties of sake, carefully selected from breweries in the seven prefectures of the Kinki region. You can look for some design labels you like and choose three to try in their Sake Tasting Set (Kiki-zake Set). You will immediately come away with a much deeper understanding of sake.

There is also a set of sake that goes best with cuts of Japanese beef, such as sirloin or chuck steaks (500 yen, tax included), so you can enjoy pairing Wagyu Teppanyaki with Japanese Sake.
Ninja VR & Ninja Teahouse: Anyone can become a ninja?!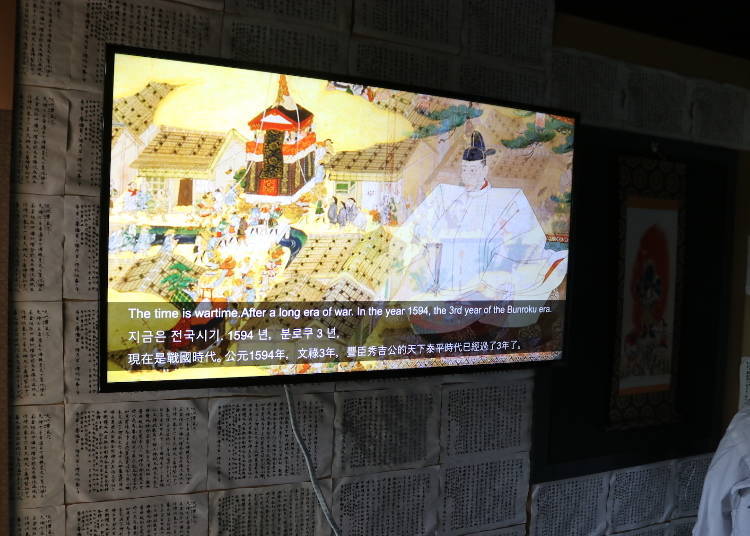 After you've had your fill of food, time-travel back to the past in this ninja virtual reality! You must help the ninja chief in charge to preserve peace in Osaka Castle Town. Engage in a heroic battle against a messenger from the demon world. If you can effectively use weapons like the katana sword and shuriken throwing stars to defeat your enemy, you will have successfully protected the peace of Osaka Castle Town.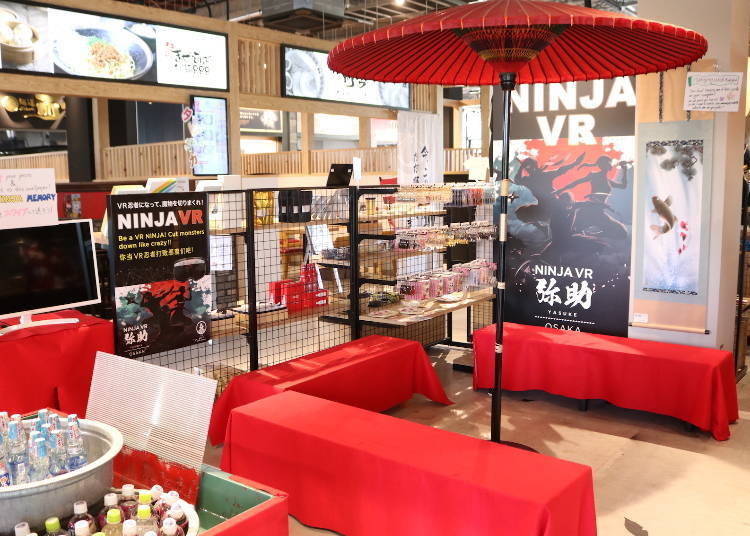 This matcha-flavored Ninja Soft Serve ice cream (410 yen, tax included) is colored black with bamboo charcoal.
The Ninja Teahouse is a perfect place to take a quick breather. There, you can find matcha green tea, traditional Japanese sweets, onigiri rice balls, and more. The unique Ninja Soft Serve ice cream is both fun to look at and eat.
A place to freely enjoy Japanese culture
While visiting the classic sightseeing spot of Osaka Castle, you'll also want to enjoy Osaka Castle Town. With Japanese culture like ramen, Japanese beef, and ninjas all compactly rolled into one place, this is a spot that can grant all your wishes at once, especially if you have a long list of things you want to experience in Japan. Here you can look forward to delicious food and sweets, as well as a ninja adventure when you come to visit.
大阪城下町

Address

E TERRACE 2F, JO-TERRACE OSAKA, Osaka Castle Park, 3-1 Osakajo, Chuo-ku, Osaka City, Osaka

Telephone: 080-3756-3948 (9:00 a.m. - 5:00 p.m.)
Operating hours: 11:00 a.m. - 9:00 p.m. (varies during special events)
Closed: Open daily
Text by:WESTPLAN
Recommended hotels near Osaka Castle
Address

Chuo-ku Tanimachi 1-2-10, Osaka, Osaka Prefecture, 540-0012
View Map

Nearest Station

Temmabashi Station (Tanimachi Line)
1 minute on foot


Vacancy search, reservation

from

4,900JPY

1room, 2adults

Check with our partner site as the latest rates, rate details, and guest room requirements may vary.
Address

Chuo-ku Banbacho 2-24, Osaka, Osaka Prefecture, 540-0007
View Map

Nearest Station

Morinomiya Station (Chuo Line / Nagahoritsurumiryokuchi Line)
10 minutes on foot


Vacancy search, reservation

from

9,560JPY

1room, 2adults

Check with our partner site as the latest rates, rate details, and guest room requirements may vary.
Book an unforgettable experience in Osaka!
Make your trip extra memorable by booking one of these recommended tours on our partner site, Voyagin!
*This information is from the time of this article's publication.
*Prices and options mentioned are subject to change.
*Unless stated otherwise, all prices include tax.