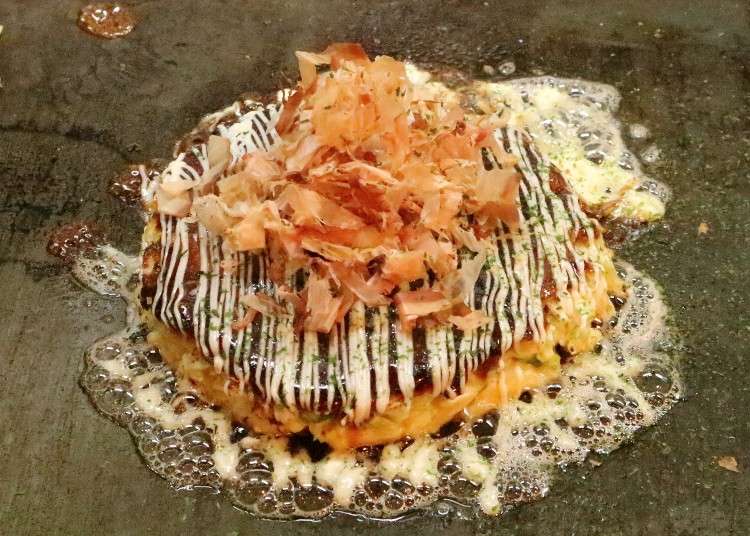 In Japan, Osaka is very well known for its delicious style of okonomiyaki. For those of you who don't know, okonomiyaki is a savory pancake containing a variety of ingredients in a wheat-flour-based batter. From that base, the style varies depending on where you are in Japan.

At CREO-RU, located right in the middle of Osaka's Dotombori, you can learn how to expertly make delicious Osaka okonomiyaki yourself. The trick is in enabling the dough to retain air, so that when grilled the outside becomes crisp while the inside remains soft and fluffy.

While this may appear to be simple, there is a lot more to it than meets the eye, in fact, trying to achieve that perfect balance is quite difficult! Still, having a pro teach you some of the tricks of his trade, you too, can learn how to grill okonomiyaki to delicious perfection.
Point 1: A fine balance - Stir the contents thoroughly but don't over-stir them!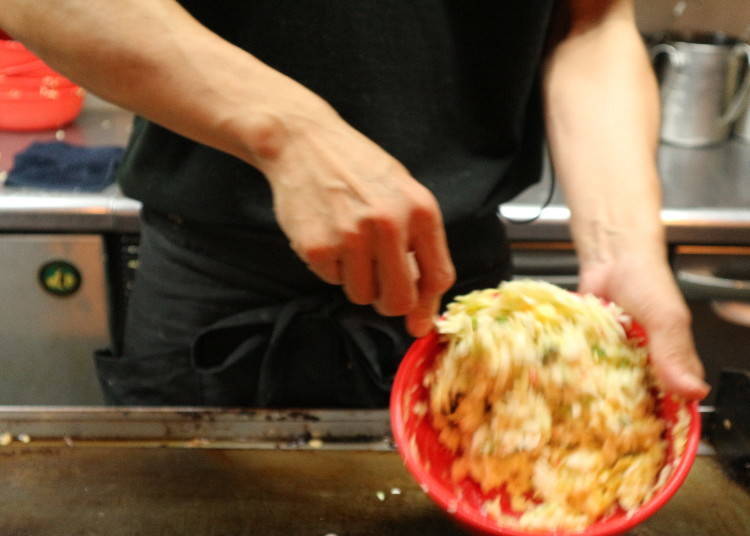 First of all when it comes to Osaka, (that is to say, Kansai-style) okonomiyaki, all the ingredients other than those used as topping are first mixed together. Here we used thinly shredded cabbage, leeks, tenkasu [crunchy bits of deep-fried tempura], yam, egg, flour, and benishoga [red pickled ginger]. They need to be thoroughly mixed together.

But be careful not to mix so much that it becomes foamy. When that happens the water in the cabbage escapes and makes the dough too watery which means goodbye, perfect okonomiyaki! Also, for best results, it is best to mix just enough ingredients for one serving. If you try to mix a lot of ingredients to make several portions at once, they won't mix well enough to enable the right amount of air to get in.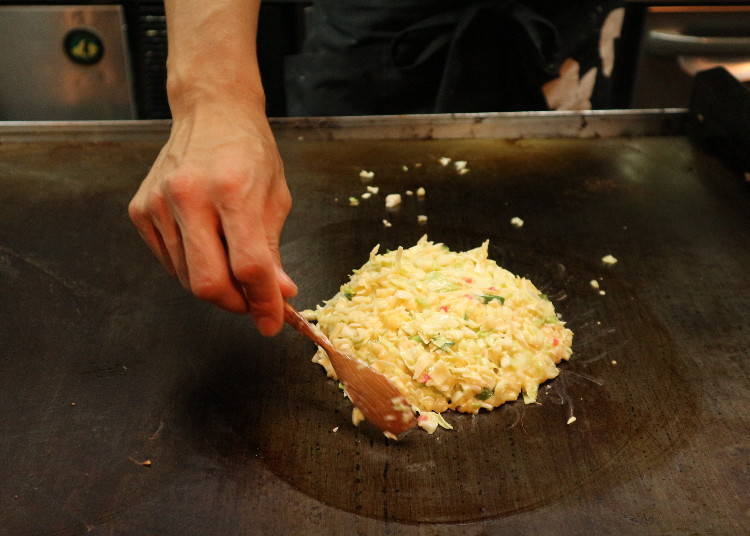 The next step is to grill the contents on an iron griddle or skillet. The iron griddle should be heated to a temperature of 160 degrees Celsius. However, if you plan to cook more than one serving at a time, then the temperature should be 180 degrees. Lightly grease the griddle and then pour the dough onto it trying to keep it in a round shape.
Point 2: Wait patiently without touching it while it cooks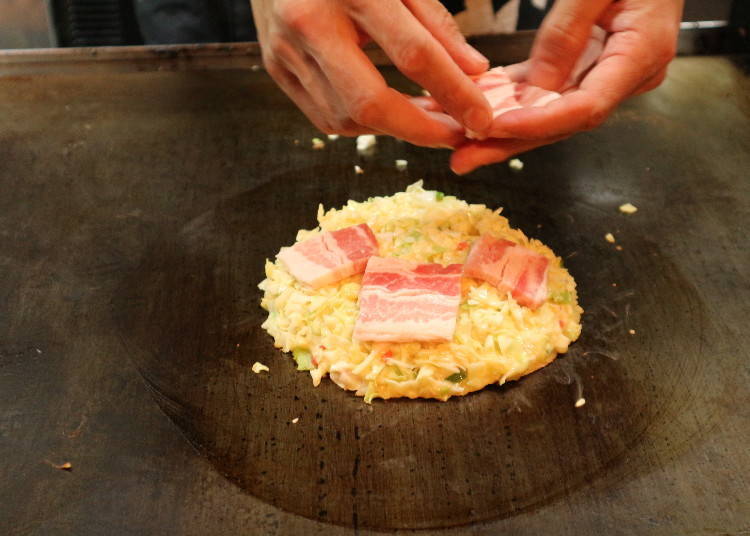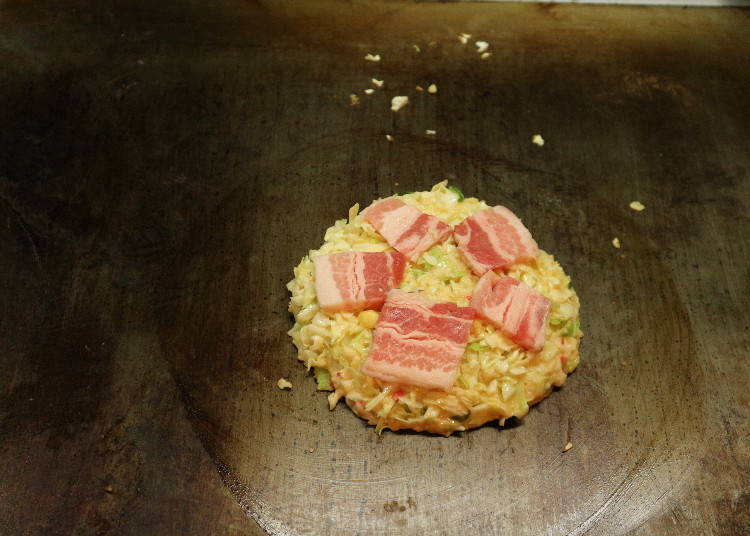 Now you can place your favorite ingredients on top of the dough. We placed 5 thick strips of pork belly on this one. Okonomiyaki topped with pork is called butatama or tontama, which means "pork and egg". Some shops and homemade versions use thinly sliced pork, but using thickly sliced pork belly is a key point to making delicious okonomiyaki. That fat in the pork belly blends into the batter giving it an especially delicious flavor. It makes for a more satisfying meal as well.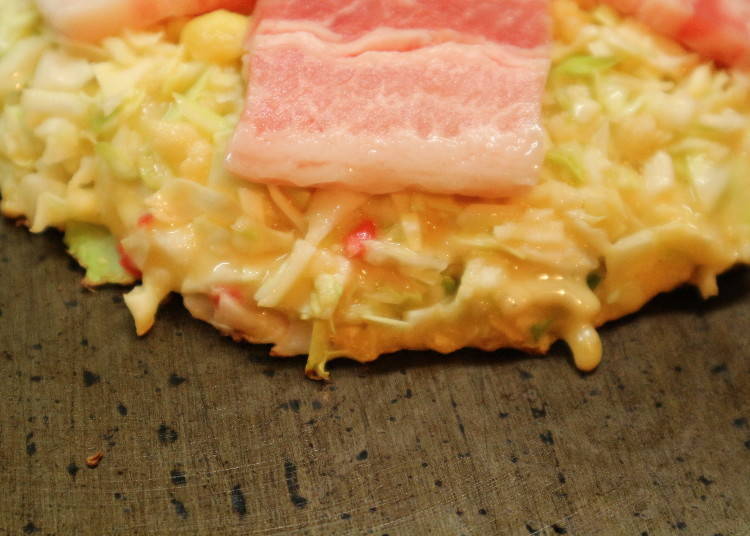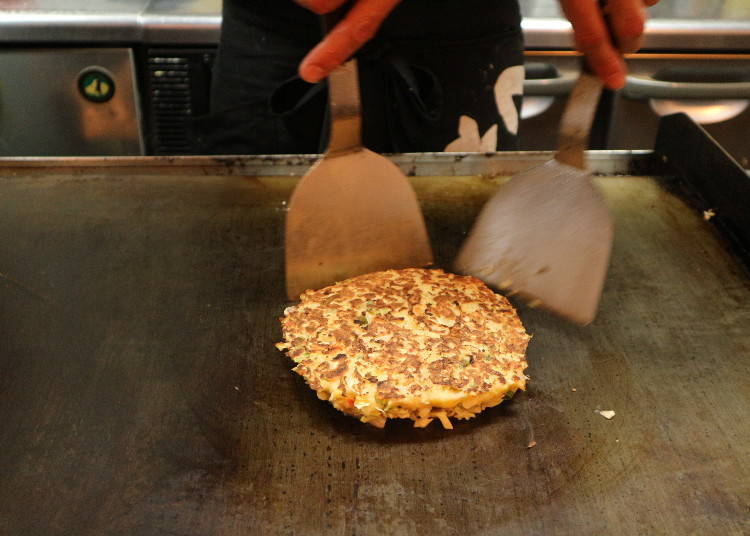 Don't touch the pork after it has been put on top. Let everything cook for about 7 or 8 minutes. A key point in cooking it so that the center remains soft is to make sure that the dough holds the air and does not let it escape, so that is why it is important not to touch it while it is cooking. Use two kote [metal spatulas] to flip the okonomiyaki over so that water doesn't escape from its sides.
Point 3: Final touches! Once flipped, let it cook for another 5 or 6 minutes.
By then it should take on a good grilled color and crispness on the outside! Once the okonomiyaki is flipped over, the air escapes from the dough, but do not pat down the top of the okonomiyaki before letting it cook another 5 or 6 minutes. When cooking on a hot plate or frying pan at home, too often the heat is too high, so you need to pay attention to not using too high a heat that might burn the okonomiyaki.
Lightly press down on the okonomiyaki with a metal spatula and if it feels spongy, then that means it is fully cooked. The pork will probably be cooked to a nice crispiness! If at this point, though, it does not seem to be fully cooked, it's OK to cook both sides a bit more. Once finished, the outside should be crispy while the inside soft and fluffy!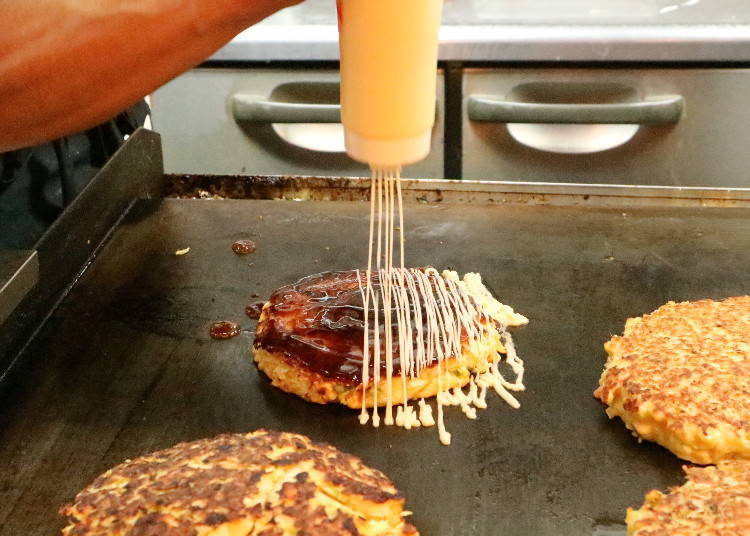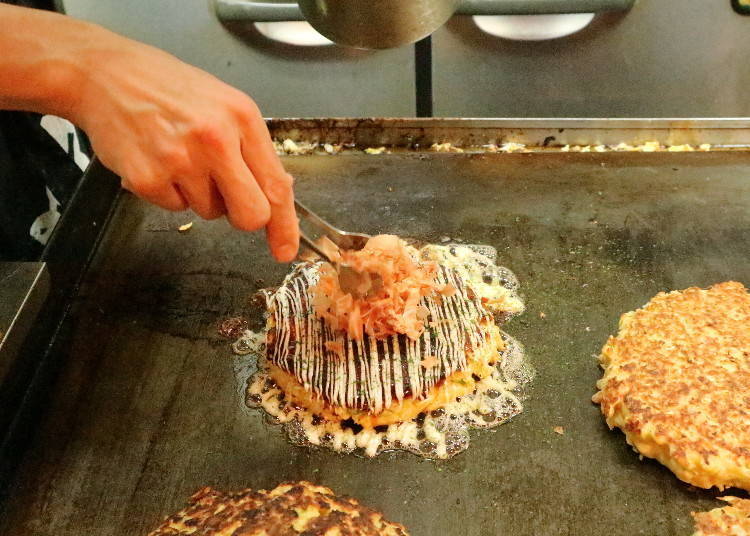 Once it is cooked, slather lots of sauce on it. Many homes use a spicy sauce mixed with soy sauce and often have their own unique types of sauce. The sauce dripping down on to the hot plate gives of an exquisite aroma. The final touches are often mayonnaise, powdered green laver, and a large helping of dried bonito shavings, generally in that order. The visual appearance is also important in conveying how delicious the okonomiyaki is.

The trick to applying the mayonnaise is to use a bottle with a small opening that enables you to squirt out thin streams of it onto the okonomiyaki. Rather than cover the entire top with bonito shavings, just put a heap in the center of it. In Kansai the metal spatulas are used to eat the okonomiyaki, too, cutting off pieces and blowing on them to cool them a bit before stuffing them into your mouth.
CREO-RU Dotombori is a popular shop with a steady stream of customers.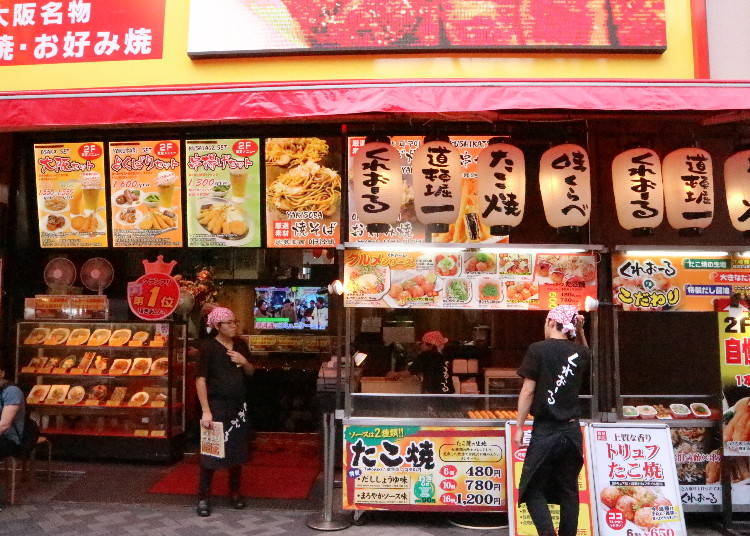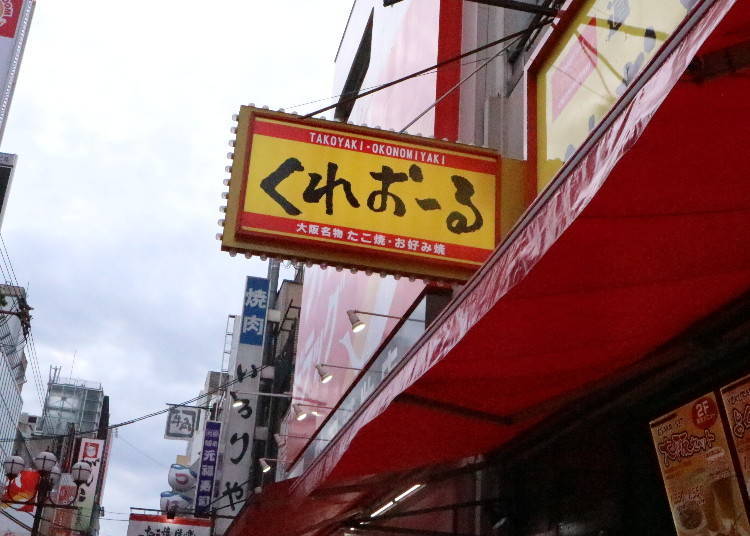 Located on the main street of Dotombori, Osaka, CREO-RU Dotombori is a well-known shop often featured in many types of media, such as television and magazines, and is also popular with foreign tourists. There are teppan [iron plate] tables on the first floor where you can eat okonomiyaki, yakisoba, and other grilled dishes, while on the spacious second floor such Osaka famous dishes as takoyaki [octopus dumplings], okonomiyaki, and kushikatsu [deep-fried skewered meat and vegetables] can be enjoyed all in the same place.

At the front of the shop they sell okonomiyaki takeout. These are not -make-it-yourself pancakes but have been made by the pros.

The batter used in the okonomiyaki here is an original blend of 8 different kinds of flour and other ingredients. This shop also prides itself on its use of large portions of flavorful ingredients such as the meat, shrimp, and squid.
Come watch the pros and then try your hand at it!
It all comes down to how you mix and cook it. It sounds easy enough, but to do that well requires a bit of knowledge which the pros here are happy to give you so that you can cook okonomiyaki just like them! You'll definitely be able to create your own delicious okonomiyaki.

There aren't many okonomiyaki shops in Osaka that will show you their style of preparing and cooking it, but here they do and you can take home what you learn, so by all means, make a point to visit.
くれおーる道頓堀店

Address

1 Chome-6-4 Dotonbori, Chuo-ku, Osaka, 542-0071

Phone Number

06-6212-9195

営業時間:11:00~24:00(23:15LO)
定休日:年中無休
Text by:WESTPLAN
*This information is from the time of this article's publication.
*Prices and options mentioned are subject to change.
*Unless stated otherwise, all prices include tax.