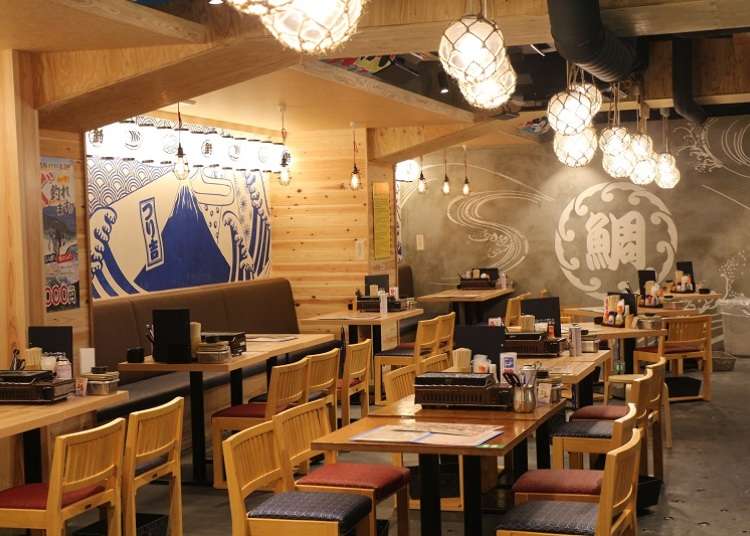 Dotonbori and Namba restaurants offer some of the most authentic tastes of Osaka. Home to Osaka's symbolic giant Glico electric billboard, Dotonbori is also crammed with 3-D restaurant signs for the restaurant Kani Doraku, kushi-katsu skewers, takoyaki dumplings, sushi, and more.

In the packed crowds of the Namba and Dotonbori neighborhoods, you can find dozens of highly unique restaurants you won't find anywhere but in Osaka. Naturally, there are also some that are open 24 hours.

Here we'll introduce three restaurants exclusive to these areas in Osaka where you can eat and drink morning, noon, or night.
1. Jumbo Fishing Boat Tsurikichi: Catch your own dinner at this wild Namba restaurant!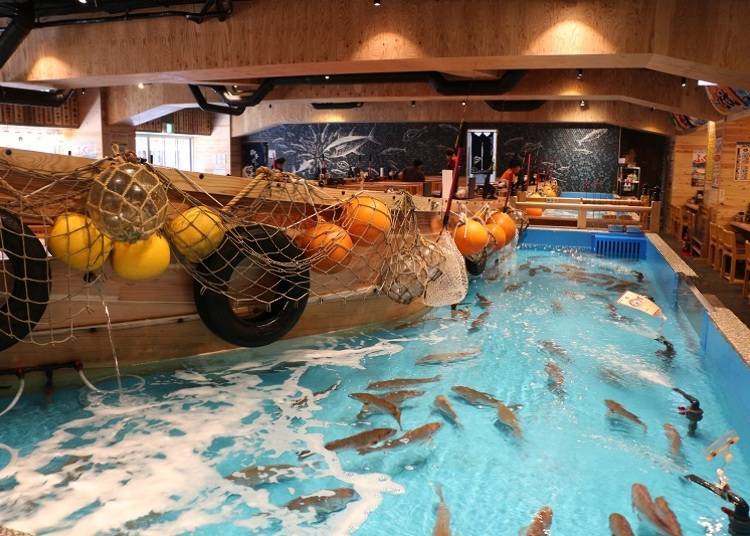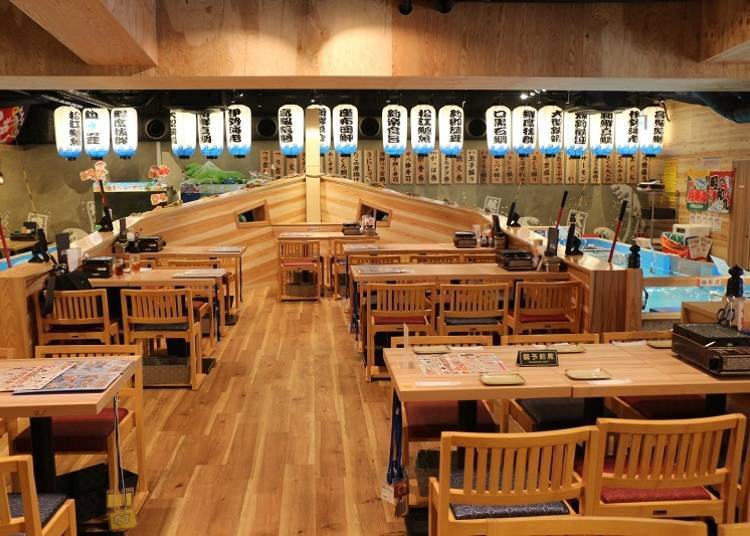 A full array of dishes devoted to seafood
This Namba restaurant's main selling point is undeniably the fact that you can fish inside the shop! Surrounding the seating area, designed to resemble a large boat, are several fish tanks. You can dangle your rod over the water while seated, so it feels just like being aboard a fishing boat.

Around 25 species of fish energetically swim about in the water. Prices are displayed in front of each tank—for example, seabream is 2,480 yen (plus tax)—for which price chefs will prepare the fish you caught in the kitchen.

There are over ten varieties of dishes, some with the cooking fee included, and some that cost 300-800 yen extra. Savoring the taste of fresh fish that was swimming just moments before and having each one prepared individually sure is quite an experience.
10-piece sushi set and beef sirloin steak
With 70-80 varieties of meals from typical Japanese pub items to famous Osakan dishes, there are seafood options aplenty. Twice every day, in the morning and evening, fish are brought in by truck.

The Namba restaurant's recommended specialty is the 10-piece sushi set (1,180 yen, plus tax) made with fresh fish, a popular menu item that is quick to sell out. You can also order sushi individually in quantities of two or more pieces.

But fresh fish isn't the only highlight of Tsurikichi. Another popular menu item is the beef sirloin steak (1,980 yen, plus tax). Their filling 250 g beef sirloin is soft and flavorful.
With service in several languages, Tsurikichi is also a hit with foreign tourists!

Tsurikichi's wide storefront and life-like boat and fish depictions on its billboard easily attract attention. Foreign tourists can often be seen taking commemorative photos in front of the restaurant.

Whenever a foreign customer visits to try their hand at fishing, a restaurant employee will come over and provide an explanation using simple English and gestures.

Menus are available in English, Chinese, and Korean. Fishing rods are available for free and fish bait is free your first try (100 yen for second and subsequent tries, tax not included). Be sure to try this "ocean fishing" and enjoy the taste of fresh seafood.
Jumbo Tsuribune Tsurikichi Namba

ジャンボ釣船 つり吉 難波店

Address

2-9-7 Sennichimae, Chuo-ku, Osaka City

Phone Number

06-6630-8201

Operating hours: Open 24 hours
Closed: Open daily
2. Toriyoshi Shoten: Eat every part of a chicken you've ever wanted to try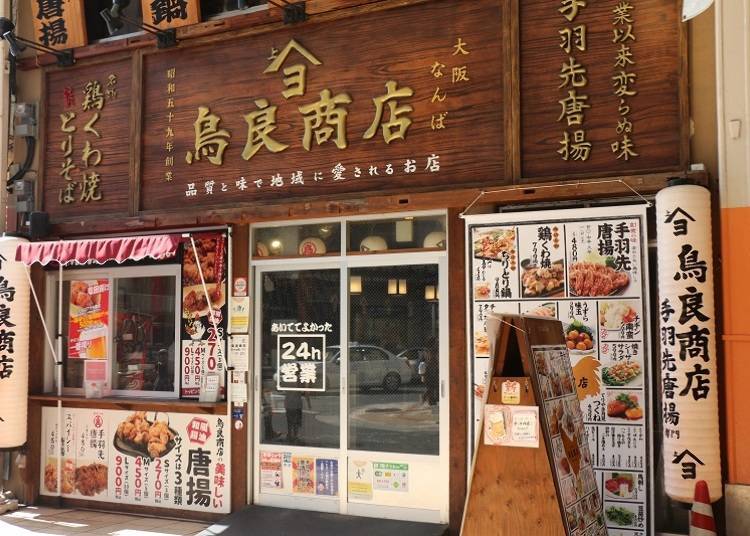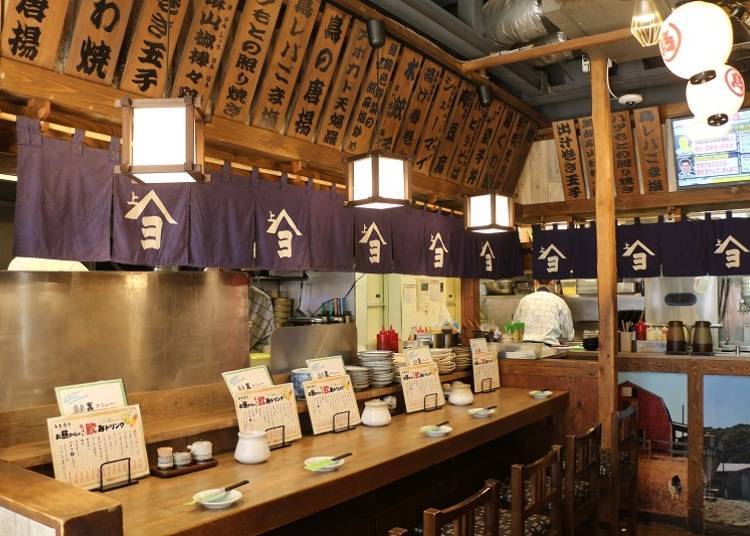 Toriyoshi Shoten is a restaurant specializing in chicken cuisine, located at the entrance of Nankai-dori shopping street near Nankai Electric Railway's Namba Station.

The restaurant chain was established in 1984 in Kichijoji, Tokyo, becoming popular and expanding into several branches around the Kanto area. There are three branches in the Kansai area, one of which is the Namba's Nankai-dori branch, open 24 hours a day.

Once you open the door, your stomach already growling at the photographs of delicious-looking chicken, you will find mainly counter seating on the first floor, and retro Japanese pub-like table seating on the second through fourth floors.

Menus in English, Chinese, and Korean are available, making this a popular restaurant with foreign tourists as a place to try uniquely Japanese chicken dishes.

Grab fried chicken wings and kick things off with a beer!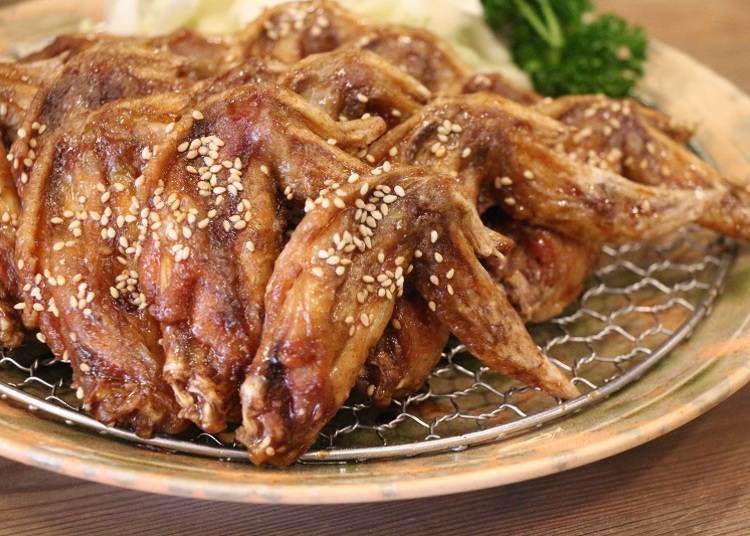 Fried chicken wings (tebasaki kara-age)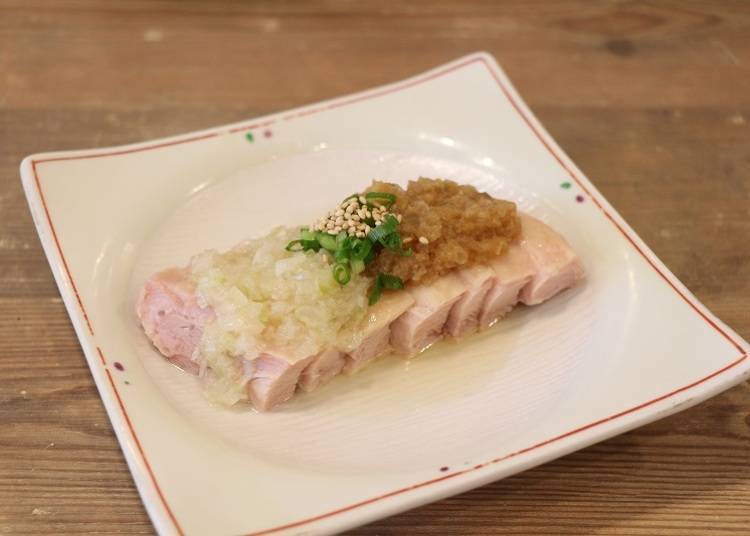 Soft steamed chicken with two-colored sauce
The Namba restaurant's specialty is the fried chicken wings (1-person set of 5 wings for 480 yen, plus tax). A secret sauce, created after lots of trial-and-error and left to sit for a whole month, is used to marinate the chicken. Black pepper is used to adjust the spiciness, and you can choose from mild, medium, or hot.

One more popular menu item is the soft steamed chicken with two-colored sauce (580 yen, plus tax). The moist, juicy chilled chicken thigh meat is topped with refreshing salted-onion and ginger sauces.

They have all kinds of dishes that use every part of the chicken, such as pan-fried chicken, gizzards dressed in sesame and salt, and more. In addition, from 11 a.m. to 3 p.m., a budget-friendly lunch menu of dishes like fried chicken (kara-age) and chicken cutlet (chicken-katsu) is also available.
Toriyoshi Shoten Namba Nankai Dori

鳥良商店 なんば南海通り入口店

Address

3-2-15 Namba B1~4F, Chuo-ku, Osaka City

Phone Number

050-3490-8418

Operating hours: open 24 hours
Closed: Open daily
3. Sushizanmai: Eat Edo-style sushi, hugely popular in Osaka as well!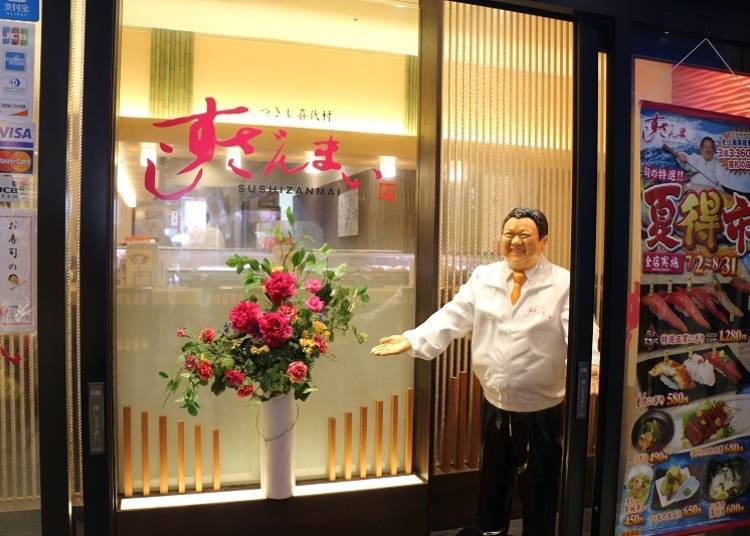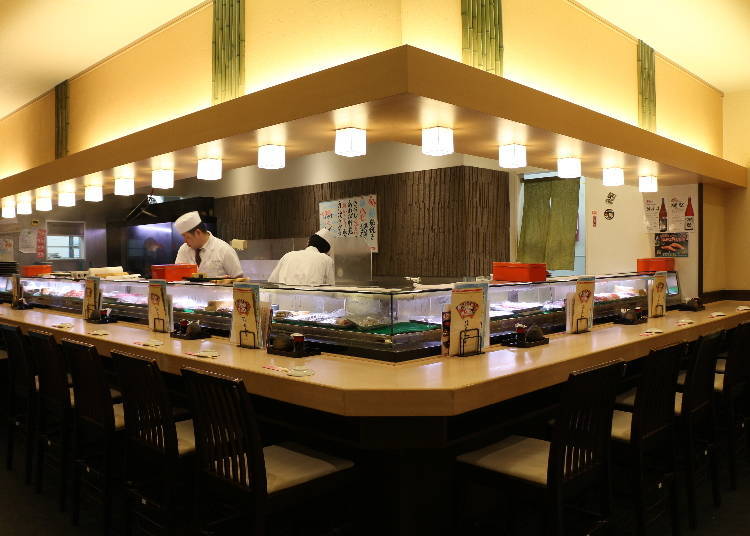 "Sushizanmai - Dotonbori Branch" is located right in the center of Dotonbori. It was the first branch of Sushizanmai—a restaurant chain that provides fresh and delicious sushi for reasonable prices—in the Kansai area and is the sole branch in all of Osaka.

As soon as the automatic doors open up, you will be greeted by a statue of Sushizanmai CEO and "The King of Tuna" Kimura in his well-known pose. For a unique sushi restaurant experience, sit at the counter seats, lined with neta topping cases filled with fresh seafood.

With TV monitors playing replays of the first fish market auction of the year and staff members' lively greetings, being inside the restaurant lets you get a taste of the invigorating energy of an actual fish market.

The restaurant is also popular with foreign tourists, so English, Chinese (simplified and traditional), Korean, and Russian menus are available, along with free Wi-Fi. The staff is always happy to help out if you have any questions.

You absolutely must order this at "Sushizanmai"!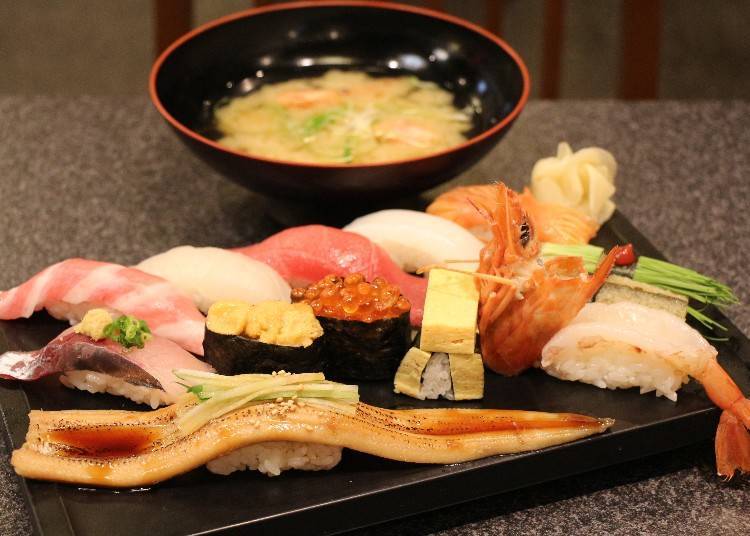 The most popular menu item is the Sushizanmai Deluxe (3,100 yen, plus tax). This dynamic and filling sushi platter contains 13 pieces of premium sushi, including an impressively large strip of boiled conger eel (ni-anago) and creamy fatty tuna.

Another equally popular order is the Tuna Zanmai (3,100 yen, plus tax) which uses Pacific bluefin tuna and includes a scrumptious assortment of fatty tuna, medium fatty tuna, broiled fatty tuna, and more, irresistible for tuna lovers.

You can order individual nigiri sushi by the piece, so go ahead and add on all the sushi you want to try. For fish lovers, the assorted sashimi is also recommended, and there is also the three-person Tsukiji-mori Set (4,280 yen, plus tax) and the one-person Kashi-mori Set (1,780 yen, plus tax). Whatever you order, you can enjoy fresh seafood to your heart's content.
Sushizanmai Dotonbori-ten

すしざんまい 道頓堀店

Address

Nakaza Cui-daore Bld. 1F, 1-7-21 Dotonbori, Chuo-ku, Osaka City

Phone Number

06-6484-2280

Operating hours: Open 24 hours
Closed: Open daily
After a full day of sightseeing, continue the excitement with the neon lights and all-night-long hustle and bustle of the Namba-Dotonbori area, while you chow down on some famously delicious Osakan food.

Text by:WESTPLAN
Book an unforgettable foodie experience in Osaka!
Make your trip extra memorable by booking one of these recommended tours on our partner site, Voyagin!
*This information is from the time of this article's publication.
*Prices and options mentioned are subject to change.
*Unless stated otherwise, all prices include tax.