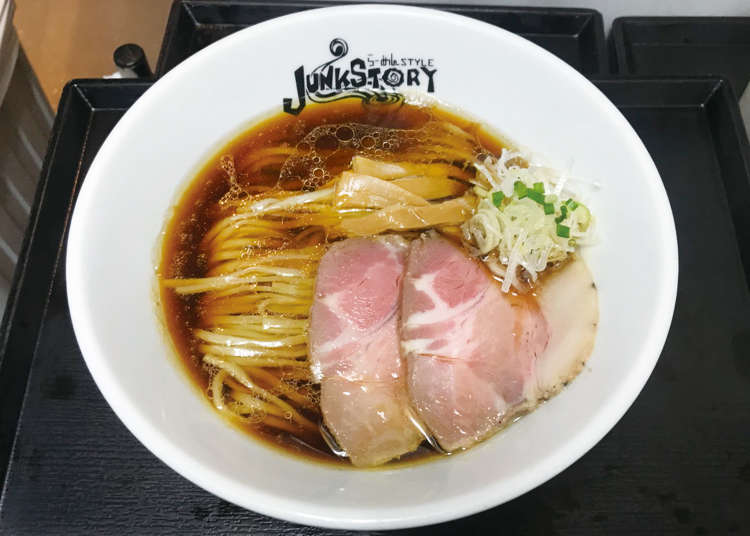 Until not so long ago Osaka was called "the land of no ramen" by ramen freaks. The popular opinion is that this is because the udon culture and soup stock culture are very old in Osaka as is its culture of food made with flour. But that has radically changed during the last 10 years!

Osaka ramen shopkeepers at the forefront of the Kansai ramen culture have constantly watched and studied trends in the East which has led to the creation of uniquely original trendy noodles. Recently some Osaka ramen shops have even opened up shops in Tokyo.

To get a better idea of the increased popularity of Osaka ramen, as one who consumes more than 350 bowls of ramen a year, I will introduce five shops that are particularly worth noting in this article.
1. Fusuma-ni Kakero: Pioneer of whole-grain flour noodles!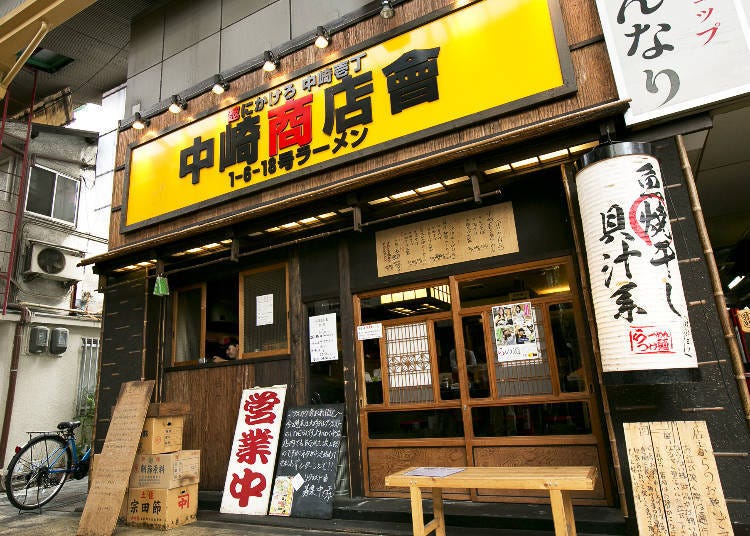 These days whole grain flour noodles are often mentioned. Whole grain flour is made by grinding and mixing together the endosperm, germ, and bran of wheat.

Compared to endosperm-only flour, it is rich in dietary fiber, iron, and vitamin B1, and "it goes well with the soup, is highly aromatic and thus matches such trends in ramen"; the use of whole-grain flour in noodles has recently spread not only to the Kanto region but throughout the country as a whole.

The outer layer inside the wheat bran is called fusuma [wheat gluten] and it is this that is used in Fusuma-ni Kakero. This is the first shop in Japan that used the whole wheat noodles made by Menya Teigaku.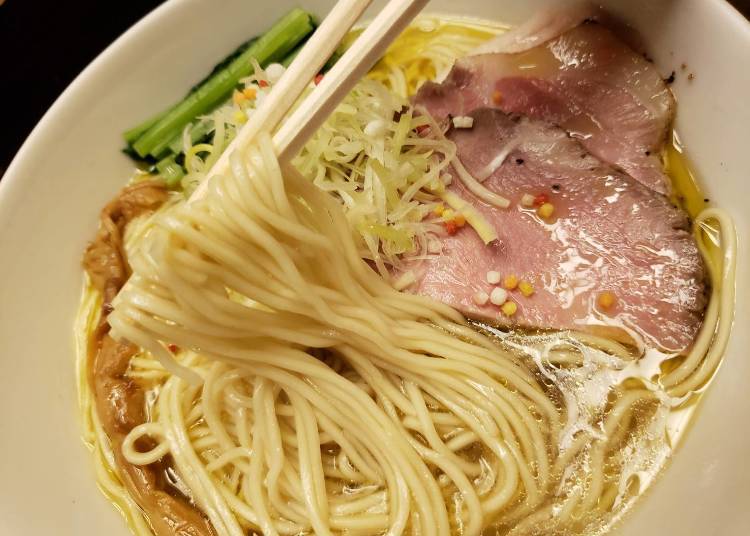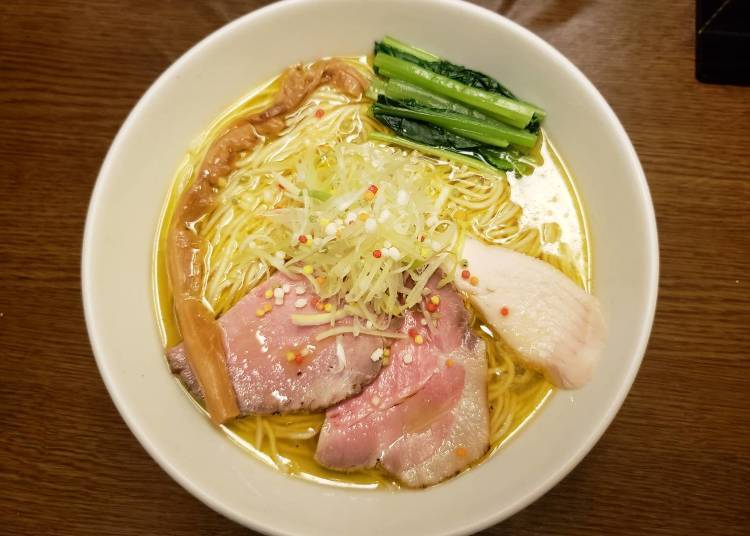 The Chicken Shellfish Shio Ramen Nami [standard size] 800 yen (tax included) is most popular. As can be seen from the name of the shop it is very particular about the noodles it uses and as such currently only uses the thin, straight noodles made by Menya Teigaku.
Attention is also paid to the salt used in the pork shoulder roast and soy sauce used in the pork belly, which are cooked at a low temperature in a vacuum for the "rare chashu". If my memory serves me correctly, I think this was the first Kansai ramen shop to use rare chashu.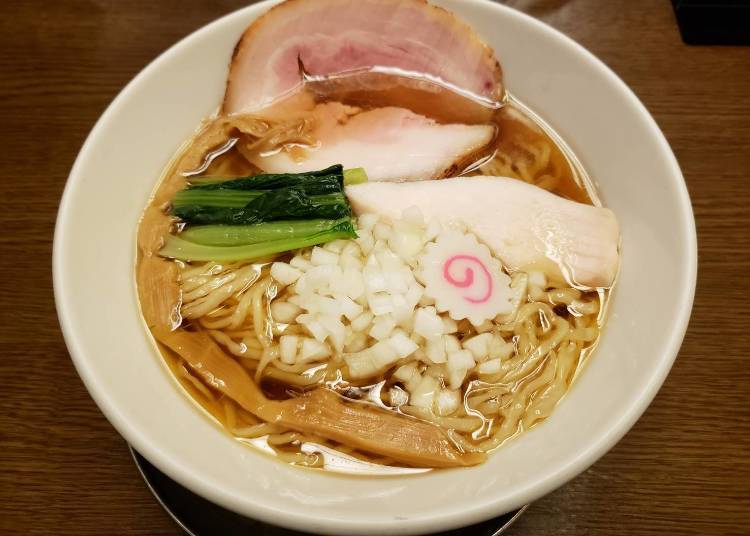 The Chicken Shellfish Shoyu Ramen Nami [standard size] 800 yen (tax included) is also popular. Shellfish soup stock was more quickly adopted here compared to other shops in Kansai.
When it was first introduced at the shop it was done so in an interesting way. A sheet of seaweed was placed on top of the prepared ramen instead of a lid. The result is that the instant you remove the seaweed the full aroma and flavor of the chicken, fish, and shellfish are clearly evident when you eat it.

Chicken soup carefully extracted from fresh young chicken is blended with soup made with fish, grilled fish, and shellfish, and finally rich chicken oil is added to the bowl. This masterful blend of flavors is the creation of shop master Sanefuji, formerly an Italian chef. Further enhancing the dining experience is the daily change of ingredients used in the soup.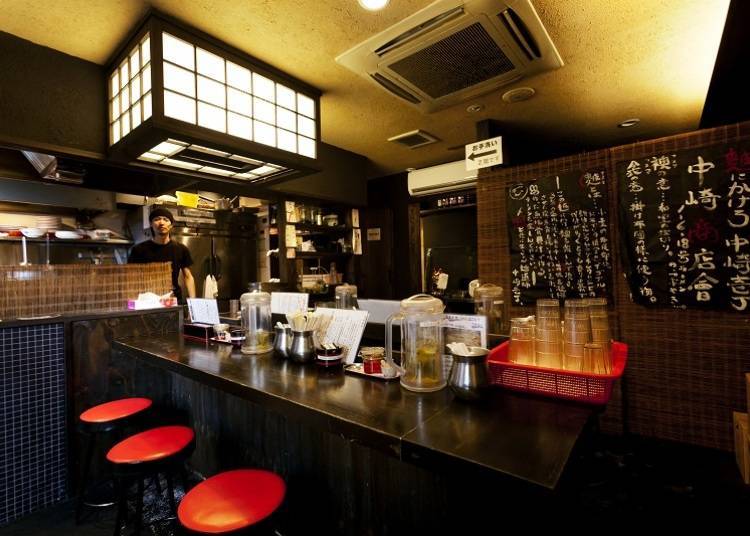 The shop is laid out in such a way that it is possible to see everywhere in it, which is great for quickly getting the attention of a waiter if you want something.
The noodles, soup, and ingredients harmoniously blend to create a delicious ramen served by a handsome shopkeeper in a shop with an interesting name.... Fusuma-ni Kakero is a ramen shop that is certain to catch the eye. By all means make a point to visit when you are in Osaka!
麩にかけろ 中崎壱丁 中崎商店會1-6-18号ラーメン

Address

1-6-18 Nakazaki, Kita-ku, Osaka City, Osaka

Nearest Station

5-minute walk from the Osaka Metro Tanimachi Line Nakazaki Station


Phone Number

06-6371-3456

Open: weekdays 11:30 a.m. ~ 2:30 p.m. (L.O.); 6:45 p.m. ~ 11:00 p.m. (L.O.)
Friday: 11:30 a.m. ~ 2:30 p.m. (L.O.); 6:45 p.m. ~ midnight (L.O.)
Saturday: 11:30 a.m. ~ 3:00 p.m. (L.O.); 6:45 p.m. ~ midnight (L.O.)
Sunday and holidays: 11:30 a.m. ~ 3:00 p.m. (L.O.); 6:45 p.m. ~ 11:00 p.m. (L.O.)
Closed: always open (sometimes closed at special times)
2. "Shoyu to Kai to Men, Soshite Hito to Yume": Soy Sauce, Shellfish, Noodles, and People and Dreams
Menya Nishiya [Noodles and West], once a popular shop in Osaka city, changed its name when it moved to Tsukamoto, a fierce ramen battleground.

As the eye-catching shop name shows (lit. "Soy Sauce, Shellfish, Noodles, and People and Dreams"), the shellfish soup makes this a popular ramen shop. Offered as a limited menu item when the shop was in Nishiya, it is now the main player! It is just as popular as the standard Chuka Soba and Shoyu Ramen.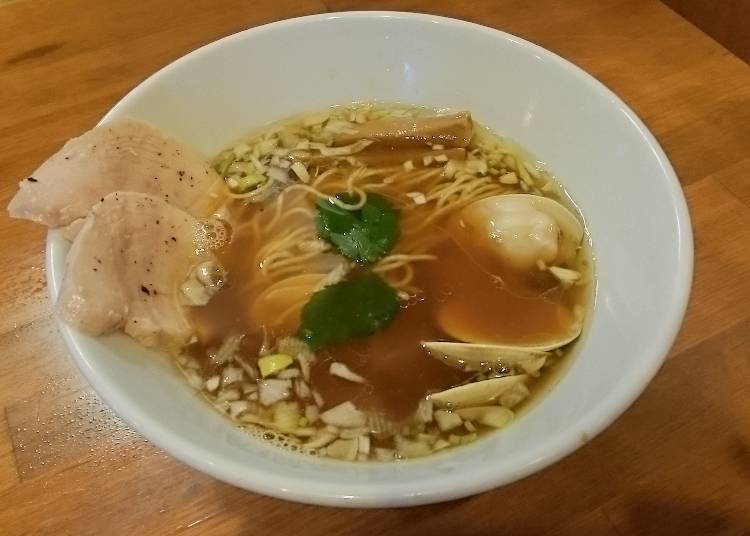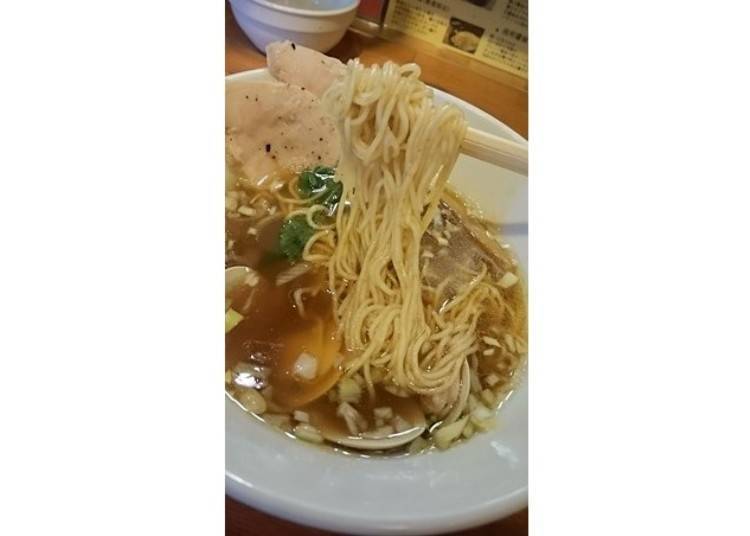 Hamaguri Kijoyu Ramen [clam pure soy sauce ramen] is 870 yen (tax included). The whole grain kneaded noodles are richly aromatic.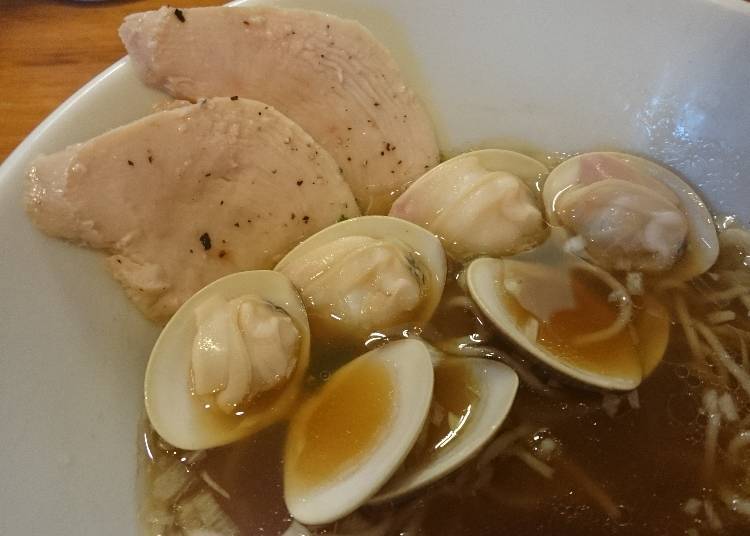 And the clams are large, with a bowl containing 3 or 4! The chicken breast chashu is cooked at a low temperature and seasoned with black pepper.
Especially popular is the Hamaguri Kijoyu Ramen. The large clams are obtained every morning in the market. The soup is made by combining 8 kinds of light soy sauce and selected pure soy sauce with clams, boiled sardines and kelp, and finally accented with white sesame oil to give it aroma.

The soup is not made from land animal products but seafood-based ones that directly conveys the mellow aroma of the soy sauce and a delicious flavor that can be directly enjoyed in every bowl.
Chuka Soba 680 yen (tax included)
Chuka Soba is a Takaida-style of ramen typical of Higashi-Osaka city. The rich soy sauce and thick noodles are prominent and the use of its vaunted Iberian pork for the chashu are sublimated into a dish of high perfection.

When visiting Japan, try not only the classic shoyu ramen, but also a new Japanese style ramen that uses shellfish in it.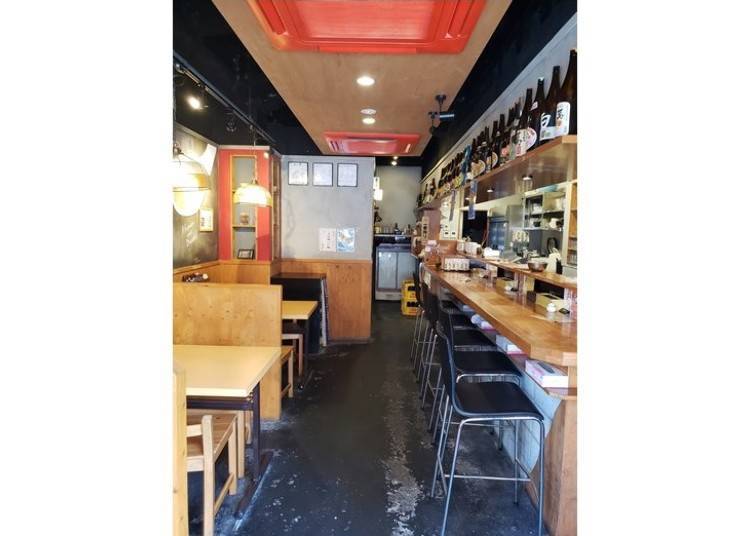 The deep, spacious interior. Enjoy ramen at the counter and at night have other dishes with sake saving the ramen for a closer.
Shoyu to Kai to Men, Soshite Hito to Yume

醤油と貝と麺 そして人と夢

Address

3-12-22 Kashiwazato, Nishi-Yodogawa-ku, Osaka City, Osaka

Nearest Station

5-minute walk from Tsukamoto Station on the JR Kobe Line, Takarazuka Line, and Fukuchiyama Line


Phone Number

06-6472-8186

Open: weekdays 11:30 a.m. ~ 2:30 p.m. (L.O.); 5:00 p.m. ~ 11:30 p.m. (L.O.)
Closed: unscheduled
3. Ryukishin LEO: Masterfully leading the way in Kansai shio ramen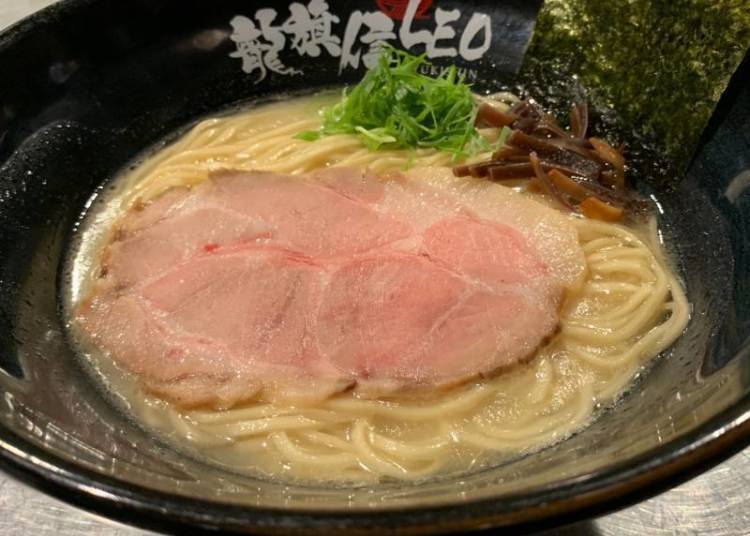 Ryukishin LEO is located in Shin-Osaka Station, the gateway to Kansai. It has good access and is very popular not only among Japanese but also with tourists visiting Japan.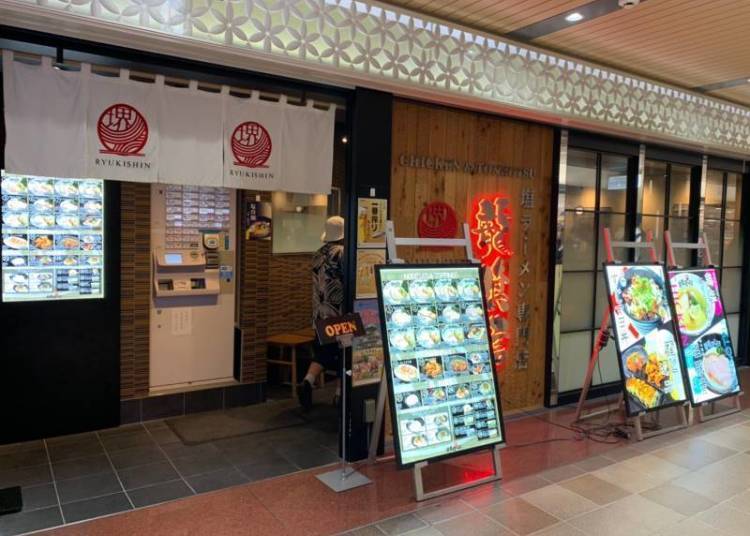 It is most famous for its shio ramen. The reason for that is because Mr. Matsubara, the owner of this store, was the first person to open a shio ramen specialty shop in Japan! So popular is this shio ramen that it boasts two shops in Paris, France and one in Valencia, Spain.

Great attention is paid to the ingredients used in this shio ramen. The soup has a gentle yet deep flavor in which mussels play a central role. A salt sauce of pure, mineral-rich Toskushima Herushio sun-dried sea salt is used to round out this perfect dish.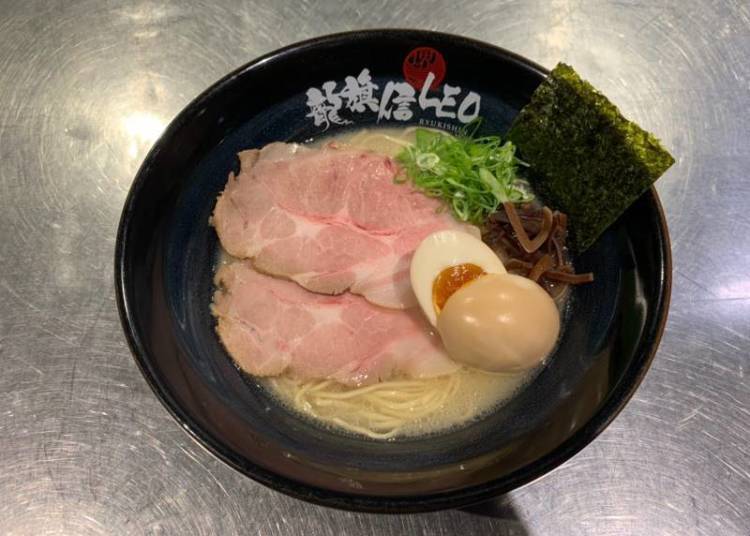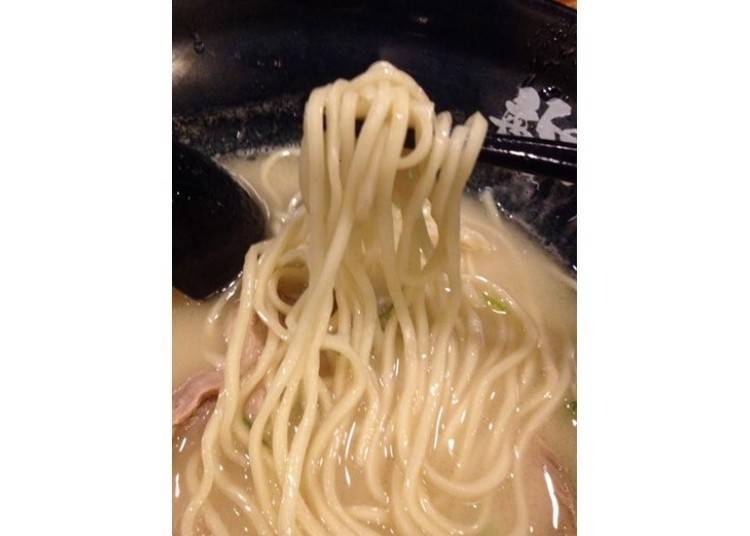 Shio Tonkotsu [pork bone broth] Ramen DX 1,030 yen (tax included)
Shio Tonkotsu Ramen is a popular dish limited to the Shin-Osaka shop, the gateway to Kansai for many tourists visiting Japan, and specifically aimed at attracting foreigners who like pork bone broth. The pork bone spine gives the soup a thick, rich flavor to which three types of seasoned vegetables are added. The soup is made only with pork bones cooked at the head shop in Sakai especially for the Shin-Osaka shop.

The secret of its popularity is not limited to just the ramen. The side menu is also popular, especially with foreigners! The side menu contains such popular dishes as the Wagyu Suji Mayo-don [Japanese Beef Tendon with Mayonnaise Bowl], which took the gold prize four yours in a row at the National Donburi [bowl dishes] Gran Prix, and the handmade gyoza [dumplings] as well as beer and other alcoholic drinks which are just perfect for a light drink.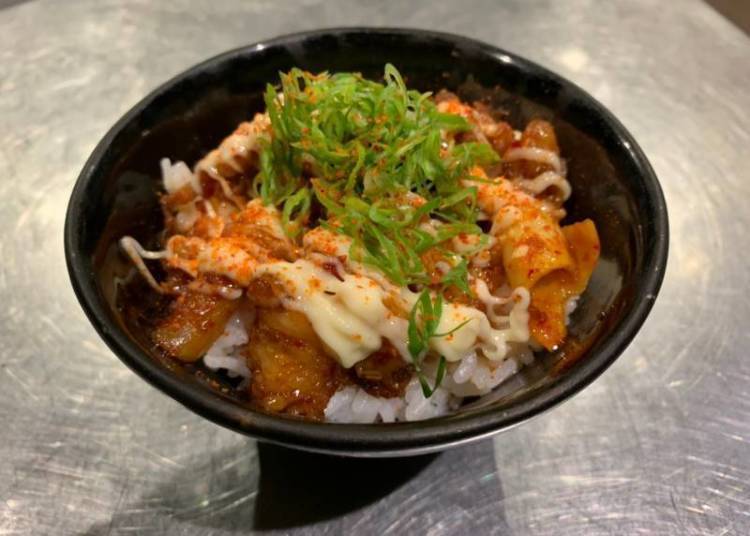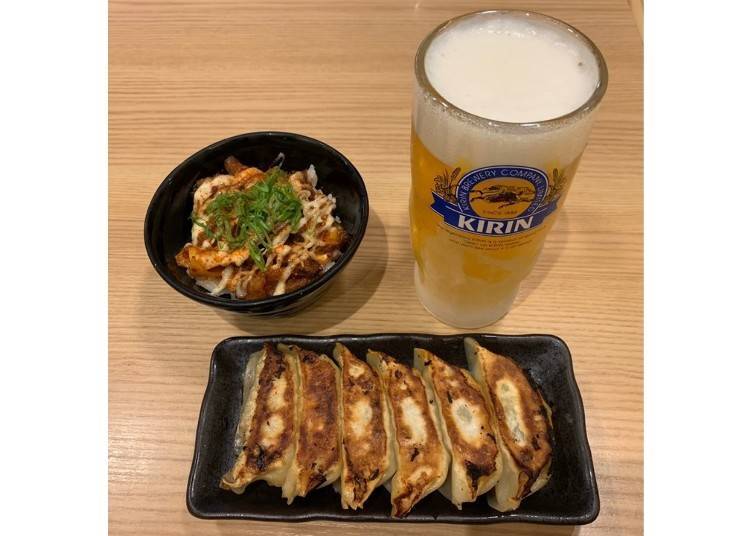 Gyusuji Mayo-don 500 yen; Gyoza 400 yen, and draft beer 500 yen make a good set! (All prices include tax.)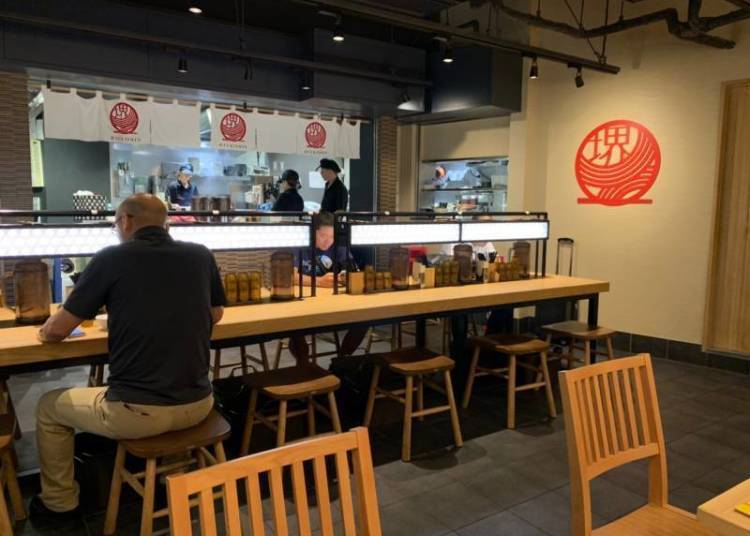 If you have to wait for the Shinkansen, then this is the perfect place to do it as it is the one and only shop here that serves authentic Osaka-style shio ramen. It's so good that you need to be careful not to miss your train! lol
龍旗信 LEO

Address

arde! Shin-Osaka, JR Shin-Osaka Station 2F, 5-16-1 Nishi-Nakajima, Yodogawa-ku, Osaka City, Osaka

Nearest Station

JR Shin-Osaka Station, 5-minute walk from Osaka Metro Midosuji Line Shin-Osaka Station


Open: 10:00 a.m. ~ 10:30 p.m.
Closed: always open
4. Ramen Style JUNK STORY: Shio Ramen Elite! Ultimate flavors from a ramen creative
JUNK STORY is a place where you can eat delicate and refined ramen, which is the exact opposite of JUNK in the store name. "The desire to share the joy of making ramen and a shop with everyone that works there," is the aim of the shop owner, a thought apparently conveyed to the customers judging by the number of people lined up each day waiting to get in.

This is one example of such refined ramen. A chicken soup made from a whole chicken is the centerpiece to which is added minced chicken and shellfish, the sauce a combination of four types of sea salt and rock salt, producing a highly clear ramen broth loaded with minerals.

The final touch is the adding of free-range chicken oil. The delicious flavor of the chicken is directly conveyed by the soup which is good to the very last drop. Undoubtedly this highly perfected flavor is sure to please not only Japanese but foreigners as well.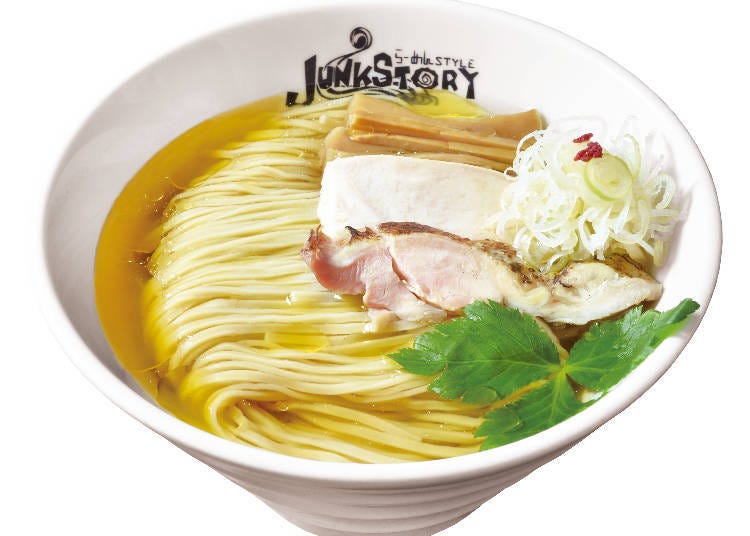 You absolutely must try the highly popular Shio no Kirameki, 930 yen (including tax).
Another dish I recommend is the shoyu ramen as opposed to the shio ramen. This combines a very aromatic pure soy sauce to the previously mentioned chicken and shellfish soup. A number of different kijoyu [pure soy sauce] are blended and heated over a low fire that brings out the full aroma of the soy sauce to create a very elegant dish.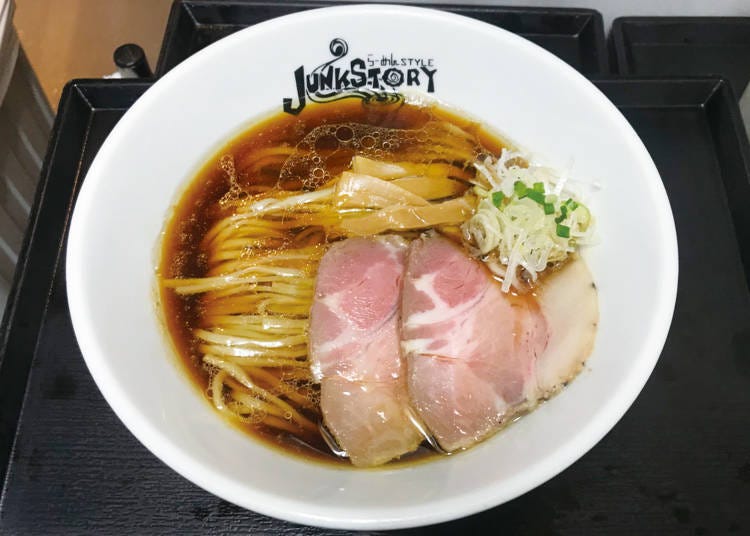 Kijoyu Soba 800 yen (tax included)
This highly perfected ramen will definitely impress your palate! This is a shop you will definitely want to visit because it also offers many other side menus and limited offering menus.Foreign visitors can also enjoy the food here because the menu is also in English.
らーめんstyle JUNK STORY

Address

1-chōme-2-11 Kōzu, Chūō-ku, Osaka

Nearest Station

5-minute walk from the Osaka Metro Tanimachi Line Nagahori Tsurumi


Phone Number

06-6763-5427

Open: weekdays 11:00 a.m. ~ 2:30 p.m. (L.O.); 6:00 p.m. ~ 10:00 p.m. (L.O.)
Saturdays, Sundays, holidays: 11:00 a.m. ~ 10:00 p.m. (L.O.)
* Shop closes when it runs out of soup
Closed: always open
5. SABAROKU Ramen: Highly popular in Fukushima, a "maverick" in the ramen battlefield
This last shop to be introduced uses saba [mackerel] which you rarely hear about when talking about ramen. After many years of training at other ramen shops in Osaka, this shop owner opened a ramen shop in Tenjinbashi-suji 6-chome after recharging his batteries.

SABAROKU Ramen is now a popular chain with 18 shops nationwide based on the idea that "the only way to not keep customers waiting in line is to increase the number of stores".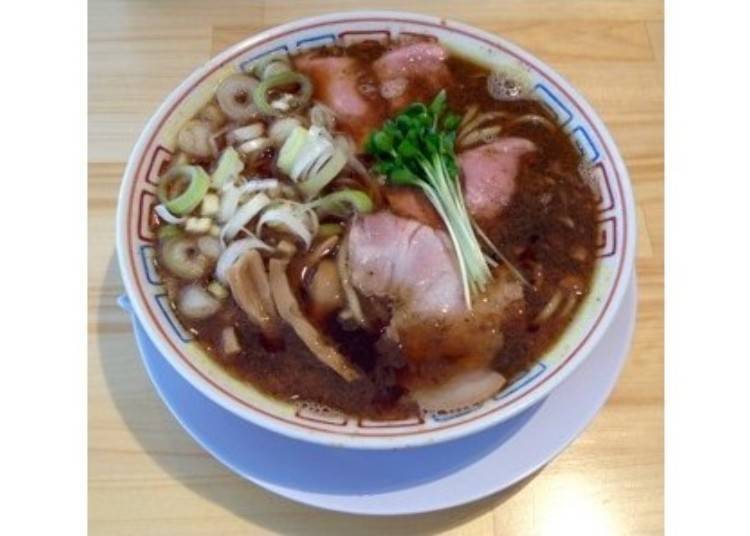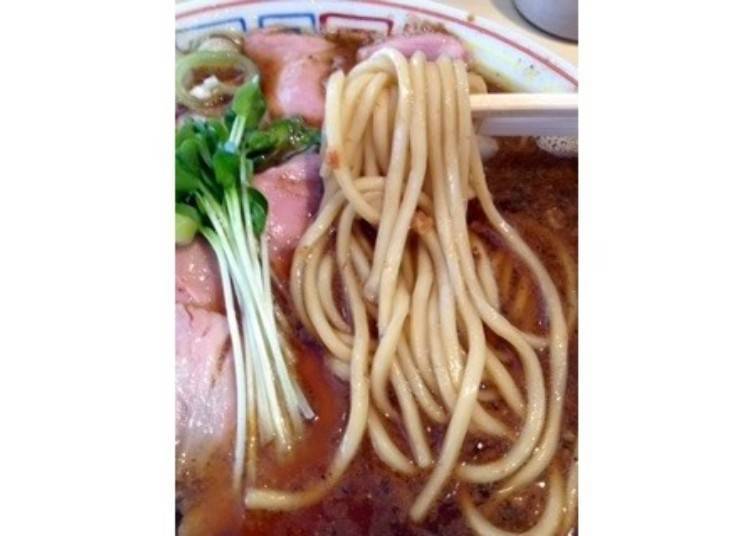 Saba Shoyu Soba 700 yen (tax included) At first glance it doesn't look like mackerel.
This is the most popular item on the menu: Saba Shoyu Soba. The soy-based sauce includes the extract made from three types of mackerel and that together with mackerel oil, chicken bones, and chicken wing bones all come together in an exquisite soup!

The medium-thick straight noodles are made by the shop and are perfectly matched for the soup. The dried mackerel shavings further bring out the flavor.

It goes without saying that the mackerel oil topping and the aroma of the fried leek are excellent accents. This is superb saba ramen that delivers the aroma of the mackerel the moment it hits your nose and its rich flavor with each bite you consume.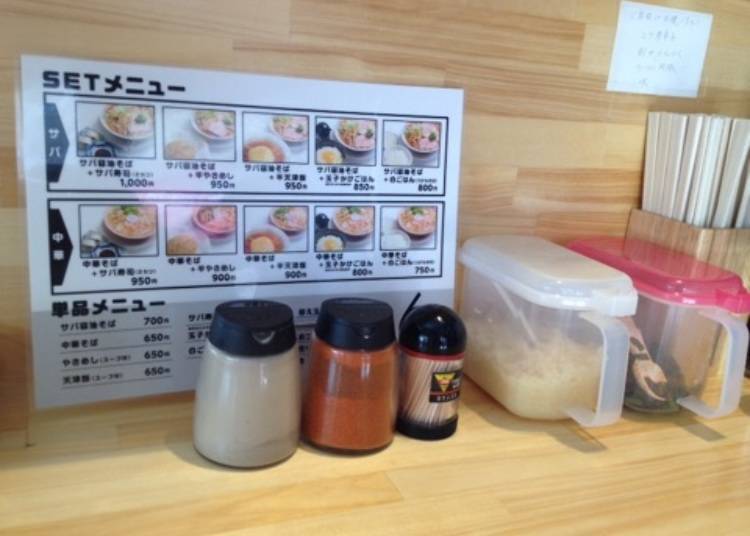 Unlike other stores, so many options are offered that it is difficult to know which to choose.
From start to finish the flavor of the mackerel will overwhelm your mouth! It is truly amazing! Mackerel plays an important role in the food culture of Japan so you should by all means try this!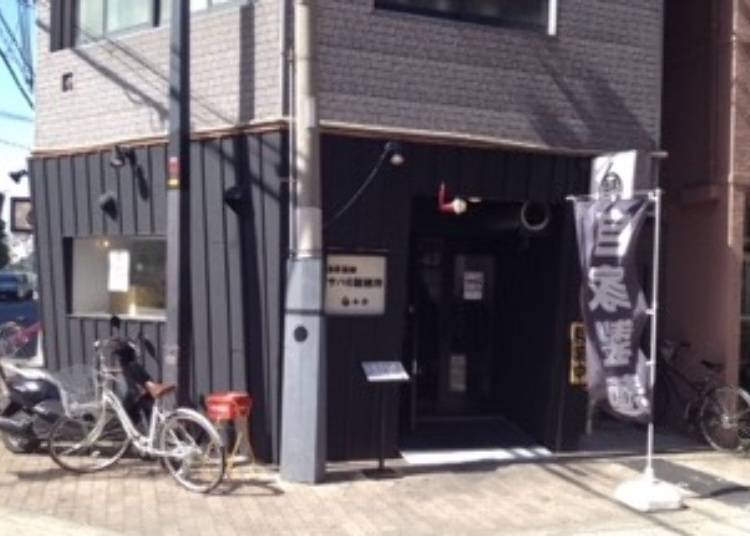 The chic exterior of the shop located on a street corner.
サバ6製麺所 福島本店

Address

7-chōme-21-3 Fukushima, Fukushima-ku, Osaka

Nearest Station

5-minute walk from the JR Osaka Loop Line Fukushima Station
Sabarokuseimenjo Fukushimahonten


Phone Number

06-4256-8801

Hours of operation: Weekday 11:00 a.m. ~ 3:00 p.m., 5:30 p.m. ~ 9:00 p.m.
Closed: always open
Each of the five shops introduced in this article are the most popular in Kansai. You often have to wait in line to get into these shops, so the best way to avoid that is to get to them a little bit before they open!

Text by: Taku Kimura
Book an unforgettable experience in Osaka!
Make your trip extra memorable by booking one of these recommended tours on our partner site, Voyagin!
*This information is from the time of this article's publication.
*Prices and options mentioned are subject to change.
*Unless stated otherwise, all prices include tax.