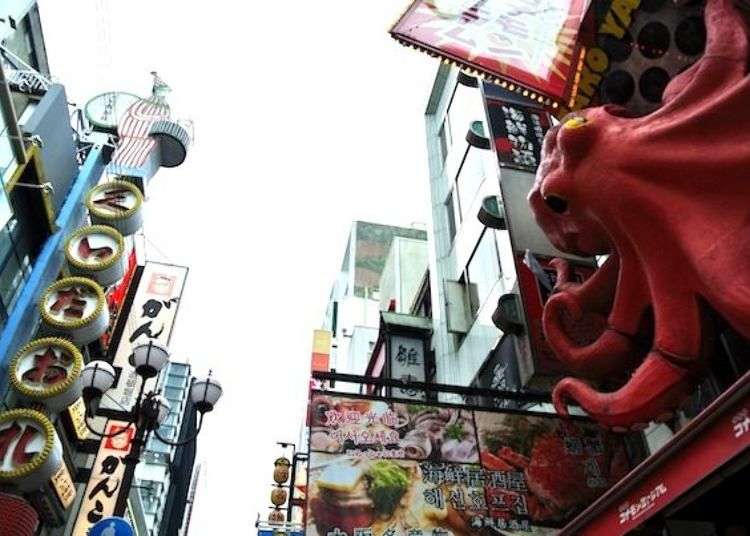 The Dotonbori Konamon Museum is a perfect place to visit in Osaka with family. Konamon is what foods that are based on flour, like takoyaki and okonomiyaki, are called. It has been open since 2011 and very popular with tourists, to enjoy takoyaki, the soul food of Osaka, in a variety of fun ways.

A dojo where takoyaki is hand-cooked on copper plates, a warehouse where takoyaki sample models are made, and an exhibition panel that teaches the history of Dotonbori and konamon culture... and of course, takoyaki.

To Kansai locals, takoyaki is a specialty, yet I was surprised about all the many unexpected discoveries I made here when visiting with my kids.
Dotonbori Konamon Museum - Just Takoyaki?
Takoyaki is a very familiar food to the people of Kansai. Sometimes they are the main dish, other times they are served as snacks, with alcoholic drinks, as a party dish, as a snack for your guest... there is an amazing variety of ways in which takoyaki makes its appearance. Nonetheless, I have never studied the history and culture in detail, and I make them at home in my own way.

When some relatives came to visit from the Kanto area, they surprisingly said, "I heard about this on TV, you really do have a takoyaki machine at home, huh?"

Though I did feel proud of it, I was disappointed that I couldn't show off my knowledge about it. And so, I decided to take out my elementary-age twins (a boy and girl) and my niece, and go out for a little extracurricular study.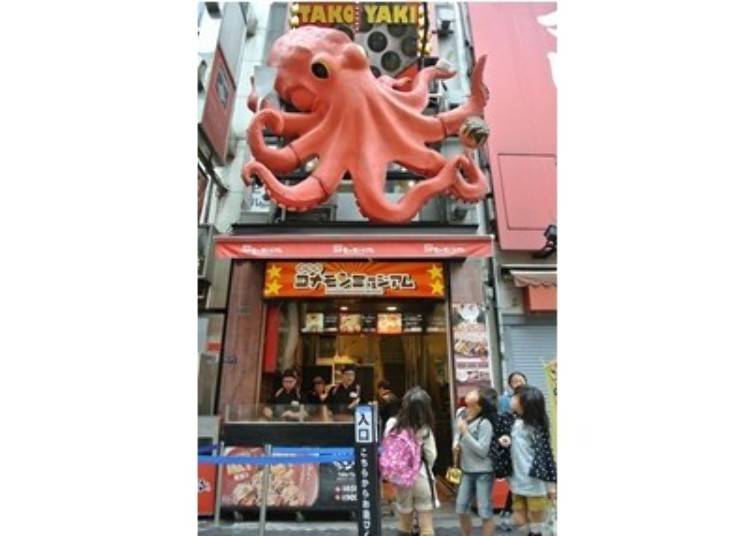 ▲Before going inside, we just had to look up at those huge objects once again
Heading for the Huge Octopus Next to the Fugu Blowfish
When you head from Midosuj to Sakaisuji on Dotonbori, right in the middle, next to a huge fugu blowfish, is the Dotonbori Konamon Museum, marked by a huge octopus with gently swaying legs.

At the shop Takoya Dontonbori Kukuru, the staff employs a huge baking table that can cook up to 84 takoyaki at a time, which is quite a spectacular sight to see. The hot plate I use at my own home can only cook up to 24 max, so it was pretty impressive.

Welcomed by the delicious smell and the staff's enthusiasm, we excitedly go inside.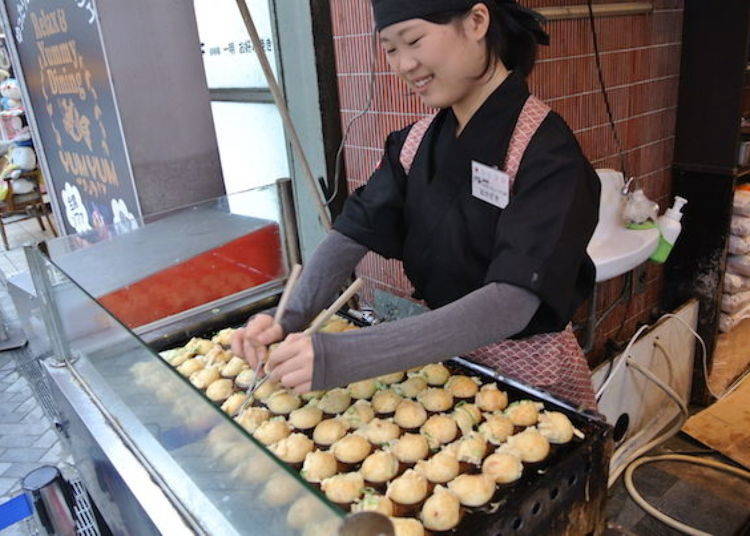 ▲Even tourists point their cameras at the skilled hands of the staff
Learning Osaka's Takoyaki History
The inside of the building was built in traditional Kyoto house style, with a narrow front but much more depth in the back. The contents you can enjoy on each floor differed by theme: "learn," "make," and "eat."

First, we head to the second floor of the Konamon Historical Museum with the theme "learn." As you go through the exhibits, you will learn not just the roots of takoyaki, but also the vast history of konamon culture. ("Konamon" refers to food dishes made with flour.)

The sources used are the written works of Ms. Kumagai Mana, the current President of the Japan Konamon Association, and an active takoyaki researcher for about 30 years. Coming from the same hometown of Nishinomiya, and interested in her self-proclaimed title of 'takoyakist,' despite giving nothing more than a passing glance in the past, I took a more serious interest in this exhibit than I expected.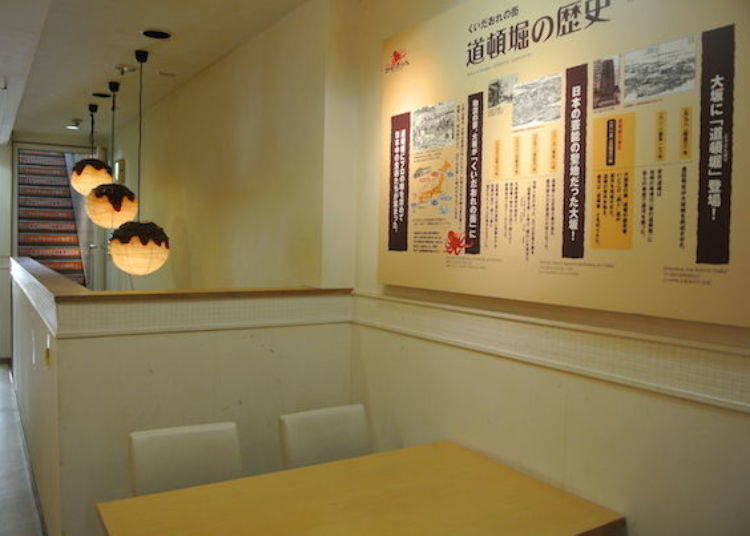 ▲An exhibition on the History of Dotonbori that tends to be overlooked. Please check this out, too!
Though not all translations are included, the names of past menu items were also written in three languages: English, Chinese, and Korean. I looked around for foreign visitors, but it seemed as if not many were there the day I went.

What really made me feel nostalgic was the "radio-yaki," which my father, born in 1938, talked about every time he ate takoyaki. This was a konamon dish made of konjac and red ginger that came to Osaka long ago. The octopus was added to that dish in the early Showa Era, and thus the takoyaki was born.

There are other theories, such as that takoyaki was derived from Akashiyaki dumplings and influenced by choboyaki, but there is no doubt that the recipe evolved with the changing tastes of the common people, eventually coming to include the slightly more luxurious octopus bits inside.

In addition to distribution charts showing konamon across the country, there are explanations about the inseparable konamon sauces. "I can do some fun studies for free here," says my daughter. Great, I think. Next time I'll bring my father, and you will both have something interesting to talk about!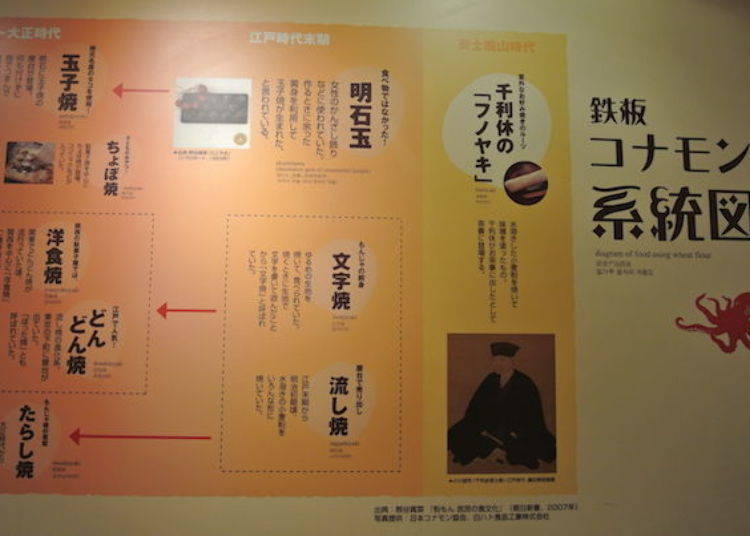 ▲I was able to see this culture in a new light as the pride of Kansai.
Make it Burn! Making Fake Takoyaki at Dotonbori Konamon Museum
Onto the "Create" experience. On the third floor is the Konamon Sample Factory, where you can make your own konamon wax samples. It is 1600 yen per person and takes about 45 minutes. Though my kids are used to making takoyaki at home, we have never made fake takoyaki samples, so this was exciting for them.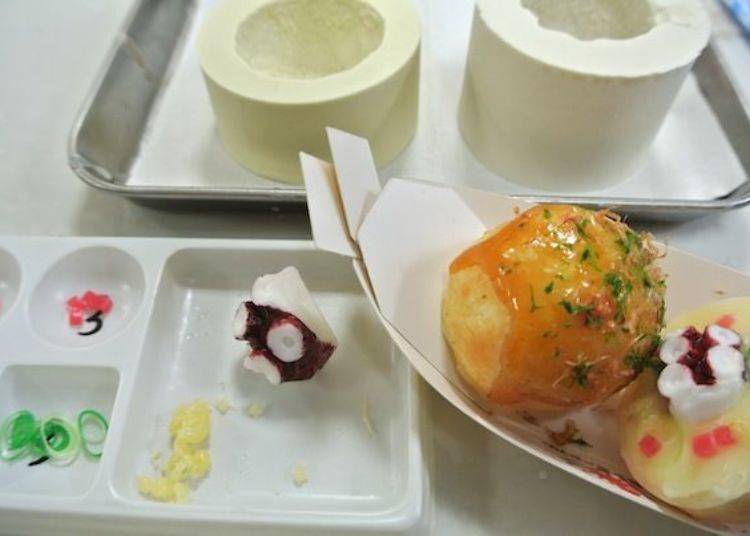 ▲This is the Experience Kit (on the right is a completed sample). It's challenging even for adults.
The takoyaki replicas are very precise. The octopus, red ginger, bonito, and seaweed all look so real! Wax food samples are part of Japanese culture, especially as models to showcase the menu items of cafes and restaurants. Recently, these samples are made from synthetic resin, but this shop is true to the old-fashioned style of workmanship.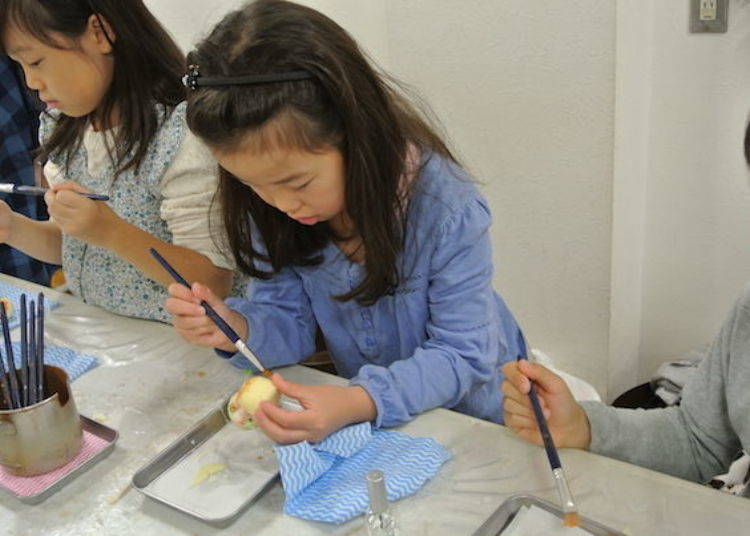 ▲They make it and glaze it, then put the octopus and ginger inside... it's just like making the real thing!
The staff make fun and friendly conversation in their soft Kansai dialect. Sometimes, there are as many as 25 students max between only the two staff members! Unfortunately, it seems that travelers from some countries sometimes give up because there is no multilingual guidance available, however the process is not difficult at all, so it is still worth a shot to take on the challenge. They make unique souvenirs of which there can only be one in the world.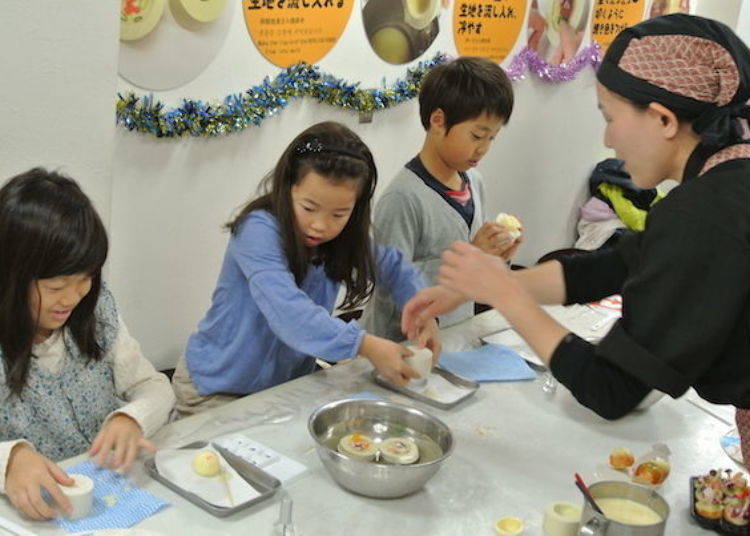 ▲The children took the lesson quite seriously. I wanted them to concentrate as hard as possible.
Sea urchin, shrimp, ikura, daikon radish, mixed vegetables... there is a variety of topping samples that you can include as options. Prices start at 50 yen. The big crab leg is 2000 yen. It seems that they make these several times a year, such as on their birthday. My son wanted to get one of everything. I told him if we went over budget, he would have to pay me.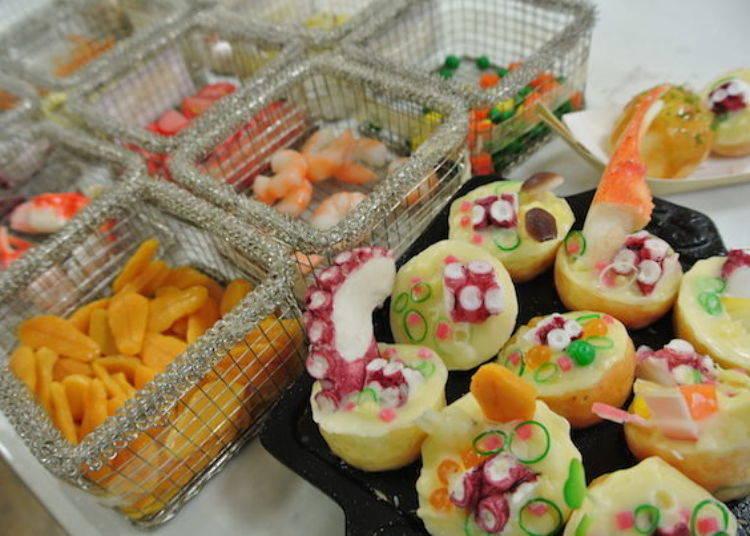 ▲The topping samples are extremely popular because you can use them to show your originality.
And they are complete! These were made by my 3rd-grade children, and 2nd-grade niece. They all worked really hard at these for about 1 hour. My niece told the staff, "I'm gonna put this on the table and see if my daddy tries to eat it!"

But the staff shot down her idea with the warning, "Don't do that! This isn't for your family and friends to eat." However, a few days later, we did it anyway, and her prank was a great success!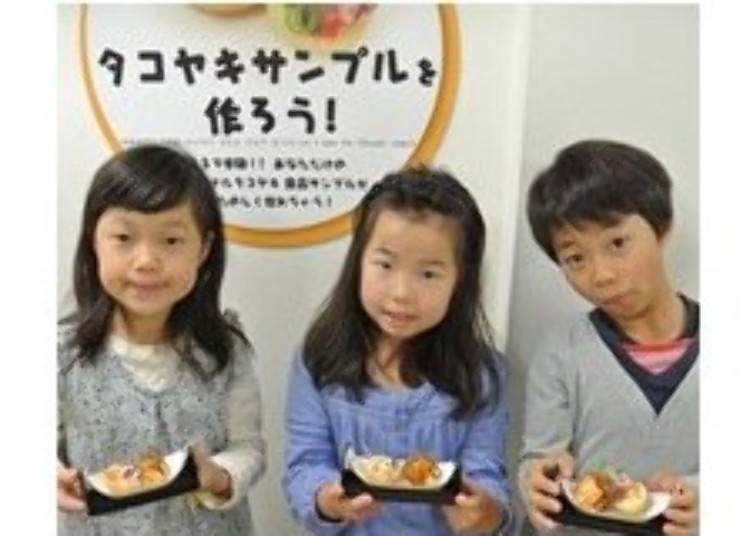 ▲They were all very happy with how their samples came out. It was a nice souvenir of a good memory.
Make (and Eat) Yourself! An Eye-Opening New Discovery!
It seems the children used up all of their concentration during the sample-making lesson, as they dashed out as soon as they saw the Glico signboards along the Dotonbori River.

I checked out the Takoyaki Dojo Kukuru Takumi in the basement by myself. With the guidance of the experienced staff, you pick your own ingredients and make and eat your own takoyaki. It is also very popular with tourists. I could finally experience eating them at last.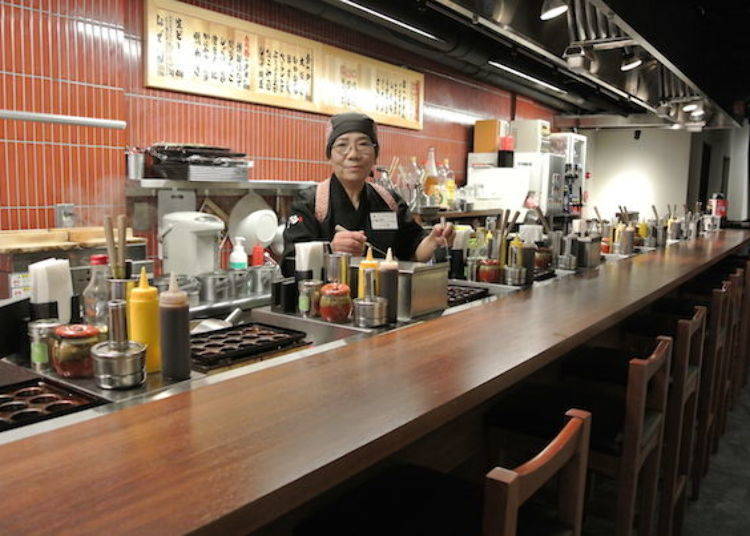 ▲The staff members of the basement dojo are very hospitable and experienced
The staff explains, "Though there are indeed a few tricks, you can still make perfect, delicious takoyaki, even if it's your first time." However, being a lady of Kansai myself, I was pretty confident that I could make some decent takoyaki on my own.

However, after looking at the menu, I admit I was a bit taken aback. Amongst the menu ingredients, there were over three styles to choose from, including yam, sea urchin, and even chocolate?!

I chose the delicious-looking octopus, shirasu edamame (who's flavor I couldn't even imagine), and Glico caramel, named after Dotonbori. And when I tried to make them the same way I always do, I was met with a succession of failures.

"Hold one stick in each hand, as if you were holding a pencil." "Turn on the gas after you put in the dough. But put in the ingredients as quickly as you can or it will burn right away." The staff advised me continuously.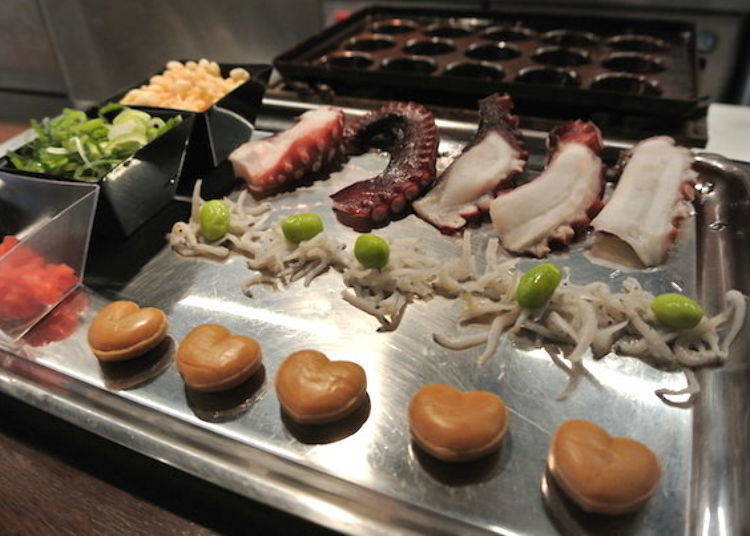 ▲Tray of selected items. I realized I could have fun putting in whatever ingredients I want!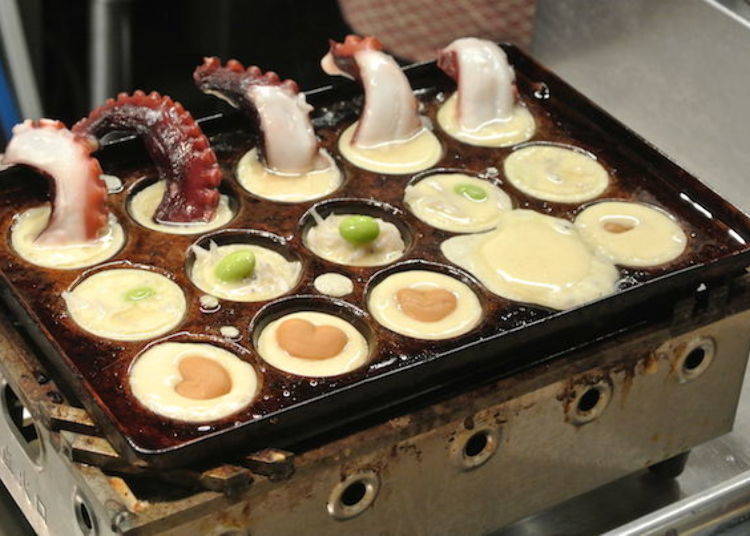 ▲I had to laugh at the huge octopus sticking out. I could also smell the sweet fragrance as soon as I added the caramel.
"It is actually the first-timers who tend to do best, because they make sure to listen carefully. It's the ones who are used to making them, or who are self taught, who have trouble. These copper plates conduct heat much better than the ones used at home, so it is also easier to burn them if you aren't fast enough. At home, you just poke it with one stick and put it back on the plates, but you can't do that in the shop. You have to use two sticks to grab them and roll them."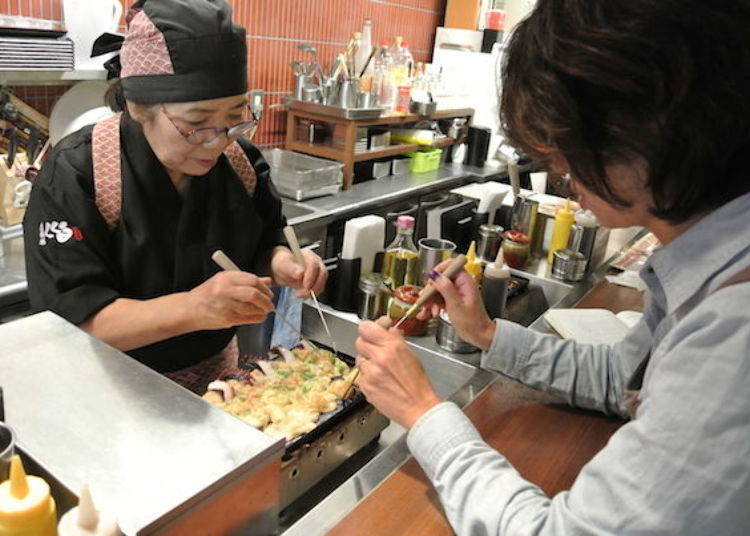 ▲If you are too distracted with the big octopus, the caramel can burn. It really took a great effort.
It was a really eye-opening experience making takoyaki this way. I decided to go back to basics and re-learn how to make them. The key to cooking the large octopus jutting out is to slowly and gently turn it back and forth. The staff called it "cradle baking."

For the dessert caramel one, I can't put things like onion and red ginger, so I add more dough to make it plumper.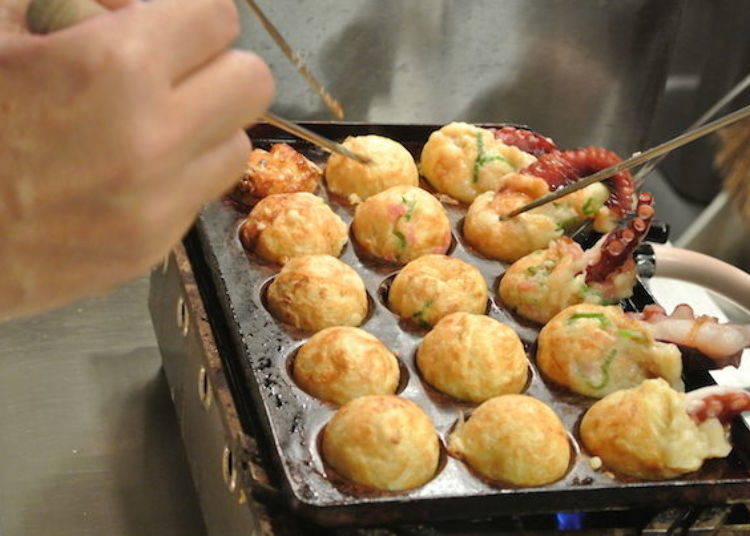 ▲You have to hold it as if holding a pencil. It was a little difficult, but with the right guidance, I was able to manage.
At one point I couldn't get the dough to mold together properly, but thankfully they helped me to make it a perfectly round shape. Finally, we add a sprinkle of white wine for flavor.

This was definitely the perfection you would expect from takoyaki being made at a shop, but I can't wait to try these techniques at home, too. This experience is called the "Aji-gonomi Set," and you can make 15 takoyaki with 3 ingredients of your choice for 1500 yen.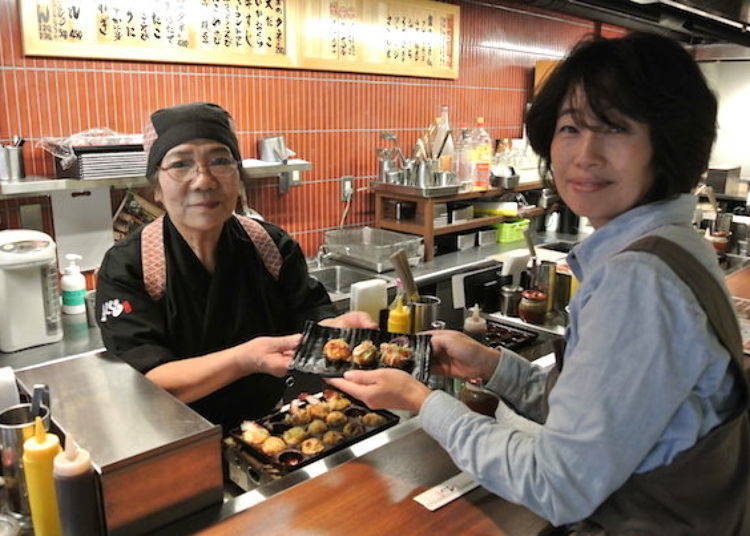 ▲It was a lot of work, but it is complete!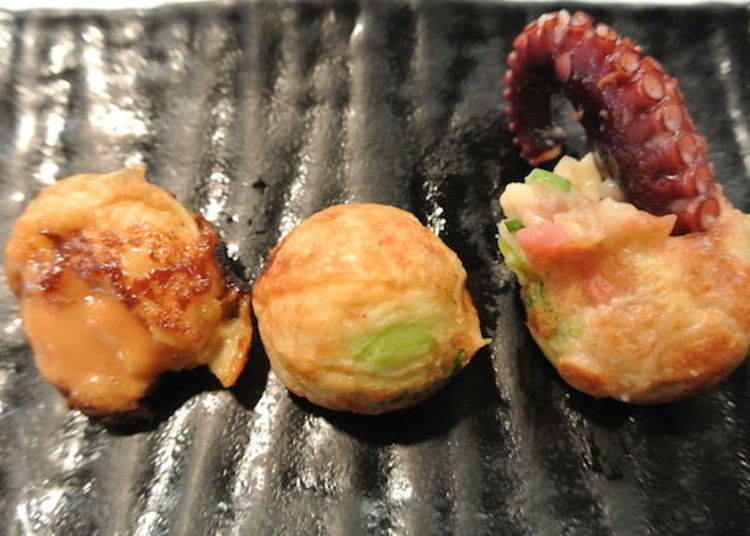 ▲ From the left: caramel, shirasu edamame, and the large octopus. Each one was pretty unique.
Now with the takoyaki that I fought hard to make with the great help of the staff, at 750 yen for 8 pieces, I sat at a table along the Dotonbori River to eat.

The appetizing burnt color of the caramel one, with its fluffy outside and juicy inside, was definitely the work of no pro, however the kids loved it more than I imagined!

The shirasu edamame had a refreshing, simple aftertaste, and was also quite interesting. And the large octopus, which I was eager to try after all the effort I put into making it, actually looked quite charming with the way it protruded out. Admiring my creating, I felt like a proud mother.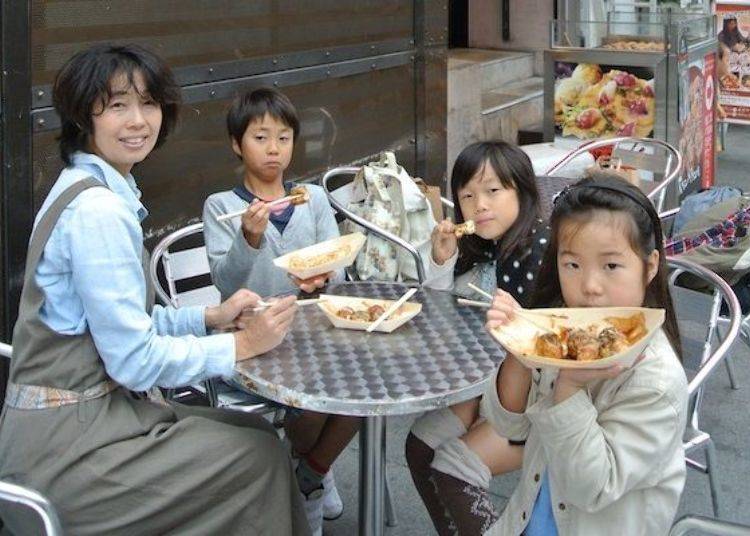 The takoyaki made by the staff is truly delicious. Though you can eat inside the shop, it is also nice to eat sitting along the river. This is the entrance behind the Dotonbori River.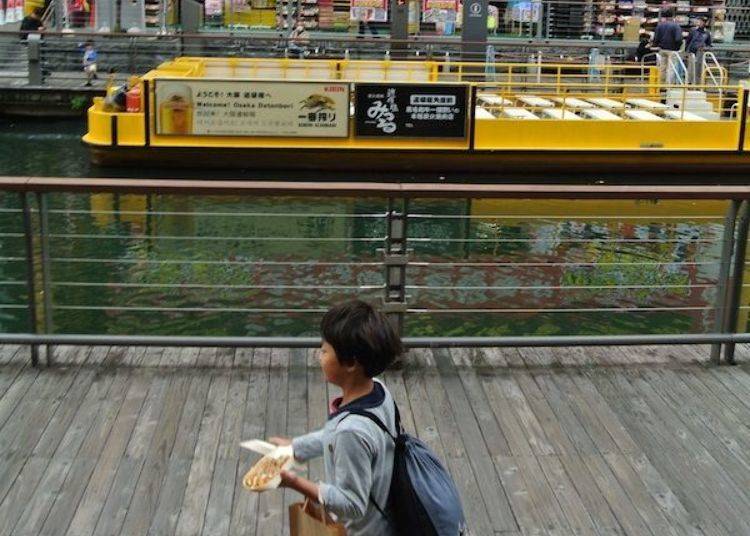 ▲The view along the river
It's easy to see why the Dotonbori Konamon Museum is such a popular place with foreigners who are unfamiliar with takoyaki and the people of Kansai alike. Please make sure to learn well, play well, and eat well when you take a trip to Kansai.

And to the people of Kansai, please visit so that you can continue to pass down the culture of takoyaki to future generations.
道頓堀コナモンミュージアム

Address

1-6-12 Dotonbori, Chuo-ku, Osaka-shi, Osaka

Phone Number

06-6214-6678

Hours:
Takoyaki Dojo Kukuru Itami: 11:00Am~10:00PM
1F Takoya Dotonbori Kukuru: 11:00AM~10:00PM (Weekends & Holidays, open at 10:00AM)
3F Konamon Sample Factory Maneki-Takou: 11:30AM~7:15PM Reception (Weekends & Holidays open at 10:30AM)
*1F & 3F give priority to reservations
Admission: Free
Text by:140B
*This information is from the time of this article's publication.
*Prices and options mentioned are subject to change.
*Unless stated otherwise, all prices include tax.
Limited time offer: 10% discount coupons available now!