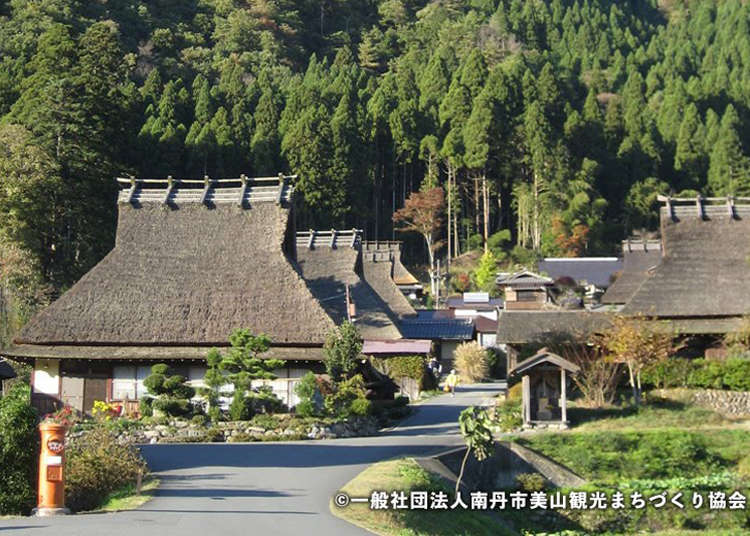 Located 1 hour 40 minutes by bus from Kyoto Station, the town of Miyama offers a view into Japan's rich agricultural heritage. Designated a semi-national park, the town is home to some 39 thatched farmhouses where people still live today. Miyama spans multiple hamlets that are scattered throughout the mountains and valleys, about 50 kilometers from central Kyoto. Despite its close distance to the city center, the village feels far removed from modern-day life.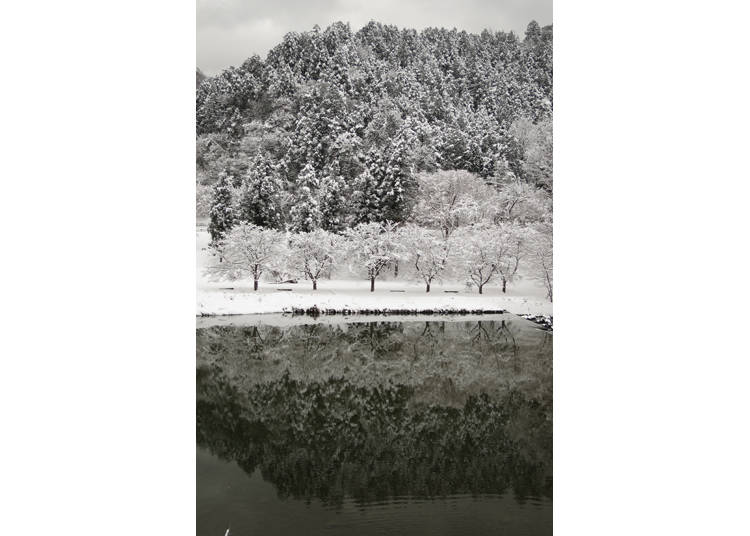 Despite the frigid temperature, winter is a popular time to visit Miyama
Upon arriving, you'll feel like you've stepped back in time to an area untouched by modern development. You can even stay overnight in one of several thatched houses. Numerous bed and breakfast-style guesthouses provide period-accurate amenities and activities where you can truly immerse yourself in the village's traditional charms. The surrounding area is home to scenic mountain hikes and forested paths, ripe for exploration.
Start with a guided tour of the village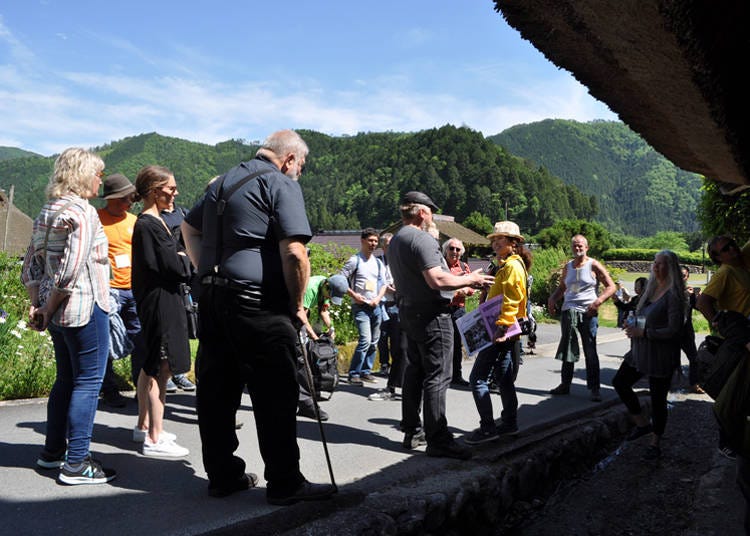 Visitors learn about the village's history and lifestyles
Begin your break with a guided walking tour around the village. For 2,000 yen (discount available for children), an English-speaking guide will meet you at Kayabuki-no-sato Bus Stop and take you on a 90-minute tour through the village, providing historical background and context on village life. Despite being centuries old and requiring much more upkeep than contemporary dwellings, people still live in many of these thatched homes. Though private residences are off-limits to the public, catching a glimpse of villagers maintaining this pre-modern rural lifestyle is sure to fill you with a sense of nostalgia.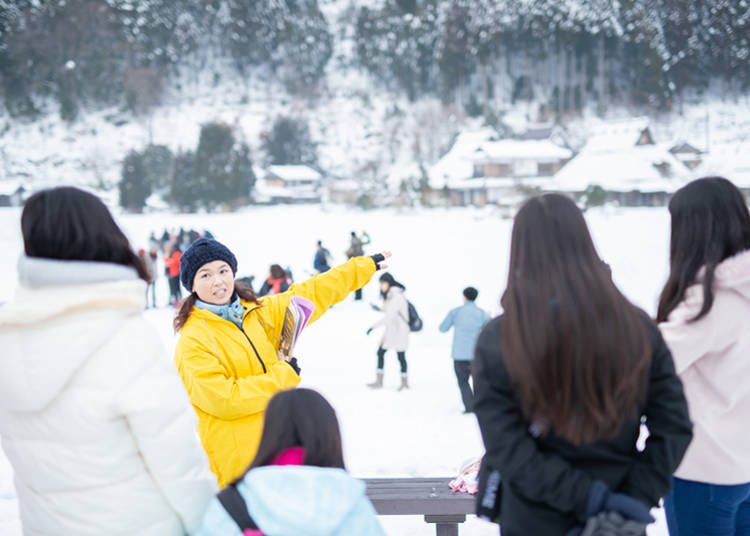 A guide explains a point of interest in Miyama
A morning and afternoon course are available to suit your travel schedule. Tours take place Monday, Tuesday, Friday, Saturday, and Sunday. The tour grants access to the Miyama Folklore Museum, where you can see the kinds of furniture and household implements that thatched-roof dwellers would have used in the past. Reservations can be made up to one day in advance. After the guided tour, consider taking a hike to the Yura River 2 kilometers away, where you can enjoy fishing for sweetfish, or simply relax in the tranquil natural environment.
Thatched Village Guided Walk

かやぶきの里英語ガイドツアー(一般社団法人南丹市美山観光まちづくり協会)

Address

Kayabuki-no-sato Bus Stop, north of Miyama-cho, Nantan, Kyoto

Phone Number

0771-75-9030

Program:Thatched Village Guided Walk (in English)
Meeting point:Kayabuki-no-sato Bus Stop, north of Miyama-cho, Nantan, Kyoto
Business hours:Daily, except Wednesdays and Thursdays
Fees:2,000 yen for adults; 1,000 yen for children aged 13–15; free for children aged 12 or younger. If a group comprises five people or fewer, the charge is 10,000 yen per group (tax-included).
Times:10 a.m.–11:30 a.m. (morning course); 1 p.m.–2 p.m. (afternoon course)
Requirements:Reservations required
Languages available:English/Japanese
Organized by:Kyoto Miyama Tourism Association
Email:info@kyoto-miyama.jp
Stay in your very own thatched house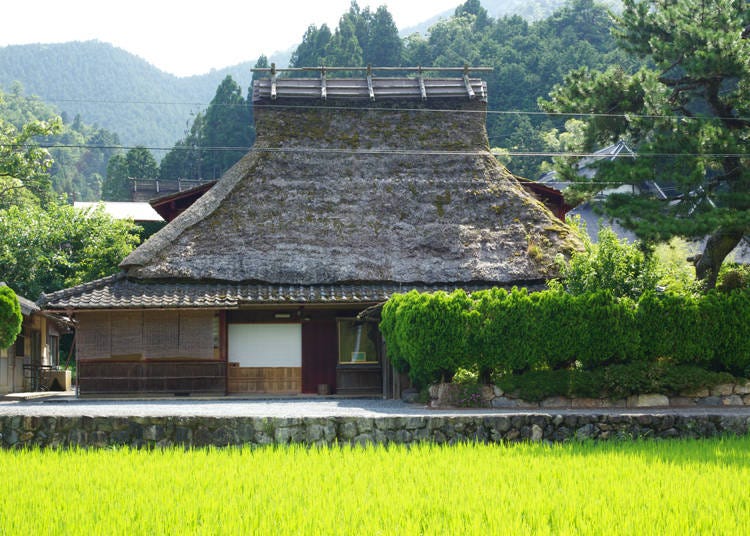 Miyama Futon and Breakfast maintains a traditional thatched house where guests can spend the night
While day trips from Kyoto are convenient and hassle-free, some visitors may wish to spend more time immersed in Miyama's serene countryside. While there are numerous inns and guesthouses in the area, one particularly unique option is Miyama Futon and Breakfast, which boasts four separate thatched-roof cottages. The spacious homes are a great option for families or groups, and the outdoor grounds provide plenty of space for children to play. Hanabusa is perhaps the most notable of the four domiciles.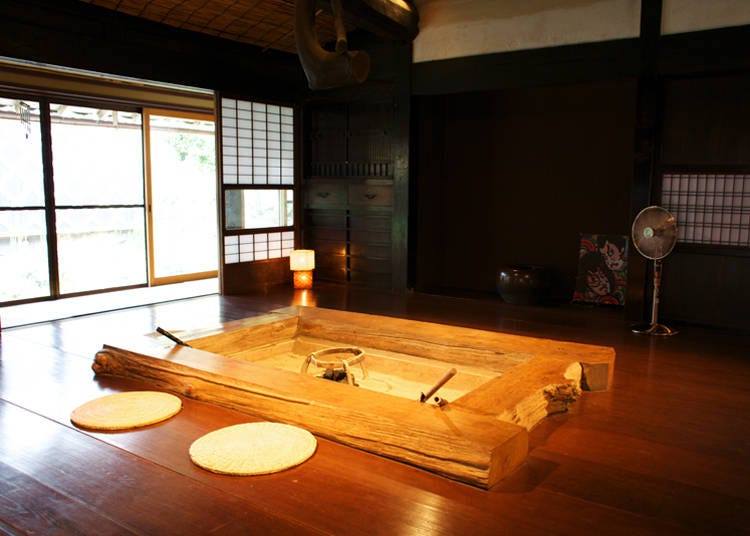 The interior maintains a traditional design
As a registered cultural heritage site, this 150-year-old home accommodates up to eight guests, and has a modern bathroom and kitchen. Outside you'll find a thatched chicken coop - replete with hens - and a Japanese garden. Catering services are also available. In the morning, staff prepare breakfast using local ingredients. At night, meanwhile, guests can enjoy an expansive kaiseki-style course meal of fish, vegetables, steamed hot pot, and rice. Additional amenities include an outdoor BBQ set and rental bicycles (free for guests staying more than two nights). A bicycle tour to sightseeing spots in the area is also available.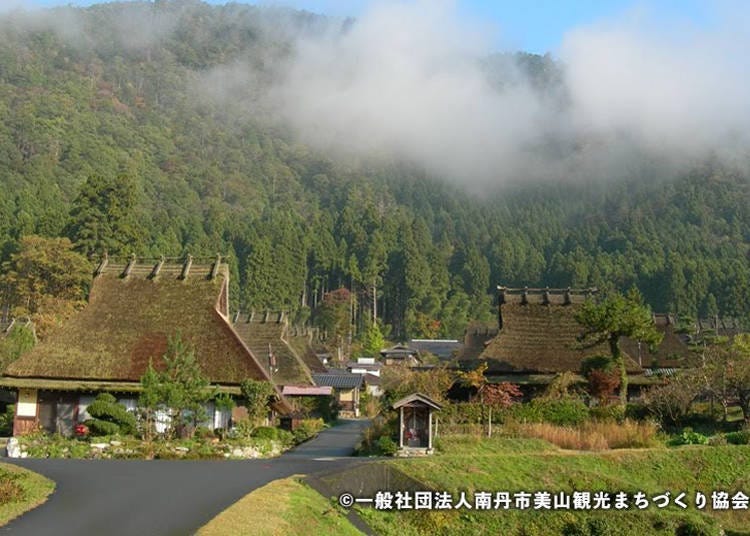 Miyama Futon and Breakfast is one of several thatched buildings in the area
The four properties of Miyama Futon and Breakfast are scattered throughout the Miyama area. While Hanabusa offers the most authentic thatched roof architecture, the other properties cater to those looking for more Western-style amenities, or more remote locations.
Miyama Futon and Breakfast - Hanabusa

美山FUTON&Breakfast - はなぶさ

Address

Check-in Center, 52 Kitsuneiwa, Shima, Miyama-cho, Nantanshi, Kyoto

Check-in:3 p.m.
Check-out:10 a.m.
Price per person:11,900 yen (with breakfast for adults)(Tax excluded)
Languages available:English (English, French, and Chinese for activity guide)
Email:info@visitmiyama.com
Enjoy local produce, poultry, and wild game at Kajikaso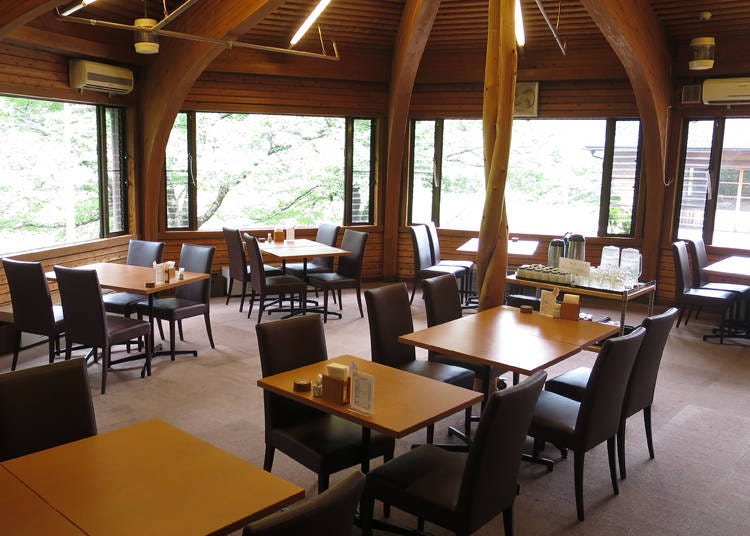 The dining room offers verdant views of the surrounding area
To get an indulgent taste of Miyama's culinary culture, head to Kajikaso, a welcoming restaurant that serves local produce, including fish, deer, and poultry. Kajikaso uses rice and vegetables grown in the surrounding fields, and wild vegetables and game from the nearby mountains in their menus. Several courses allow you to try regional delicacies. The Wild Game Course showcases animals native to the region and includes dishes such as roasted venison, grilled venison, and wild boar stew.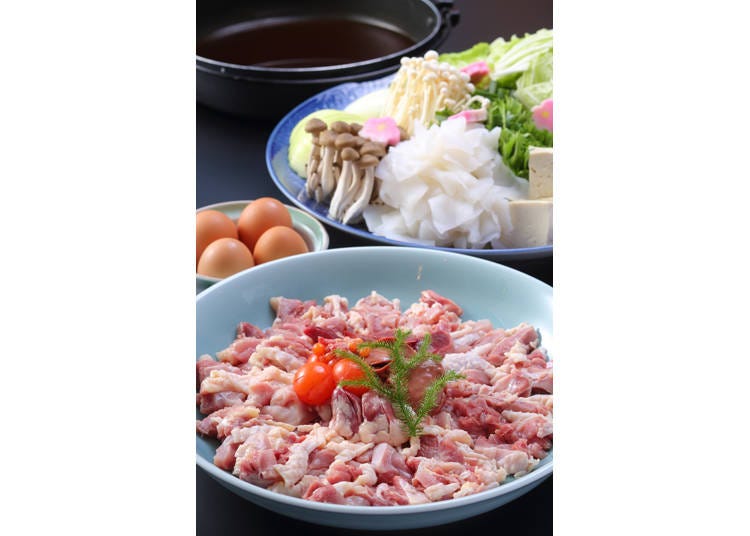 Kajikaso's hearty chicken sukiyaki serves two guests
The Chicken Kyo Jidori Sukiyaki Course presents the village's local poultry in a seasoned sukiyaki broth that you can cook right at your table. The Seasonal Kaiseki Course focuses on Japan's traditional kaiseki banquet food, which consists of numerous small dishes that are equally visually appealing as they are delicious.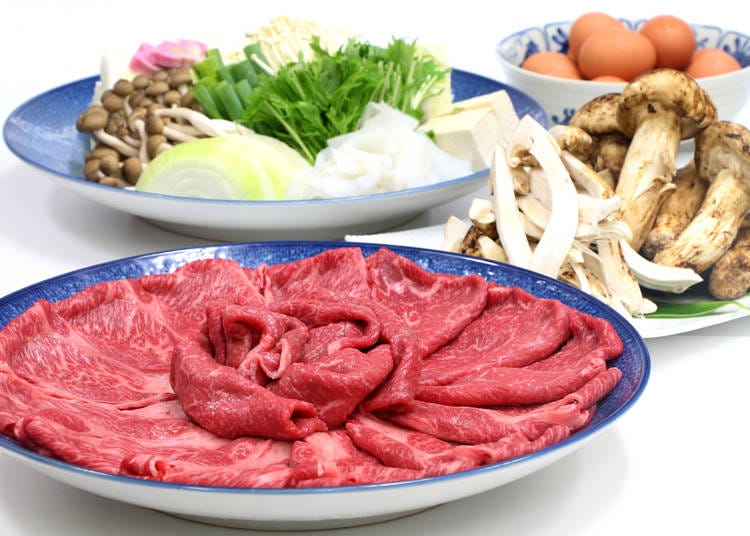 Kajikaso offers a tasty, all-you-can-eat, beef-based option
Courses include an all-you-can-eat Tajima beef sukiyaki hot pot starting from 6,600 yen; a chicken hot-pot meal from 4,400 yen; and an all-you-can-eat branded beef and matsutake mushroom hot pot from 8,800 yen. An a la carte and set-meal menu are also available. For drinks, consider trying local doburoku sake, a type of unrefined home-brewed spirit that is shaded milky white from the rice. All prices are inclusive of tax.
Miyama Nature & Culture Village Kajikaso

美山町自然文化村 河鹿荘

Address

25 Agake Shimo, Miyama Town, Nantanshi, Kyoto

Phone Number

0771-77-0014

Business hours:11:30 a.m.–3 p.m.(Last order 2 p.m.) & 5 p.m.–8 p.m.(Last order 7:30 p.m.)
Closed:Open year-round
Languages available:English, Japanese
Email:kajika@cans.zaq.ne.jp
It takes around 1 hour 40 minutes from Kyoto Station via bus, around 2 hours 30 minutes from Kansai International Airport, and around three hours from Chubu Centrair International Airport.

*This information is from the time of this article's publication.
*Prices and options mentioned are subject to change.
*Unless stated otherwise, all prices include tax.
Limited time offer: 10% discount coupons available now!