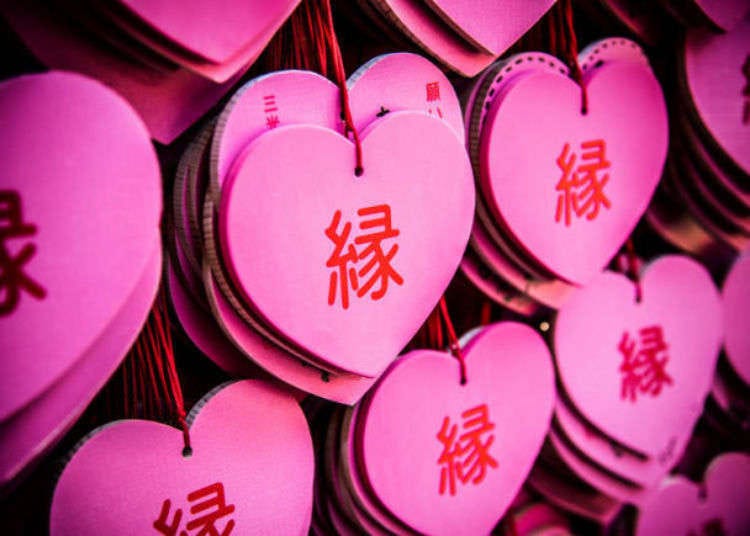 The Kansai region is home to numerous shrines, be it in Osaka or Kyoto. Since several centuries ago, the Japanese have believed that nature is home to a good 8 million gods, and as such countless shrines were erected all over Japan to enshrine them.

Because of this, there are deities to pray to for blessings in many different aspects of human life, from business sales to good health. This time's article will introduce 5 different shrines that give blessings to one's love life and marriage.

It's a good opportunity to visit these shrines, which are also well-known power spots, to relax in the tranquility and recharge your energies.
What makes shrines and power spots so popular in Japan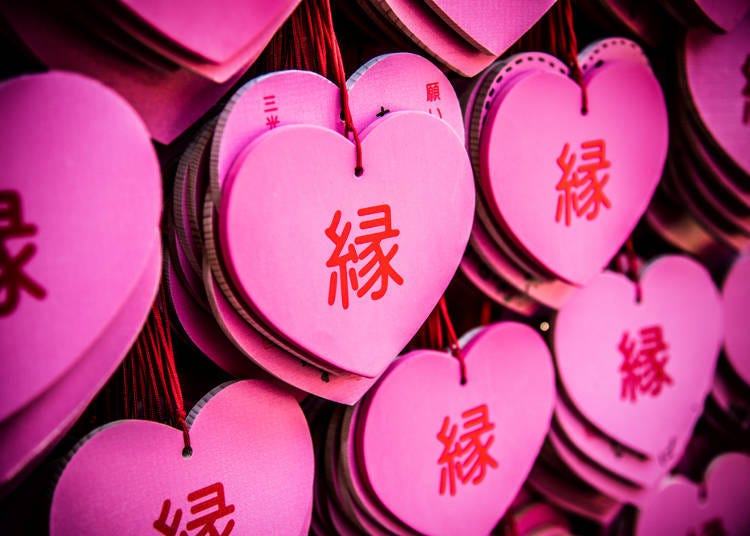 The Japanese highly revere the idea of "bonds". They believe that humans are "bound" by many different things, and that there are both good and bad "bonds". The "good" bonds should be kept connected as much as possible, and as such many people prayed for such "bonds" at the shrines near them. By the by, praying to be bonded with someone you like is termed as "enmusubi", while meeting a good person is called "ryouen".

In addition, power spots are places which are believed to heal the mind and recharge life energy.
It is often a place where nature remains abundant, such as shrines, mountains, and forests. Going to power spots and worshiping at matchmaking shrines are popular with Japanese people of all ages.

For this article, we'll be introducing a couple of these shrines and power spots in Osaka and Kyoto.
1. Jishu Shrine (Kyoto): Predict your love life at the "Fortune-telling Stone of Love"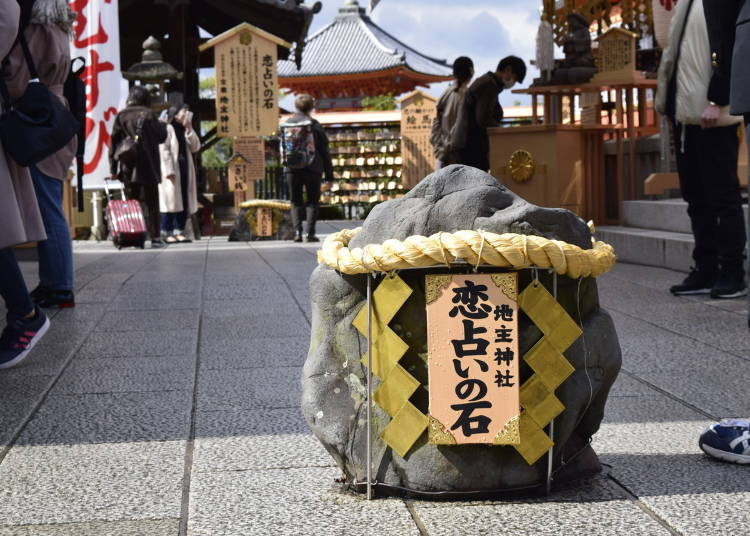 World Heritage Site Kiyomizu-dera. Just past the famous Shimizu stage, the "Jishu Shrine" by the left side is a popular shrine that many people from all over Japan come to worship, due to its role as a shine for marriage blessings.

The two stones placed apart in front of the main hall are called "love-fortune-telling stones", and it is said that if you walk from one stone and reach the other stone while keeping your eye on the first stone, your wish will come true. It's common to see challengers wobbling forward with spectators yelling "left" or "right". A very enjoyable scene.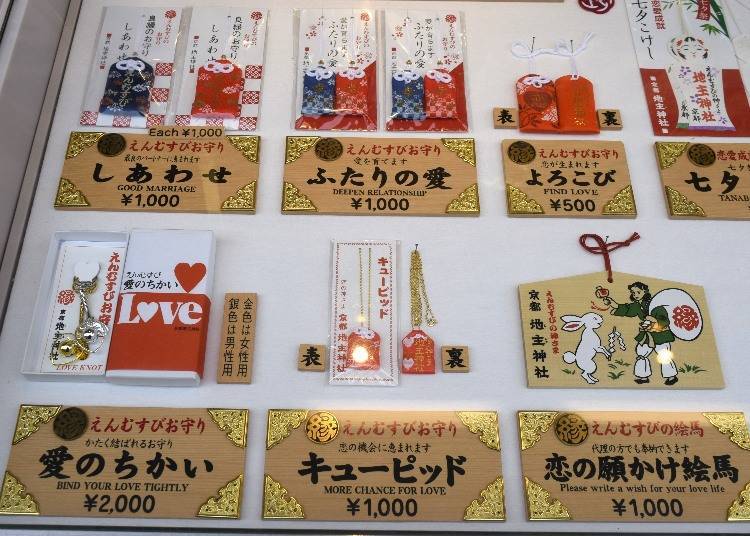 The Jishu shrine charms that are known for their matchmaking sport charming (no pun intended) designs that will make anyone happy just by looking at them. The "cupid" pendant (1,000-yen) is a talisman that will create a "bond" between the buyer and their one-sided crush, or if they have no one in mind a clandestine meeting instead.

"The Oath of Affection" (2,000-yen) is a charm that "binds" the hearts of a pair, with the gold one for women and the silver one for men. For couples in a long-distance relationship or those who simply cannot meet often, this will grant the wishes for a blessed marriage.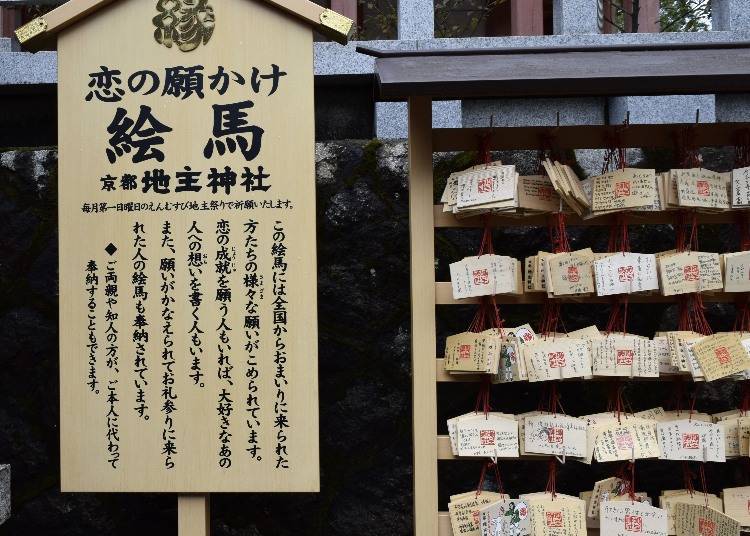 The "Love-wishing Ema" (1,000-yen) depicts a deity, Daikoku-sama, and a white rabbit that are said to bring good luck to the marriage. Offer it at the shrine after writing your wish. This ema is obtainable at the "Enmusubi Landlord Festival" held on the first Sunday of every month. For a content and happy life, good "bonds" are vitally important. Who wouldn't want to meet their wonderful significant other?
京都地主神社

Address

1 Chome-317 Kiyomizu, Higashiyama-ku, Kyoto, 605-0862

Phone Number

075-541-2097

Operating Hours: 9:00 - 17::00
Entry Fee: Free (excluding the required entrance fee to enter Kiyomizu-dera)
Open Daily
2. Tamatsuki Inari Shrine (Osaka): Receive blessings in meeting wonderful people or in your love life with the "Fox of Love Ema"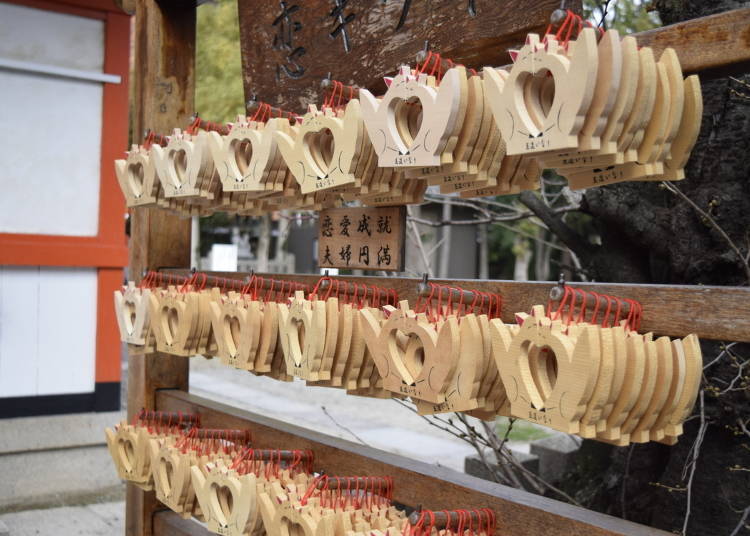 A shrine with a long history as a guardian of Osaka Castle, the Tamatsukuri Inari Shrine is said to be a power spot for romance as it is the home of many female gods. The fox-shaped ema (800-yen) is shaped like a heart with two foxes in a loving snuggle, signifying an everlasting marriage.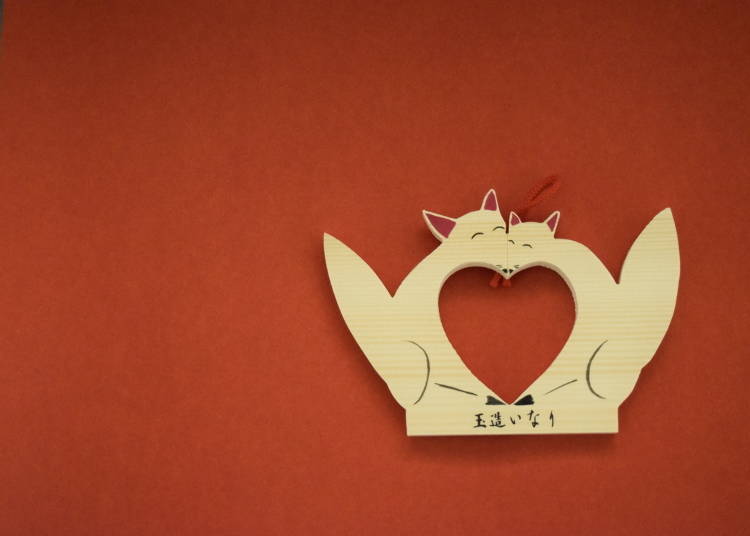 Emas are like letters to the deities, so for this you write your wishes, name and the date on the back. The couple puts the male name on the larger fox, the female name on the smaller fox, and the date below.

A man who is not a couple has his name on the back of a big fox, a good wish on the back of a small fox, and a date. Couples who buy this ema write both their names, with guys writing on the back of the larger fox and women writing on the back of the smaller one. For single guests, where you write your name depends on which gender you associate yourself with, and you write your crush's name on the other fox. For both scenarios the date is written on the bottom of the ema.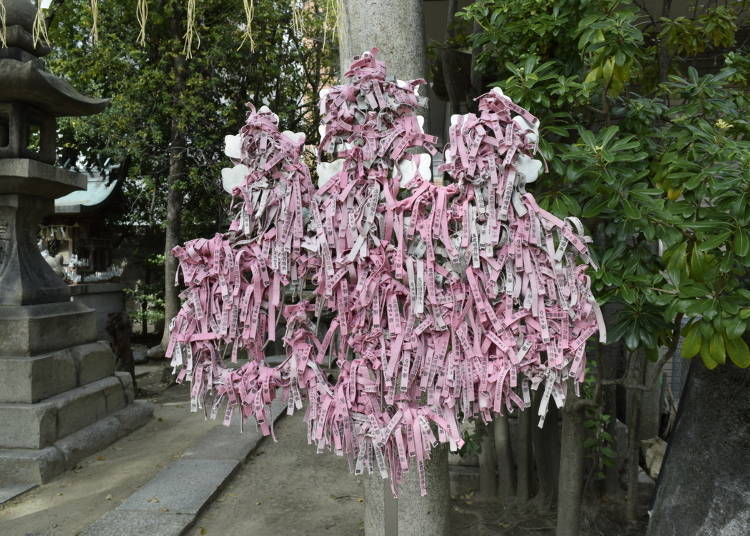 The Yonazuka Daimyojin within the area is also a power spot where you can be blessed in creating good relations. It is said that the placenta of Hideyori, Toyotomi Hideyoshi's son from his concubine is enshrined here, and thus the place has a strong influence on various ties, from parent-child ties, male-female ties, to work relations etc.

You can also purchase "bonding braids" (500-yen) made of Sanada string that are used to bind many important objects like katanas and tea leaf storing pots. Write your wish on it and tie it right outside the torii gate to receive blessings for your wish to be fulfilled.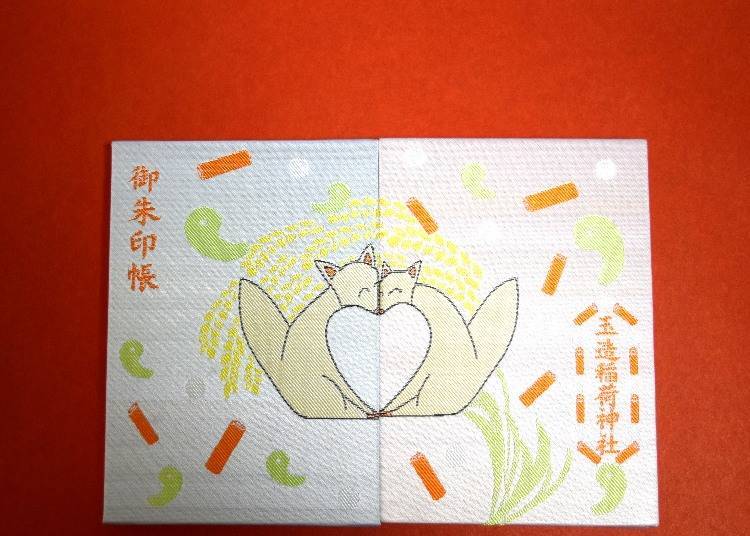 The shrine-visiting record book where you collect the stamps from various shrines also uses an original design. When the sky blue colored and the sakura colored sides meet, a heart shape is created with the foxes. Buying one set is enough to complete the combined design, so it's not a bad idea to buy one in the hopes of collecting stamps together with your (future) significant other.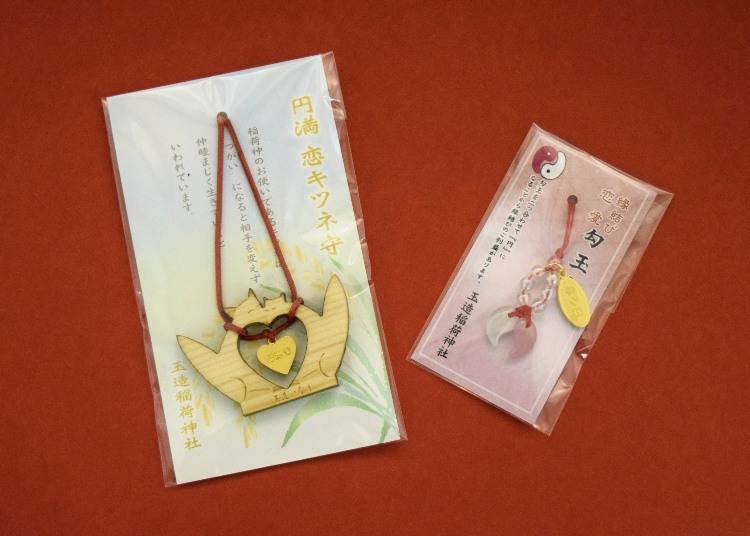 For those in love, the "Koi Fox Mamori" (800-yen), which sports a cute design in the shape of an ema, is an amulet that blesses a pair to have an enjoyable time together. The "Magatama of Love and Bonds" (1,000-yen) on the other hand has the power to bind two people together due to its shape of two magatama in unison.
玉造稲荷神社

Address

2 Chome-3-8 Tamatsukuri, Chuo-ku, Osaka, 540-0004

Phone Number

06-6941-3821

Operating Hours: 9:00 - 17:00 for the shrine's management office opening hours (the grounds are open 24-hours)
Open daily
3. Imamiya Shrine (Kyoto): Experience the story of the Japanese Cinderella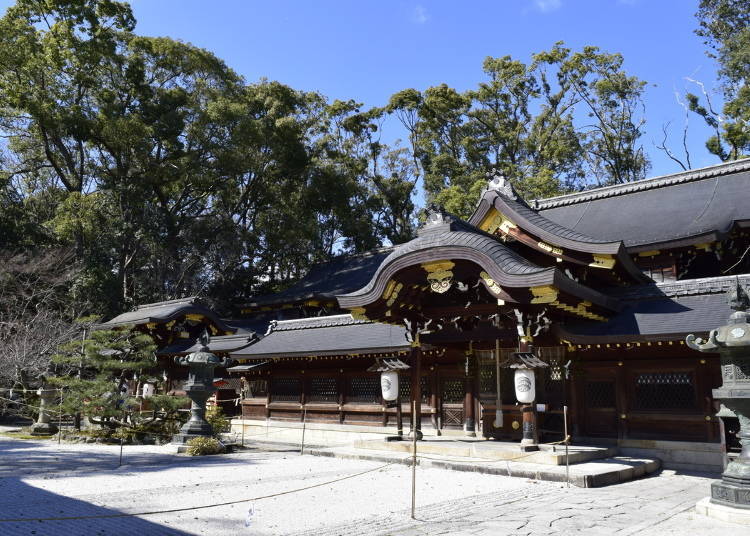 Imamiya Shrine, located in a quiet area in the northern part of Shino in Kyoto city, has been attracting the faith of the local Japanese since time immemorial.

Once upon a time, a daughter of a greengrocer near here, "Otama-san," became the mother of a general and ascended to a higher social status, and since then whenever a woman married a rich man and became wealthy, they were called "Tama no Mikoshi".

Many women visit this shrine in the hopes of being as lucky as Otama and meeting a wonderful prospective husband.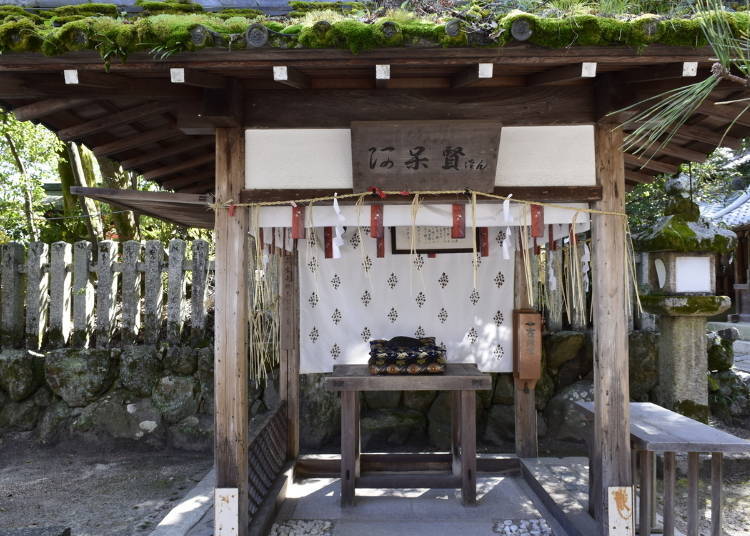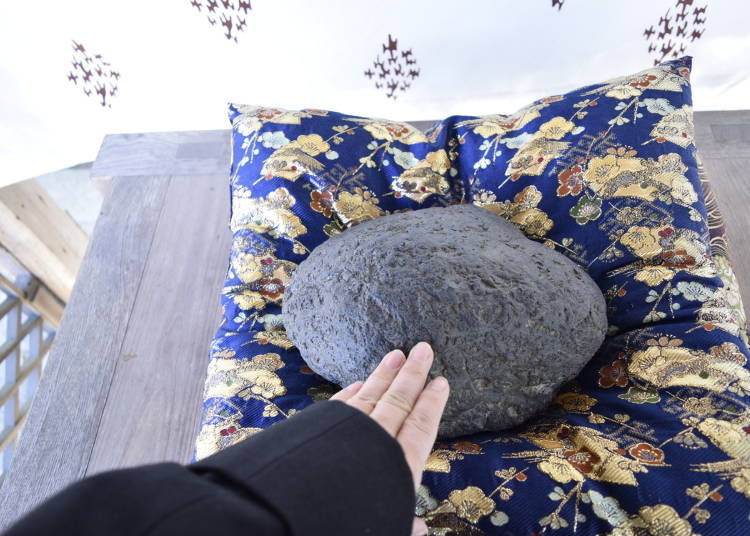 Within the shrine's compound, a mysterious rock named Mr. Ahokashi is revered. It is also known as the Kamiuchi stone or Omokari stone, and it has never ceased to attract visitors.

There is a strange myth regarding this stone: first, one hits it gently with their palm three times, then lifts it.

Then, they make a wish and stroke the rock three times. If after lifting the rock again, it feels lighter than before, the person's wish will be fulfilled (or so the rumor goes).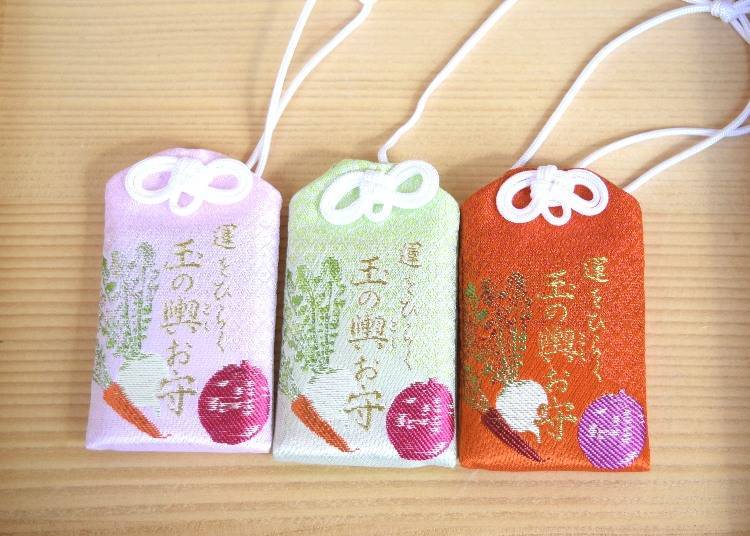 If you visit the Imamiya Shrine, it is recommended to get the "Tamanokoshi Charm" (800-yen, tax inclusive) to receive blessings for having fortuitous encounters and happiness. They come in a variety of colors, which makes choosing the color based on your intuition an option as well.

The foundation of the shrine's infrastructure dates all the way back to the year 994, but it is said that the deity of good health and speedy recovery that inhabits the shrine is a far more ancient being. Recharge your spirit as you make your prayers at this solemn and venerable shrine.
今宮神社

Address

21 Murasakino Imamiyacho, Kita-ku, Kyoto, 603-8243

Phone Number

075-491-0082

Operating Hours: 9:00-17:00 for the management office
Open Daily
4. Tsuyuten Shrine (Osaka): The power spot of tragic love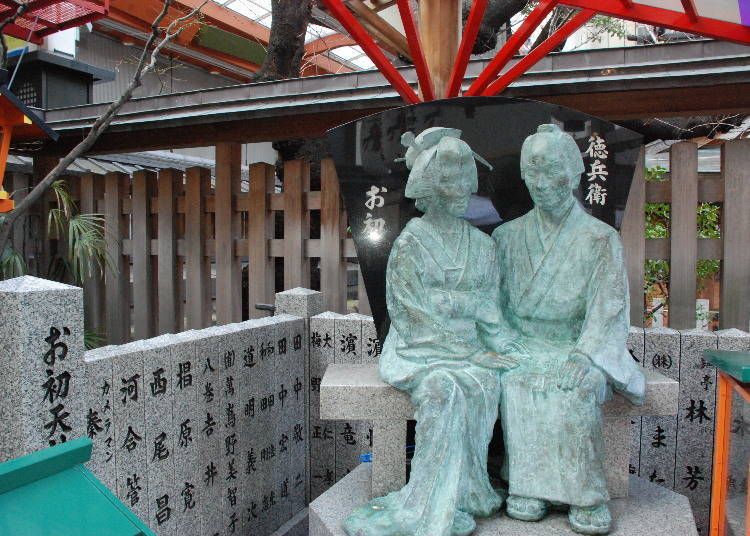 In Hankagai, where many restaurants are lined up, is the Tsuyuten Shrine, commonly known as "Ohatsu Tenjin". Based on the double suicide of the prostitute "Ohatsu" and "Tokubei" that occurred in 1703, the shrine received the moniker of "Osatsu Tenjin" due to the popularity of the puppet theater "Sonezaki Shinchu" that performed the same story.

Since then, it has been revered as a shrine for marriage that has received an ending stream of visitors, earning it the title of "the mecca of lovers" in 2013.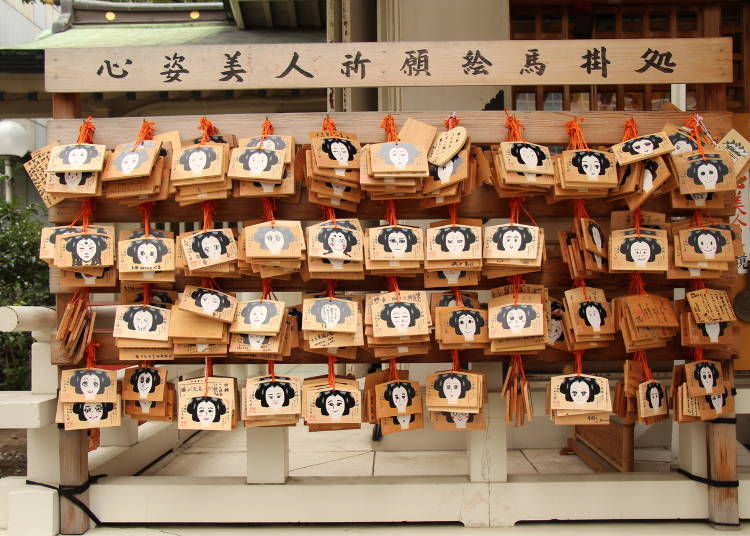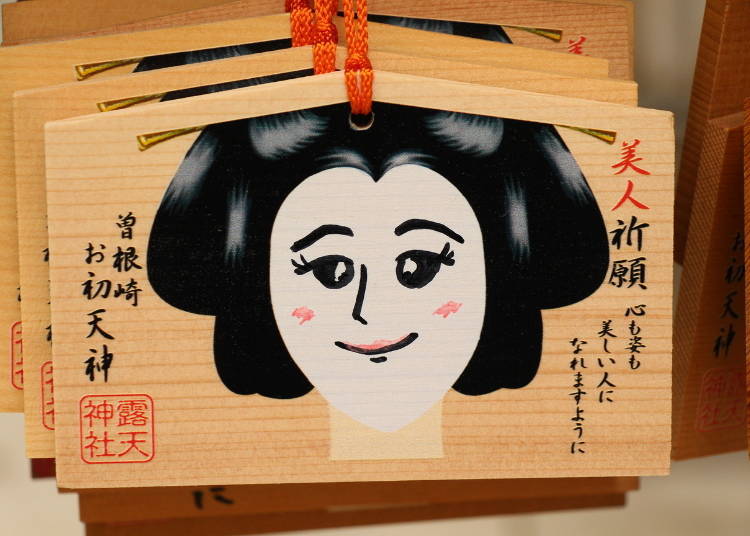 The ema, called the "Wishing Ema of Beauty" (800-yen), is also unique to the shrine. The ema was crafted with the saying "beauty of the body is akin to a fleeting flower, the beauty of the heart is a lifetime treasure" in mind.

Presented with a blank face, buyers are supposed to draw the facial features on their own with a marker. Using your own lipstick to add colors is also a common alternative here. This ema will wish you both outer and inner beauty in equal measure.
A pun on the name of the shrine, the "TO YOU Charm" (600-yen) is also a popular item, especially with foreign guests. Other goods available include "Enmusubi Shell Charm" (600-yen) made from real seashells, and a couples version of the shell charm (1200-yen) that is made of two conjoined shells.

In addition, "Maishishi Mikuji," which involves dancing lions who deliver fortune slips, is available in Japanese as well as five other languages. Enjoy the lions' charming dance moves as you tell your fortune.
露 天神社

Address

2 Chome-5-4, Sonezaki, Kita-ku, Osaka, 530-0057

Phone Number

06-6311-0895

Operating Hours: 6:00 - 24:00 (9:00 - 18:00 for the management office)
Open Daily
5. Yasui Konpiragu (Kyoto): Sever "bad bonds" and pray for good ones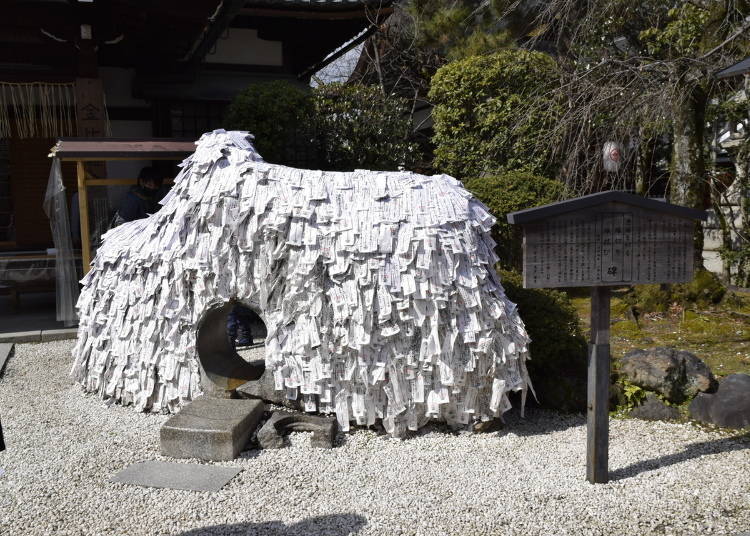 The Yasui Konpiragu, which is near Gion and Kiyomizu-dera, is a power spot also known as the Enkiri Shrine. Many people come here to worship as it is believed the place has the power to attract "good bonds" and sever bad ones.

The icon of the compound is the "Enkiri Enmusubi monument," which is approximately 1.5 meters high and 3 meters wide. To make your wish come true, write your wish on the white paper and carry it through the hole in the center from the front of the monument. After that, go through the hole from the other side and tie a firm knot, ending by sticking the paper charm on the monument.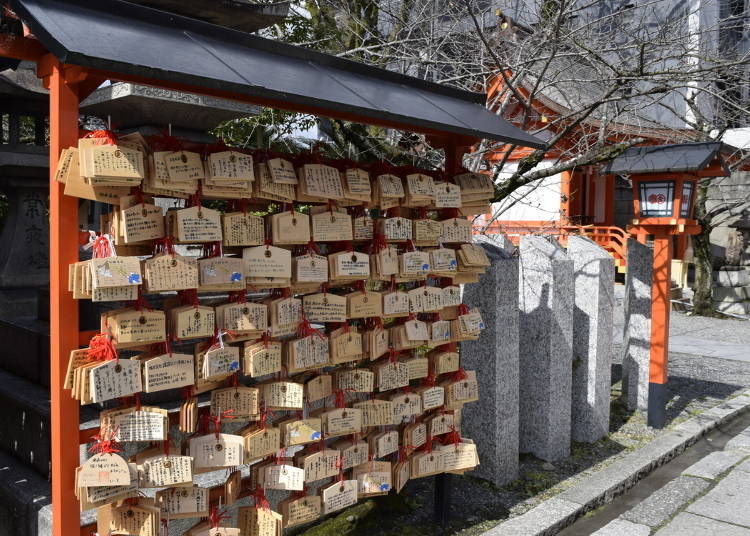 Serious comments are written on the emas for the sake of cutting unwanted bonds. A bad relationship is not only about love and friendships, but also about work, illness, and any connection you feel is undesirable. Alcohol, cigarettes and wasteful spending are some of the common "bonds" that people come here to cut off. By cutting off the bad bonds, you can make space for better ones..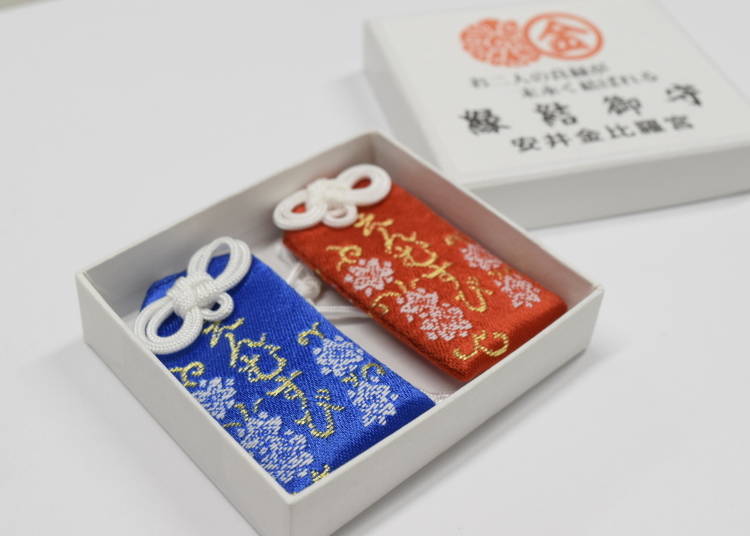 The charm conferring area sells a pair of lucky charms (800-yen, tax inclusive) that if you and your loved one carry one each, the relationship will be everlasting. Other than that, amulets for cutting bad connections and protecting one's heart are also available, so you can choose whichever suits your needs the best. Since the Yasui Konpiragu Shrine is open to the public 24/7, there are people who worship even during the silent late nights.
安井金比羅宮

Address

70 Shimobentencho, Higashiyama-ku, Kyoto 605-0823

Phone Number

075-561-5127

Business hours: 9:00 to 17:30 (company office)
Regular holiday: Open daily
Each of these 5 power spots has its own colorful backstory to them. Taking these stories into account, praying at these spots for good fortune might not be just mere superstition.

Written by WestPlan
*This information is from the time of this article's publication.
*Prices and options mentioned are subject to change.
*Unless stated otherwise, all prices include tax.