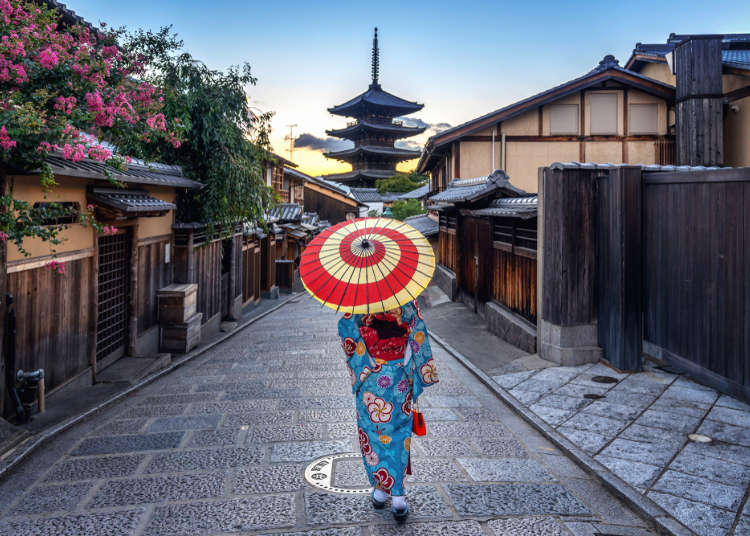 Kyoto symbolizes Japanese traditional culture. Kyoto offers many attractions throughout the year: temples and shrines where you can get a feel of the history, scenic spots, and gourmet delicacies, but if you don't know the names of the streets and how best to get about there is a chance you will miss out on a lot.

In this article we will give you 10 tips and insights on things you should know before you visit Kyoto.
1. Know when Kyoto will be crowded – and when it'll be quiet!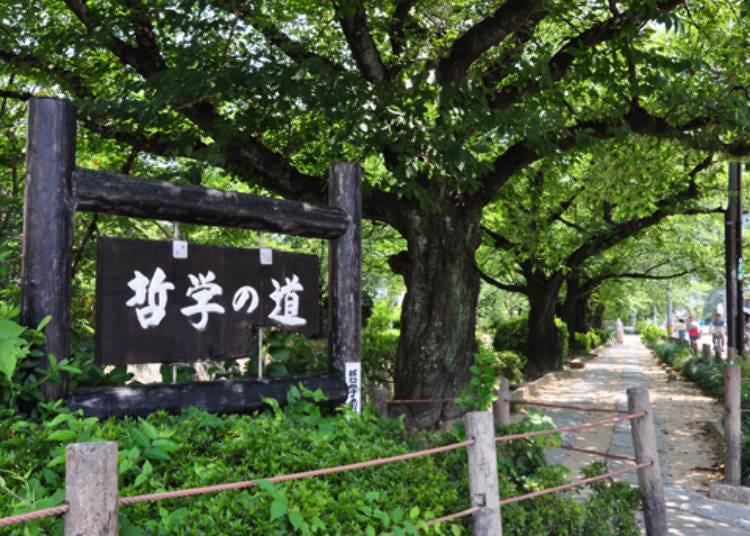 When the autumn colors are at their peak between the middle of November and beginning of December is when Kyoto is most crowded.

The next busiest time is the end of March up until the middle of April when the cherries are in bloom. During both these times the streets and popular sightseeing spots are jammed with large buses.

Conversely, it is relatively less crowded in the months of February and August. At these times lots of people leave to escape the harsh weather, but August is a time when the deep green colors, referred to as "green maple", are quite beautiful, while in winter when it snows temples and shrines are mantled in snow which is not all that often.

These are two times of the year when you are offered uniquely different sights.
2. Streets are in a grid, but addresses alone are not enough for taxi drivers to know where to take you!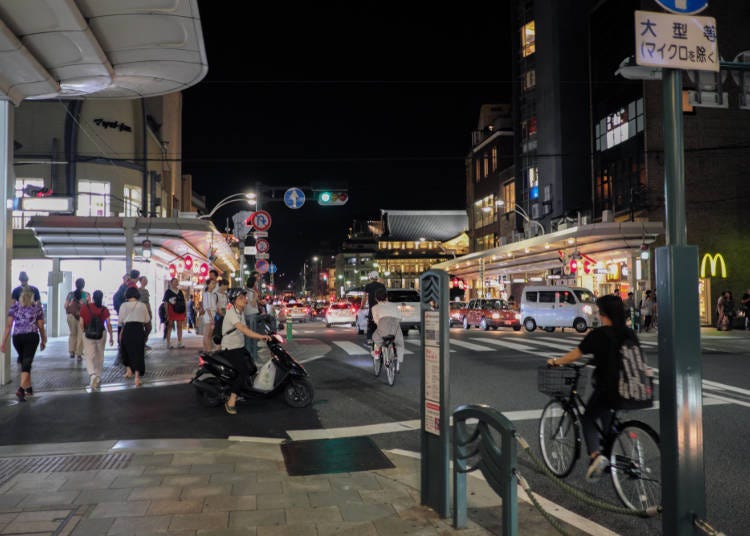 Sakaj Pawasuttikul / Shutterstock.com
The first thing you need to remember when visiting Kyoto is the names of the streets. The streets are laid out in a grid with the Kyoto Imperial Palace in the center; those running east and west are counted from north to south as Ichijo and Nijo while those running north and south are named "such-and-such Dori [street]" respectively.

Going north is called agaru [going up] and going south is called sagaru [going down]; going east and west is called iru [entering].

For example, if you go north from Sanjo Dori to Kawaramachi Dori, you would say "Sanjo Kawaramachi agaru", and if you go east from Karasuma Dori to Shijo Dori, you would say "Karasuma Shijo Higashi iru".

It's a good idea to remember that this is the general way for giving directions in Kyoto because if you don't and instead just tell the driver the name of the part of town you wish to go, there is a good chance they will not understand you.

Alternatively, show them exactly where you want to go on a map or app!
3. Avoid crowds: Sightseeing in the early morning is recommended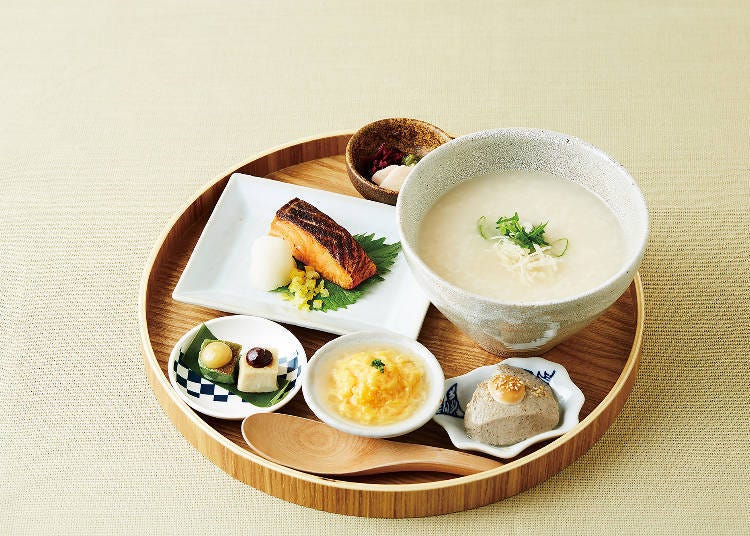 Early morning is recommended for those who wish to avoid large crowds of tourists and would like to sightsee more leisurely.

Typically, most tourists eat breakfast in their hotels before checking out and then begin sightseeing around 10:00 a.m. so you can avoid crowds by going sightseeing early in the morning.

It is possible to visit many shrines and temples from 6 or 7 in the morning, so in recent years an increasing number of shops are offering breakfasts.

For example, at Iyemon Salon Atelier Kyoto in Higashiyama Ward, you can enjoy IYEMON's Porridge Gozen 1,800 yen from 8:00 a.m., which is an excellent rice porridge cooked carefully with chicken stock. So, the best way to get the most out of sightseeing is to do it early in the morning!
Iyemon Salon Atelier Kyoto

伊右衛門サロン アトリエ 京都

Address

481-1, Yasakatoriimaekudarukiyoicyo, Higashiyama,Kyoto 〒605-0821

Phone Number

075-744-6451

Open: Breakfast 8:00 a.m. ~ 11:00 a.m. (LO 10:30 a.m.), Lunch 11:00 a.m. ~ 3:00 p.m. (LO), Dinner 5:00 p.m. ~ 10:30 p.m. (LO course 9:30 p.m., Grand Menu and Drinks 10:00 p.m.)
Closed: always open
4. Buses and subway are an inexpensive and efficient way of getting around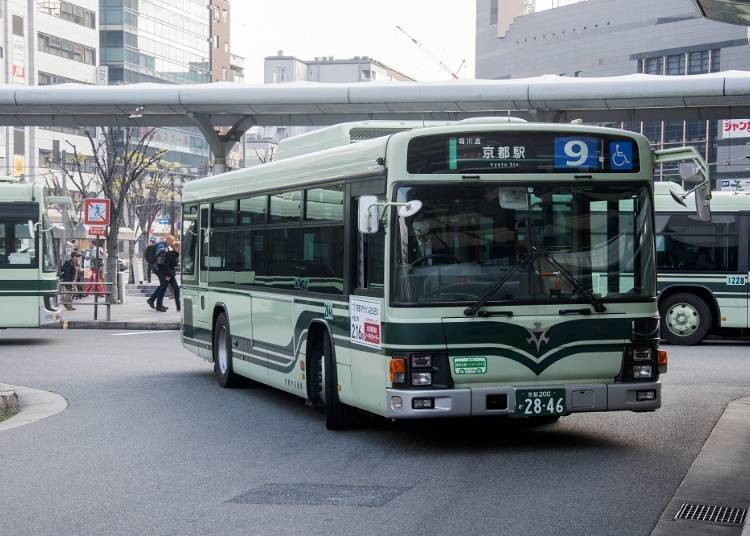 Tang Yan Song / Shutterstock.com
Kyoto has an extensive network of scheduled bus routes and all of them cover major sightseeing spots.

As many of these depart from Kyoto Station, we recommend that you purchase a one-day pass that enables you to ride as many buses in a day as you like.

But keep in mind that during those times when autumn leaves are in full color or the cherries in bloom traffic becomes quite congested causing delays in bus schedules, so at those times also using them in conjunction with the subways is more convenient.

If the bus routes look too complicated, then the best plan of action is to first take a subway and then transfer to a bus going to your sightseeing destination.
5. Renting a bicycle is another way to get around the city easily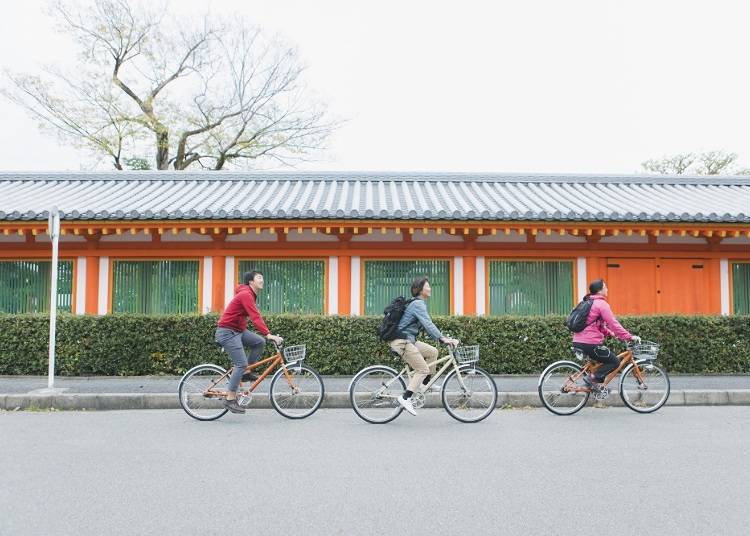 Many people find that when sightseeing by bus and subway there is the hassle of waiting, and making transfers and traffic congestion can be frustrating.

Renting a bicycle is a good way to avoid all that. Rental bicycles can be found in places around the city, including the Kyoto Cycling Tour Project that is the closest to the Karasuma Central Exit of JR Kyoto Station, and these can be rented at a reasonable price.

There are an increasing number of bicycle parking areas at sightseeing spots as well as temples and shrines which makes it easier to visit these places when you like which will make for even more delightful memories of your visit.
Kyoto Cycling Tour Project

京都サイクリングツアープロジェクト

Address

552-13, Aburanokojishiokojikudaruhigashiaburanokoji, Shimogyo, Kyoto 600-8231

Phone Number

075-354-3636

Hours of operation: 9:00 a.m. ~ 6:00 p.m. (Kyoto Station Cycle Terminal), also Kyoto Station Hachijo Exit, Fushimi, and Gosho Minami
Fee: from 1,000 yen / day (prices depends on bicycle model and class)
Closed: always open
6. Wear comfortable walking shoes and clothes appropriate for the weather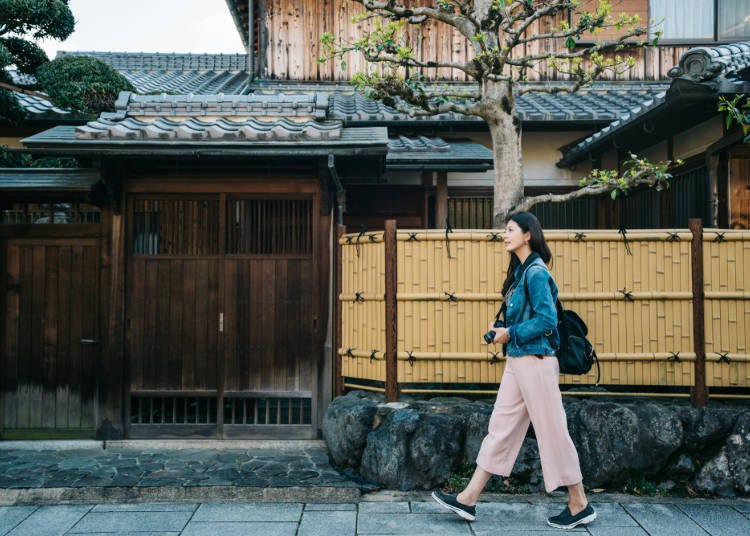 Comfortable walking shoes are a must when sightseeing in Kyoto as it will involve a lot of walking.

The grounds in many of the temples and shrines are covered with gravel which, when wearing high heels, can make walking difficult. For that reason, the ideal footwear is that with flat soles and not a problem if it becomes dirty.

Summers are hot and winters cold so that should also be kept in mind when deciding the type of shoes to wear.

You need to be especially careful in winter. In many temples you are required to remove your shoes before entering, so using heating pads and wearing two pair of socks will help keep your feet warm.
7. Dress up as a Maiko and learn more about Kyoto culture!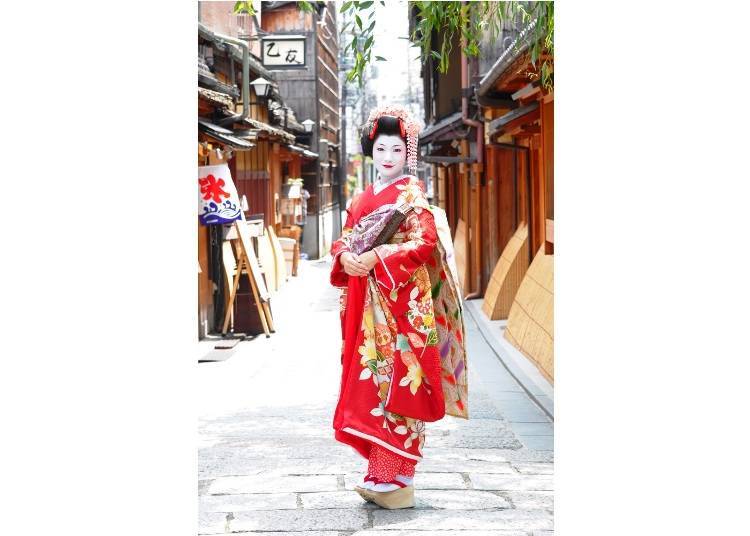 When walking around Kyoto you might see Maiko on rare occasions. However, as they are on their way to work, approaching them or taking their pictures is prohibited. Instead, you might consider dressing up as a Maiko yourself.

At Maiko Experience STUDIO Yume Kobo, which has stores in front of Kyoto Station, Gion, and Arashiyama, you not only can dress up as a Maiko, but also as an Oiran, and there are also rental kimono. Doing this will help you get a deeper feeling of the culture of Kyoto by immersing yourself in a part of it.
Maikotaiken STUDIO Yumekoubou Kyotoekimaehonten

舞妓体験STUDIO 夢工房 京都駅前本店

Address

511, Minamimachi, Shimogyo, Kyoto 〒600-8232

Telephone: 075-353-4423 (Reservations Center)
Open: 10:00 a.m. ~ 5:00 p.m., (Saturdays, Sundays holiday from 9:00 a.m. (Closing time is for the Maiko experience. Varies according to experience plan)
Price: From 5,900 yen for the Maiko plan
Closed: always open
8. "Off-the-beaten-track areas" are recommended for more leisurely sightseeing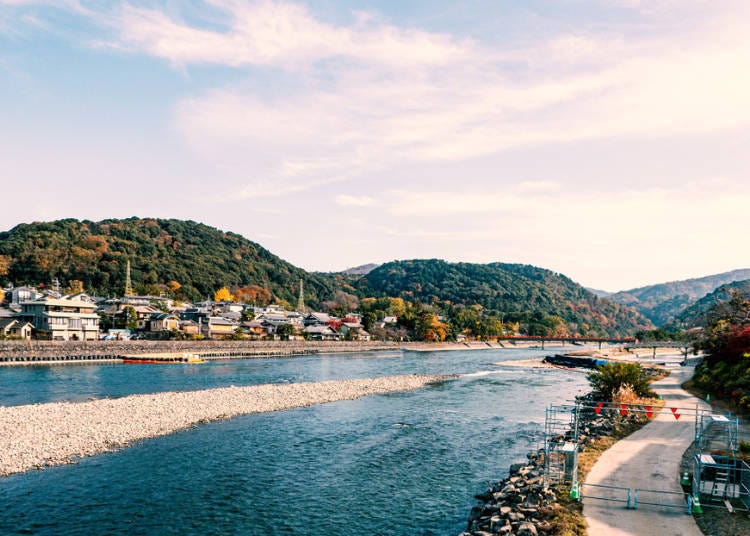 Famous tourist spots tend to be very crowded, but if you go a little bit out of the way, there are many areas that are not so congestion.

For example, the area around the Togetsukyo Bridge in Arashiyama is crowded, but if you walk about 10 minutes from there to the Sagano area you will find a relatively more relaxed atmosphere than the one in Arashiyama.

In addition, if you use the Heian Train from Demachiyanagi, you can see the ruins of the Mankyuin Gate at Shugakuin, one of the most famous temples of Rakuhoku, and Ichijoji, where the competition between ramen shops is quite fierce.

This is a relatively less crowded area. There are areas such as Uji which is famous for sites like Byodoin, where compared to the city center time passes more slowly and are perfect for taking leisurely strolls.
9. These are the convenient places in Kyoto for lodgings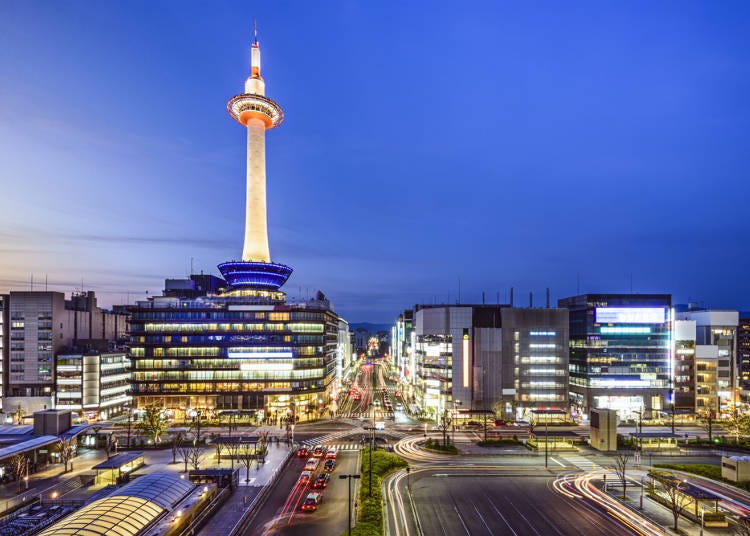 Rather than book accommodations at places that are close to famous sightseeing spots, you are better off staying somewhere in places like Shijo Kawaramachi where there are lots of dining and drinking establishments that stay open at night or in the area around Kyoto Station which is perfect for going just about anywhere.

There are many large hotels near Kyoto Station, so it's easy to make a reservation, but during the high seasons, such as spring, autumn and long national holidays, it is often impossible to make a reservation, so reservations should be made as early as possible.

Although it is close to tourist spots, the area around Kiyomizu-dera has lots of merchant-house hotels and guest houses and are recommended for their more care-free accommodations.
10. Don't miss Kyoto's local gourmet specialties!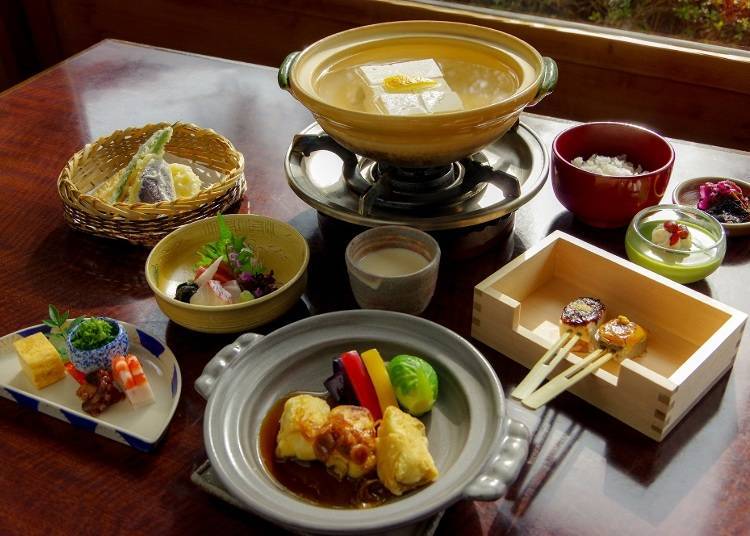 Eating local famous dishes is a must when sightseeing. Kyoto has a long history of cultivating famous gourmet specialties such as the traditional Kyo Kaiseki, Yudofu [hot tofu] and Yuba [bean curd skin] cuisine made with domestically produced soy beans noted for their delicate flavor, and Shojin Ryori [Buddhist Cuisine] at the famous restaurant Nanzenji Junsei.

Recently Kyomachiya, traditional merchant houses that have been converted into shops, serve lunches and obanzai, light Kyoto-style home cooking with boiled vegetables and marinated food, as well as matcha sweets made from Ujicha, one of the three most famous types of tea in Japan, and these have become especially popular with younger people.

The residents of Kyoto Prefecture are the largest consumers of bread per capita in Japan, leading to fierce competition among bakeries, and as a result there is lots of delicious types of bread to be found here!
南禅寺 順正

Address

Nanzenjimonzen,Sakyo,Kyoto 〒606-8437

Phone Number

075-761-2311

Hours of operation: 11:00 a.m.~ 9:30 p.m. (L.O. 8:00 p.m.)
Closed: unscheduled
Kyoto is one of Japan's most popular travel destinations. And it is especially convenient for sightseeing! There are certain things to remember to make your visit a stress-free and delightful one. Hopefully you will find this article to be useful in that regard so that you can enjoy your time here to the fullest.

Text by:Efeel

*The above article is based on information from April 2020
*This information is from the time of this article's publication.
*Prices and options mentioned are subject to change.
*Unless stated otherwise, all prices include tax.
Limited time offer: 10% discount coupons available now!