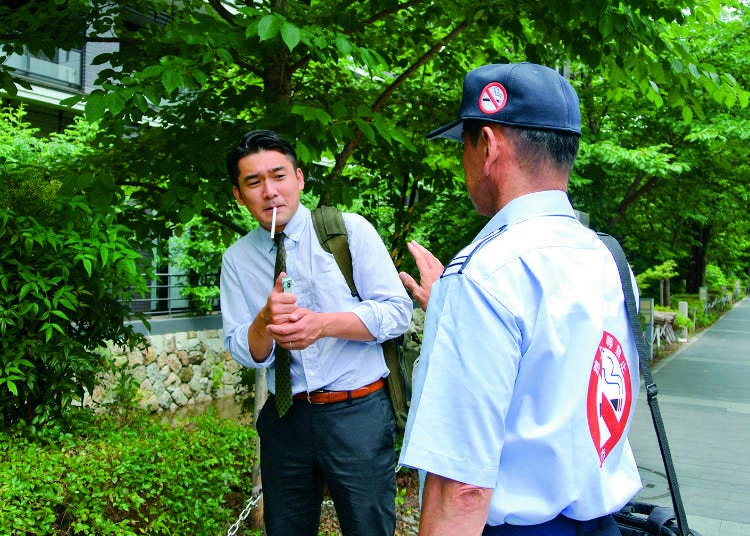 After an arduously long journey by train or bus, you can finally breathe easy as you set foot into Kyoto. But as soon as you step outside the station, you notice some tourists lighting up - and immediately stopped by police on patrol, who take them aside for questioning.

In the scenic streets of Kyoto, thronged with masses of sightseers and tourists, there are laws governing smoking on the streets. As first-timers can easily miss these laws, we'll be going through them here!
The reason for the smoking ban in Kyoto!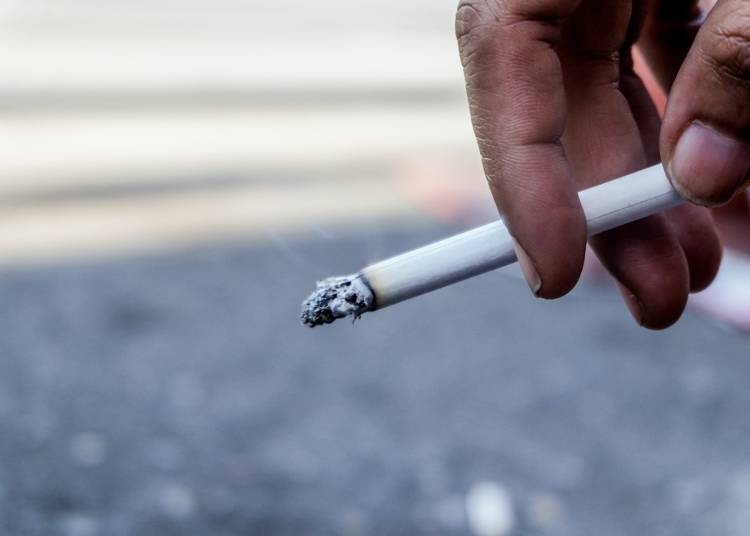 Throughout various parts of Japan, there are rules in place that restrict smoking on the streets. Of course, Kyoto is no exception to these laws.

But why? Regardless of how carefully and considerately you try to smoke, smoking poses a danger to the people around you.

Amidst the crowds, have you ever had the lit butt of a cigarette pass right in front of your child, nearly burning them?

What about when going out for an afternoon with your favorite bag, only to return home to find a burn mark on it?

And when smokers on bicycles pass by you, have you stopped to choke on the smoke trail they left behind?

No matter what, smoking on the streets pose a real danger to those around you, but this doesn't mean that the smoker is completely at fault. Smokers can continue to smoke at designated smoking areas, to provide a safe environment for everyone.

To make the streets of Kyoto safe and enjoyable for all, smoking on the streets is strictly prohibited. But if you are a smoker, note that smoking areas are clearly marked out for them as well.
What about vaping e-cigarettes - in designated smoking areas only?
The simple answer to this is yes: in Japan, for all intents and purposes, vaping is the same as smoking and the same laws apply.
Watch out for the sign marking out non-smoking areas! Among them include places that impose 1,000 yen penalties too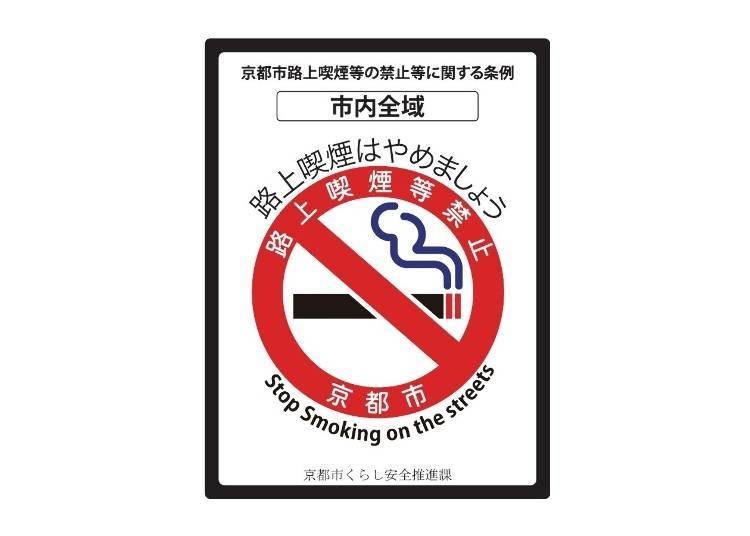 "Stop smoking on the streets" pavement sheet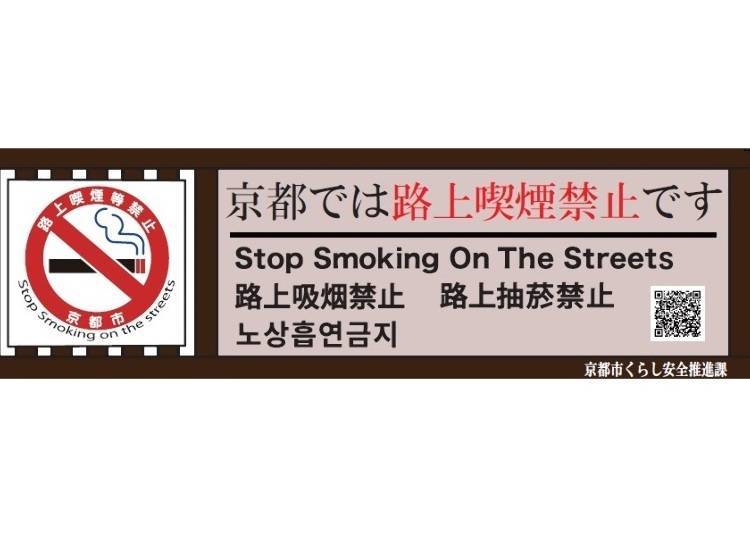 "Stop smoking on the streets" sticker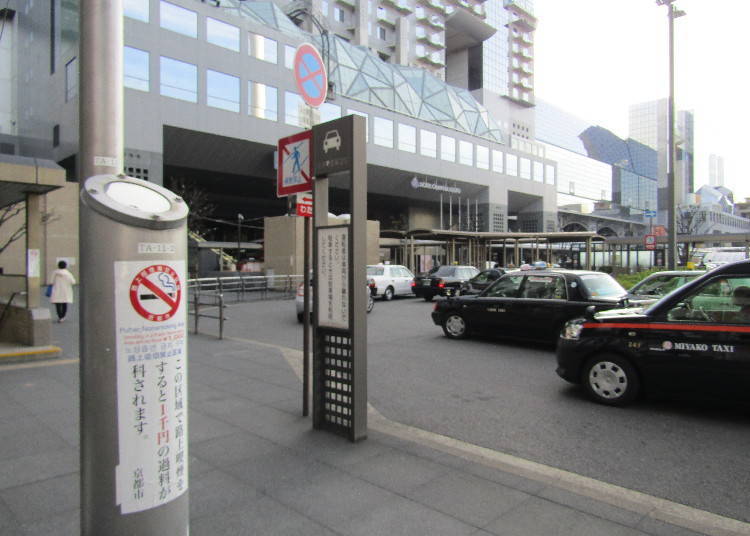 Right in front of Kyoto station, signs prohibiting smoking are clearly displayed
As smoking is not allowed on all the streets of Kyoto city, these signages are on display all throughout the city. Wherever you see these signs, be sure not to smoke!

Amongst the areas that ban smoking, in the three areas with the heaviest footfall (Downtown Kyoto City, the Kiyomizu and Gion areas, and the area around Kyoto station), smoking on the streets incurs a 1,000 yen fine as well, as an added safety precaution.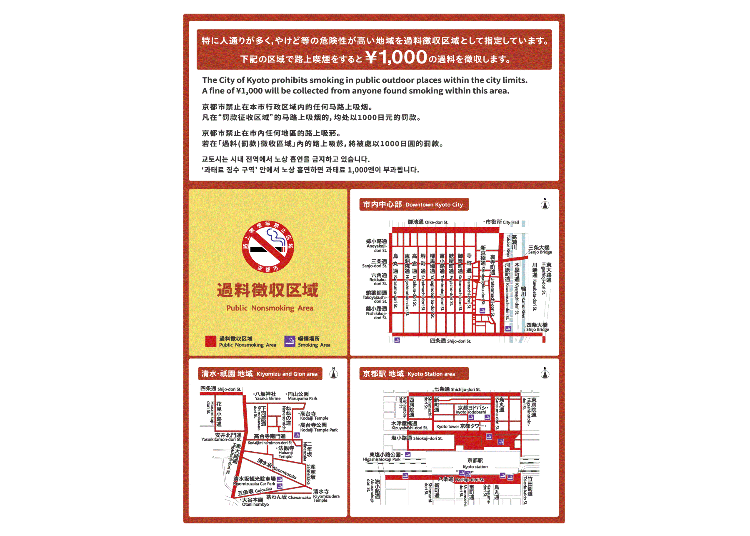 A map of the areas that include penalties for smoking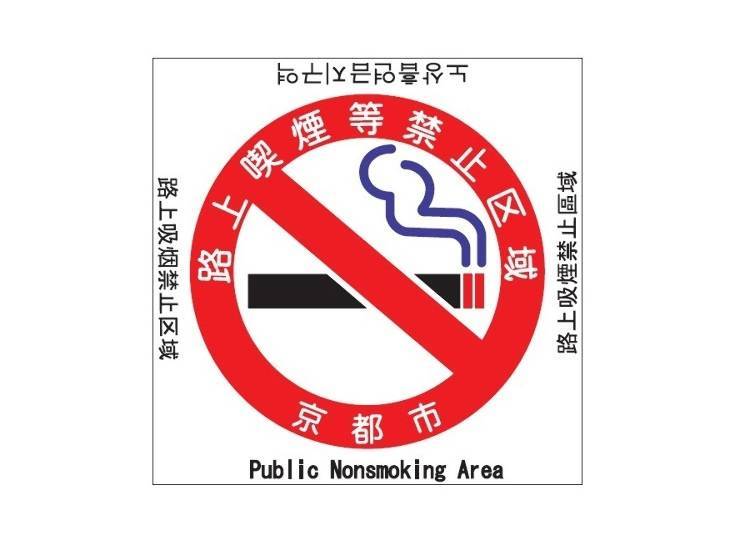 "Public non-smoking area" sign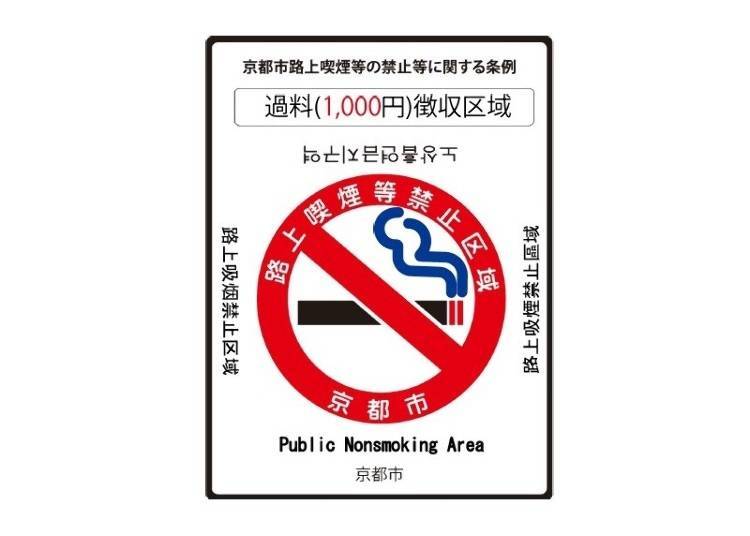 "Public non-smoking area" pavement sheet
Within the city of Kyoto, in order to maintain the smoking ban, officers are on patrol as well. If they do catch you smoking, do be sure to heed their instructions
A run-down of what happens if you're caught smoking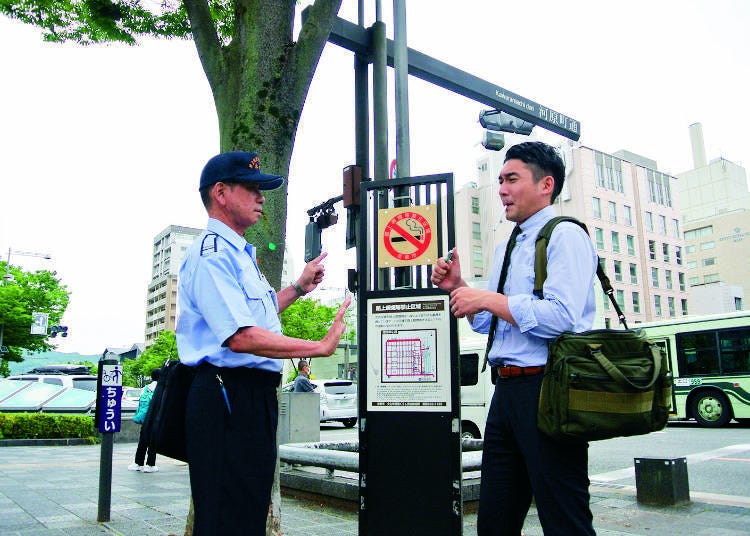 1) Inside the penalty zones

Smoker: "I'll take small break. Just a quick puff..."

Patrol officer: "Smoking on the streets is prohibited. As you can see from the sign over there, this is a smoking penalty zone."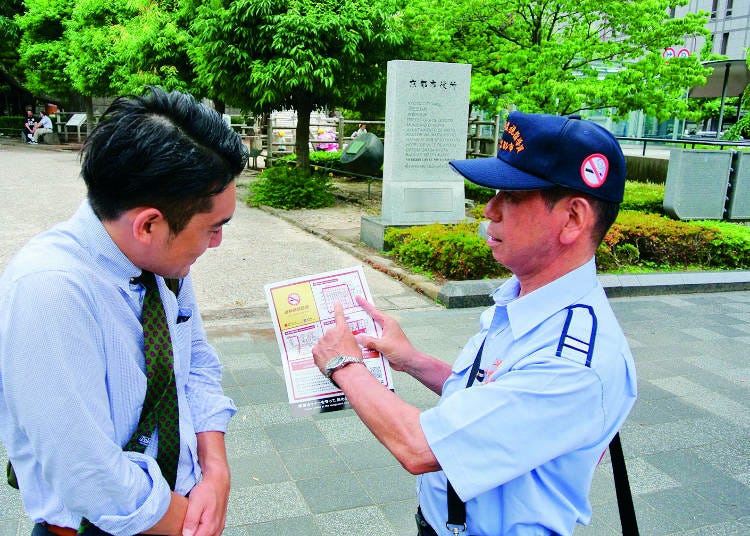 Patrol officer: "In Kyoto city, smoking on the streets is prohibited in all wards and districts. Particularly in places with a lot of people around, there's a 1,000 yen penalty for smoking."

Smoker: "Thank you for telling me, actually I didn't know about these rules."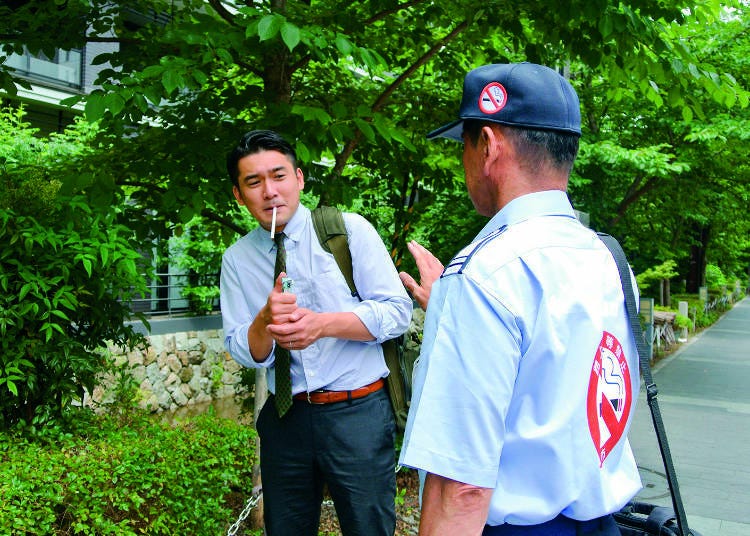 (2) Outside penalty zones

Smoker: "It should be fine to smoke here, right?"

Patrol officer: "Smoking is strictly prohibited on all the streets of Kyoto. Even outside the penalty zones, please smoke only in places where ashtrays are provided."

Smoker: "I see... sorry about that."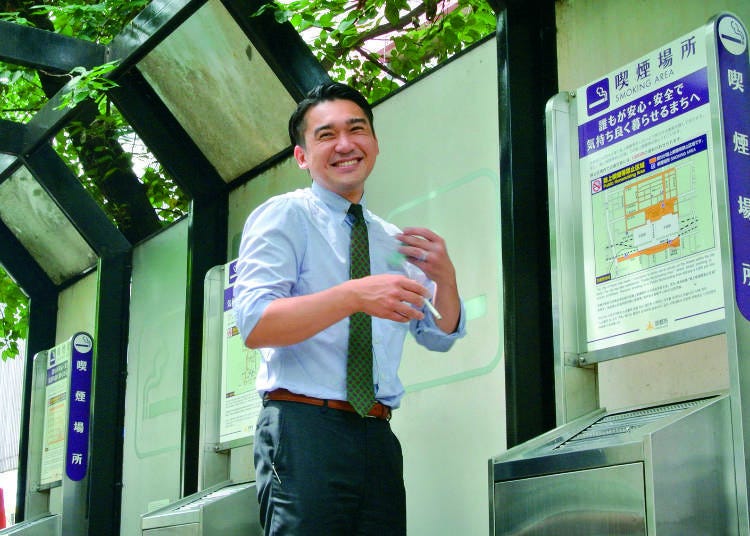 Smoker: "I have to watch out a bit more!"

The patrol officers are on duty to ensure peace of mind for everyone. When they make requests of you, please follow their instructions carefully.
In that case, where am I allowed to smoke?
Smokers can only smoke in areas designated as such.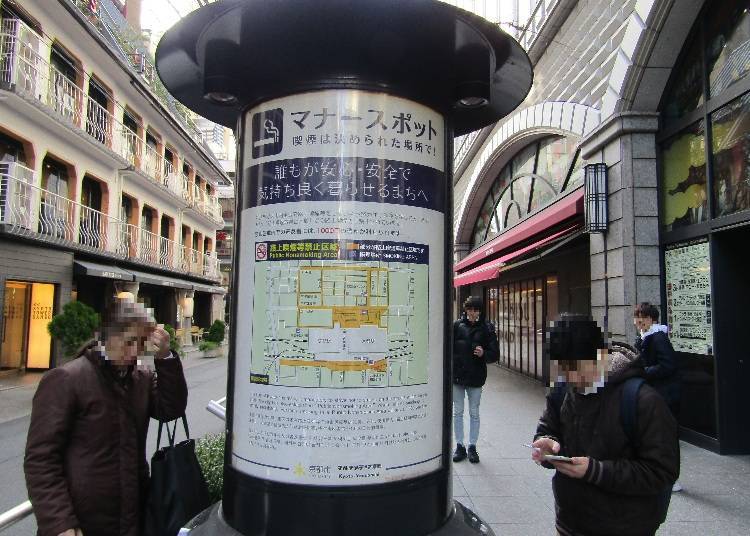 Smoking corner along the road (ash trays are provided around the pillar)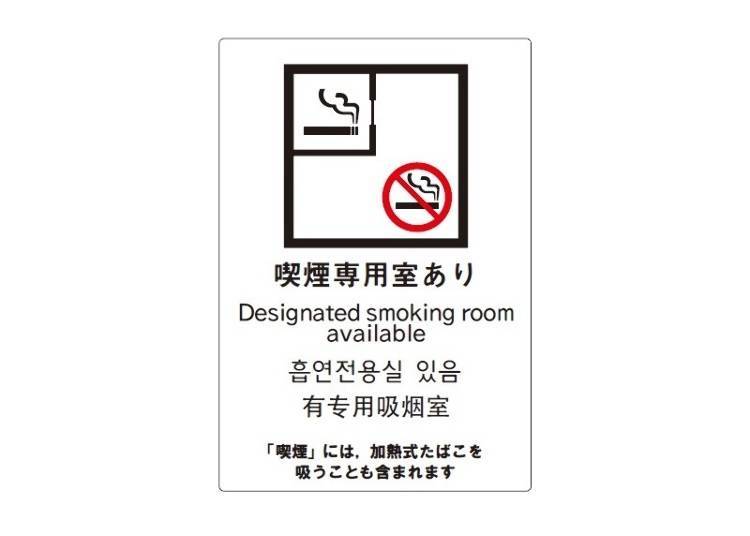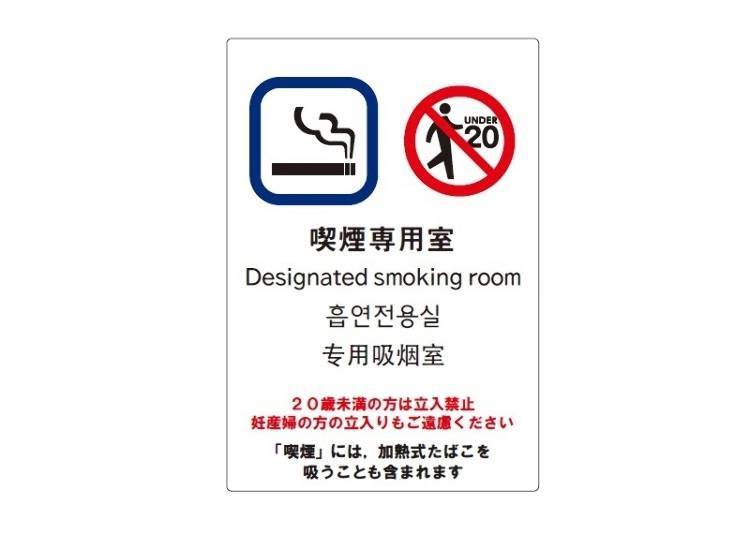 Shops that permit smoking have stickers like this displayed on their front doors. The sticker on the left is displayed at the main entrance of the shop, while the one on the right is for the entrance to the smoking-room.

Shopping malls also indicate the locations of smoking rooms on their floor maps. For floors with smoking rooms, you can follow signages displayed on the floor. If no arrows or signs are displayed, there's usually a sign where the smoking room is located.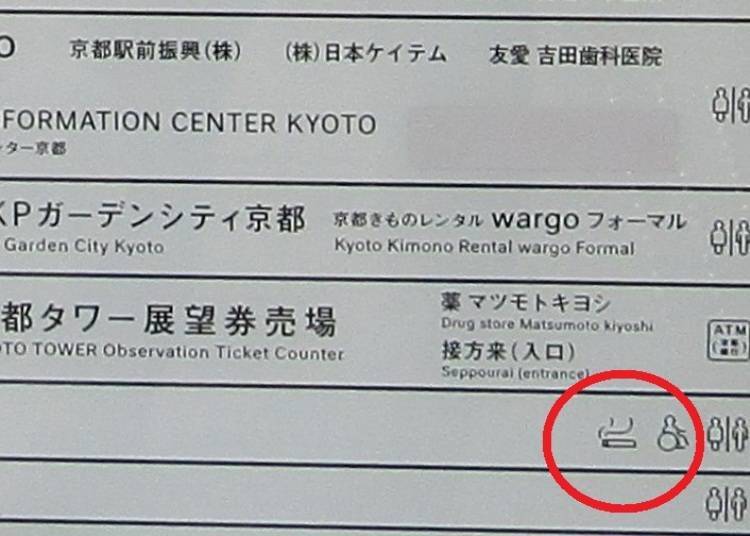 Floor map of a shopping mall
For example, in this mall, there is a smoking sign on B1F, indicating that there is a smoking room there. As such, let's head to B1F.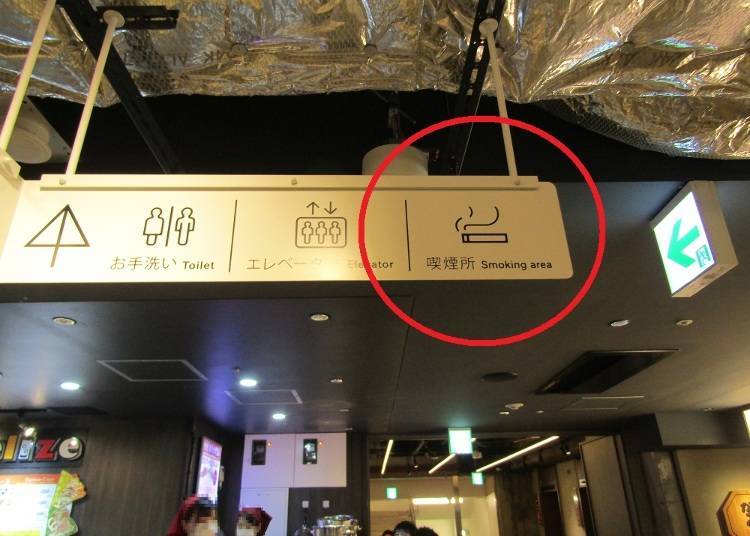 There are signs hanging from the ceiling. The mark on the extreme right is for the smoking room. Since the arrow on the left is pointing up, let's walk straight ahead.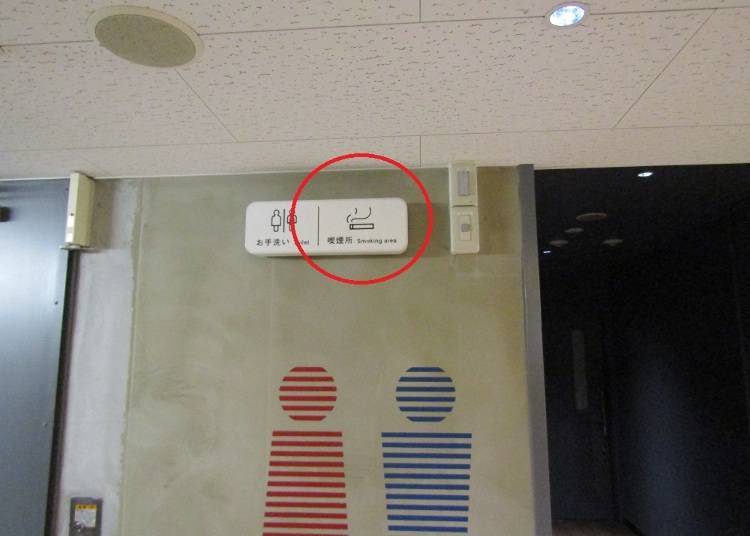 You can see a sign on the wall right in front of us. On the right is the sign for the smoking room, and if we peek at the corridor on the right...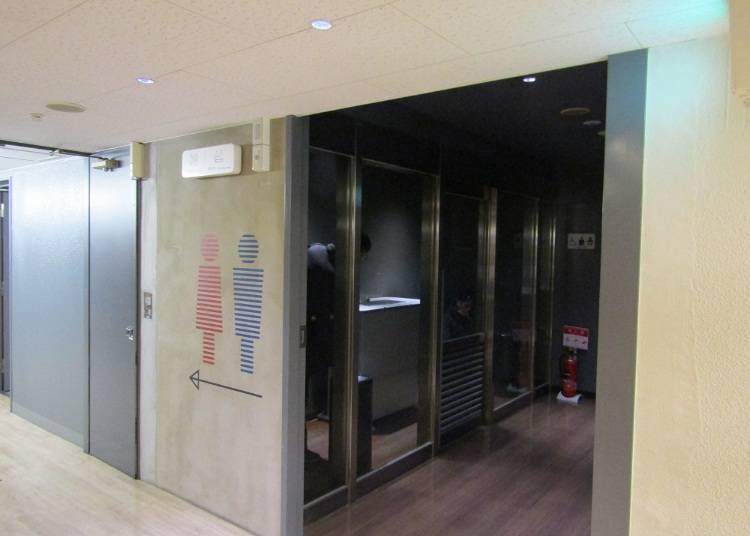 There's a smoking room. Head in and close the door, and you can relax with a few puffs.

However, starting from April 2020, many businesses and eateries, amongst many other facilities, have completely banned smoking indoors, so do take note.
What about smoking areas in penalty zones?
In areas where a 1,000 yen fine is levied for smoking on the streets, there are often large maps on walls indicating the locations of multiple smoking areas nearby.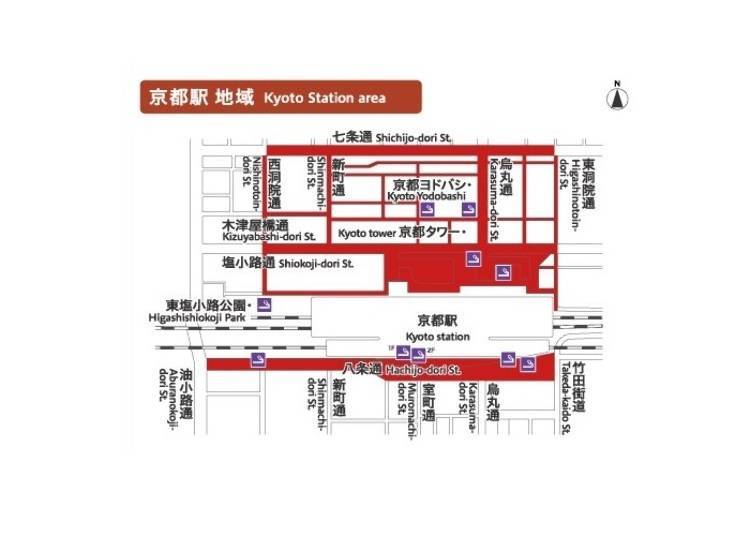 JR Kyoto station is a designated penalty zone. On the map, you can see various smoking marks indicated. Around Kyoto station, there are ten such smoking areas. Let's try looking for the one at the bus stop on the north side of the station.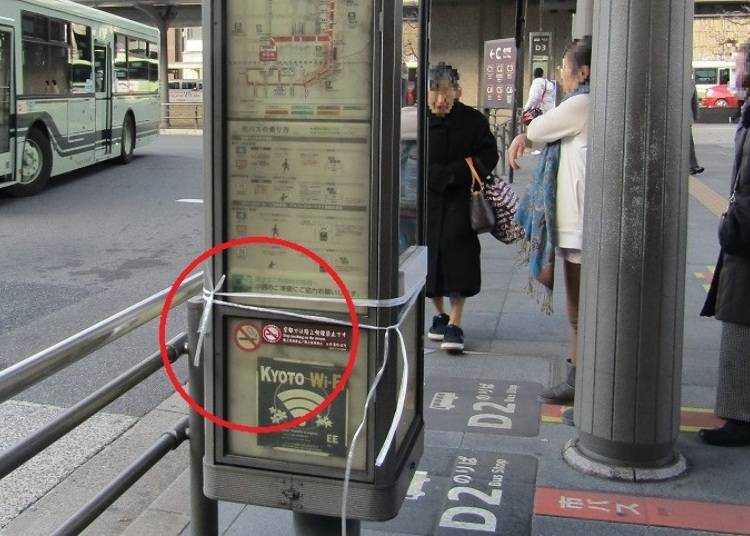 At the bottom of the pillar at the bus stop, you can see a "No smoking" sign above the Wi-Fi mark. The smoking area isn't here, so let's keep moving.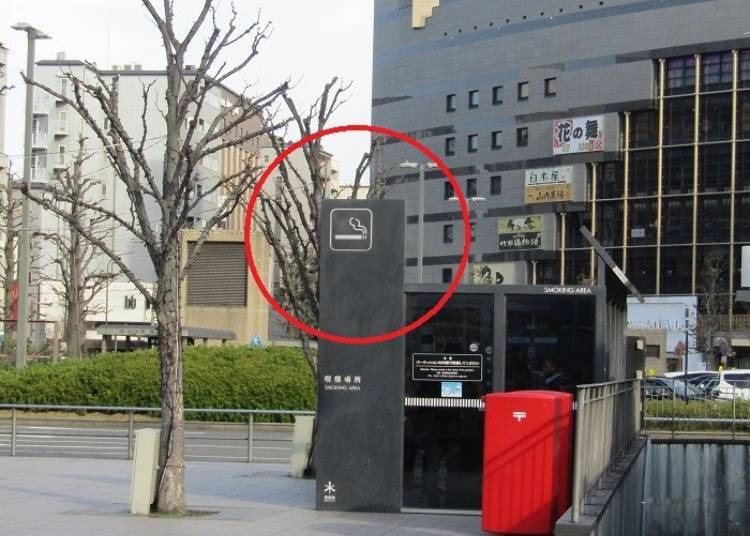 You can see a smoking sign on the right.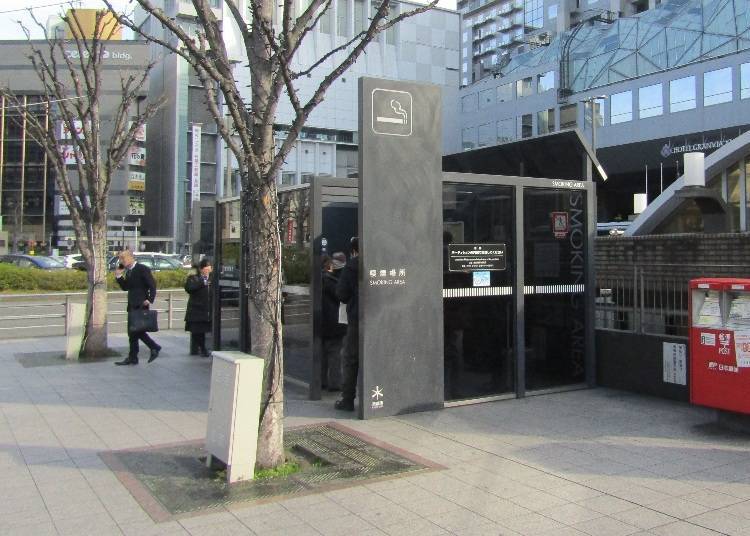 There are many people using it now. It's so full that there are people blocking the entrance as well. In this case, let's search somewhere else.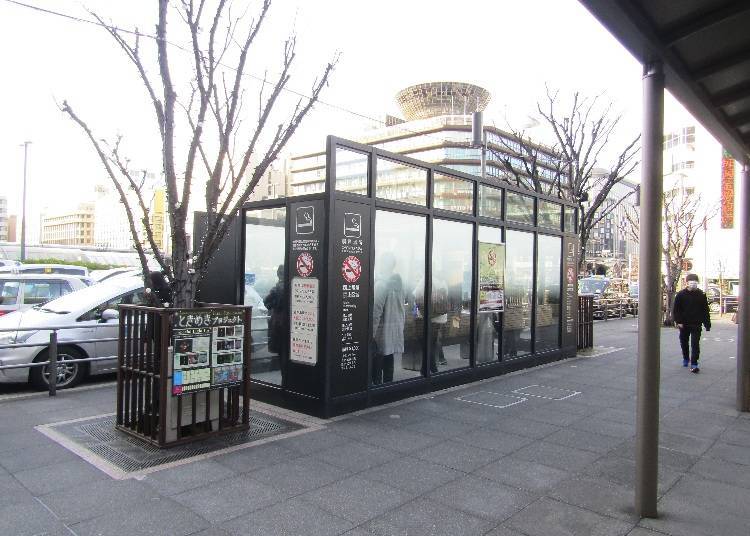 You can see it right next to the taxi stand. It doesn't seem quite so crowded, so let's stop here for a smoking break.

Besides Kyoto station, there are two other penalty zones, which are Downtown Kyoto City, and the Kiyomizu and Gion areas.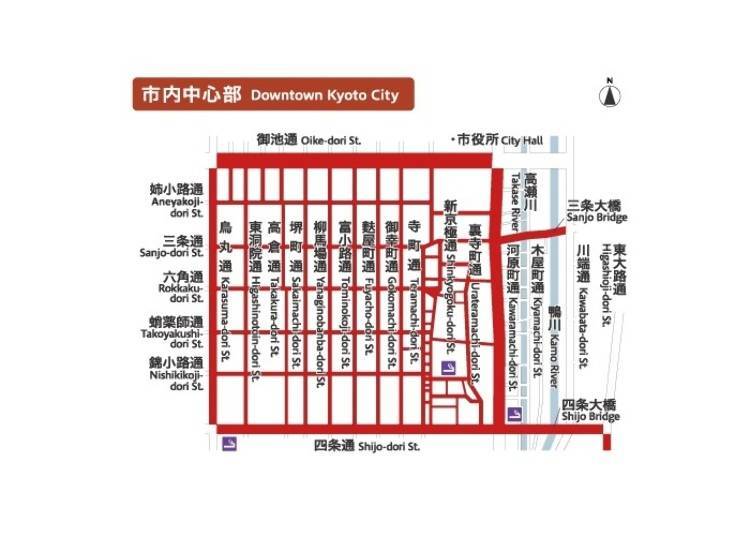 Downtown Kyoto City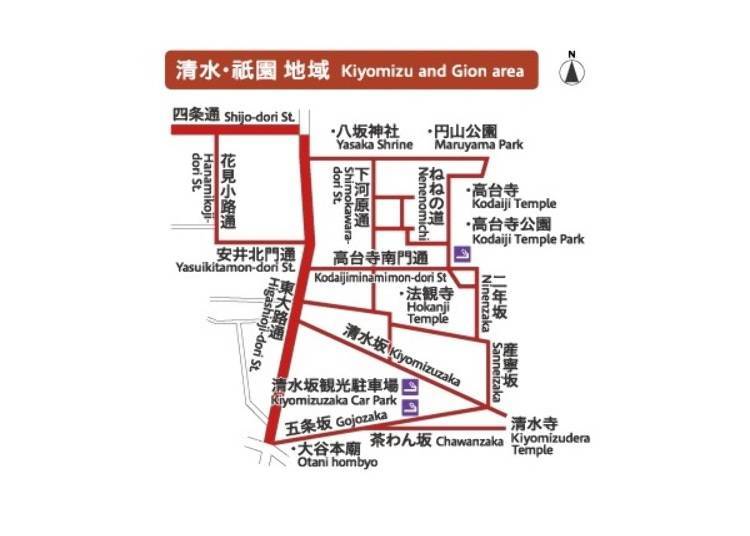 Note that these two areas have fewer designated smoking areas than Kyoto station.
People from all over world gather in Kyoto to see the wonders the city has to offer. Let's all observe the rules, and make one more pleasant memory of our time here!
*This information is from the time of this article's publication.
*Prices and options mentioned are subject to change.
*Unless stated otherwise, all prices include tax.