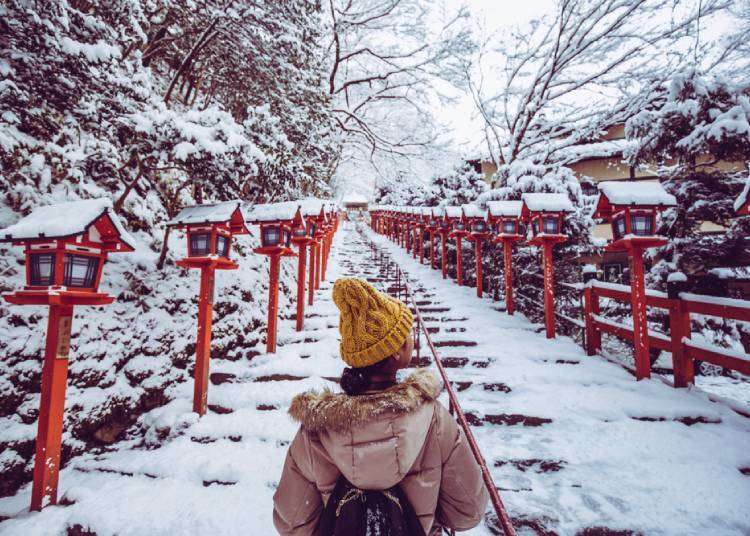 When you visit Kyoto in winter, you're in for a treat! While there are many things to do in Kyoto in winter, some preparations are needed on your part in order to fully enjoy this area and its deep connection to Japanese culture, tasty tidbits, and enjoyable experiences.

While a snow-covered Kyoto is a fantastic sight, ill-prepared travelers may also get to personally experience what being "chilled to the bone" means! Here are some ways to protect yourself from the harsh coldness during your trip to Kyoto in the winter, as recommended by the locals themselves.
Understanding Kyoto's bone-chilling coldness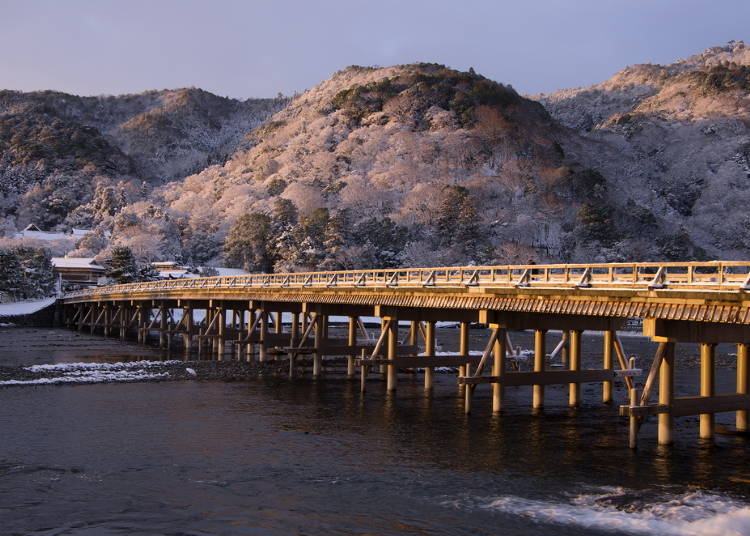 The city of Kyoto is located in a basin surrounded by 400 to 500 meters (about 1,312 to 1,640 feet) tall mountains in the north, east, and west. Land basins are known to have noticeably higher temperatures during summers and lower temperatures during winter.

During winter, the city hardly dips below a chilly -2°C (about 28.4°F) at its lowest point, and 6°C (41°F) at its highest. On paper, this looks much warmer than places like Hokkaido or the Tohoku region, yet for some reason, the cold really sinks its teeth into you. Sometimes, it feels like the coldness is emanating right from your feet! This phenomena is known to many as the raw coldness of Kyoto.
What's the weather like in Kyoto in winter?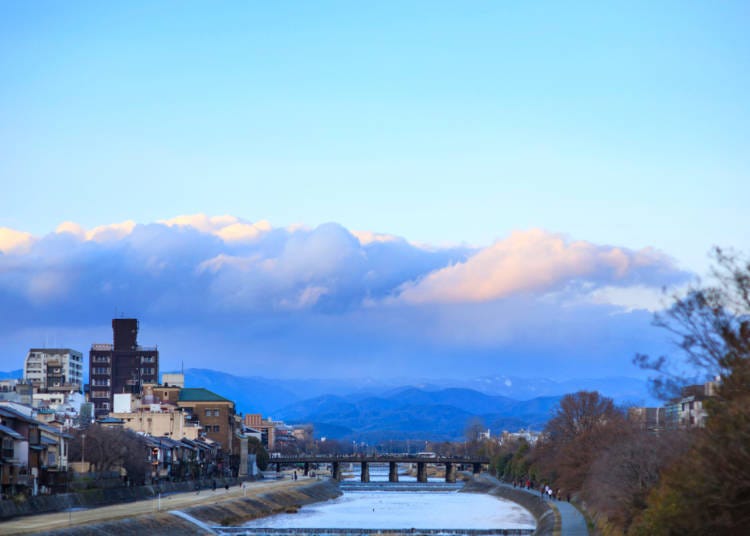 Precipitation is low all-year round in Kyoto, which means clear and fair days make up the main bulk of its weather pattern. This is good news to sightseers, but it also means the air in the city gets quite dry during winter, making the cold even more pronounced. Although snow doesn't usually accumulate on the streets, you'll certainly see a lot of powder snow floating around in the air and feel the cold northern wind more often than you like!

Also, the farther north you head, the higher the land elevation. For example, the highest point of the five-storied pagoda in Tō-ji, a shrine in the southern part of the city, is the same height as Kitaōji Street in the Sakyō ward northeast of Kyoto! That means there will be about a 2°C (35.6°F) difference in temperature just between two different points of the same city. On really cold days, therefore, if the area around Tō-ji is raining, the area around Kyoto Imperial Palace in the north will be covered in sleet rain, and Kitaōji Street farther north will be snowing.
What clothes to pack for Kyoto in winter? Five cold protection tips to remember for your Kyoto stay
Kyoto's winter penetrates deeply into the body's core, so it's imperative that you to dress appropriately for the weather lest you lose out on fully enjoying your time here. To ensure that your body heat stays close to you, choose to dress in layers over donning just one thick overcoat. Here's what we mean in detail.
1) Heat-trapping inner wear that prevents coldness from your own sweat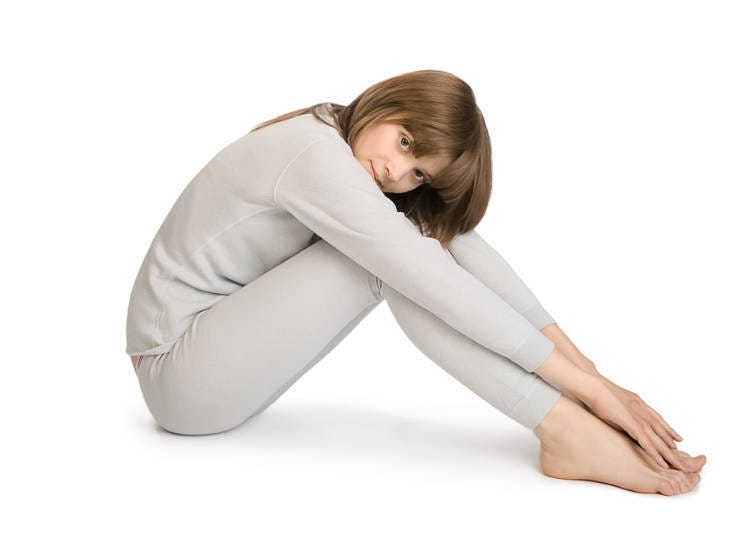 The first layer, being closest to your skin, needs to be elastic and fit snugly. An inner wear that absorbs sweat while keeping in the heat generated by your own body is our recommendation. When you go indoors from the bitter cold outside, you'll start to sweat without realizing it, so material that doesn't absorb sweat will make your body feel colder instead! For this layer, many will immediately think of Uniqlo's Heattech series of products, but you may also choose to make full use of similar products from sports brands, outdoor brands, work wear, and other manufacturers of heat-keeping inner wear.
2) Use a belly band or wool pants to protect your stomach from the cold
Your stomach needs protection too, and for that we recommend going with a belly band or wool pants. No need to be afraid that they'll cramp your style, since they come in ultrathin versions and with cute designs nowadays!
3) Ensure that your layered clothing have leeway for movement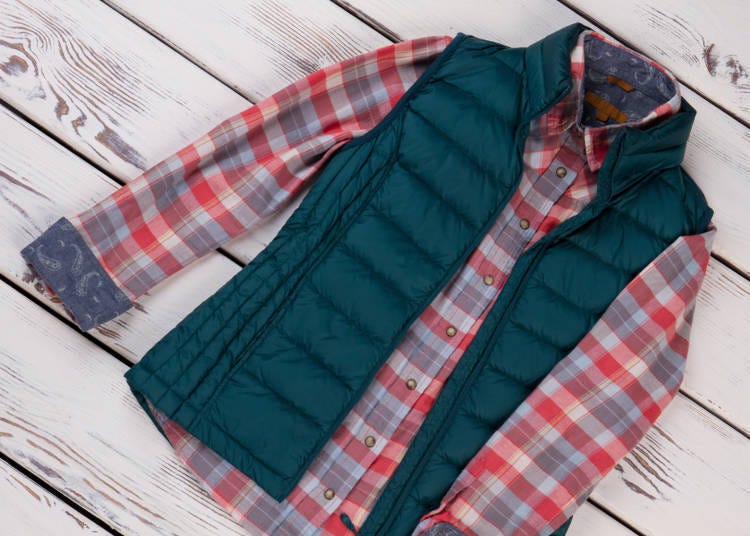 For the second layer, choose a looser polo shirt or high-neck shirt that leaves a bit of space between it and the skin. Something with wool or fur as its inner lining will help to keep you even warmer.

The third layer should be either knitwear, fleece, a sweater, or something similar. Choose a material that can create a cushion of air that keeps the warmth inside.
4) Outer wear needs to prevent loss of body heat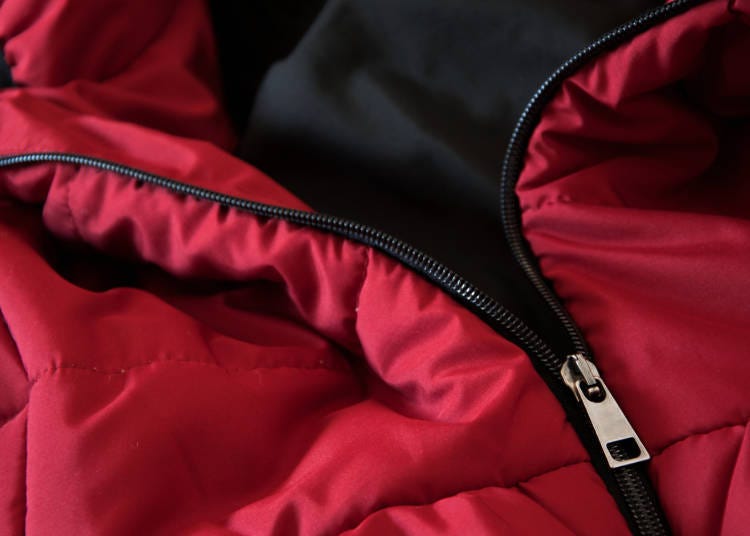 Finally, your outer wear. We recommend going with something with an inner lining that can further help the bottom three layers to keep your body heat locked in. The outer material should be made of something that can block out cold wind. If wool is your choice, make sure it's been densely woven. Windbreakers are suitable as well, especially those with water-resistance or water-repellent finishing. Down jackets have slimmed down quite a lot lately and are easy to roll up into a compact bag, so consider bringing one along if you're traveling during winter season.

As convenient as regular pants and jeans are for traveling, they aren't exactly windproof, so wear some leggings underneath for extra assurance and protection.
5) Neck, wrist, and ankle protection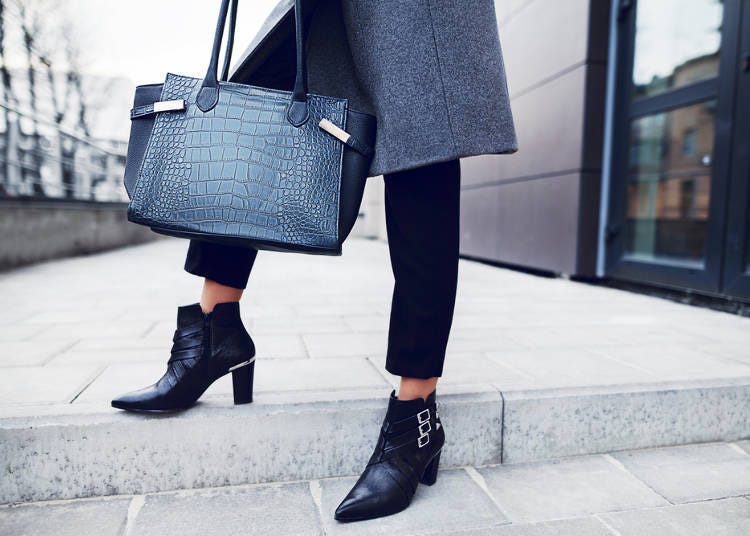 Don't forget to cover up your neck, wrists, and ankles from the cold as well! A muffler for the neck is more than enough protection. Both five-fingered gloves and mittens are suitable, but try to find something that protects up to the wrist area. For your ankles, use socks or leg warmers to protect them from the cold.

Shoes are an essential part of your strategy against the cold as well. Choose a pair that is windproof and water-repellent. Short boots that cover up to your ankles will be most helpful during the dead of winter. If keeping your feet warm is your priority, then consider a pair of mouton boots with inner lining.


Although Kyoto is dreadfully cold during winter, if you prepare well, you'll get to see another side to this beautiful city without compromising your health. Stately buildings that stand tall and dignified in the cold and somber air, powder snow flying and floating around hibernating trees - somehow, it all feels rather quaint!

If you happen to come at a time when snow has accumulated on the floor and other surfaces, consider yourself lucky! It's not every year you get to photograph Kyoto's major landmarks like Kinkaku-ji Temple with a snowy landscape, after all! Just be sure to come in warm clothes, and your winter Kyoto trip will be one to remember for decades to come.

Text by:WESTPLAN
English translation by: Huimin Pan
*This information is from the time of this article's publication.
*Prices and options mentioned are subject to change.
*Unless stated otherwise, all prices include tax.