You've not bathed until you've embraced your adventurous side and visited a Kyoto sento!

Japanese people love baths. Kyoto is home to a large number of traditional public baths, called "sento." Public bath culture blossomed in the Edo Period when indoor baths were banned due to the risk of fire. Different from natural hot springs with streaming hot water, man-made public baths pepper Japanese cities to this day, and they are used for their convenience and community atmosphere.

Here we'll share etiquette tips and three of the more popular Kyoto sento, so you can get ready for your debut soak!
Four etiquette tips to make the most of your Kyoto sento soak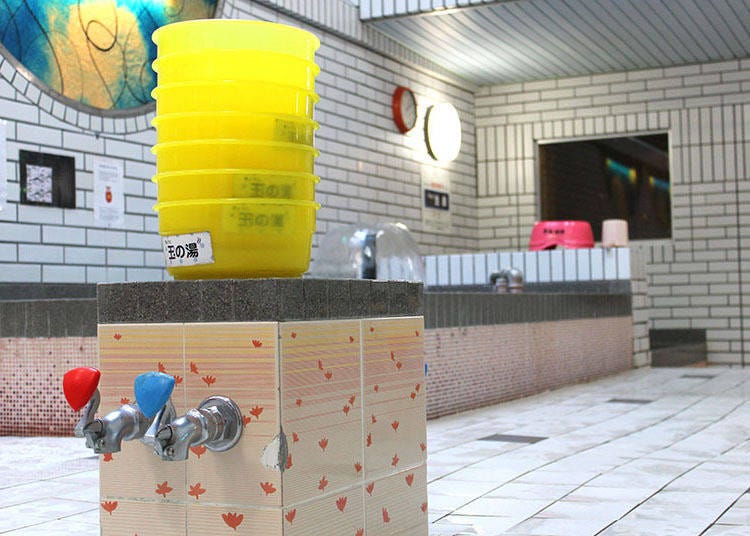 Use your manners and be sure to return wash basins to their proper areas so everyone can enjoy their bath
1. Pour fresh bathwater on yourself before entering the water
Seeing a large bath right in front of you makes you want to hop right in. But wait a minute! In Japan, it is expected first to wash yourself off and then fill a washbasin with water and pour it on yourself before entering the water. This is meant to cleanse your body of sweat and dirt, and helps your body get used to the temperature of the bath.

2. Do not bring your towel into the bath
This refers to towels used to cover your body. It's said that many international visitors bring their towels into the bathtub because they are not accustomed to being nude in front of strangers. Towels can dirty the bath, so bringing them in is not allowed. Instead, you can put the towel on your head or place it in a designated area if there is one. Washing in the bath is also not permitted.

3. Bathing suits are not allowed
Europeans and Americans are accustomed to wearing bathing suits in hot springs, but they are not permitted in Japan. Some hot springs may allow you to use bathing suits, but public baths require you to be naked. You may feel shy or uncomfortable about being naked in front of others, but don't worry so much—everyone else is naked, too! Public baths are where locals gather to socialize in the nude.

4. Amenities can be brought in or purchased
In general, you should bring your own shampoo and body soap. Depending on the public bath, amenities may be provided, but there are more than a few that require you to bring your own. We suggest asking at the public bath's reception area to find out if amenities are provided or not. If they aren't offered, you can decide if you will bring your own or buy their mini-sized amenities and towels available at reception.

So, what do you think? Public bath etiquette isn't so tricky after all. If you ever have questions, ask at reception. You can also get along just fine by copying those around you. Once you've learned bathing etiquette, you should try putting it into practice. Here are three enchanting public baths close to Kyoto Station and the shopping district.
1. Hakusanyu Rokujo Branch: Luxurious public bath that's brimming with natural spring water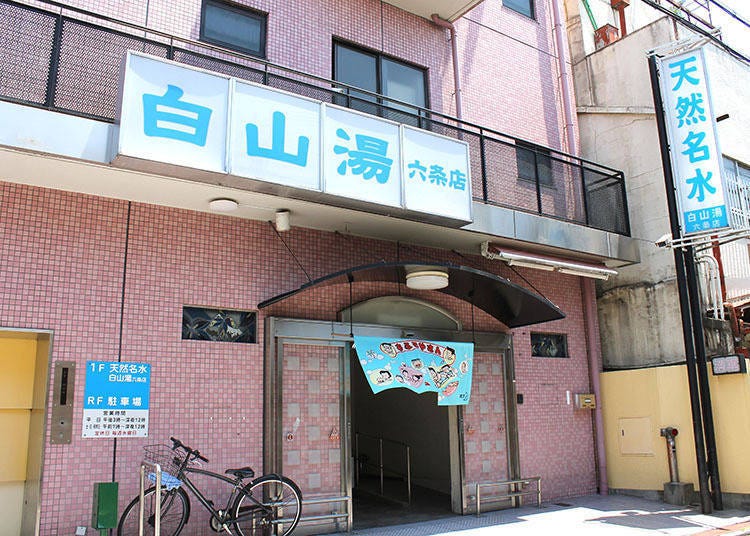 Just look for the "天然名水" (famous natural waters) sign
Hakusanyu Rokujo Branch makes use of Kyoto's groundwater. Close to Kyoto Station, this public bath is surrounded by guest houses and is popular among foreign visitors.

Kyoto's groundwaters are said to rival Shiga's Lake Biwa in terms of volume. It's also used to make Japanese sweets, tofu, yudofu, and other famous products. You get to use the same water! Don't you feel fancy?

Razors, towels, and other amenities are available for purchase at reception. Towels can be rented for 130 yen (they cannot be brought home). You will get 100 yen back upon returning your towel, so they really only cost 30 yen.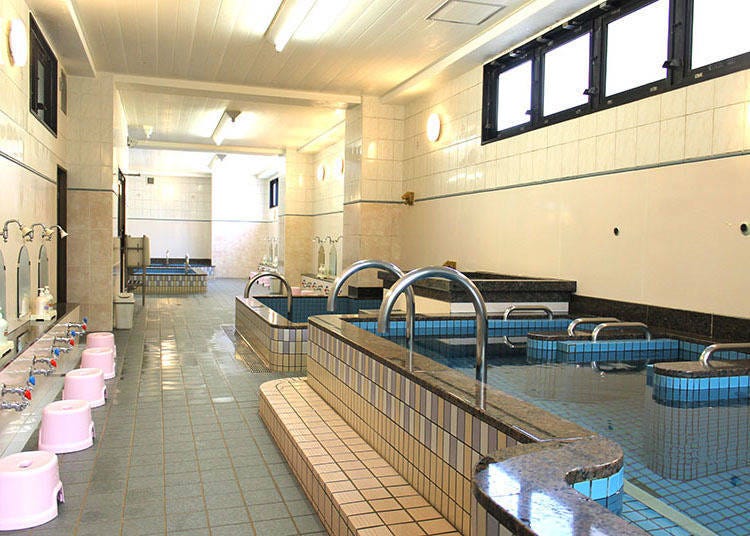 Several diverse baths include Jacuzzis and baths with electric currents. A spacious entrance leads to large baths, medicinal baths, and washing areas (women's bath pictured)
In addition to general baths, this spacious area also hosts a Jacuzzi, an electric bath, and a medicinal bath. The medicinal baths are changed daily and vary between rosemary, rice bran and olive, gyokuro green tea, licorice, and more. Locals frequent the bath, looking forward to these variations. They have incredible fragrances and rare ingredients—you should certainly give them a try.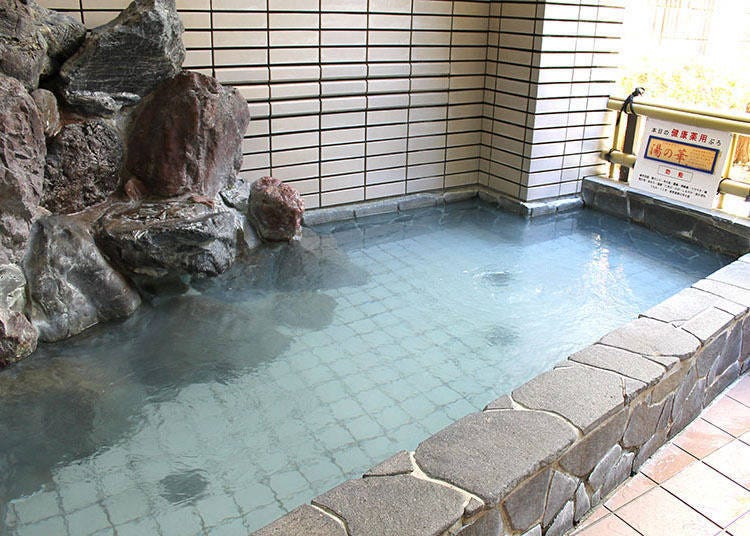 The sole open-air bath is in the women's bath. Good for your health, this medicinal bath contains hot-spring mineral deposits.
The women's and men's baths have different style baths. The women's bath is more spacious than the men's and even has an open-air bath. Shampoo and body soap are available in the bath area.

The bath is open from seven a.m. on weekends and holidays making the perfect start to your day of sightseeing in Kyoto. Juice, milk, and other drinks are also available after you bathe to complete the experience. This Kyoto sento's website has English, Chinese (simplified), and Korean.
白山湯 六条店

Address

893 Ushitora-cho, Shimogyo-ku, Kyoto City, Kyoto

Phone Number

075-351-2733

Operating hours: weekdays 3 p.m. - midnight, weekends and holidays 7 a.m. - midnight
Charge: Adults (7th grade or older)- 430 yen, Elementary students- 150 yen, Infants and toddlers- 60 yen
* Closed Wednesday
2. Tamanoyu: Unique Kyoto sento in the shopping district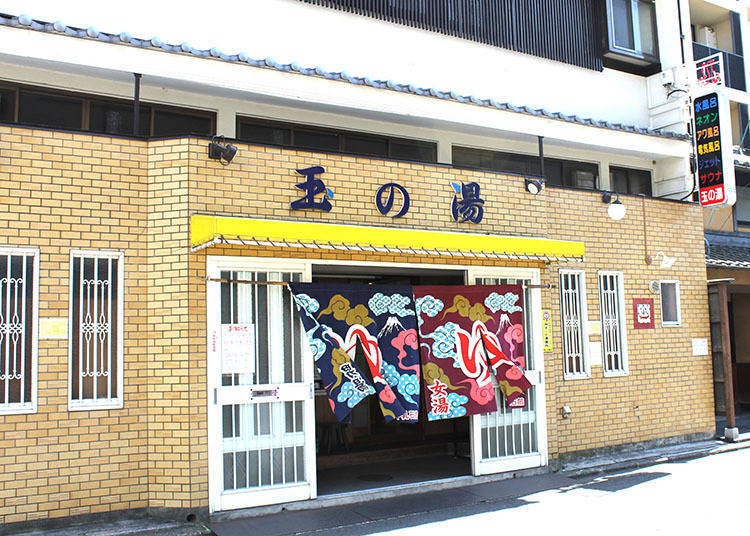 Located in a residential area just off a main road
Tamanoyu is in a residential area near Kyoto's city hall. This public Kyoto bath is most frequented by locals but is seeing a steady increase in international visitors.

Amenities are available for purchase at reception. You can also view occasional art displays in the dressing room. The art exhibitions began in the hopes of giving customers something to enjoy other than just the bath. If you're lucky, you may just get to see an art and bath collaboration.
Large baths and a spacious wash area. A sauna is at the far end. (Women's bath pictured)
In addition to their electric bath, medicinal bath, jet bath, etc., they also have a sauna. Bath toys are also available for rent, making it a popular place for parents and children. Underwear (base 450 yen), T-shirts (base 480 yen), and other undergarments are for sale, so you can show up completely empty-handed and have no problems.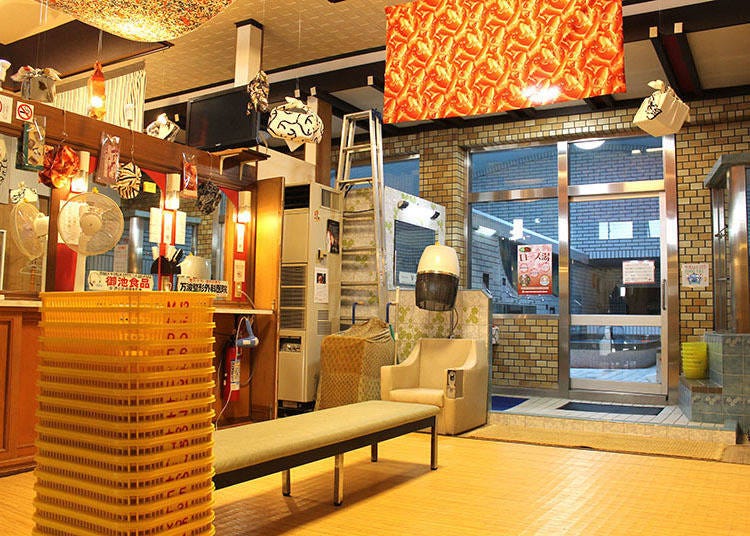 Pictured above is a collaboration with a bicycle shop and a cloth dying shop. Exhibitions change irregularly. A vintage hair dryer is in the center of the picture at the far end of the room.
Juice, beer, and other alcoholic beverages are on sale in the dressing room. In the women's dressing room, there is even a vintage hairdryer. Place it over your head and dry your hair for just two ten-yen coins. This rare dryer is a precious commodity. Go ahead and give it a try!

Close to Kawaramachi and Teramachi-kai Shopping Street, this public bath is open 24 hours a day. Why not stop by after your trip to a cafe or bar? Nighttime strolls about Kyoto are fun! Their website has some English, and information is also available on their Twitter and Instagram pages, so be sure to take a look.
京都 玉の湯

Address

401 Kameya-cho, Gokomachi Nishiiru, Oshikoji-dori, Nakagyo-ku, Kyoto City

Phone Number

075-231-2985

Operating hours: 3 p.m. - midnight
Charge: Adults- 430 yen, Elementary students- 150 yen, Infants and toddlers- 60 yen
Closed: Sunday
3. Kyoto Tower Bath House YUU: Popular morning bath in front of Kyoto Station!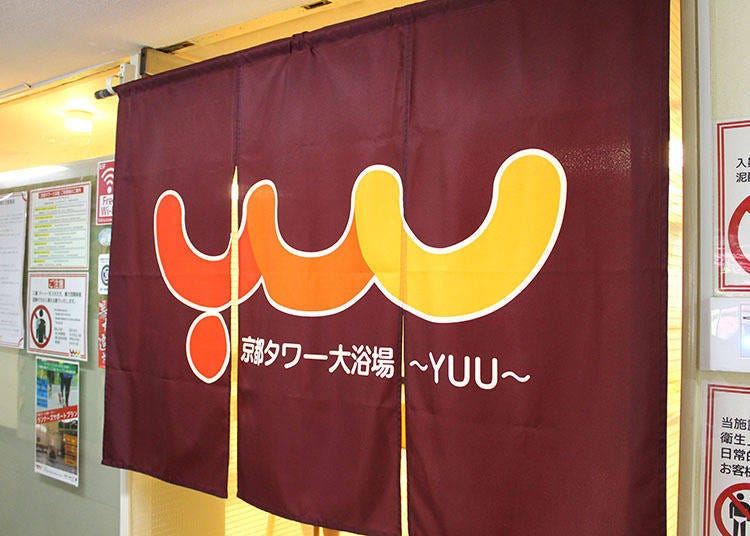 Kyoto Tower's Public Bathhouse "YUU" is located on the third floor of Kyoto Tower's basement. You can spot its entrance by its large curtain
As you can tell by the name, it is located in the basement of the tourist hot spot, Kyoto Tower. Located right in front of Kyoto Station, this public bath opens at 7 a.m. and is popular among travelers. Here, the charge for a towel (one face towel) is included in the price, and shampoo, body soap, and other amenities are provided.

Rare for a public bath, they provide face lotions and cleansers for women and face lotions and hair products for men, so you can pop by empty-handed any time.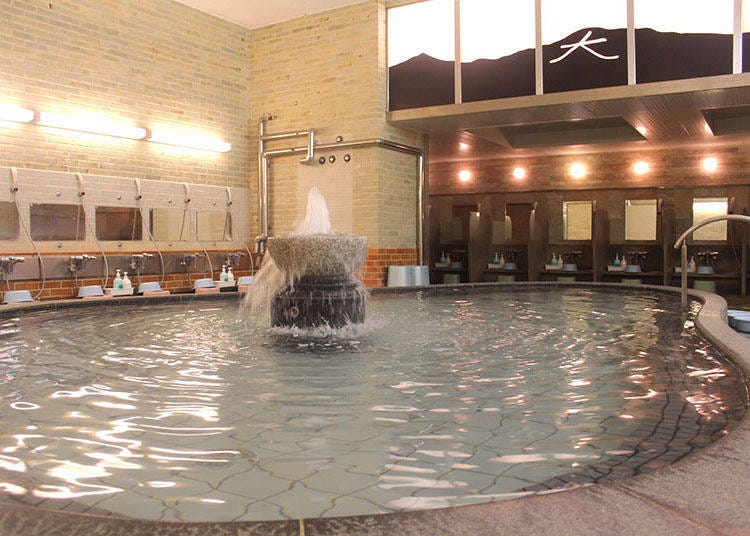 The men's bathing area is spacious and has a large bath. Above the bath, you can see the kanji character from the Daimonji Festival depicted on the glass.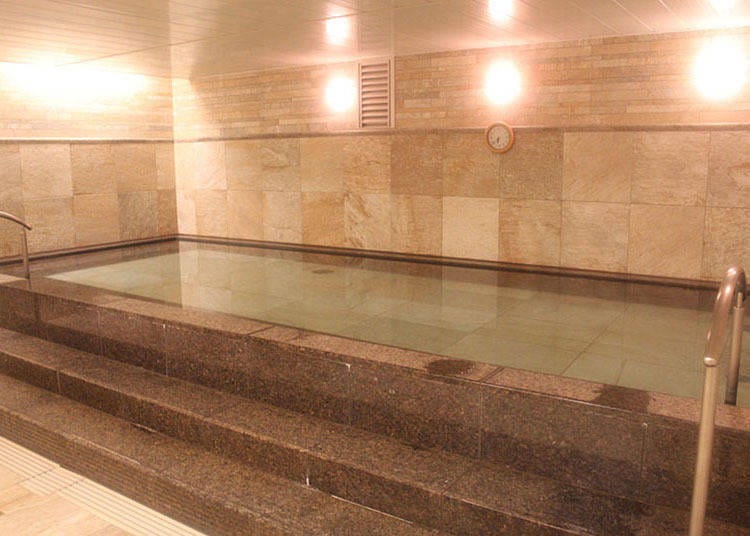 The women's area is simple in design--one long bath and a wash area, complete with a makeup area
This little spot may be bustling with travelers and runners in the morning and evening, but the afternoon will see you enough space to really stretch out and relax. Why not take a quick break from your sightseeing for a nice, revitalizing bath?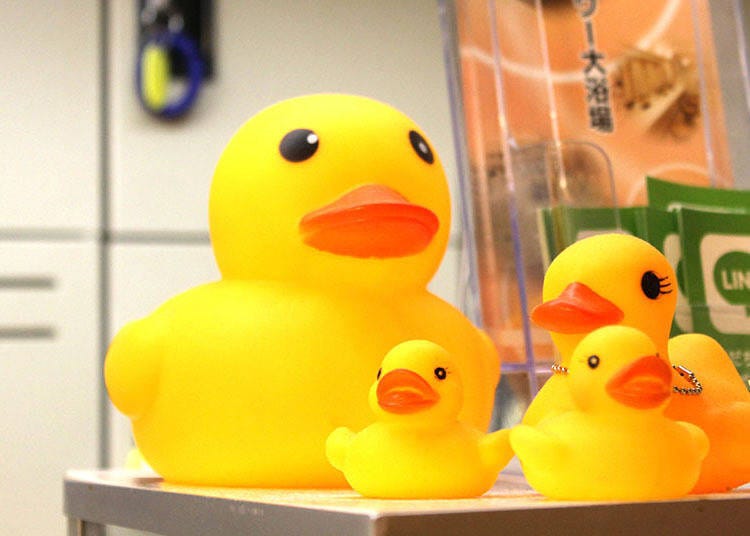 Ducks from a "Special Bath"
One of the most popular times is the once-monthly "Special Bath" day. It generally takes place the fourth Sunday of every month. The most popular of the special baths is the "Duck Bath". With a combined total of over 1,000 floating ducks in the women's and men's baths, you won't be able to contain your excitement.

Other special baths are the "Iris Bath" on Children's day in May, and the "Yuzu Citrus Bath" on the winter solstice in December. In Japan, it is said that if you take an iris bath on Children's day, you will be protected from misfortune, and if you take a yuzu bath on the winter solstice, you will be protected from colds.

Just taking a bath means you can experience Japan's customs firsthand! Since they get many international visitors, their homepage is also available in English, Chinese (simplified and traditional), and Korean.
Kyoto Tower Bath House ~YUU~

京都タワー大浴場 〜YUU〜

Address

Kyoto Tower B3F, 721-1 Higashishiokoji-cho, Shichijo-sagaru Karasuma-dori, Shimogyo-ku, Kyoto City, Kyoto

Telephone: 075-361-3215 (reception 9 a.m. - 8 p.m.)
Operating hours: 7 a.m. - 10 p.m. (No entry after 9:30 p.m.) * Hours may change without notice.
Charge: Adults- 750 yen on weekdays and 890 yen on weekends and holidays, Children (over two years old but not of elementary school age)- 450 yen
* Free rental of one face towel
* Prices subject to change
Closed: Open daily
Free amenities: shampoo, rinse, body soap, skin-care products, blow-dryer
Things to be aware of: intoxicated people, gang members, and people with tattoos are not permitted.
Those who regularly use diapers, regardless of age, are not permitted.
Kyoto sento are frequented by locals, as well. It's possible you may even come across a side of Japan you won't find when sightseeing. The baths and atmospheres at public baths are truly unique, so make sure you try different things.
Text by:Niki Shigemi
Book an unforgettable experience in Kyoto!
Make your trip extra memorable by booking one of these recommended tours on our partner site, Voyagin!
*This information is from the time of this article's publication.
*Prices and options mentioned are subject to change.
*Unless stated otherwise, all prices include tax.