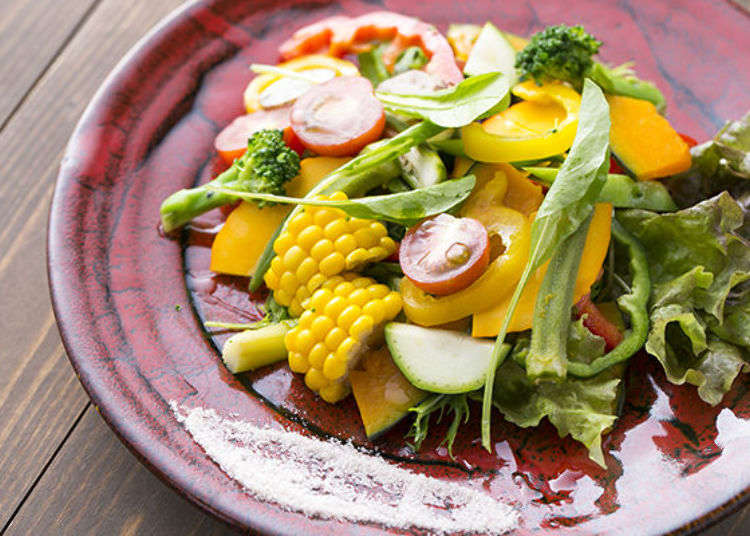 Kyoyasai is the term for heirloom vegetables originating in Japan's Kyoto Prefecture. Kamonasu (eggplant), mibuna (mustard greens), kujonegi (leeks), manganji togarashi (green peppers)...These delicious Kyoto vegetables are used in a variety of tasty dishes you can only find here.

We've carefully selected three healthy restaurants in Kyoto where you can sample fresh and flavorsome produce from Kyoto, including some nationally famous brand name vegetables.

Do make an effort to try some of these unique and delicious Kyoto vegetables during your visit!
1. Miyako Yasai Kamo Shijo Karasuma: All the Kyoto vegetables you can eat!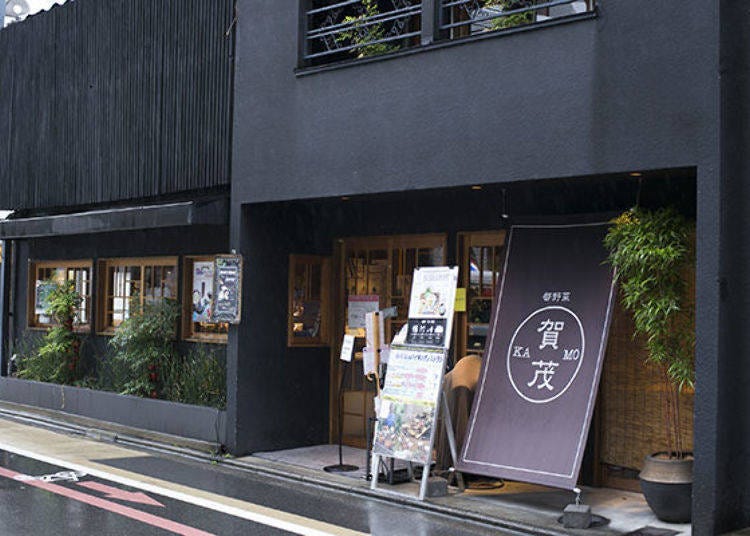 The first restaurant on our list serving up delicious kyoyasai Kyoto vegetables is Miyako Yasai Kamo Shijo Karasuma in Shijo Karasuma, the start point of the Gion Festival Yamaboko Junko procession.

This is a buffet restaurant serving all-you-can-eat salads and vegetable side dishes, carefully selected by the "vegetable sommelier."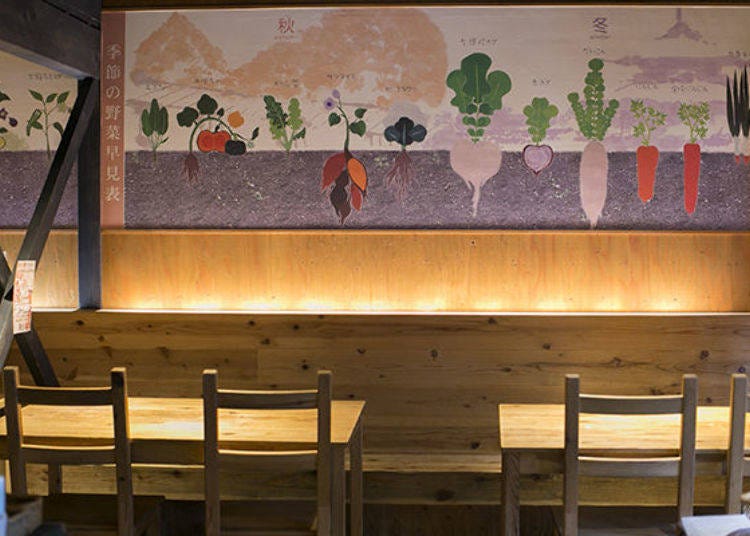 ▲The décor features paintings of seasonal Kyoto vegetables. There are two floors of seating available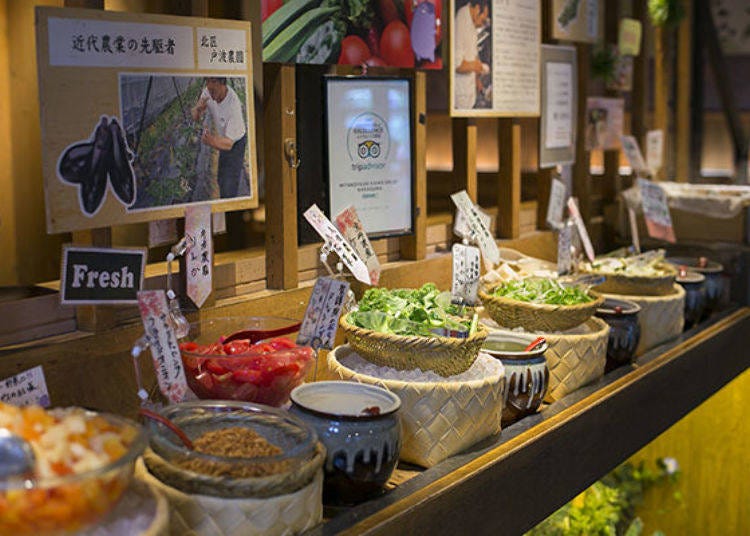 The name of the restaurant, Miyako Yasai (Miyako is an archaic name for Kyoto), reflects the fact that it serves organic, pesticide-free or low pesticide vegetables purchased directly from contract farmers in Kyoto.

The concept of the restaurant is to help visitors to Kyoto to really appreciate locally-grown kyoyasai produce. The chef selects fresh Kyoto vegetables freshly picked each morning and delivered straight from the production area.
We recommend you try the Hata Bar, a salad bar where you can taste the best of whatever vegetables are in season, without any emphasis on particular vegetable brands. Panels and signboards introduce the farmers behind the produce.

The vegetables are so glossy and fresh you feel like you could see your face reflected in them!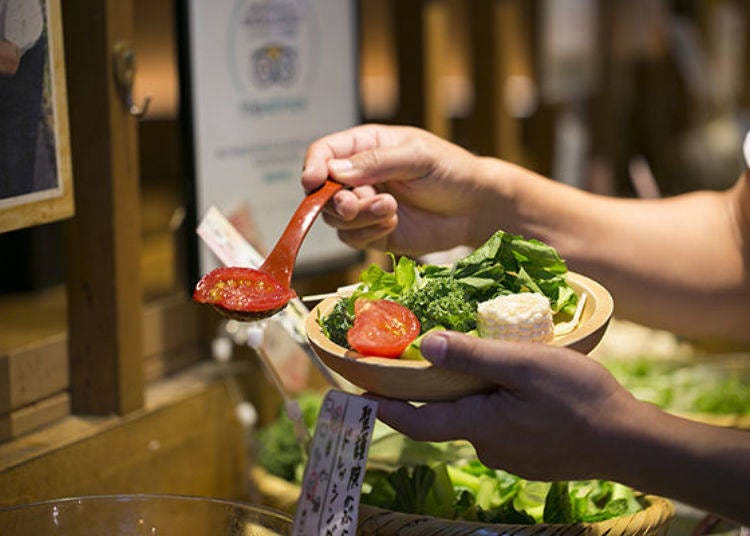 Today the bar has leafy Kyoto vegetables such as mibuna, komatsuna (Japanese mustard spinach) and kale, along with harder to find vegetables such as rinka tomatoes, high in sugar content, and white corn, known as "silver snow." Pile your plate up high!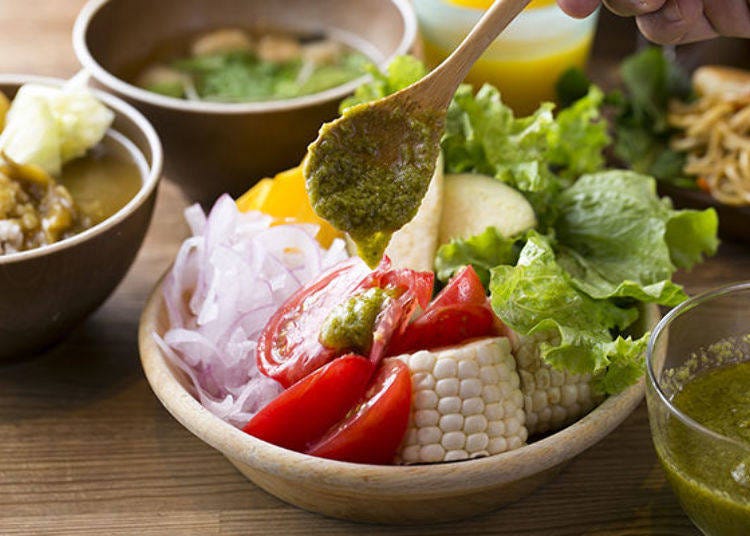 The dressing in the photo is an original dressing made by grating or finely chopping the same vegetables used for the salad bar on the day. The idea is to use vegetables to enhance the flavor of other vegetables, with everything coming together in one delicious dish.

The dressing is fresh and aromatic, with a fruit-like acidity and vitality that brings out the crisp taste of the main kyoyasai vegetables. Other dressings are also available. You can get a new plate whenever you like so you can enjoy as much salad as you want.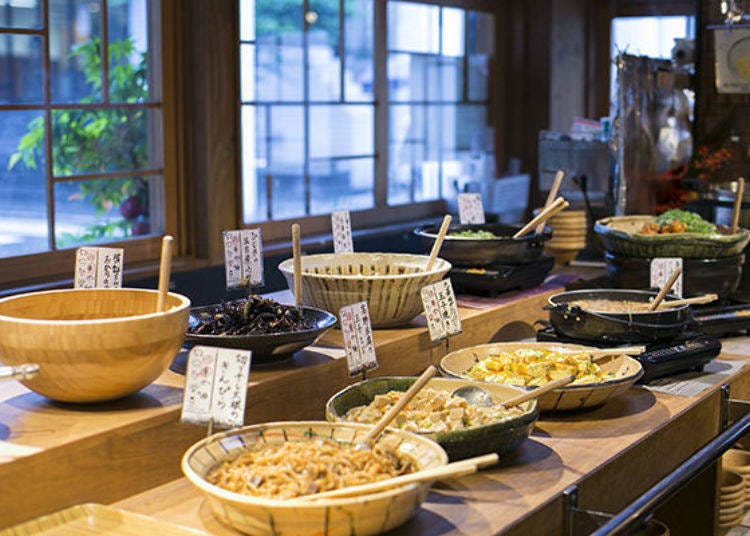 As well as salad, there is also an extensive obanzai menu (traditional Kyoto cuisine) featuring dishes such as kujonegi omelet or kinpira of dried daikon strips (cooked in sugar and soy sauce). This is also "all you can eat."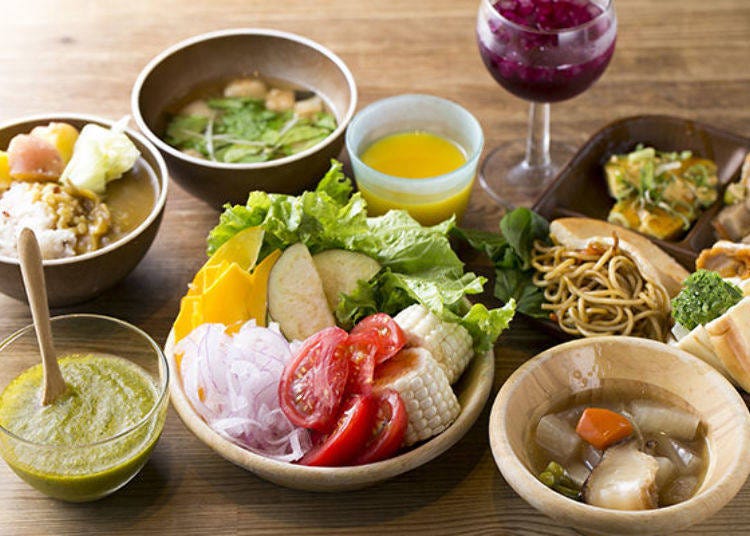 There's also homemade curry to enjoy with steamed vegetables like cabbage and potatoes, or tasty pita bread filled with vegetables or obanzai ingredients, accompanied by udon or Chinese noodles.

There's so much variety! You'll be amazed that you can get such good quality food at such a reasonable price. Lunch on weekdays is 890 yen, and on weekends and holidays, it's 950 yen (both tax included).

This healthy restaurant in Kyoto is also popular with elderly customers and local office workers. It offers excellent value for money so be ready to wait in line when you visit!
Miyako Yasai Kamo Shijo Karasuma branch

都野菜 賀茂 四条烏丸店

Address

276 Ogisakayacho, Higashinotoindori Ayanokojisagaru, Shimogyo-ku, Kyoto-shi, Kyoto

Nearest Station

3 minutes' walk from Shijo Municipal Subway Station or from Karasuma Station on the Hankyu Kyoto Line.


Phone Number

075-351-2732

Opening hours: Breakfast 8:00AM - 10:00AM (Last entry 9:30AM; buffet service ends at 9:50AM)
Lunch 11:00AM - 4:00PM (Last entry 3:00PM; buffet service ends at 3:30PM)
Dinner 5:30PM - 10:00PM (Last entry 9:00PM; buffet service ends at 9:00PM)
Holidays: N/A
Charges: Breakfast 500 yen (light breakfast buffet and soft drink); Lunch 890 yen weekdays/950 yen weekends and holidays; Dinner 1,370 yen weekdays, 1,500 yen weekends and holidays (tax included) * Drinks charged separately at lunch and dinner
2. Obase: Stunning Japanese and Italian fusion dishes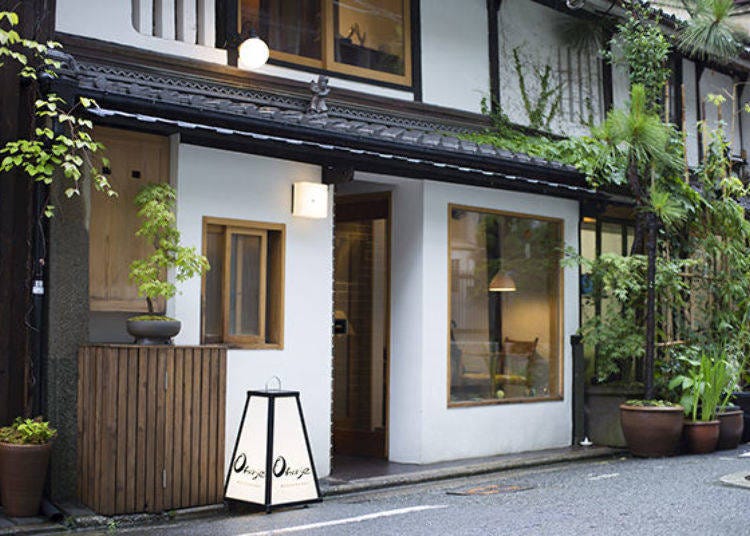 Obase is an Italian restaurant situated 5 minutes' walk away from Sanjo Keihan Station or Kyoto Shiyakusho-mae Station (Kyoto City Hall). Obase's chef studied at a well-known Italian restaurant in Kyoto and set up the restaurant in 2015, with the aim of serving beautiful and delicious dishes featuring local ingredients in season.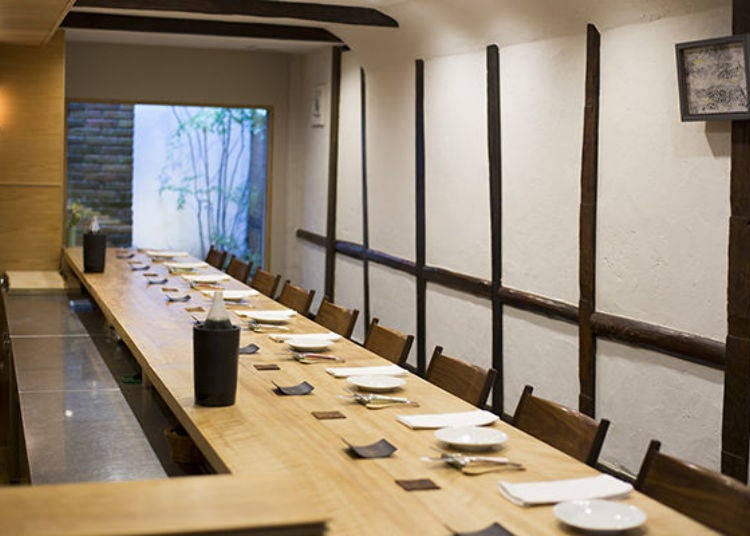 Situated in a renovated town house, the restaurant combines traditional Japanese and contemporary styling to create a calm and relaxed atmosphere.

There is counter seating on the 1st floor and two private dining rooms on the 2nd floor. It's a very popular healthy restaurant in Kyoto so we'd recommend booking well in advance.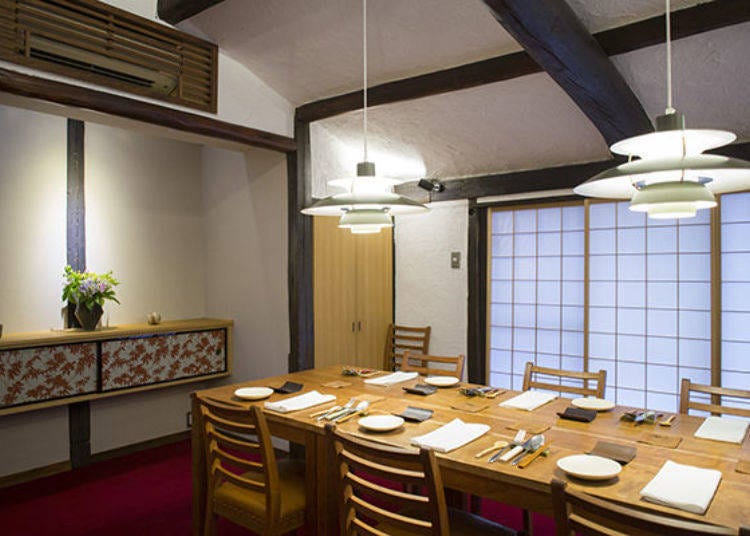 ▲A private dining room on the 2nd floor. Antique furniture is arranged throughout the room: simple yet effective!
The chef's main ingredients are Kyoto vegetables grown in the surrounding area. They purchase kyoyasai vegetables in season directly from farmers that they got to know while serving their apprenticeship.

Over the years they've picked up all the techniques from these suppliers for bringing out the flavors of his ingredients to best effect, along with useful tips for their cooking.

The restaurant only serves a short set menu for both lunch and dinner. This is the set dinner menu on offer at the moment (Summer 2018).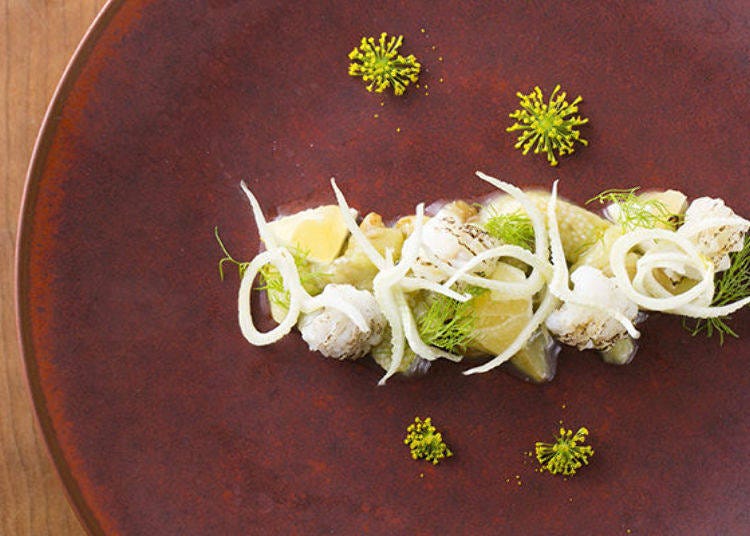 The first course is Frosted Appetizer of Grilled Eggplant and Sea Eel. An exquisite dish of seasonal ingredients.

The eggplant has a delicious viscous texture, which is combined with a rich and flavorsome soup in this exquisite starter. The fluffy texture of the seasonal sea eel complements this perfectly, as its delicious flavors spreading through your mouth.

Spicy fennel and amonatsu (citrus fruit) provide additional undertones of flavor, with aroma, taste and acidity all finely balanced.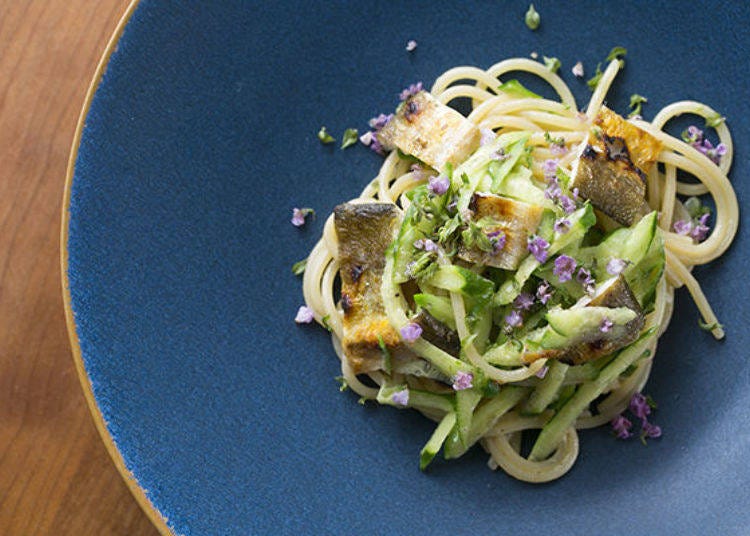 The next course is Pasta of Ayu (River Trout) and Kamogamo Cucumber, a pasta dish made with oil and seasonal summer ingredients.

The cucumber matches perfectly with the oil in the dish, its umami heightened by warming it through gently. The overall effect is delicious. The broth is delicately flavored with ayu bones, clams and kelp.

The texture of the cucumber and the aroma and umami of the grilled ayu combines with the pasta noodles to create an irresistible dish you won't be able to stop eating.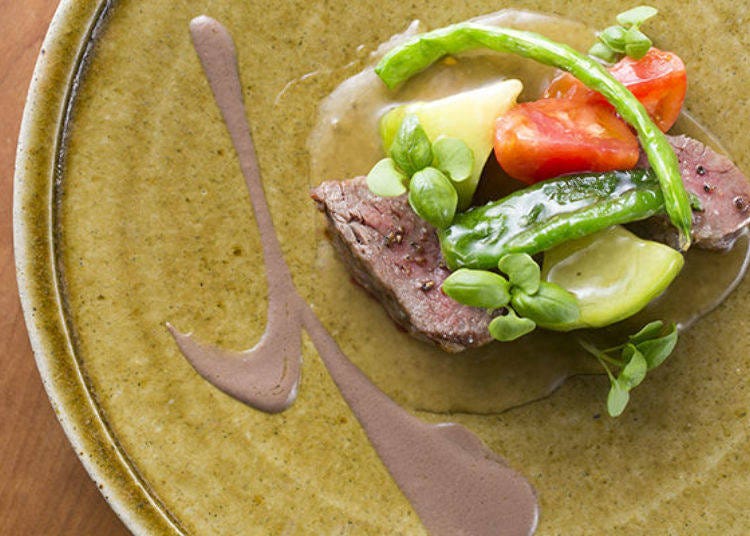 The main course is Charcoal-grilled Kyoto Beef with Fricasee of Vegetables.

For the grilled beef, a very rare cut, known as hiuchi is used. This is premium thigh meat. The meat is soft, with just the right amount of marbling, ensuring the slow release of flavors as you bite into it.

The Kyoto vegetables make a perfect accompaniment to the rich meat. The fresh flavors of quick-fried seasonal Kamo eggplant, green beans, Takagamine red peppers fuse with the elegant broth, complementing the succulent beef perfectly.

The accompanying sauce of black olives adds a welcome note of acidity, giving you a sense of the chef's artistry and refined taste.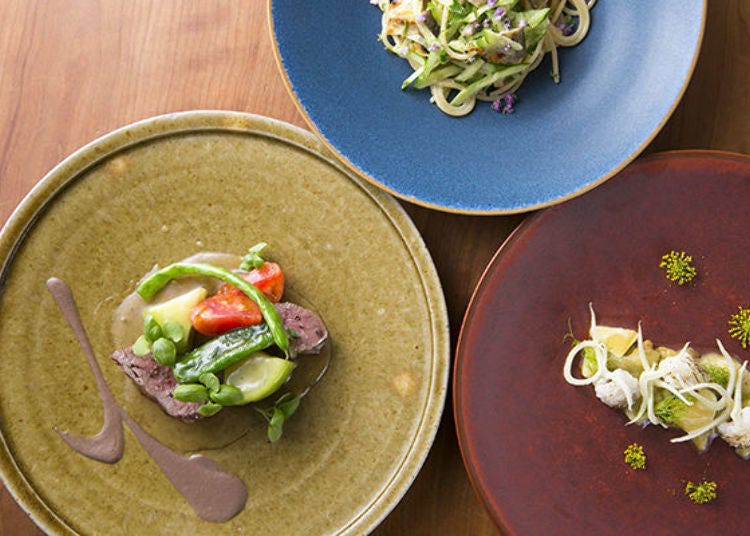 Lunch costs 4,800 yen for two appetizers, a pasta dish, a main course, dessert and tea or coffee. Dinner costs 9,000 yen for three appetizers, a pasta dish, risotto, main course, dessert and tea or coffee. Tax is included for both. This is the ultimate set menu, a gorgeous assortment of seasonal ingredients and delicious flavors. If you're visiting Kyoto, you just have to sample it!
Obase

Address

534-39 Ebisucho, Sanjo Agaru, Kawaramachi, Nakagyo-ku, Kyoto-shi, Kyoto

Nearest Station

Five minutes' walk from Kyoto Shiyakusho-mae Station (Kyoto City Hall) on the Municipal Subway or Sanjo Keihan Station


Phone Number

075-211-6918

Opening hours: 12:00PM - 1:30PM (Last orders 1:30PM), 6:00PM - 9:30PM (Last orders 9:30PM)
Closed: Wednesdays; irregular holidays twice a month
3. Sumika: A popular restaurant hideaway, serving delicious vegetable dishes that partner well with sake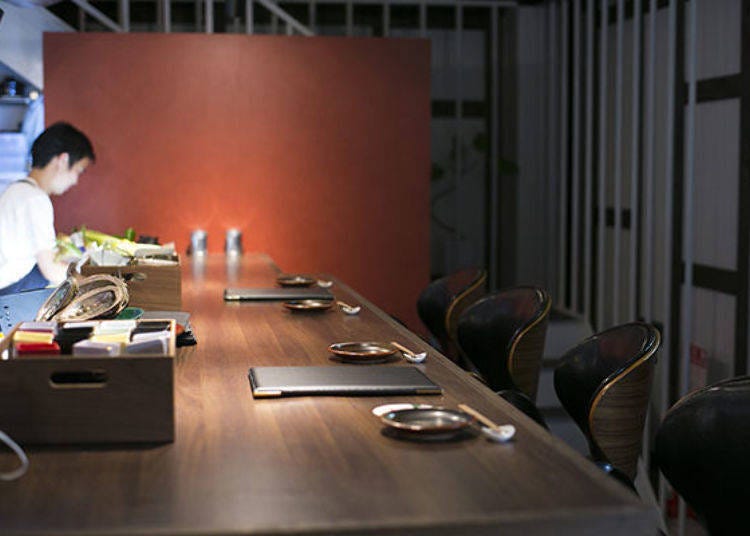 The last healthy restaurant in Kyoto on our list is Sumika Sanjo-ten, which is located due south of Oike-dori on Kawaramachi-dori.

This is a popular restaurant that focuses on local ingredients, such as Kyoto vegetables and seafood and regional sake. The Sanjo branch is the fourth branch of this restaurant in Kyoto.

The restaurant occupies the 2nd and 3rd floors of the building. Enter from the street and climb the stairs. Here you will find the open kitchen and counter seats as shown in the photo. There is also table seating by the window facing onto the street.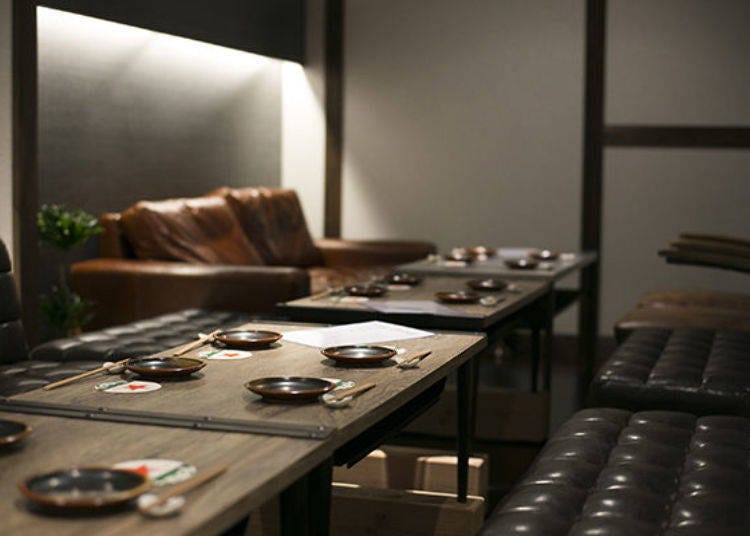 ▲The 3rd floor has a relaxed atmosphere with leather sofas and table seating.
The restaurant serves seasonal vegetables that are freshly delivered three times a week from farms in nearby Fushimi and Kameoka. The suppliers select the tastiest vegetables available, including delicious Kyoto branded produce. We're going to tell you about three of the vegetable dishes on the menu at this popular restaurant!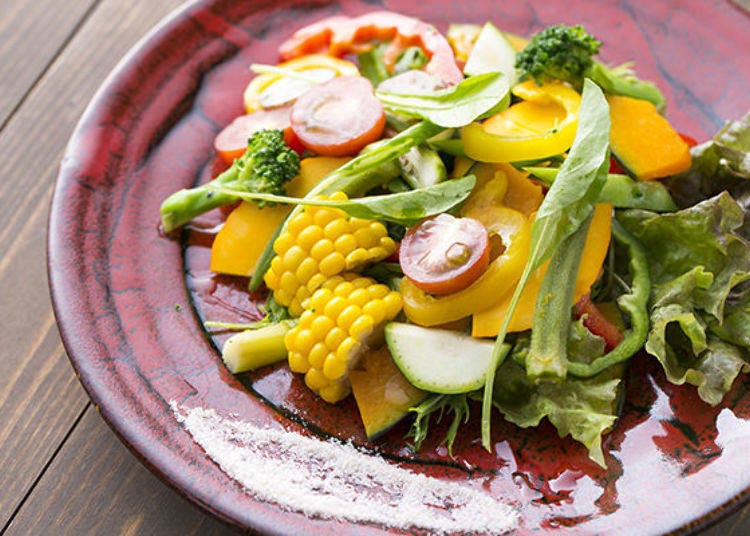 The first of these is Sumika Salad (1,000 yen, tax included). It's a very substantial salad featuring more than 10 different kinds of seasonal vegetables. Today's salad includes pumpkin, zucchini, corn, lotus root, and tomatoes. The root vegetables, such as pumpkin, burdock, and lotus root are quickly cooked through, making them easy to bite into.

The salad is simply seasoned with salt, lemon, and olive oil. This is a dish that gives you the full flavor of the vegetables just as they are without any additions.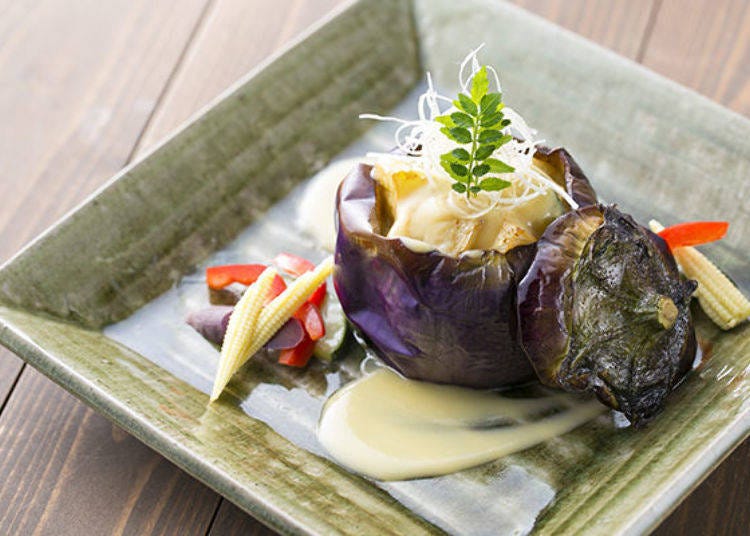 The next dish is Kamo Eggplant with White Miso Glaze (Miso Dengaku) (900 yen, tax included). A large Kamo eggplant with its inside flesh scooped out is quickly fried in oil and served with white miso sauce poured over. Kamo eggplants from Kamigamo are fleshy and juicy with a rich and delicious flavor. The eggplant skin in which the sauce is served is very soft so you can eat the whole vegetable.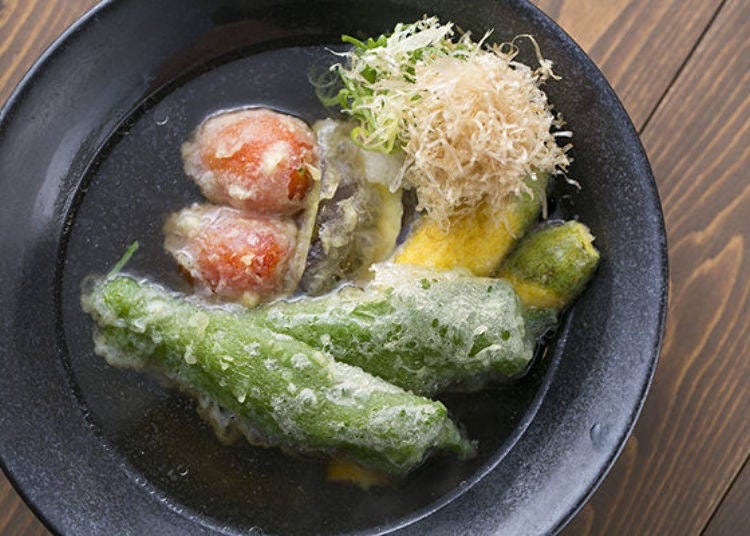 The last dish is a Deep-Fried Vegetable Assortment (850 yen, tax included). This dish features crispy seasonal vegetables fried tempura-style, served in a delicate Kyoto broth.

Today's dish features four kinds of vegetable: manganji red peppers with Kamo eggplant, midi tomatoes and green-bottom zucchini. Moistness and umami combined together bring out the rich flavors of the vegetables. The dish is accompanied with a hearty topping of grated radish and bonito, highlighting the delicate flavors as they spread in your mouth.

In each dish, the essential flavors of the kyoyasai are skillfully brought to the fore. Regional Kyoto sake provides the perfect accompaniment to the food. We'd recommend you try the food with some chilled sake in summer!
棲家 三条店

Address

435-5 2nd fl. Ebisucho, Nakagyo-ku, Kyoto-shi, Kyoto

Nearest Station

Three minutes' walk from Kyoto Shiyakusho-mae Station (Kyoto City Hall) on the Municipal Subway or Sanjo Keihan Station


Phone Number

075-606-5421

Opening hours: 5:00PM-12:00AM
Closed occasionally for holidays
Do you like the sound of any of these dishes? These are three healthy restaurants in Kyoto where you can sample culinary delights using fresh kyoyasai Kyoto vegetables. Each of these restaurants is unique with its own distinct character and commitment to quality.

We strongly recommend you sample the delicious vegetable dishes on offer when you visit Kyoto!
*This information is from the time of this article's publication.
*Prices and options mentioned are subject to change.
*Unless stated otherwise, all prices include tax.