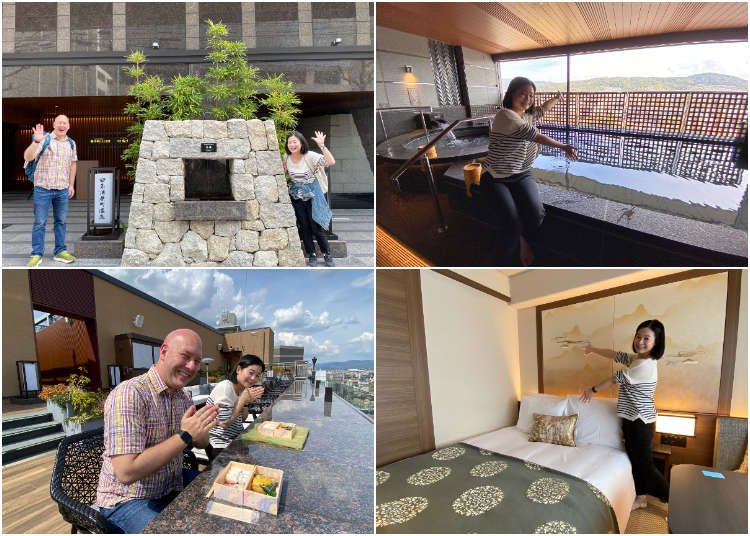 While there are plenty of exciting things to do in Kyoto all year round, nothing quite compares to the magical charm of cherry blossom season. During this time, people from all corners of Japan flock to Kyoto to enjoy the city's breathtaking blossoms in full bloom.

So, if you're looking for the perfect accommodation to soak up the pastel pink beauty of Kyoto during cherry blossom season, then you're in luck! Our very own LIVE JAPAN editorial staff members, Chia-chi and Timothy, are here to share a beautiful hotel where you can enjoy all that this amazing city has to offer.
Introducing our Kyoto trip guides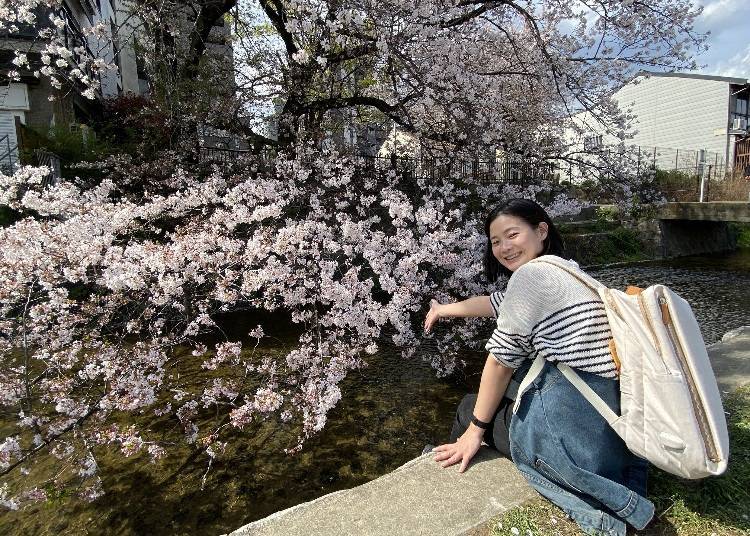 Chia-chi
A native of Taipei, Taiwan, Chia-chi has lived in Japan for seven years. She prefers indoor activities and also likes to spend her time relaxing on healing trips. She enjoys people-watching at cafes and charming old buildings. She's also an avid reader and often brings along a good book to enjoy during her travels. When she's not exploring her surroundings, Chia-chi can be found capturing stunning shots of flowers and architecture.

One thing that's especially important to Chia-chi is the quality of sleep she gets while traveling. She's meticulous about checking the bedding, temperature, air quality, and noise levels of the rooms she stays in, because a good night's sleep is essential for a happy and fulfilling trip.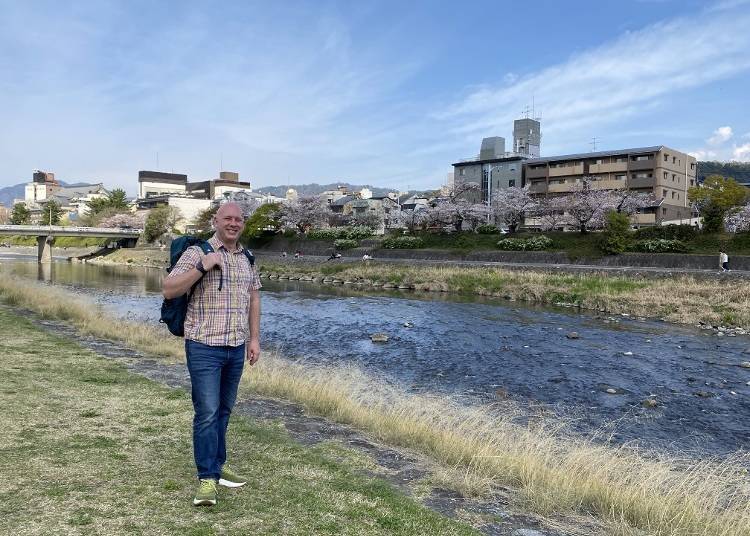 Timothy
Originally from New York, Timothy has been living in Japan for more than 20 years and is a Japan travel expert. He's an avid fan of outdoor activities like cycling and hiking, and he loves nothing more than exploring new places on foot. Timothy is a very active traveler who always seems to be on the move, eager to experience all that his surroundings have to offer.

When it comes to food and drink, Timothy is an aficionado through and through. He's a skilled cook who loves trying out new recipes, and he has a particular fondness for sake, beer, wine, and whiskey. Timothy knows his food and prefers casual to slightly high-end restaurants rather than fine dining establishments. He has a charming smile and an easy-going personality.
Sora Niwa Terrace Kyoto: The perfect sightseeing base for Kyoto!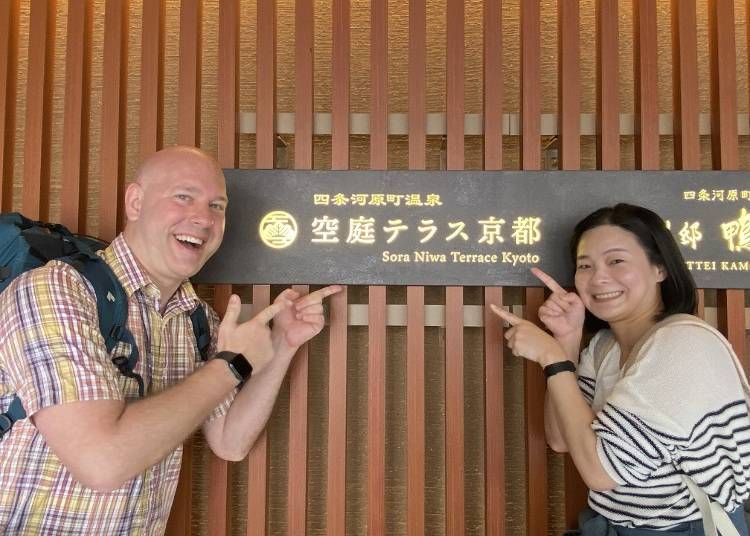 Let's take a closer look at Sora Niwa Terrace Kyoto, a brand-new hotel that just opened its doors in June 2022! This exciting accommodation is situated in the bustling neighborhood of Kawaramachi in Kyoto.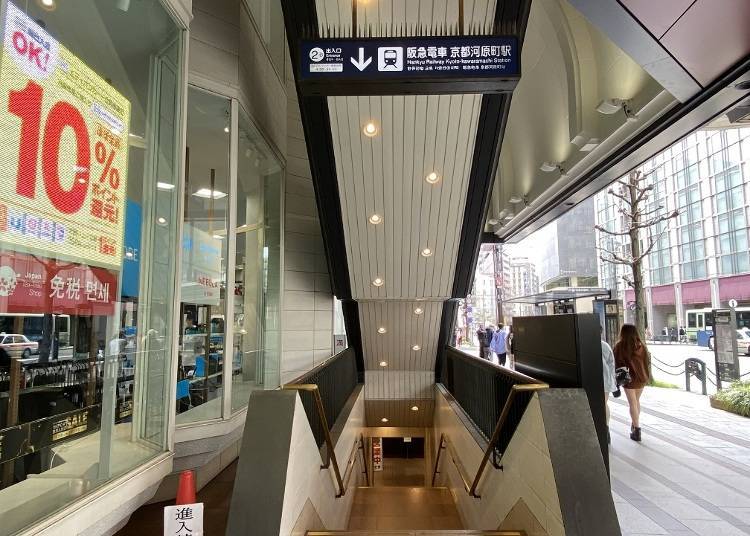 Getting to Sora Niwa Terrace Kyoto couldn't be easier! If you're arriving by train, it's just a quick one-minute stroll from Kyoto-Kawaramachi Station on the Hankyu Kyoto Line, or a four-minute walk from Gion-Shijo Station on the Keihan Main Line. And if you're coming from Kyoto Station, you can hop on a bus and be at the Shijo-Kawaramachi bus stop in just 15 to 20 minutes (and then it's just a two-minute walk from there).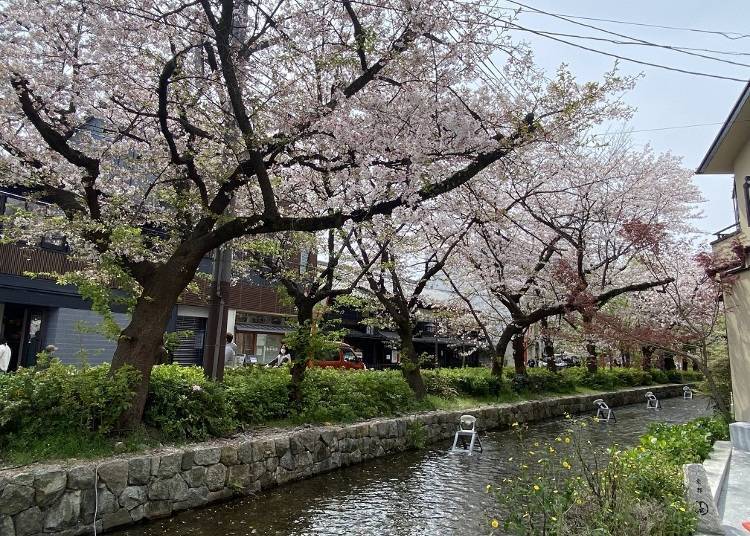 If you're looking for a fantastic home base for your Kyoto adventures, you can't go wrong with the area around Shijo-Kawaramachi! This vibrant neighborhood is packed with all sorts of exciting tourist attractions and mouthwatering eateries, making it the perfect place to start your exploration of this incredible city.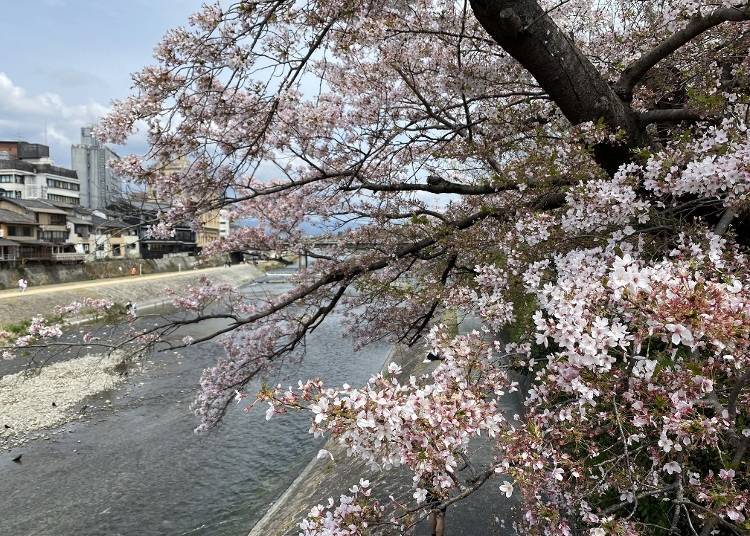 One of the best things about staying at Sora Niwa Terrace Kyoto is its unbeatable location. The hotel is situated right in front of two of Kyoto's most popular cherry blossom viewing spots: the Takase River and Kamo River. During the early spring, the city is transformed into a sea of pink as the cherry blossoms burst into bloom, creating a truly magical atmosphere that's not to be missed.

But the cherry blossoms aren't the only reason to enjoy staying in the Shijo-Kawaramachi area! This vibrant neighborhood is home to plenty of charming alleys and unique restaurants and bars, each with their own distinct character and flair. It's no wonder that so many visitors are drawn to this area, where they can savor delicious food and drinks while soaking up the stunning cherry blossom scenery all around them.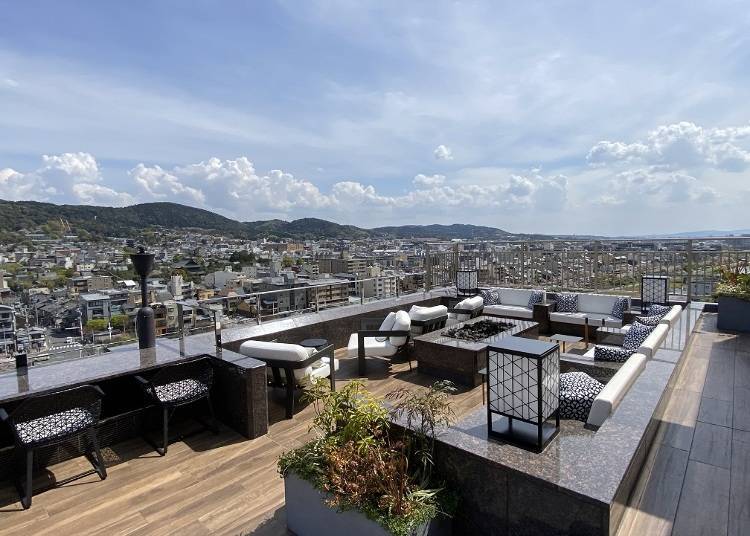 If you're searching for a fantastic spot to take in Kyoto's stunning cherry blossoms, look no further than the rooftop of Sora Niwa Terrace Kyoto.

The hotel takes its name from its incredible terrace, which offers an unparalleled view of the city's natural beauty. From here, you can gaze out at the Kamo River and the majestic Higashiyama mountains, all while surrounded by the delicate pink petals of the city's famed cherry blossoms. It's truly a sight that will take your breath away!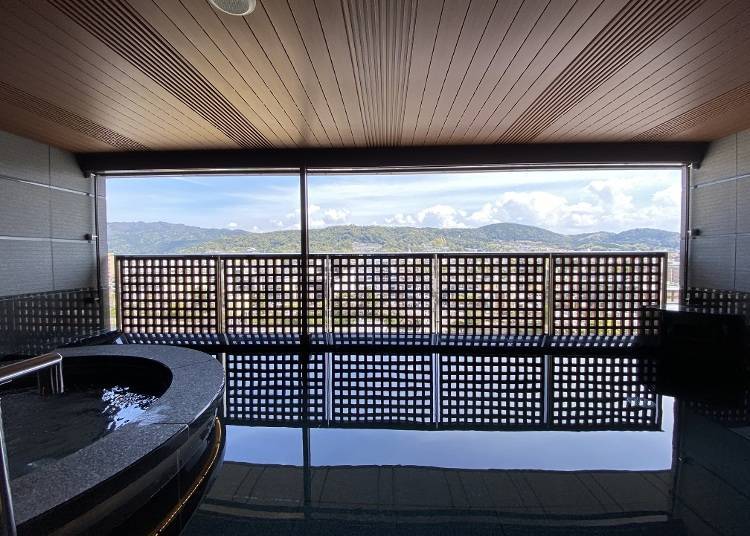 Another highlight of the hotel is that it has its own hot spring! It's very rare to find accommodation in central Kyoto with a natural spring. Here you can enjoy authentic spring water dug up from 1,100 meters underground.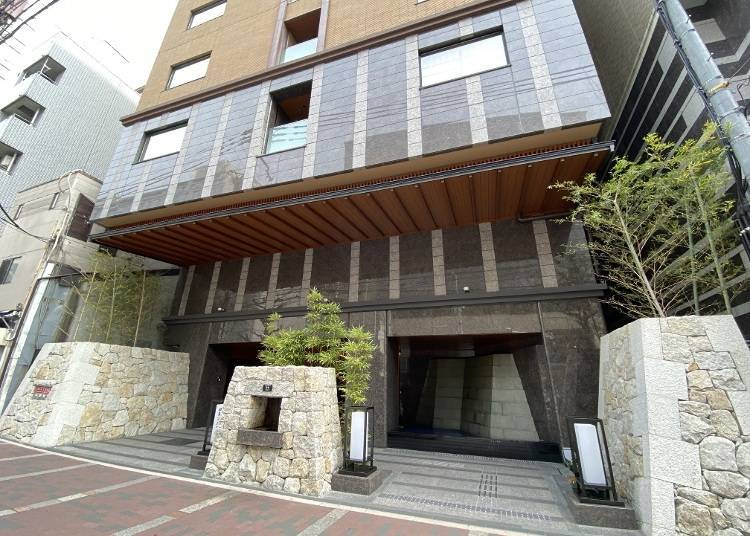 One of the things that sets Sora Niwa Terrace Kyoto apart from other hotels is its lovely array of amenities. Unlike many casual hotels, this place offers guests access to a beautiful terrace, a refreshing open-air bath, and communal spaces where you can relax and unwind.

But that's not all - the hotel also boasts a front desk staffed by friendly and knowledgeable staff who are always happy to help you out with whatever you need. Whether you're looking for information about the local area, need help with your luggage, or simply want to check in and out with ease, the front desk team is there for you.

And despite all these top-notch features, the hotel is surprisingly affordable. It offers a level of hospitality that's reminiscent of a high-class Japanese-style ryokan inn, but without the steep price tag. It's the perfect combination of luxury and affordability, and it's sure to make your stay in Kyoto an unforgettable one.
Going inside Sora Niwa Terrace Kyoto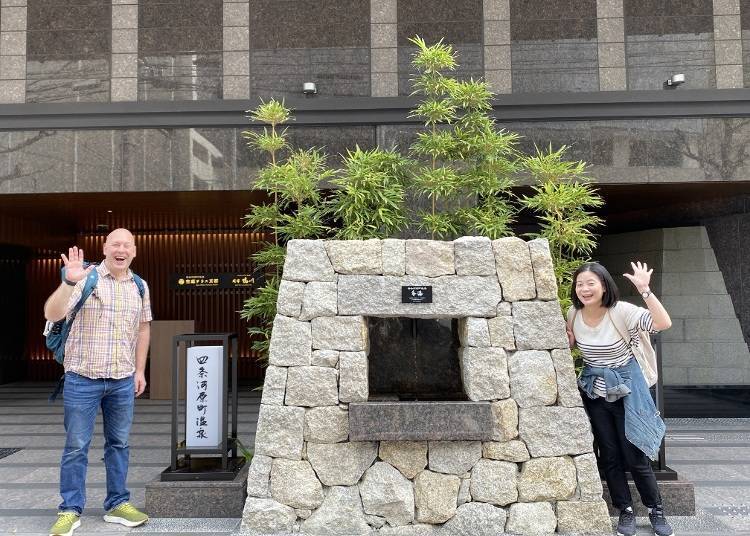 It took no time at all to get to the hotel from the station.
"It was so easy to get to the hotel from the station," remarked Chia-chi with a laugh. "I'm glad it's so close - even someone as directionally challenged as me didn't get lost!"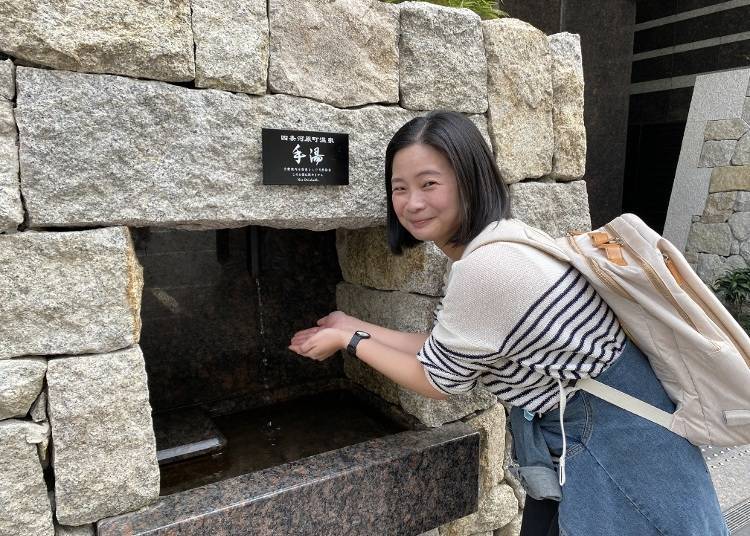 The hand bath at the entrance of the hotel will give you a quick introduction to what a hot spring feels like.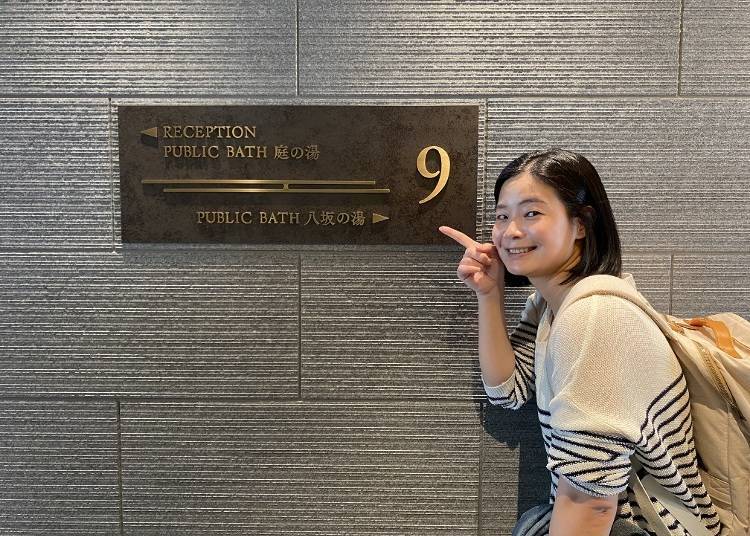 The reception area of Sora Niwa Terrace is on the ninth floor. Let's check in!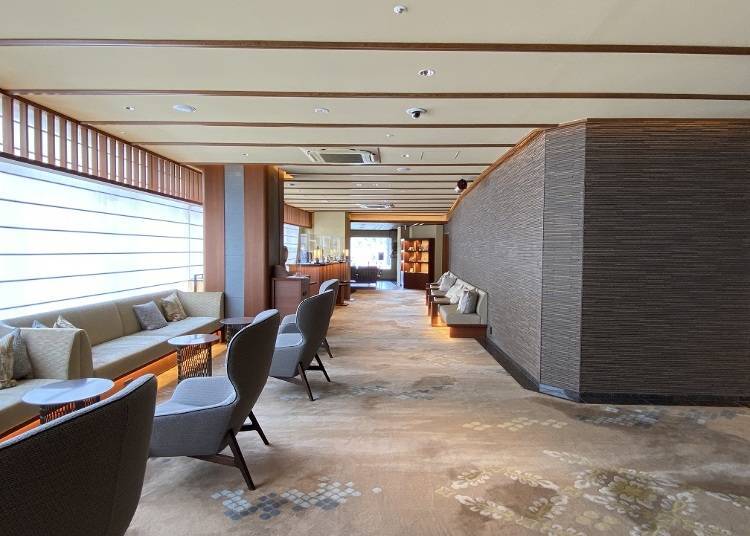 The lobby is bright and spacious, with calm, Japanese-inspired decor that creates a refined atmosphere.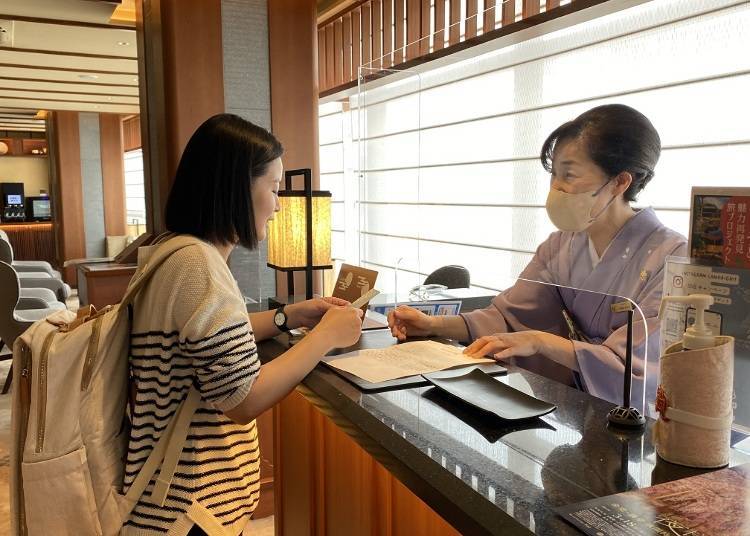 As soon as we arrived at the hotel, we were warmly welcomed by the proprietress with a big smile and a cheerful "Welcome to our hotel!"

While there were no multilingual staff members available, we quickly learned that we didn't need to worry about any language barriers. The staff is more than happy to assist guests in a variety of languages, including English and Chinese, and they even have translation tools at the ready to ensure that communication isn't an issue.
Tranquil Japanese-style rooms offering the perfect combination of comfortability and practicality!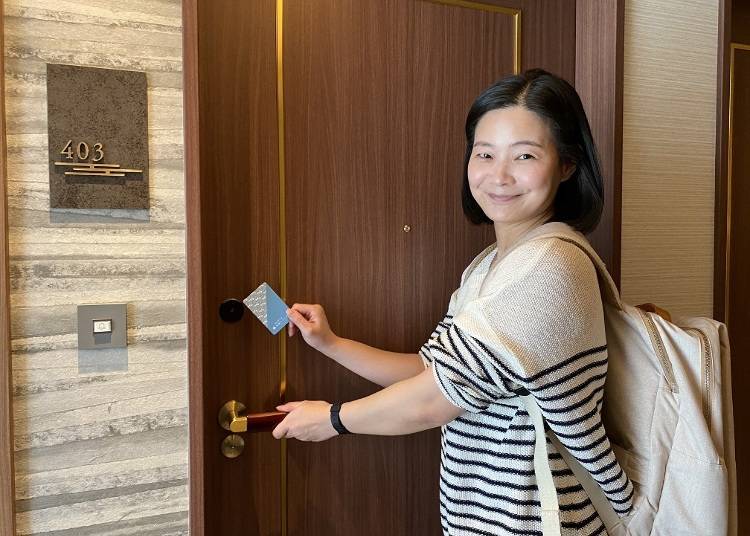 There are a total of 102 rooms and three types: the twin (only one room), superior double, and the moderate double.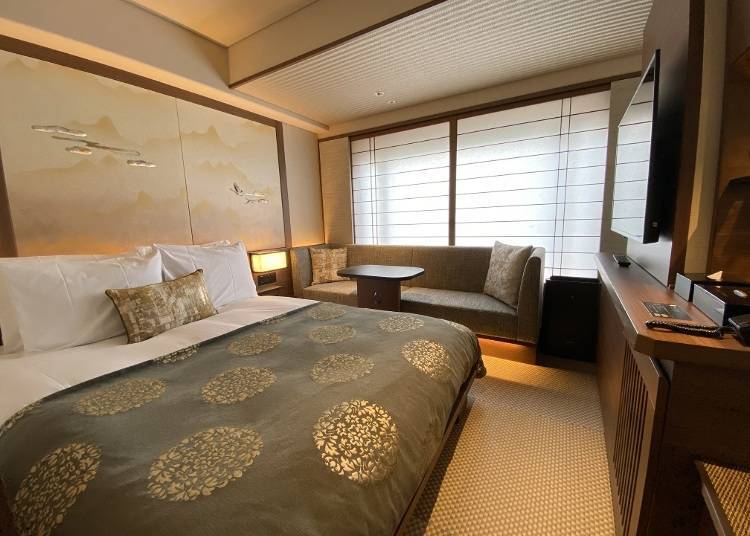 The room that our LIVE JAPAN staff selected was the standard moderate double, and it did not disappoint!

As soon as we walked in, we were struck by how serene and roomy it felt - it was hard to believe that we were right in the heart of bustling downtown Kyoto.

And even though the space is on the cozier side, you can tell that every detail has been carefully thought out and designed to perfection. The decor is both elegant and cozy, making it the perfect place to unwind after a long day of exploring the city.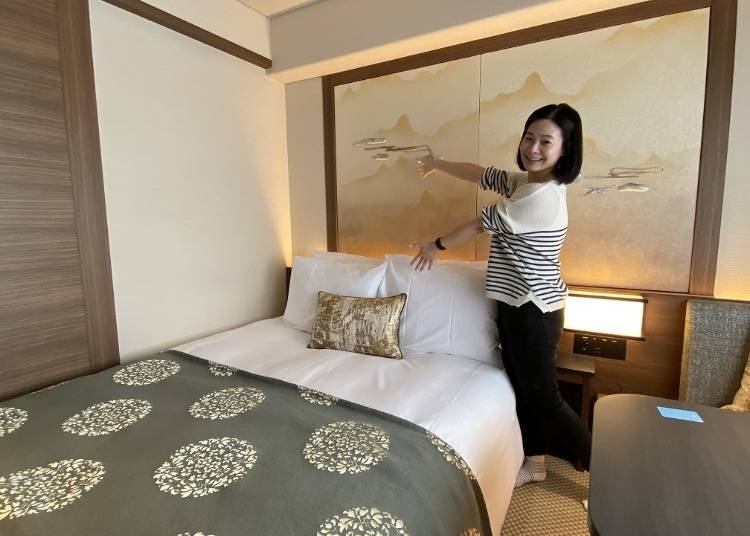 From the interior design to the furniture and amenities, everything is infused with a distinctly Japanese sensibility that's both elegant and inviting, intending to make your stay easy and comfortable.

"The bedspread, cushion covers, wallpaper, and the whole room has a very nice Japanese feel to it!"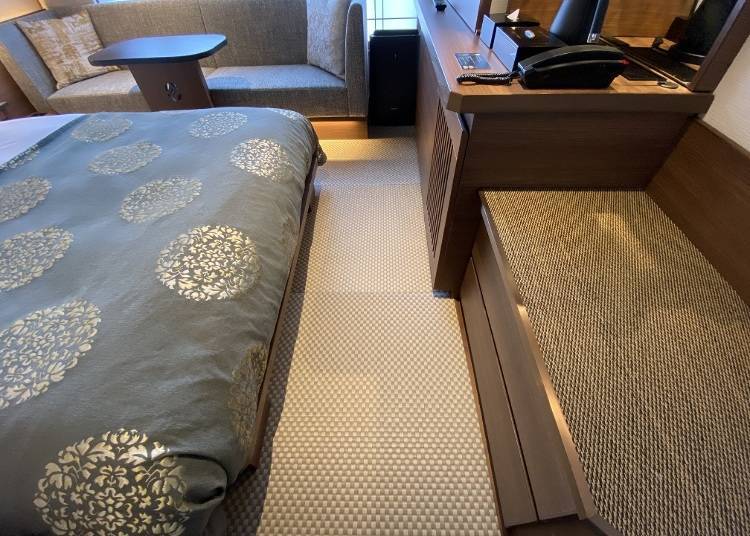 One thing that immediately caught our eye about the room was the beautiful tatami mats that covered the floor. This traditional Japanese-style flooring is not only visually stunning, but it's also incredibly comfortable to walk on - even without shoes. Plus, we appreciated the extra touch of having a special area near the entranceway that was designed for barefoot walking, making it easy to slip off our shoes and relax.

Another thoughtful detail was the baggage stand that's available for travelers. It's a small touch, but it makes a big difference when it comes to opening and organizing suitcases.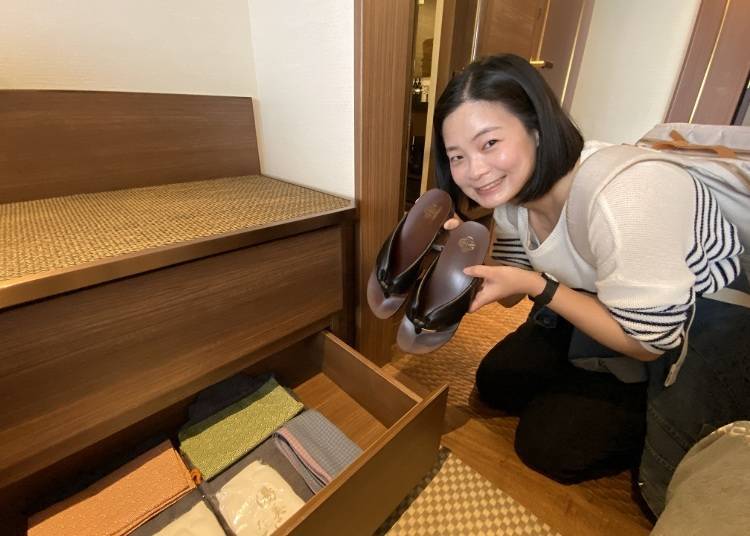 The hotel also has Yukata - traditional Japanese summer kimonos - and sandals available for guests to wear. "These sandals look much easier to walk in than the typical traditional Japanese geta clogs, or more formal zori footwear," remarked Chia-chi.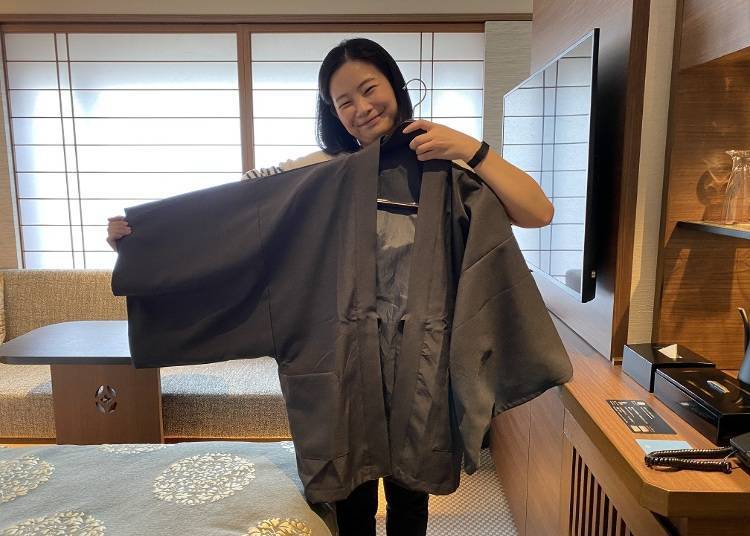 "I loved the yukata jacket - it's so cute and comfy!" And the best part is, you don't have to limit yourself to wearing it just inside the hotel - you can take it out and about with you too! Whether you're strolling through town or taking a leisurely walk along the Kamo River, it's a comfortable way to embrace local style.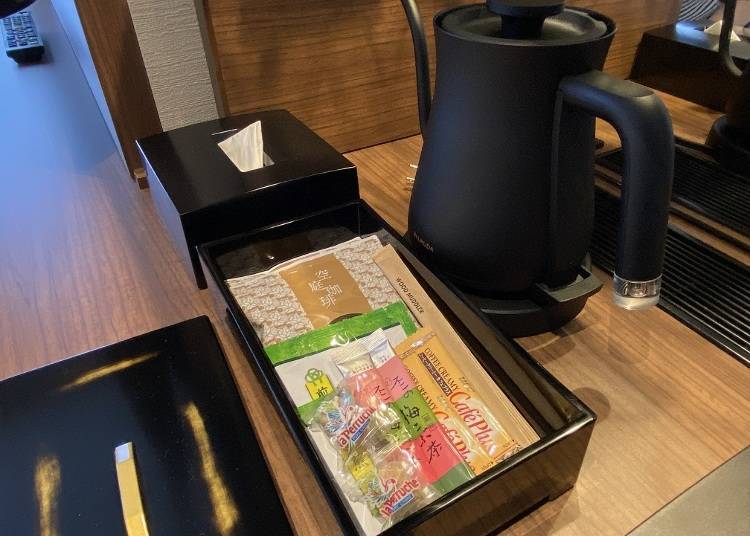 If you're a fan of hot beverages, you'll be pleased to know that in addition to the usual tea and coffee options, the hotel also offers an original product called "Sora Niwa Coffee" that's sure to delight your taste buds. And if you fall in love with it, you can even purchase it as a souvenir at the store located in front of the reception on the ninth floor.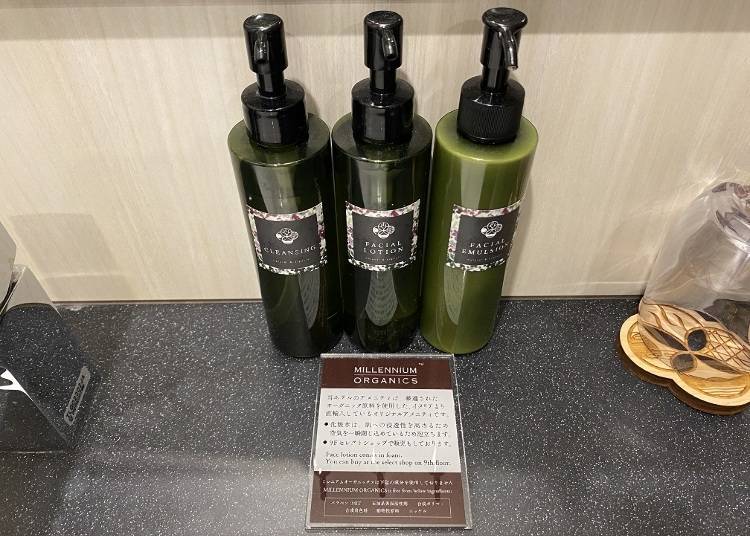 Amenities include original products imported directly from Italy using carefully selected organic ingredients. Face wash, toner, lotion, shampoo, and conditioner are all of the same brand.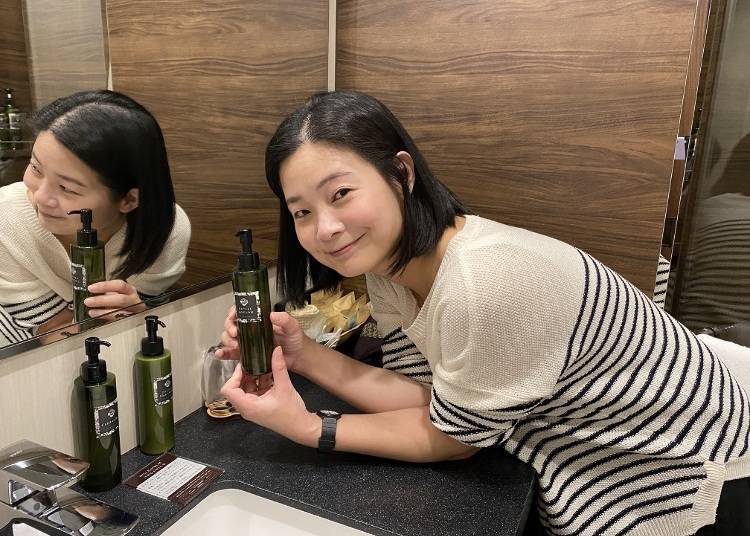 Chia-chi couldn't help but notice the pleasant aroma of the hotel amenities as soon as she walked into the room. "It smells so good and relaxing!" she exclaimed. And as it turns out, she's not the only one who loves the scent - many guests are so taken with it that they end up buying the amenities for themselves. You can find them at the store located in front of the reception on the ninth floor as well.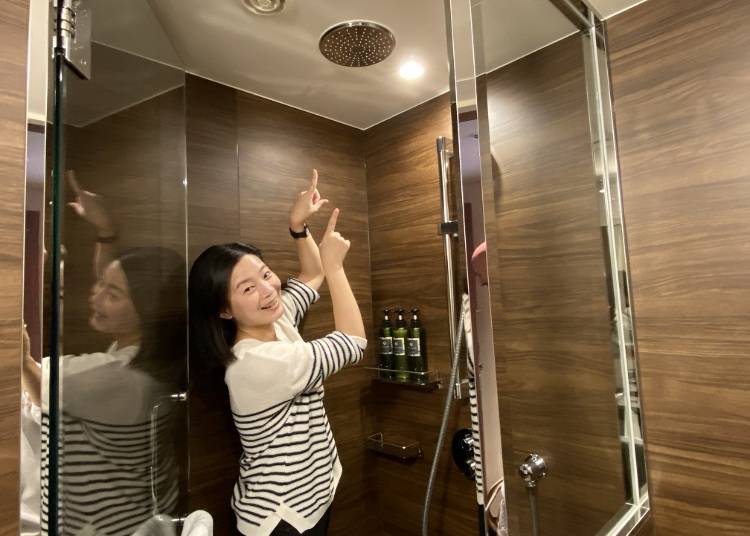 The shower room has a large rainfall shower.
Recommended Facilities #1: Enjoy an open-air hot spring with spectacular views of Kyoto and its surroundings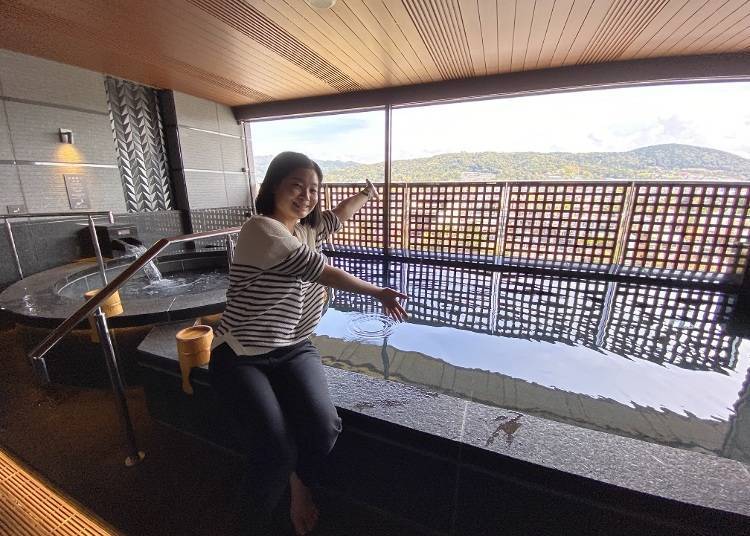 On the ninth floor of the hotel, you'll find one of its most impressive features: Yasaka-no-yu, one of two open-air baths that offer stunning views of the city and its surrounding scenery.

During our visit, we were fortunate enough to be granted special permission to take pictures of the bath during its cleaning hours. It was an incredible opportunity to capture the beauty of this space and its breathtaking views.

(However, please note that taking pictures and bringing electronic devices into the open-air bath area, including the changing rooms, is not permitted under normal circumstances.)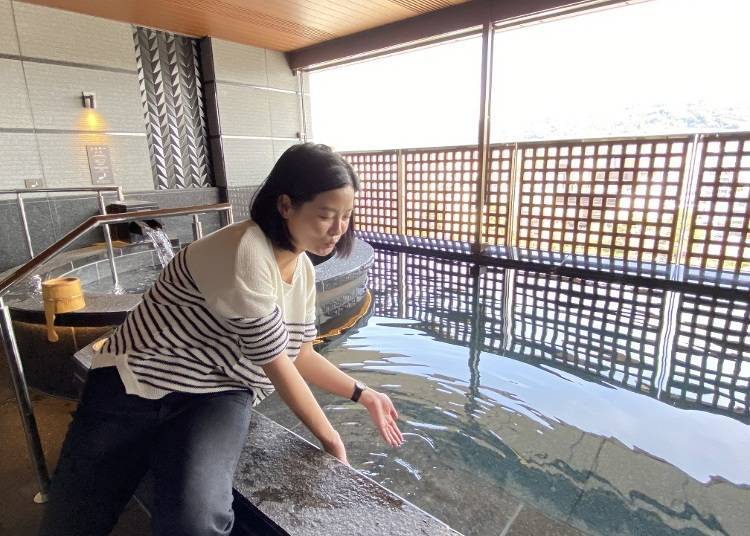 Chia-chi was practically giddy with excitement as she prepared to enter the hot spring. "It's amazing to be able to soak in a real hot spring while enjoying such a stunning view," she exclaimed.

And as it turns out, the experience lived up to her expectations. The spacious 120 cm-deep bath allows you to stand and take in the surrounding scenery as you soak.
The Kamo River and the city of Kyoto can be seen from the changing rooms, and one can't help but admire its beauty.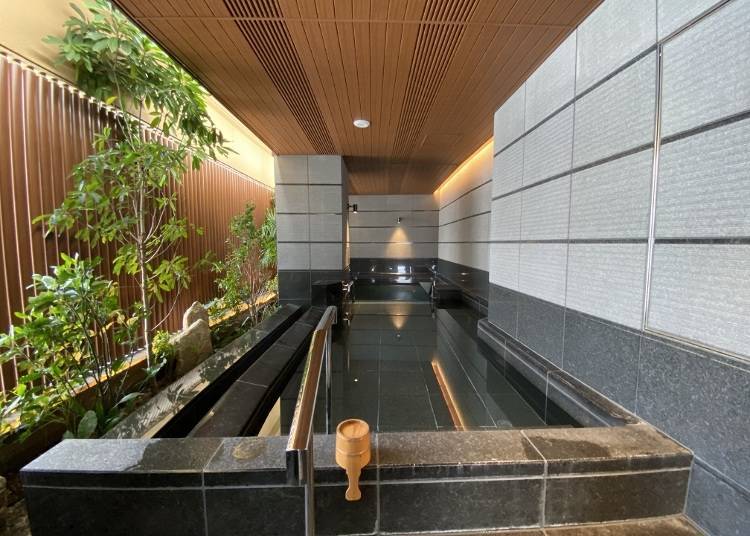 This is Niwa-no-yu, offering the comfortable warmth of wood. The men's and women's baths change daily, so if you stay overnight, you can enjoy both Yasaka-no-yu and Niwa-no-yu.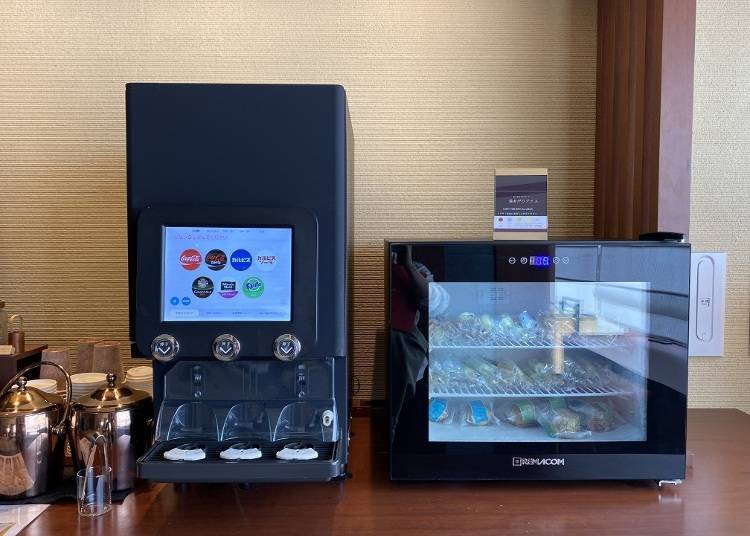 As if the hot springs weren't enough, the hotel also offers guests access to a drink and ice cream machine that's located in the lobby. This machine can be used freely during your stay, so you can enjoy a refreshing beverage or tasty treat whenever you like.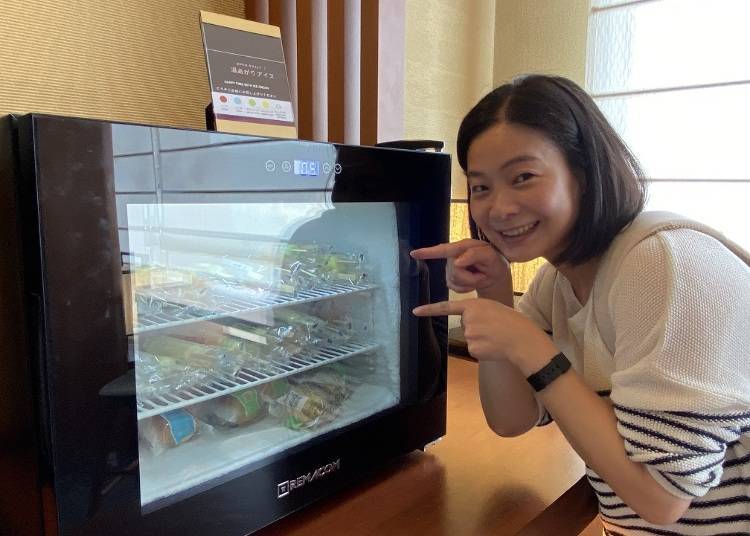 "The ice cream machine is a nice touch! There's a wide variety of drinks, including the usual carbonated beverages and coffee, as well as the matcha lattes that foreign visitors seem to love."
Recommended Facilities #2: Enjoy a one-of-a-kind view from Sora Niwa Terrace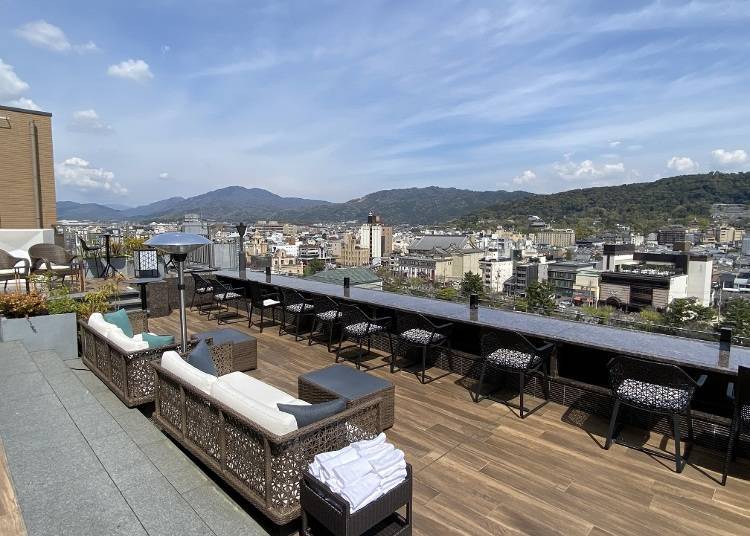 For a truly breathtaking view of Kyoto's Higashiyama area, look no further than Sora Niwa Terrace. This rooftop space, located on the ninth floor of the hotel, offers panoramic views of the city that are simply unparalleled.

From the terrace, you can take in the stunning sight of traditional Japanese architecture, historical temples, and lush greenery, all co-existing in perfect harmony. And with various styles of seating available, including sofas, tables, and counter seating, you can choose the perfect spot to suit your mood and make the most of the experience.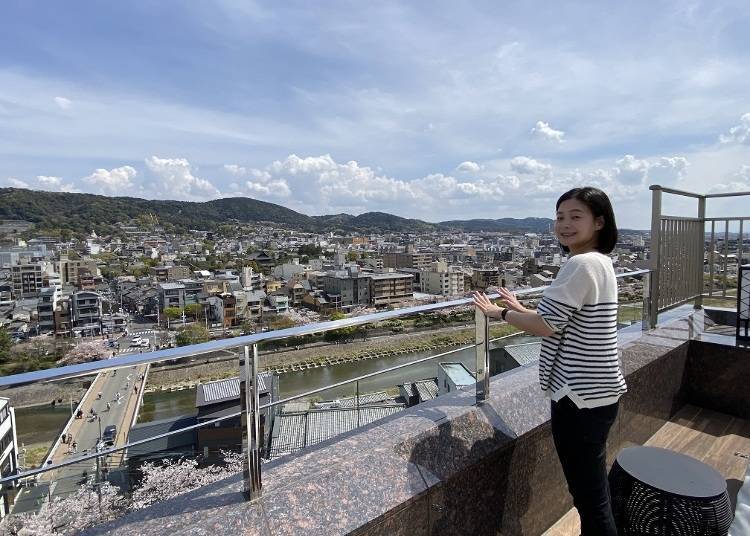 When we caught our first glimpse of the view, we were blown away. Below us were the picturesque Kamo River and rows of cherry blossom trees that were in full bloom. It was a sight to behold, and we could hardly believe our eyes.

Chia-chi, in particular, was amazed by the terrace. "I had seen pictures on the website, so I had very high expectations," she said. "But now that I'm actually here, I can say that it's gone beyond what I imagined! The rooftop terrace is absolutely incredible!"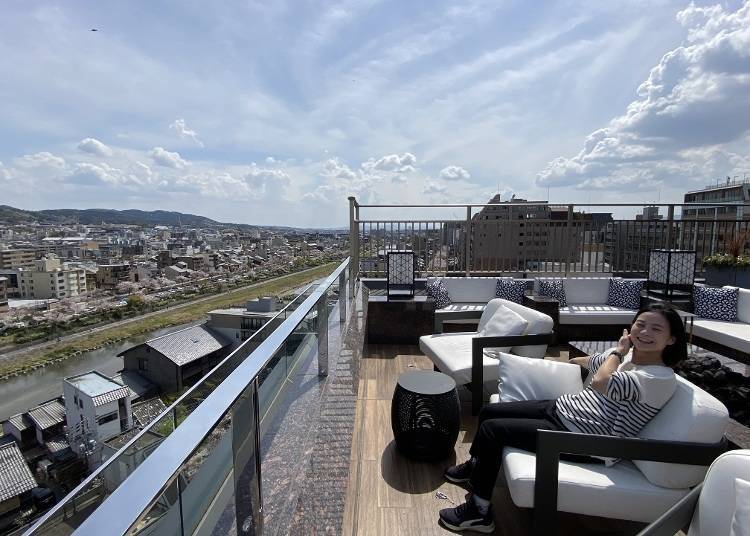 As soon as Chia-chi saw the terrace, she knew it was the perfect spot to relax with a good book. "To be able to sit out here and read a book is the ultimate in luxury," she said, with a contented smile on her face.
The terrace bar is a great place to unwind. Open from 4:00 p.m. to 7:00 p.m. (with last orders at 6:30 p.m.), this bar serves up a welcome drink to all guests.

But the real highlight comes later in the evening, when the bar is transformed into the Sora Niwa Rooftop Bar from 7:00 p.m. to 10:00 p.m. Here, you can sip on your favorite cocktail or wine while enjoying the city's night views from the comfort of the terrace.

"It's great to sit and sip a glass of sparkling wine right after sunset and enjoy the view of the city," remarked Timothy. "This is the perfect place to relax after a day of sightseeing."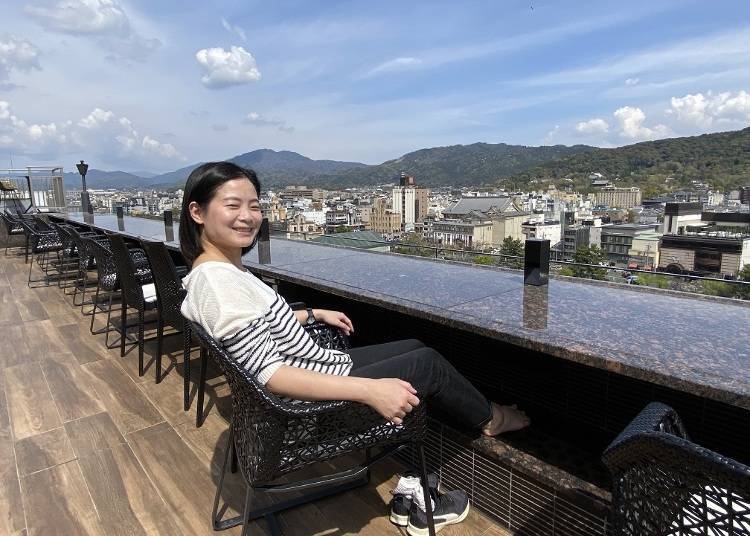 One of the unique features is the footbath located under the counter. This is just one more way that the terrace helps you relax and stay comfortable, no matter where you choose to sit.

Chia-chi couldn't resist trying out the footbath for herself. "It feels great to soak my feet in the hot water," she said, with a contented sigh.
Start your day off right with a Japanese breakfast and breathtaking views on the Sora Niwa Terrace!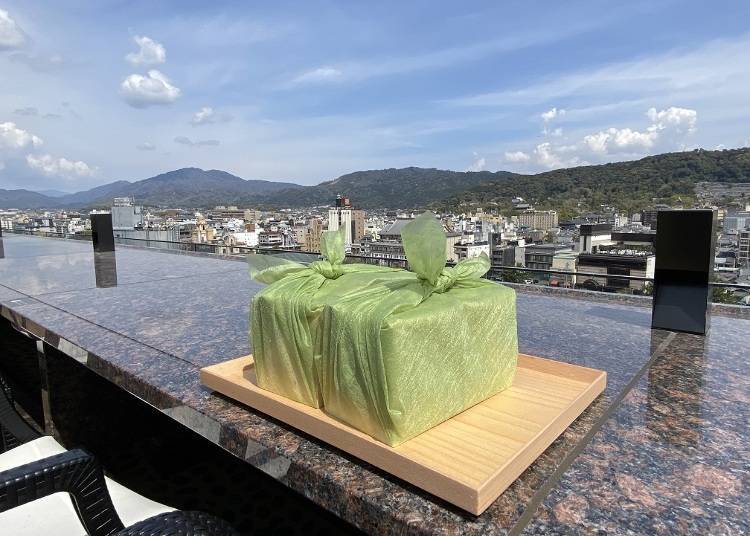 Don't miss out on the chance to savor the original breakfast bento served on the Sora Niwa Terrace during your stay! This unique experience offers not only a delicious taste of Japan, but also breathtaking views that will leave you feeling energized and refreshed.

It's important to note that advance reservations are required for this special breakfast experience, so be sure to book at least two days prior to your planned stay.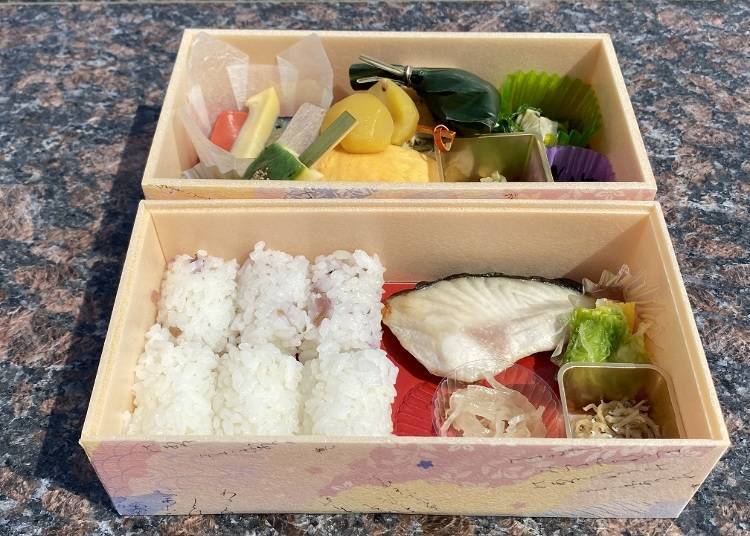 Indulge in a completely original breakfast experience, featuring a bento box crafted by the talented chefs at the Japanese restaurant Bettei Kamogawa's Kyoto cuisine specialty dining hall, "Higashiyama". This exclusive bento box is not available for takeout, making it a truly special privilege reserved only for hotel guests.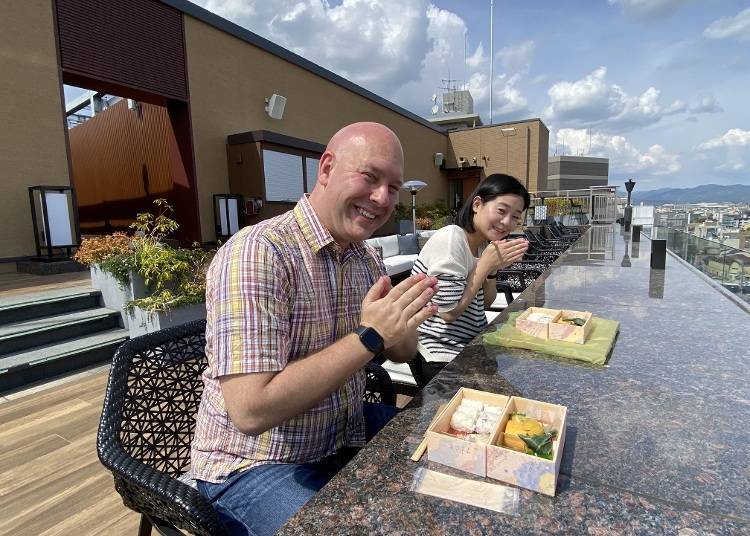 Timothy, a seasoned foodie, can't wait to try it. Let's dig in!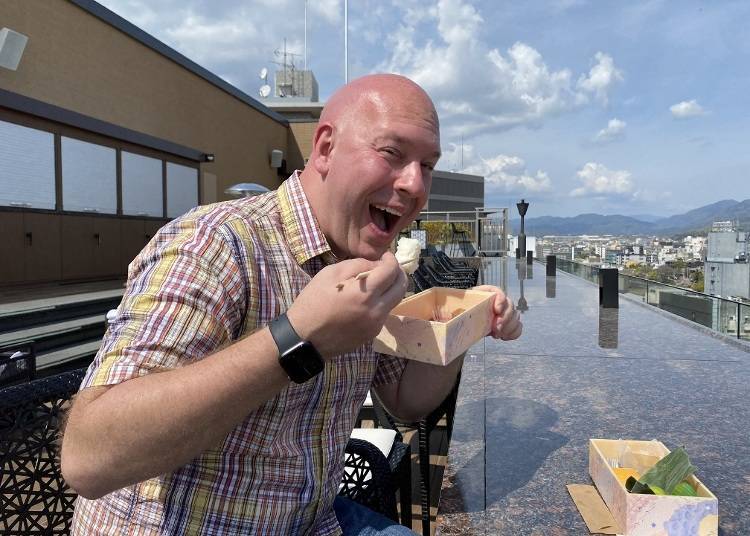 According to Timothy, the original breakfast bento boasts a gentle and distinctly Kyoto-like flavor. For foreign travelers, he highly recommends experiencing this delicious meal as it offers a unique and exciting way to start the day. "This meal gives you the sense that you're really in Kyoto, ensuring an exciting start to the day!" he exclaims.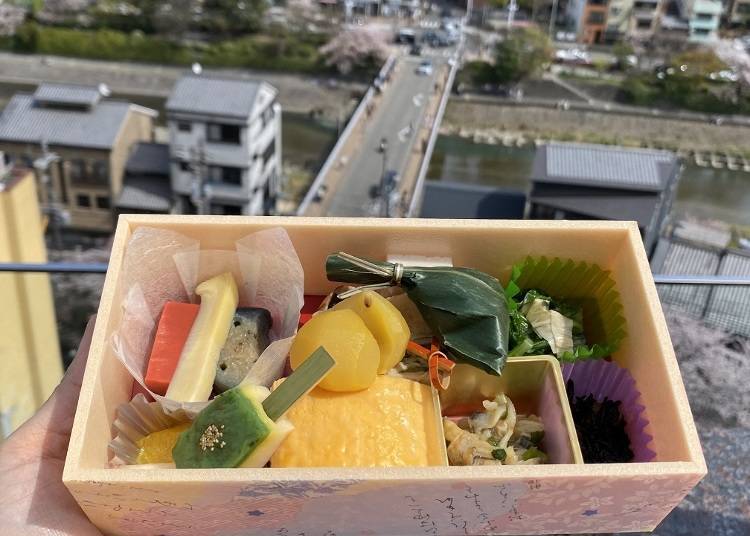 This is probably the only place in the city where you can enjoy a Japanese breakfast in Kyoto while overlooking the cityscape and cherry blossoms from the open terrace.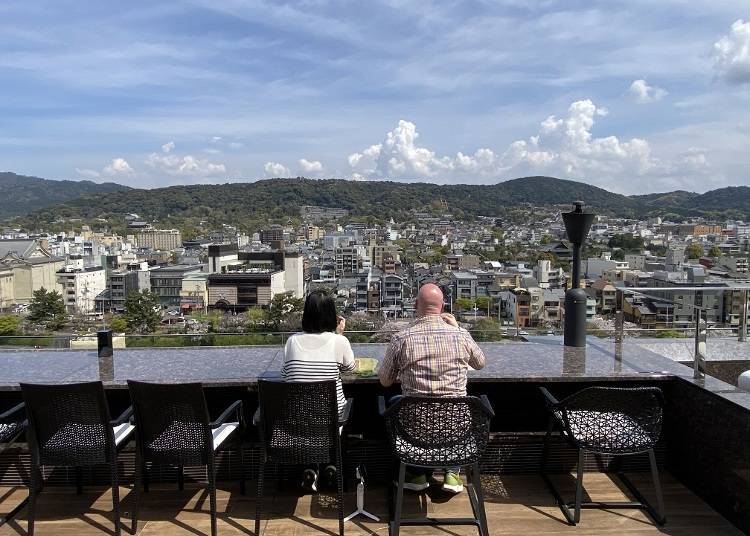 Chia-chi adds, "The best way to travel is to wake up in the morning, have breakfast, spend some time here relaxing with a book, and then head out."

The scenery is so beautiful that the two lose track of time.
Kamo River & Takase River: Ideal cherry blossom spots next to the hotel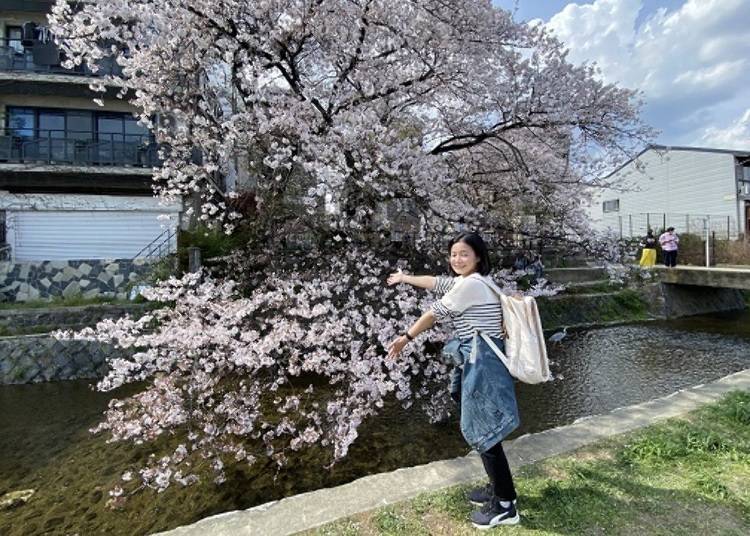 Located just a few minutes away from Sora Niwa Terrace are the Takase and Kamo Rivers, which offer a prime location for enjoying the spring colors. "You can enjoy the blossoms this closely!"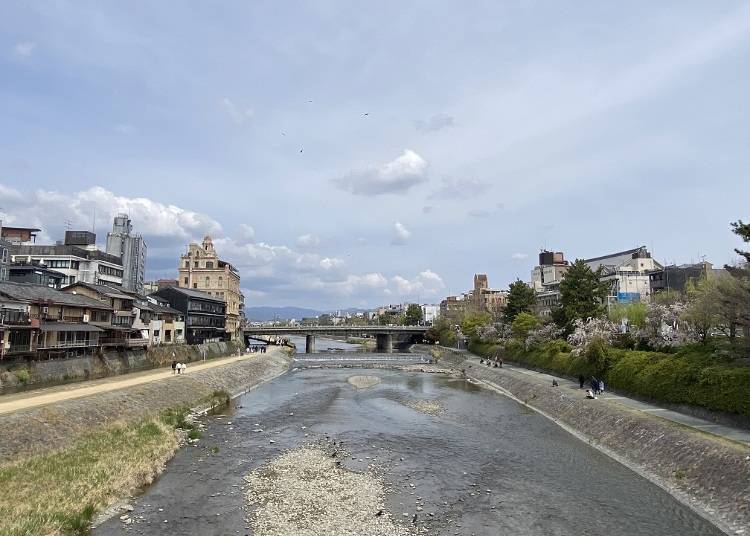 The Kamo River is representative of Kyoto.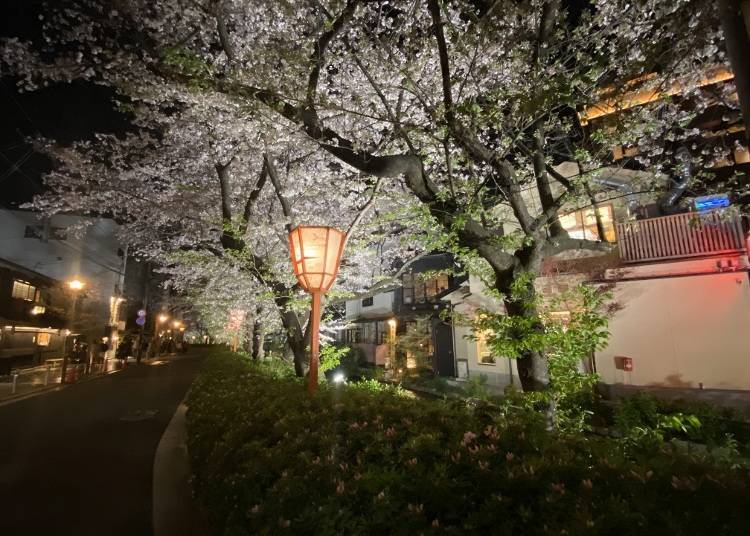 Thanks to the hotel's prime location, guests can fully enjoy the beauty of nighttime cherry blossoms.
Enjoy extraordinary sightseeing, cuisine, and relaxation at this Kyoto hotel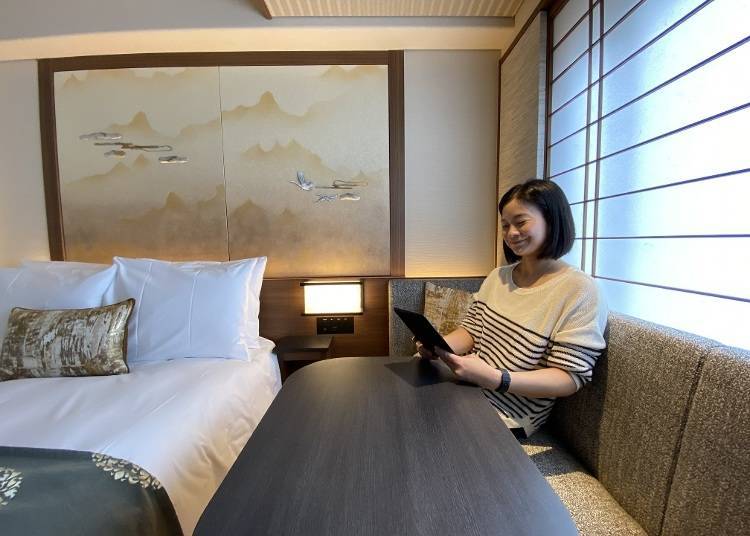 According to Chia-chi, "When I travel, I prefer to stay in a hotel where I can read a book, unwind in a hot spring, or simply immerse myself in nature. Despite its convenient central location, Sora Niwa Terrace offers a peaceful and relaxing environment that let me truly unwind. The open-air hot springs and lush greenery provided ample opportunities for rest and rejuvenation."
Timothy said cheerfully, "The hotel's location is very convenient for sightseeing, with countless restaurants and tourist attractions in the vicinity! Being an active person, I loved that there's a riverside walking course right in front of the hotel. And breakfast was also delicious!"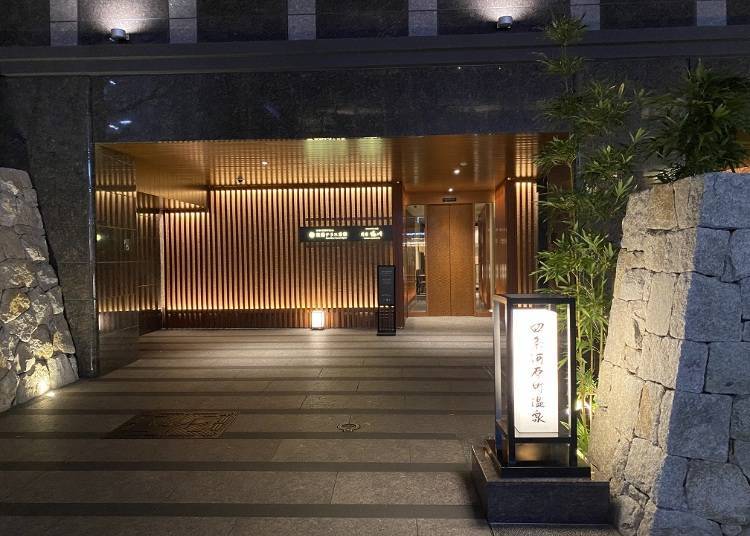 Sora Niwa Terrace Kyoto has received high praises from international visitors and won the "Traveller Review Awards 2023" on Booking.com.

Many guests have left positive reviews, such as "Great location and hot springs! I enjoyed them every morning and night," "Amazing staff, hot springs, and view," and "The best hotel I've ever stayed in."

This hotel is an ideal choice for sightseeing and dining, not only during the cherry blossom season, but all year round. It's the only accommodation in the area with a hot spring bath, making it a unique and relaxing experience.

Our editors highly recommend Sora Niwa Terrace Kyoto as a top choice for your stay in Kyoto. Don't hesitate to book now for your next visit!
Facility Information
Multilingual Support

English/Chinese
Facility Information

・Number of rooms: Total 102 rooms
・Business hours: Check-in 3:00 p.m./Check-out 11:00 a.m.
・Fees: From 9,700 yen (per person for a two-person room)
*Accommodation tax and hot spring tax are not included.
Address

Shimogyo-ku Inaricho 324, Kyoto, Kyoto, 600-8022
View Map

Nearest Station

Kyoto-kawaramachi Station (Hankyu-kyoto Main Line)
3 minutes on foot


Vacancy search, reservation

from

33,600JPY

1room, 2adults

Check with our partner site as the latest rates, rate details, and guest room requirements may vary.
*The information in this article is from April 2023. Please check the official website for the latest information.
Written by:
*This information is from the time of this article's publication.
*Prices and options mentioned are subject to change.
*Unless stated otherwise, all prices include tax.
Limited time offer: 10% discount coupons available now!