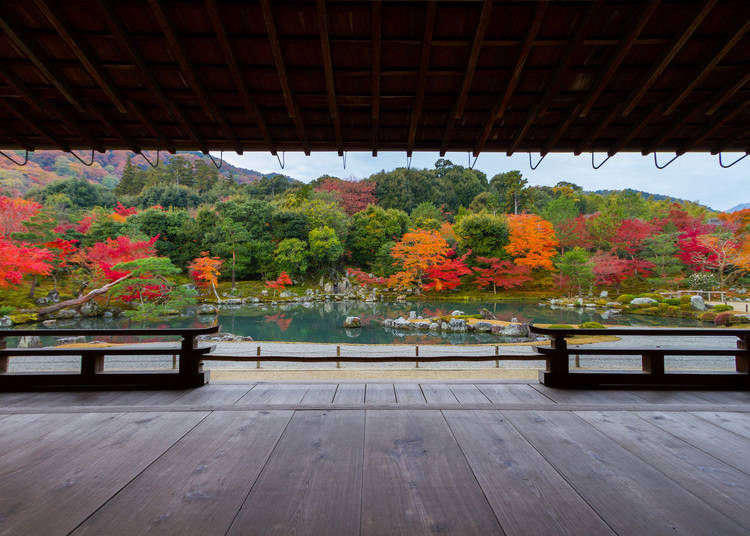 Tenryuji is considered the most important Zen temple in Kyoto's Arashiyama area, and with its gorgeous Zen garden, it's a huge tourist destination. There are many attractions within the temple grounds, including Unryuzu, the giant dragon painted on the ceiling of Hattou Temple, Darumazu, who welcomes the visitors.

Without further ado, let's take a look at this beautiful and breathtaking temple, Tenryuji.
What Kind of Temple is Tenryuji?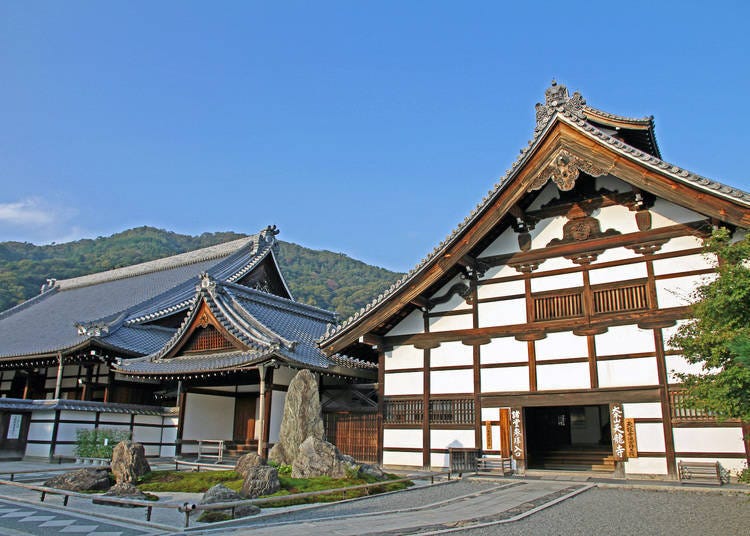 Tenryuji is the most prestigious of the Kyoto Gozan temples, also known as the Five Great Mountain Temples of Japan, all of which are important symbols of Zen Buddhism in Kyoto. Many people come to pay homage, see the beautiful landscapes, and experience the serene atmosphere unique to this Zen temple and Sogenchi Teien (Sogen Pond Garden), which has been designated as Japan's first Special Historical Scenic Spot.

Zen temples include Buddhist temples of both the Rinzai and Soto sect. Tenryuji is of the Rinzai sect, and is a temple where those who seek enlightenment practice Zazen meditation while tackling Koan riddles as part of their Buddhist practice.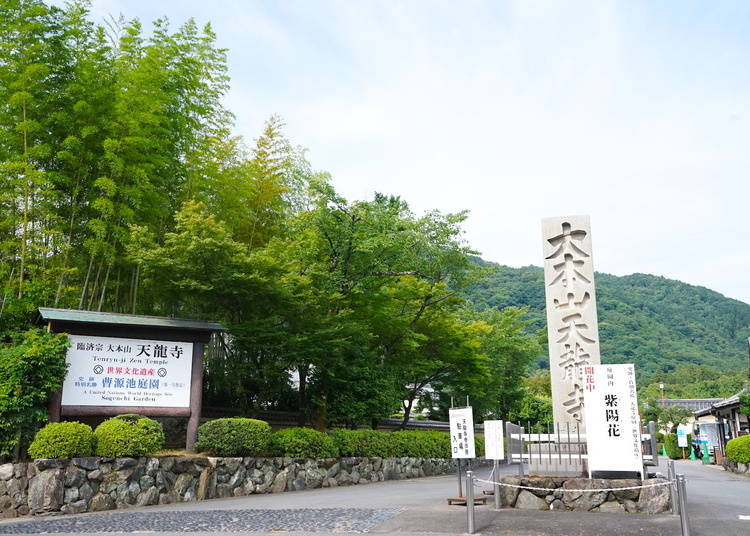 The entrance to Tenryuji Temple is right outside Arashiyama Station on the main street, so it is very easy to find. This temple is one of the must-see places to visit when sightseeing in Arashiyama!

Access:
・From Randen Arashiyama Station: Entrance located right outside the station
・From JR Kyoto Station: Take Sanin Main Line to Saga-Arashiyama Station (approx 27 min, 240 yen one-way); walk 13 min southwest
・From JR Osaka Station: Take Tokaido Line New Rapid Train to Kyoto Station; transfer to JR Sanin Main Line, ride to Saga-Arashiyama Station (approx. 1 hr 4 min, 990 yen, one-way); walk 13 min southwest
・From JR Kansai Airport Station: Take JR Kansai Rapid Service to Osaka Station; transfer to JR Tokaido Line New Rapid Train, ride to Kyoto Station; transfer to JR Sanin Main Line, ride to Saga-Arashiyama Station (approx. 2 hr 15 min, 2,200 yen, one-way); walk 13 min southwest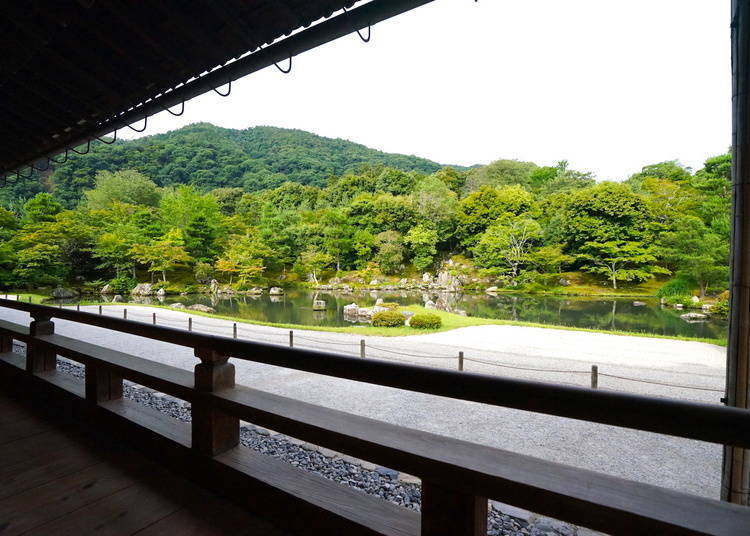 Tenryuji is divided into three main parts. You'll want to see each of them to complete your visit.

1. Teien (The Gardens)
Includes only the garden areas, Sogenchi Teien and Hyakkaen. Does not include access to the temples.
・Hours: 8:30AM-5:00PM (Garden Gate/North Gate Reception ends 4:50PM)
・Admission: Adults 500 yen, elementary/junior high students 300 yen, preschool & under are free


2. Shodo (The Temples)
Includes Ohojo, where you can see Sogenchi Teien and Hyakkaen, and temple buildings such as Shoin and Tahoden. Please note, you cannot purchase entry into the temples alone, it is only available as a set with the gardens.
・Hours: 4:30AM-4:45PM (Reception ends 4:30PM)
・Admission: 300 yen + above garden admission fee


3. Hatto
This is the symbolic temple of Tenryuji where you can see the famous Cloud Dragon painted on the ceiling. Open daily during spring, summer, and autumn. Otherwise, only open weekends and holidays.
・Hours: 9:00AM-4:30PM (Reception ends 4:20PM)
*Oct 21 through Mar 20: closes at 4:00PM (Reception ends 3:50PM)
・Admission: 500 yen per person


Reception Locations:
Garden: Entrance to the left of the large stone staircase in front of the shop, a short walk from the front entrance.
Kuri Hall: The entrance to Kuri hall is in front of the large stone steps by the shop.
North Gate Reception: Entrance facing the Bamboo Forest.

Measures Against Coronavirus:
Buildings are well ventilated, and sanitizer is available at reception areas and entrances. Staff members required to wear masks.
Highlights of Tenryuji Temple
There are four main attractions you must see when visiting Tenryuji Temple. From nature-rich gardens to stunning paintings such as the dragon on the ceiling, here's what you can look forward to.

1. Kuri Hall's Daruma-zu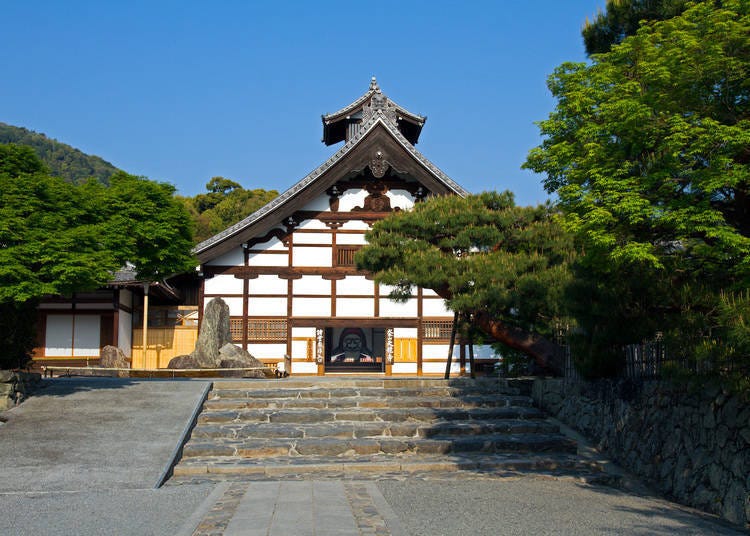 At the end of the entrance to Tenryuji Temple's Main Gate is Kuri Hall, a monastery with large triangular walls. It functions as both a kitchen and temple office. The reception desk for visiting the temple halls is at the entrance.

The building has a unique exterior design, with white walls decorated with vertical and horizontal beams, and an impressive curved roof.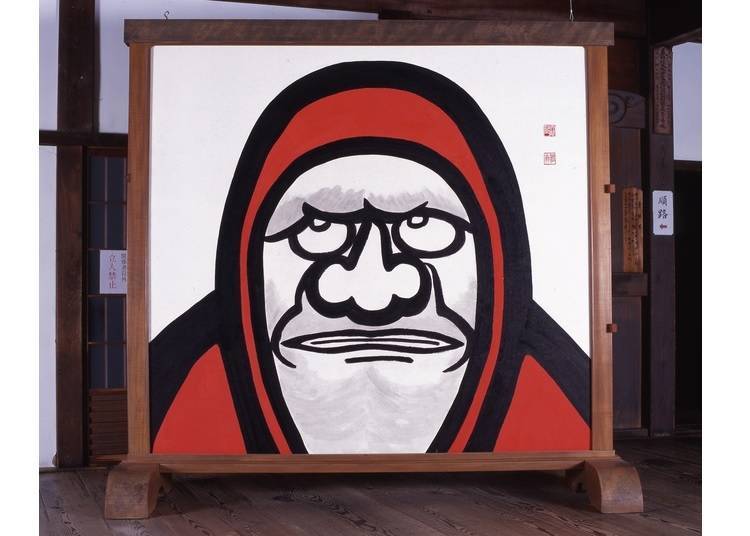 The partition at the back of Kuri Hall is decorated with the bold painting of the Daruma-zu, or Bodhidharma, and is a famous attraction of Tenryuji Temple. The painting is based on an ancestor of Zen Buddhism, the Dharma Master who passed down Zen Buddhism from India to China.

2. Teien Garden, as seen from outside the temple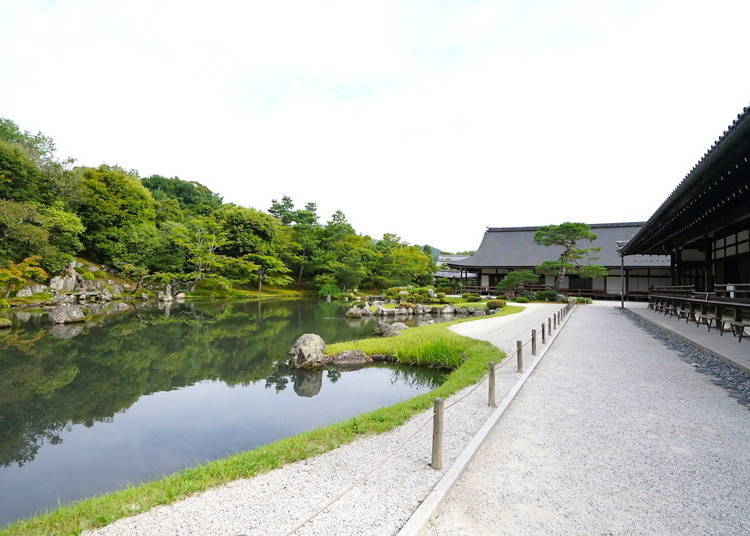 Sogenchi Garden was designed by Muso Kokushi, a monk of the Rinzai sect known for designing all kinds of gardens, about 700 years ago. This garden is constructed around the large pond, Sogenchi Pond, and incorporates the sceneries of Arashiyama and Kameyama into the landscape as if they were part of the garden.

Walk around Sogenchi Pond through the Chisen-kaiyu-shiki Teien, or the 'Promenade Garden.' You can also take a leisurely stroll along the path under the eaves of the temple.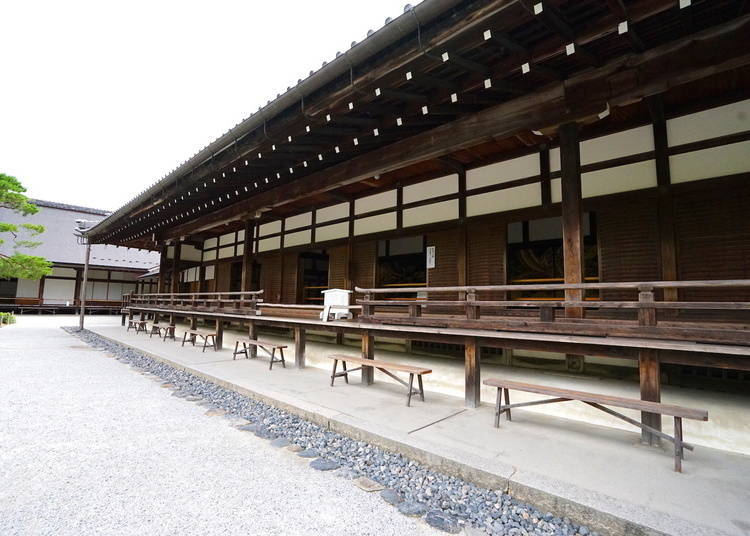 To fully appreciate the beauty, don't just walk around, but take a moment to pause and sit on a wooden bench, carefully observe the garden, and reflect on the sounds and scents of nature with all five of your senses.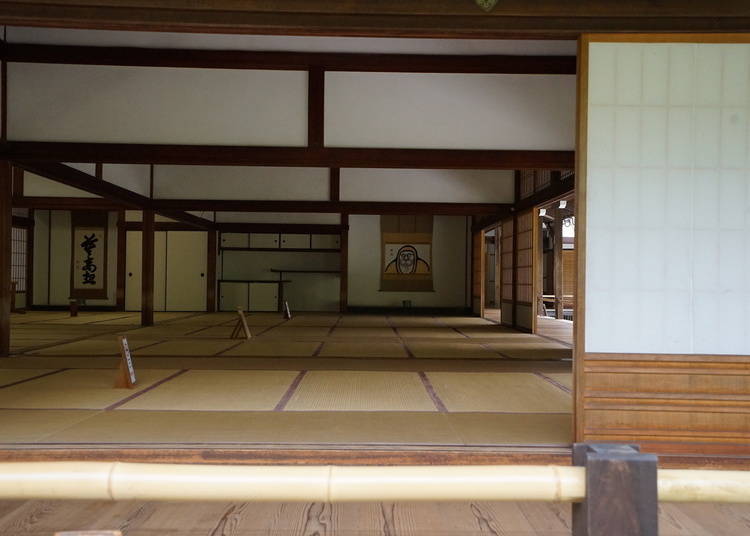 Take a look inside of the temple from the outside sidewalk. The tatami-floor room is spacious and simple, however you can feel its richness, even from a distance.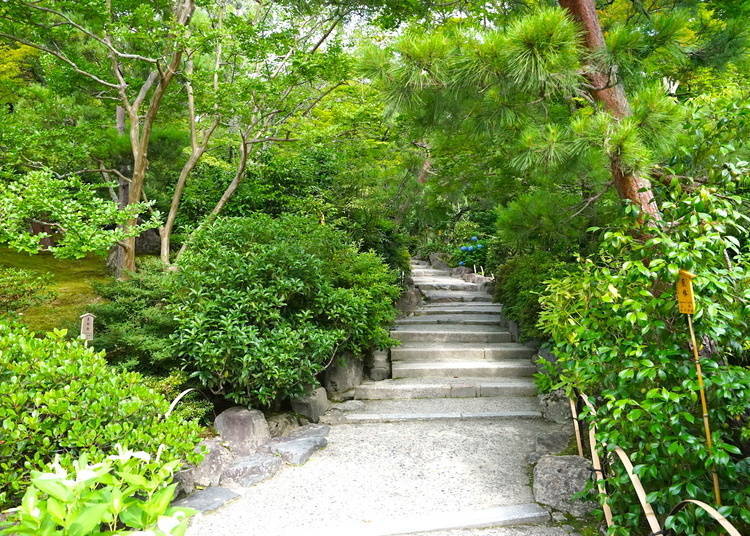 A little further in...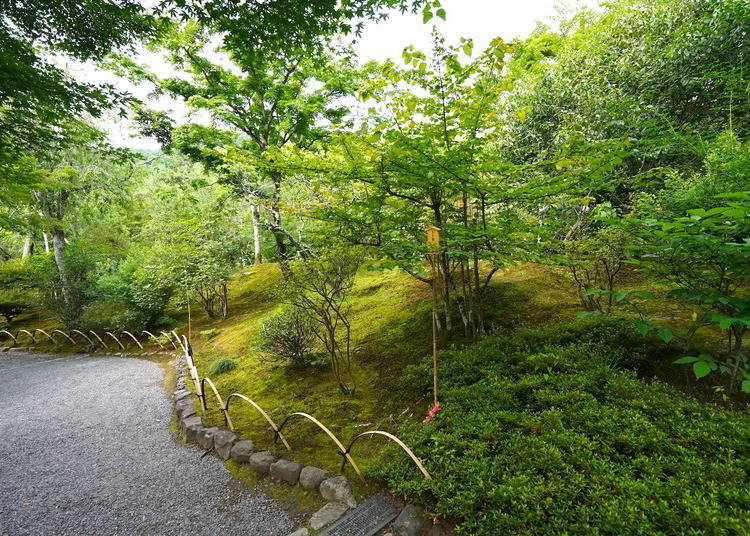 Hyakkaen at the North Gate
Both the North Gate and the Hyakkaen Garden were built in 1983. You can take a leisurely stroll on this garden path, built along the natural slope and surrounded by all kinds of flowers and trees.

3. Teien Garden, as seen from inside the temple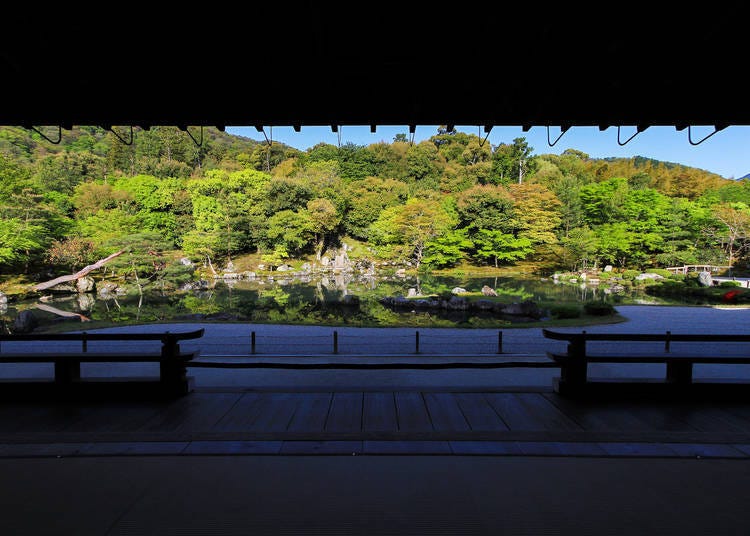 Looking out at the gardens from inside the temple is one of the greatest pleasures of Tenryuji Temple. The entire landscape is spectacular, with the white stones surrounding Sogenchi Pond, the reflection of the trees on the water's surface, and gardens of all shapes in sizes in every corner.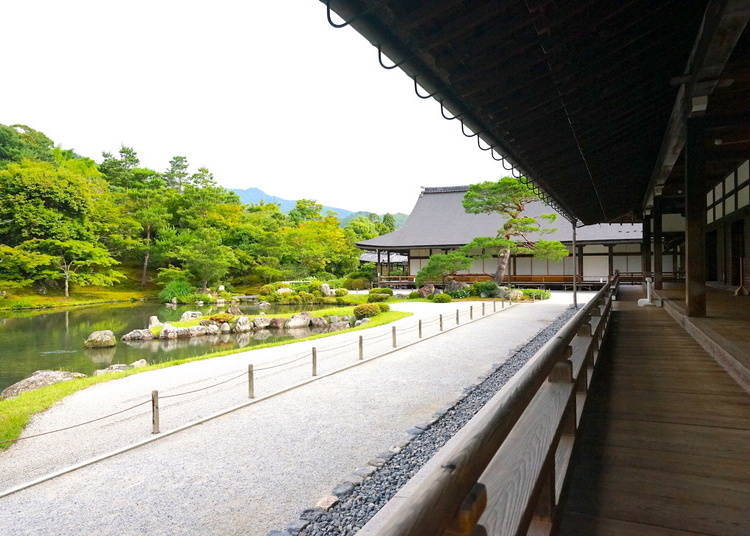 When visiting this garden, don't just stand and walk around. Sit quietly on the veranda and open yourself to the delicate movements of nature. Listen to the chirping of birds and the buzzing from the trees, feel the gentle breeze, see the ripples on the water's surface. Here, you are one with nature.

4. Enjoy the Painting of the Dragon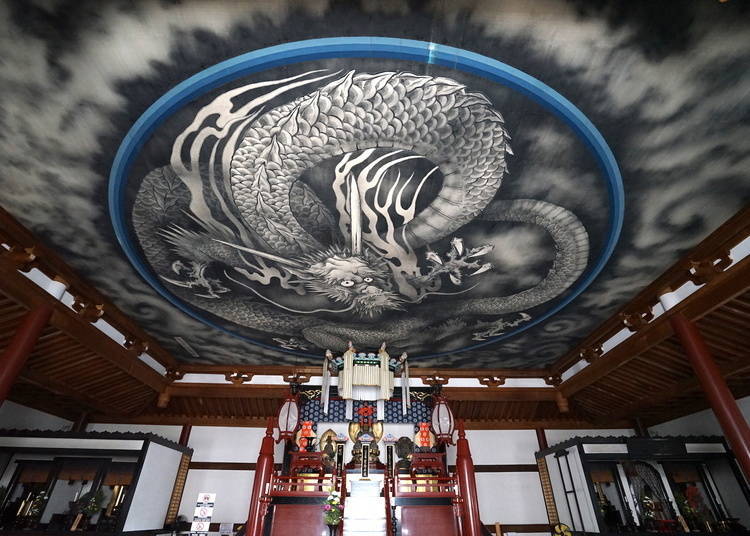 Don't forget to check out Unryuzu, the Cloud Dragon Painting on the ceiling of the Hatto Temple. This powerful Unryuzu portrait was painted by a famous Japanese artist, Matazo Kayama. The dragon is so lively and vibrant, you can practically feel it coming to life as if it were trying to escape the 9m-diameter circle that encloses it.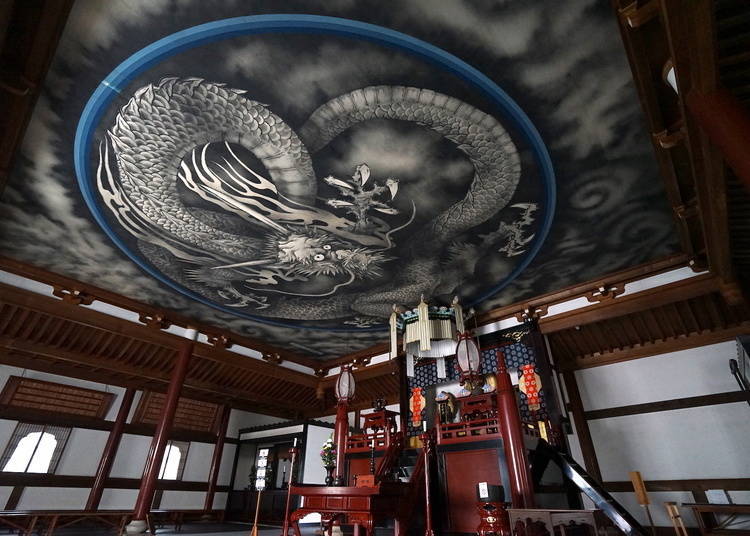 View from right side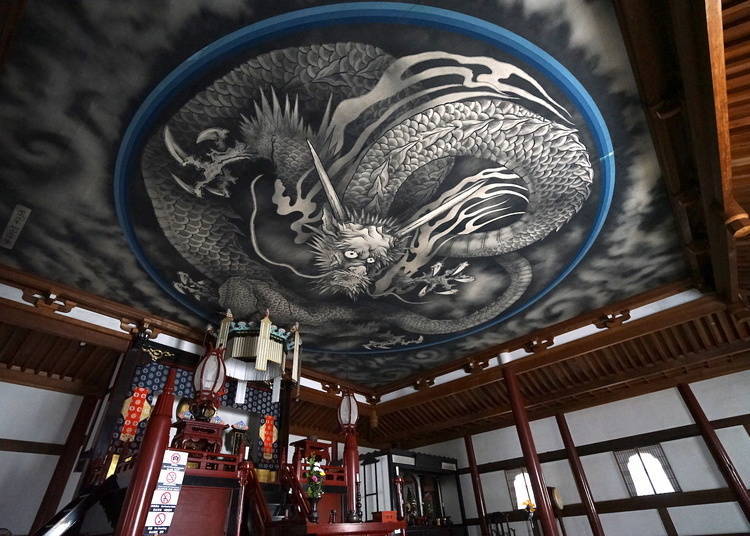 View from left side
This dragon is also known as Happo Nirami No Ryu, or "dragon that glares in eight directions," as it seems to be looking right at you from any angle! Look up at the dragon from various spots in the temple, and observe its changing expressions. (Photography not allowed inside temple)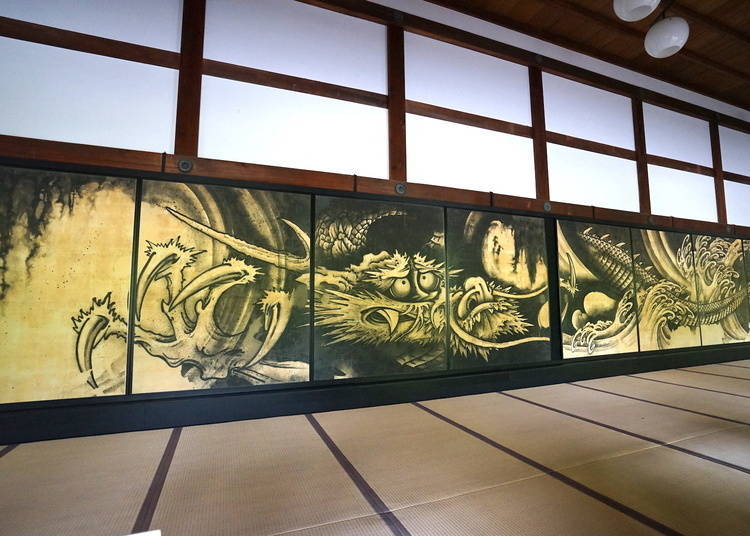 You can also view Unryuzu on the opposite side of Sogenchi Garden, painted on the fusuma doors of Ohojo. This is another dynamic dragon painting measuring 165cm in length and 10m in width. With its glaring eyes and sharp claws, it is a bold and impressive painting.
A landscape that changes with the seasons!
Spring means a beautiful landscape of weeping cherry blossom trees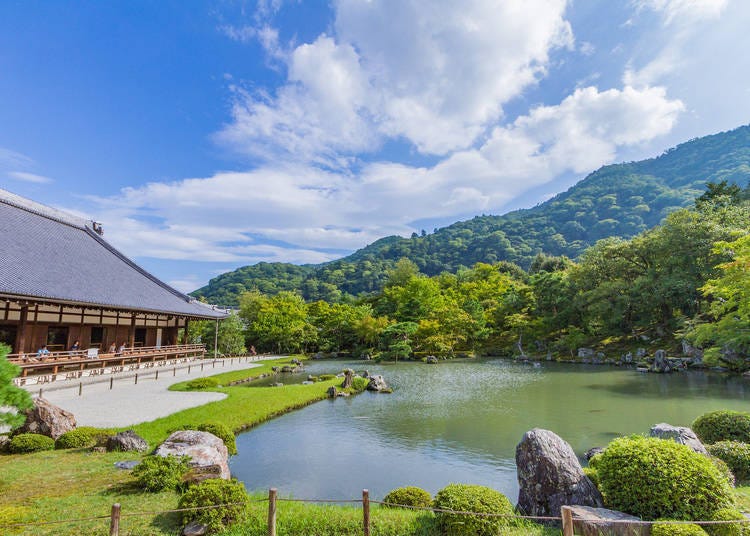 Summer brings a refreshing expanse of blue skies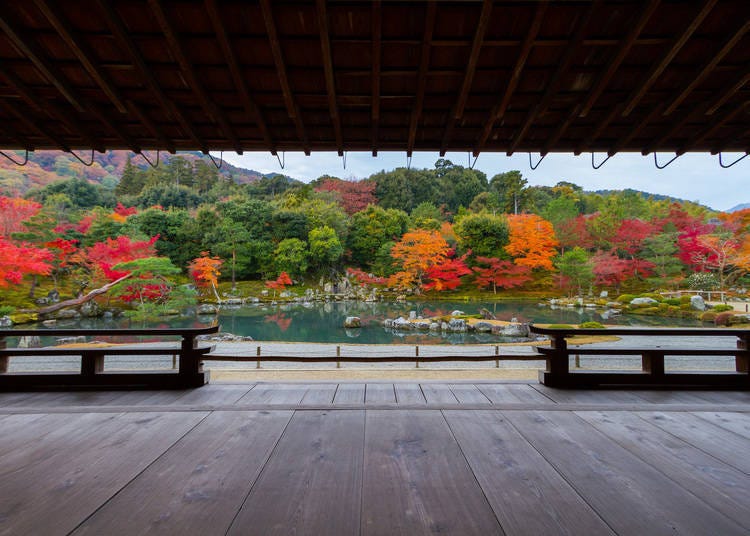 Fall is a fascinating array of vibrant reds and yellows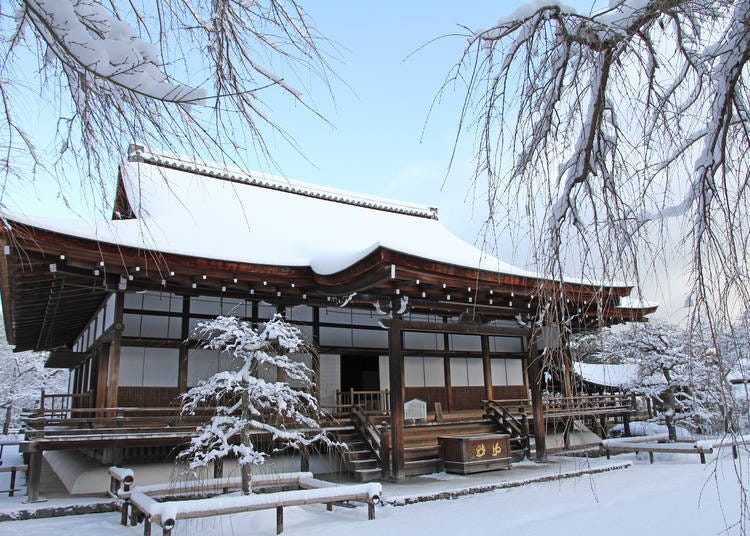 Winter is all about the crisp, clear air
Another one of Tenryuji's charms is its variety of unique natural landscapes that change with the passing of the seasons. The spring brings blooming cherry blossoms, the fall is brilliant with autumn leaves, and summers are lively with abundant greenery and clear blue skies. Even the harsh, cold winter has its own beautiful landscape! Rainy days are also calm, with the peaceful sounds of falling droplets.
Check out the Shojin-Ryori Vegan Restaurant on the Temple Grounds!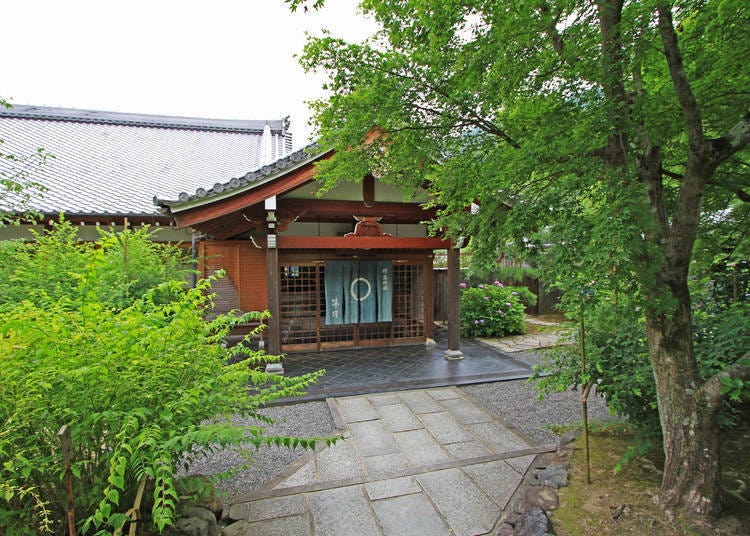 Shigetsu is a Shojin-ryori restaurant located in the precincts of Tenryuji that serves shojin-ryori, or traditional Buddhist vegan cuisine. This restaurant is certified Bib Gourmand by the Michelin Guide.

All dishes are made using wild vegetables, plants, and seaweeds, with no animal-based ingredients whatsoever. Each healthy dish is delicately yet deliciously flavored. Whether you are vegetarian or not, you are sure to enjoy whichever dish you choose!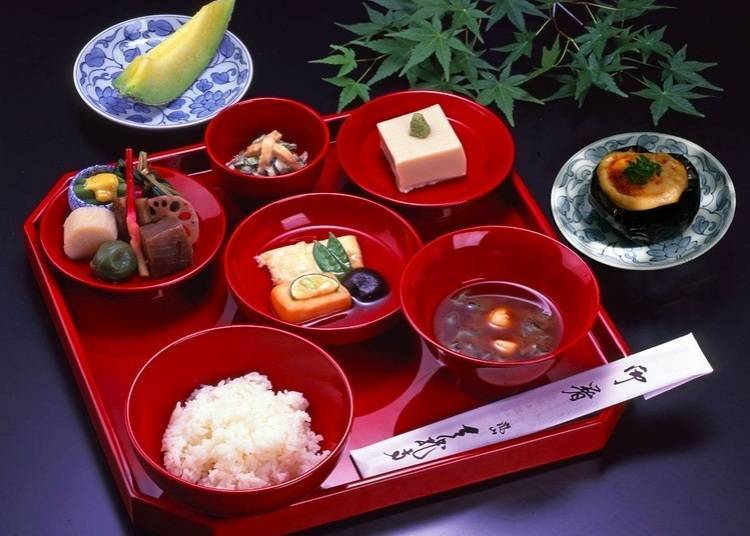 Yuki (1 soup & 5 vegetable dishes) 3,300 yen (tax included)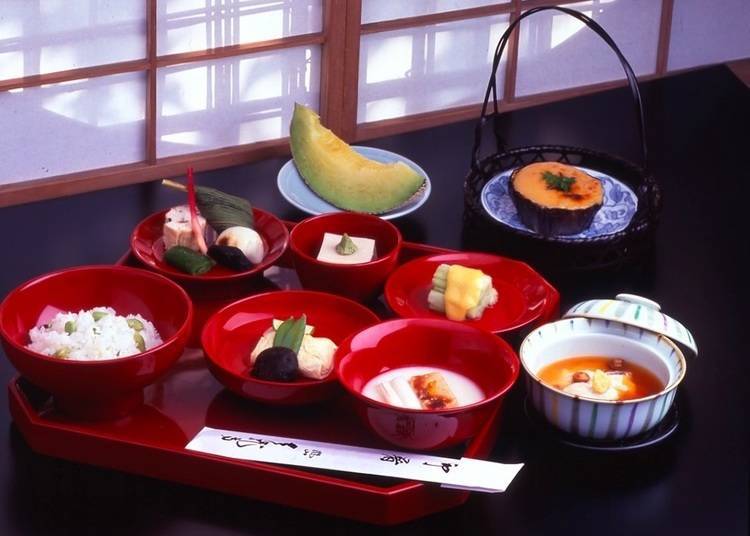 Tsuki (1 soup & 6 vegetable dishes) 5,500 yen (tax included)
There are 3 types of dishes: Yuki (3,300 yen), Tsuki (5,500 yen), and Hana (8,000 yen). The ingredients used will vary by season. A separate garden admission fee of 500 yen will be required to enter. For parties of 3 or more, reservations are required at least one day in advance. Reservations can be made by phone or online at (http://www.tenryuji.com/shigetsu/contact.html).
篩月

Address

68 Sagatenryuji Susukinobabacho, Ukyo-ku, Kyoto, 616-8385

Phone: 075-882-9725 (9:00AM-5:00PM)
Open Daily
Relax Your Mind at Arashiyama Tenryuji Temple
Despite its location in the center of Arashiyama, Tenryuji Temple is a calm place with lots of beautiful scenery. Gaze in awe at the powerful paintings such as Unryuzu on the ceiling and Darumazu on the wall, and experience the peace and quiet of nature in the gardens. Every moment spent at the beautiful and serene temple of Tenryuji is bound to become an incredible memory.
Address

68, Sagatenryujisusukinobabacho, Ukyo-ku, Kyoto-shi, Kyoto, 616-8385
View Map

Nearest Station

Arashiyama Station (Keifuku Dentetsu-arashiyama Line)


Phone Number

075-881-1235
Written by WESTPLAN
*This information is from the time of this article's publication.
*Prices and options mentioned are subject to change.
*Unless stated otherwise, all prices include tax.