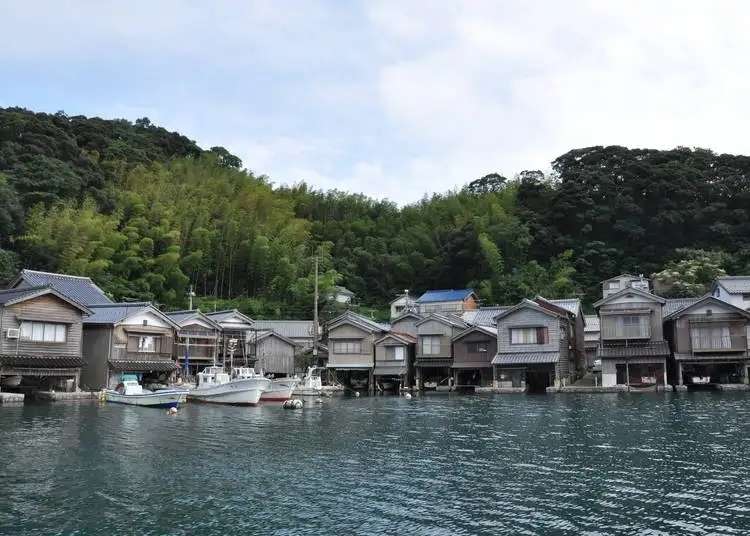 The north side of Kyoto Prefecture sits along the Japan Sea, comprising the municipalities of Fukuchiyama, Maizuru, Ayabe, Miyazu, Kyotango, Ine, and Yosano.

The region is celebrated for its rich culinary culture, incorporating a wide variety of agriculture, fresh fish, and wild game. The mix of oceans and mountains not only results in an abundance of food but also provides some of the most beautiful views in Japan.

Tourists flock to Miyazu to see the peculiar sandbar called Amanohashidate, considered one of the country's top three famous sights. To make the most of your journey, pay a visit to the town of Ine, where you'll find over 230 traditional homes sitting right along the ocean. Considered one of the most beautiful villages in Japan, Ine offers insight into the role that fishing has played throughout Japan's history.
Marvel at unique coastal views in Amanohashidate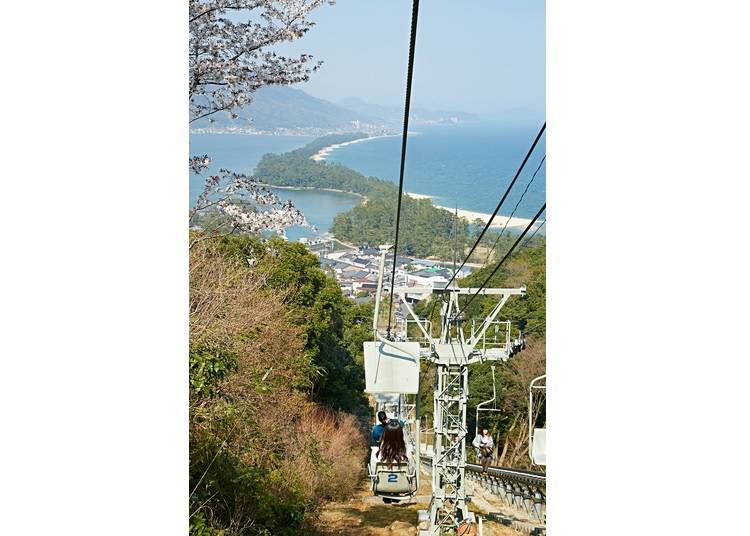 Pine trees have managed to snake their way across a sliver of sand in Amanohashidate
While many oceanside locales across the world are associated with palm trees, white sands, and surfing, Japan's topography and rugged terrain make for unique views not seen anywhere else. Across much of its coast, the forest comes right down to the water's edge. At Amanohashidate, persistent trees have snaked their way across a long, slender sandbar that stretches across Miyazu Bay. Visitors flock from across Japan to see the peculiar sight, which is best viewed from atop the small mountainous peaks on either side of the bay.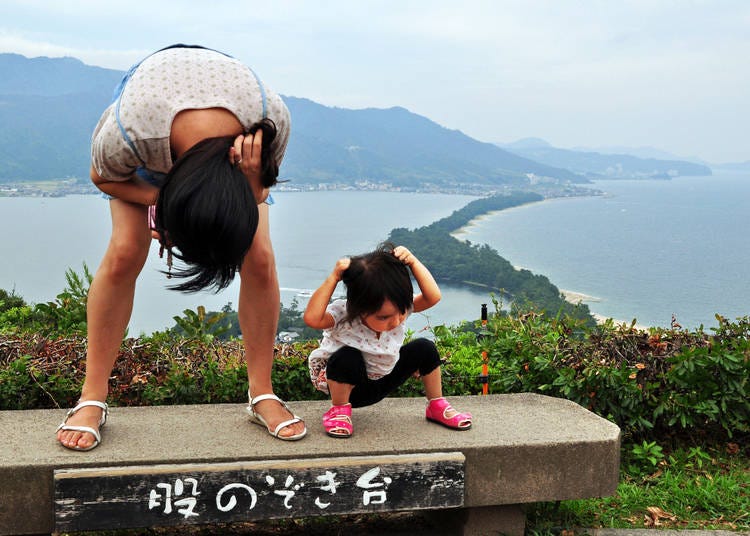 Many Japanese believe Amanohashidate is best viewed upside down
Upon arrival, you'll likely notice many Japanese people bending over and awkwardly contorting their bodies. People have been doing this at Amanohashidate for centuries. Many visitors claim the view of Amanohashidate is most stunning when seen upside down - an activity referred to as matanozoki (peering through your legs). Legend has it that the shape of the inverted sandbar resembles a dragon flying up into the heavens. Try a matanozoki pose for yourself ;you may even find it preferable to standing upright.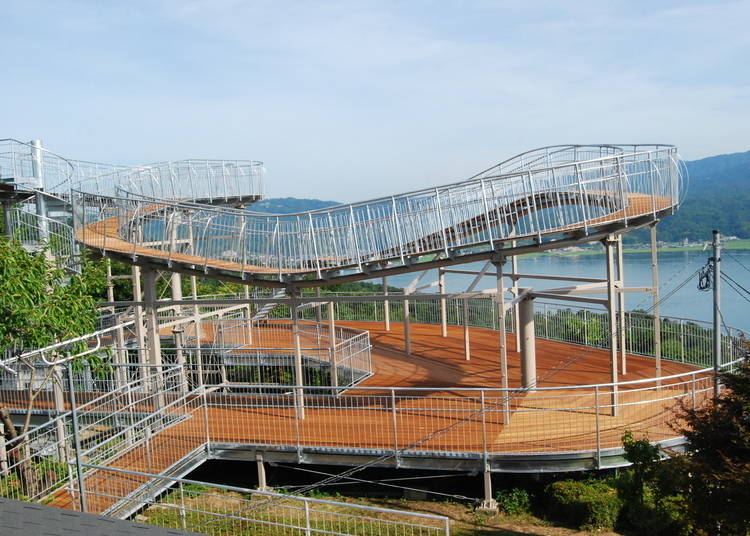 Walk along one of many viewing platforms at Amanohashidate View Land
Amanohashidate View Land offers perhaps the best location to enjoy uninterrupted views of the sandbar. This facility provides multiple viewing points and attractions to fully experience the view, along with an amusement center that offers a range of fun activities for children and adults. After taking a chairlift (or monorail) to the top, consider a ride on the "Cycle-car," a two-seater minicar that goes across tracks overlooking the sandbar. Riders pedal the car at their own pace, allowing for a pleasant, leisurely trip. In addition to several other viewing platforms, there's also a restaurant with terrace seating where you can enjoy a stunning view with your meal. Kids will enjoy the selection of amusement-park attractions on-site, which include a steam train, merry-go-round, go-carts, and more.
天橋立ビューランド

Address

437 Monju,Miyazu, Kyoto

Dates/times:9 a.m.–5 p.m. from Feb. 21–July 20 and Aug. 21–Oct. 20; 9 a.m.–4:30 p.m. from Oct. 21–Feb. 20; and 9 a.m.–6 p.m. from July 21–Aug. 20. Open year-round.
Price per person:850 yen for adults; 450 yen for children (tax included)
Languages available:Japanese
Tuck into a refined meal while enjoying panoramic bay views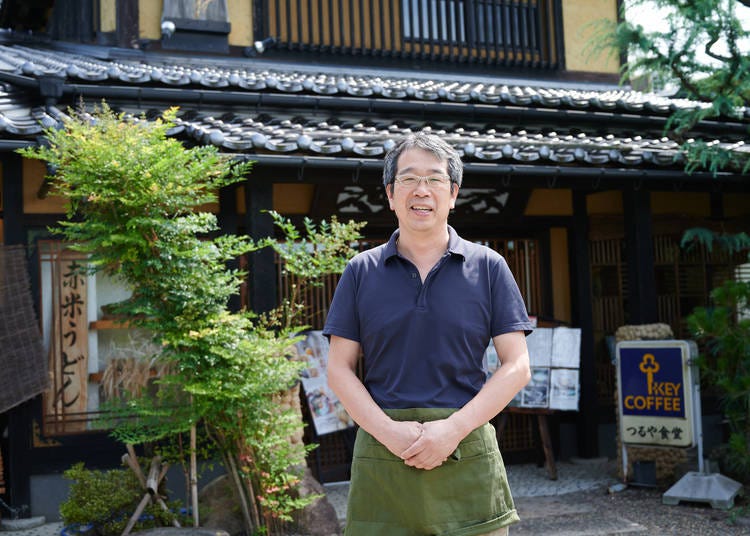 Tsuruya Shokudo serves fresh seafood while offering views of the Japan Sea
Tsuruya Shokudo is a charming restaurant located along the road running between Motoise Kono Shrine and Amanohashidate Cable Car. The upstairs dining area and terrace boast stunning views of Amanohashidate and the surrounding town. Given its location near Kono Shrine and Kasamatsu Park, this is the ideal rest spot when exploring the various sights around the area.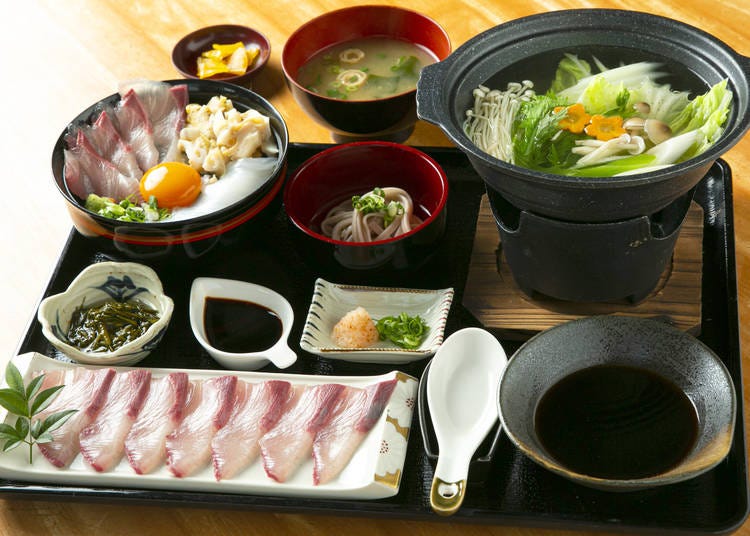 The luxurious Tango Buri Shabu Otakara Zen meal features an opulent display of fresh yellowtail
The Japan Sea produces arguably the best fish in the country, and Amanohashidate's oceanside location means you'll find the freshest catches readily available. Tsuruya Shokudo is the perfect place to indulge in these delicacies. Served during the winter season, their famous Tango Buri Shabu Otakara Zen menu item consists of a hefty portion of thinly sliced buri sashimi (raw yellowtail) alongside a stove, broth, and dipping sauce. Pick up the fish and quickly whisk it into the heated broth until the edges are slightly brown, then dip into the sauce and enjoy.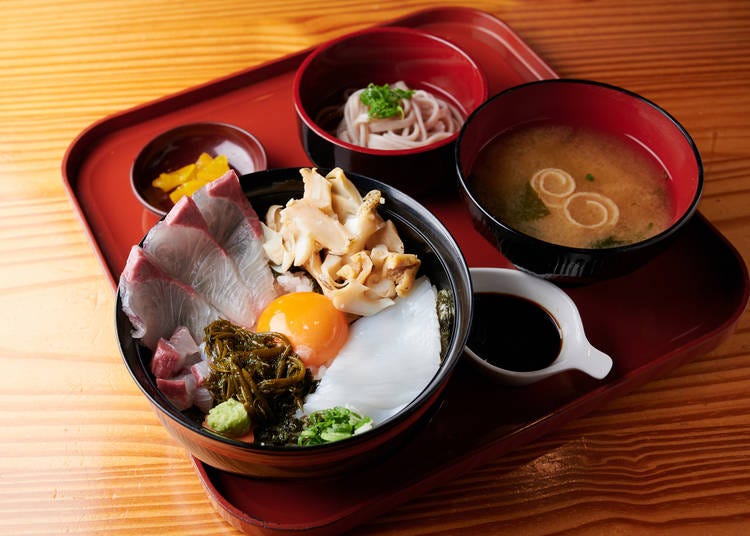 The Tango Otakara rice bowl provides a selection of the region's most delicious seafood
For something quicker, opt for the Tango Otakara rice bowl filled with buri (yellowtail), ika (squid), bai (shellfish), seaweed, and an egg, with miso soup and a small portion of soba noodles on the side. For dessert, try the soft-serve ice-cream made with local black soybeans and dainago adzuki beans. Meals range from 1,800 to 3,000 yen. Be sure to visit Kono Shrine while you're in the area. Then, try taking the cable-car lift to Kasamatsu Park, where you can get even more stunning views of the bay below.
つるや食堂

Address

848 Nakano, Miyazu, Kyoto

Phone Number

0772-27-0114

Business hours:9 a.m.–5 p.m.
Closed:Irregular days
Languages available:Japanese
Relax at a hip café/guesthouse in a traditional fishing village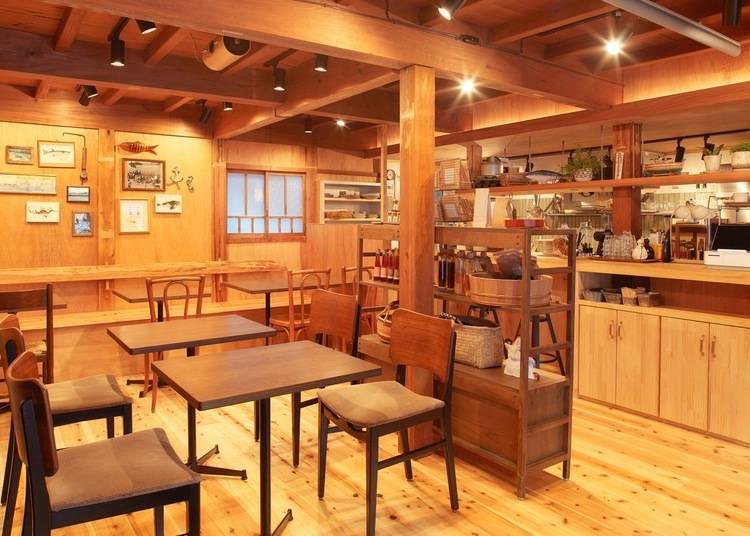 Café and guesthouse Guri offers modern amenities with traditional hospitality
After visiting Amanohashidate, consider extending your stay in the region with a trip to Ine (about one hour by bus). This remarkable fishing town retains its appearance from centuries ago, with approximately 230 traditional homes stretching their way across the bay at sea level. To really immerse yourself in the town, stay the night at Guri, a hip cafe and guesthouse located right on Ine's main street, just meters from the ocean. The ground-floor cafe serves a variety of coffee, tea, juices, and cakes, and chatting with the regular locals who patronize the establishment allows you to get a real sense of town life. The guesthouse - on the 2nd floor - is perfect for couples, families, or groups.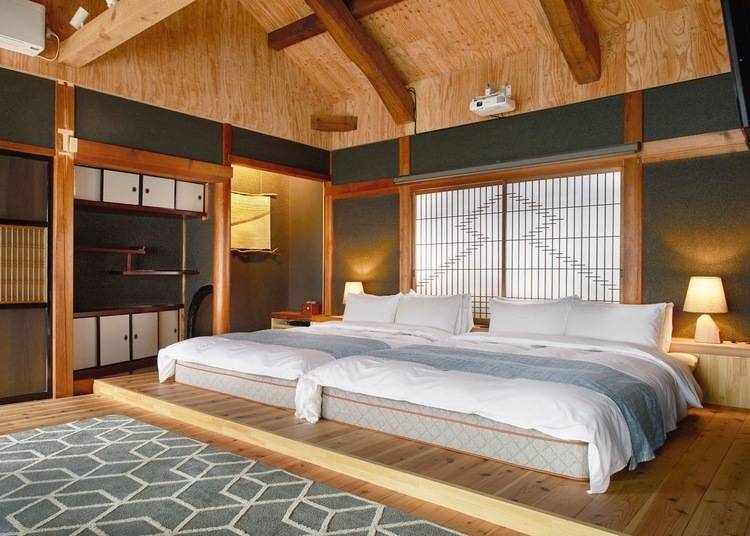 Guri's modern amenities and contemporary interior design ensures a stress-free, comfortable stay
The single guesthouse can accommodate up to six guests and is rented out in its entirety, providing an extra degree of privacy and tranquility. The 66-year-old traditional home is built from zelkova and blends its traditional architecture with modern interior design. While the exterior maintains its classic appearance, the inside has been retrofitted with luxuries such as a Swedish-designed bed, modern kitchen, DVD projector, speakers, and modern bathing and toilet facilities.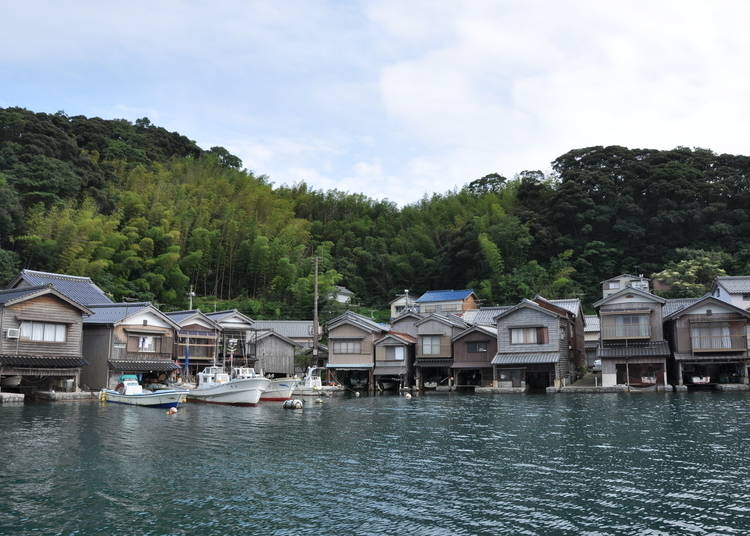 Guri plies its trade in a quiet, traditional, fishing village
Breakfast includes buckwheat-flour waffles, local fish, omelet, and green salad, along with a choice of café beverage. Or, you can opt for a simple Japanese breakfast of onigiri rice balls and seasoned dashimaki eggs. For dinner, head out to one of the several local seafood restaurants to get a taste of the village's fishing industry. Reservations cost a maximum of 20,000 yen per night (varies by number of guests), and can be made up to three months in advance. Children aged 3–11 are charged half-price. Children under two are free.
Cafe and Guesthouse Guri

Address

127 Hirata, Ine-cho, Yoza, Kyoto

Phone Number

0772-45-1534

Check-in:3 p.m.–7 p.m. (Call in advance if arriving later than 7 p.m.)
Check-out:10 a.m.
Prices:From 18,000 yen per person (without meals); 15,000 yen per person for groups of two; 12,000 yen per person for groups of three or four; 11,000 yen per person for groups of five to six (Tax excluded)
Western breakfast:1,500 yen; Japanese breakfast: 800 yen (Tax excluded)
Open:Cafe: 1 p.m.– 5 p.m.
Closed:Cafe closed Sunday, Monday, and Tuesday ; B&B closed Sunday and Monday
Languages available:English/Japanese
Trains and bus services serve many municipalities in northern Kyoto. From Kyoto Station, you can reach destinations such as Amanohashidate via train, while Ine is most easily accessible via bus. For more scenic journeys, consider renting a car or hiring a taxi.

*This information is from the time of this article's publication.
*Prices and options mentioned are subject to change.
*Unless stated otherwise, all prices include tax.
Limited time offer: 10% discount coupons available now!