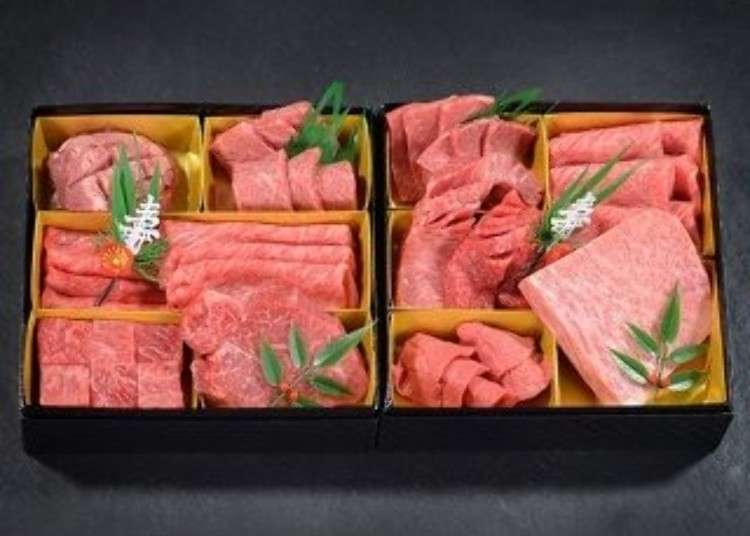 With the end of the year quickly approaching, the New Year holidays will be here in no time! New Year's in Japan is celebrated by enjoying osechi. These are a range of traditional Japanese dishes you have with family or friends to wish for health and prosperity in the new year ahead.

Standard osechi includes kamaboko fish cakes, datemaki (a sweet rolled Japanese omelet), sweetened black soybeans, tazukuri(small dried sardines cooked in a sweet soy sauce mixture), and more.

Recently, however, many unique osechi boxes are also being sold. This includes meat osechi, which allows you to compare the taste of popular beef brands, as well as dessert osechi in which traditional osechi boxes are colorfully decorated with cakes and macaroons.

Here we will introduce osechi sets that will have you stoked to celebrate the 2022 New Year!
Meat osechi masterpiece: Enjoy Kobe beef steak and sukiyaki!
Out of the Japanese beef or wagyu brands, Kobe beef is especially well known. Currently, the famous Akamaru Gyuniku restaurant, known for its high-quality Kobe beef from Hyogo Prefecture's Tajima, a region in the prefecture's north, is offering three different kinds of impressive meat osechi sets. These sets are available to reserve and purchase online.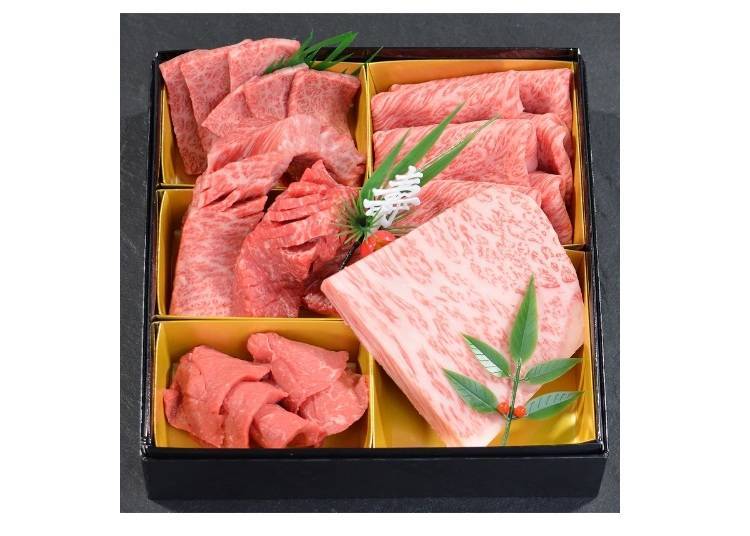 A set available from this year that's gathering much attention is the Meat Osechi Kobe Beef set. Weighing a total of 500 grams (minimum guaranteed amount of beef), you can delight in savoring several different cuts of delicious Kobe beef.

An especially recommended cut is the sirloin steak. Finely marbled with fat, Akamaru Gyuniku has even deemed it the most delicious way to enjoy Kobe beef! What's more, there's the rare cut of kamenoko (lower beef thigh). With kame meaning turtle in Japanese, and as turtles are said to bring good luck, it's the perfect addition to this New Year osechi box.

Also included are marbled and thinly sliced beef for sukiyaki (a soy-sauce-based Japanese hot pot dish), as well as zabuton or chuck steak and rump steak great to use for a variety of dishes.

Kobe Beef Osechi
・Price: 15,800 yen (including tax)
・Amount: A total of 500 grams (minimum guaranteed amount)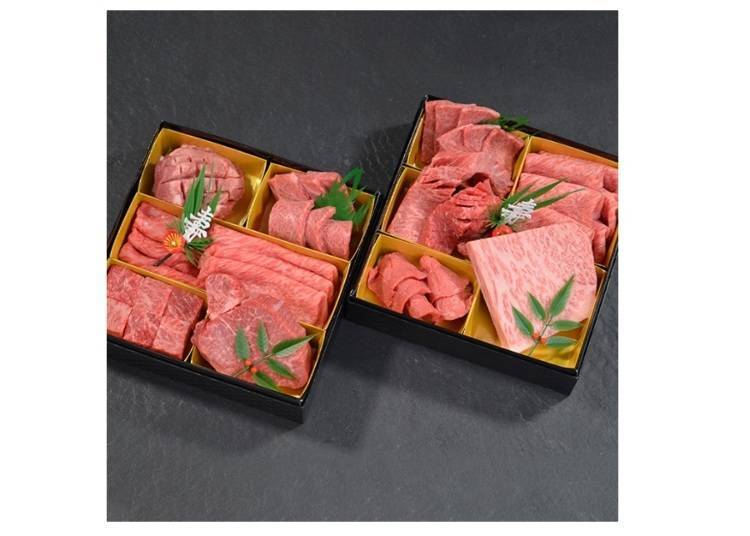 Moreover, there's also a two-tiered osechi box where you can luxuriously compare the tastes of Kobe beef and Tottori Wagyu, high-quality black cattle beef from Tottori Prefecture. Along with each tier having 500 grams of beef, buyers get 200 grams of Wagyu roast beef for free!

The Kobe beef tier comes with the same cuts found in the Meat Osechi Kobe Beef box. The Tottori Wagyu tier is filled with lean and juicy cuts of beef which also includes the prime chateaubriand. This cut is so rare, it's difficult to even get a kilo of it from one cow!

Akamaru Gyuniku's Special Kobe Beef and Tottori Wagyu Taste and Compare Osechi Set
・Price: 30,800 yen (including tax)
・Amount: 500 grams of Kobe beef, 500 grams of Tottori Wagyu (the minimum guaranteed amount for each tier), and 200 grams of Wagyu roast beef.

Akamaru Gyuniku Meat Osechi
・Order Deadline: December 20th, 2021
・Estimated Delivery Date: December 30th, 2021 or December 31st, 2021
・Delivery Fee: Delivery is free for all products
・Delivery Method: Refrigerated courier service
Dessert Osechi: Mesmerizing Macaroons and Cakes Brighten Up this Osechi Box!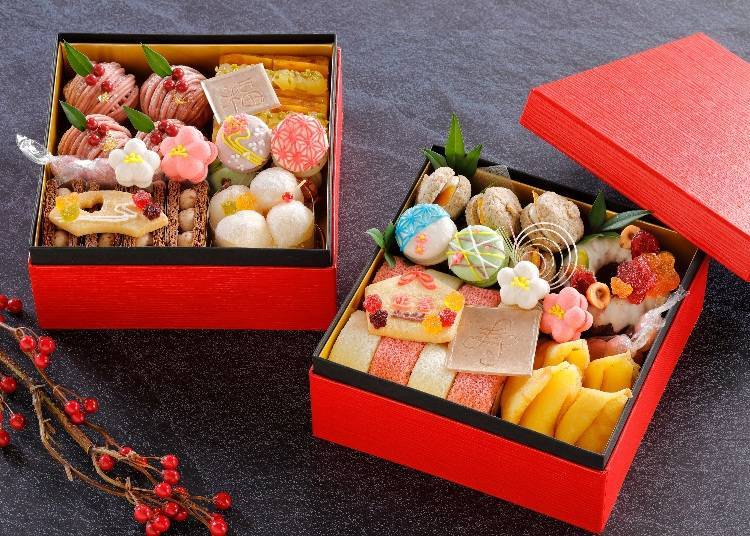 Located close to the center of Osaka Prefecture's Namba district is the Sheraton Miyako Hotel Osaka. Here sold are dessert osechi. These osechi boxes are sure to add a pop of color to your New Year's meal! The luxurious red and black two-tier box is brimming with colorful desserts that will have you looking forward to the New Year.

In the first tier are pink and white roll cakes inspired by the fish cakes you might find in a standard osechi box. You can also find macaroons shaped into temari, traditional Japanese handballs made from colorful thread, and Japanese plum blossoms.

There's even a shortbread cookie in the shape of an ema (small wooden plaques). Guests who visit shrines usually write their wishes and prayers on emas and have them hung throughout the grounds. All of these traditional New Year symbols and objects have been transformed into festive desserts!

The second tier offers a selection of adorable Western-style desserts that will entice anyone with a sweet tooth. Some of the treats you will find include a mille-feuille Mont Blanc, yuzu citrus-flavored cheese shiratama rice cakes, and a strawberry Mont Blanc. This is a wonderful gift to give someone when greeting them in the new year.

Dessert Osechi
・Price: 7,000 yen (including tax)
・Box Size: 16×16cm
・Order Deadline: December 25th, 2021
・Estimated Delivery Date: December 30th, 2021~January 2nd, 2022
Address

Tennoji-ku, Uehommachi 6-1-55, Osaka, Osaka Prefecture, 543-0001
View Map

Nearest Station

Osakauehommachi Station (Kintetsu-osaka Line / Kintetsu Namba Line)
2 minutes on foot


Vacancy search, reservation

from

25,000JPY

1room, 2adults

Check with our partner site as the latest rates, rate details, and guest room requirements may vary.
Both osechi boxes introduced in this article can be enjoyed just as they are. However, they can also be enjoyed along with your standard osechi box as a way to brighten up your New Year's meal. Start off the New Year in a festive spirit by enjoying these luxurious and unique osechi options!

*The information in this article is from December 2021. For updated information, please check each official website.
Written by: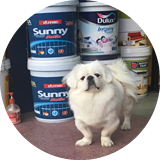 *This information is from the time of this article's publication.
*Prices and options mentioned are subject to change.
*Unless stated otherwise, all prices include tax.
Limited time offer: 10% discount coupons available now!