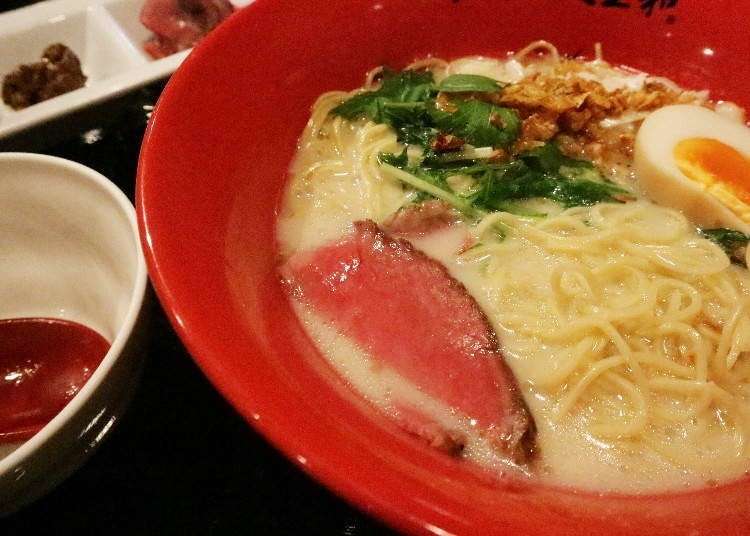 Even if you've never been to Kobe before, the first thing you're likely to think of when you hear that name is the famous Kobe beef. In reality, there are so many different ways to eat it in Japan, rather than just in its usual steak form, so we went in search of one of its tastiest forms... Ramen!

This kind of deep flavor can only be found with original Kobe beef, so let's see what they've got going on!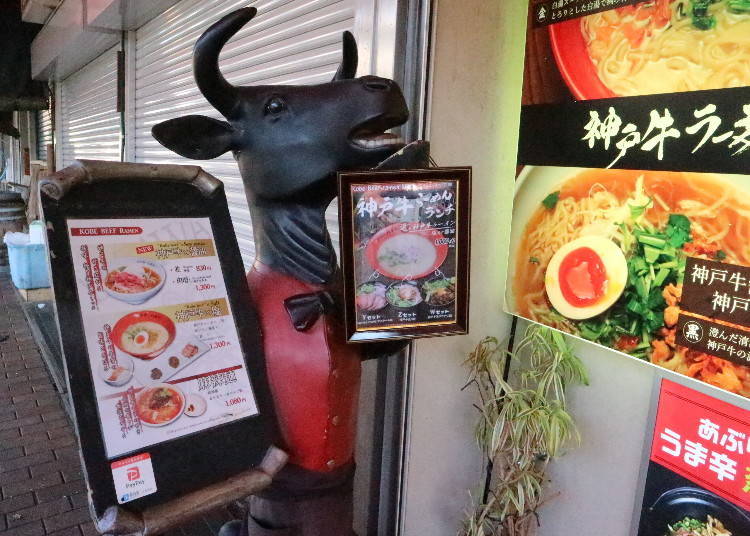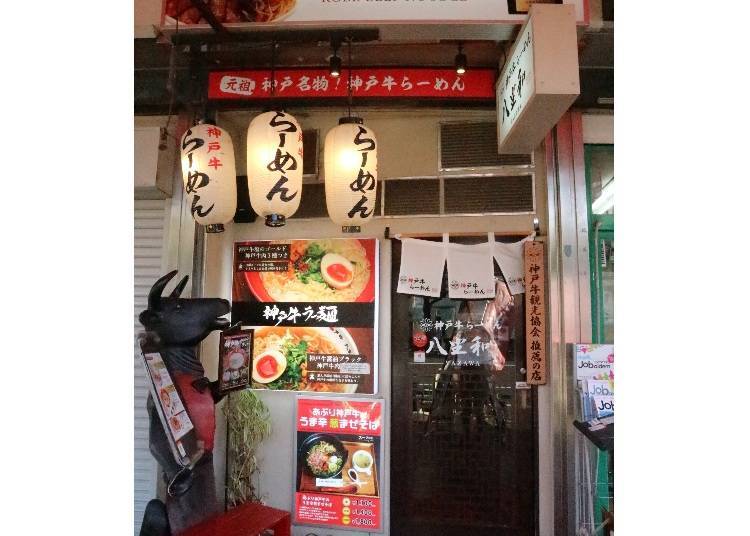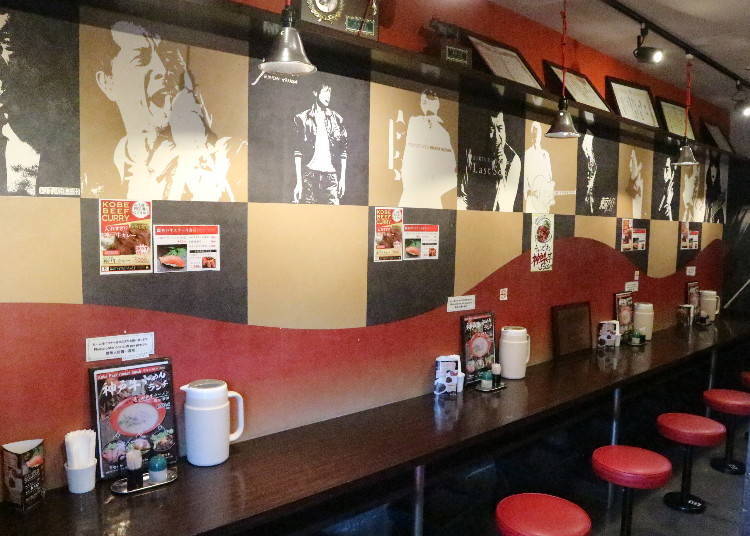 Kobe beef is known as one of Japan's three major beef types, and for its high-quality. Only Tajima Cows that are raised in Hyogo Prefecture and clear the strict standard can be claimed as "Kobe Beef."

"Kobe Beef Ramen Yazawa" is located along the road north of Sannomiya Center Gai Shopping Street (in Kobe of course), and they are part of the Kissho Group that purely handles Kobe beef.

At Kissho Group, they purchase a whole Kobe cow that has been selected as "Champion Kobe Gyu," which has the highest meat quality. Then they provide the highest quality beef at a relatively reasonable price.
From soup to toppings - luxury in every mouthful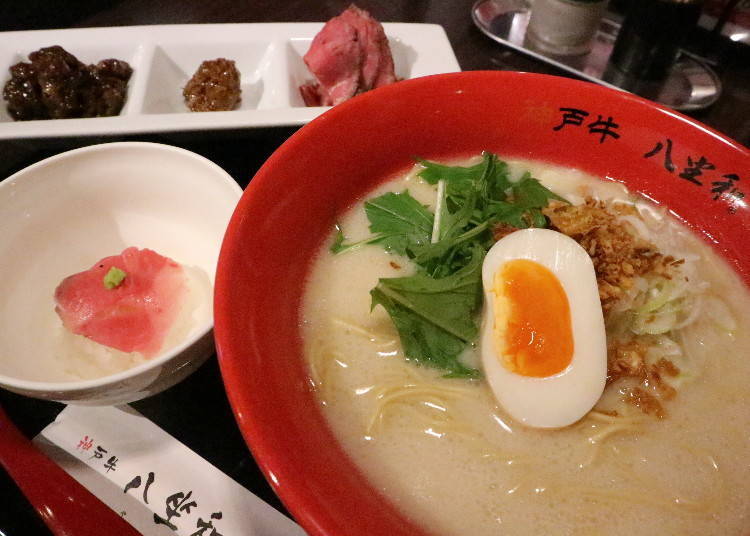 The incredible dish was made as a collaboration of premium Kobe beef and ramen, and is named "Kobe Gyu x Shio" ramen 1,300 (excluding tax). It is, of course, the most popular item on the menu.

It is made up of a three-item set with Kobe Beef Shio [salt] Ramen, 3 Kobe beef dishes and a small bowl of rice. Despite using Kobe beef, the price is surprisingly affordable.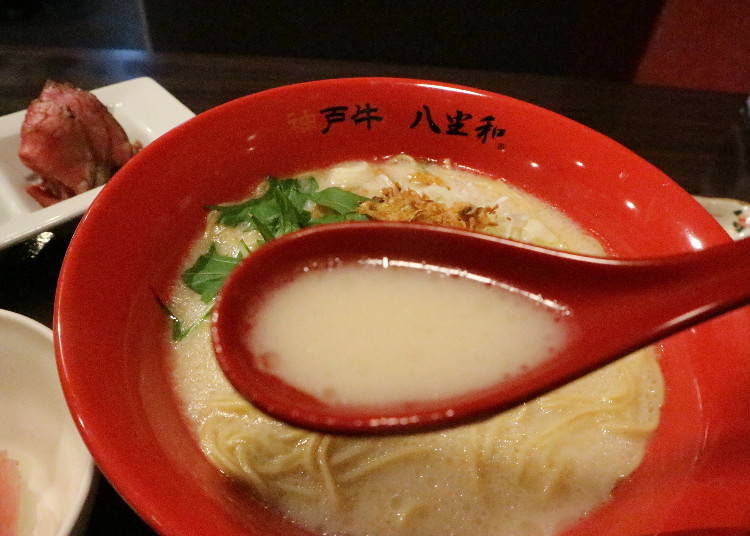 The ramen comes with toppings such as soft-boiled egg, fried onion, and mizuna (Japanese mustard greens). Also, since they buy the whole cow, they can make their soup from Kobe beef bone, which is quite rare. They stew the Kobe beef bones with vegetables from Hyogo Prefecture for 16 hours to extract the umami flavors.

At first, you might think it's rich and heavy, but it's quite light. It has a deep but mellow flavor that warms you up. They are able to create this flavor because they use carefully selected ingredients such as salt from Awaji Island.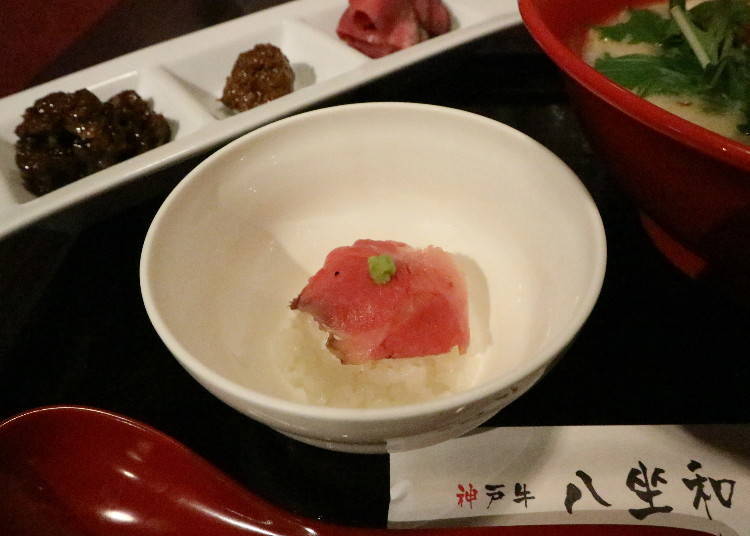 After taking a sip of the soup, let's try the rice. To fully enjoy the flavor and aroma of the Kobe beef, they use organic rice from Hyogo Prefecture. The bowl comes with a small one-bite portion of rice and a thin-cut rare steak with wasabi topping.

When you take a bite, you can taste the sweetness of the Kobe beef fill your mouth. The wasabi makes the perfect garnish for a full sense of satisfaction.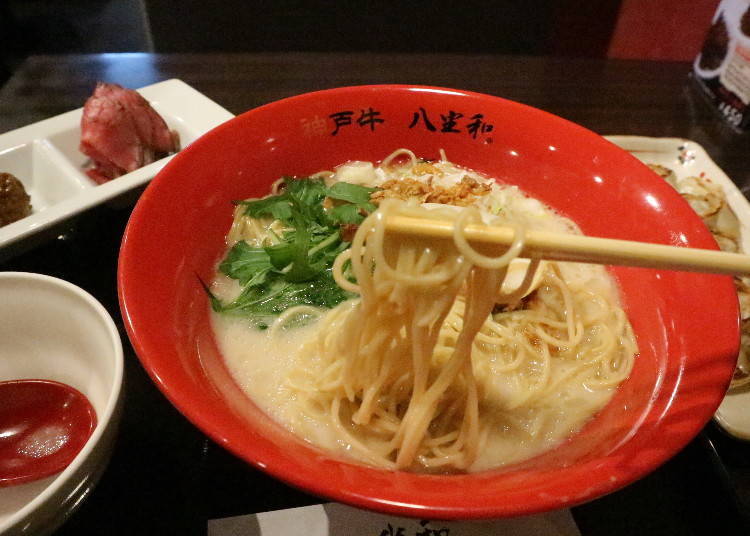 The thin straight noodles mix well with the beef stock soup.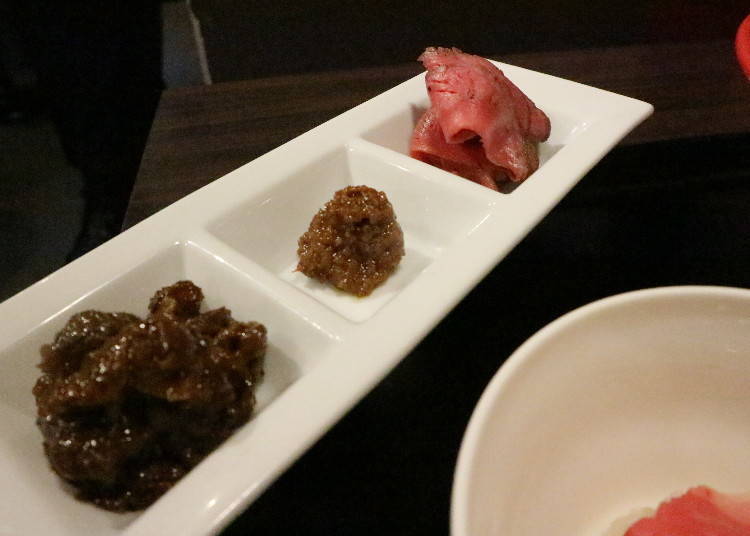 The three Kobe beef side dishes are "Kobe Beef Thin-Sliced Rare Steak," "Kobe Beef Niku Miso," and "Kobe Gyu Suji [Beef Tendon]" (from the back). You can eat it as is, or put it in your ramen, which will enhance the flavor.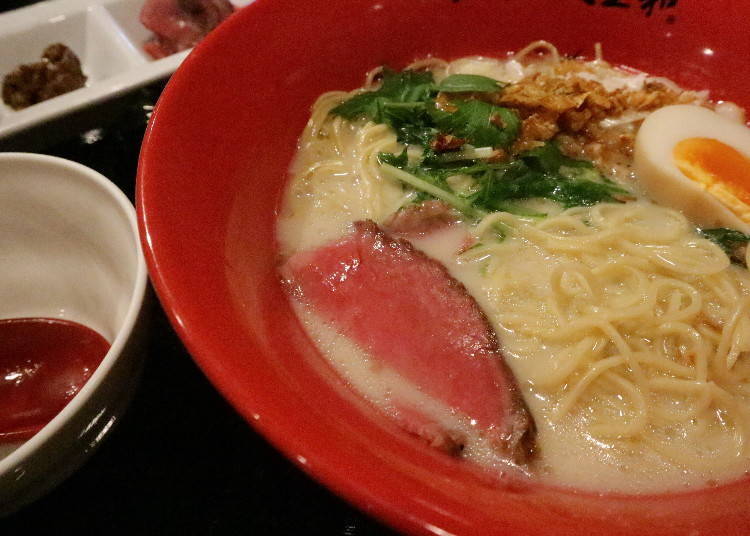 The Kobe Beef Thin Slice Rare Steak is very tender even when it's chilled and has a condensed sweetness. When you dip it the soup, the steak becomes warm and you can taste the sweetness with each bite.
The Kobe Beef Tendon is stewed in a soy sauce base. The tender tendon has a sweet and spicy ginger flavor. The texture of the tendon enhances the flavor.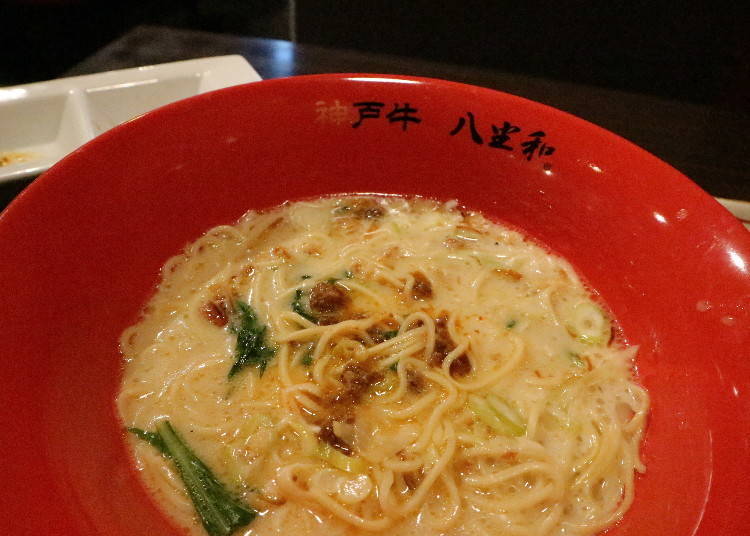 The Kobe Beef Niku Miso is a little spicy. Instead of adding it to your ramen in the beginning, we recommend adding it towards the end. By doing this, you can change the ramen into something similar to Dandan noodles and enjoy a different experience.
Side Menus with a Full Selection of Kobe Beef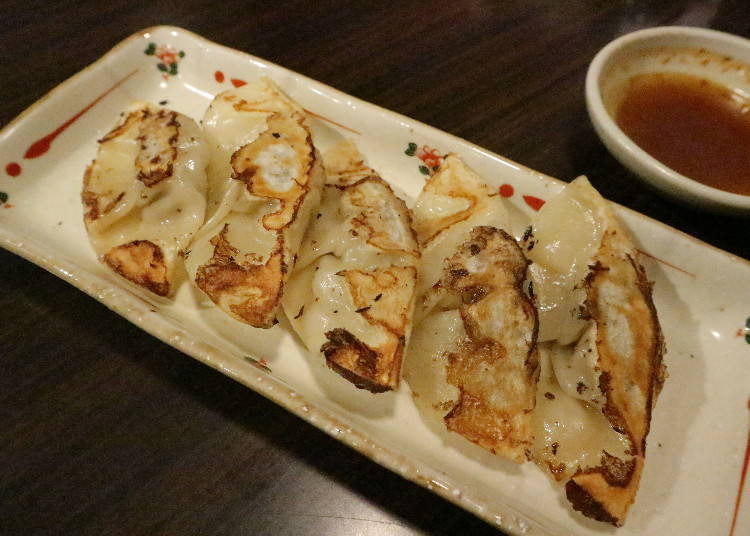 They have a full side menu with items like gyoza, sushi, and "Champion Don," a rice bowl with a steak on top. Generally, gyoza is made with ground pork, but at "Yazawa," they offer "Kobe Gyu Gyoza" made with ground Kobe beef! The gyoza is also made with cabbage, leek and harusame (vermicelli), and each one is hand-wrapped.

You can taste the Kobe beef through the chewy dough. Make sure to dip it in the homemade spicy and sour sauce, which makes it refreshing. Also, the low price of 290 yen for 5 is awesome.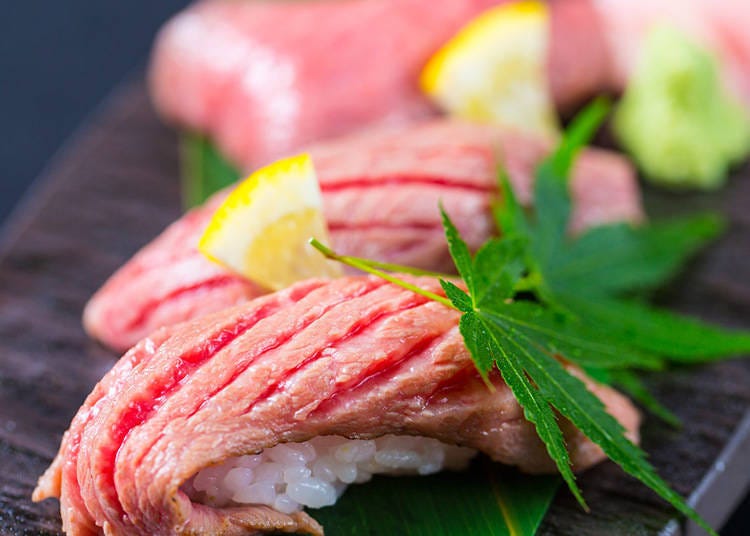 The "Kobe Beef Steak Sushi (chutoro [medium fat]) is 800 yen (excluding tax) per sushi, and it is a gem only available at a specialty shop. Many people order the Rare Steak Sushi set 1,000 yen (excluding tax).
What are you waiting for!
The shop offers a wide range of food for a typical ramen shop, such as Kobe beef, ramen, sushi, and rice bowls. It will definitely make you want to complete the whole menu.

This is an absolute must-try for anyone looking to taste Kobe beef, or indeed, anyone who is in the area!
神戸牛ラーメン 八坐和

Address

142-4 CENTER PLAZA WEST 2 Chome-11-1 Sannomiyacho, Chuo-ku, Kobe, Hyogo 650-0021

Phone Number

078-334-0830

Hours: Lunch: Monday - Sunday 11:00 a.m. - 5:00 p.m., dinner: Monday - Saturday 5:00 p.m. - 11:00 p.m. (Last order 10:30 p.m.) Sunday and Holidays on Monday 5:00 p.m. - 10:00 p.m. (Last order 9:30)
Closed: No fixed dates
Text by:株式会社ウエストプラン
*This information is from the time of this article's publication.
*Prices and options mentioned are subject to change.
*Unless stated otherwise, all prices include tax.