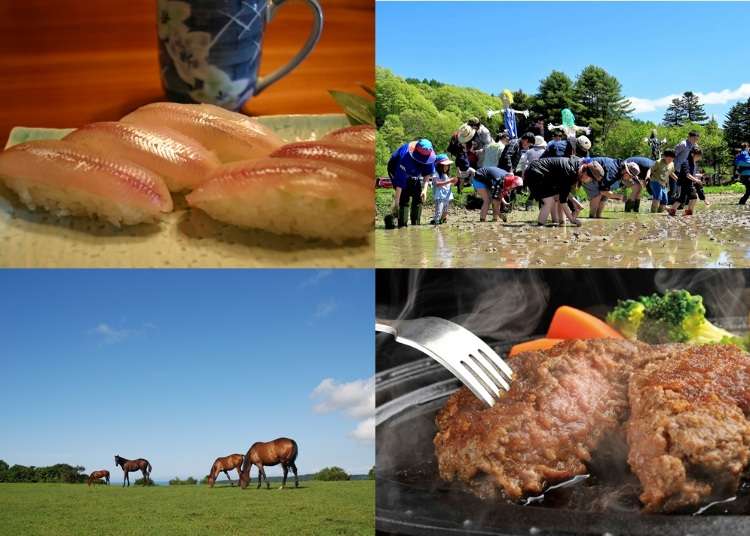 Hokkaido has many fascinating charms: hot springs, stunning scenery, incredible skiing and so much more. Also it's an area renowned for its food - let's take a look at the amazing sightseeing and gourmet highlights of the Iburi and Hidaka area! With quick and convenient access from New Chitose Airport, come with us to discover just how fascinating and delicious Hokkaido can be.
1. Hokkaido's Mukawa Town: Savor Fresh Seafood and Crunchy Produce!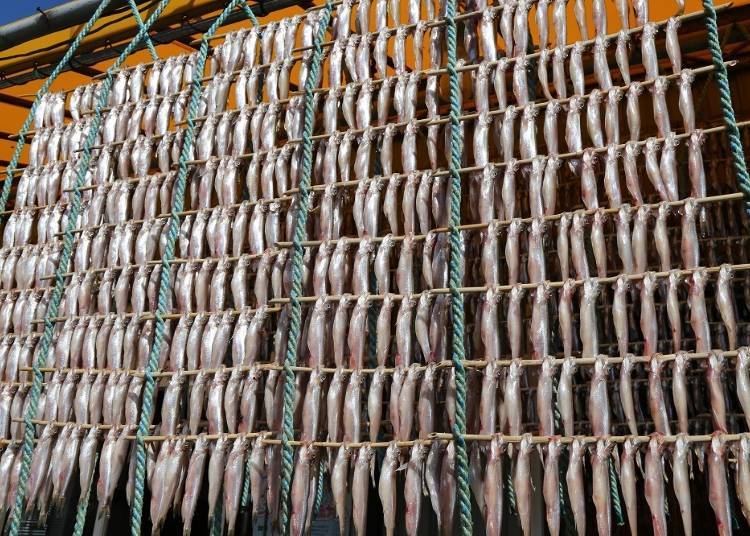 The shishamo (smelt) is hung out to dry in the crisp autumn air and its rich umami flavor unfolds.
Mukawa is known as the town of shishamo, a saltwater smelt. In late autumn, the shishamo start migrating to the rivers for spawning, but to prevent overfishing, shishamo season is a mere 40 days between October and December. A cold and dry wind blows in autumn, perfect to have the little seafood delights air-dried. That also makes for wonderfully rustic sceneries that are an inherent part of autumn in Hokkaido.
Try autumn's special shishamo sushi at Mukawa's sushi restaurants.
During the shishamo season, Mukawa's sushi restaurants also offer the rare delicacy of shishamo sushi. Shishamo spoils quickly, so it usually can only be savored as sushi in port towns such as Mukawa that have direct access to the spawning grounds. However, Mukawa also has rich agriculture, so make sure to try other seasonal delights such as freshly harvested shiitake mushrooms.
(Inquiries: Mukawa-town Sightseeing Information, TEL: 0145-47-2480)
2. Abira: A Beautiful Town of Flowers and Agriculture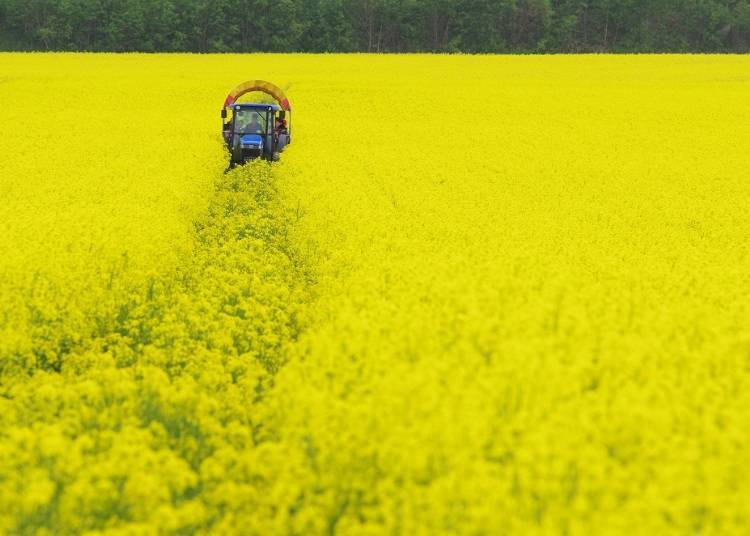 The fantastic golden flower fields spread as far as the eye can see!
Set in the southwestern part of Hokkaido, Abira is a town famous for its dairy products and thoroughbreds, although it also has a reputation as a beautiful flower spot. Throughout the seasons, various flowers are in bloom all around the area, creating stunning sceneries that seem almost otherworldly. Especially stunning are the 800,000 square meters of safflower fields scattered around town, looking nothing short of a golden carpet on sunny days.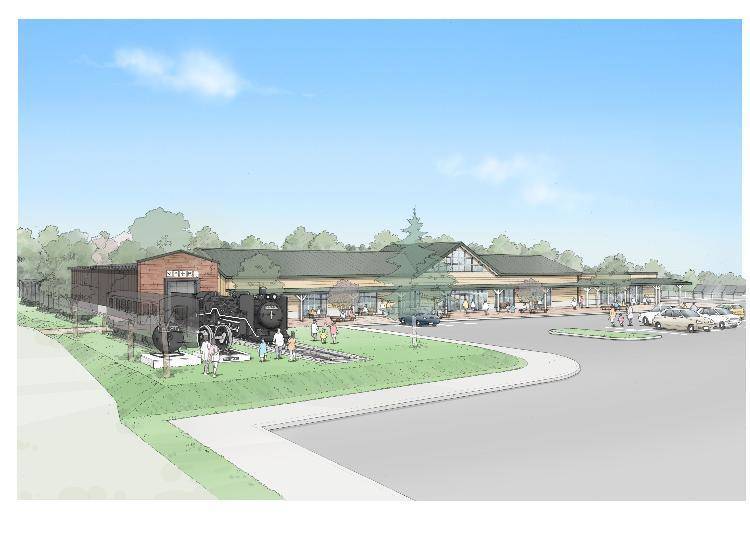 The brand-new "Michi no Eki Abira D51 Station," scheduled to open on April 19, 2019.
The D51 is an old steam locomotive that was once essential for the Japanese railway network, and Abira is known as the town of its final stop. In April 2019, an all-new "Michi no Eki Abira D51 Station" will open and a historic well-preserved D51-320 steam locomotive will be exhibited on its premises. Another exhibit will be the iconic KiHa 183 that ran as a limited express until March 2018 and is incredibly popular with train and railway enthusiasts. The new station will also feature a rich selection of souvenirs and gourmet highlights from the area.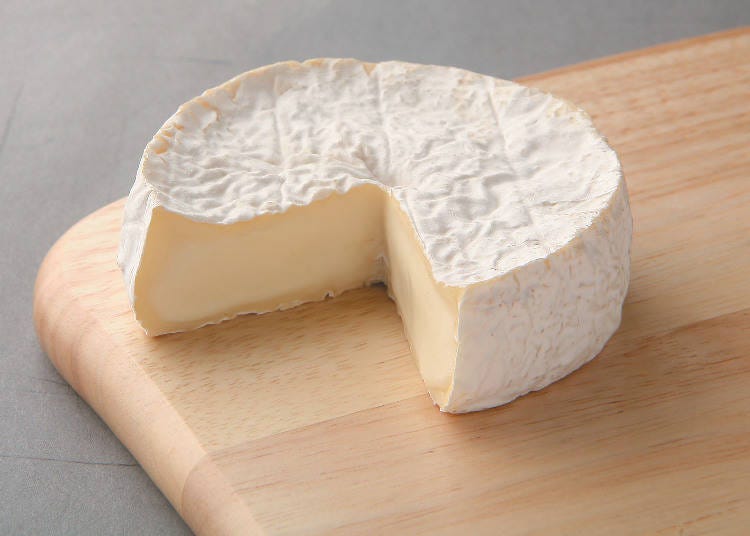 Handmade Camembert cheese made with fresh milk is a specialty of Abira. The town is also said to be the birthplace of Japanese cheese specialty factories.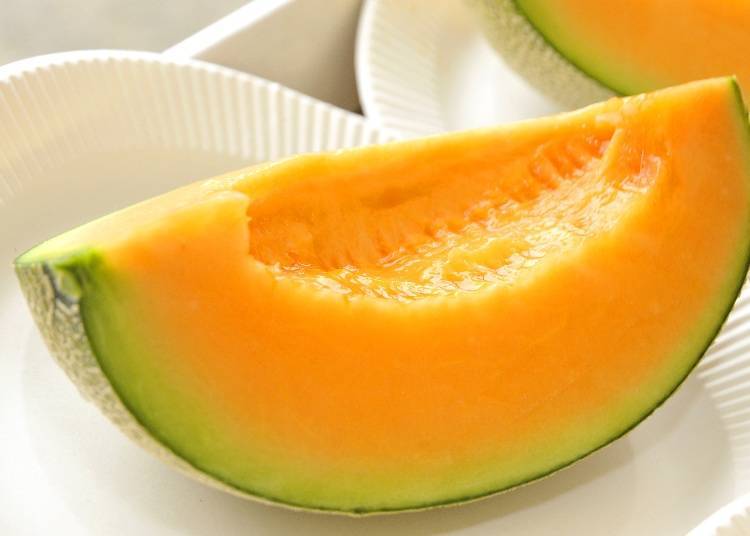 Asahi Melon and its juicy, rich sweetness is also a popular local specialty.
3. Atsuma: First-Hand Farming Experiences with Potato Digging and Rice Field Cultivation!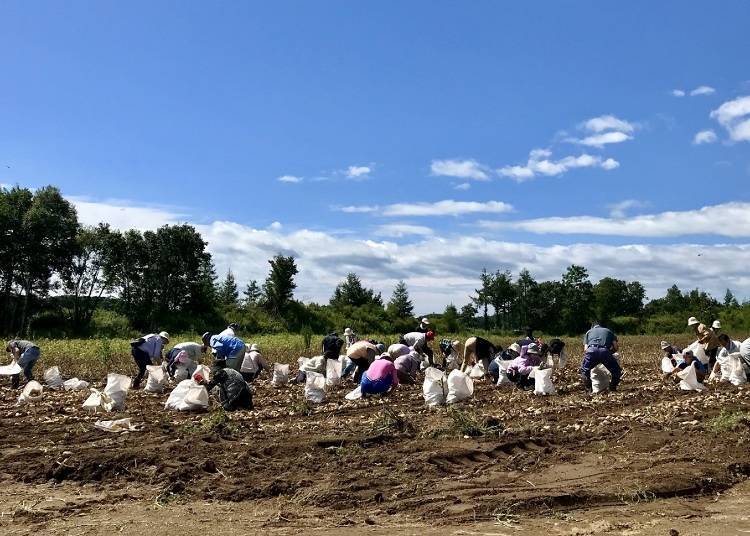 Potato digging is a fun and popular experience for groups! You get to take home the potatoes you dug up.
Atsuma is a picturesque village representative of Hokkaido's countryside. Although the area was greatly damaged in the 2018 earthquake, it is making impressive strides towards recovery, promising to emerge stronger than ever. Atsuma's agriculture is thriving and offers a variety of fun first-hand experiences! One of them is the "Potato Dig" taking place between August and late September. Dig up potatoes with your own two hands!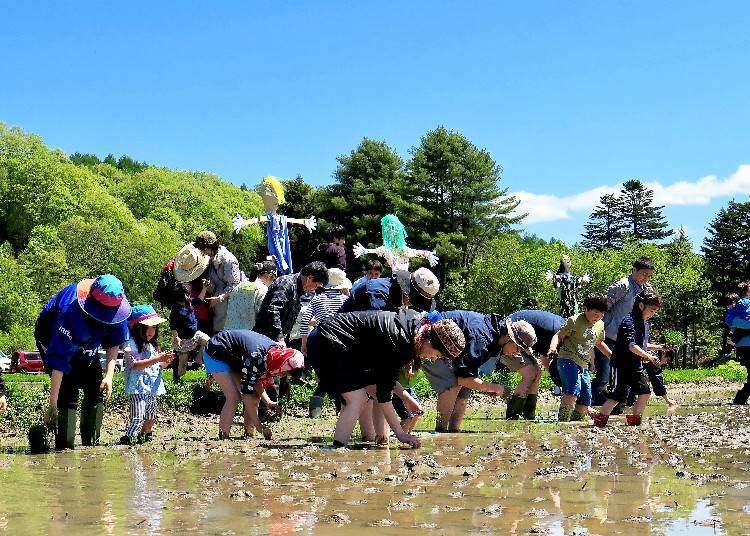 Become the owner of a rice paddy and experience essentials such as seeding and rice planting!
Atsuma also has a unique "rice field owner system" that allows people to become the owner of an actual rice paddy for 25,000 yen for 100 square meters. You'll get any rice harvested from this field! On top of that, real farming work including such a harvest can be experienced three times a year. The town recruits rice field owners around March every year, so why not become a proud owner yourself and get a first-hand farming experience? (Inquiries: Atsuma Tourist Association, TEL: 0145-29-7711)

Another famous product of the area is honeyberries. Their sour-and-sweet flavor is often compared to blueberries, and honeyberry jams and juices are incredibly popular souvenirs.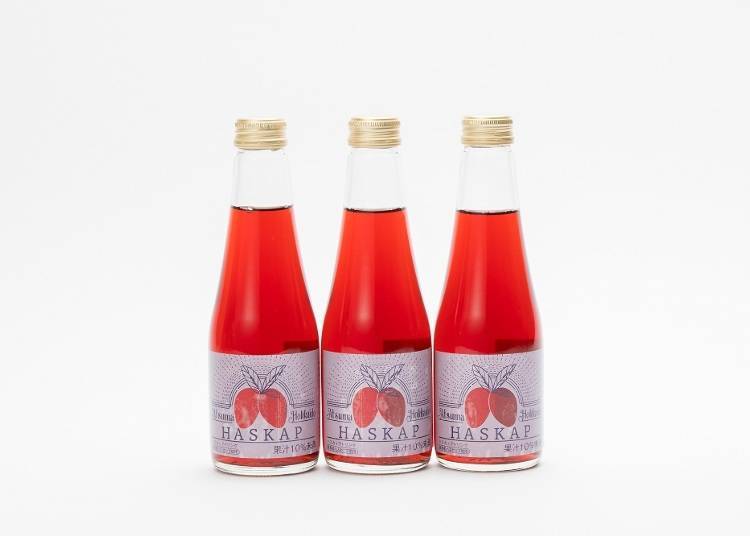 Honeyberry juice from Atsuma, sold all around town.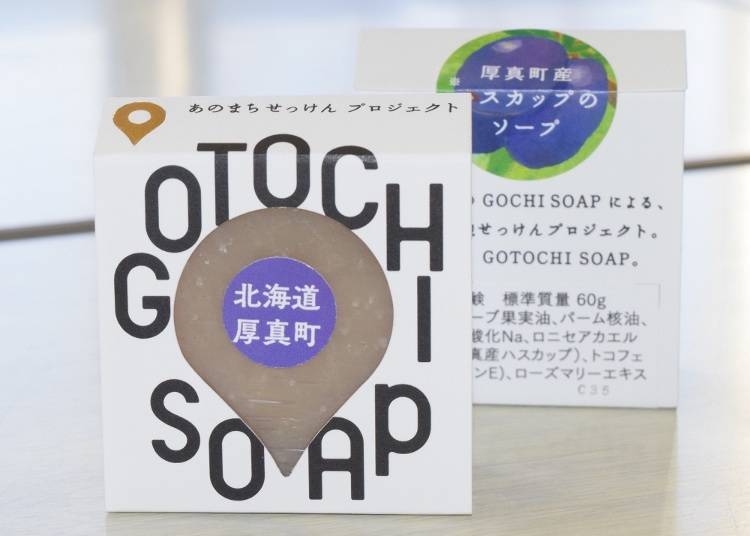 Soap made out of honeyberry is said to have an anti-aging effect.
4. Shimukappu: Feel the Breath of Nature in the Middle of a Vast Forest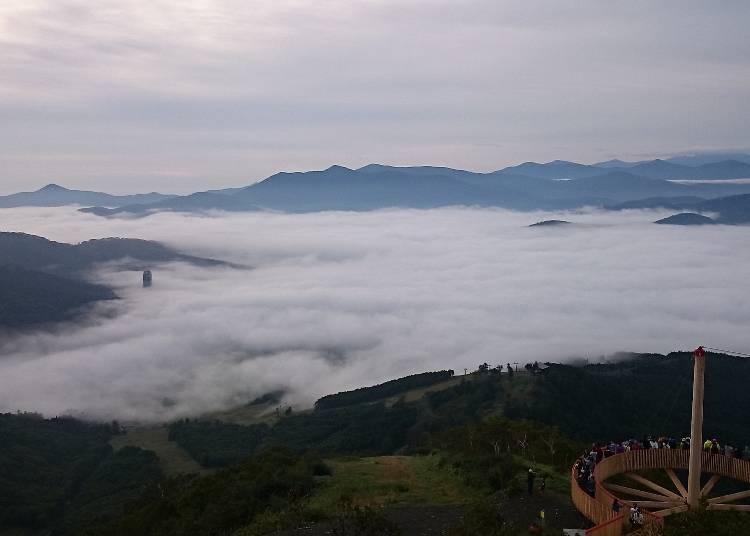 Early in the morning, Shimukappu is emerged in a sea of clouds.
Around 94% of what is known as the village of Shimukappu is surrounded by a deep, lush forest, which is about the same size as Tokyo's 23 wards. For tourists, this offers a unique experience to immerse themselves in the wild of nature. One fascinating spot is the Unkai Terrace at Hoshino Resorts Tomamu, offering a stunning view of the majestic sea of clouds that spreads right at your feet. A gondola takes you up to the terrace early in the morning for the best experience.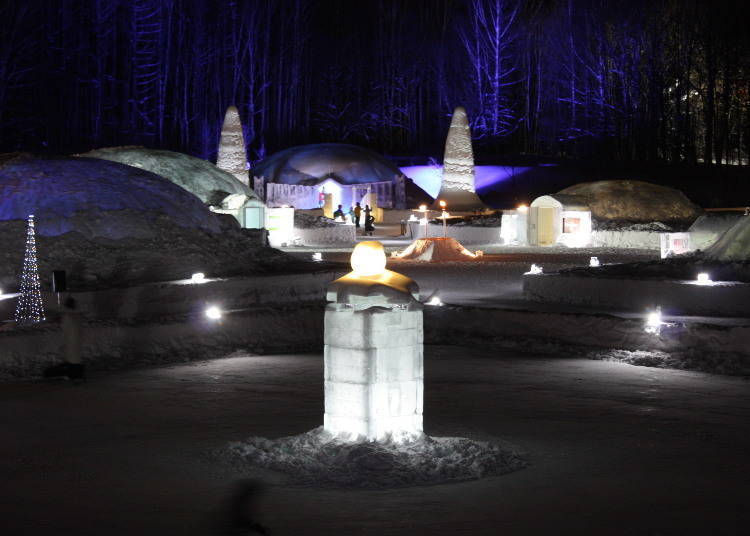 The "Ice Village" is a mysterious winter sight.
Shimukappu is notorious for its cold winters and high-quality snow. Untypical for Japan, temperatures can drop to -30°C! Naturally, the town is a popular ski and snowboarding spot and from early December to mid-March, the enigmatic "Ice Village" is open at the Hoshino Resort Tomamu. Featuring a hotel and a church, it's a genuine village created out of ice that seems to transport you to an entirely different world.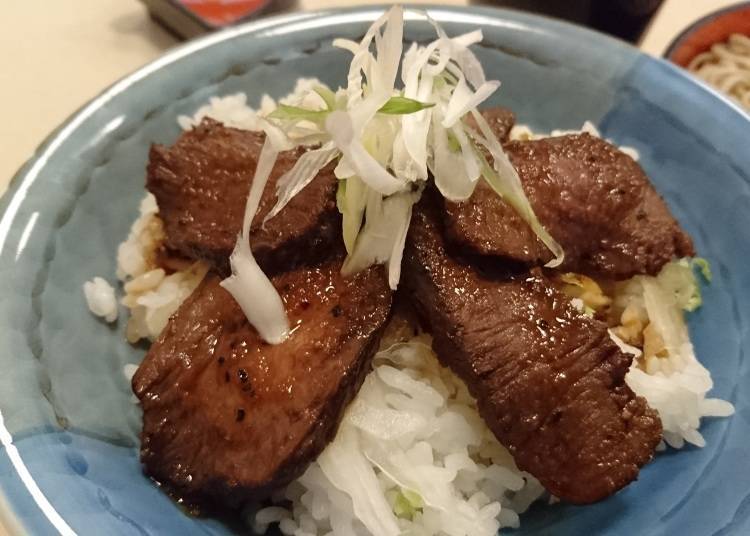 The Yezo sika deer bowl, a local gourmet delight. The fresh venison has a rich, almost addicting flavor.
As a town surrounded by forest, Yezo sika deer is a local delicacy of Shimukappu. Hamburger steak or rice bowls made with game are fantastic gourmet experiences! Another local specialty is maple syrup made from the itaya kaede (painted maple).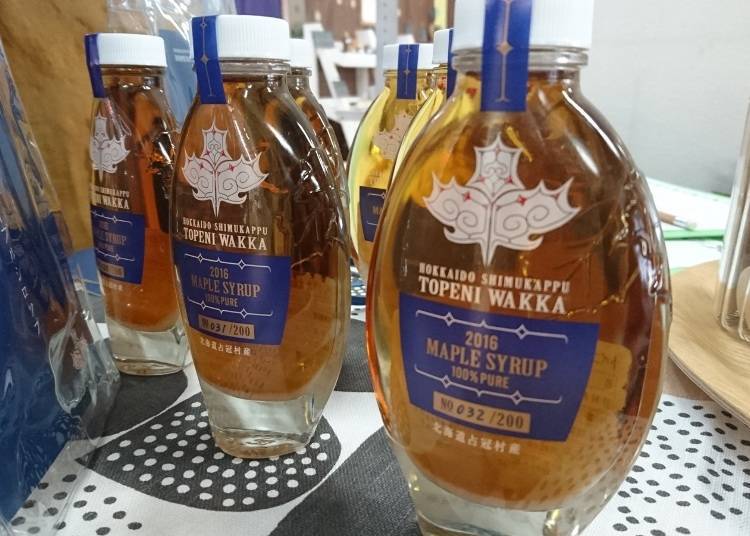 The maple syrup "Topeni Wakka" of which only 500 bottles are made every year.
5. Biratori: Dive Into the Rich Culture of the Ainu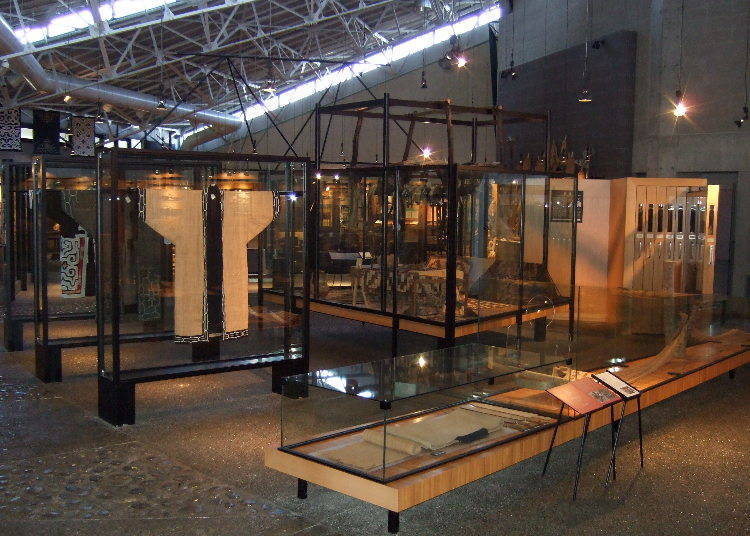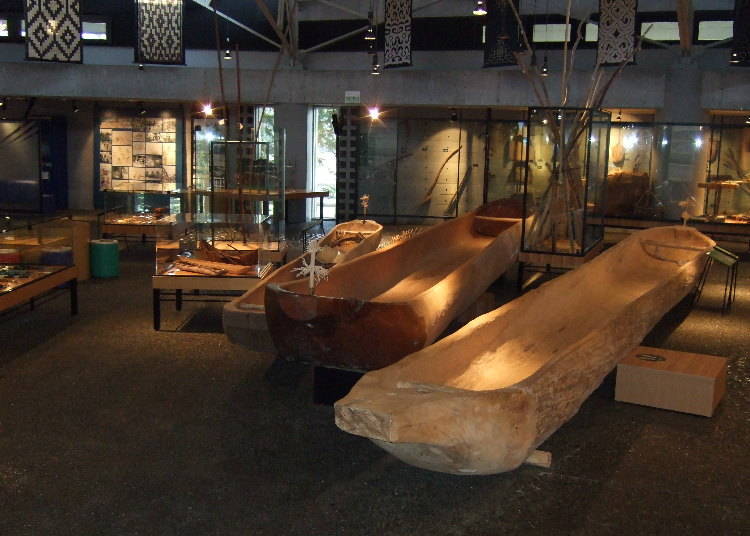 The exhibition does not only feature boats carved out of wood but also a collection of Ainu stories, such as Yukar (saga) and Uwepeker (folk tale) that you can listen to.
Biratori is a town closely connected to the indigenous people of Hokkaido, the Ainu, and offers many opportunities to immerse yourself in their rich culture. The Nibutani Ainu Culture Museum was built to preserve the culture of the Ainu, and to pass it down to future generations as best as possible. The exhibition features various valuable items, such as beautifully embroidered clothes and everyday items. The traditional Ainu thatched roofs called chise have also faithfully been recreated, giving an authentic glimpse into the everyday life of the Ainu. You can even get an Ainu-themed souvenir in the form of traditional crafts such as Nibutani-ita (wooden trays) or Nibutani-attus (textiles made from tree bark). Other traditional Japanese crafts are also available, including Edo Kiriko glasswork, Nanbu ironworks, Nishijin textiles, and so on.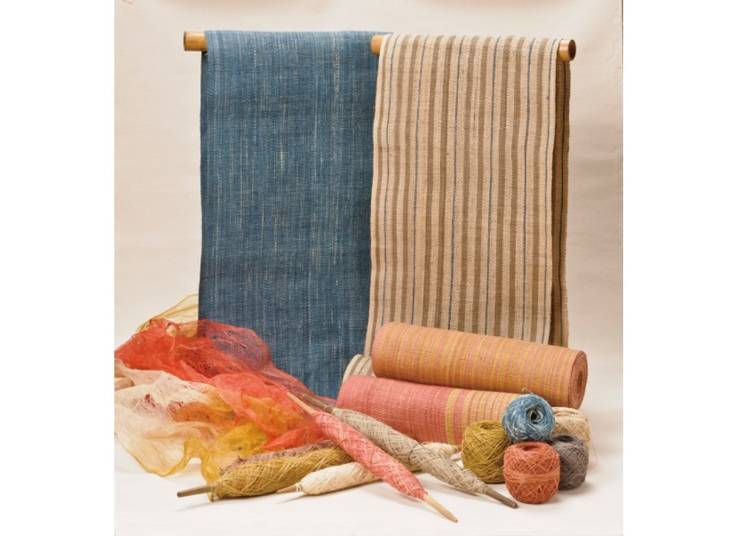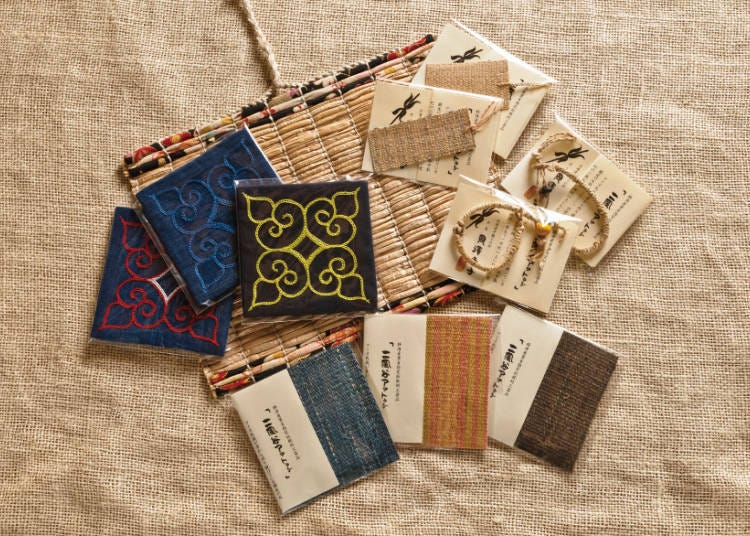 Nibutani-attus, a fabric made out of tree bark. The coasters are a great example of a traditional yet affordable craft souvenir.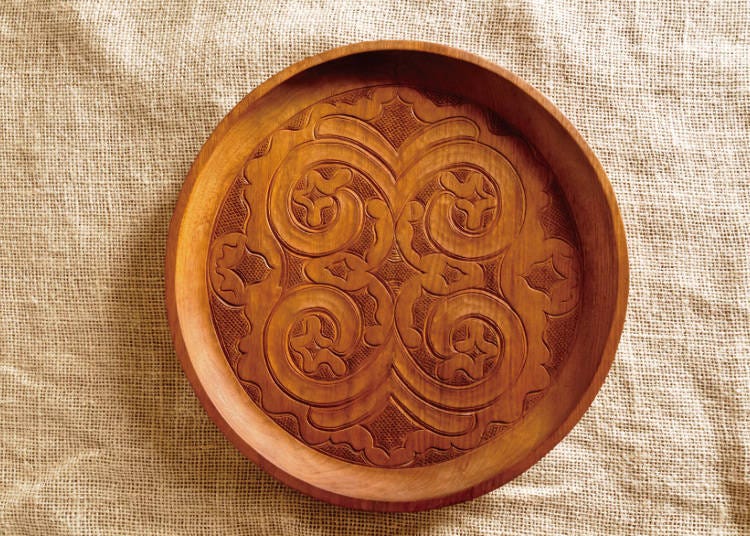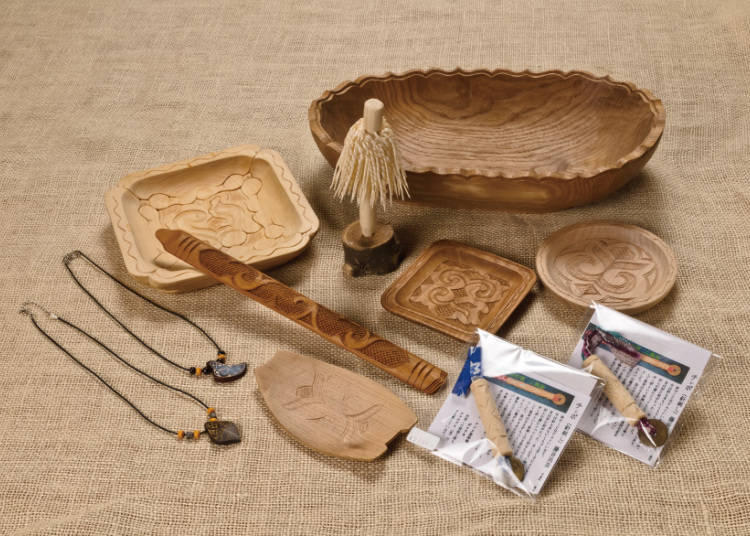 The wooden bowls feature delicate carvings and are known as Nibutani-ita. An original Ainu pattern adorns the piece.
Another Biratori specialty that cannot go unmentioned is Biratori wagyu beef. The meat is incredibly rich in umami flavor, earning its high quality to the harsh winter. Make sure to savor these luxurious cuts when in town.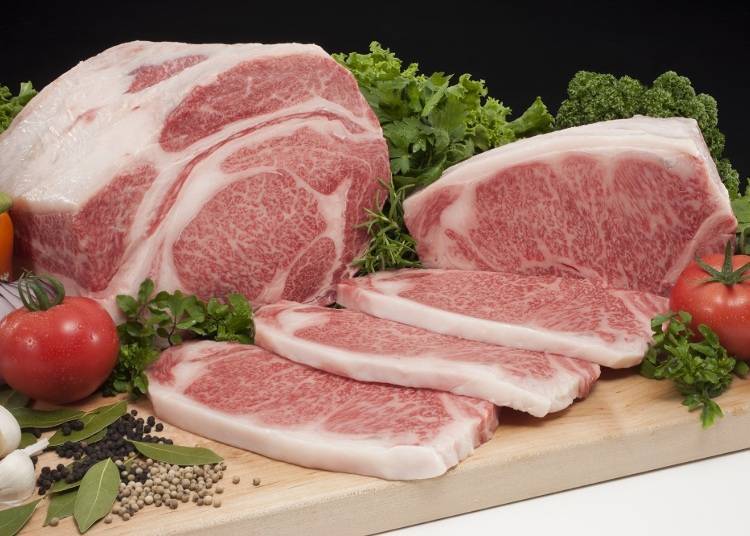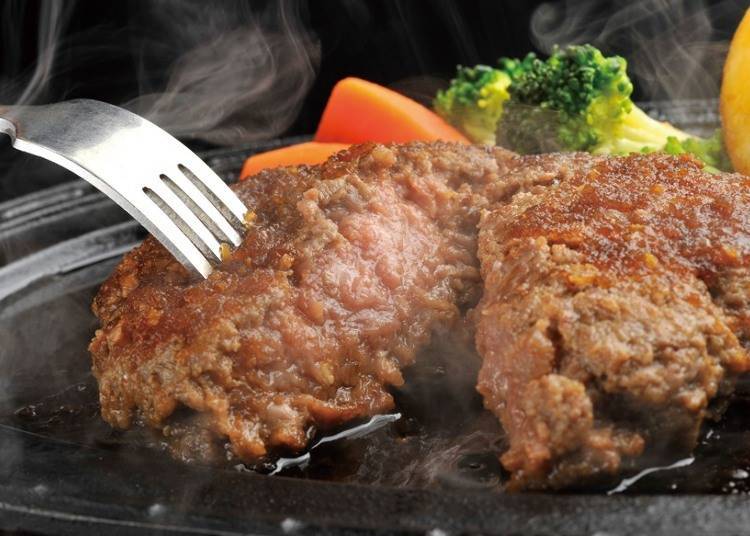 Biratori wagyu is known for its outstandingly high quality. Its one-of-a-kind taste can be enjoyed at local restaurants.
6. Hidaka: Enjoy the Famous Night Race While Savoring Genghis Khan, the Local Specialty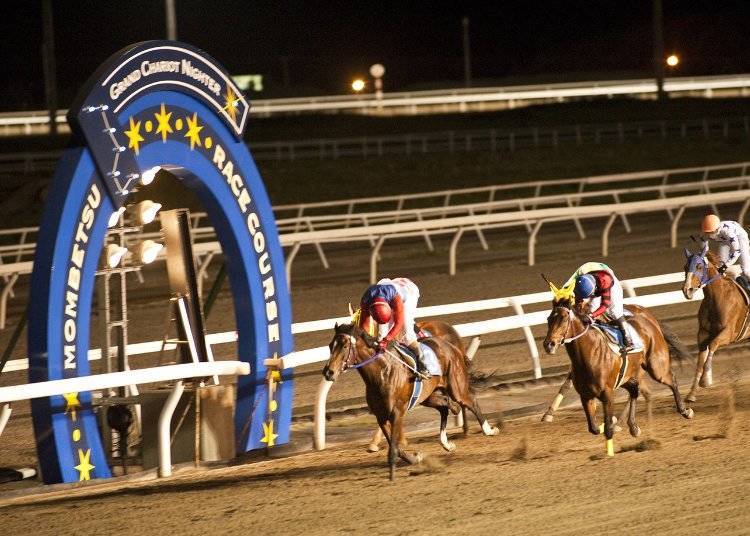 The horses race through the lit-up course.
Hidaka Town is blessed with both sea and mountains, incredibly rich in nature. Racing horses are bred and raised in the area, with many ranches and pastures dotting the district called Monbetsu along the shore that let you enjoy Hokkaido's magnificent scenery. Some are even open to visitors, allowing you to get a close-up look at the racehorses. However, Hidaka is also a famous seafood town that offers a variety of seasonal specialties, such as octopus in summer, shishamo in autumn, and Okhotsk atka mackerel and flounder in winter. Enjoy them at local restaurants!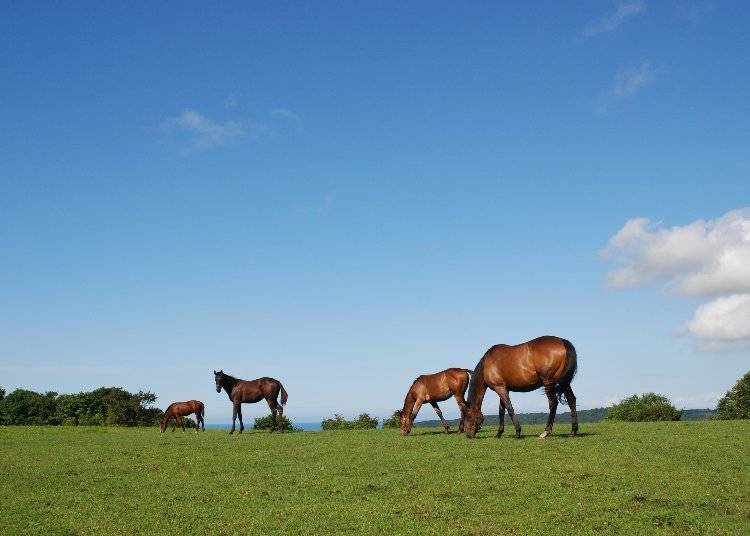 Thoroughbreds grazing under a blue sky is a scenery representative of Hokkaido.
The Hokkaido Keiba horse races held at the Monbetsu race course from April to November are one of the area's biggest attractions. These races take place at night, creating a powerful scenery of horses racing through the lit-up course. One major characteristic of these races is "Genghis Khan," a local gourmet delight that is basically a bucket full of marinated lamb meat grilled over an open flame. It's just the perfect delicacy to enjoy alongside an exciting race!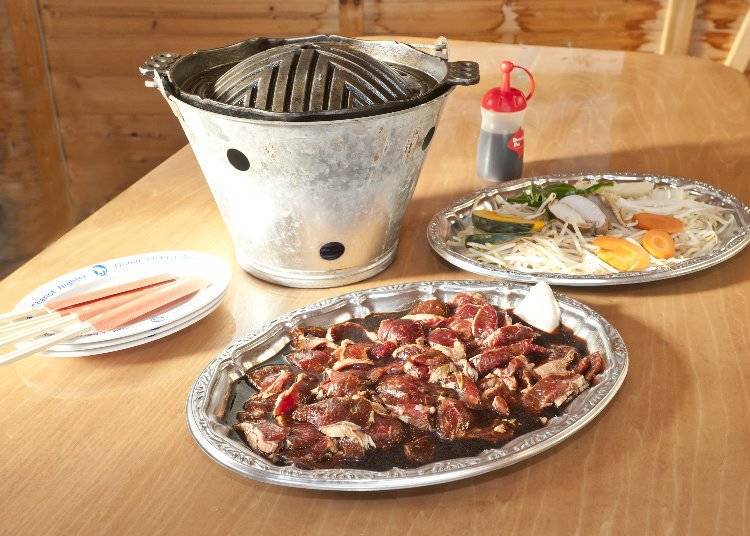 The famous "Tonekko Genghis Khan."
7. Tomakomai: Getting Lost in the Peaceful Scenery of Lake Utonai and its Wild Birds
Various wild birds can be seen throughout the four seasons at Lake Utonai.
Tomakomai is known as an industrial city representative of Hokkaido, but it also boasts rich nature sprawling lush and beautiful over the surrounding area. Especially Lake Utonai and its surrounding wetlands is a wildlife sanctuary that is home to over 270 species of wild birds such as swans and white-fronted geese. This stunning sanctuary got international recognition and was registered as a Ramsar site in 1991.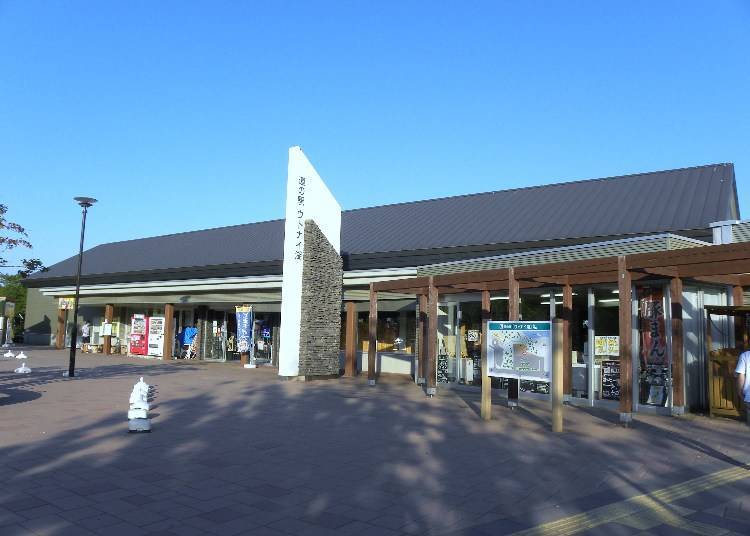 "Michi no Eki Lake Utonai" is close to New Chitose Airport, so it's convenient to stop by on your way to the Eastern Iburi area.
Near the lake is also a rest stop called "Michi no Eki Lake Utonai," definitely worth a stop if you're traveling by car. The food corner offers a large variety of gourmet delights. Especially recommended is Hokkigai, an edible saltwater clam that the Tomakomai area is famous for. Another must-try is the steamed pork buns made with the local pork brand "B1 Tonchan." This flavorful snack is beloved by both tourists and locals!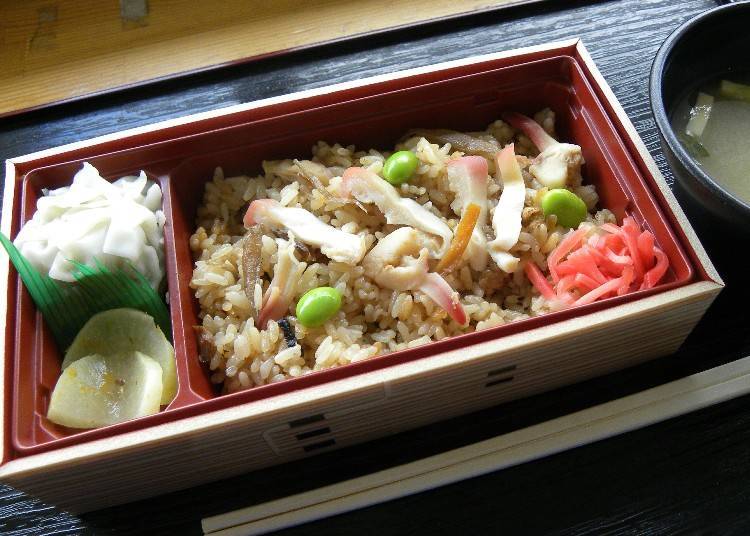 "Hokki Bento" sold at the shop Plaisir inside Michi no Eki Lake Utonai.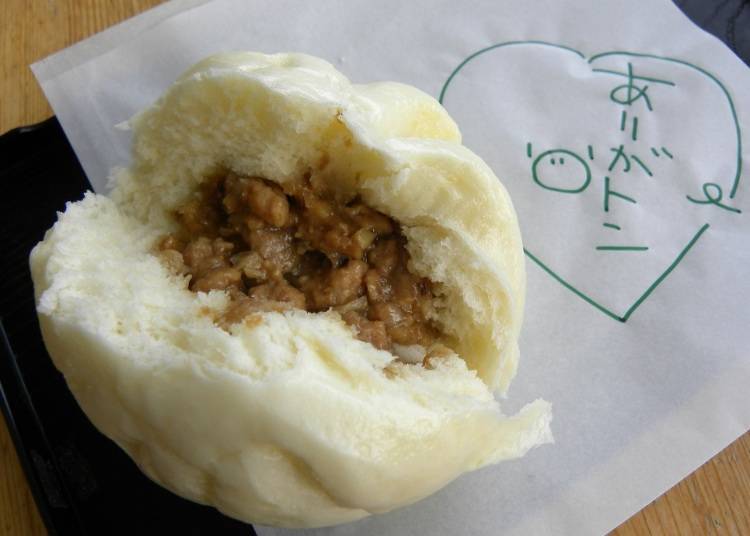 The steamed pork buns made with extra juicy pork by "B1 Tonchan."
There's Much to Experience in Eastern Iburi!
In 2018 Hokkaido was hit by the strong Eastern Iburi Earthquake, in which many areas suffered great damage. Recovery and reconstruction of these areas – of which the Iburi and Hidaka areas are a part – are ever advancing, strengthened by the local communities working together. While the quake has certainly left its marks in many towns, the people of Hokkaido are already looking forward – and looking forward to sharing the charms of their communities with visitors.

From food to nature, the Eastern Iburi and Hidaka area is a treasure trove of sights, activities, and experiences. There's so much to see, one article cannot possibly cover all the highlights of the area. With the recovery from 2018's big earthquake ever progressing and leaving the area stronger than ever, definitely set out to experience this fascinating part of Japan for yourself!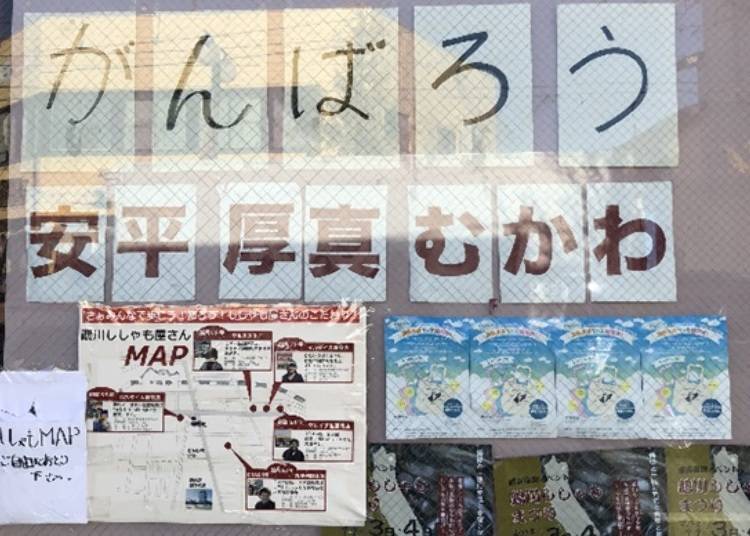 *This information is from the time of this article's publication.
*Prices and options mentioned are subject to change.
*Unless stated otherwise, all prices include tax.