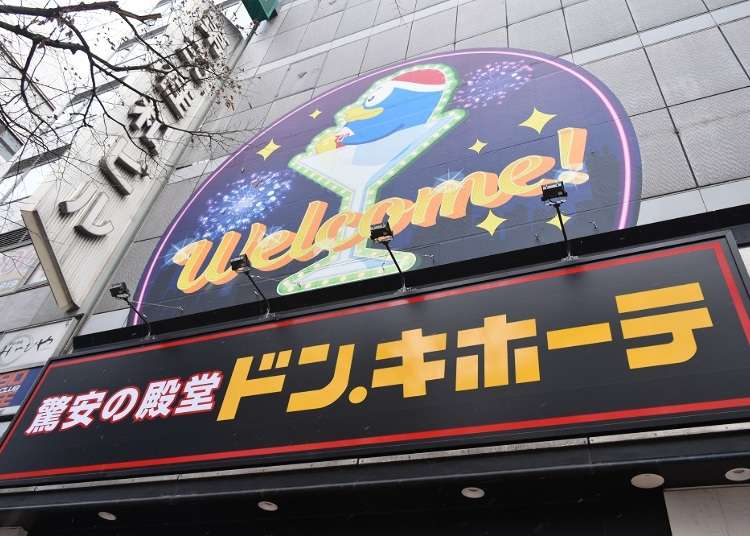 On November 25, 2022, Japan's famous department store, Don Quijote, opened its newest branch in Susukino, Sapporo. A popular area for nightlife, Susukino is Sapporo's version of the "neighborhood that never sleeps," making it the perfect spot to attract locals and tourists alike, any time of day or night!

With that in mind, Don Quijote Susukino (also known as 'Night-time Donki') has been specially designed to cater to night-time shoppers. Join us as store manager Kou Han takes us on a tour of this latest late-night shopping attraction!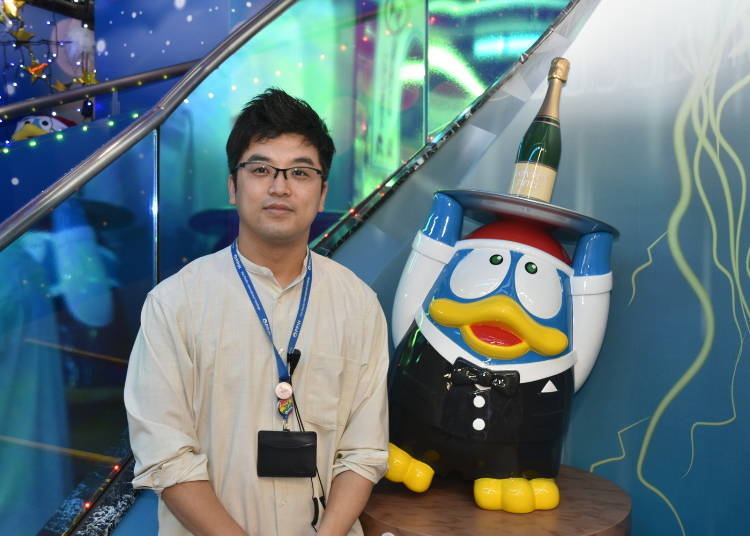 Deputy store manager, Kou Han, takes us on a tour of the shop!
Just a 2-minute Walk from Susukino Station!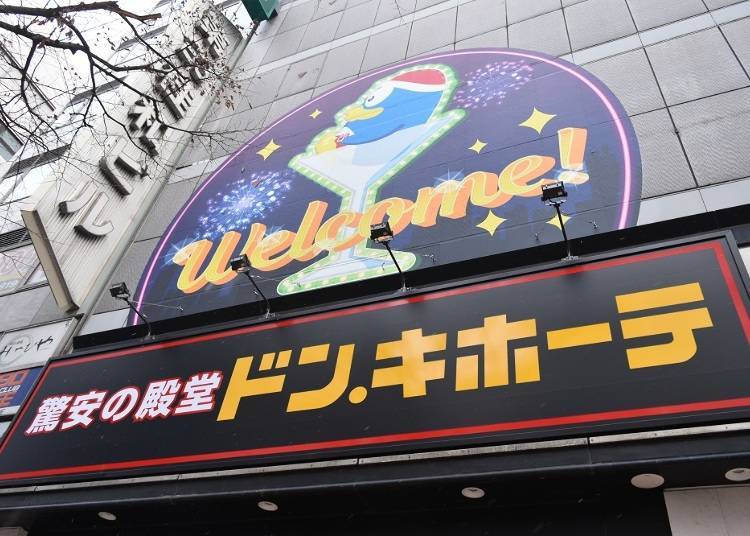 This signboard is your invitation to a nighttime party at Donki!
The store is only a short 2-minute walk from Susukino Station on both the subway Namboku Line and the Sapporo Tram. Conveniently situated on the Ginza-dori side, it's easy to meet people there. The store itself occupies 1F and B1F of a large, eight-story building. Also, please note that there is no parking lot or bicycle parking.
What Makes Susukino's Donki Different From All The Others?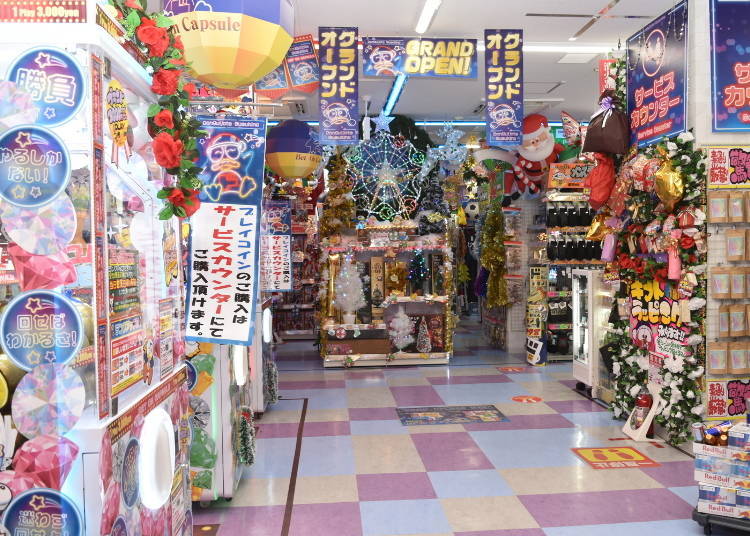 The Brand Capsule Corner welcomes you!
Don Quijote Susukino is a shop for locals, young people going out to restaurants, people looking to enjoy the nightlife scene, and tourists. They have a rather generous selection of alcohol, snacks, party goods, and cosmetics, setting it apart from the neighboring 'MEGA Don Quijote Sapporo Tanukikoji Main Branch.'

Please note that while there are no foreign-language product descriptions around the store, each sales corner does include an English description to help you find what you need.

Also, don't hesitate to ask the staff for help. At Don Quijote Susukino, even visitors from abroad can shop with peace of mind.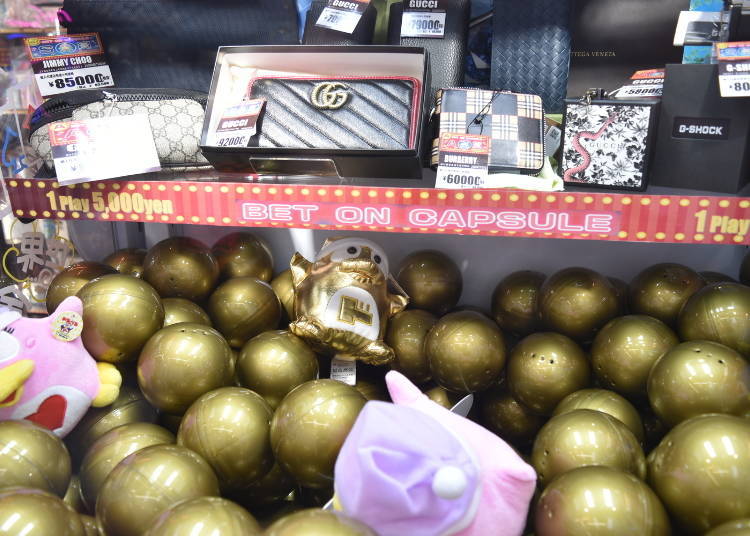 Part of the excitement is not knowing what you'll win!
Once you enter the store, you'll be greeted by the 'Brand Capsule Corner.' Purchase a special coin from the cigarette counter, put it in, and pull the lever. You'll be rewarded with a capsule, each containing a piece of paper with an item number written on it.

There are four machines at the Susukino branch, the most of all Don Quijote stores in Japan! The Brand Capsules are also available in three different types, at values of 3,000 yen, 5,000 yen, and 10,000 yen, with various prizes, including high-end bags and wallets.

The higher the price of the capsule, the more expensive the product you can win! You may also want to challenge the 'Home Appliance Capsule' for 5,000 yen. One of the possible prizes is a Nintendo Switch!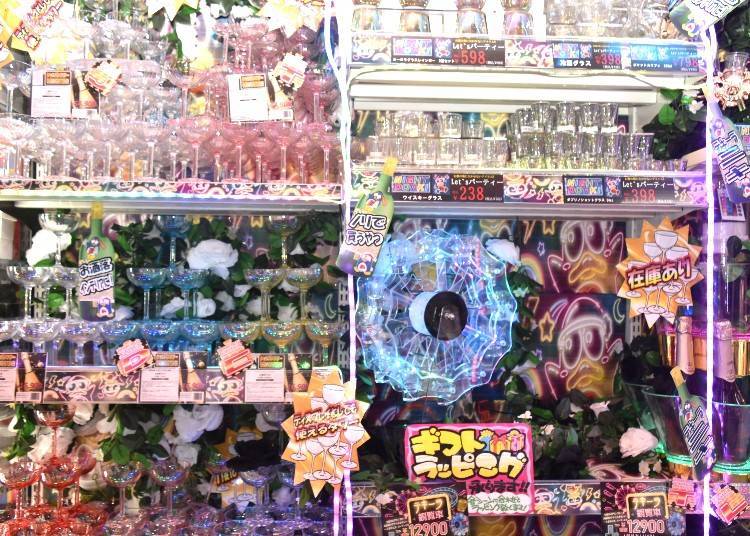 So many gifts, so many things to buy on impulse!
The first floor is geared toward young adults, with a wide range of cosmetics, colored contacts, various goods, clothing, and more. There's also a Gift Corner, perfect for those unexpected occasions when you may need a sudden, last-minute gift. It offers a variety of fun and exciting goods, as well as cute items that make perfect presents for the ladies!
Don Quijote Susukino's Limited-Edition Original T-shirts, Featuring Donpen!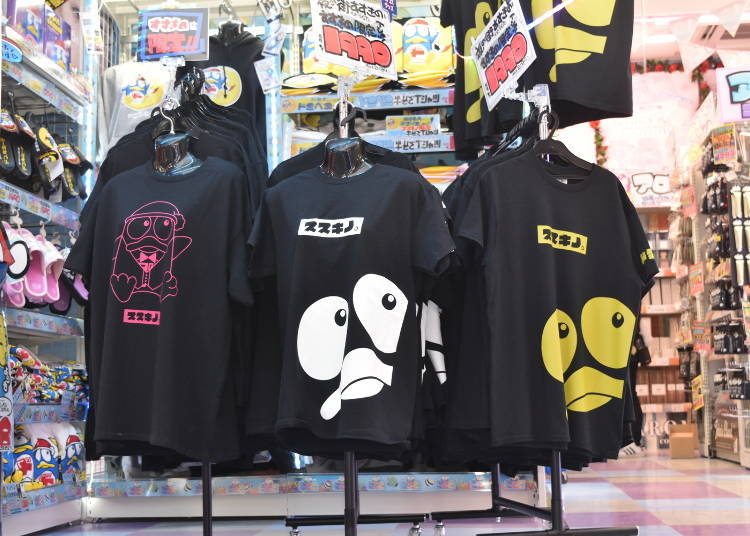 The goods in this store exude that unique Susukino vibe
You'll also find Susukino-limited T-shirts and hoodies featuring Donki's official mascot character, Donpen. Stylish and fashionable, just like the city of Susukino itself.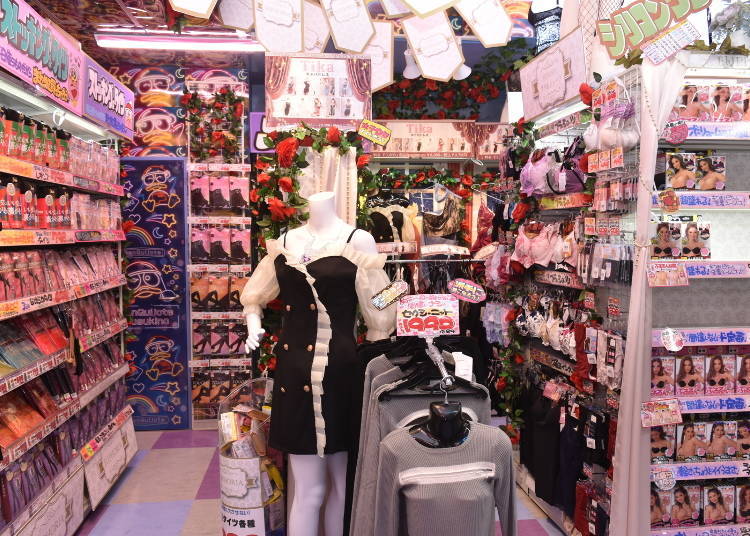 Goods that will make you feel like the life of the party!
You can find just about anything at Don Quijote, including fun and unique party goods, costumes, and cosplay goods! Susukino is the largest downtown area north of Tokyo. If you're planning a party, why not liven it up with some party goods from Donki?
The Sparkling Staircase to the Basement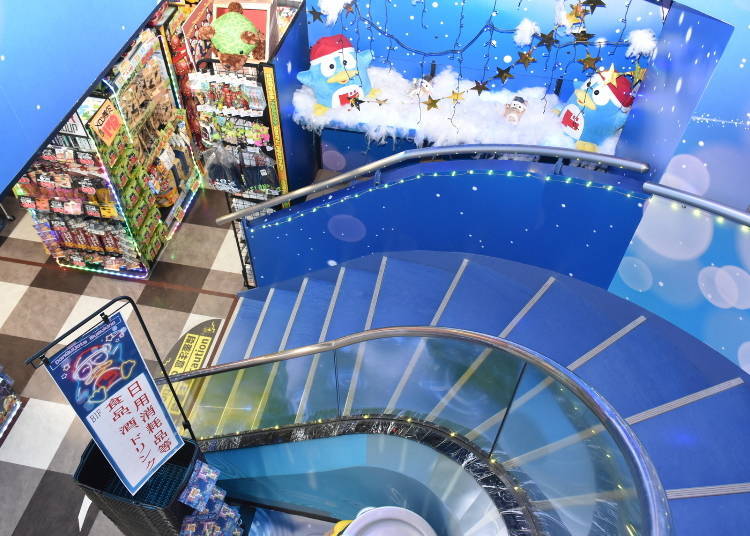 Follow the lighted staircase to the basement floor.
As we continue our tour of this newest Donki, we head underground through a lighted, spiral staircase. The shop interior exudes a nightlife vibe, decked out in all sorts of electronic decor. Follow the enchanting staircase from the first floor to the basement, and enter the deep and exciting world of Don Quijote at night!
A Surprising Variety of Drinks and Treats!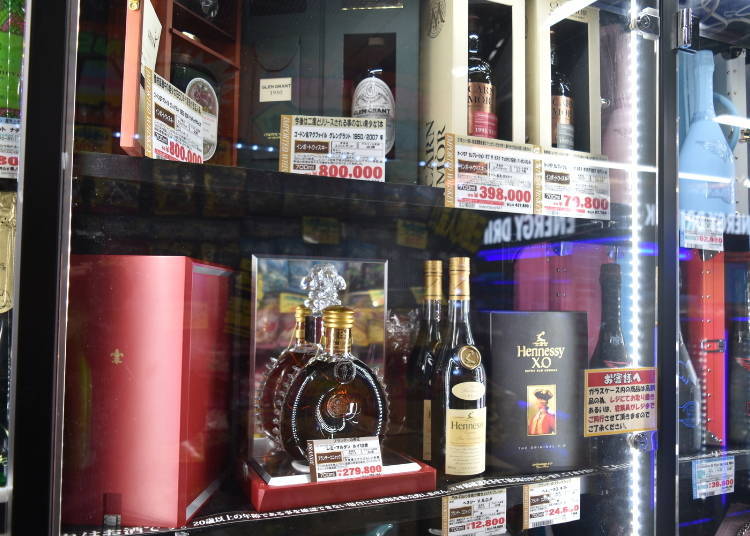 This high-end alcohol costs 800,000 yen!
They also carry a wide variety of alcoholic beverages, including craft beer from Hokkaido, sparkling wine, and high-class brandy that goes for about 800,000 yen per bottle! It seems to be a hit with restaurant and shop owners, who sometimes rush over to buy it after running out at their own shop!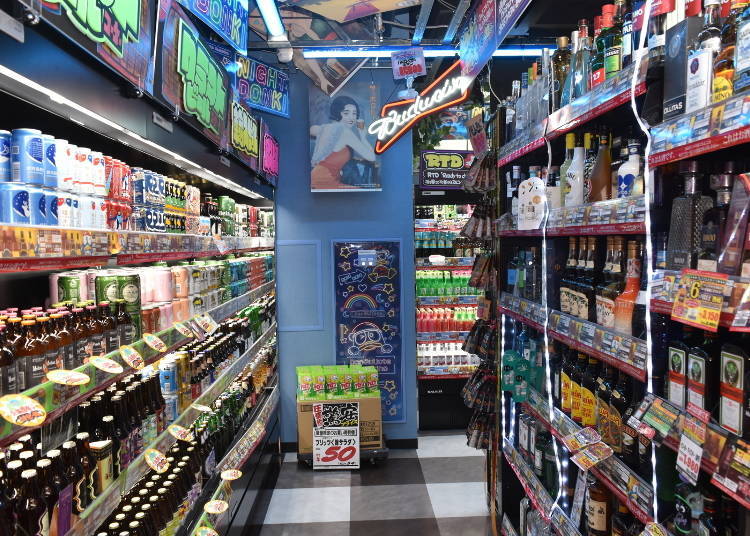 A variety of alcoholic beverages are available, including beer, wine, whiskey, and sake.
"We even have chilled sake waiting for our customers looking for something to enjoy cold when they get back to their hotel," explains Kou. There are plenty of drinks to choose from, so grab your favorite one!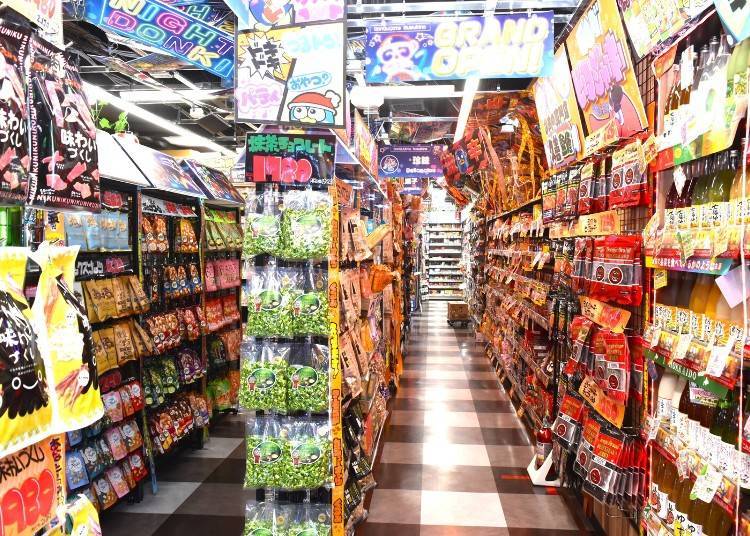 This location boasts a wide variety of products!
There's a rich lineup of snacks, too, from nuts and jerky, to cheese and all kinds of goodies. No matter what you're craving, you'll surely find something that satisfies you!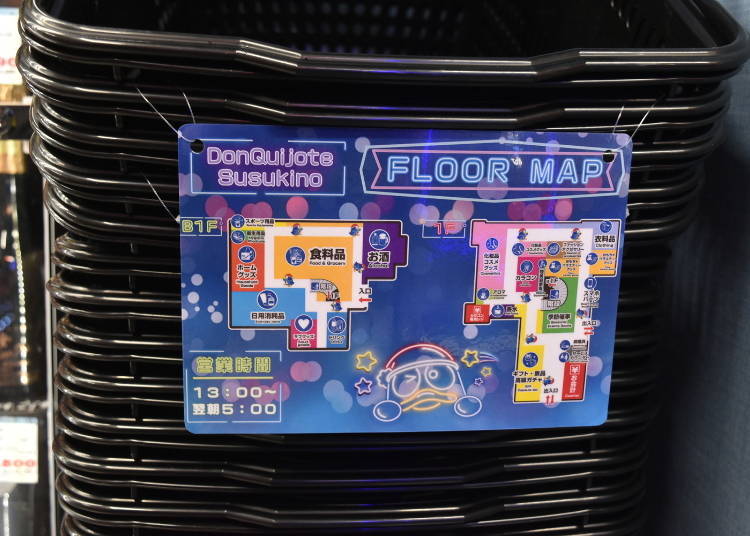 Shopping carts include illustrations of the shop with English descriptions!
Don Quijote Susukino is open from 1:00 p.m. to 5:00 a.m. the following morning. You can expect an increase in customers from around 7:00 p.m., which continues until after midnight.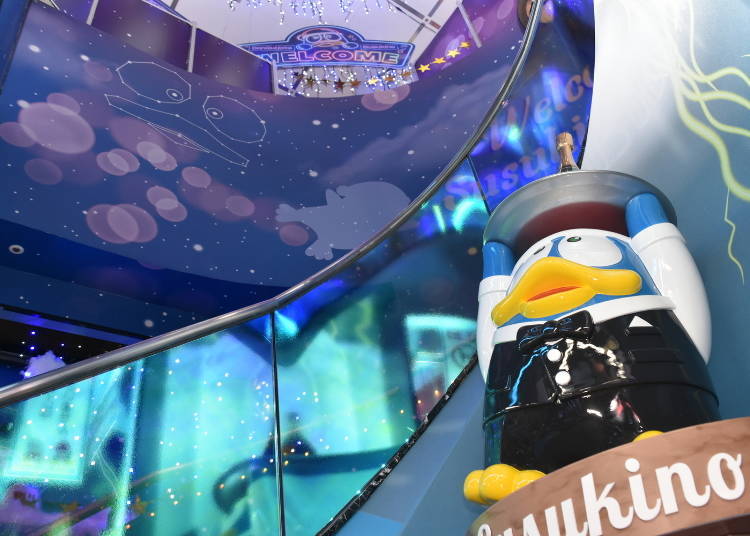 In-store photo-shoot spot
Don Quijote's mascot (and sommelier), Donpen, greets you at the bottom of the stairs, wine bottle in hand. Designed in the image of an alluring aurora, this beautiful background is also a popular photo spot!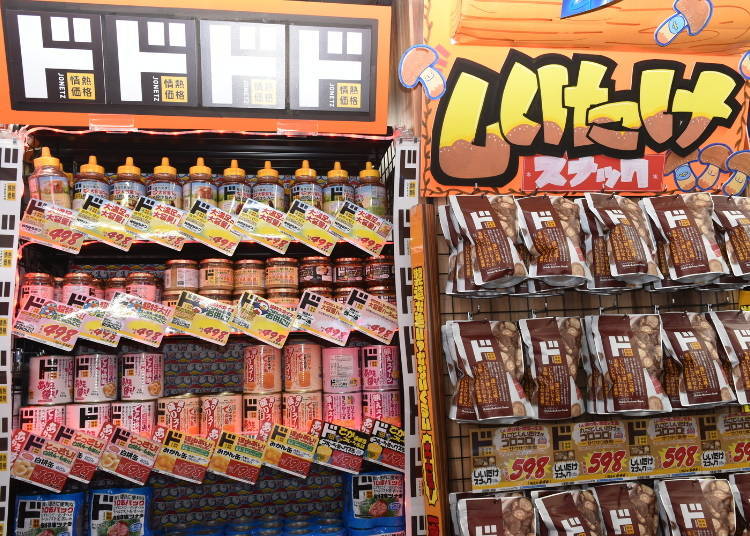 Products marked with "Do (ド)" are on sale!
There's also an abundance of goods from Don Quijote's own 'people's brand,' JONETZ Kakaku. This original product line came about through the brand's message, "Giving shape to customer feedback." The lineup includes a wide variety of goods, from groceries and household items to health and beauty products... and then some! Even this new Susukino location stays true to Don Quijote's basic policy: being a 'Palace of Surprise.'
An Exciting Night In Susukino, the City That Never Sleeps!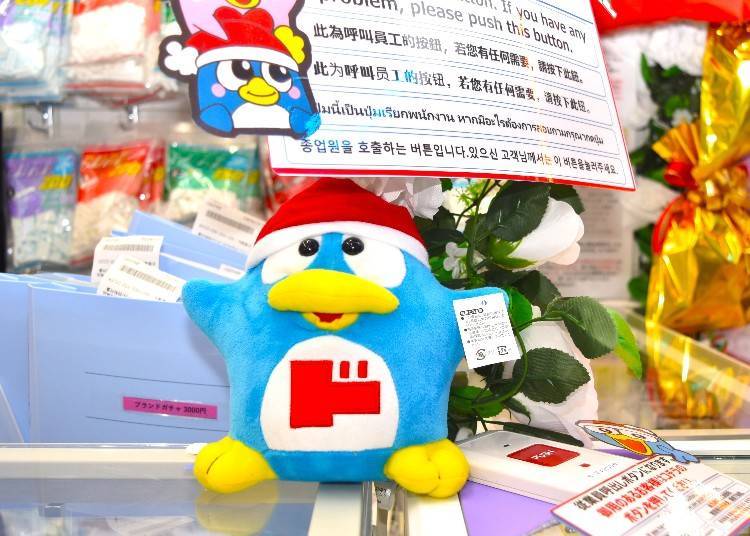 Don't forget the shop's mascot, Donpen!
Don Quijote Susukino is more than your average department store. It's an exciting entertainment shop with a wide range of fun finds, from glittering gadgets to eye-catching objects that will make you stand out amongst your friends on social media.

Their diverse selection ranges in price, from affordable goods to high-end, quality products. We've all heard the phrase, "seeing is believing". And at Don Quijote Susukino, a fun-filled, nighttime shopping experience awaits that you'll just have to see for yourself to believe!

Multilingual support
Some staff members speak basic English and Chinese. Google Translate for smartphone intercom.
English descriptions in product corners.

Health & Safety Measures
Indoor disinfection measures taken - Sanitizer available - Disinfected after each guest - Ventilation measures taken - Staff wear masks, gargle, wash hands regularly, and monitor body temperature - Reservation system in place - Entry declined to anyone feeling unwell - Guests requested to wear masks and conduct temperature checks
ドン・キホーテすすきの店

Address

11-1, Minami 5-jo Nishi 3-chome, Chuo-ku, Sapporo, Hokkaido 064-0805

・Hours: 1:00 p.m. to 5:00 a.m.
・Closed: Open daily
Text by: Masakazu

English translation by Krys Suzuki

Product lineup and prices as of December 2022.
Product availability and prices may differ by location.
*This information is from the time of this article's publication.
*Prices and options mentioned are subject to change.
*Unless stated otherwise, all prices include tax.
Limited time offer: 10% discount coupons available now!