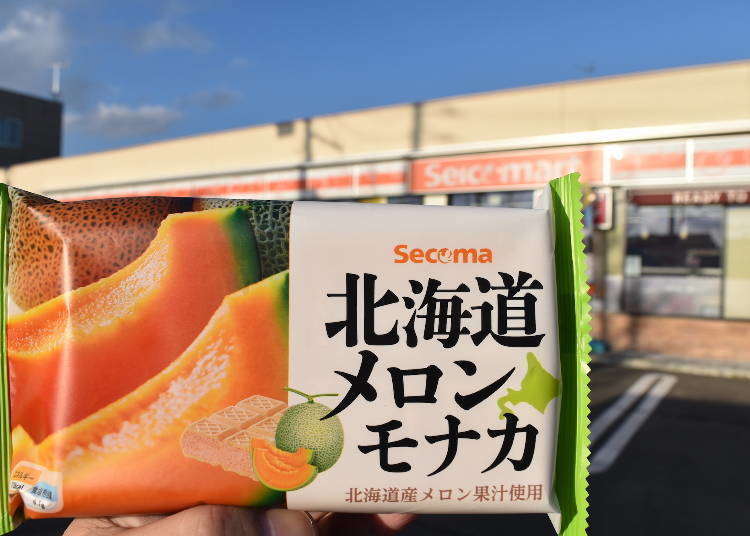 If you've ever been to a Hokkaido convenience store, chances are you've seen Seicomart, or "Secoma" for short.

This private brand convenience store is characterized by its focus on Hokkaido-produced ingredients. Secoma even boasts the top market share in Hokkaido with it's unique "Hot Chef" service, which prepares their lunches freshly in-shop, unlike most other companies.

So, without further ado, let's introduce some of Seicomart's authentic Hokkaido-made goods, easily found here.
Secoma: A Pioneer of Convenience Store Goods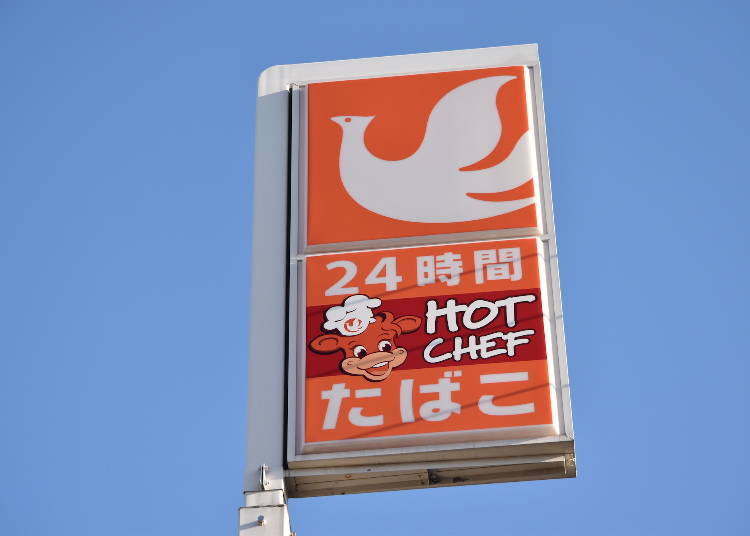 Seicomart's history begins in August of 1971, with the opening of its first store in Sapporo. However, since then, the number of shops has managed to expand to about 1,100 branches, mostly located within Hokkaido.

You can see Secoma signs featuring an orange phoenix logo towering above most cities, towns, and villages. This convenience store is a well-known brand that has become indispensable to the lives of the local people.

There are many reasons that locals love Seicomart so much. For example, Hot Chef is an in-store kitchen that prepares fresh meals on the spot. Or the original sweets made with carefully selected specialty dairy from Hokkaido.

*Please note that Hot Chef may not be available at all locations.
Weird Japanese Snacks: 5 Specialty Hokkaido Products!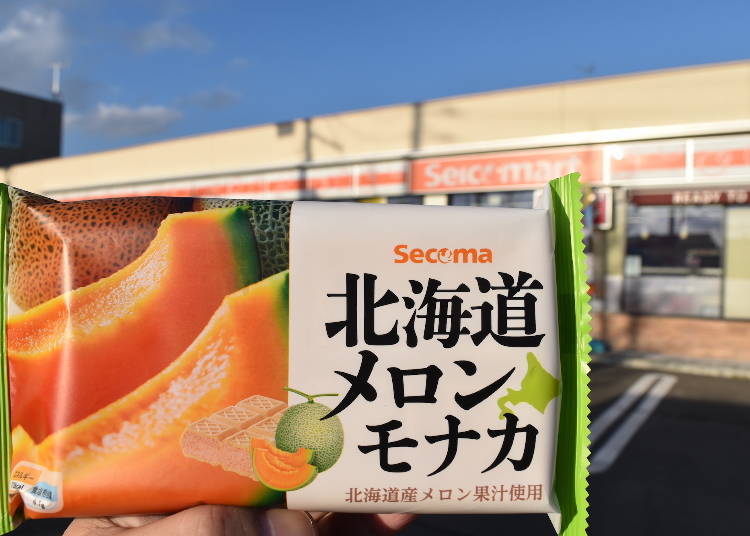 Hokkaido Melon Monaka (140 yen)
1.Hokkaido Melon Monaka
A majority of Seicomart's products are made using specialty ingredients from Hokkaido. The Hokkaido Melon Soft Cream, commercialized in 2006, has become one of their staple items. This item was made in response to customers who asked for a unique way to enjoy the taste of freshly-picked melon without the hassle of having to pick and peel it yourself.

The mild, elegant sweetness of Hokkaido melon, combined with the rich taste of fresh milk from Toyotomi Town, creates a deliciously balanced flavor. The ice creams that are currently available for purchase are made with melon juice and include Hokkaido Melon Monaka and Melon Vanilla Parfait.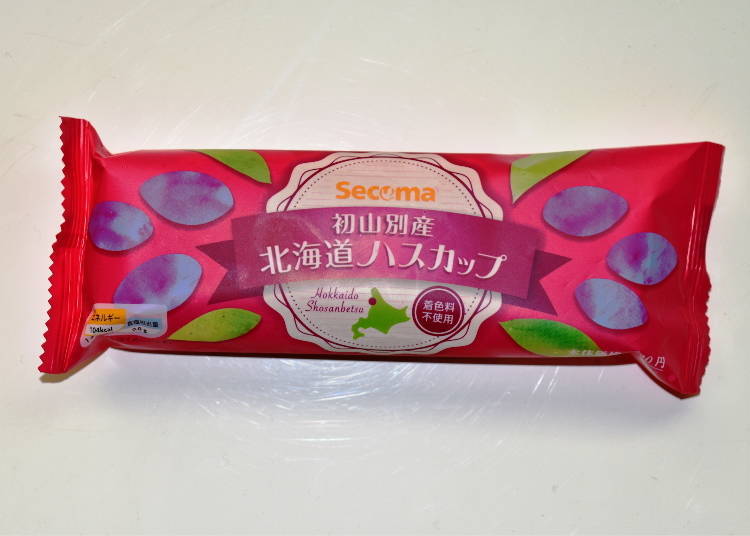 Shosanbetsu Hokkaido Haskap (120 yen)
2. Shosanbetsu Hokkaido Haskap (Fruity Ice Cream)
Seicomart also incorporates unique agricultural products from a variety of different locations into their items. In July 2019, the limited-edition Shosanbetsu Hokkaido Haskap (a type of honeysuckle) ice cream was released in a limited quantity of only 90,000.

Shosanbetsu is a small town located on the Sea of Japan side of Hokkaido with a population of about 1,150. Because some residents lived in certain areas where shopping was sometimes a challenge, in 2014, Seicomart established its Shosanbetsu branch. Taking advantage of the new location, they began developing new products promoting the use of unique local specialty ingredients.

Haskap is a type of edible honeysuckle and a fruit that grows naturally in Hokkaido. Its Japanese name "haskap" is derived from the Ainu language, "hashikap." It is popular because of its juiciness and sour taste, however, because raw haskap tends to bruise easily, is rarely sold outside of the Honshu Region. In addition to being sold in Shosanbetsu, haskap products have expanded to other areas such as Atsuma and Biei.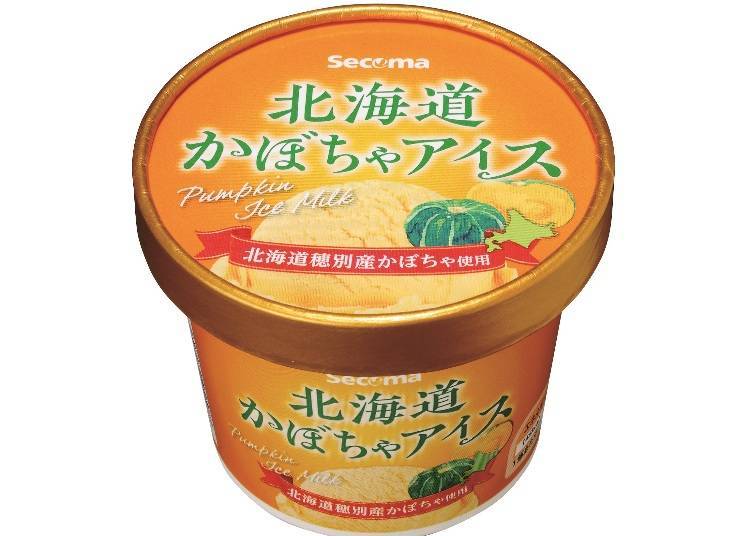 Hokkaido Kabocha Ice Cream (200 yen)
3. Hokkaido Kabocha (Pumpkin) Ice Cream
Some other popular items are the Hokkaido Kabocha Ice Cream (made with kabocha, a type of pumpkin, produced in Hobetsu), as well as the Hokkaido Blueberry Soft Cream (made with the juice of blueberries from Kitami) and Chocolate Mint Soft Cream (made with Kitami-produced peppermint). These products were made in collaboration with the farmers, Japan Agricultural Cooperatives, and municipalities of each of these locations.

Despite the limited quantities of these items, new products are always in development, so be sure to keep checking back for the latest in this series of snacks, all made to showcase the different flavors of the Hokkaido Region.
Kyogoku Meisui Coffee Jelly (107 yen)
4. Kyogoku Meisui Coffee Jelly
Kyogoku Meisui Coffee Jelly was released in July 2018. This jelly is made using purified spring water of Kyogoku, drip-brewed into coffee, and made into a jelly. There is no sugar added so that you can enjoy the authentic, bitter taste of a freshly-brewed coffee.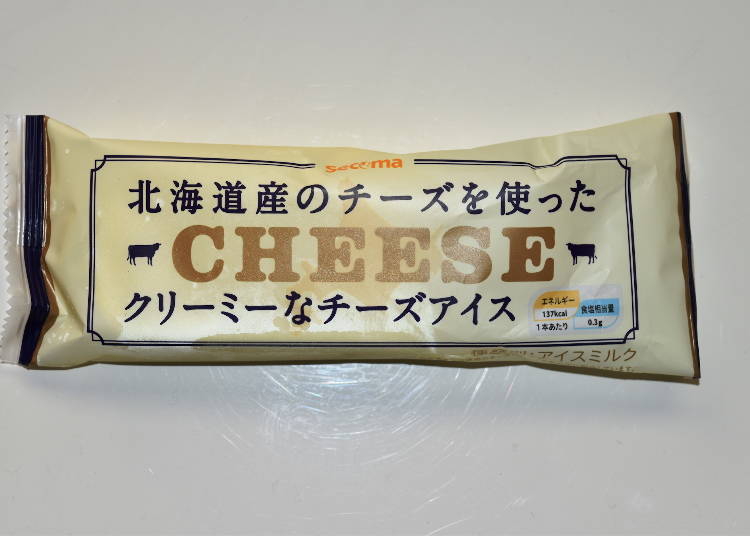 Creamy Cheese Ice Cream With Hokkaido Cheese
5. Creamy Cheese Ice Cream With Hokkaido Cheese
The name of this other must-try item may seem like a mouthful, but that's because it speaks for all of its features. The texture of this ice cream is so soft that it could pass for the frozen version of real cheesecake. The combination of high-quality milk and cheese used in its production gives it a flavor even more delicious than you would find in a specialty cake shop.
Don't Miss The Hokkaido Specialties at Secoma!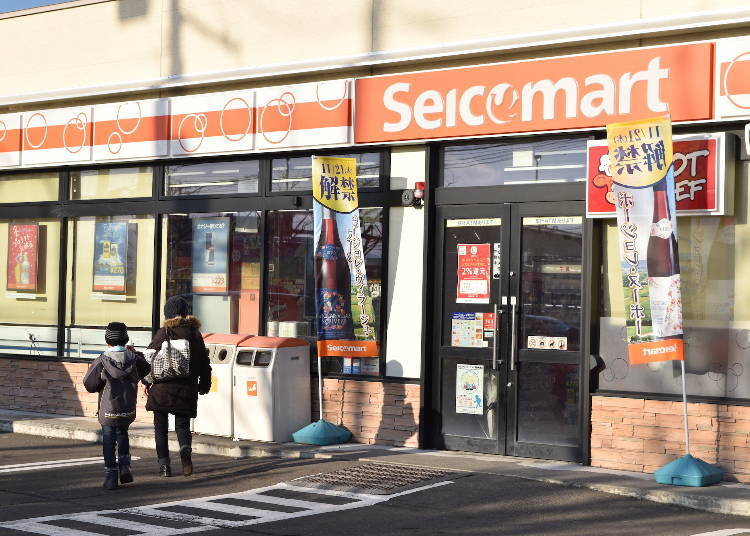 While these products may not seem like your average convenience store goods, it's great to be able to taste the local specialties of Hokkaido so conveniently and at such reasonable prices. If you stop by Seicomart, you just might be lucky to get your hands on something great!

While you're in Hokkaido, which has a unique custom of eating ice cream in the wintertime, why not stock up on some of Secoma's ice creams? It's a great way to enjoy a cold winter day, right from the warmth of your own hotel room.

*Product information as of November 2019.
*Sales of certain items may be discontinued.
*Prices may vary by location.
*Product availability may vary by location.

(Cooperation/supervision) SECOMA Corporation
Text by:minna no kotoba sha
*This information is from the time of this article's publication.
*Prices and options mentioned are subject to change.
*Unless stated otherwise, all prices include tax.