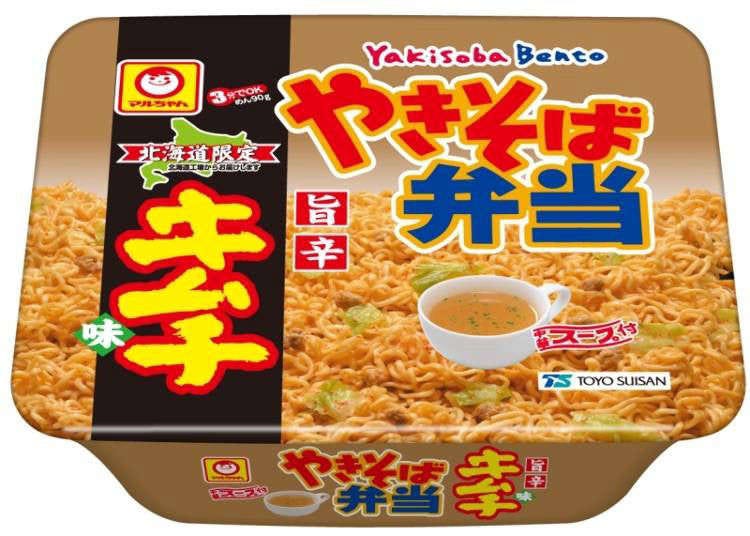 Japanese yakisoba instant noodles have become so popular, they are even regularly imported to countries overseas. There are also local cup noodle flavors that are only found up in Hokkaido.

That's where this one comes in. Yakisoba Bento by Toyo Suisan, lovingly shortened to "yakiben" by the locals. So what is it about this particular bento that sets it apart from all the others?

Before we reveal that, let's take a look at the lineup of top recommended yakiben products.
So What are These Hokkaido-Exclusive Yakisoba Instant Noodles?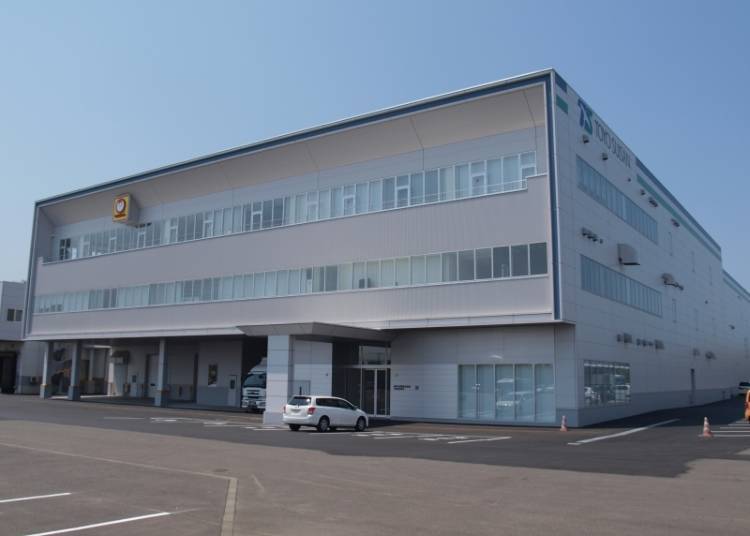 Yakisoba bento was invented by the company Toyo Suisan in August of 1975 in west Japan, and expanded quickly throughout the country, By February 1976 it reached Hokkaido, where thanks to the booming noodle industry in the region, it maintained a strong popularity with the locals.

The name "Yakisoba Bento" comes from the shape of the packaging, which resembles a typical Japanese bento lunch box. Though an unusual shape for instant noodles, it made for ease of stirring and eating.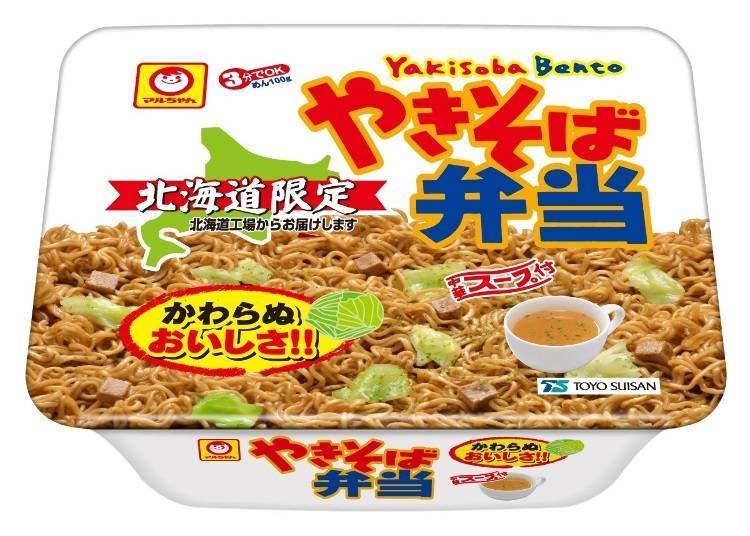 So why is this particular yakisoba bento, which isn't even sold in the rest of the country, loved so passionately by these locals? That's because the ingredients used in this bento, including the noodles, sauce, and other toppings, have all been modified to suit the specific tastes of people in Hokkaido.

The yakisoba instant noodles are chewy and firm, and the sauce is lightly sweetened with the flavors of fruits and vegetables. The main ingredients boast the strong, delicious flavor of minced chicken, and when combined together, result in what has become this long-selling, beloved product.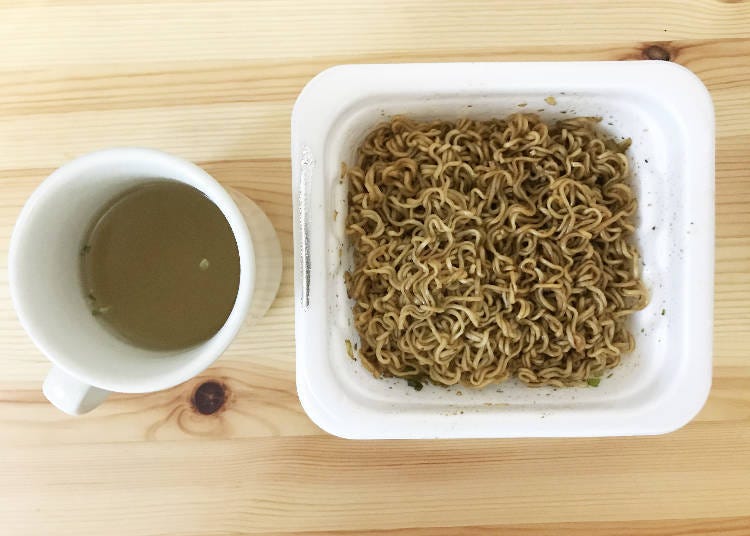 One of the most popular of these yakiben is the Chinese soup flavor. This flavor was introduced to keep yakiben sales and demand up during the cold, severe winters of Hokkaido. In fact, this flavor had been sold previously before being discontinued. However, it was soon revived and put back on the market due to serious demand!

The idea of this soup is to not just dissolve the soup powder in plain hot water, but to make use of the water leftover from making the yakisoba instant noodles. Mixing the soup powder into the water now flavored with the noodles and oil creates an incredibly delicious taste. However, the flavor is so rich that even if you do use plain hot water, the soup would not be lacking in any way.
The Most Delicious Yakiben! Our Local Writer's Top Recommendations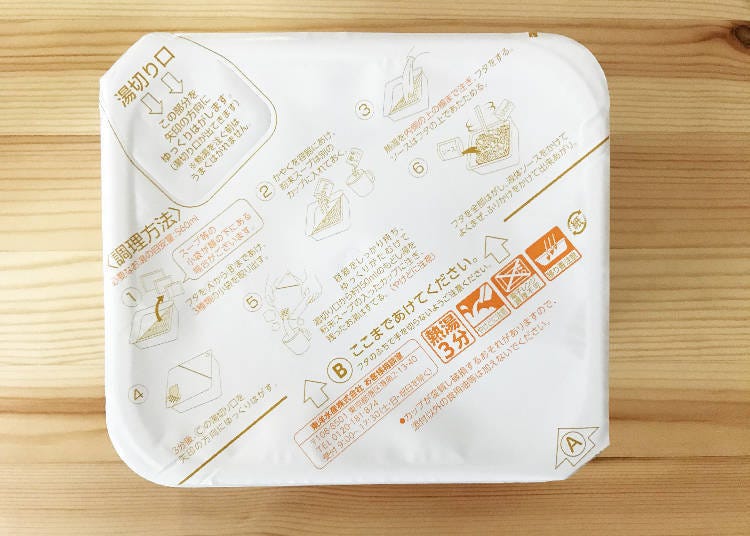 Lift the outer film to reveal directions written on the lid. This explains the most delicious way to enjoy this soup! However, there is a little more to it if you really want to enjoy the flavor at its finest. Let's find out what our local writer recommends!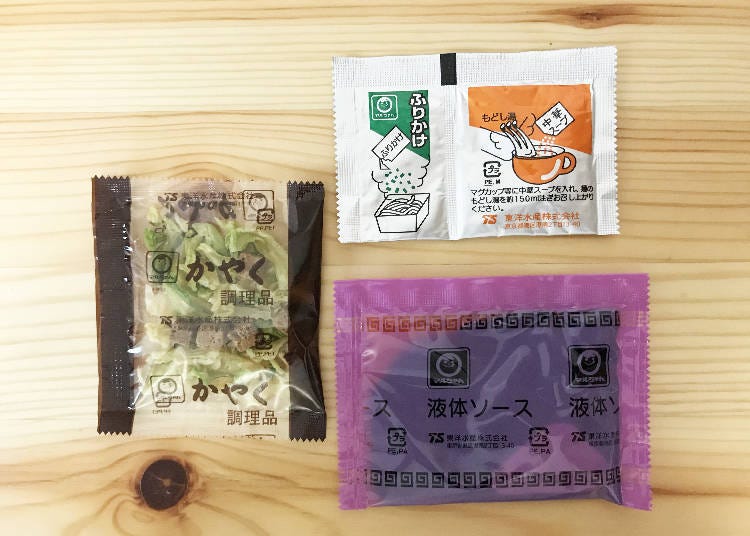 First, remove the three separate packets from the main package: the seasoning, Chinese soup furikake (dried condiments), and sauce. Sprinkle the seasonings on the yakisoba instant noodles, and add a generous amount of hot water into the bowl. Place the sauce on top of the lid so that the package warms up while you wait. By allowing the sauce to heat before adding it to the noodles, it prevents if from cooling down the noodles. It should take no more than three minutes to heat. While you wait, add the soup powder into a mug.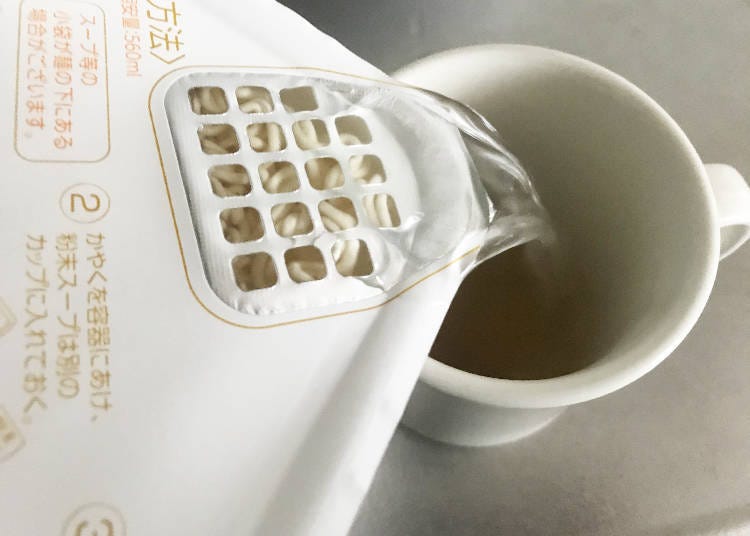 When three minutes have passed, open the water spout and pour it into the mug. As mentioned above, reusing this water in this way is the most delicious way to prepare this soup. You will want to add about 150ml. However, make sure not to throw away the remaining water. If you drain too much of it, the yakisoba instant noodles may dry out and lose their moisture.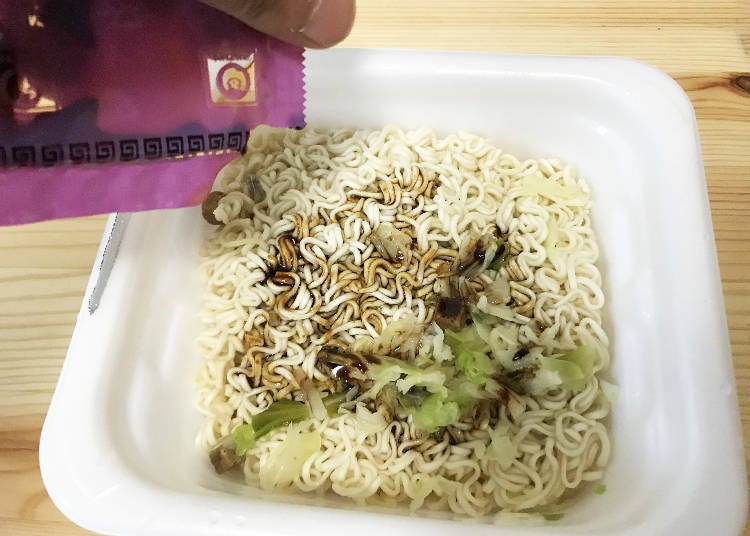 When you've finished draining the water, remove the lid and add the sauce and furikake, stirring quickly and thoroughly. It gets difficult to stir the longer you wait, so speed is important here. Mixing it thoroughly gives it the taste of a full, complete meal.

The deliciously sweet flavor is one that never seems to lose its novelty with the locals. It has become so embedded in their daily lives, it is not uncommon to make it a "yakiben day!"
Top 6 Recommended Yakiben Flavors
Yakisoba bento has maintained its popularity, and includes a rich variety of delicious flavors. Here are six of our top recommendations.
1. Original 'Yakisoba Bento' for a Classic Taste
The original yakisoba instant noodles flavor is made with a slightly sweet sauce, mixed with cabbage, minced chicken, furikake, ginger, and Chinese soup. One serving is about 132 grams. However, this amount might not be enough for those who prefer to eat more.
2. 'Large Yakisoba Bento' for Serious Satisfaction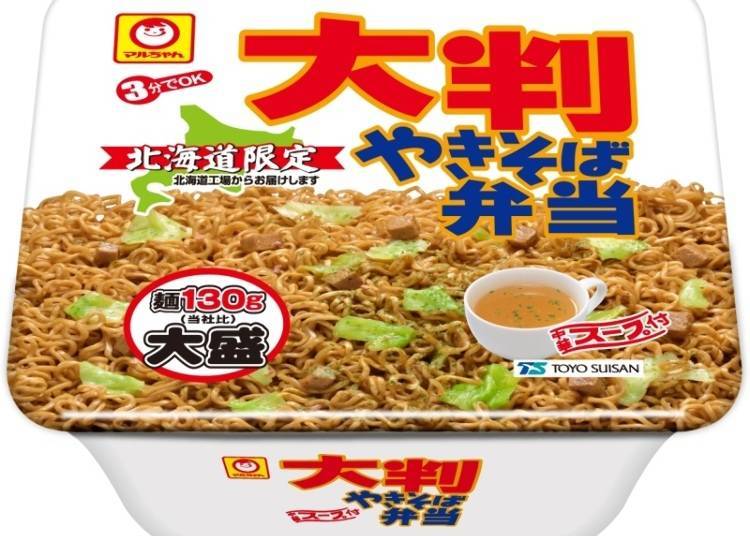 Is the regular-sized serving not enough? Then we recommend the Large Yakisoba Bento for those who want to eat more. The ingredients and sauces are the same as the Original, however the serving size amounts to 173 grams. 130 of these grams are noodles alone!
3. 'Dekkai Yakisoba Bento' for MEGA Satisfaction!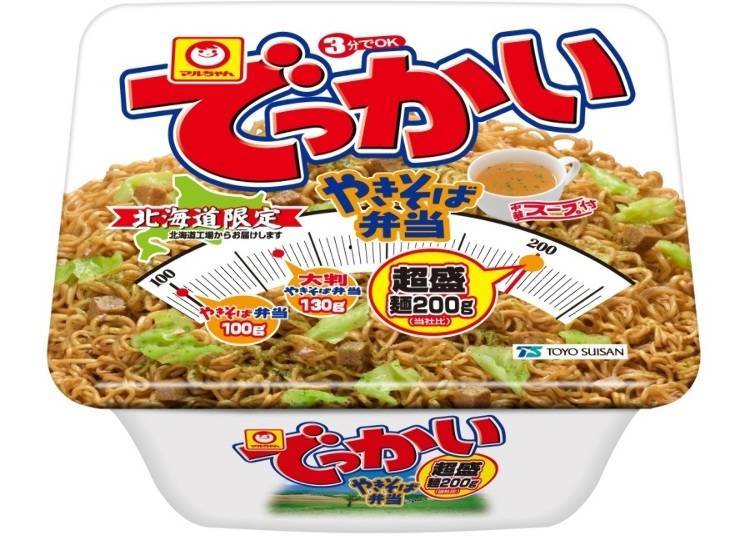 Still not enough? For those who really want to fill up, we recommend the Dekkai Yakisoba Bento, which is twice the size of the Original! The total serving size is 258 grams, with 200 grams of yakisoba instant noodles alone. It is also very easy to eat, and a popular choice for growing middle and high school students with their ever-growing appetites.
4. Pork Flavored Yakisoba Salty Bento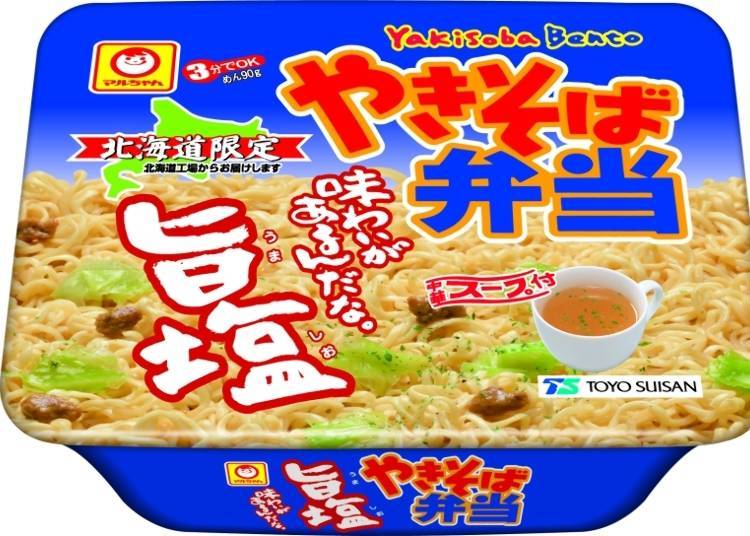 Not only are there a variety of sizes available, there are a variety of flavors as well. Our first recommendation is the Salty Flavor. The noodles are the same as those in the Original yakiben, however the seasonings and sauces are different. The sauce is made with a pork base, with a rich and hearty seafood and vegetable flavoring. The minced chicken seasoning has also been replaced with seasoned minced meat.
5. Western Style Tarako Butter Yakisoba Bento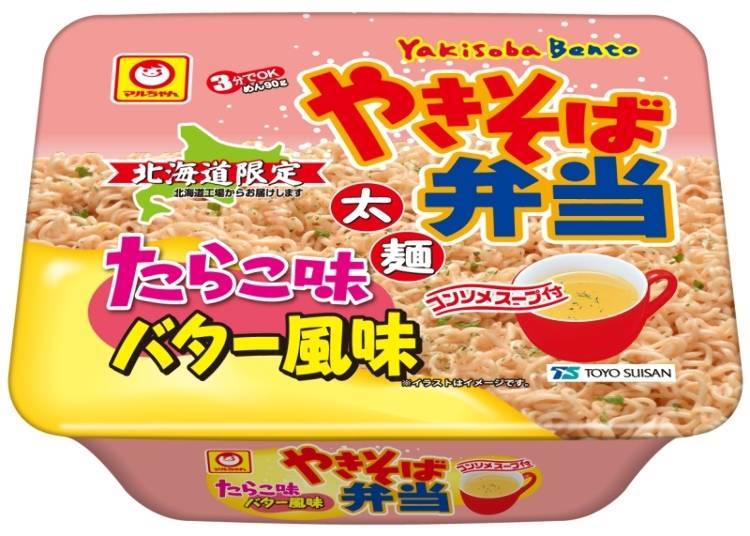 It looks just like a pasta dish, but this delicious yakisoba bento is actually buttered tarako (cod roe) flavored. Everything about this bento is unique, including the noodles, sauce, and seasoning. The yakisoba instant noodles are smooth, thick, and elastic, and the buttered tarako sauce features a chicken and vegetable base. The seasoning is simple, with a parsley and black pepper furikake. Note that the soup in this bento is a consommé soup, unlike the Original Yakiben.
6. One-of-a-Kind Spicy Kimchi Yakisoba Bento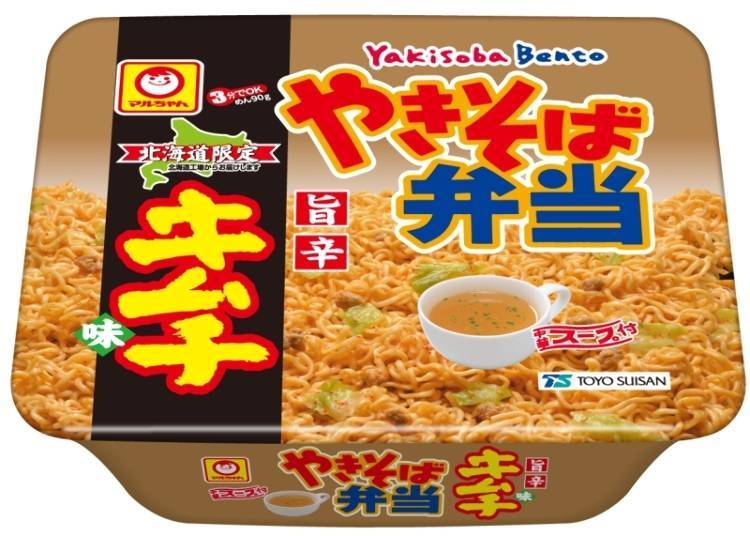 This Spicy Kimchi Yakisoba flavor is recommended for yakiben veterans who prefer a more advanced yakiben experience. It uses the same thick yakisoba instant noodles as those in the Tarako Butter yakiben, with a spicy pork-and-vegetable based kimchi sauce and a ground meat and cabbage seasoning. Topped with a spicy togarashi (hot pepper) furikake seasoning, this yakiben boasts a completely different flavor from all of the others.

There are many other yakiben flavors available in addition to those mentioned above, so if you want to rise up to the challenge, be sure to try out as many as possible!
Yakiben Souvenirs to Bring Back Home!
These yakisoba bento are available just about anywhere in Hokkaido, which makes them the perfect option to buy as both souvenirs to bring home, or meals to enjoy at your hotel.

The yakisoba instant noodles can be a bit bulky, however because they are very light, you can easily carry up to 4 or 5 if you have space. The original yakiben flavor is also sold most convenience stores, so you can pick them up on your way home.

They are also available at the New Chitose Airport convenience store, perfect for a last-minute souvenir option!

Written by Nakata Toru & Handa Takuma
Edited by Minna no Kotoba
*This information is from the time of this article's publication.
*Prices and options mentioned are subject to change.
*Unless stated otherwise, all prices include tax.