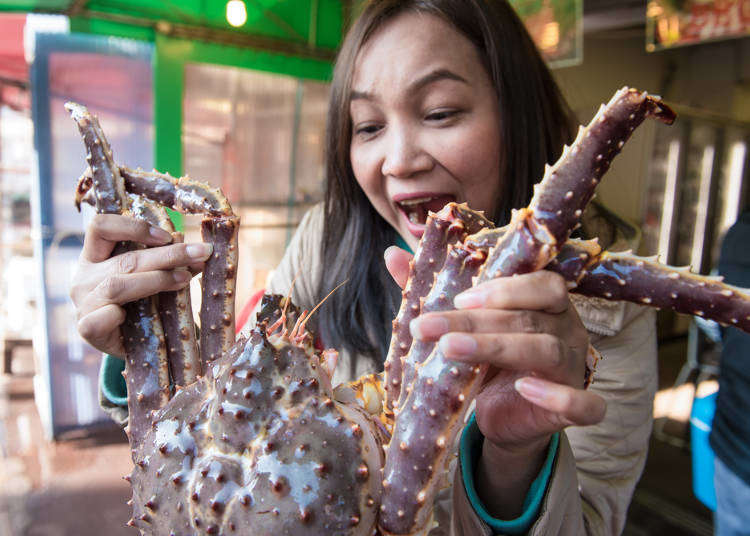 Hokkaido food is growing in popularity across Instagram and other social networks. Many people travel to Hokkaido for the beautiful scenery, but many, if not more, go to enjoy Hokkaido's gourmet scene!

So, we asked some foreigners who visited Japan's northern island about what Hokkaido food had the biggest impact on them. What did they feel when they ate them? We asked them for their honest opinions.
The best Hokkaido food? Hokkaido seafood is amazing - especially the crab!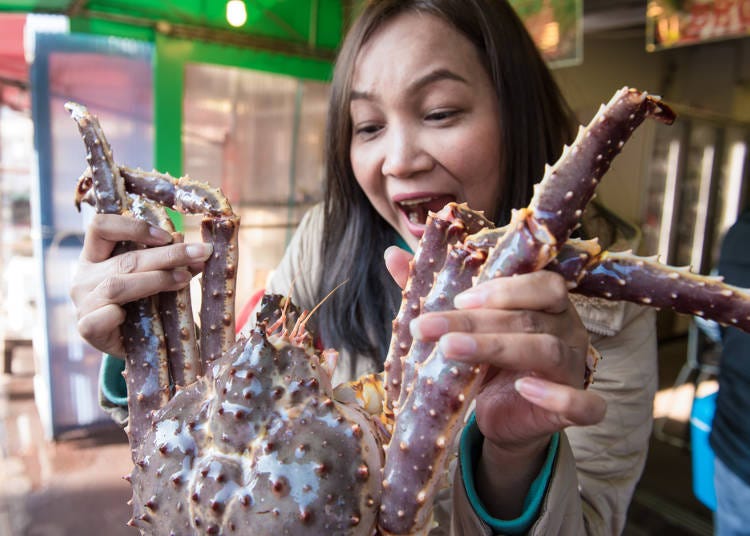 "I was amazed by how big the crab I ate in Hokkaido was! Taiwanese, like the Japanese, also often eat crab, but usually the types of crab are not that big. When I traveled to Hokkaido and ate red king crab for the first time I was amazed by its size and flavor. I also thought it was amazing that it could be prepared in so many different ways, such as grilled, stewed, or even eaten raw. Even souvenir shops sold red king crab legs and that was really impressive," (Taiwanese, female)

Does crab stand out from the crowd in terms of famous Hokkaido food? Red king crab thrives in cold waters and almost all of it is caught around Hokkaido.

Some are even more than a meter across when their legs are extended! Even an adult couldn't hold it with just one hand! At a market in Sapporo whole red king crabs are boiled and frozen crab legs are sold, and the size of them is truly impressive.

Crab is delicate in that it quickly loses its freshness once caught, so in many cases, it is boiled straight away. In port towns along the coast of the Sea of Okhotsk, which is an area famous for crabs, those that have just been boiled at the port are sold or they can be eaten as they are in shops.

Do you know how many legs crabs have? Of course, there are 8 plus a pair of claws, right? Red king crabs, however, only have 6 legs plus a pair of claws.

This is also true for the Hanasaki Kani (blue king crab) caught in the vicinity of Nemuro. The red king crab and blue king crab are related to hermit crabs. But there is no need to worry that "there aren't enough legs!" outside the shop.
Other than crab, what other seafood is Hokkaido famous for?
"The seafood in Hokkaido is so fresh and delicious. I love sushi, but I was really surprised by how much better it was compared to overseas - and cheap too! I worked in an upmarket izakaya in Hakodate for a month, and they would go to the fish market every day for their 'Fish of the Day'. Although we have 'Fish of the Day' in the UK, it's not often beautifully presented on the counter on ice like it was there. That seemed like something that would appeal to all sorts of visitors - you can really see how fresh the fish is!" (British, female)

Having a "sharp eye" for selecting "the fish that is most delicious on that day" is an outstanding skill of Japanese craftsmen. Every day the market is full of shop masters personally selecting the seafood they wish to purchase.
The most famous Hokkaido food? Ramen for days!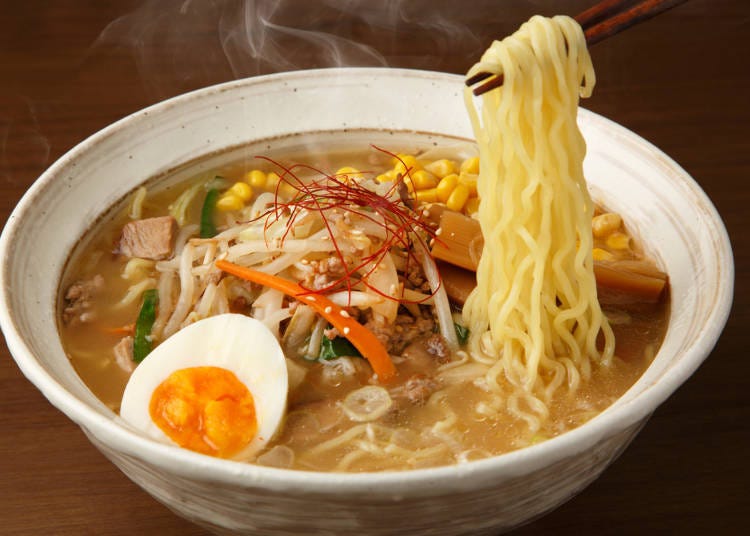 "Hokkaido Ramen is really delicious! 'Ramen Alley' is a great photo spot. I've been in Japan for more than 10 years and I've eaten so many types of ramen across the country. But by far and away I think Hokkaido ramen is the best! What I like most about Hokkaido is the choices on offer such as miso ramen, shio ramen, and shoyu ramen. All of them are amazing." (American, male)

Ramen is the soul food of modern-day Japanese. Every region all over Japan has its own unique style of ramen, but in the broad expanses of Hokkaido, each city has a type of ramen unique to it which makes it popular.

If you could only eat one type of ramen in Hokkaido, then you should definitely try Sapporo Miso Ramen. That is because Sapporo is where miso ramen began.

Normal Sapporo miso ramen is a healthy combination of onions, cabbage, bean sprouts, and lots of vegetables that have been stir-fried and to which soup is then added.

The standard version uses broth made from chicken bones and thick, curly noodles, however, these days more and more shops are offering their own original versions with different takes on the size and curliness of the noodles, and the type of ingredients used for making the soup stock, such as chicken bones or pork bones or fish.

Shoyu ramen (soy-based) is popular in Asahikawa and Kushiro while shio ramen (salt-based) is prominent in Hakodate. One slightly different type is the curry ramen for which Tomakomae City, located about 30 minutes away from the New Chitose Airport by car, is famous for, and in the city there are more than 30 shops where you can experience this.

In Ashibetsu Town, located next to Furano, there is Gatatan Ramen, a type of ramen loved by former coal workers. It's a thick and stewed Chinese soup with a salty taste including vegetables, edible wild plants and seafood and is a version of the Chinese Gedatang.

Experiencing the unique ramen types in different towns is another thing that makes ramen and other Hokkaido food so great!
Jingisukan/Genghis Khan: Why have I never tried this Hokkaido food before?!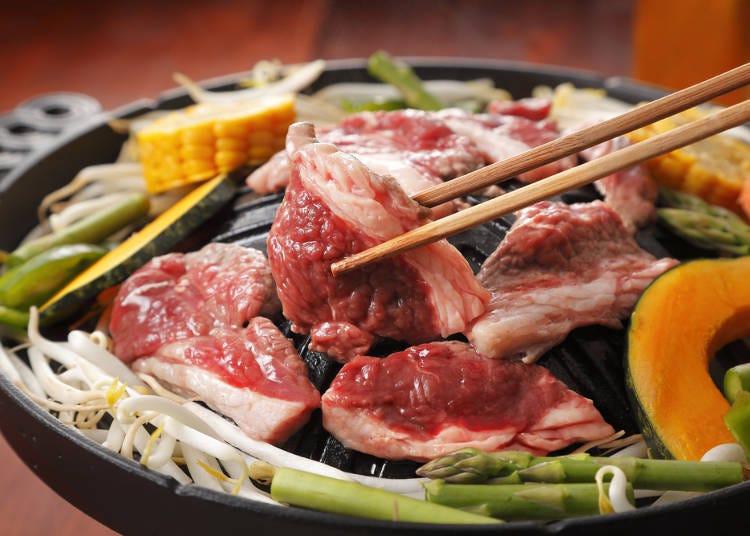 One other must-try Hokkaido food is Jingisukan - known also as "Genghis Khan."

"I've had lamb and mutton before, but I had never heard of the dish Genghis Khan before I came to Hokkaido. It was so delicious, and it's cooked in a way that I've never seen before - on this grill where you pile everything high! At first when I heard 'Genghis Khan' I thought back to my history lessons, but I was delighted to find out it was actually a tasty dish!" (British, female)

Genghis Khan is a type of grilled meat dish made with mutton. This dish originated in Sapporo and Takigawa City which is located about an hour and twenty-minute drive northeast of Sapporo.

There is a slight difference in the way this Hokkaido food is served. In Sapporo, the meat is dipped in sauce after it has been grilled whereas in Takigawa the meat is marinated in sauce before it is grilled.

Seeing all the ingredients piled high in the center of the domed grill when it is brought to the table is a sight many have probably never seen before. The inspiration for the shape of this grill comes from one said to have been used by Genghis Khan.

Meat is placed on the upper part of the dome while vegetables are placed around the bottom so that as the meat cooks, the juices from it flow down and flavor the vegetables as they cook.

Genghis Khan is more than just grilled meat; served Takigawa-style where the sauce is added at the end to the vegetables makes it more like a pot dish.
How can everything be this delicious?!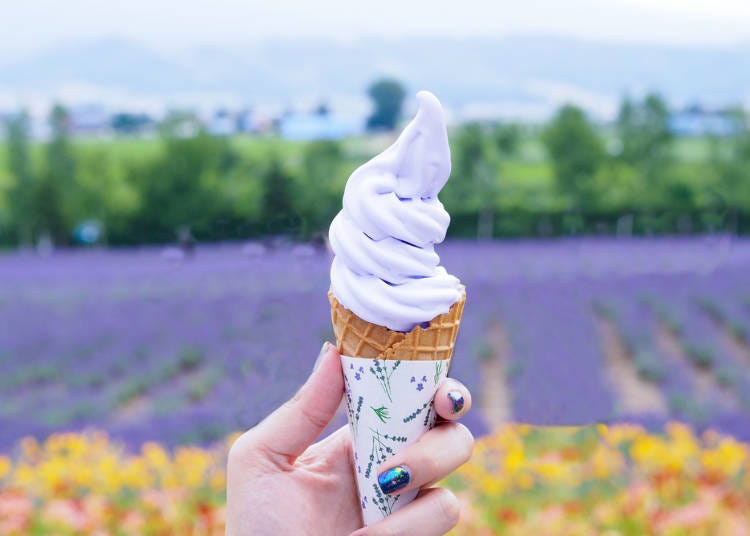 "I like canned coffee so I always look for special limited editions from specific regions. As might be expected, many of the lattes use Hokkaido cream. And the first time I saw Shiroi Koibito (meaning White Lovers) I thought 'the lovers must be foreigners! Haha!' which was pretty funny. I was really surprised when I learned that there was a canned drink version of it!" (American, male)

Hokkaido is the largest producer of milk in Japan and it accounts for more than half of all dairy products sold in the country. In the eastern part of Hokkaido where dairy farming is concentrated, there are many towns in which cows outnumber people. Hokkaido by far and away has the freshest and most delicious milk and dairy products!

When used in confectionery and sweets they are especially popular souvenir items with tourists. Shiroi Koibito, a representative Hokkaido product, is made of white chocolate sandwiched between two 'langue de chat' cookies. Recently a canned chocolate drink and soft-serve ice creams have been added to its list of products.

Hokkaido is especially well-known for the flavor of its sweets. "The lavender and melon flavored ice cream was really delicious. I thought these could only be found in Hokkaido. There probably are other types too, but I especially wanted to try these when I went to Hokkaido," (American, male)

Other flavors in addition to Yubari melon and Furano lavender used in sweets are various types of berries, such as blue honeysuckle, and those made with local vegetables, such as corn, tomato, cabbage, and lily bulbs.

"There are so many delicious foods from fresh fish to dairy products to vegetables. Until now I have lived in Tokyo where there are a lot of delicious shops, but everything I ate in Hokkaido was just as good, if not better. It is an amazing place. Food really does taste best when it is eaten locally." (Korean, female)

Hokkaido is Japan's leading producer of agricultural and marine products. Wherever you go the food is delicious because it's produced close by. That may be the biggest surprise of all. If you have the chance, come, and experience the Hokkaido food freshness for yourself!

Written by: Minna no Kotoba Sha
Book an unforgettable experience in Hokkaido!
Make your trip extra memorable by booking one of these recommended tours.
*This information is from the time of this article's publication.
*Prices and options mentioned are subject to change.
*Unless stated otherwise, all prices include tax.