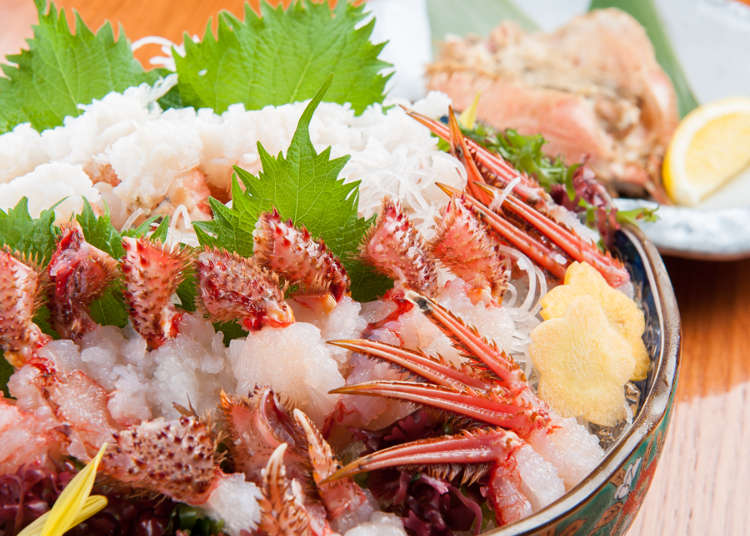 Fresh seafood from all over Hokkaido can be found in Sapporo. At kaisen izakaya (Japanese style seafood bar), you can casually enjoy fresh Hokkaido seafood dishes such as sashimi, kaisendon (seafood rice bowl) and grilled fish. Out of the numerous kaisen izakayas in Sapporo, we have selected popular spots in Susukino that serve robatayaki (barbeque style cooking), ikuradon (salmon roe rice bowl) and assorted sashimi. There are also many places that offer discount courses and all you can drink plans.
Have a Drink Next to the Charcoal Grill Pit! Sumibiyaki Robata Kushiro Plaza 6-4 Building Store
Sumibiyaki Robata Kushiro is a chain robatayaki izakaya that has 4 stores in Sapporo. The 6-4 Plaza Building Store is equipped with zashiki (Japanese style seating on the floor) and a horseshoe shaped counter with the grill in the center, where they grill fish and meat slowly. Popular to local office workers, it has a cozy and homey atmosphere.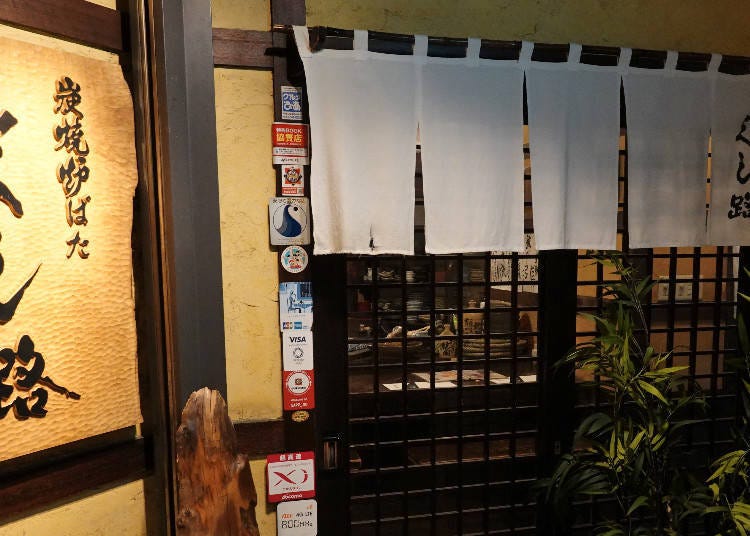 Located on the first basement floor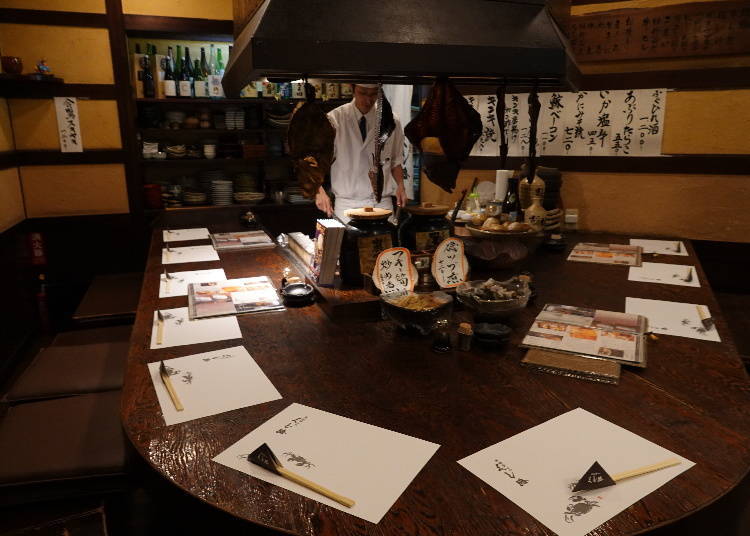 If you prefer the counter seat, make a reservation in advance at your hotel front desk
The pleasant aroma of robata fills the store
The popular robatayaki slowly cooks seasonal fish and meat over a charcoal grill. The 1,280 yen Hokke Sumiyaki (charcoal grilled atka mackerel) uses Rausu hokke and since it is prepared over a charcoal grill, the skin is crisp and the meat is soft. They also server dishes such as the Large Tarabagani Sumiyaki (charcoal grilled red king crab) 2,760 yen and Salmon Halas Sumiyaki (charcoal grilled salmon belly) 720 yen. At the counter seat you can view the grill and enjoy your drink.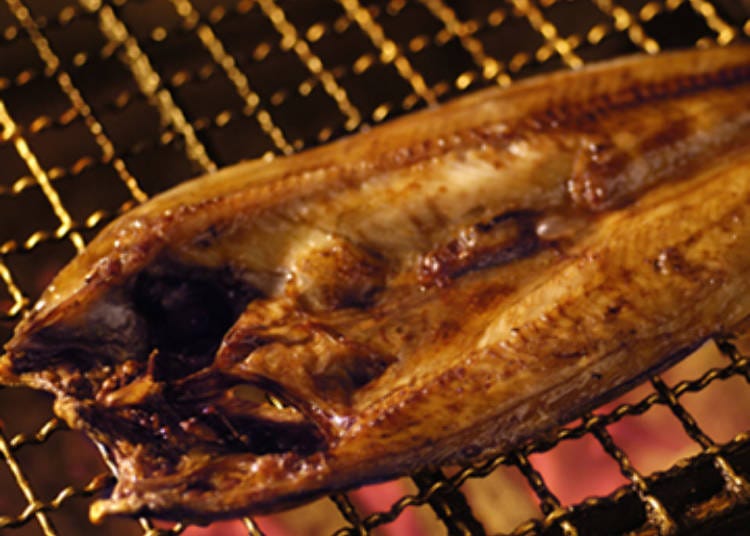 The flavor of hokke increases when cooked on the robata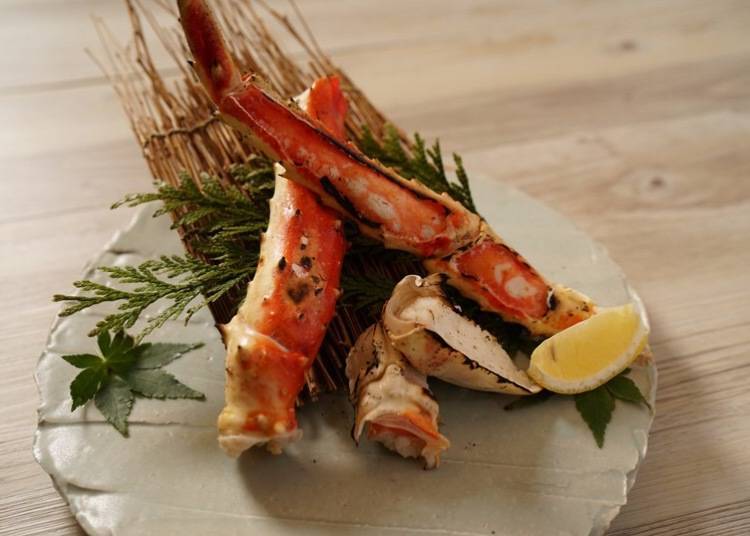 You can enjoy the tarabagani sumiyaki all year round
They also have a variety of seafood menu such as the beautifully arranged Sashimi Goten Mori (five kind of assorted sashimi plate) 1,980 yen, with top quality ingredients such as maguro (tuna), amaebi (spot prawns) and sea urchin. Another popular dish is the Kani Ippai Salad 980 yen, a salad filled with peeled crab meat. They also have Hokkaido specialty dishes such as Jagaimo Butter Yaki (grilled buttered potato) 580 yen and Mini-Ikuradon 1,280 yen.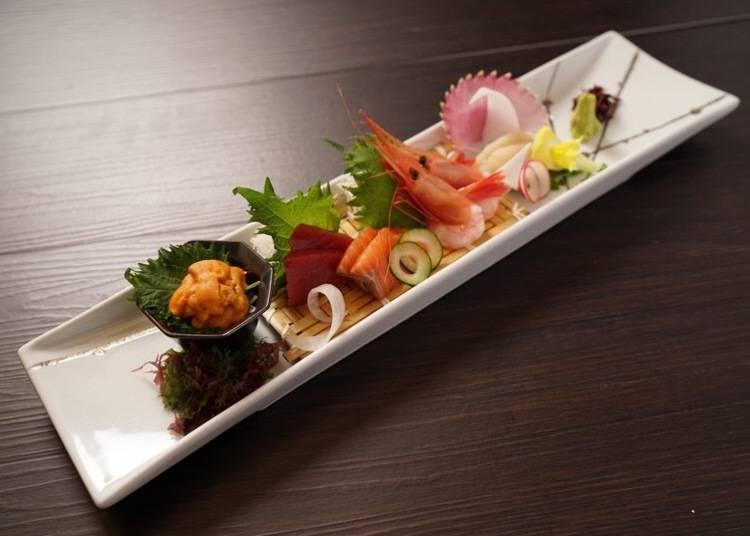 Reasonably priced sashimi goten mori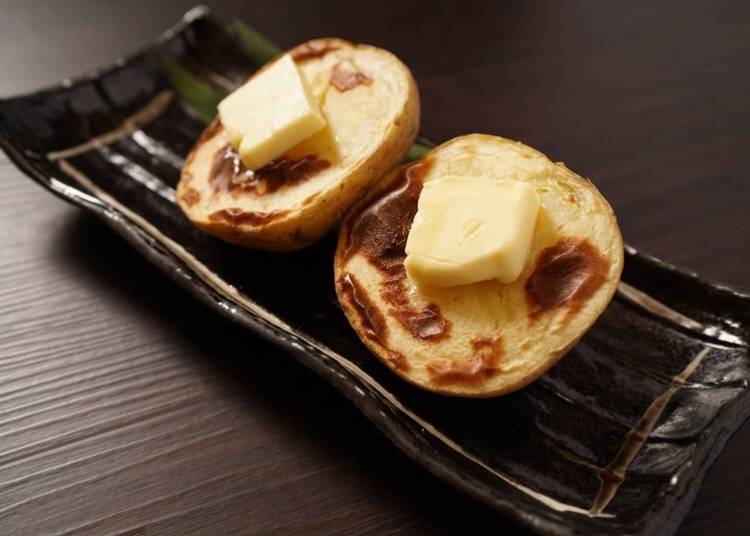 The jagaimo butter yaki is also cooked on the robata
Sumiyaki Robata Kushiro Plaza 6・4 Bill Ten

炭焼き炉ばた くし路 プラザ6・4ビル店

Address

Plaza 6・4 Building B1, Minami 6Jyou Nishi 4chome,Cyuou-ku,Sappro-shi,Hokkaido 064-0805

Nearest Station

5 minute walk from Namboku Line Susukino Station


Phone Number

011-511-9466

Hours: 5:00 pm ~ 11:30 pm
Closed: Sunday (if Monday is a holiday, then Sundays will be opened and Mondays closed)
The Famous Tsukko Meshi: Heaping Portions of Salmon Roe!
The famous dish Ganso Tsukko Meshi is where the staff shouts "Oisa-!" while pouring ikura (salmon roe) over rice. The shiny homemade ikura has a rich flavor and due to its rarity, leftovers are not allowed. If you think you can't eat the whole thing, make sure to ask them to stop while they are pouring the ikura. Tsukko Meshi comes in three sizes of small 1,990 yen (regular size rice bowl), medium 2,490 yen (medium donburi size), and large 4,990 yen (regular donburi size). If you plan on sharing it with a few people, we recommend the large size.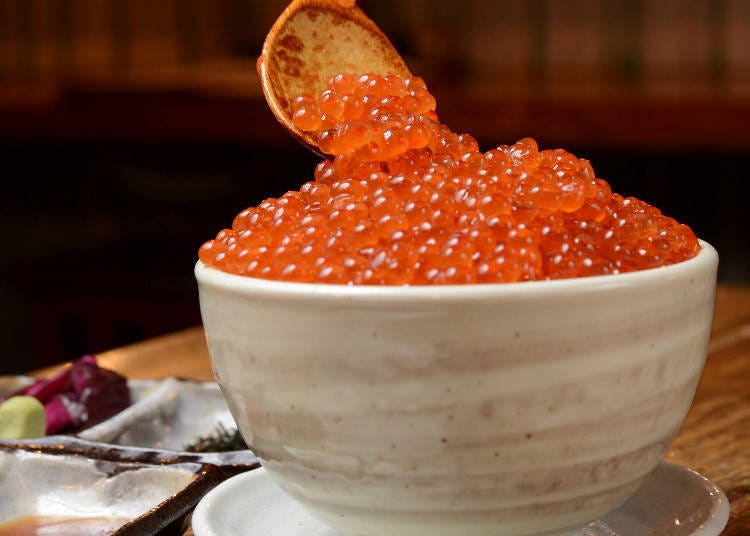 Ikura being poured to the point of almost spilling over
They also server fish from various locations from Hokkaido, such as the meaty Jumbo Hokke from Rausu 2,800 yen, and the Sashimi Rokuten Mori (six kind of assorted sashimi plate) that is made with fresh daily ingredients 890 yen. They have other unique dishes on their menu such as the Hokke Menchi Katsu (fried cake of hokke minced meat) 890 yen.
The price of the Rausu hokke will vary depending on the size
The store interior is modeled after rooms that fishers use on the shore. They use fishing nets and fishermen's banners as decorations and use beer cases as seats. The store is popular so it is a good idea to make a reservation. They don't have English speaking staff so we recommend asking for assistance at the hotel front desk. There is a bookstore nearby and they also have a sister store in the same building.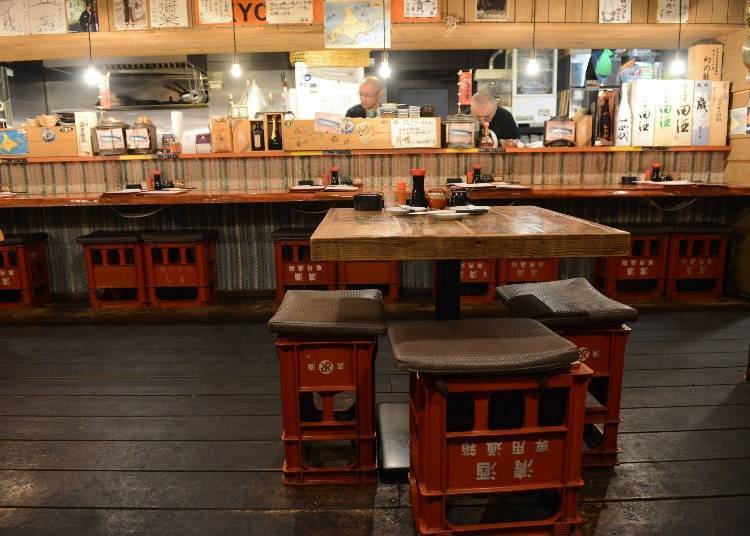 The store has an atmosphere of a port town.
Umiaji Hachikyou Bettei Oyaji

海味はちきょう 別亭おやじ

Address

TM-24 BUILDING 1F,Minami3jyo Nishi3chome , Chuou-ku, Sapporo-shi, Hokkaido 060-0063

Nearest Station

3 minute walk from Susukino subway station


Phone Number

011-241-0841

Hours: 6:00 pm ~ 11:00 pm last order (Friday and Saturday 5:00 pm ~ 11:00 pm last order. Sunday and Holidays 5:00 pm ~ 10:00 pm last order)
Closed: Open daily
Tairyo Funamori Izakaya Ooumi Monogatari for a Spectacular Boat-Wrap Sushi
An Izakaya where their specialty dish is the Tairyo Funamori (large catch boat-wrap sushi) that uses 20-25 fresh daily seafood. The funamori with a full hull will be sure to satisfy your craving for sashimi. The funamori uses ingredients mainly from Hokkaido and fresh ingredients form around the country.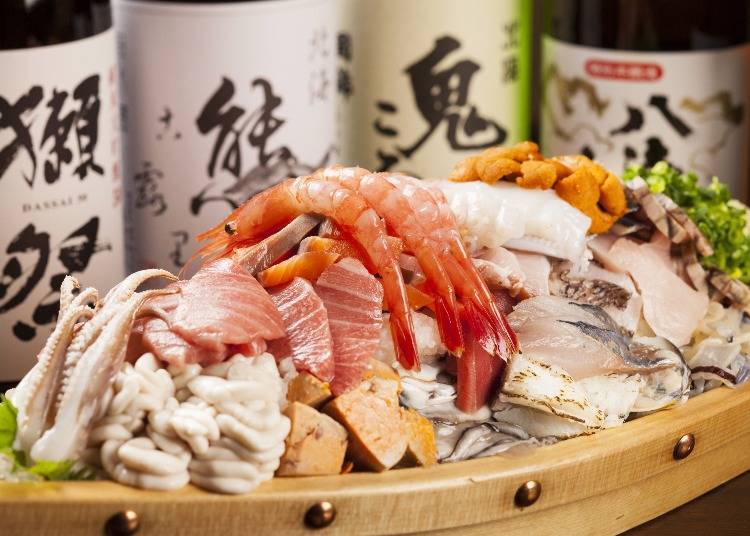 Huge serving of sashimi for four people
The price is 2,420 yen for the otoshi (appetizer), which includes the Tairyo Funamori and Kanimori (assortment of crabs). The kanimori includes horsehair crab, snow crab and red king crab. Other dishes are not part of the price.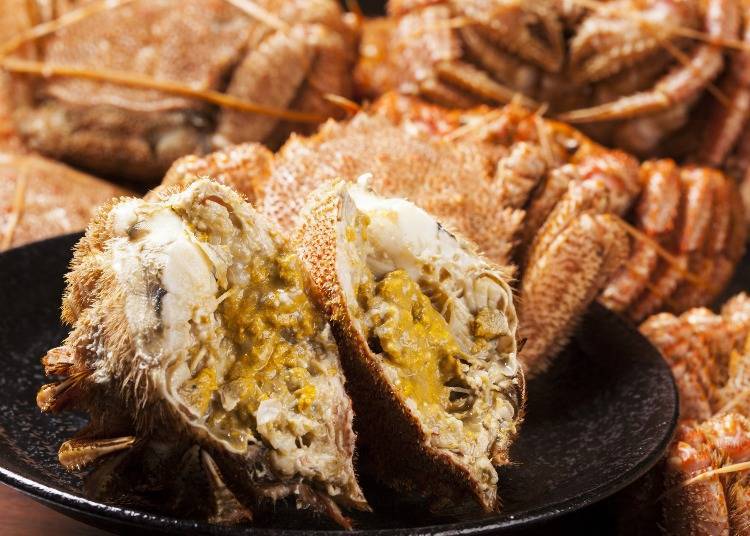 So much to eat other than sashimi!
If you would like to try a different set, we recommend the 7 course meal 3,980 yen (Saturday, Sunday and day before holidays 4,280 yen), which includes dishes such as the 20 item assorted funamori, domestic beef motsu nabe (offal hot pot) or special selection cube steak, and half a chicken deep fried. Also they have an all you can drink draft beef plan for 120 minutes, and for an additional 500 yen you can also drink shochu and sake. The all you can drink plan requires a minimum of 4 people and prior reservation.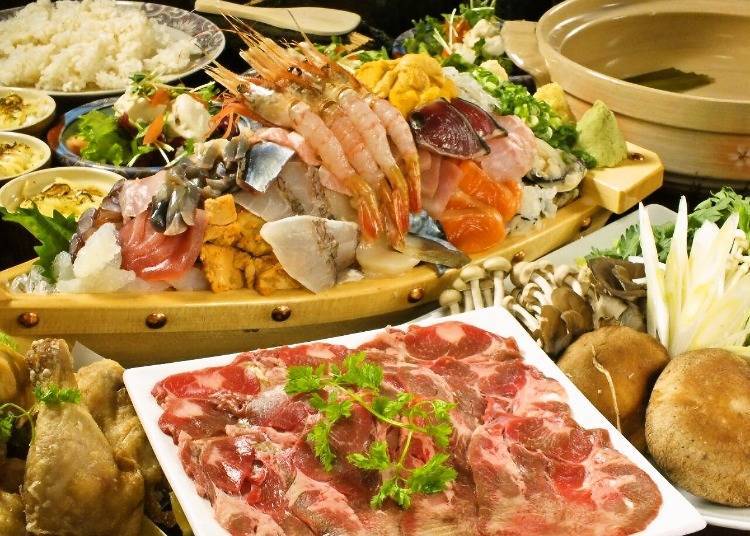 Course menus are a good deal
The store has counter eats, table seats and hori-gotatsu (kotatsu-built into the floor), they also have a modern interior and lighting that gives a calm atmosphere. There is a larger fisherman's banner at the entrance.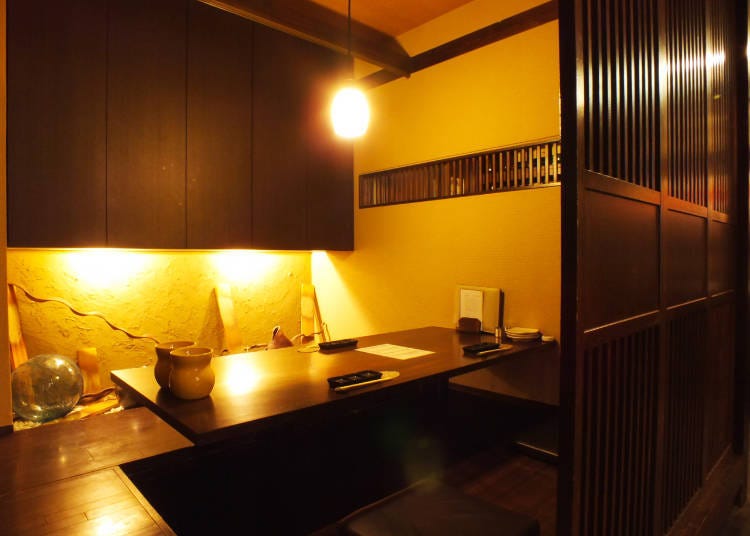 Located on the second floor of a building with many dining facilities
Tairyofunamori Izakaya Taikaimonogatari

大漁舟盛り居酒屋 大海物語

Address

N Grande Building 2F, Nishi3chome Minami5jyo, Chuou-ku, Sapporo-shi,Hokkaido 064-0805

Nearest Station

1 minute walk from walk from Susukino subway station


Phone Number

011-520-2701

Hours: 5:00 pm ~ 1:00 am (last order 12:30 am)
Closed: Open daily
Hakodate Kaisen Izakaya Uomasa Sapporo Susukino: An Izakaya from Hakodate that uses Southern Hokkaido Ingredients
The Sapporo store of a popular izakaya in Hakodate, that provides dishes using ingredients from southern Hokkaido such as squid from Hakodate. The store also has a midori chochin (green lantern) which indicates that over 90% of their ingredients are local produce.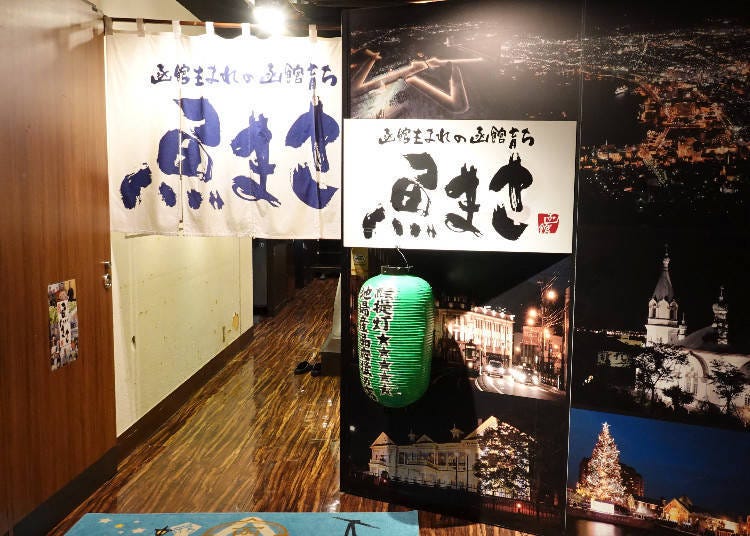 The midori chochin can be seen under the shop curtain
The most popular menu is the 6,000 yen course, which includes Uomasa's recommended dishes such as live squid from Hakodate and homemade hokke ichiyaboshi (fish salted and dried overnight). The live squid from Hakodate is pulled out from the fish-tank and presented before it is prepared. The squid fin is nice and crunchy and the body is so fresh that it is almost transparent. However the menu will vary due to the weather, if there is something that you are looking forward to eating, it is a good idea to confirm beforehand. The price of the course with 2 hours of all you can drink is 8,000 yen and 3 hours is 9,000 yen.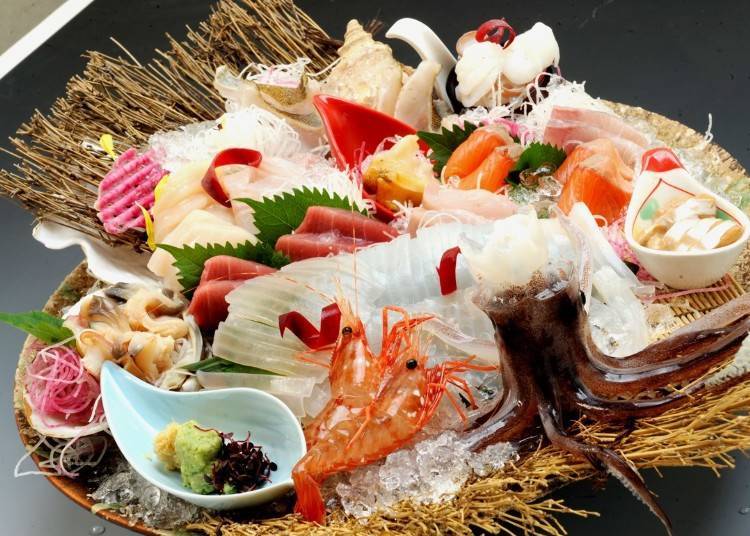 Assorted sashimi with live squid from the course meal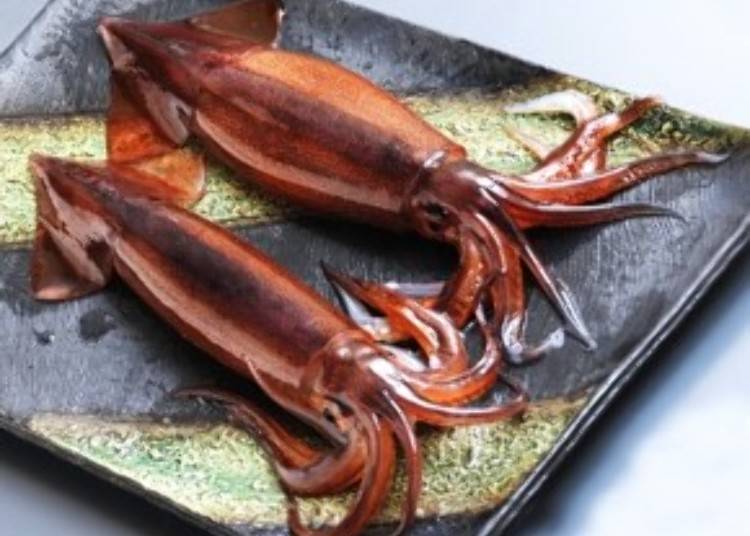 Live squid before preparations
The homemade hokke ichiyaboshi is made from live hokke caught near Hakodate. If you order a la carte the price starts from 1,500 yen and will vary with the size of the fish. They also have dishes such as Mushroom and Cheese 860 yen, which uses cheese made from Hakodate milk, and the Potato and Hakodate Danshaku Kurobuta Gyoza (black pork and potato dumpling) 470 yen. They also have an English menu. The store has two person seats and small groups can casually enter the store. う。
ほかにも函館牛乳のチーズを使った、きのこチーズ焼き860円、ジャガイモ入りの函館男爵(だんしゃく)黒豚手作りぎょうざ470円などがおすすめ。英語メニューもある。店内は全席掘りごたつの個室。2名席もあるので少人数も気軽に利用できる。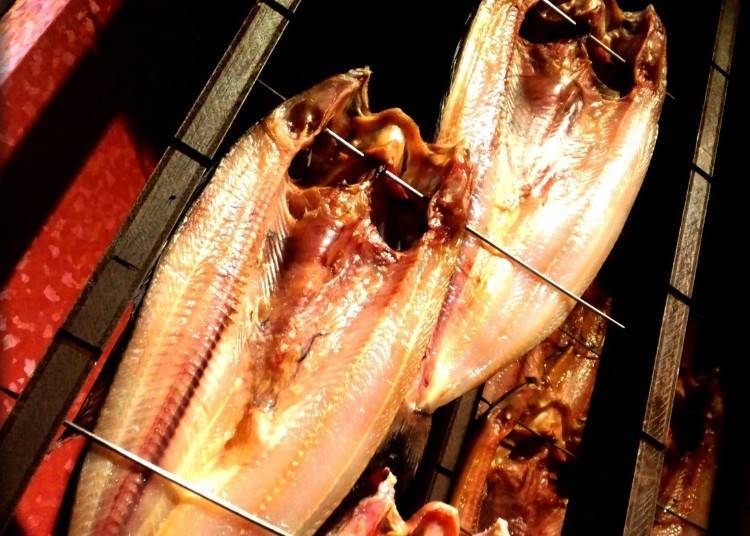 Thick meaty hokke only found in Hokkaido
Hakodate Kaisen Izakaya Uomasa Sappro Susukino F-45 Ten

函館海鮮居酒屋 魚まさ 札幌すすきの F-45店

Address

8F F-45 Building, Minami 4Jyou Nishi 5chome ,Cyuou-ku,Sappro-shi,Hokkaido 064-0804

Nearest Station

3 minute walk from Namboku Line Susukino Station


Phone Number

011-252-6801

Hours: 5:00 pm ~ 11:00 pm
Closed: Sunday

*Permanently closed as of Jan 2021
Tenohira: Offering a Selection of 70 Local Sake and Seafood Dishes
A roadside store right by the Ssuskino Intersection. This store is popular for their reasonably priced dishes using vegetables and fishes from Hokkaido. Also they have a selection of 70 local sake, which includes Hokkaido brand and rare sake. The 120 minute 1,980 yen all you can drink beer and 48 types of sake is reasonable and allows you to try various sake.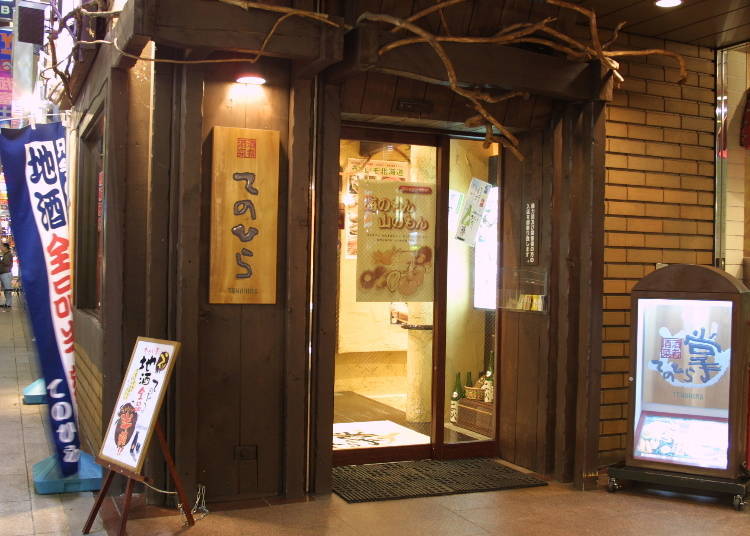 The entrance is on the main street and easy to find
Their popular menus are Sanma no Manma 734 yen, Hokkaido horse hair crab washed in cold water 8,640 yen and the live squid sashimi arranged in the original shape (market price), which is prepared once the order is made. The Sanma no Manma uses 1 whole sanma (Pacific saury) from Nemuro and fill the body with special bonito rice. Then it is grille with soy sauce on the surface. The crispy skin makes a perfect match for rice.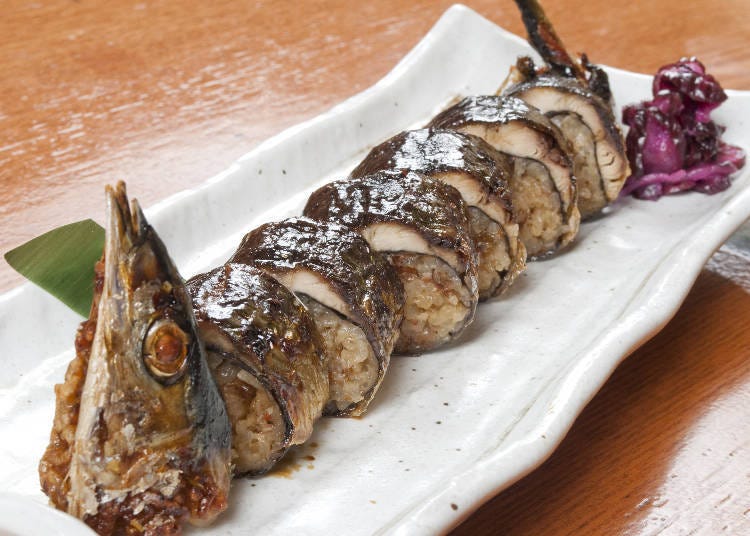 The specialty Sanma no Manma is very filling
The Hokkaido horse hair crab washed in cold water, with a texture that almost melts in your mouth
The store has semi private rooms for 4 people and up, private rooms with hori-gotatsu, table seat and counter seats.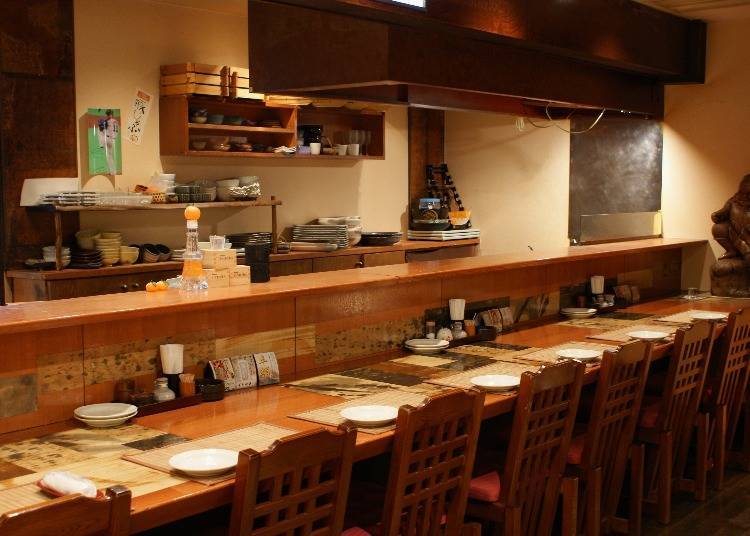 With counter seats, lone diners can casually enter
掌

Address

New Hokusei Building B1, Minami 4Jyou Nishi 3chome,Cyuou-ku,Sappro-shi,Hokkaido 064-0804

Nearest Station

2 minute walk from Namboku Line Susukino Station


Phone Number

011-241-5005

Hours: 5:00 pm ~ 12:00 AM (Friday, Saturday and day before holidays are opened until 2:00 am), Sunday 4:00 pm ~ 11:00 pm
Closed: No scheduled holidays (usually open)
*This information is from the time of this article's publication.
*Prices and options mentioned are subject to change.
*Unless stated otherwise, all prices include tax.