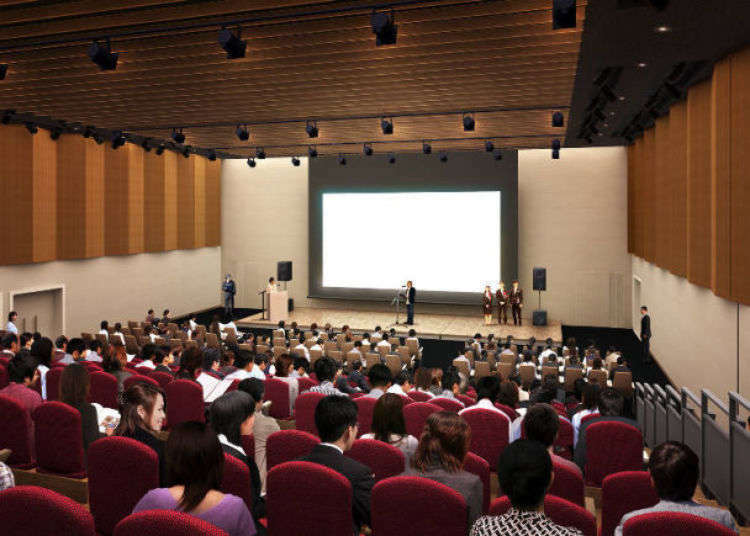 In November 2019, New Chitose Airport Portom Hall opened in New Chitose Airport's international terminal building. We asked Ebara Takuya, a representative of the New Chitose Airport Terminal Building Co., Ltd., about how it can be used, what it's equipped with, and what kind of events we can expect. So, let's dive in!
New Chitose Airport's PR Staff Explains Portom Hall's Activities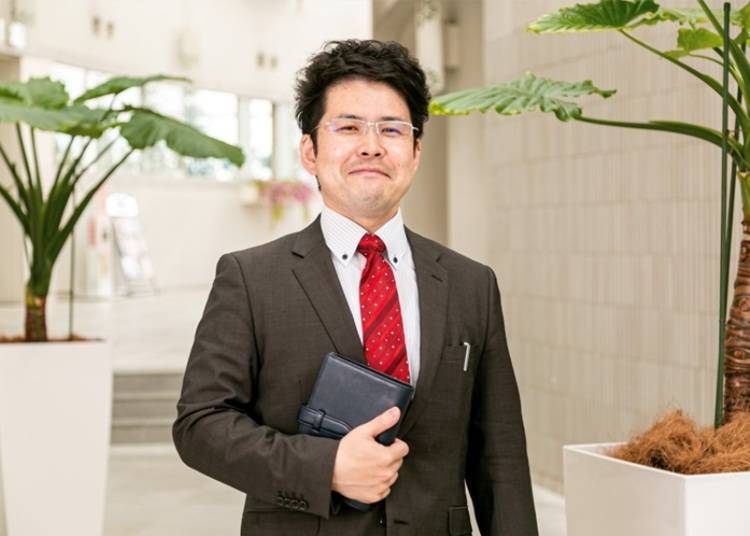 First off, could you tell us what Portom Hall is?
Portom Hall is a multipurpose hall that opened in New Chitose Airport's international terminal building. It's amazingly easy to get to! From the international arrivals lobby, it's just a three-minute walk, all indoors, or just ten minutes from the domestic flight terminal building or New Chitose Airport Station. It has a main hall, seminar room, lobby, and meeting room, a flexible arrangement that works for events related to business, tourism, leisure, and more. It is the new place to keep an eye on in Hokkaido!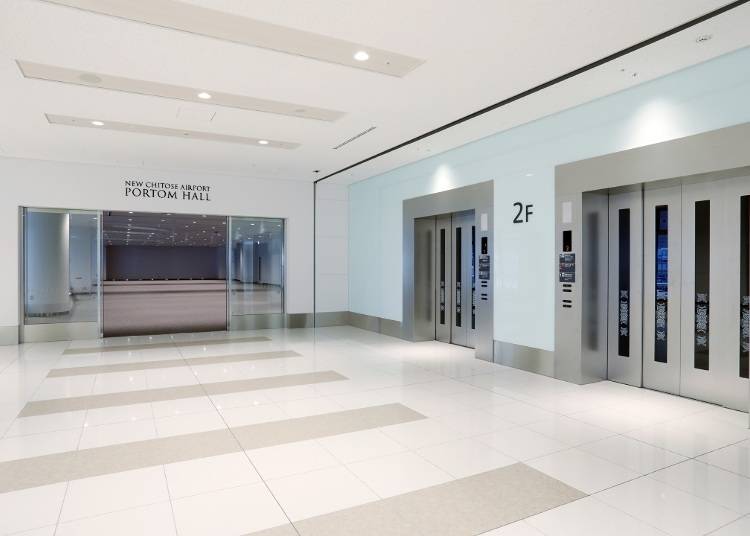 Could you tell me about the uses of each part of the hall?
The biggest part is the main hall, with 500 square meters of floor space. It's perfect for events with around 300-400 participants. There's a 400-inch screen, high-quality sound equipment, 330 movable seats, and the hall should prove useful for events requiring empty floors or seating for schools, theaters, and more. It could be used for conferences, seminars, parties, all kinds of events. The meeting room is best for meetings of 30 people or less, but it's made so that during events it can also serve as a waiting room.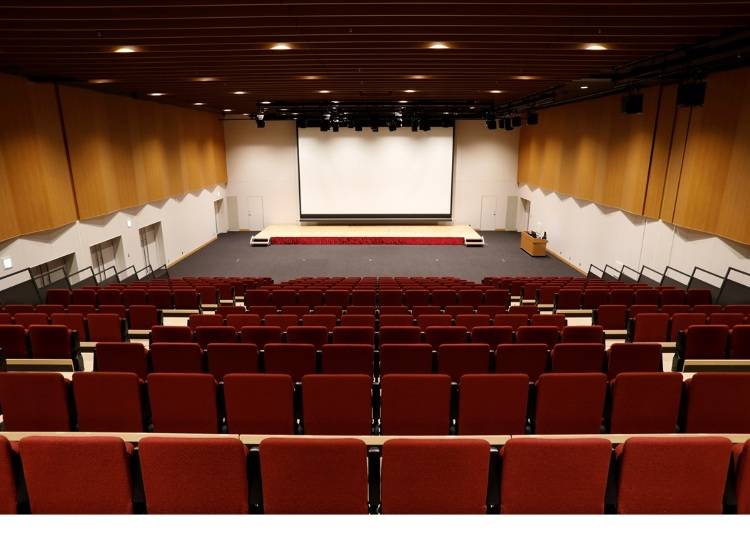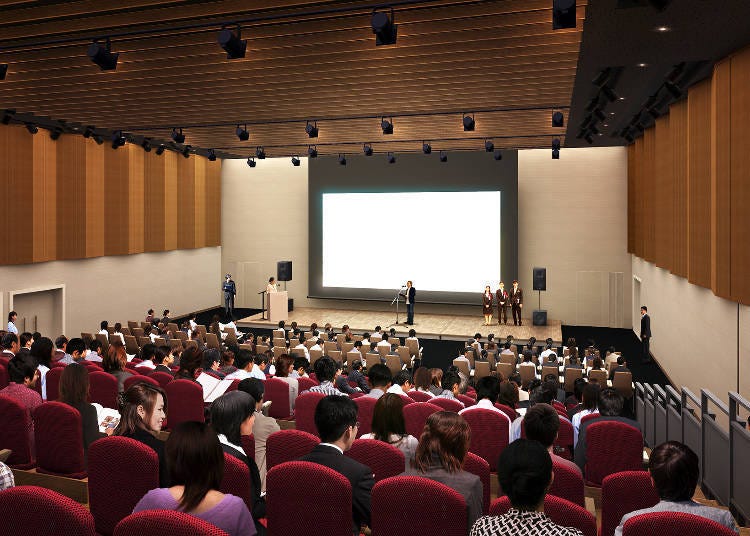 The seminar room actually has two divisions, both with a lecture-room format and with space for 70 seats. The two divisions are separated by a movable divider wall, and the divider can be folded shut so that the room can be used as a single, 140-seat room. The hall lobby is an open space that connects directly to the international arrivals lobby, and can also be connected to the seminar room. Combining the divisions of the seminar room and the lobby make for a total of 600 square meters in floorspace. It can be as big or as small as needed!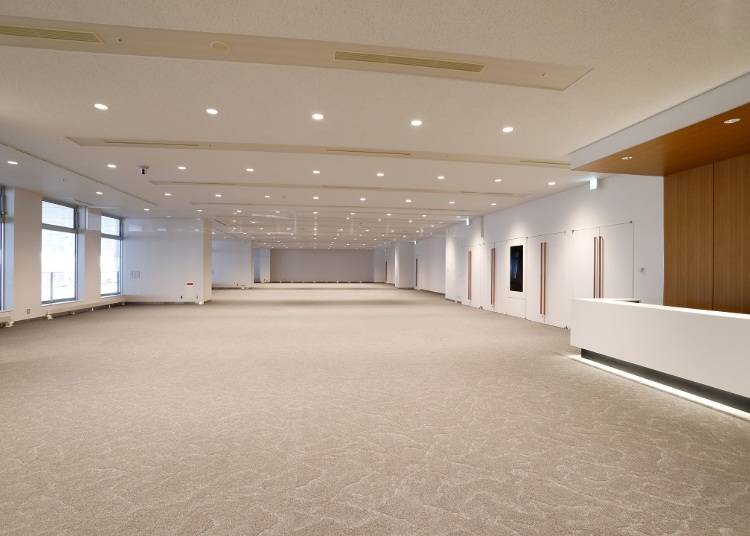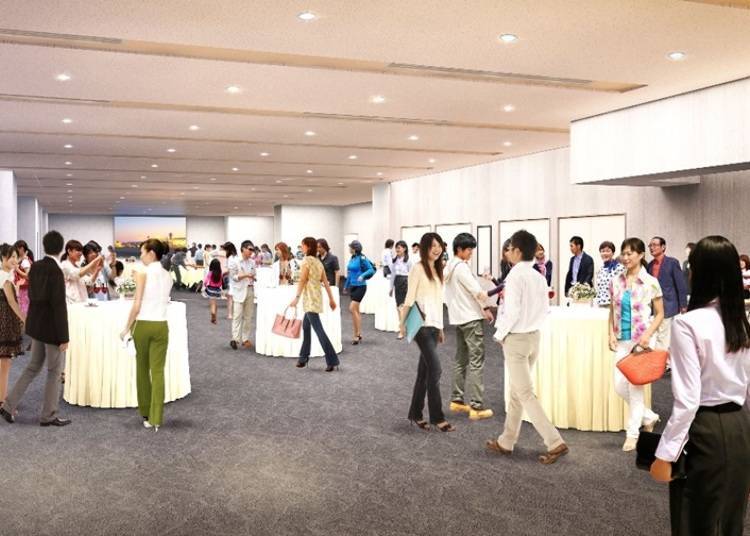 Are there any non-facility features that you feel are a cut above?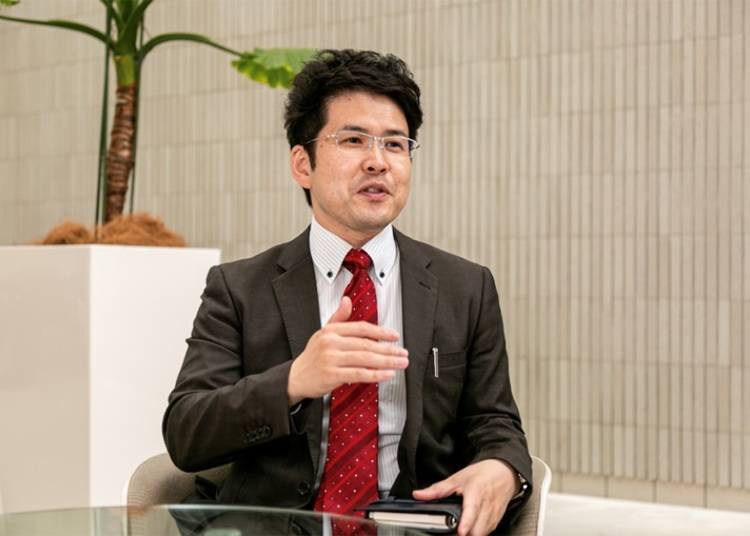 To begin with, it's just a prime position. International and domestic travelers can both walk there easily, a feature not shared by any other event hall. Even better, New Chitose Airport has the greatest number of international flights in all of Hokkaido - and used by a whopping 90% of the international visitors to the island. I feel it ought to prove an easy spot to hold events with an international flair.

Portom Hall was a viewing and talk show venue for the Sixth New Chitose Airport International Animation Festival in November 2019. This movie festival is a yearly event where the airport becomes immersed in art, and titles enjoyable for both kids and adults will screen in the in-airport theater. We expect to see animators and anime fans from around the world. The 2019 festival marked a record high of 44,400 participants. It's a great chance to get in touch with the art of animation, so we would love for everyone to come to enjoy themselves and see how great this new hall is.

We're also thinking about making the most of its internationally friendly location for international summits, academic meetings, exhibitions, e-sports, and tourist-oriented PR events. Watch this space!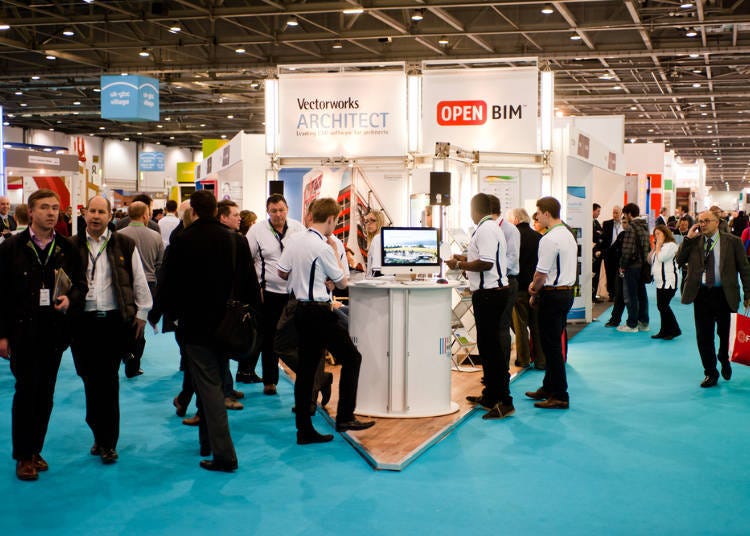 pcruciatti / Shutterstock.com
We expect the number of events that require prior application to increase. So make sure you check out the hall's website ahead of time to avoid disappointment! We also plan on sharing some event details on the New Chitose Airport website.
Explore Hokkaido in Easy Day Trips!
Of course, when you come to Hokkaido, you want to go sightseeing and enjoy the local cuisine. That's one of the great things about Portom Hall – you can do just that!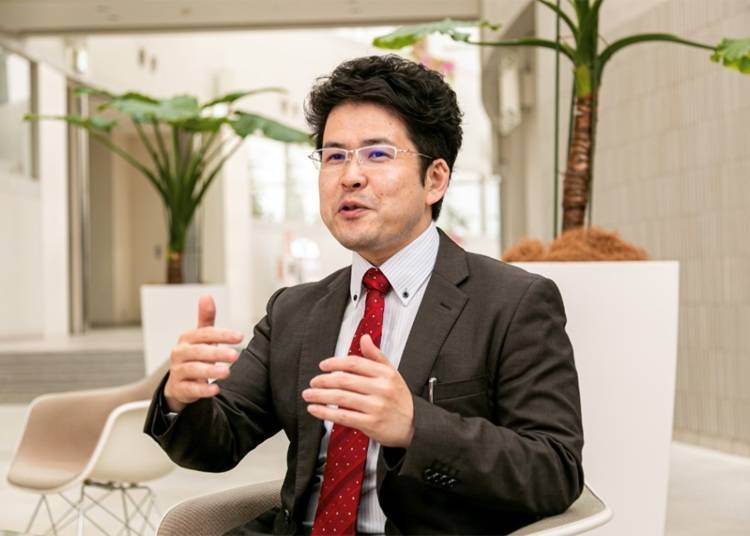 New Chitose Airport has access to six other airports around Hokkaido, in Hakodate, Kushiro, Nakashibetsu, Memanbetsu, Wakkanai, and Rishiri. Each area would take an entire day of travel by car or train, but they're only an hour away by airplane. Making New Chitose Airport your base of operations in Hokkaido means more options for sightseeing before or after an event, or for "incentive tours". Of course, New Chitose Airport is a good hub for car travel, too. There are plenty of different options for travelling around Hokkaido all year round!
● A day trip to Furano: A Photographer's Dream!
Furano is about a two-hour trip from New Chitose Airport by car. Through early summer to fall, a variety of flowers bloom in Furano, which make for astounding photo spots! Imagine getting a photograph of yourself eating traditional meat Jingisukan against a beautiful backdrop, or of fields of lavender as far as the eye can see!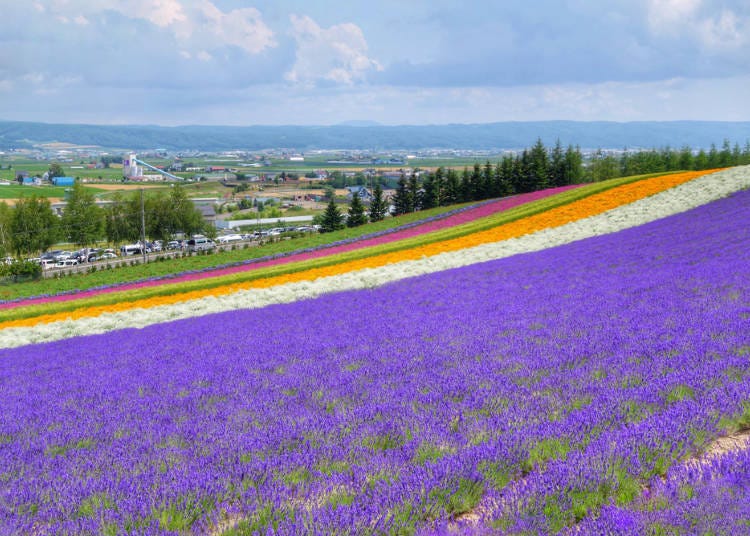 9:00 AM - Depart New Chitose Airport
↓ Drive for 2.5 hours
11:30 AM - Arrive Nakafurano Town

Get the perfect Instagram picture with your lavender soft-serve ice cream against the Tomita Farm lavender fields – delicate pastel colors all around!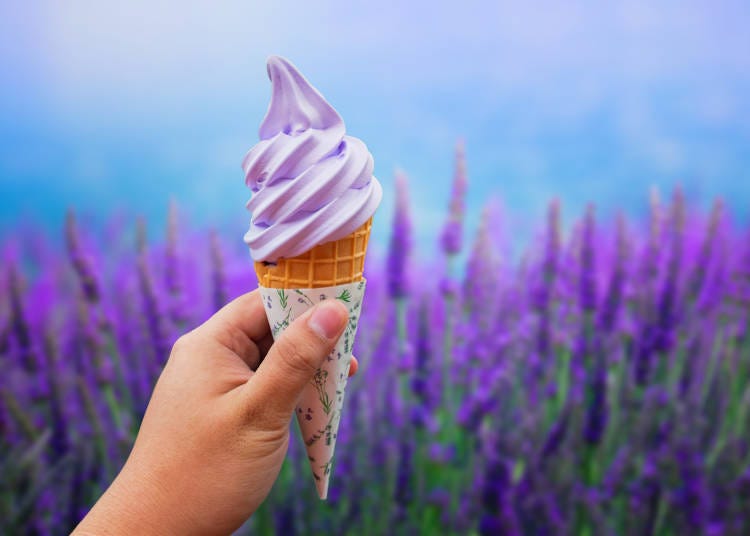 Have a stroll around Ningle Terrace shopping for handicrafts made by local artisans. For lunch, come to Hitsujinooka to eat traditional Hokkaido Jingisukan, in a beautiful area.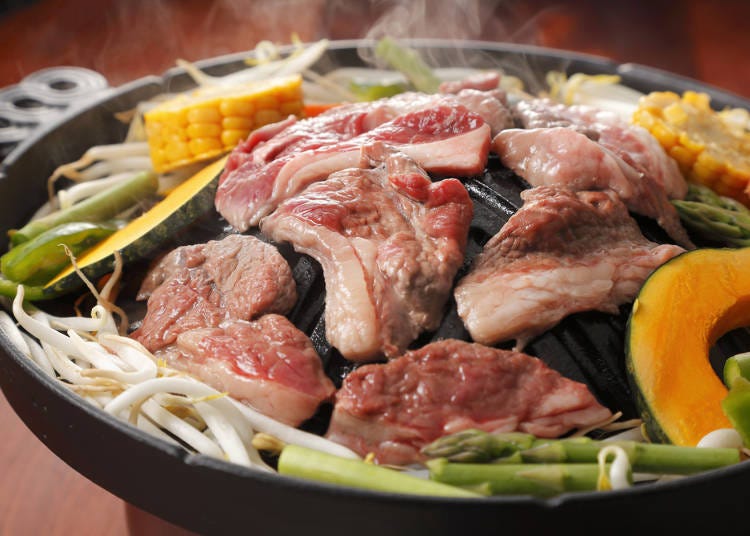 You could then even visit a famous tourist spot, Shirogane Blue Pond, only a 30-minute drive from Nakafurano Town!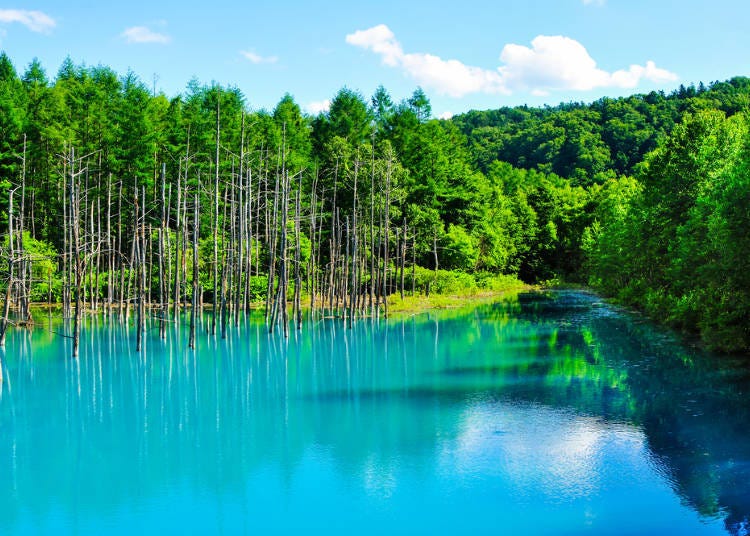 5:00 PM - Depart Shirogane Blue Pond
↓ Drive for 3 hours
8:00 PM - Arrive New Chitose Airport
●Shiretoko: One night is a world heritage site!
From New Chitose Airport, it's only a one-hour flight to Nakashibetsu Airport, which in turn is only a 2.5-hour drive away from the world heritage site Shiretoko. In winter, you can even walk on the surface of the lake and see drift ice. Shiretoko's a great place to enjoy Hokkaido's gorgeous winter (just don't forget to bring your coat!)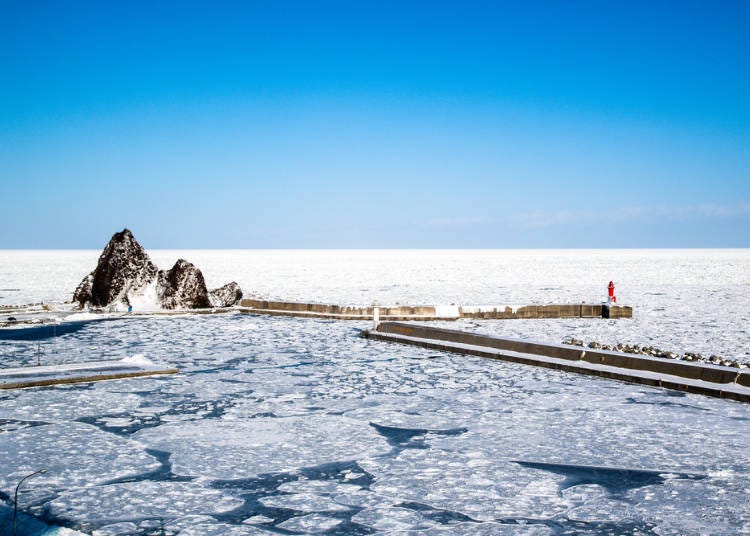 8:05 AM - Depart New Chitose Airport
↓ 1-hour flight
9:05 AM - Arrive Nakashibetsu Airport, head for Shiretoko by car

View the snow-capped Shiretoko mountain range as you head for Shiretoko Goko Lakes. Walk the frozen lake surface in snowshoes.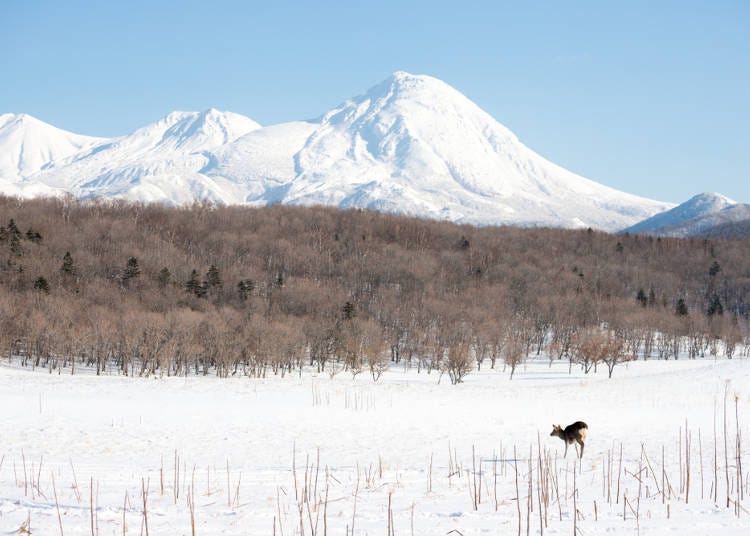 Enjoy seafood at the Utoro Roadside Rest Area!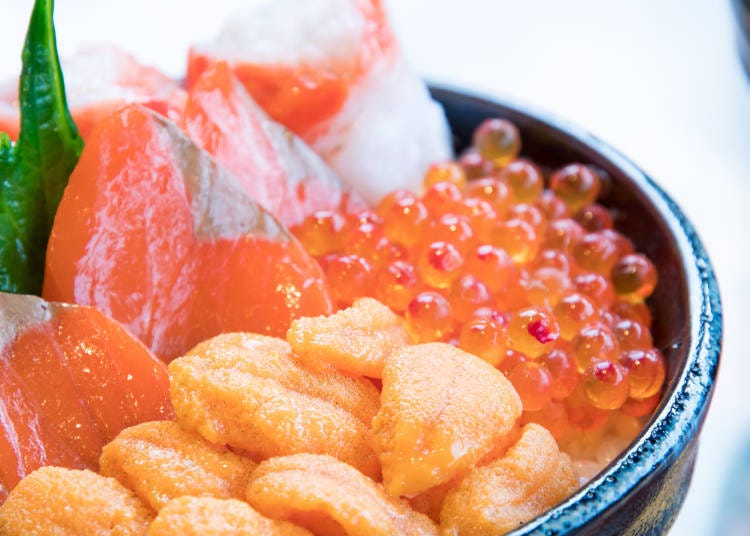 Learn about the animals living around Shiretoko at the World Heritage Center with actual-size panels and bear scratch marks. Also, learn about Shiretoko's natural features and the what the locals do to protect its surrounding nature.

Later, visit the Shiretoko Drift Ice Festival. Make sure to get a picture of yourself amongst the lit-up ice work!

Warm up with a one-night stay at a resort hotel and its natural hot spring.

Go "ice floe cruising" on the "Aurora" icebreaker sightseeing ship.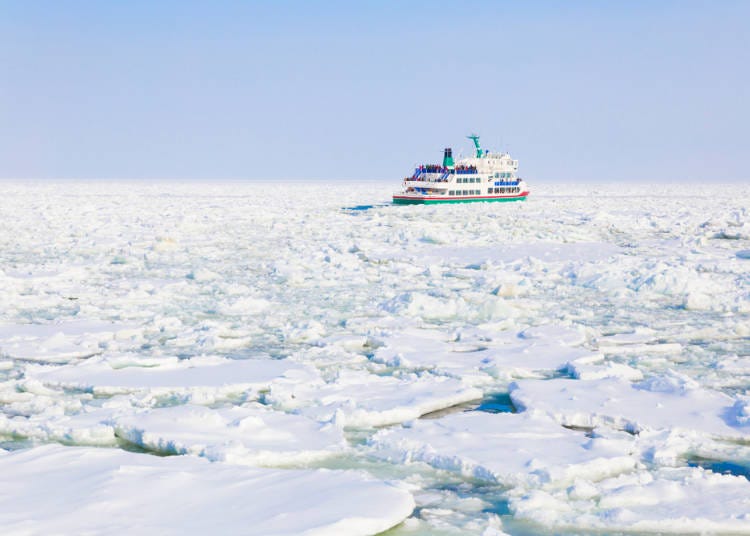 Make your way towards Teshikaga, and after enjoying Teshikaga's famous ramen, go winter trekking at Lake Mashu!
5:50 PM - Depart Nakashibetsu Airport
↓ 1-hour flight
6:50 PM - Arrive New Chitose Airport

It would take around 7.5 hours by car to get from New Chitose Airport to Rausu, a town on the Shiretoko Peninsula. But, guess what, it only takes an hour from Rausu's nearest airport, Nakashibetsu Airport! It's then only two hours by car from Nakashibetsu Airport to Utoro, too! This makes it easy to make the most of your time in Hokkaido with your family and friends without wasting valuable sightseeing time travelling!
I want to enjoy Hokkaido, but I really can't stray far! What can I do?
You can actually get a good taste of Hokkaido without even leaving New Chitose Airport. There are around 200 establishments at the airport, like restaurants where you can try out Hokkaido cuisine and souvenir shops for Hokkaido sweets. Even if you can't go to the source, we encourage you to pick up local products that have made their way from all over Hokkaido.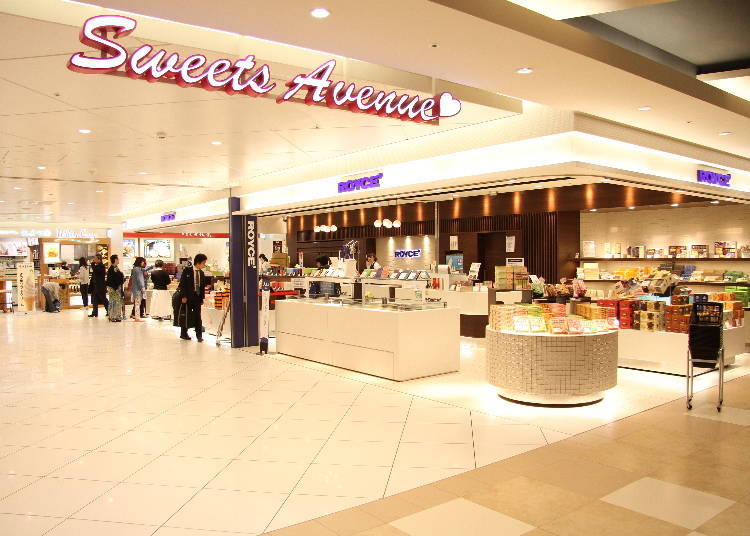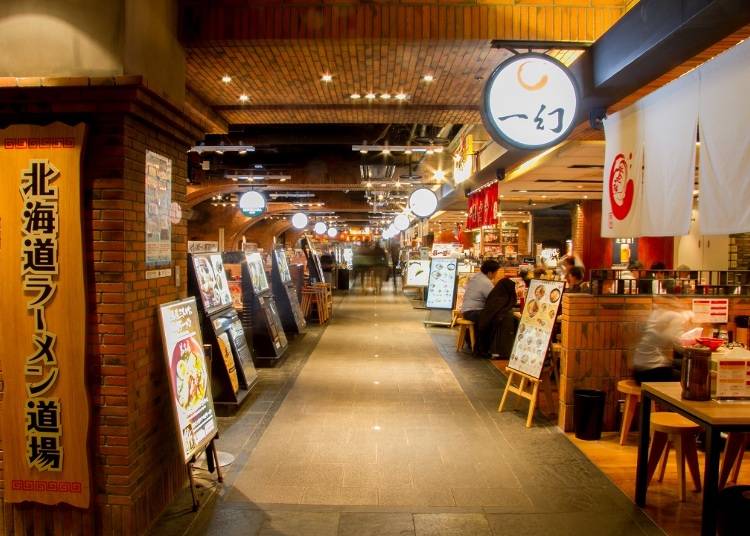 Arrival times hugely vary depending on where in the world you're coming from. But since Portom Hall is at the airport, you can have a great time at the facilities there before the event even begins. Enjoy seafood or ramen, find souvenirs to bring back to friends and family, and even restore your energy after an event in the hot spring baths on the fourth floor of the domestic flight terminal building! It will warm your body up and smoothen your skin. You can relieve yourself of the day's fatigue in preparation for business or leisure the following day.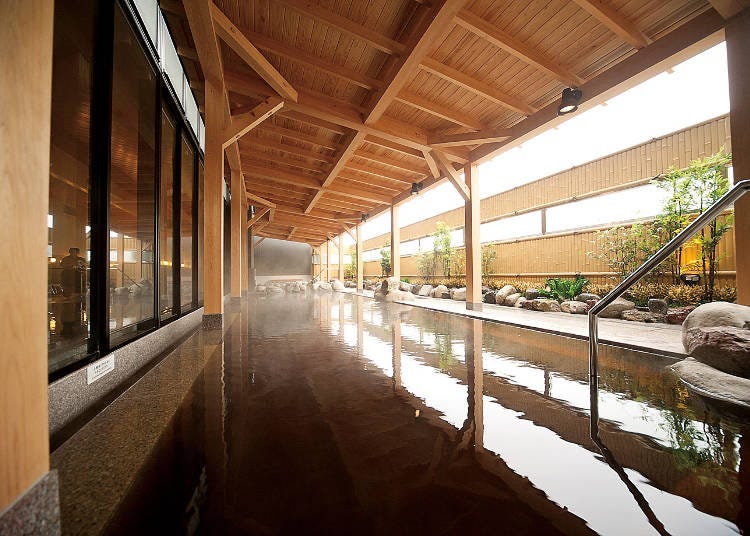 After reading all of this, I guess you might just be wondering what "Portom" means... Well, if you want to find out, or anything else for that matter, feel free to ask the staff!
The perfect base for travel - Why not stay at the adjoining luxury hotel!
A Japanese-themed luxury hotel right above Portom Hall, PORTOM INTERNATIONAL HOKKAIDO, opened in February 2020. Its 171 rooms are built precisely for relaxation, and of course, it has restaurants, a gym, gallery, and other facilities perfect for your stay. Whatever brings you to Portom Hall, why not stay where you have direct access?
Address

987-22, Bibi, Chitose-shi, Hokkaido, 066-0012
View Map

Nearest Station

New Chitose Airport Station (Chitose Line)


Phone Number

0123-23-0111
* Pictures are used for illustrative purposes.

Text by minna no kotoba sha
Get Straight Onto The Open Road With an RV!
Want to get straight out onto the open road from the airport? RV rentals are a great way to see a new side of Japan!
Use LIVE JAPAN's promo code below to get 5% OFF your rental now.
・Promo code: LiveJapan_coupon_02
・On the "Request for a Quote" page, enter the promo code to get your discount.
*This information is from the time of this article's publication.
*Prices and options mentioned are subject to change.
*Unless stated otherwise, all prices include tax.
Limited time offer: 10% discount coupons available now!