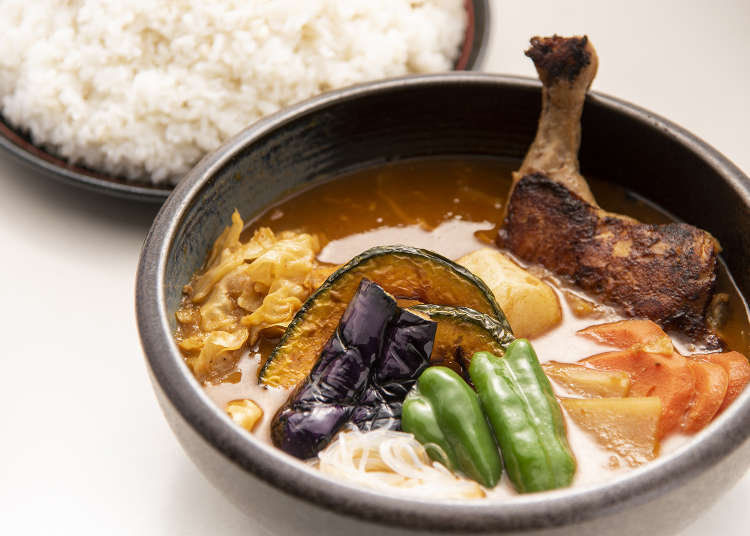 After a surge in popularity around 2000, "soup curry" has become a staple of Hokkaido cuisine. In Sapporo, where it's said to have originated, the dish is a typical lunch order for local businesspeople.

Read on to learn more about one popular shop that serves "namaradekkai" ("incredibly large" in Hokkaido dialect) soup curry that can only be found in Sapporo!
What is soup curry anyway?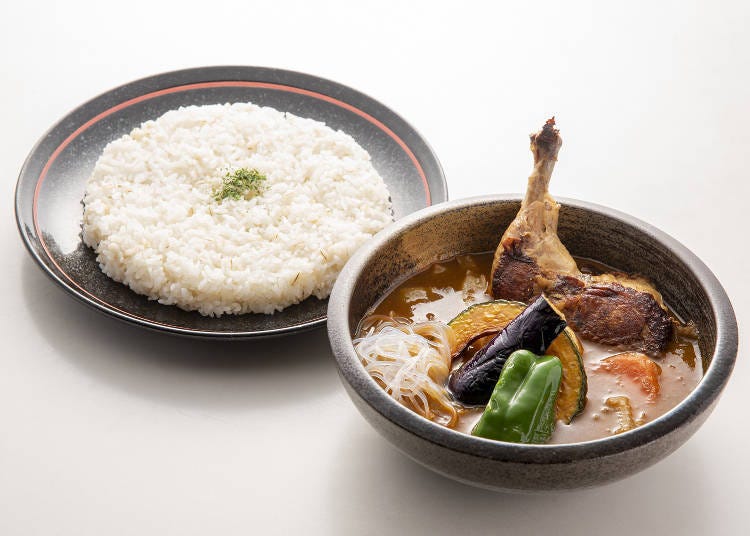 Unlike standard curry, soup curry is, unsurprisingly, more like soup. Rice and soup are served separately, with the latter containing plenty of meat and vegetables. The preparation method, ingredients, and spices vary from shop to shop, creating countless delicious variations.

It's commonly accepted that soup curry was invented in 1971 when a Sapporo coffee shop first served it, without meat or vegetables, as a kind of healing meal. During the 1980s and 1990s, it became an even bigger hit in Sapporo, when the number of soup curry shops exploded, as did the number of original recipes.

Seeing accelerated popularity since the 2000s, soup curry restaurants have expanded beyond Hokkaido, throughout Japan, and even overseas.
If you can handle a huge serving, head to Hige Danshaku!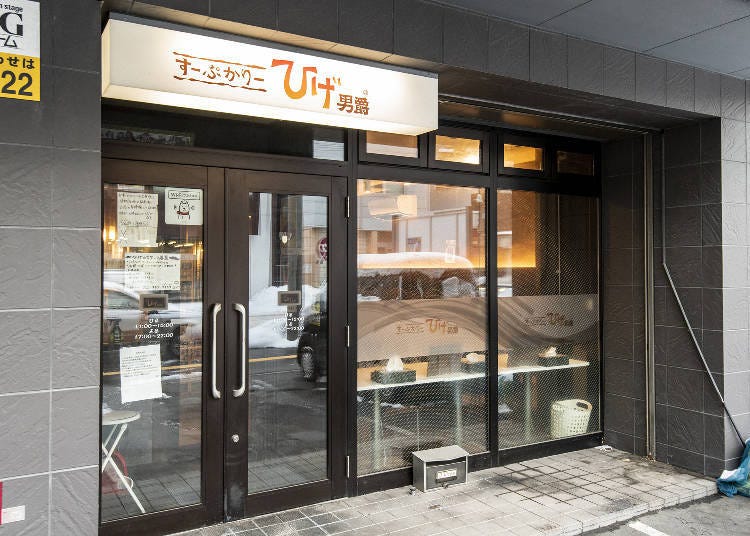 One of Sapporo's more than 200 soup curry restaurants can be found hidden among the office buildings and condominiums on the on the east side of the city center's Sosei River, near an area of stylish restaurants and shopping malls.

"Soup Curry Hige Danshaku" ("Beard Baron") is about a 5-minute walk from Bus Center Mae Station on the Tozai Subway line. The restaurant has a calm atmosphere, with both table and counter seating.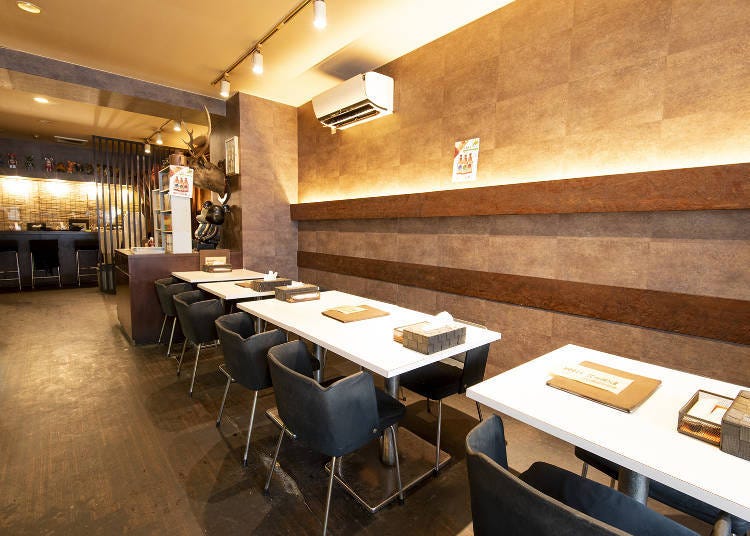 Hige Danshaku has been serving much-loved soup curry to local workers and tourists since opening in 2007, and while there are many soup curry chains, Hige Danshaku has only one location, so its incredible flavors can only be tasted while you're in Sapporo.

The menu consists of eight main soup curries, two weekday-only offerings, and a curry of the day. The most popular is the classic chicken version, which accounts for 40-50% of daily orders (1,00 yen, excluding tax). The second-most ordered is "Meat Baron," stocked with chicken legs and sausage in pork broth (1,300 yen, excluding tax). If you have trouble deciding, the staff will gladly offer recommendations and foreign language support is available.
Dekamori Soup Curry: A sea of soup and a mountain of rice!
To get the biggest serving of chicken soup curry possible, choose "Soup Omori" (for an additional 200 yen) from the "Soup Topping" column, and "Rice Tokumori" (200 yen extra ) from the "Rice" column. A double portion of vegetables is also available.

Many shops serve spicy soup curry, and Hige Danshaku offers six levels of spiciness, but true spice lovers can order their meal with seasoning even beyond the sixth level. If it's your first time, level two is recommended.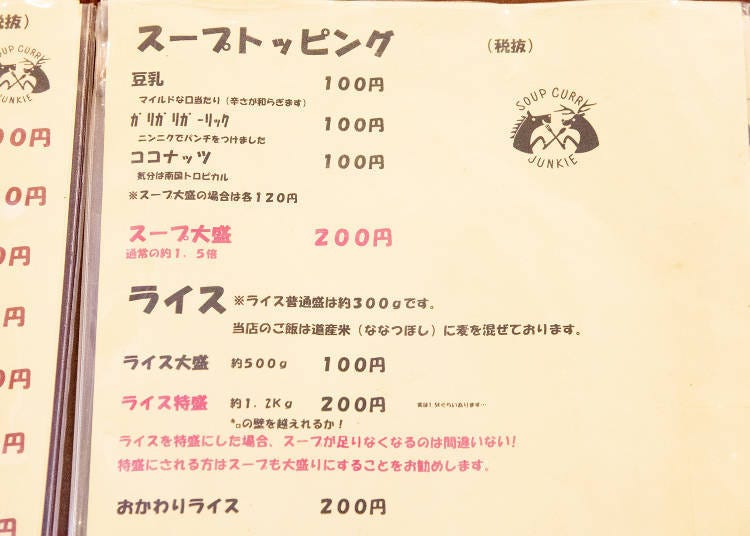 The red letters on the menu read "Soup Omori" and "Rice Tokumori."
Taking a peek into the kitchen, we could see the rice being prepared as the chef adds heaping spoonful after spoonful to each plate!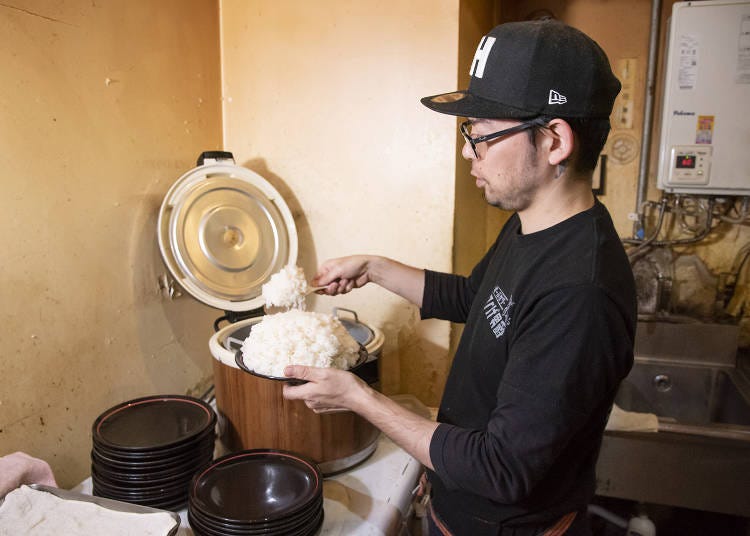 Rice Tokumori weighs in at 1,500 grams – ten times the size of typical rice bowls!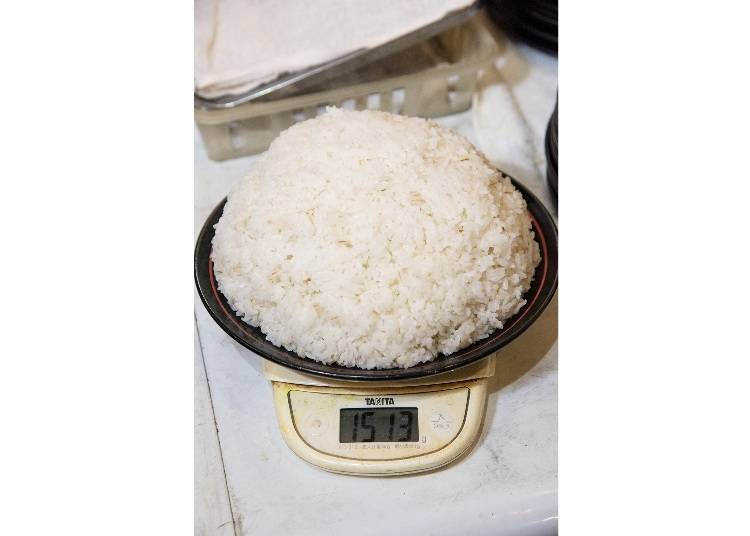 And here it is with the dekamori soup curry!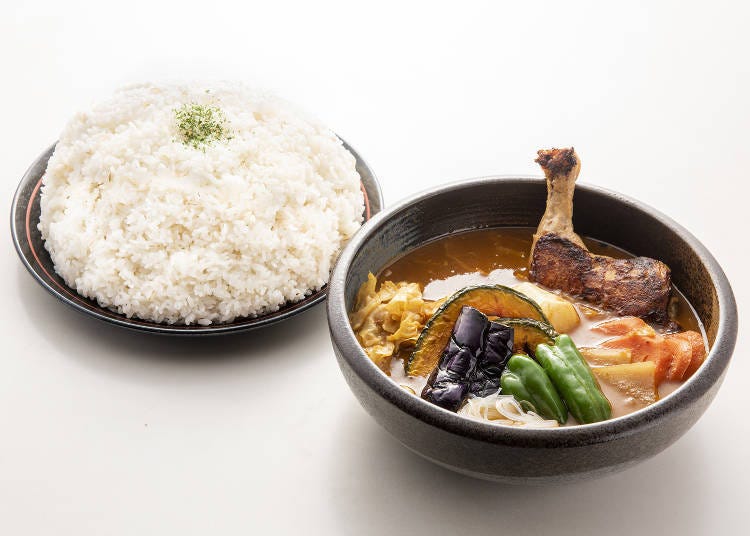 The mountain of rice and hearty soup are a masterpiece! Apparently this combo is ordered about once a day, and you can see just how large the portions are when compared to the waitress's hands.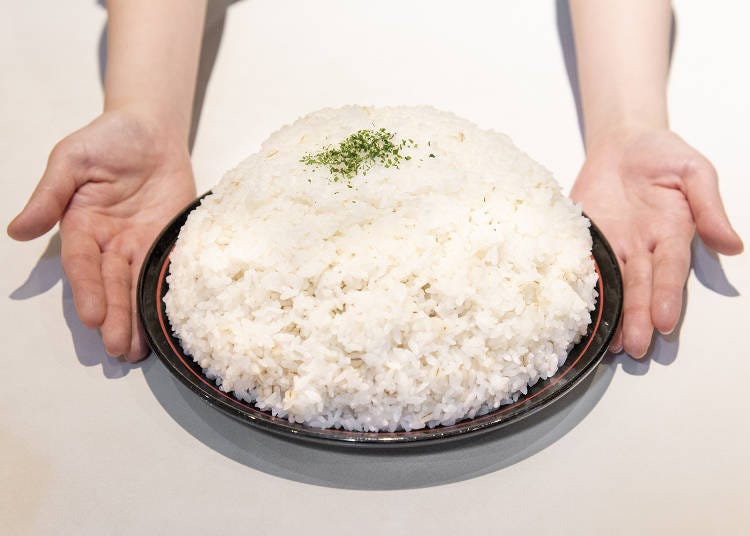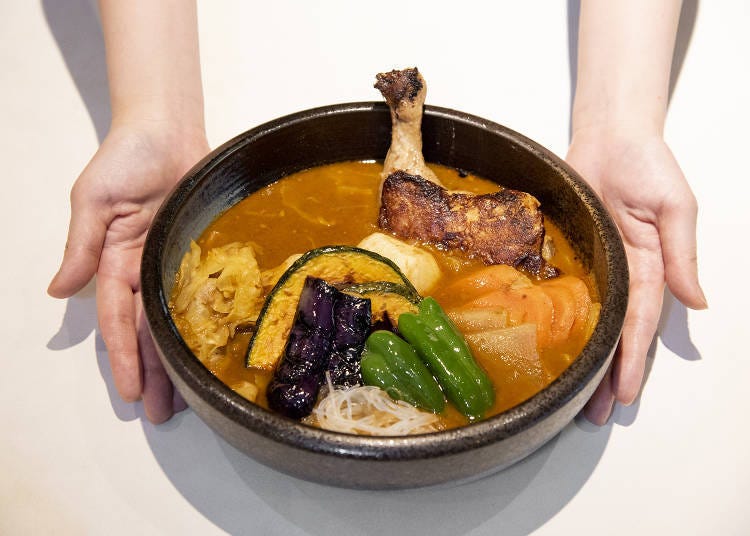 Hige Danshaku's standard serving sizes are 500 grams of soup and about 300 grams of rice, but the dekamori portions up that to 800 and 1,500 grams, respectively, with twice the amount of vegetables and five times the rice. The difference is pretty clear when comparing the two!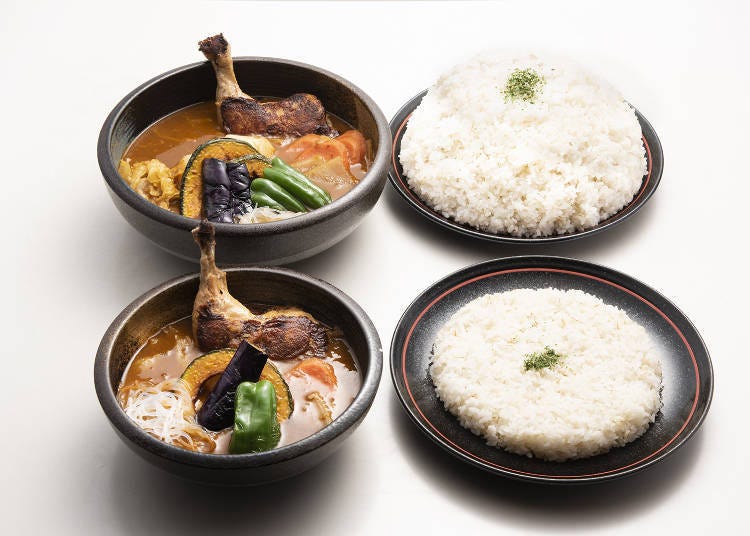 There are no "rules" for how to eat soup curry. You can dip a spoonful of rice into the soup, eat the two separately, or put the rice in the bowl to soak up the soup (but because the rice plate is flat, the opposite isn't recommended). Due to the size of the meat and vegetables, knives are also available to cut them into smaller pieces.

The broth is made from chicken and pork bones, and a Japanese-style soup base with curry paste added for spiciness. It' a dish that's so delicious, even with the big portions you'll probably leave behind a clean plate!

The chicken is soft enough to be easily cut with chopsticks or a fork, and the vegetables' flavor isn't overpowered by the spice. Basic ingredients are potatoes, eggplant, green peppers, pumpkin, cabbage, Chinese cabbage, carrots, daikon radish, and harusame noodles (Japanese glass noodles). If you want anything excluded, just let the staff know when ordering.
The reasoning behind 'dekamori' servings
Hige Danshaku sticks to its distinct method of preparation for soup curry that regular customers keep coming back to and that someone trying it for the first time will also find delicious.

When asked about the addition of dekamori servings to the menu, owner Kiyotaka Yamada replied, "I want to eat as much as I can, and even though the regular portion is already somewhat large, the huge portions were added with a spirit of playfulness." He prepares each serving with care and adds, "It's a lot to make for the shop, but we do it for the customers, and no matter how busy we are, I keep that in mind."
An interesting service associated with the store name
Hige Danshaku also has a fun promotion related to the shop's "Beard Baron" name – bearded customers receive a 100 yen-off "higewari" "beard discount."

Stubble doesn't cut it, but fake beards count, so if they're worn through the entire meal, even un-bearded customers can take advantage of the discount and have a bit of fun!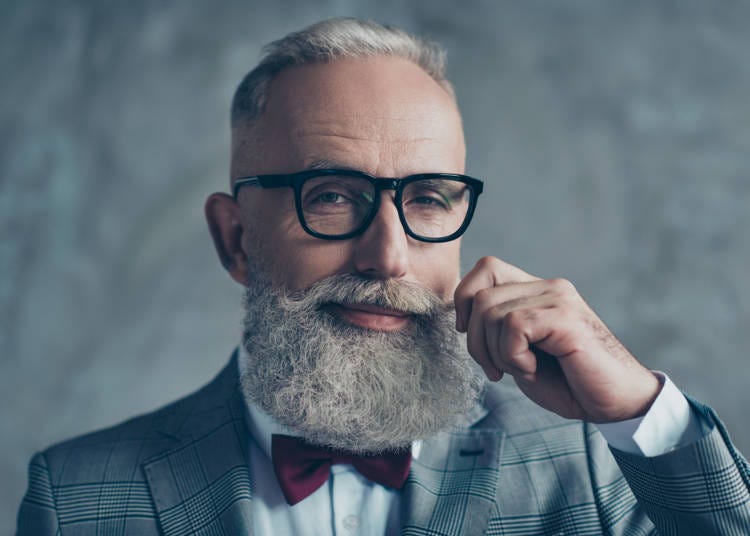 You won't get bored with Hige Danshaku's soup curry, no matter how many times you have it, and, of course, all the menu varieties can be ordered in dekamori size. Even if you're not interested in a super-sized meal, but want to try soup curry for the first time, be sure to visit!
すーぷかりー ひげ男爵

Address

Beanscourt 1F, 2-5-12 Kita 1-jo Higashi, Chuo-ku, Sapporo 060-0031

Phone Number

011-210-0144

Hours: Lunch 11:00 - 15:00, Dinner 17:00 - 22:00 (last order 21:30)
Price: Starting from 920 yen (tax excluded)
Text by:みんなのことば舎
*This information is from the time of this article's publication.
*Prices and options mentioned are subject to change.
*Unless stated otherwise, all prices include tax.