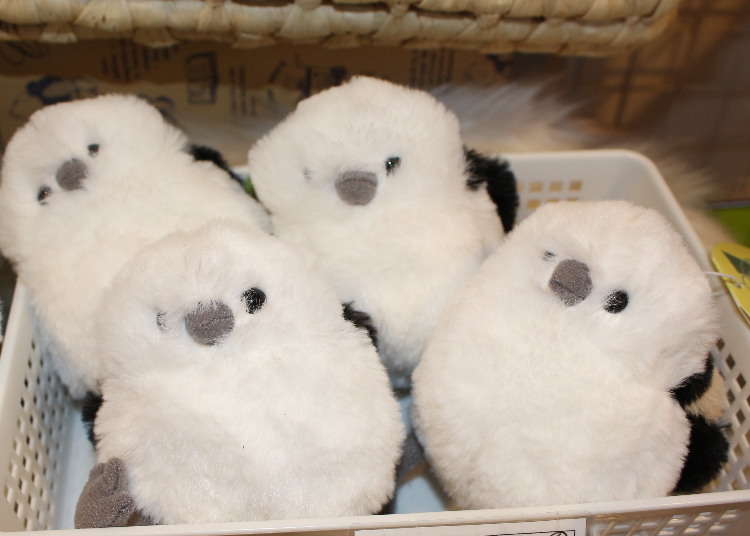 When it comes to gifts from Hokkaido, many Japanese people might think of "Shiroi Koibito", the sweet snack souvenir, or Hokkaido salmon, or even some other seafood snack. But when you're visiting from abroad, you're more likely to want something you can keep for a while – and something you can easily pack in your suitcase to take home!

It's also important to get something that really conveys the personality of Hokkaido - So we headed to a souvenir shop in a super-popular location to get their recommendations.

Important notice 2020 March 3: The Sapporo TV Tower will be closed until March 19 to prevent the spread of coronavirus. Please see official site for details.
Sightseeing and Shopping at Sapporo TV Tower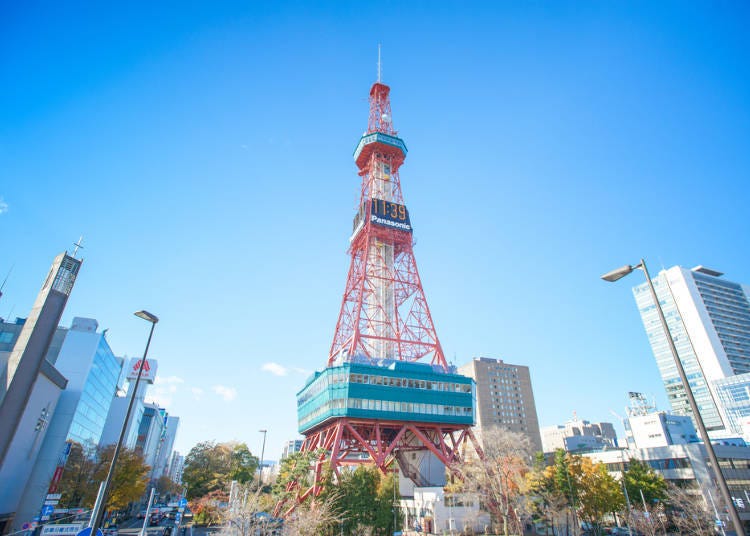 YingHui Liu / Shutterstock.com
Sapporo TV Tower is a classic sightseeing spot located in Odori Koen 1 Cho-me in the central area of Sapporo City, Hokkaido. It is not only a spot with a great view, but it is also a convenient location to look for Sapporo and Hokkaido souvenirs, with its three gift shops. Since you can access the tower directly with the subway Odori Station and underground shopping center Aurora Town, you can comfortably stop by on a hot or cold day or even in bad weather.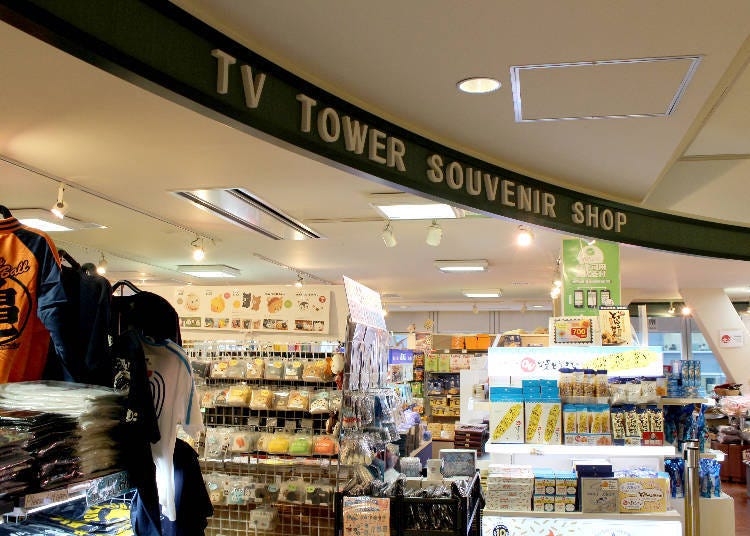 For our souvenirs we visited the "TV Tower Souvenir Shop" on the third floor that sells various goods such as popular snacks, sundries, character goods, and even cosmetic goods. It's also a duty-free shop – which means it's absolutely perfect for picking up souvenirs! Here we asked for the 10 most-recommended items.
Sapporo TV Tower Unofficial Character "TV Tosan"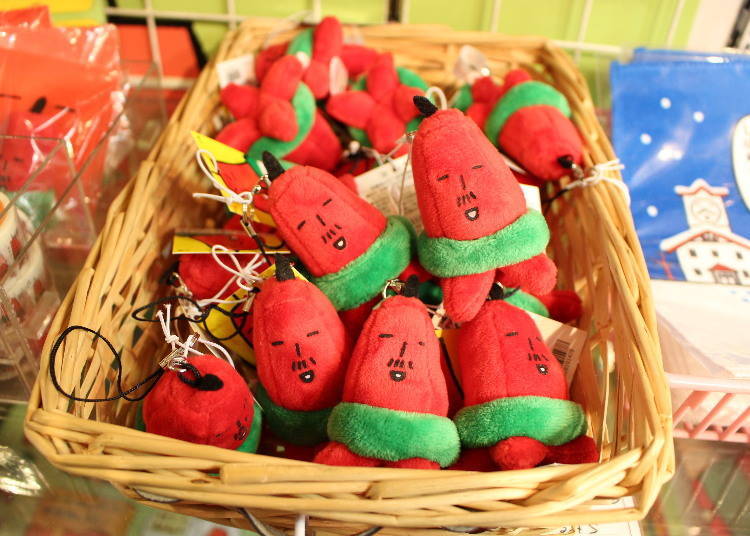 TV-Tosan, doll S, 715 yen
First up is the hilariously quirky character, TV-Tosan, meaning "TV Dad". He has a red body and green belly band, which resembles the tower, but the little mustache is just for fun. He's just your typical TV Tower dad. With his relaxed expression he'll be happy to keep you company wherever you go.

There's quite a range of TV-Tosan goods, like stationery and dolls, but the postcards (165 yen) featuring TV-Tosan and different sightseeing spots are particularly popular. They're great for sending back home or keeping to yourself for decoration.
Bear Attack! "Sapporo Great Battle TV Tower T-shirt"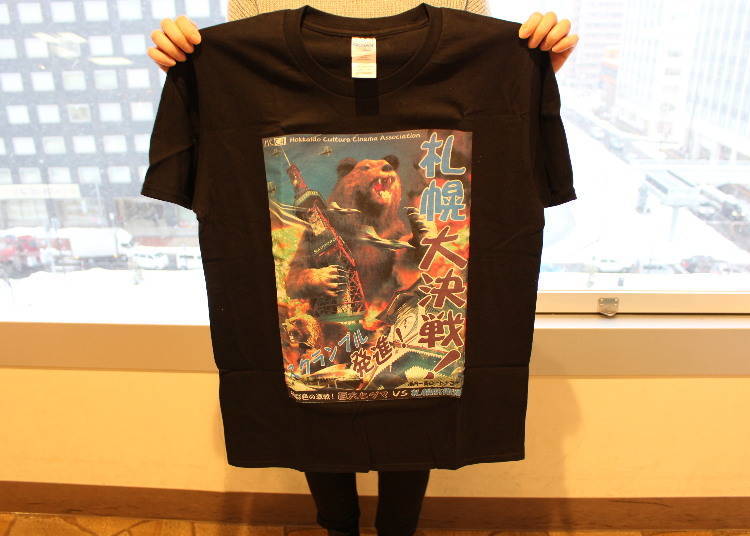 Sapporo Great Battle, TV Tower, Black T-shirt, 2,200 yen
Another kooky thing you've got to check out is the T-shirts with local designs. This particular one is a uniquely aggressive shirt where a bear, an animal representative of Hokkaido, is attacking Sapporo's main sightseeing spot. This shirt is only available at this souvenir shop, so grab it while you can! They have it in two colors of black and white and sizes from S to 4L.
Snow Globes: What is Hokkaido Known For?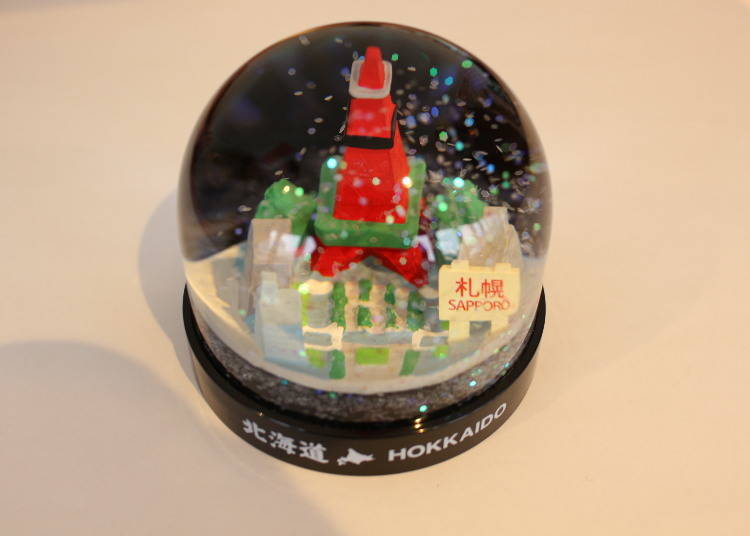 Water Globe Sapporo 1,100 yen
Snow globes and snow domes capture the scenery of the places you visit and make a great collection for your travels. But it's even better when the area you've visited is known for its snow!

This little TV Tower snow globe makes for the perfect memento from your first visit. When you flip it upside down, sequins drifts through the globe, and it resembles the snowscape of Sapporo. What a great little decoration to remind you of your Hokkaido travels.
Forever Popular: Hello Kitty Limited Edition Merch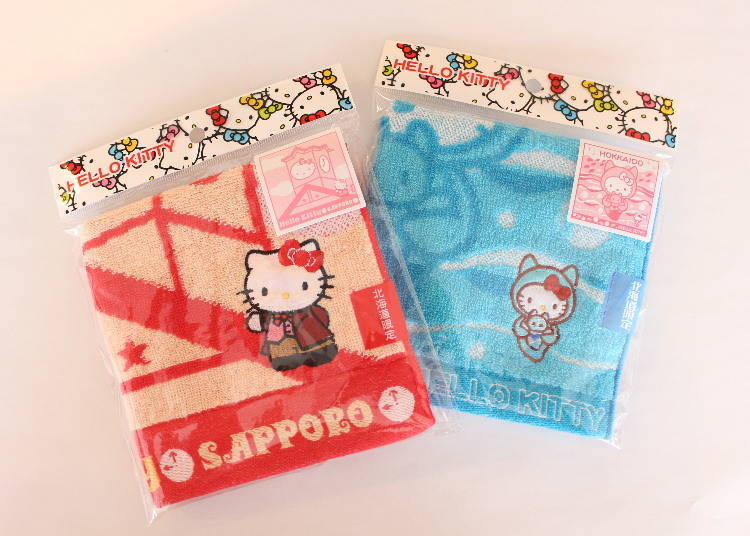 (Photo left) Hokkaido - Sapporo Clock Tower KT jacquard towel, (photo right) Hokkaido - Dobutsukko KT jacquard tower clione.
Hello Kitty is known far and wide, and the cold hasn't stopped her reaching Sapporo! In Japan, there are "Gotochi Kitty (local Kitty)", where Kitty collaborates with famous local products and sightseeing spots throughout Japan. This means there are plenty of adorable local Kitty goods to collect on your travels!

Hokkaido especially has a large variety of Kitty goods, so we recommend keeping your eye out for something that really highlights the fun of your trip.
Hokkaido's Popular Sightseeing Spots as Magnets, "Hokkaido Magnet"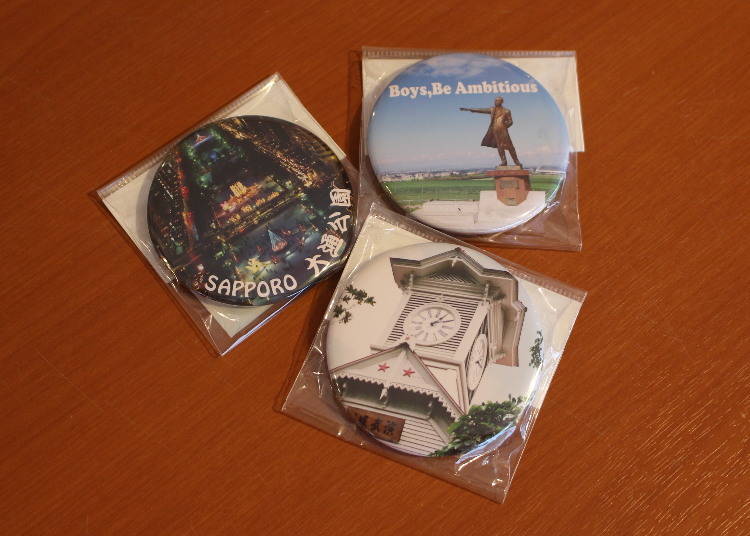 Hokkaido magnet 275 yen each
The store manager Mr. Tsubata told us that "Many foreign visitors ask for magnets, and we always recommend these." You'll end up wanting to collect all of these magnets with photos of all the spots you visit! Other than Sapporo, they have magnets of other locations around Hokkaido, such as Hakodate, Otaru, and Furano.
"Pop Out Mascot Keychain" with Crazy Eyes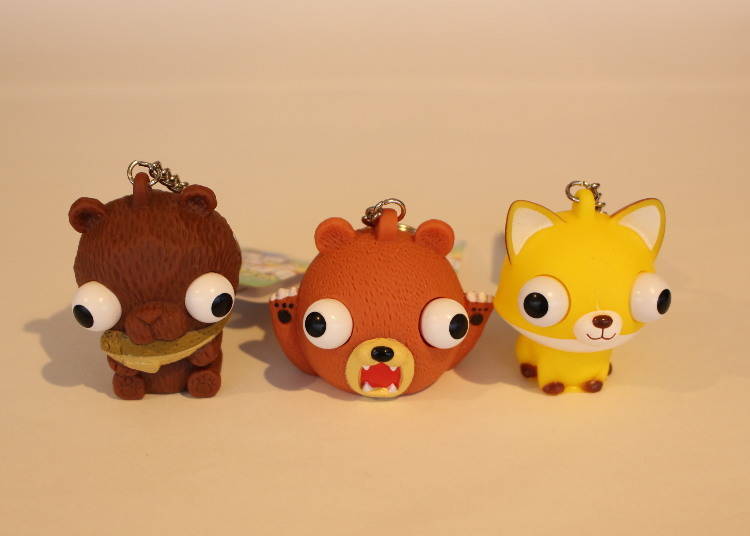 Hokkaido Limited Pop-Out Mascot Keychain - Carved Wooden Bear, Brown Bear, Fox 385 yen each
These mascot keychains with their giant boggle eyes are hilarious. There are over 10 Hokkaido limited designs such as foxes and bears, and these, too, will make you want to collect them all. Once you put the item in your hand, you will understand why they're called "Pop-Out". When you squeeze the body with your fingers, you might be in for a bit of a surprise!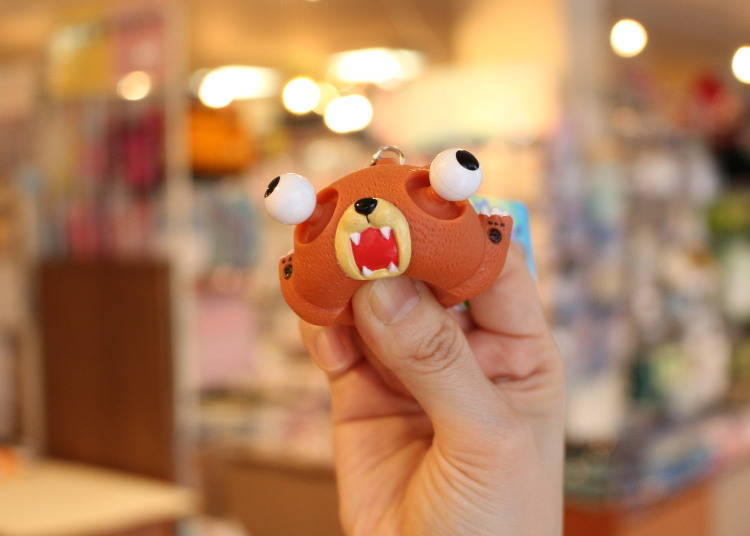 The eyeballs pop out when you squeeze it!
Carved Wooden Bear Style "Salmon-Eating Bear Doll"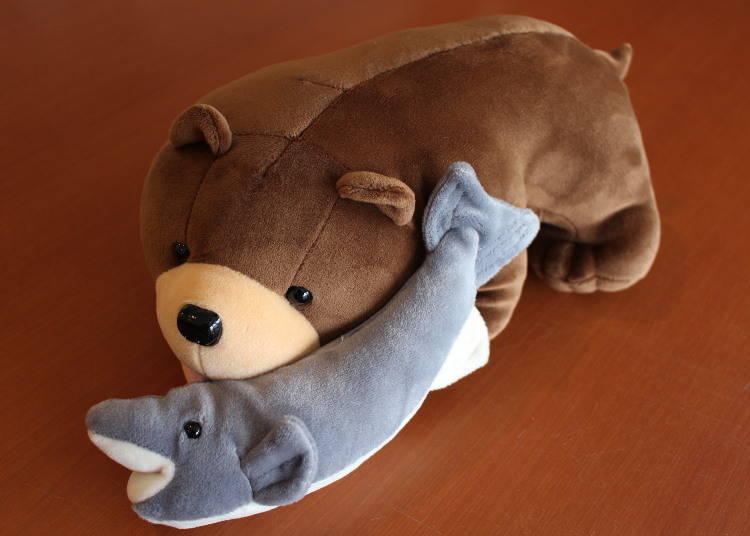 Salmon-Eating Bear Doll 1,375 yen
One of the traditional crafts of Hokkaido is the "Carved Wooden Bear," but authentic carved bears are quite expensive and can make for a heavy souvenir. If you just like the cuddly Hokkaido bear but don't want to go as far as the carved wooden version, how about a soft and fluffy doll? They even have a smaller version, so you can pick and choose the size depending on your needs.
Snow Fairy: Take Home Shimaenaga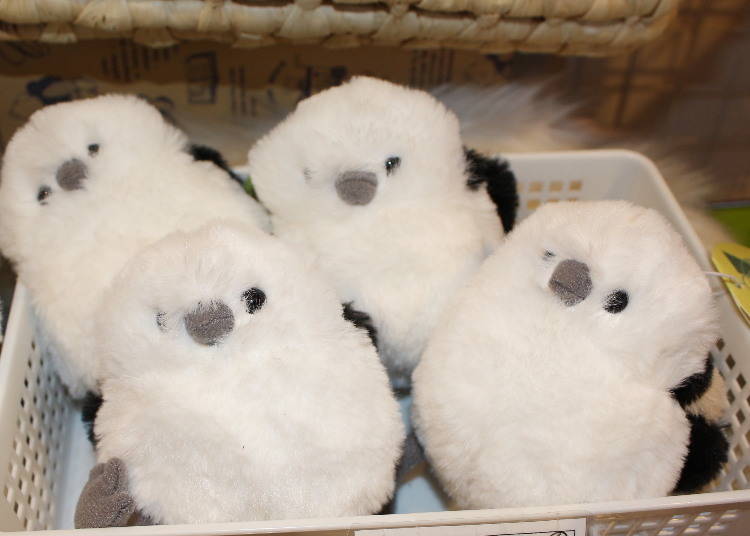 Hokkaido Shimaenaga with chain 968 yen
Shimaenaga (long-tailed tit) is a bird that only lives in Hokkaido in Japan. In winter, it turns white, and to stay warm, it grows additional feathers. Partly due to how adorable it is, it's affectionately called the "snow fairy." Shimaenaga goods have become popular fas Hokkaido souvenirs. These are just too cute!
Fun Hokkaido Limited Aroma "Hokkaido LULULUN"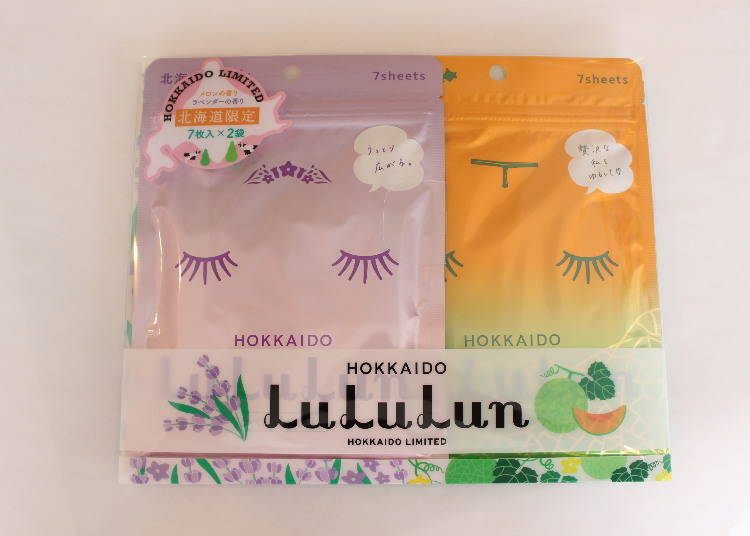 Hokkaido LULULUN, Lavender Aroma/Melon Aroma, 7 x 2 box set 880 yen
The face mask "LULULUN" is popular among women in Japan, and "Tabisuru LULULUN," which incorporates regional materials, has become a new standard Hokkaido gift. The Hokkaido limited LULULUN uses extract ingredients for skin care such as blue honeysuckle, kombu, and bodaiju honey. They also have scents such as lavender, melon, honey, and blue honeysuckle, which gives a strong sense of Hokkaido, so you can remember your trip while giving your skin some extra TLC.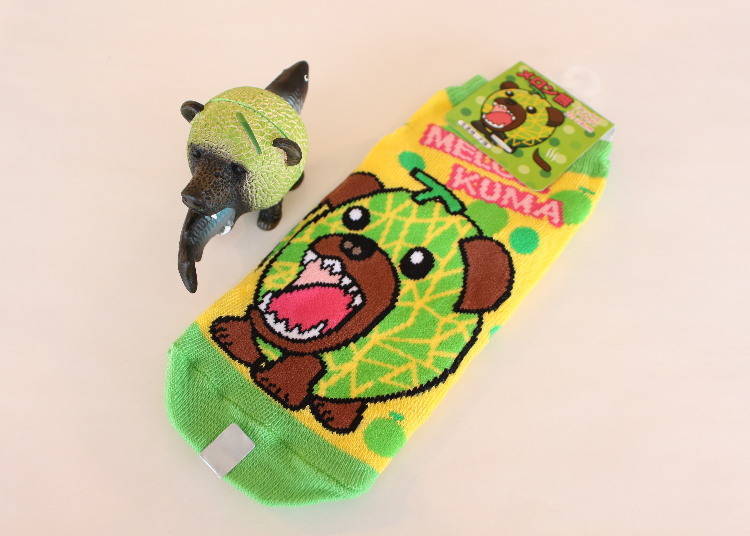 (Photo left) Melon Bear magnet salmon version 880 yen, (photo right) Melon Bear socks (with poo) 22 - 24cm 550 yen
Hokkaido Yubari City's Hokkaido Bussan Center Yubari Store mascot is the "Melon Kuma (Melon Bear)." The staff told us that it's particularly popular for its wild and eccentric look of a Yubari melon with a realistic bear farce and paws. These are certainly quirky – there are a number of different designs, like this shocking version where the salmon is sticking right out the back of his mouth! Perfect for a funny memento.
Look for Fun and Cute Gifts
Hokkaido, with many sightseeing locations and wild animals, offers a wide variety of goods so you can give different gifts to each relative and friends! One good strategy when souvenir shopping is to do it all in one go, and prioritize your sightseeing, and this is the perfect place to do it. See what kooky goods grab your eye!
さっぽろテレビ塔 スーベニアショップ

Address

〒060-0042 北海道札幌市中央区大通西一丁目 さっぽろテレビ塔3階

Phone Number

011-241-8555

Hours: 9:00 a.m. - 10:00 p.m. (Follows the Sapporo TV Tower hours) closes at 9:00 p.m. On December 31st.
Closed: there are unscheduled closed days (follows Sapporo TV tower closed days)
Official site (JP): http://www.tv-tower.co.jp/
Official site (EN): http://www.tv-tower.co.jp/en/
Text by:minna no kotoba sha
*This information is from the time of this article's publication.
*Prices and options mentioned are subject to change.
*Unless stated otherwise, all prices include tax.