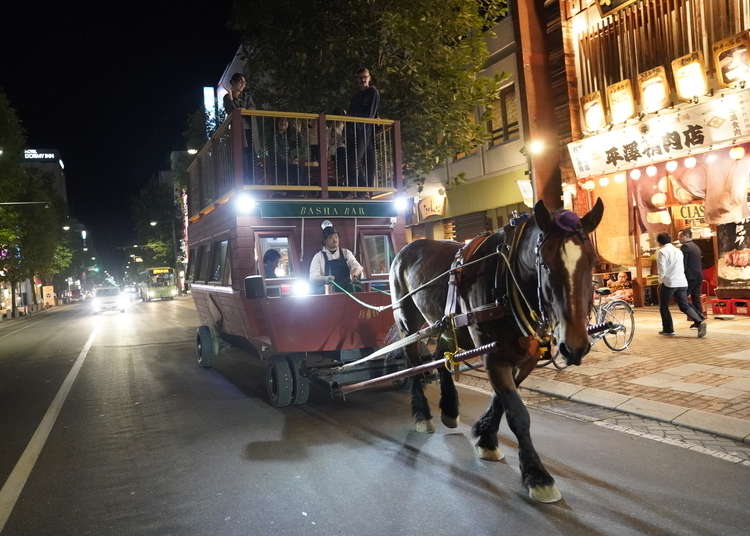 Obihiro City offers many unique and fun experiences: Enjoy tasty local cuisine at outdoor food stalls known as yatai, share a drink with fellow passengers in a horse-pulled bar, or try your hand at various traditional farm-related tasks, such as harvesting vegetables or making tofu.
Dip into the history of banei horses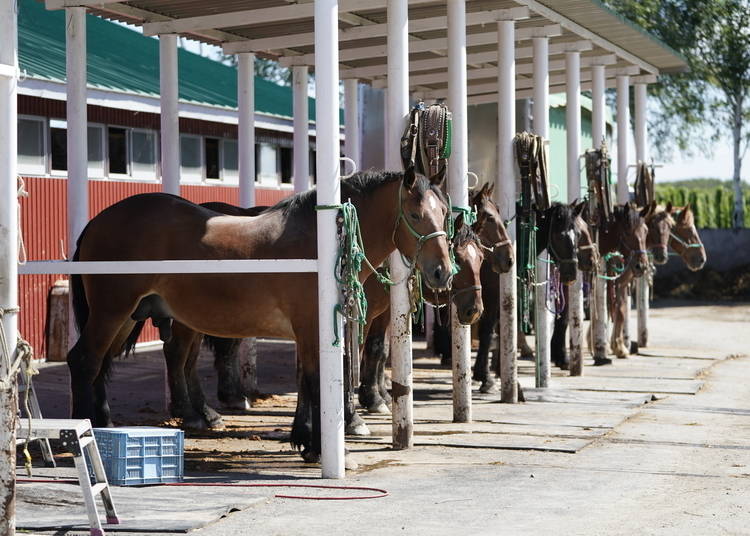 Horses soak up the sun at Banei Horse Ranch Tokachi
Like many other parts of Hokkaido, Obihiro's history is bound up with farm horses. Local pride in these hard-working equines is reflected in the surprisingly large life-size replica of a draft horse that stands in the entrance hall of Tokachi-Obihiro Airport. Obihiro is the last place in Japan to feature banei horse-racing, in which muscular horses pull weighted sleds over a 200-meter-long course with sand-ramp obstacles measuring up to 1.6 meters high.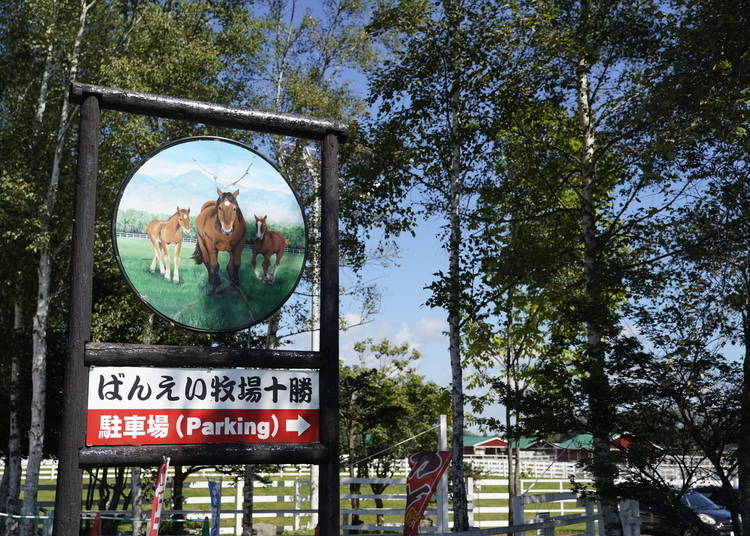 The entranceway to Banei Horse Ranch Tokachi
To get an insight into the lives of these incredibly powerful animals, visit the Banei Horse Ranch Tokachi, a mere five minutes by car, or 15 minutes on foot from the airport. The facility covers 25 acres and is home to over 100 banei horses, some of which weigh over a ton—twice as heavy as a thoroughbred. Visitors can hire a cart to drive around the ranch, pet the horses, and even enjoy a meal in the log-cabin restaurant. Obihiro Racecourse Track, meanwhile, is about 40 minutes by car from the airport and holds races starting from noon on Saturday, Sunday and Monday, year-round.
Banei Horse Ranch Tokachi

ばんえい牧場十勝

Address

10, Nishi 9 Jo Minami, Obihiro, Hokkaido

Dates/times: 10 a.m.–4 p.m. (winter: 10 a.m. -3 p.m. )
Closed: Thursdays
Price per person: 700 yen (tax-included) for adults; 200 yen (tax-included) for under-12s
Languages available: Japanese
Mane attraction: Obihiro's horse-pulled Basha Bar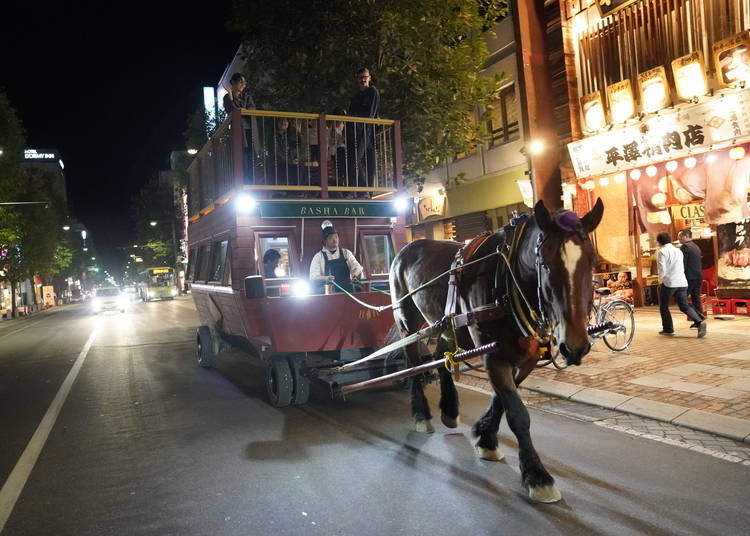 Obihiro's famous Basha Bar in action
To experience the charms of night-time Obihiro from a unique perspective, take a ride in the Basha Bar—an 18-seat, two-story, horse-drawn carriage that started operating in April 2019. Visitors ride the carriage through the local streets while enjoying light snacks and a choice of alcoholic or non-alcoholic drink. (Tip: try Tabi no Hajimari, a refreshing, locally made pilsner.) Though English-language support is limited, Hotel Nupka— the starting point for the trip—has pamphlets that outline prices and departure times in English, along with a handy mini-map.
If you haven't made a reservation, you can buy Basha Bar tickets at Hotel Nupka (if seats are available)
The hotel is a mere 3 minutes on foot from JR Obihiro Station. The Basha Bar departs three times a day, four days a week from outside the hotel. Somewhat surprisingly, the large and weighty carriage needs no special license to traverse the local highways. Indeed, legally, the bar is more akin to a bicycle than a motor vehicle. For reasons of safety, however, it's decked out brightly with various indicators, including—of course—tail lights.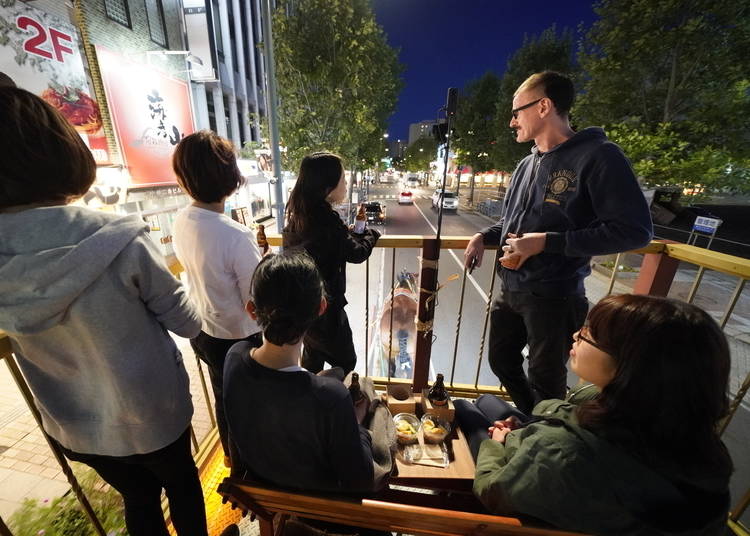 Enjoying a drink on the top deck of the Basha Bar
For the best views, sit upstairs on the comfortable wooden benches as you cruise around, but watch out for occasional low-hanging branches during the about 50-minute trip. (To combat cold or wet weather, reach for the blankets and raincoats in the basket beside each seat.) The covered downstairs area, meanwhile, is decked out with comfortable, soft-covered seating and small tables, so you can easily enjoy a "kanpai" with your fellow guests.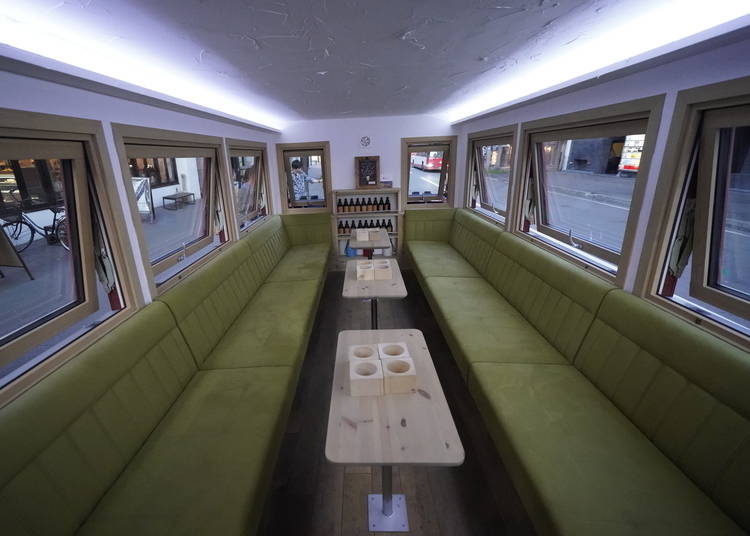 The downstairs carriage of the Basha Bar
The placid-natured horse, named "Musashi-koma," retired from banei racing in 2018 and seems to relish his new role as a mobile-bar puller. Halfway through the 50-minute journey, Musashi-koma takes a rest. This down-time provides the perfect opportunity to take photographs and feed him carrots (supplied by the driver).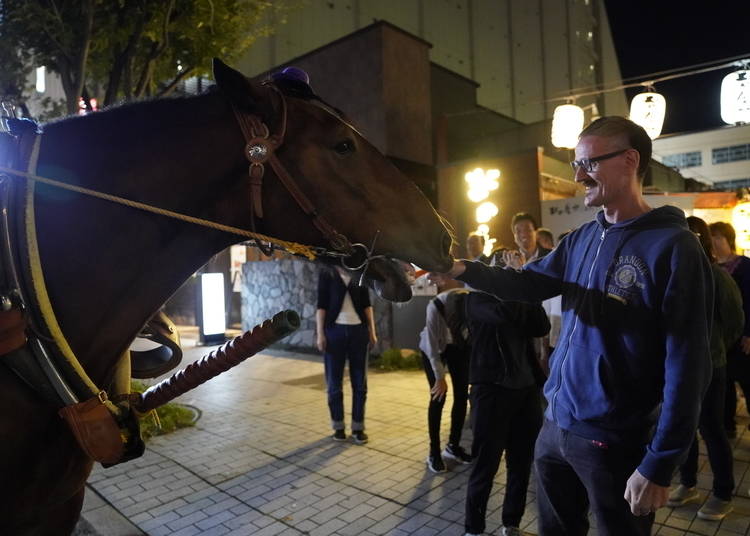 A hungry Musashi-koma enjoys break-time carrots
"Obihiro is the only place in Japan that has horses of this size," explains Hotel Nupka's Horse Culture Division Manager Takeshi Nagata. "Horses this large are rare globally, too. They're not riding-horses; they're working animals. Japan's relationship with load-pulling horses stretches back into history, well before tractors and trucks." The relationship between horse and driver is a close one, and it takes only the subtlest of tugs on the reigns to encourage Musashi-koma to turn a corner.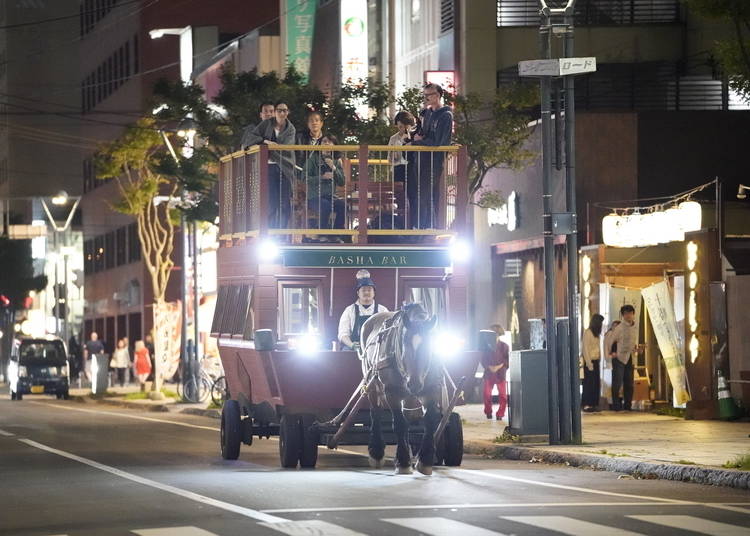 Bright lights ensure the Basha Bar is easily seen
Friendly locals and holidaymakers are happy to return your wave—so long as they're not busy snapping the engaging spectacle cruising slowly past them in the street. "It's not just the people who ride the carriage that enjoy themselves; locals also get a kick out of seeing it going past," Nagata says. "It reminds them of the area's history and its relationship with working horses."
Basha Bar(Hotel & Cafe Nupka)

馬車バー

Address

10ー20-3,Nishi 2 Jo Minami, Obihiro, Hokkaido

Dates/times: Monday, Tuesday, Friday and Saturday, year-round; departures at 6 p.m., 7 p.m., and 8 p.m.
Price per person: 3,300 yen (includes snack and one drink)(tax-included)
Seating: 12 indoor seats (1st floor), six outdoor seats (2nd floor) (Fewer seats available during winter months)
Languages available: Basic English/Japanese
Outdoor food with an at-home atmosphere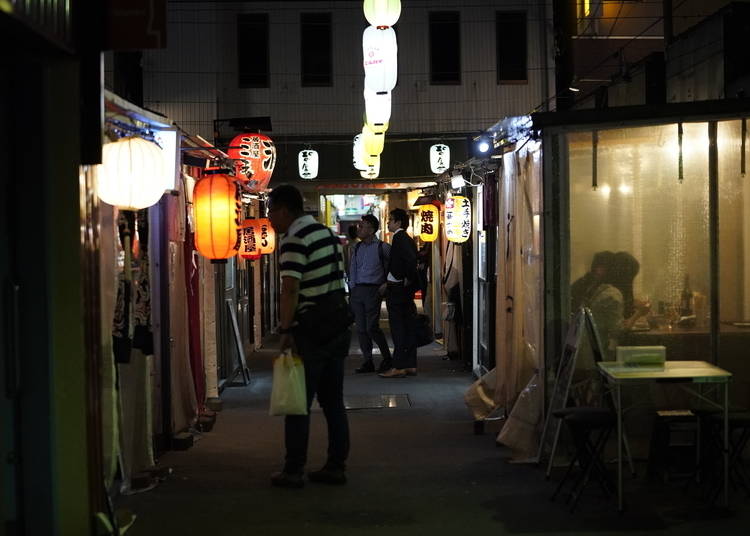 The yatai that line Ikinuki-dori are a popular haunt for visitors to Obihiro
Following your Basha Bar adventure, refill your glass and explore the local cuisine at one of the numerous local yatai located in the Kita no Yatai area in downtown Obihiro. Located a few minutes' walk from the railway station and major hotels, these strips of small and cozy café/pub-like outdoor stalls usually cater to a few guests at a time due to their limited size.
Customers enjoy a beer and a joke in Tsukuriya
Fueled with booze and tasty food, the ever-rotating cast of guests—both domestic and foreign—invariably engage in animated conversation, generating a warm and convivial mood. Despite Hokkaido's often bitingly cold weather, Obihiro's yatai are never short of customers. Each yatai has its own special atmosphere and specialties, but for a guaranteed warm welcome and a wide selection of tasty locally sourced eats, try Tsukuriya, located about halfway down the lantern-lined Ikinuki-dori (off Ginza-dori).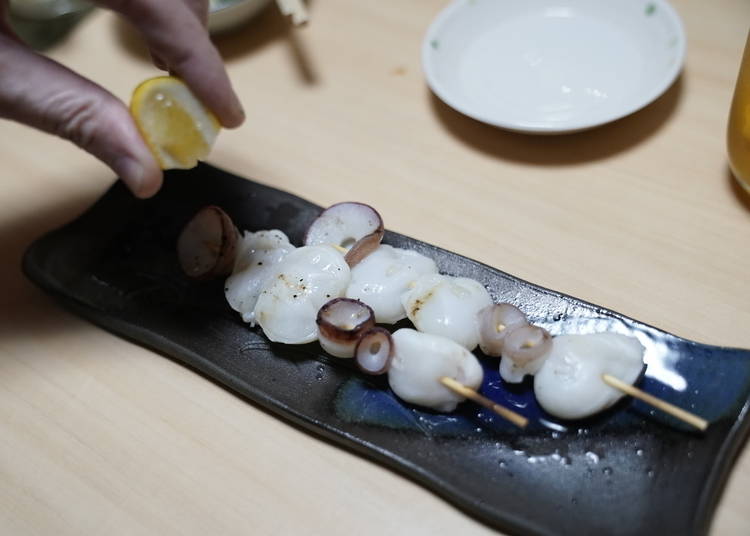 Raw octopus served up in Tsukuriya yatai
Tsukuriya has no English menu, but the proprietors—Mr. and Mrs. Morimoto—are happy to describe their food and drink to the best of their English ability. Try the delicious skewers of raw octopus drizzled with lemon juice and washed down with foaming beer, or sample their super-fresh sashimi and range of Japanese sake.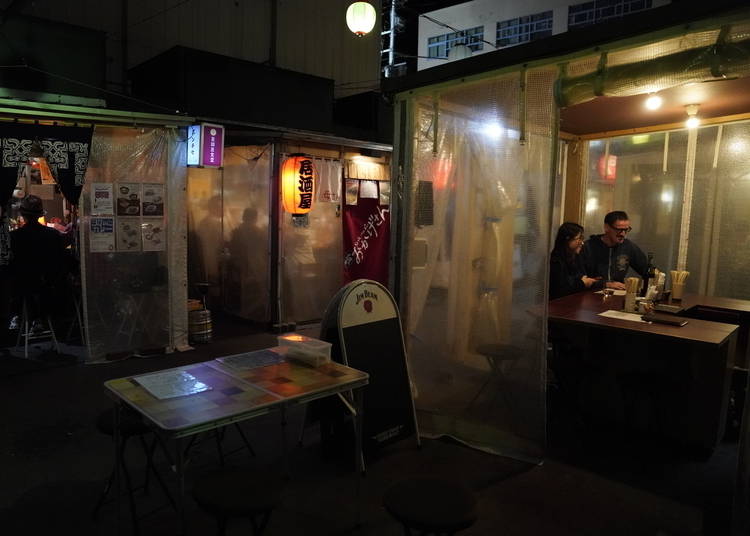 Each yatai has its own special atmosphere
Alternatively, drop by the Yukumo yatai, which specializes in tasty gyoza dumplings and an excellent selection of beverages. Depending on your choice of gyoza, the friendly owners—Mr. and Mrs. Takahashi—will recommend a suitable wine. Be sure to sample their unusual marriage of vegetable gyoza and Touraine Sauvignon Blanc wine.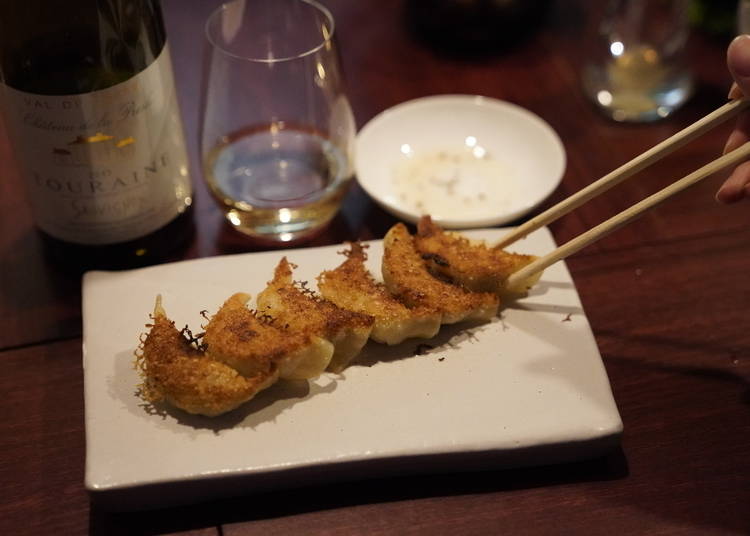 Vegetable gyoza and white wine in Yukumo yatai
The flavor of the white wine perfectly offsets the celery and peppers within the crispy pan-fried dumplings. To top things off, order the house specialty, Runyan, a distinctive cocktail comprising rooibos tea and peach liqueur.
北の屋台

Address

10-7, Nishi 1 Jo Minami, Obihiro, Hokkaido

※Shops subject to change every three years
Dates/times: 5 p.m.– (closing times vary)
Languages available: Basic English/Japanese
Spend the night in purse-friendly comfort at Hotel Nupka
Hotel Nupka, Obihiro City
Obihiro has its fair share of business hotels (mostly clustered around the station), but for a more affordable, culturally rewarding experience, try staying at Hotel Nupka. In addition to modest but comfortable en-suite single and double rooms, the recently renovated facility also has separate dormitories for men and women (with shared toilets and showers).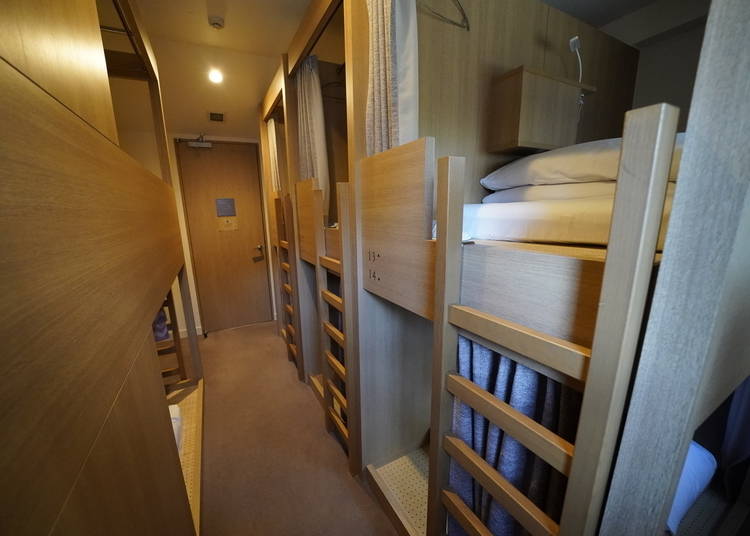 Hotel Nupka's shared dorms are clean and comfortable
The dorms' spacious and comfortable bed spaces are crafted from warm-colored wood and are anything but basic—think upscale ship's cabin or luxury capsule hotel. The ground-floor café, meanwhile, offers a wide selection of food and drink, including numerous Japanese craft beers and dishes created from local ingredients. The café is the perfect place to swap travel tips with fellow guests or chat with locals in a friendly shared space.
Hotel & Cafe Nupka

Address

10-20-3, Nishi 2 Jo Minami, Obihiro, Hokkaido

Check-in: 3 p.m.
Check-out: 10 a.m.
Price per person (no meals): Dormitory beds from 2,700 yen(tax-included); single rooms from 3,700 yen(tax-included); double rooms from 4,700 yen (tax-included)
Languages available: Basic English/Japanese
Email: hello@nupka.jp

*This information is from the time of this article's publication.
*Prices and options mentioned are subject to change.
*Unless stated otherwise, all prices include tax.