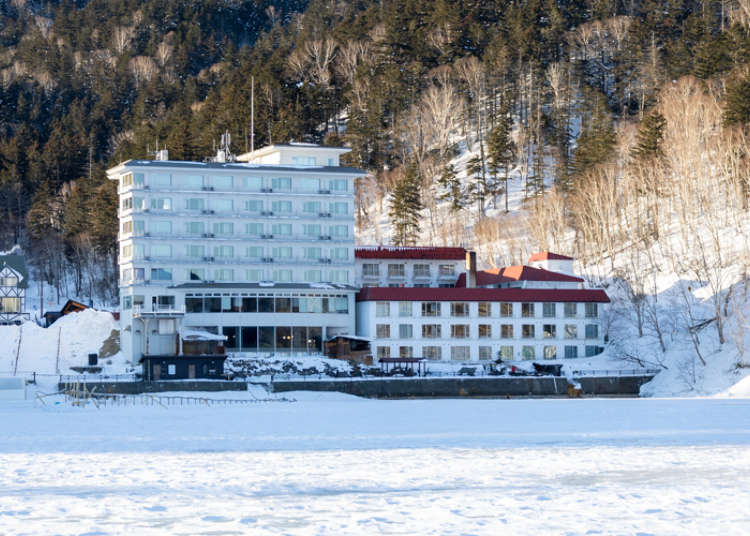 Shikaribetsu Kohan Onsen Hotel Fusui is an idyllic retreat located in the remote and stunning region surrounding Lake Shikaribetsu. As Hokkaido's highest-elevated lake (at 810 m), it offers breathtaking scenery and is surrounded by majestic peaks and tranquil waters.

The hotel is the perfect base for exploring this picturesque area year-round, with comfortable accommodations and easy access to all of its natural wonders. We stayed at the hotel and spoke with General Manager Inoue Takao about the history of the hotel and what makes it so special.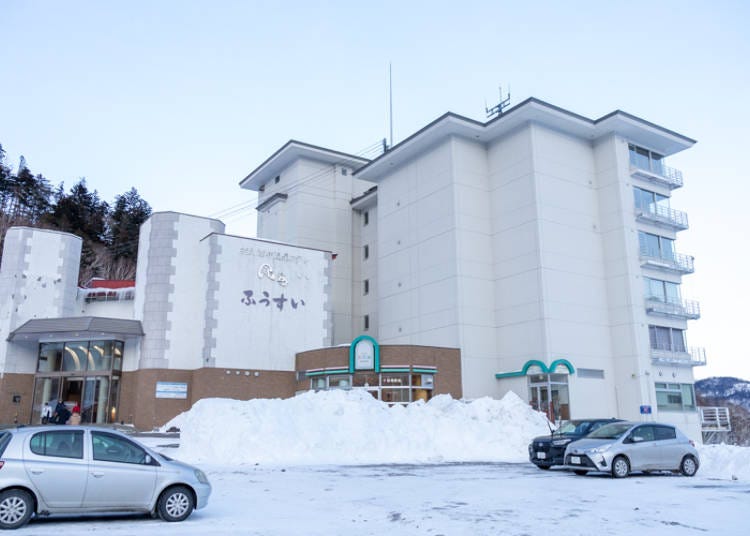 Shikaribetsu Kohan Onsen Hotel Fusui Exterior
The only onsen hotel with a view of Lake Shikaribetsu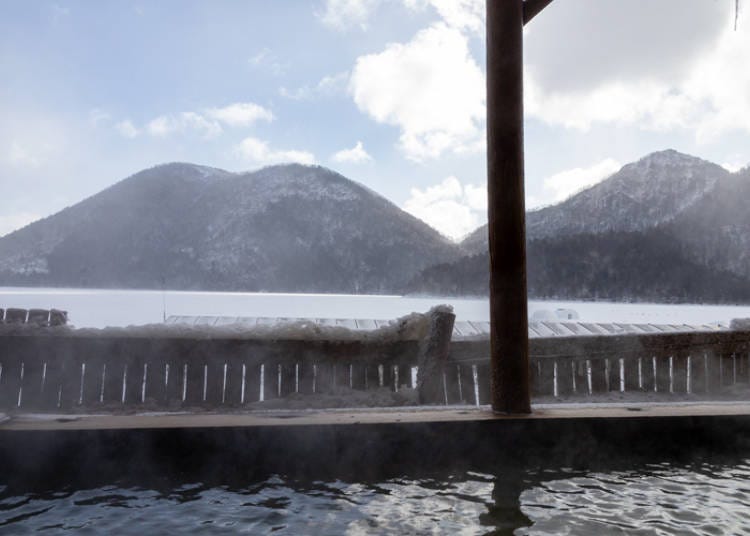 View from the men's open-air onsen
One of Shikaribetsu Kohan Onsen Hotel Fusui's main attractions is the onsens that look over Lake Shikaribetsu and the lip-shaped Mt. Tenbo. During our stay, the morning views showed the lake glistening in the sunshine, while in the evening, the lake was illuminated by the starry night sky.

According to Inoue, at the time of hotel's opening in 1924, there were no roads to access the hotel so customers were brought by boat. Since Lake Shikaribetsu is located deep in Daisetsuzan National Park, there are only two hotels for nature conservation. However, one of which is currently closed, making Hotel Fusui the only place where you can enjoy a hot spring with a view of Lake Shikaribetsu.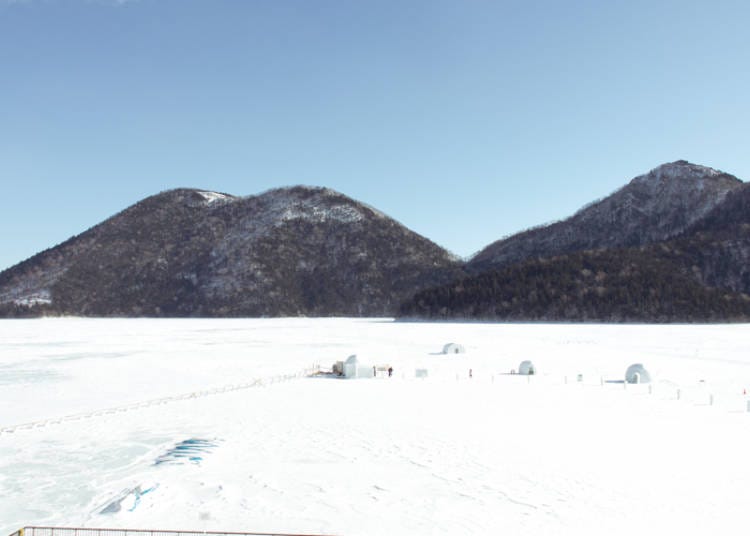 Shikaribetsu Kotan
How to get to Shikaribetsu Kohan Onsen Hotel Fusui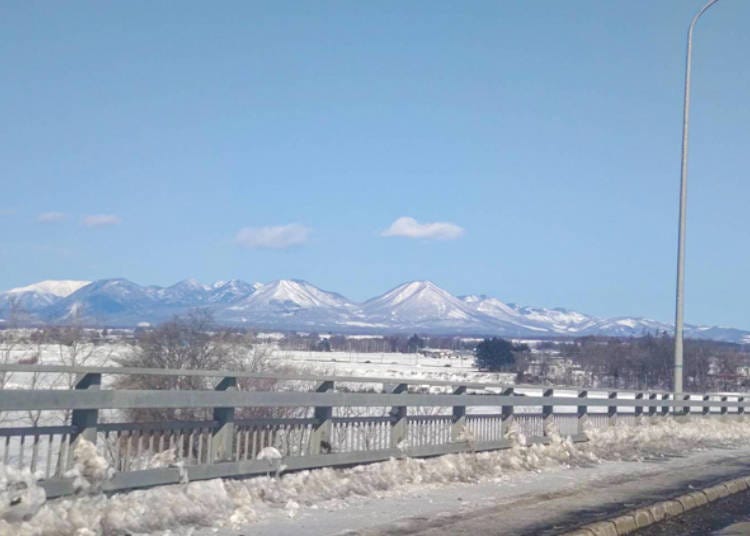 View driving up to Lake Shikaribetsu
The easiest and most convenient way to get to Shikaribetsu Kohan Onsen Hotel Fusui is by car. This will take around 3.5 hours from Sapporo and 2.5 hours from New Chitose Airport.

From as early as December to late March, the roads are icy, so careful attention to the road is needed. However, you can enjoy some spectacular winter scenery as there are various observation points leading up to Lake Shikaribetsu. The snow-covered plains of Tokachi, along with the imperious mountain range, are some of Hokkaido's classic winter scenes.

Throughout the rest of the year, the drive up to the lake is pleasant, with the trees changing color and shape throughout each season.

From Sapporo Station, take the Limited Express Tokachi to Obihiro (2 hrs 43 min; 7,790 yen o/w for a reserved seat). The JR Rail Pass covers this section, but seats need to be reserved on this train. From Obihiro Bus Terminal, ride bus No. 51 for Shikaribetsu-ko (1,680 yen o/w) and get off at the final stop (around 1.5 hours). Note that the JR Rail Pass does not cover this bus.
Getting to Shikaribetsu Kohan Onsen Hotel Fusui
Car: 3.5 hours from Sapporo; 2.5 hours from New Chitose Airport. (MAP Code: 702 388 454*26.)
Train: Sapporo Station → Obihiro Station. Then take bus #51 for Shikaribetsukohan Onsen to the final stop. (Total: 4 hrs 13 min; 9,470 yen.)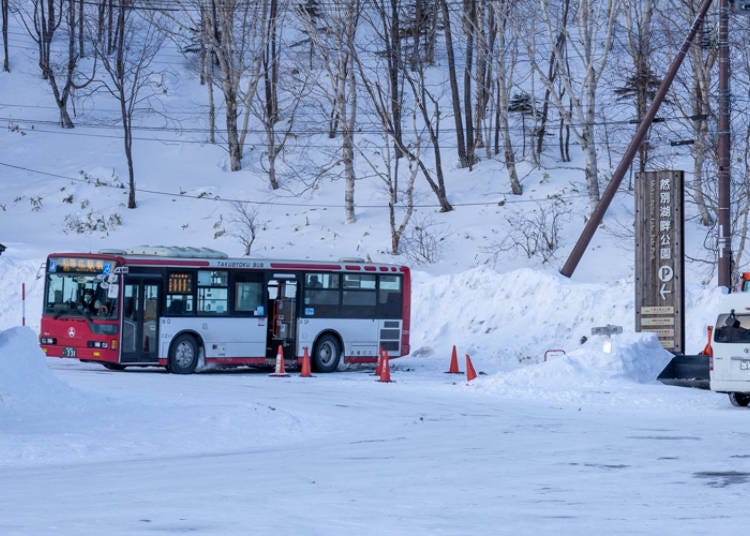 Shikaribetsu-ko bus stop
A unique experience in the mountains
Shikaribetsu Kohan Onsen Hotel Fusui and the neighboring nature center are the only structures in the surrounding area of Shikaribetsu Lake, offering a world of tranquility and serenity. According to Inoue, the only sounds you can hear are the whispers of the wind, making this peaceful environment truly precious. The hotel has been designed to take full advantage of its natural surroundings, with windows placed in strategic locations to provide stunning views of the lake and the surrounding mountains. Nearly every room offers an unobstructed view of the sky and the lake, which is beautifully illuminated by the moon and stars at night. The absence of artificial light sources makes it a perfect destination for stargazing, where you can clearly see the constellations shining above.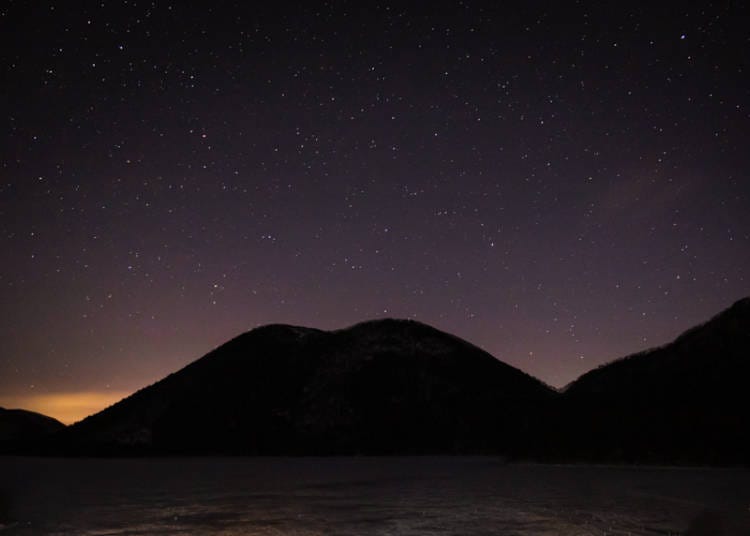 View of the night sky from the hotel room
During our stay, we were recommended by Inoue to relax and enjoy the tranquility of the surrounding nature. The hotel is designed to accommodate this, with four different types of rooms, each designed and equipped to make your stay as relaxing as possible.

1. Tenbo- So
Tenbo-so room, courtesy of Shikaribetsu Kohan Onsen Hotel Fusui
Located on the first to third floors, the rooms feel as if you are on the surface of the lake. Rooms are a cozy 13.7 m² and can sleep up to three people. It also comes with a heater, bath, shower and toilet. Amenities include a tea set, towel, bath towel, toothbrush, yukata (simple Japanese kimono), and razor (applicable to all rooms).

There are also two special Tenbo-so rooms on each floor that are slightly larger at 18.2 m² and can sleep up to five people.

2. Hakuun-so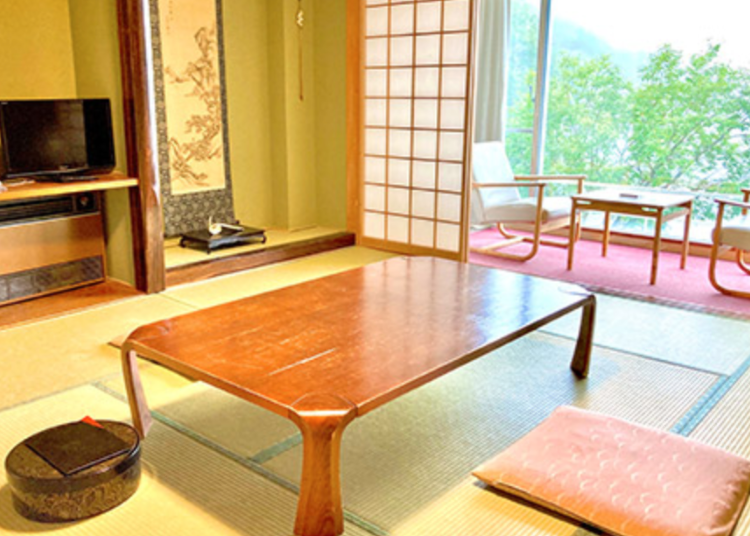 Hakuun-so room room, courtesy of Shikaribetsu Kohan Onsen Hotel Fusui
Between the 4th and 5th floors, are the Hakuun-so rooms, which do not have views over Lake Shikaribetsu. The rooms are mountainside and are 18.2 m² in size, sleeping up to five people. Unlike the Tenbo-so, these rooms only come with a heater and toilet.

3. Fusui-kan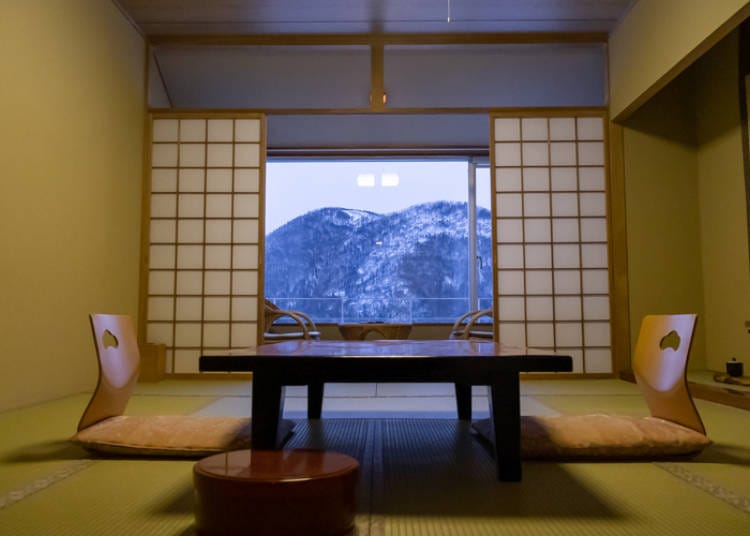 Fusui-kan room
The Fusui-kan boasts spectacular views over Lake Shikaribetsu from above, where you can see the upper-lip shape of Mt. Tenbo reflected on the surface of the lake. At a moderate 18.2 m² with a bath, toilet, washroom, and cupboard, it is spacious and can sleep up to five people.

4. Fusui-kan (Special room)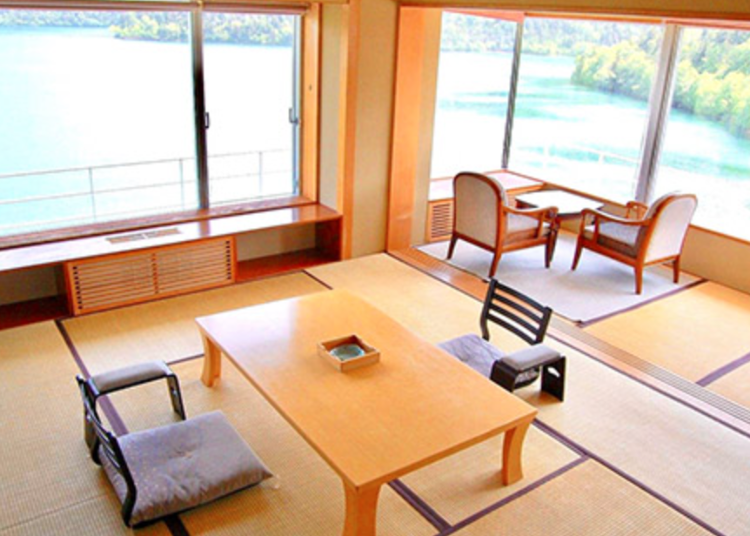 The most luxurious room in the hotel, the special Fusui-kan room has a magnificent 270-degree view over the lake. If you want to see the colorful, seasonal scenery and the moonlit Lake Shikaribetsu under the starry sky, this is the room for you. The room has a generous size of 18.2 m² + 5.5 m² sitting room + toilet, bath, washroom and cupboard, sleeping up to five people. Both of the Fusui-kan rooms come with a heater, air conditioner, wi-fi, bath, shower, and toilet.
Relax in the indoor and outdoor onsens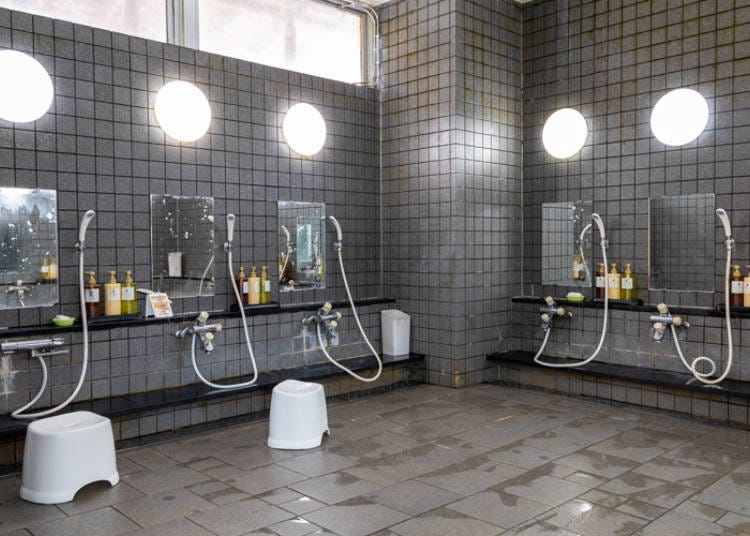 Onsen shower section
The hotel's onsen baths are available for staying guests or visitors on a day trip (adults 1,000 yen, children 500 yen). The onsen contains sodium, chloride, and bicarbonate spring with high iron content and turns a muddy brown color when exposed to air. This mix helps with numerous afflictions and is said to be effective for body aches as well. Note that tattoos are forbidden in the onsen.
Indoor onsen
There are two types of indoor onsens: one standard type, where you can sit and soak your body. The other is a bed-like onsen, where you can stretch your whole body out and relax.

The open-air bath reveals a beautiful view over the lake and mountains. Soaking your body while looking out over the tranquil scenery is the perfect way to heal your body and mind. Dipping in and out of the onsen in the colder months is a great way to keep refreshed.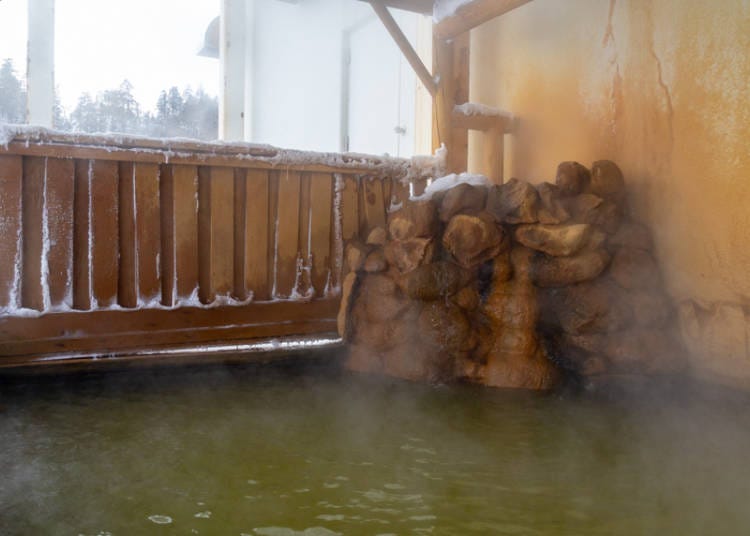 Open-air onsen for men
Dine in the comfort of your own room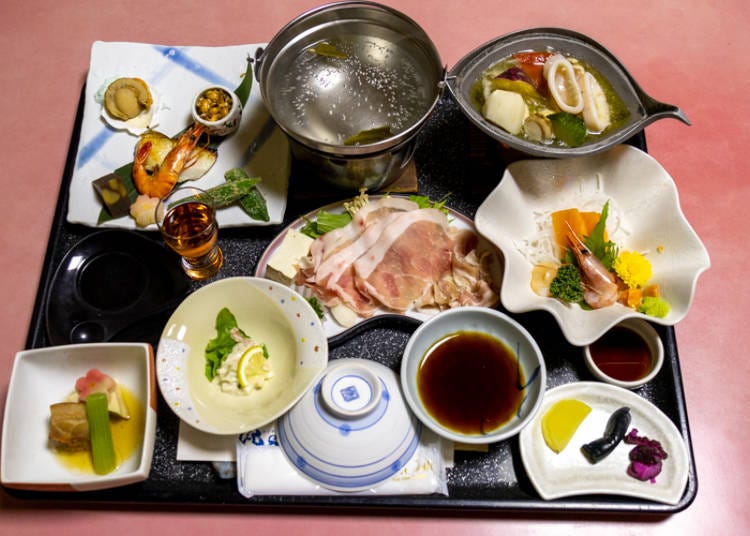 Shabu Shabu dinner in the hotel room
At Hotel Fusui, you can enjoy your evening meal in the hotel's restaurant or in the comfort of your own room, depending on your room plan. We enjoyed a beautiful shabu shabu set in the comfort of our room, looking over Lake Shikaribetsu.

Seasonal ingredients specific to Hokkaido's Tokachi area are sourced; therefore meals vary depending on the time of year. Shirakaba Pork is sourced from Tokachi (a famous area for pork) and also Grazing Pork from Shikaoi. The melting point of the fat on the free-range pork is so low it melts away in your mouth. Along with the sweet, salty and slightly acidic ponzu dressing, it was the perfect match.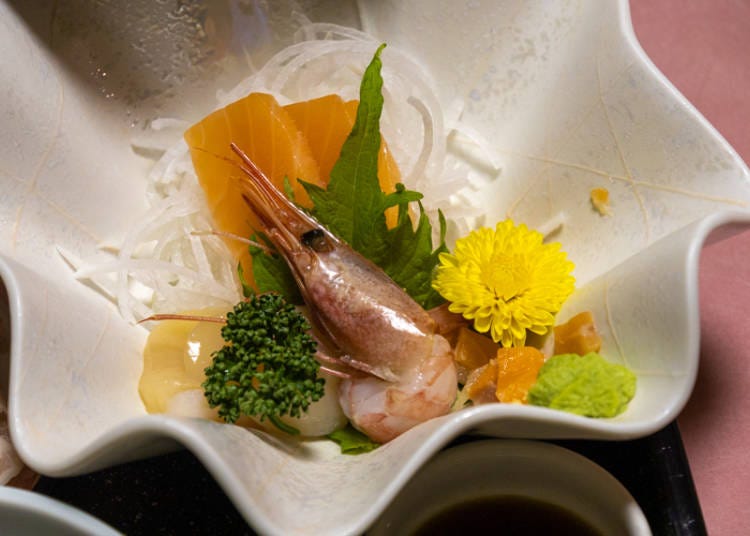 Selection of sashimi
Along with the pork was a small dish of sashimi, including rainbow trout from the neighboring town of Shimizu.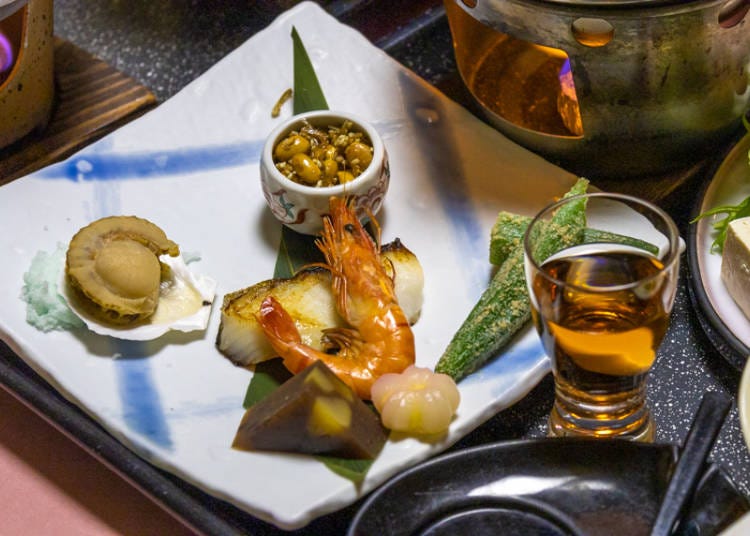 Assortment plate of grilled seafood and wagashi
An assortment of grilled seafood, braised pork, a selection of tempura and al ajillo follows allowing you to enjoy more of Tokachi and Hokkaido's delicious produce.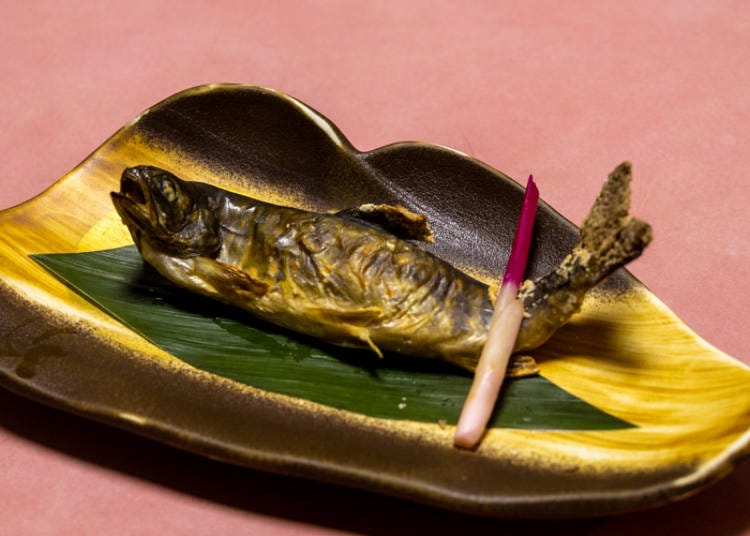 Dolly Varden Trout
One of the specialties of the meal is the Oshorokoma (Dolly Varden Trout), which is raised in the spring water of Lake Shikaribetsu coming from the mountains. The fish is salted and grilled, adding a nice char and aroma to the meatiness of the fish.

The meal also comes with a chawanmushi (savory egg custard), filled with beans, prawns, and chestnuts. To finish, there are small portions of wagashi (Japanese sweets), which are sweet but also light and refreshing. You can also choose from a selection of alcoholic beverages, soft drinks, and tea from the drinks menu.
Fuel up at the buffet-style breakfast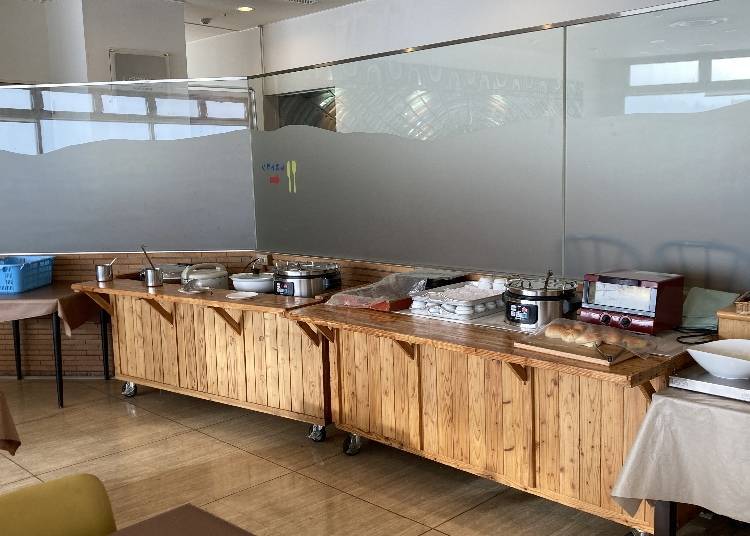 Western-style buffet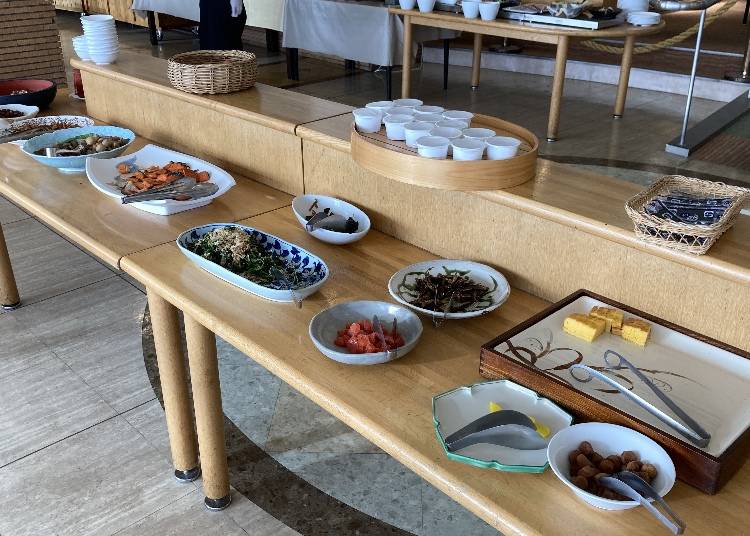 Japanese-style buffet
At the hotel's restaurant, there is a mix of western and Japanese-style dishes. Western dishes include scrambled eggs, sausages, bacon and bread. The Japanese style includes various tsukemono (Japanese pickles), salads, grilled fish, rice and miso soup. There are a variety of drinks available including coffee and orange juice.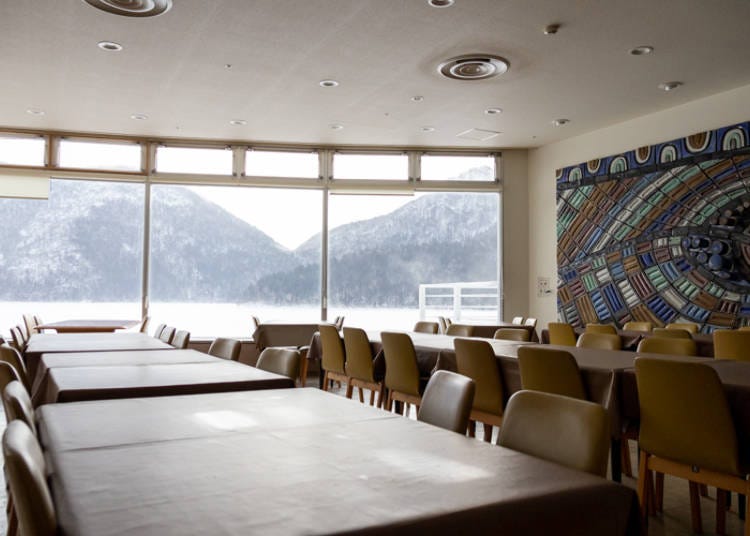 Dining room looking over Lake Shikaribetsu
While enjoying your breakfast, you'll also love gazing out at the panoramic windows over Lake Shikaribetsu and the surrounding nature. Along with the morning light, it's the perfect way to start your morning.
When is the best time to stay at Shikaribetsu Kohan Onsen Hotel Fusui?
The surrounding nature of Shikaribetsu shows different faces throughout the year. In winter, the lake freezes over turning the area into a winter wonderland. Along with the popular Shikaribetsu Kotan, it is a winter lover's dream.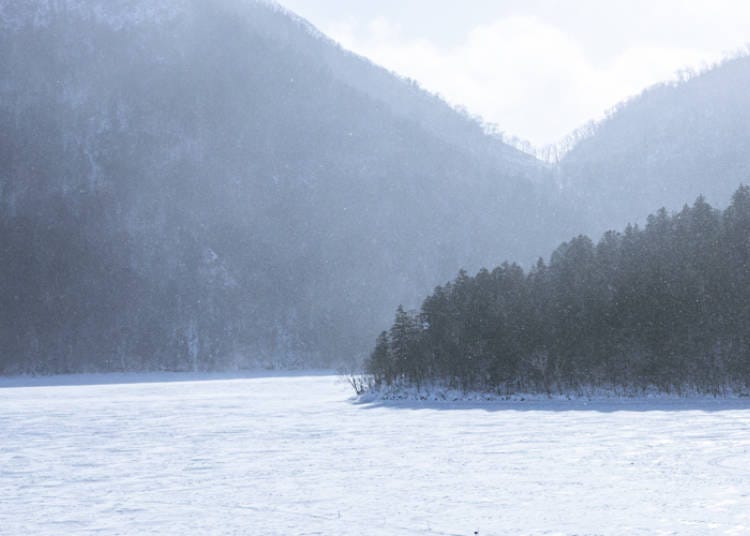 Morning views over Lake Shikaribetsu in winter
During spring, cherry blossoms start to bloom and in autumn, the mountains become dyed in crimson and golden orange hues.

However, Inoue's personal recommendation is in June. The trees and flowers begin to bud, and the scenery is truly beautiful as it is enveloped in a pale green color. Every day, the scenery changes and there is something new to discover every day. Relaxing in the summer greenery is peaceful for the mind, body and soul.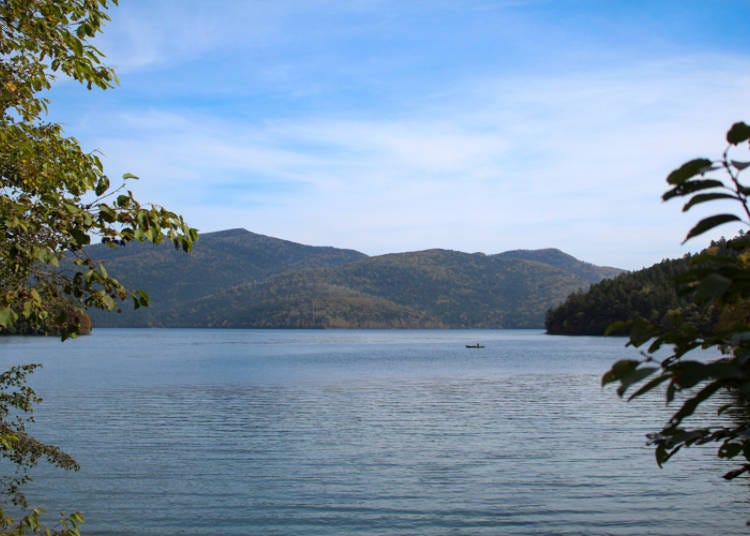 Lake Shikaribetsu in late summer
The lake also becomes accessible by canoe, where you can enjoy the tranquility of the water surrounded by the mountains. For hikers, the area is a paradise with multiple hiking spots offering vantage points over the area.

No matter the time of year, Hotel Fusui and the surrounding nature are worth visiting. The spectacular scenery and tranquility are a unique trip worth visiting while in Hokkaido.
Health & safety measures

・Indoor disinfection measures taken
・Sanitizer installed
・Disinfected after each guest leaves
・Ventilation measures in place
・Staff wear masks, gargle, wash hands regularly, disinfect, and monitor body temperature
・Entry declined to anyone who is feeling unwell
・Masks required/temperature check enforced
・Limitations on room service
・Check-in and support are available
Multilingual support

・English speaking staff available (limited)
Address

Shikaribetsukohan, Shikaoi, Hokkaido, 081-0344
View Map

Nearest Station

Shintoku Station (Sekisho Line / Nemuro Main Line)


Vacancy search, reservation

from

26,400JPY

1room, 2adults

Check with our partner site as the latest rates, rate details, and guest room requirements may vary.
Written by:
*This information is from the time of this article's publication.
*Prices and options mentioned are subject to change.
*Unless stated otherwise, all prices include tax.
Limited time offer: 10% discount coupons available now!