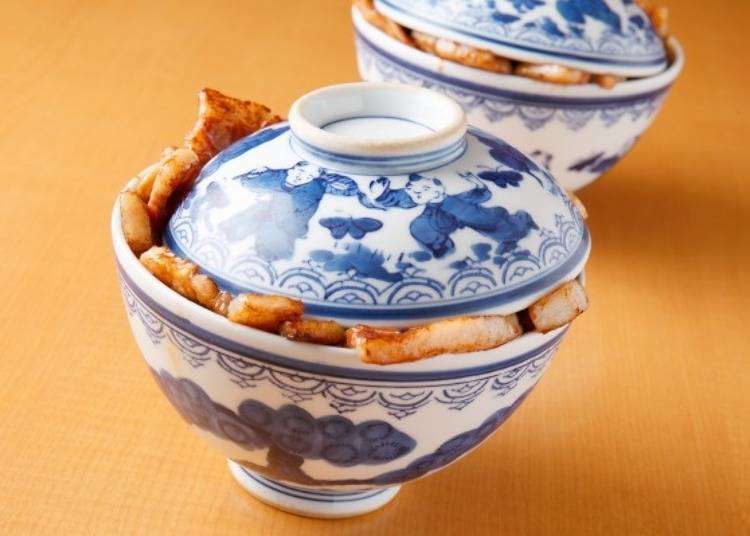 The Obihiro butadon is famous worldwide! Layers of thick pork slices on top of rice, seasoned with a sweet and spicy sauce, and served in a bowl – that's Obihiro's specialty pork bowl!

The origin of this dish is from Obihiro City in Hokkaido's Tokachi region. The Obihiro pork bowl is also a commonly homemade dish in the Tokachi district. As an item on mom's easy menu, it is an everyday meal that gets the family to the dinner table quickly.

This time, Saori from Tokachi, who loves this delicacy, recommended these three Obihiro butadon shops!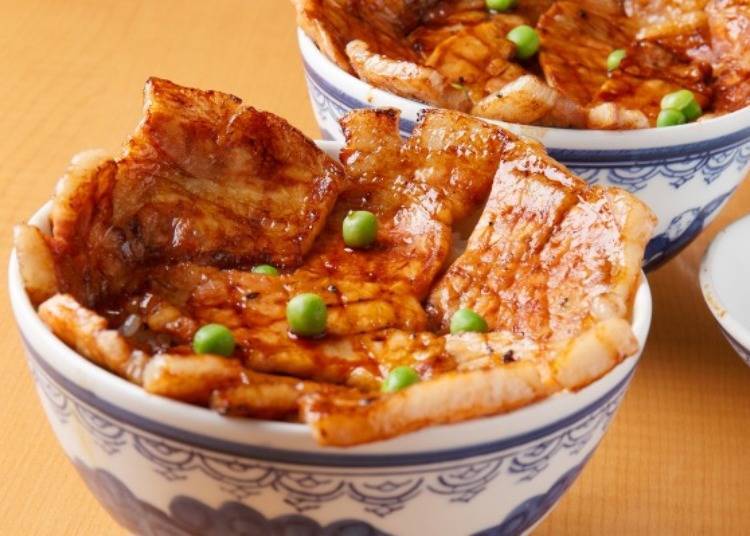 In the Tokachi district, this pork bowl is a common home-cooked meal
1. Butadon PANCHO: Home of the original Obihiro butadon!
The first place I visited was a pork bowl specialty shop in front of Obihiro Station, "The original pork bowl Pancho." Founded in 1933, it is known as the origin of this Hokkaido specialty.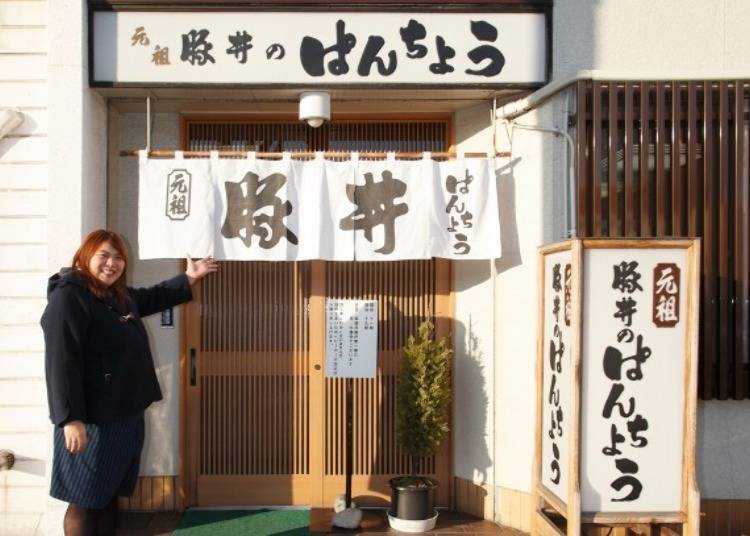 This shop is so popular a line forms as soon as it opens. "I will avoid the lunch time rush," says
The Obihiro Obihiro pork bowl is a dish originally created for stamina. Although the exact date is unknown, the dish first began when the founder, Shuji Abe, went out to the river to fish every evening after he closed his shop. This was a time before Pancho had begun.

"My thought was to serve delicious and energy-filled dishes to the farmers and pioneers who I would see sweating away in the fields on my way to the river," were the words of Shuji Abe says Sachiko Abe, as she tells the secret story of the birth of the Obihiro butadon.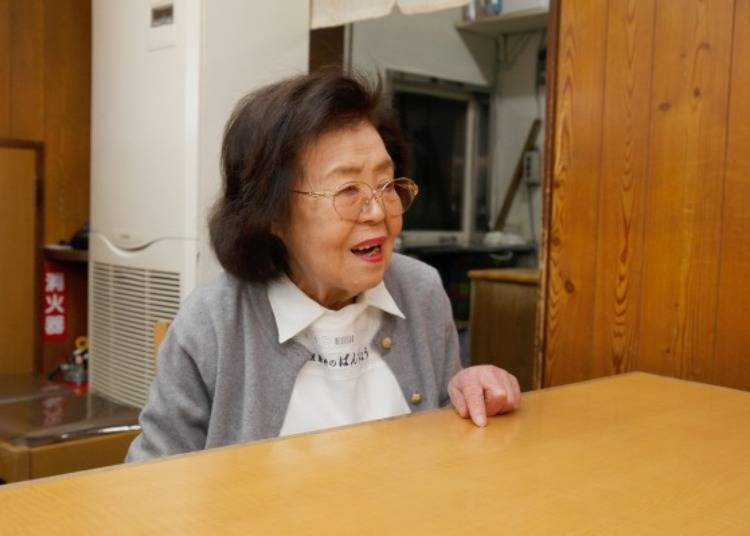 Here we spoke with descendant Sachiko Abe who still works in the shop greeting the customers.
In order to create cuisine for stamina, the idea was to use eel, but at the time eel was too expensive and difficult to obtain. So, because pig farming had been widespread in the Tokachi district, we decided to use pork as it was easily accessible.

Using a hint of eel sauce, pork was baked in a sweet and spicy sauce that we served in a bowl. This dish was well received and was quickly sold soon after putting on the menu. Although the shop was originally opened as a mass public eatery, eventually all other menu items were removed and the store continued on as an Obihiro butadon specialty shop.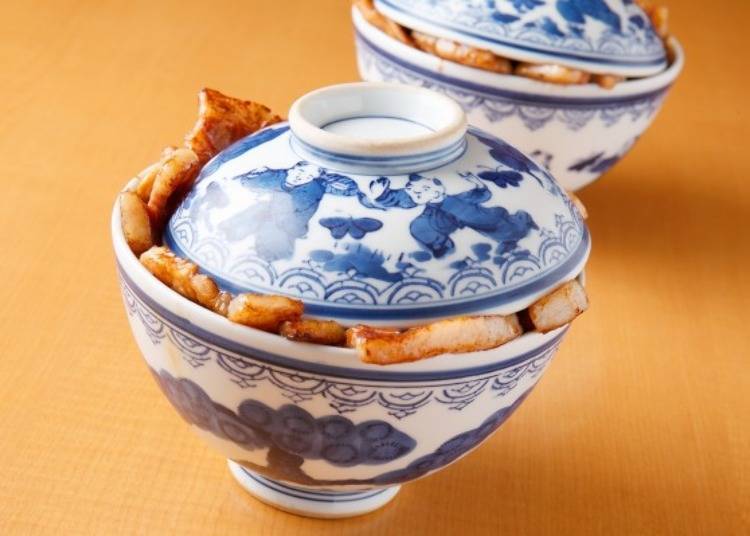 Pork is protruding out of the bowl and is the general style of this pork dish
The Obihiro pork bowl menu is divided into 4 types: "pine", "bamboo", "plum" and "flower".

The prices vary based on the amount of meat with "Pine" 4 pieces of meat (900 yen, tax included), "bamboo" 5 pieces of meat (1,000 yen, tax included), "plum" 6 pieces of meat (1,100 yen, tax included), and the highest grade "flower" with 8 pieces of meat (1,300 yen, tax included).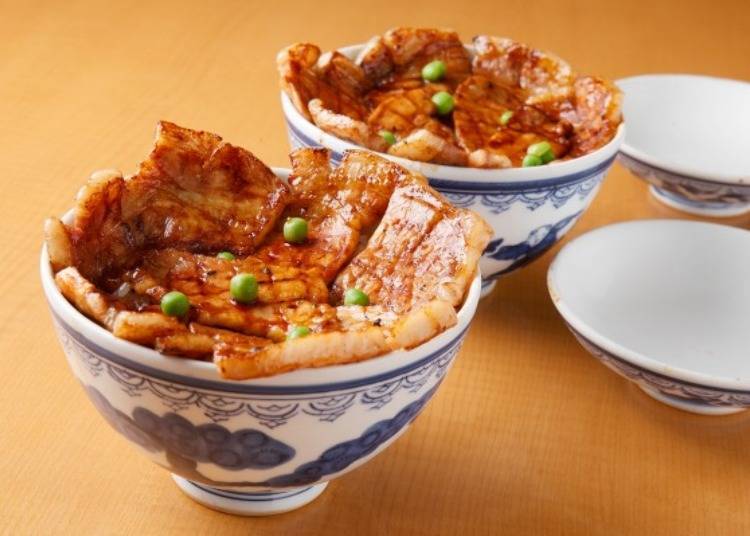 As you remove the lid, you will notice the pork covers up all the rice. This is the "plum" bowl.
In general, pine tree bamboo is the most exclusive, right? However, "Plum" is more expensive than "Pine" because at Pancho, the name of the lady of the first generation was named Ume (plum) and so it seems that she is celebrated by ranking "plum" above "pine".

In addition, the highest grade "flower" is something like an extra-large when compared with other Obihiro butadon shops.

However, calling the dish an extra-large may discourage some female customers from ordering, so it was decided to call the dish the "Flower" so that women who enjoy food in plenty can feel free to order. So those who love to eat will have no problem ordering here!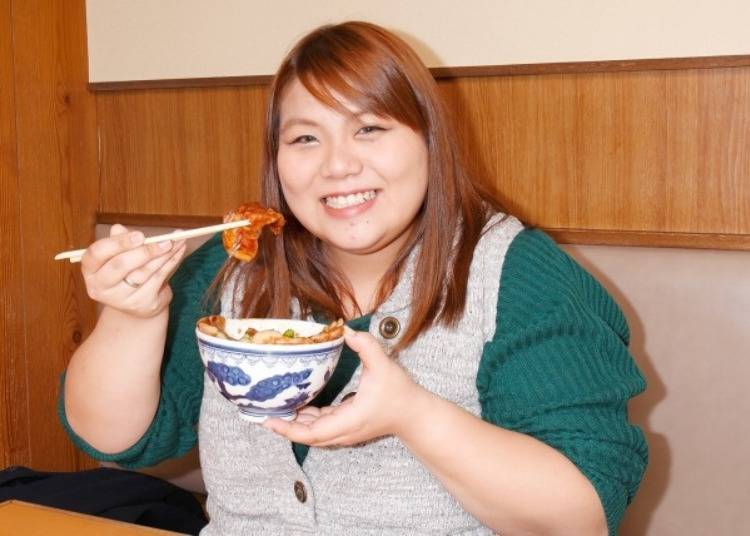 "The smell of charcoal is so good and really gets my appetite going!" she said as she finished her meal.
The characteristics of the Obihiro pork bowl offered at Pancho are charcoal-grilled pork loin with a secret meat sauce. When it is grilled with a charcoal fire, excess fat drops and the meat becomes more tender. Their secret sauce is the same one used from the original creation with the recipe still protected to this day.

There is also a mellow richness in the sweet and spicy taste, with the smell of charcoal and the flavor of the secret sauce that lingers in your scenes. Even after you finish eating, the pleasant aftertaste leaves quite the impression.

The original pork bowl is available outside of Obihiro Station. You can order to go, so you can take it home or eat it on the train.
元祖豚丼のぱんちょう

Address

〒080-0011  北海道帯広市西一条南11丁目19/11-19, Nishi1-jominami, Obihiro-shi, Hokkaido, 080-0011, Japan

Phone Number

0155-22-1974

Hours of Operation: 11: 00-19: 00
Closed: Mondays, 1st and 3rd Tuesday of every month
(When a business holiday falls on a Monday, the following day will be closed)
2. Hageten Honten: Obihiro Pork bowls and deep-fried pork bowls!
Next, I went on a 5-minute walk from Obihiro Station to visit Hageten Honten in the downtown area.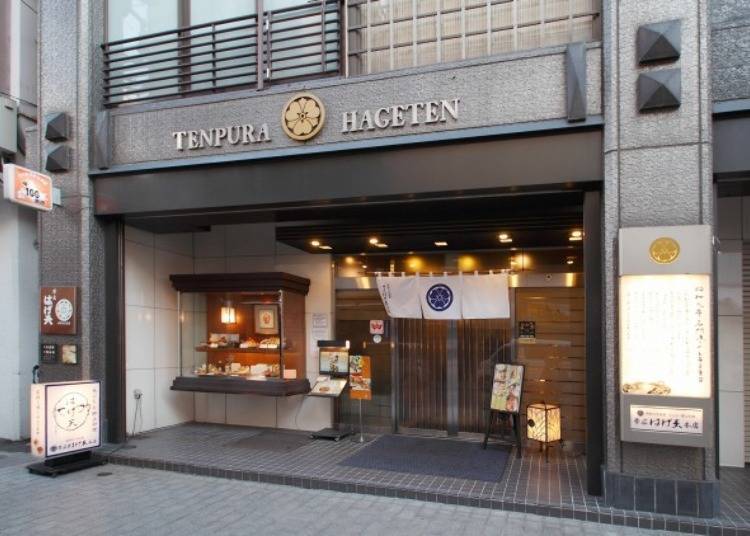 Along with pork bowls this shop also serves appetizers, tempura, and local cuisine.
This shop was founded in 1934, one year after Pancho opened, and is also a long-time established shop. It seems that the Obihiro pork bowl also began to be offered around the time of the shop's opening.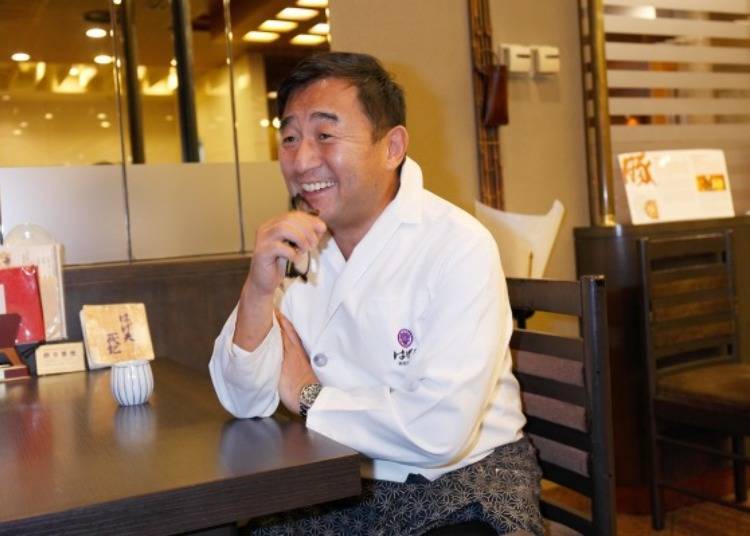 Mr. Yahara (Hitoshi), a third generation decendant, spoke with us quite amicably.
The pork bowl's sauce is the foundation of the flavor.
The soy sauce used, even from the same manufacturers when produced at different times, will still cause minute differences in the flavor.

When making the sauce, it seems that the taste of the sauce is kept uniform by making fine adjustments each time, such as slightly strengthening or weakening the sweetness according to the flavor of the raw ingredients.

This degree of precision comes with the intuition of cooks with many years of experience. That is how we inherit this traditional taste.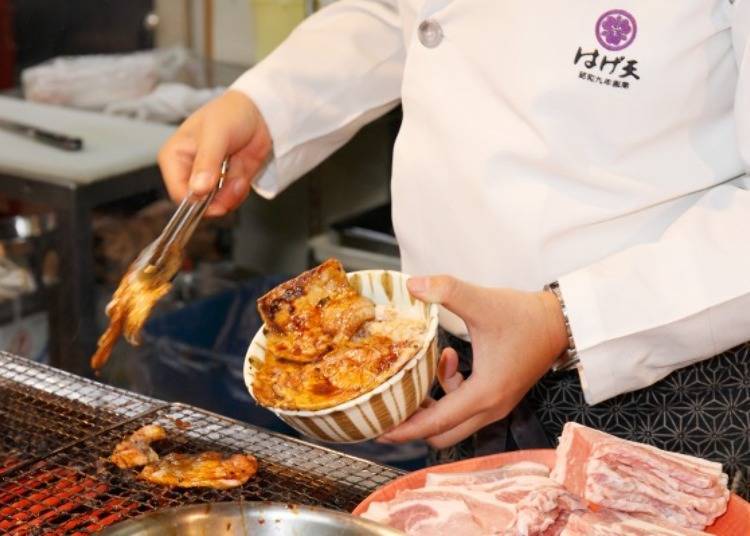 Charcoal grilled pork loin meat with traditional sauce served in a bowl
"If you order for two, we recommend you order one regular pork bowl and a deep-fried one. This way you can enjoy both dishes," says Saori. "At Hageten Honten, the Obihiro pork bowls are delicious, but the deep-fried pork bowls are just as good!"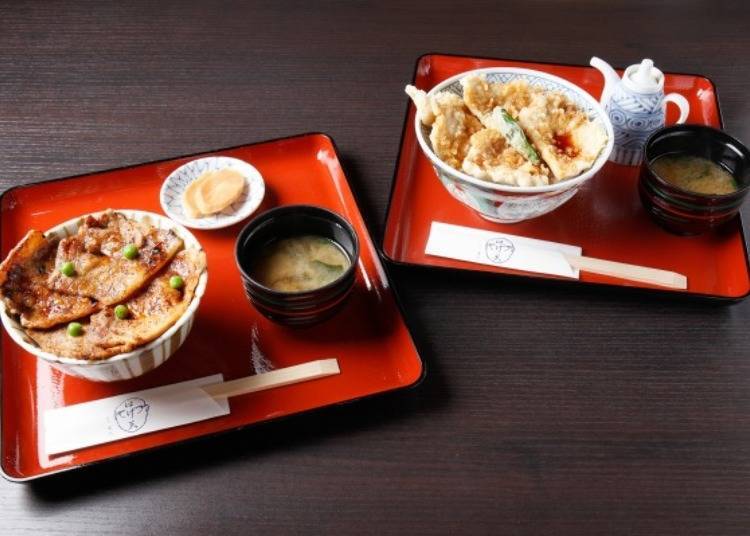 Original Pork bowl on the left (4 pieces, 980 yen, tax included); to the right is the deep fried pork bowl (4 pieces, 800 yen, tax included)
The pork bowl and the deep-fried pork bowl, are both prepared with pork loin meat from Hokkaido-raised pigs. They carefully select the marbled meat using the meat closer to the head in the pork bowl for a heavy texture while using the meat near the tail for the deep-fried pork bowl giving it a crispier texture.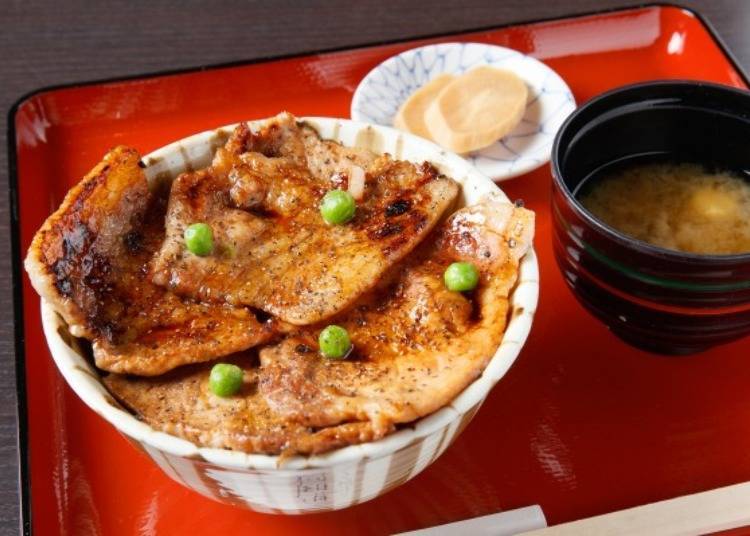 Here is the pork bowl with four pieces. A volume option with 6 pieces is available as well (1300 yen ・tax included)
A tingling sensation of spicy black pepper in the pork bowl is a great accent for a tasty flavor. While the meat is thick, it is so tender you can chew right through it - which causes some to devour this dish quickly.

There are also pork bowls made with an extra crispy flavor served only at lunch. Perhaps it may be somewhat heavy for lunch, but it may be just right for those seeking something filling.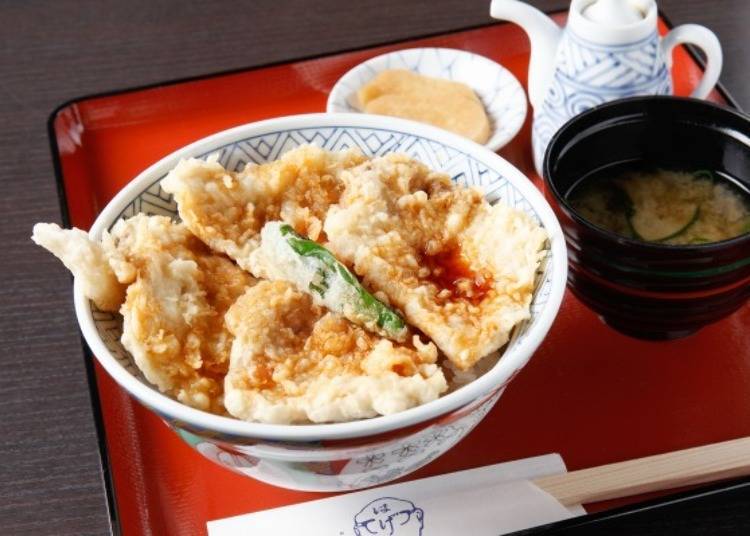 Here is the fried pork bowl with four pieces. An option with 6 pieces is available as well (950 yen, tax included)
Eat the deep-fried Obihiro butadon with a little bit of sauce. Since it is deep-fried, you may think that it will be greasy, but it has a surprisingly light taste. It has been compared to like eating tempura with dashi.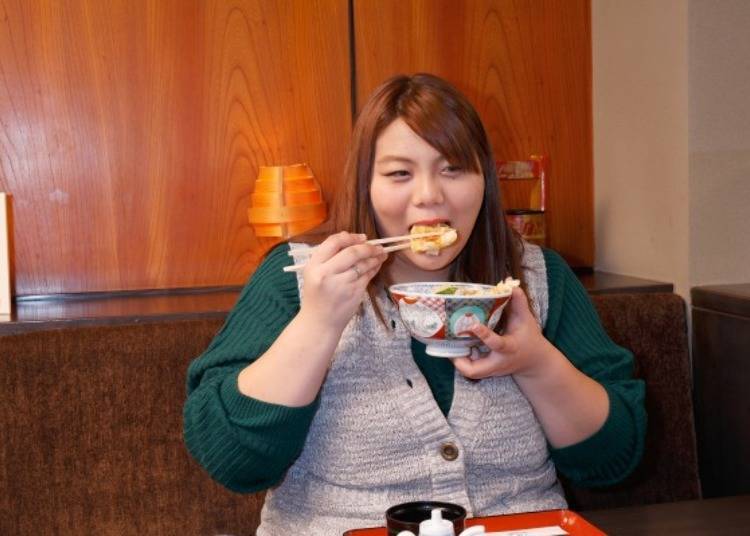 Digging into a deep fried pork bowl!
Eating a pork bowl with secret sauce or eating a deep-fried pork bowl with tempura sauce it is so hard to pick. Which would you choose?
はげ天 本店

Address

〒080-0011  北海道帯広市西一条南10丁目5-2/10-5-2, Nishi1-jominami, Obihiro-shi, Hokkaido, 080-0011, Japan

Phone Number

0155-23-4478

Hours of Operation: 11: 00-21: 00 (L.O. 20: 30)
Closed: irregular holidays (New Year's holiday)
3. Tonda Pork Bowl: The popular new Obihiro butadon shop that has locals lining up
The last shop to introduce is Tonda Pork Bowl, away from the downtown area, about a 10-minute drive from Obihiro Station. Compared to other shops, it is relatively new, but it is known as a spot where the locals line up.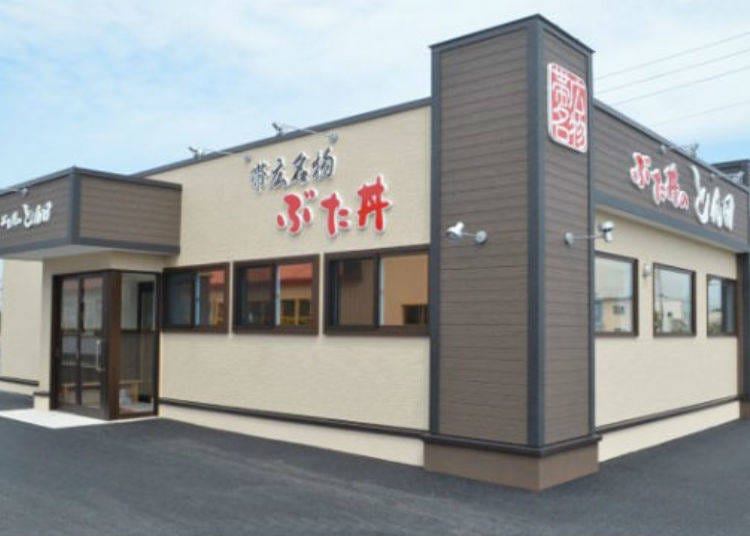 Here, lines form even before the store opens. The best time to go is in the evening, but be careful as the store will close early on days when they run out of food.
The predecessor of the shop was a butcher. When selling face to face with various customers, he noted how the preferences of meat varied depending on the person, such as people who like or dislike fat, or people who like or dislike fillet meat. That is how he says he has acquired the ability to choose meats for the desired taste.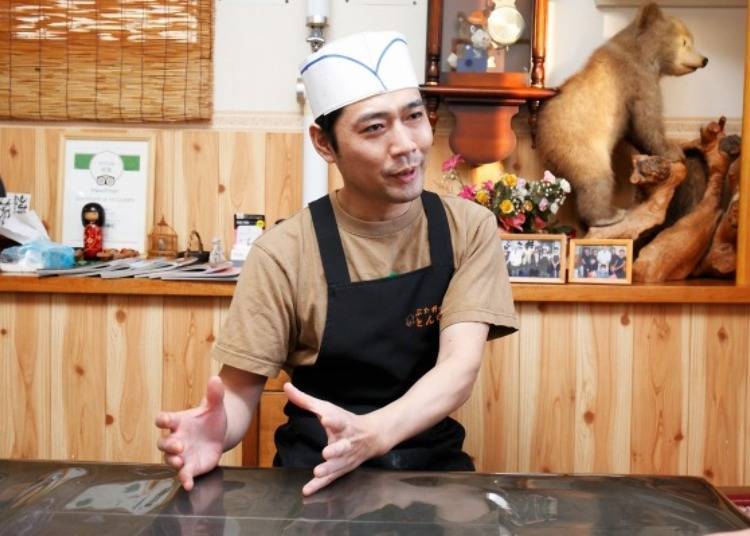 Yoichi Onodera, a 2nd generation descendant, spoke to us with intensity!
The experience of this butcher's time is utilized in the now pork bowl restaurant that stands in its stead. A common Obihiro pork bowl in the Tokachi district uses pork loin, but in addition to this, there are also pork belly and fillet meat options in this store.

A spot where you can choose your favorite meat according to your taste – that's Tonda's key selling point. Additionally, all the meat here is sliced not by machine, but by hand. While looking at meat quality, the human aspect allows the meat to be cut in a way that is easy to eat.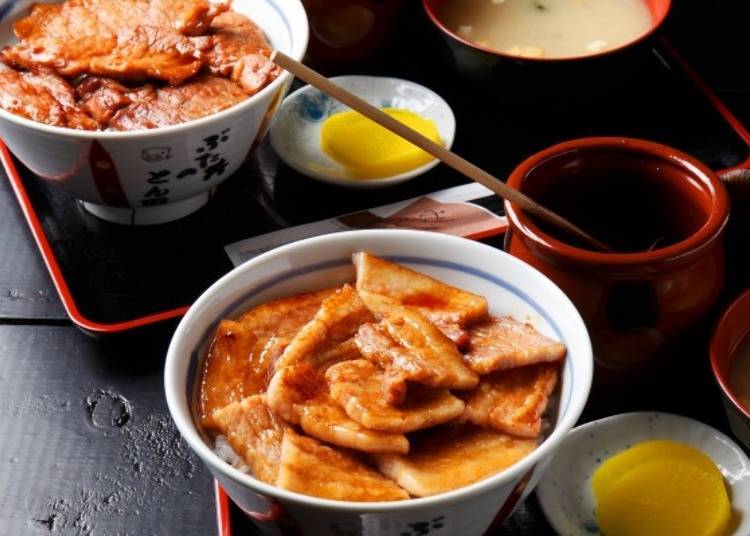 Front: the Pork belly meat bowl; back: Pork Filet Bowl. The price is the same, 780 yen (tax included) for the pork loin, pork belly, or pork filet.
We compared the taste of the pork belly and filet bowls as they are hardly found in other shops. The pork belly option is high in fat content with a strong umami taste. Those who enjoy food high in fat are sure to enjoy this option.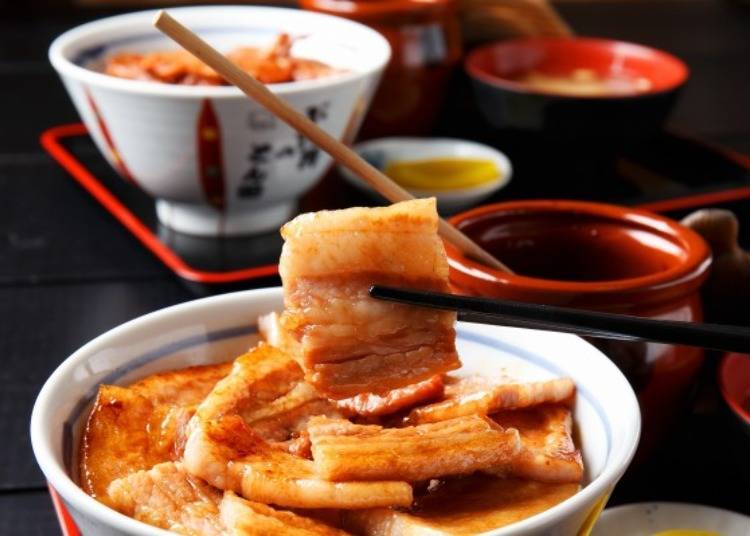 This meat has a sweet taste that will feel like it is melting in your mouth.
The pork filet is said to be the exact opposite when compared with the pork belly. Since the fat content of the filet is low, it has more of a raw meaty texture. However, some people enjoy this meaty taste and is their favorite option at the store.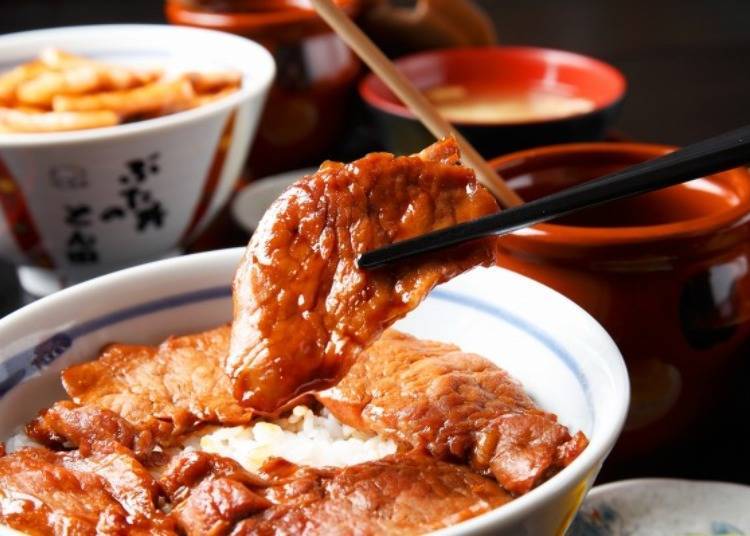 The meat may appear to be tough when the fat content is low, but it was unexpectedly soft and easy to chew
In every pork bowl, the sauce is served in a small bowl on the side. Everyone has their own preference when it comes to sauce, so here people can add sauce to their desired level.

This sauce was created by the butcher and previous owner and the ingredients remain a secret to this day. This sauce has been around 30 years and this sauce has never been shared with anyone.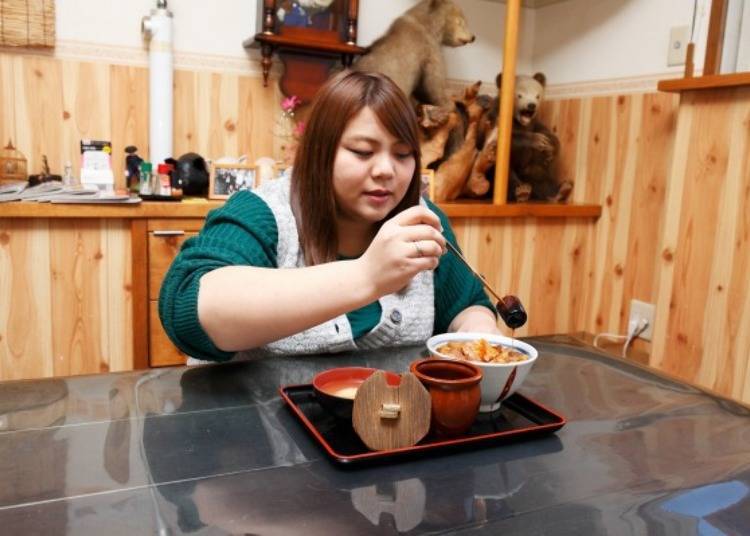 Here you are provided with a ladle to add the secret sauce. Be careful as the meat is served with sauce already on it so do not add too much!
These photos were taken at Tonda prior to the shop's relocation so the actual shop appearance may differ.
ぶた丼のとん田

Address

〒080-0810  北海道帯広市東十条南17-2/17-2, Higashi10-jominami, Obihiro-shi, Hokkaido, 080-0810, Japan

Phone Number

0155-24-4358

Hours of Operation: 11: 00-18: 00 (L.O.18: 00) ※ Will close when stock runs out
Closed: Sunday
Obihiro butadon pork bowls have been a familiar home-cooked meal that has been enjoyed by the Tokachi people for generations. In recent years it has attracted attention as a local cuisine and is now a popular choice among tourists.

What kind of Obihiro butadon would you try? Even the same pork bowl, at different stores, has a completely different taste, so be sure to try many and compare to find your favorite!
Written by : Nobuhiro Kawashima
*This information is from the time of this article's publication.
*Prices and options mentioned are subject to change.
*Unless stated otherwise, all prices include tax.