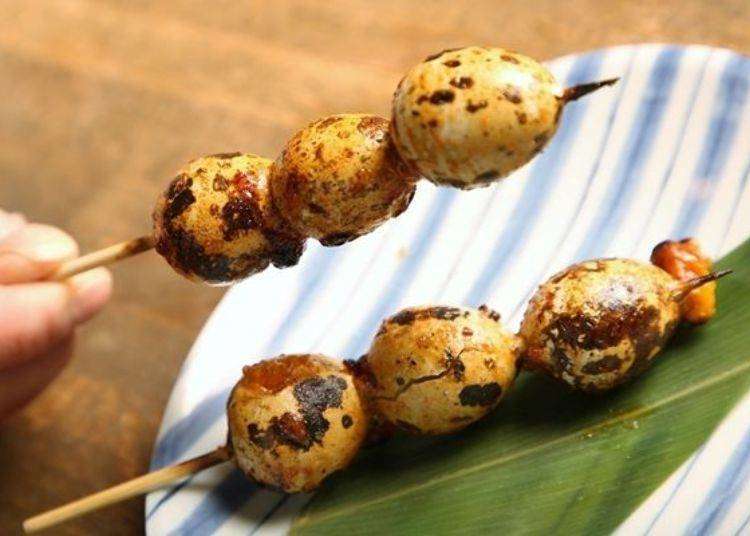 Among Japan's most famous pub foods is yakitori – incredibly juicy, tasty skewered meats that are grilled up with salt or sauce.

Muroran yakitori, a famous gourmet dish from Muroran, Hokkaido, is called "yakitori," but uses pork instead of chicken! Muroran food style is to eat pork and onion skewers with zingy karashi mustard. This unique yakitori is famous as one of the seven biggest in Japan.

Let's check out two of the area's popular shops - Yakitori Ippei and Yoshidaya - and get a taste of Muroran's unique yakitori culture!
The roots of Muroran Yakitori: Why pork?
Muroran yakitori was first served at food stands for workers around 1933, when Muroran flourished as a steelmaking city.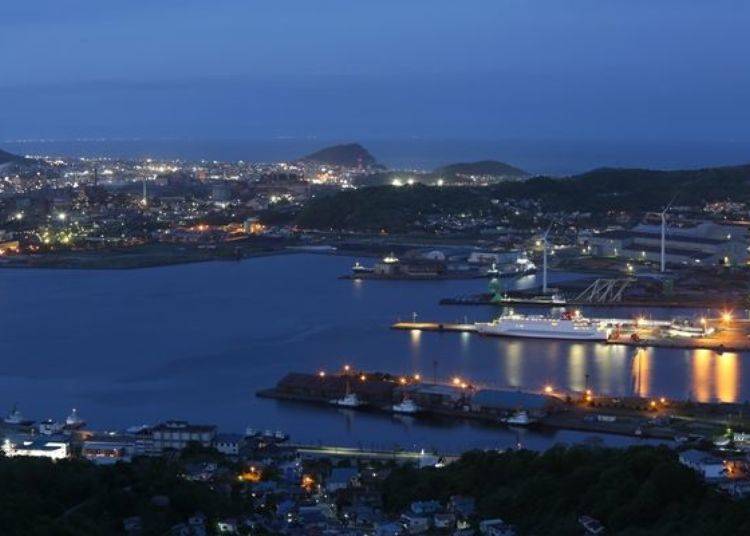 ▲ Muroran City, which flourished as a steelmaking city, has famous for its beautiful night view of factories in recent years.
At that time, pig farming was encouraged to increase food production and produce leather for military boots, so pork offal was sold at food stalls. Because wild birds such as sparrows were also served on skewers, the pork and wild birds were all called yakitori.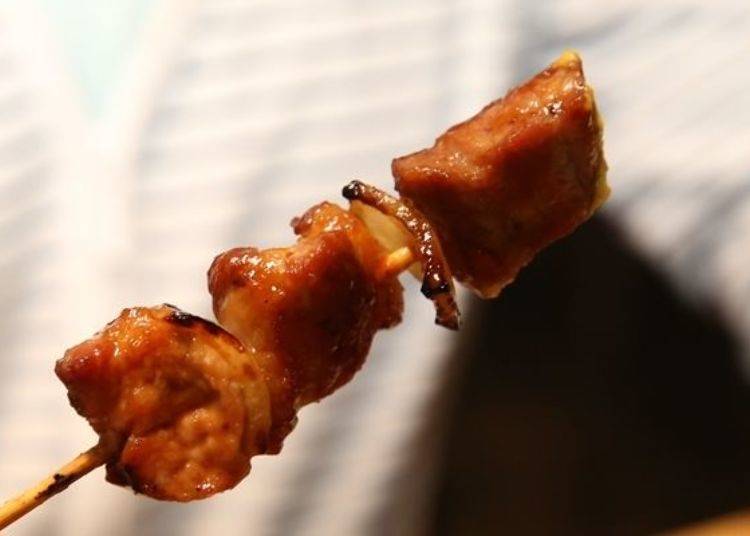 ▲ Standard onions are used instead of the typical long "negi." Hokkaido is a major onion growing area so they're cheaper than negi.
Nowadays, pork and onion skewers are common fare in Muroran, Date, Hakodate, and other regions of southern Hokkaido. However, to avoid confusion, pork skewers are often listed on menus as "butasei" (pork meat), while chicken skewers are "torisei" (chicken meat).

Other skewers, such as liver, are usually pork liver, but there are also many restaurants that offer chicken liver. Onions are rarely used on skewers that use organ meat.
▲ There are various karashi mustard recipes, some similar to the mustard served with tonkatsu or oden.
The spicy karashi mustard has its own unique taste. It's fun to compare the secret flavors that have been handed down through the generations.

Now, on to our spotlight Muroran yakitori restaurants!
1. Yakitori Ippei: Popular Muroran Chain
Yakitori Ippei is about a 10-minute walk from JR Higashi Muroran Station. Established in 1950, it's a popular chain with stores throughout Muroran and Noboribetsu.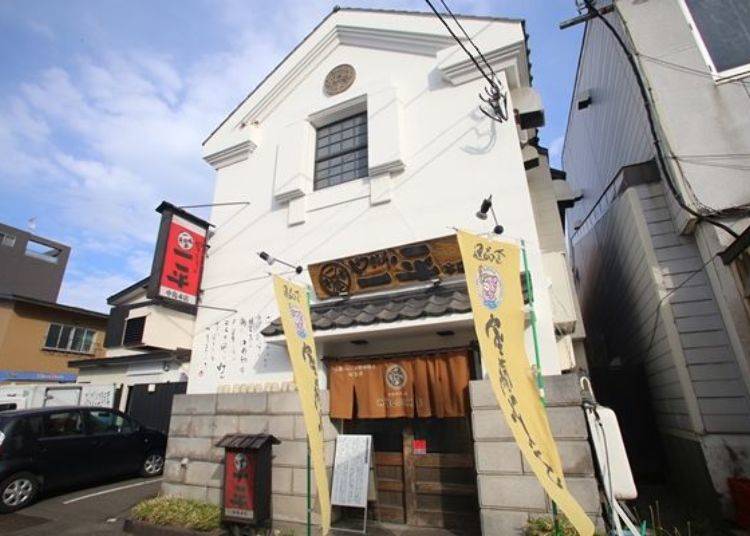 ▲ Ippei's eye-catching main store is designed to resemble a traditional warehouse.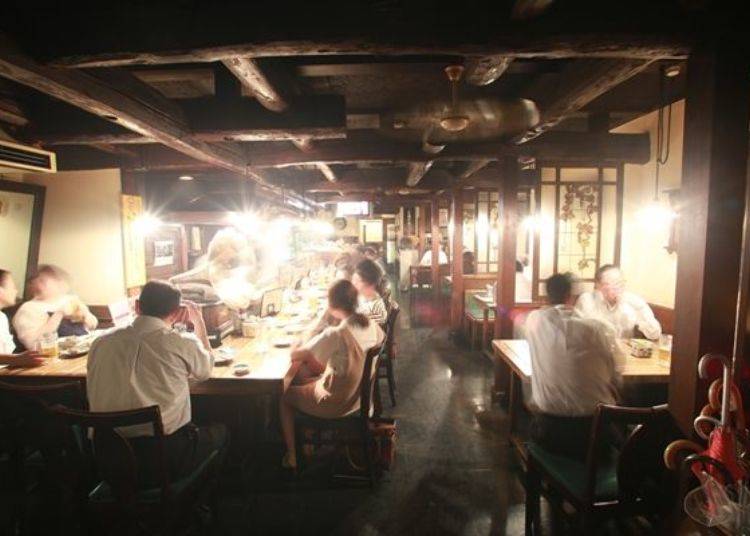 ▲It's a popular store that can have a line of customers waiting outside even on weekdays.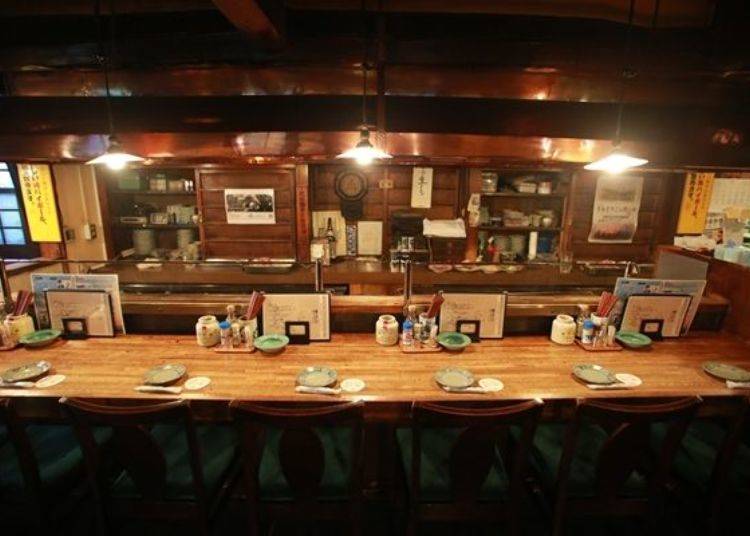 ▲Muroran food is prepared right in front of the counter seats.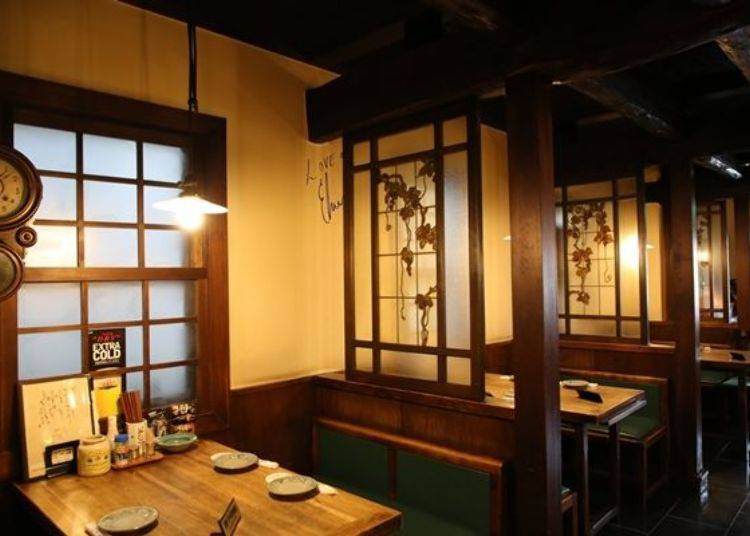 ▲ In addition counter seats, there are 140 seats at tables eats booths.
Mr. Kato, the store manager, recommends three popular menu items. First, traditional yakitori and gourmet yakitori.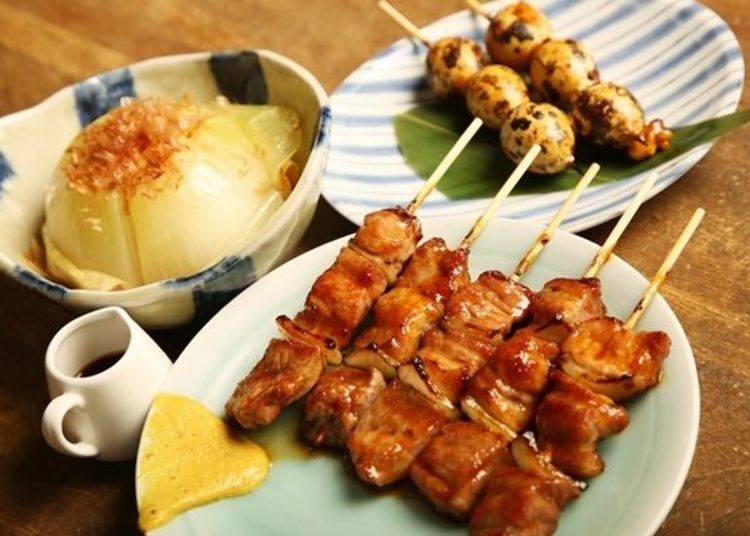 ▲Counterclockwise from the foreground, Ippei's classic Muroran pork skewers (150 yen each), gourmet "charcoal grilled quail eggs (with shell)" yakitori (300 yen), hot "whole onion" (380 yen) (each type of yakitori requires a minimum order two items).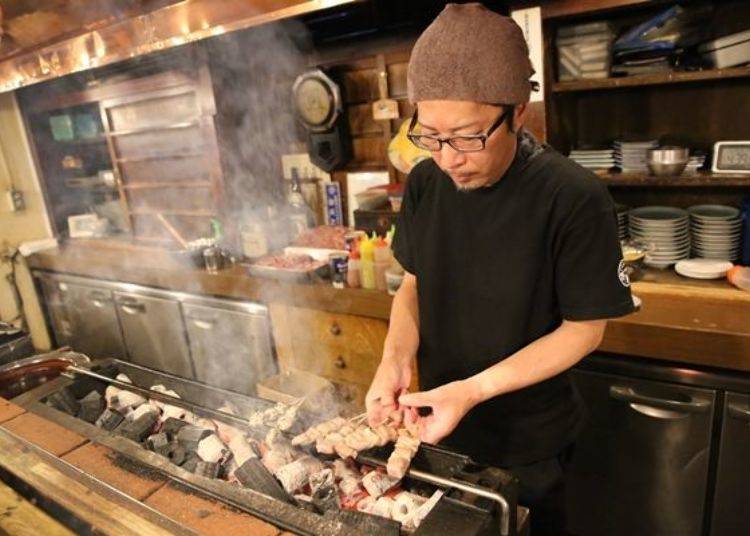 ▲Manager Hideaki Kato. Slowly grilling meat it over the charcoal fire.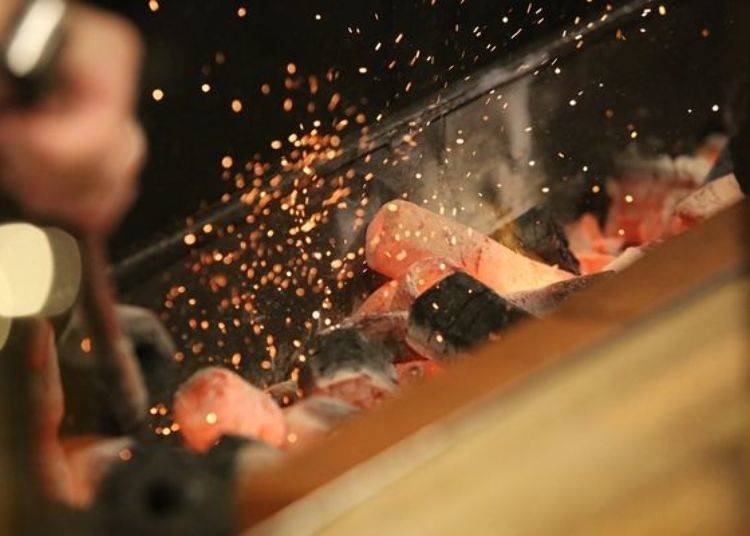 ▲Carefully selected charcoal produces a strong flame, but doesn't affect the flavor of the food.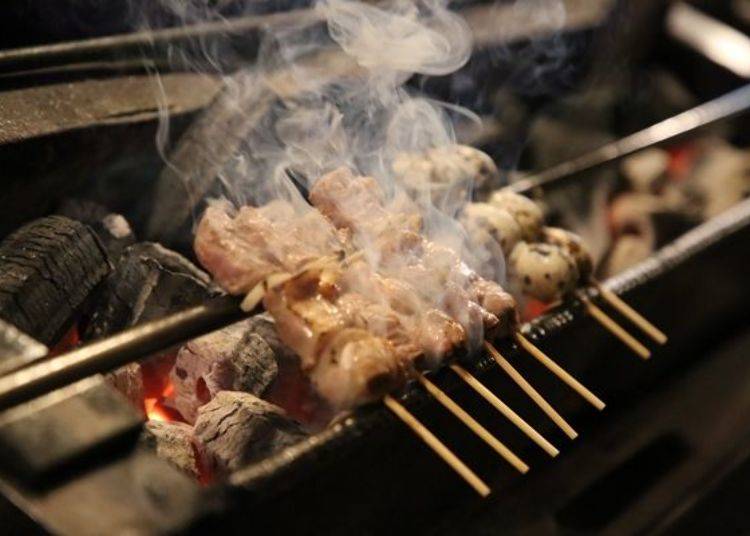 With the eye of a true craftsman, Mr. Kato turns the skewers at just the right time. By adding plenty of sauce, its umami taste soaks into the juicy meat.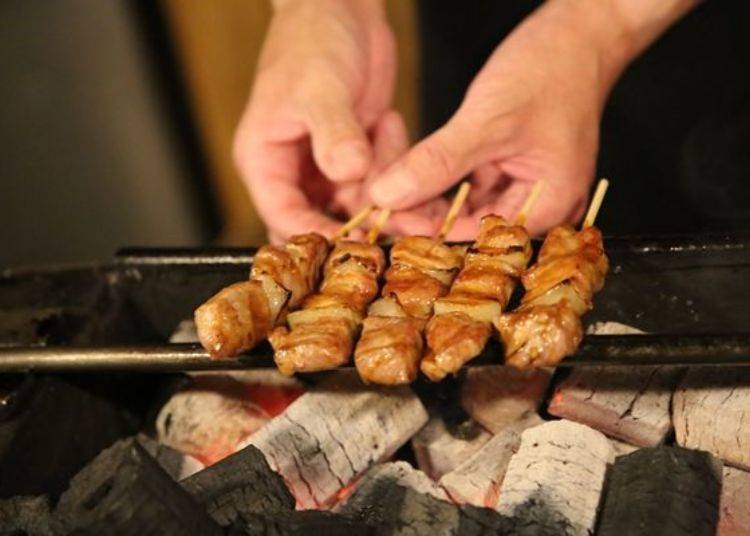 ▲Baste the skewers in sauce, grill twice…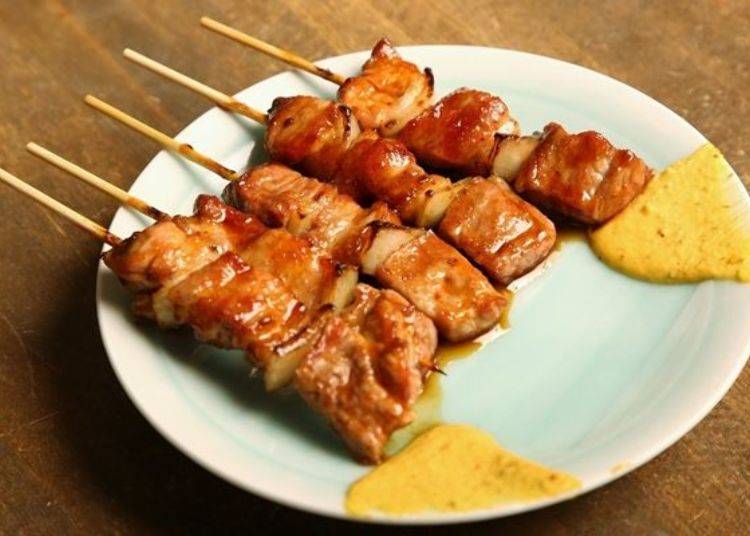 ▲ …and they're ready! Mustard is a must for Muroran yakitori.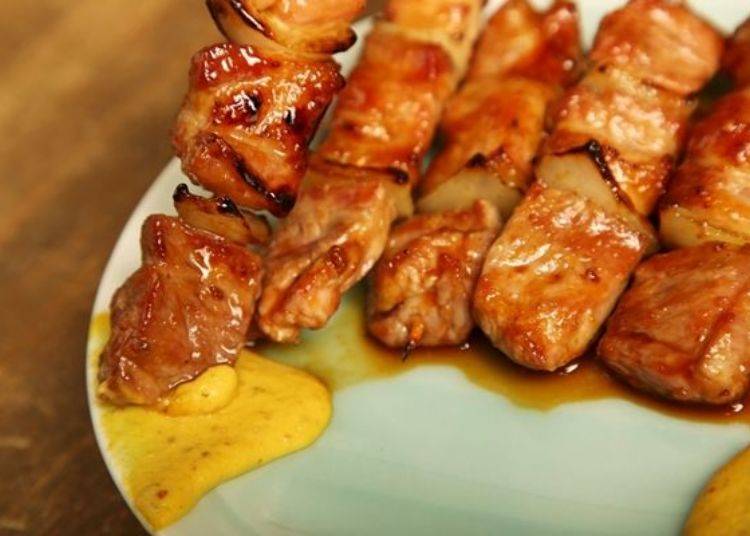 ▲ Dip it in and enjoy!
Pork shoulder loin is soft and chewy. The sauce is refreshingly sweet with a gradually spicy flavor. The pork retains the umami flavors of the the sauce perfectly, and the combination of the sauce and mustard is amazing.

Another dish, "Uzura no Charcoal Grill" is a rare dish. It's three quail eggs in skewered and grilled in their shells. Like the pork, they're twice-grilled with sauce.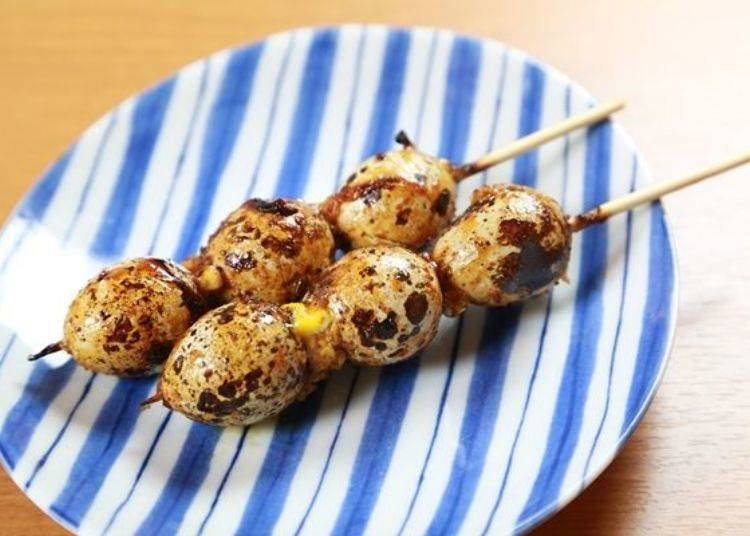 ▲ Uses eggs from Muroran Uzuraen, which raises antibiotic-free quail.
You might think "Can I actually eat the shell?!" But, honestly, the taste is amazing! The sensation is similar to eating a shell-on shrimp - the shell is soft with gooey, delicious eggs on the inside.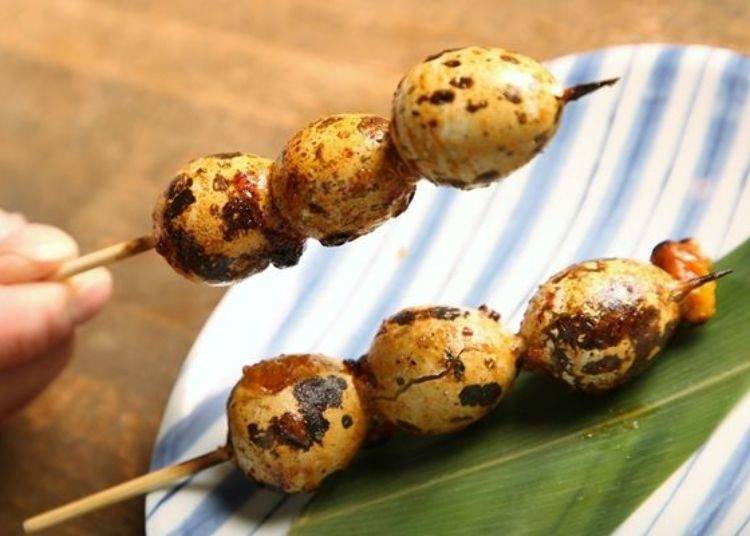 ▲ It's more like an egg with a jacket than a shell. The sweetness of the sauce wixed with the egg produce a mild flavor.
The third dish, "whole onion" is rounds out a perfect yakitori meal. The large, hot Hokkaido onion is great with ponzu sauce poured over it.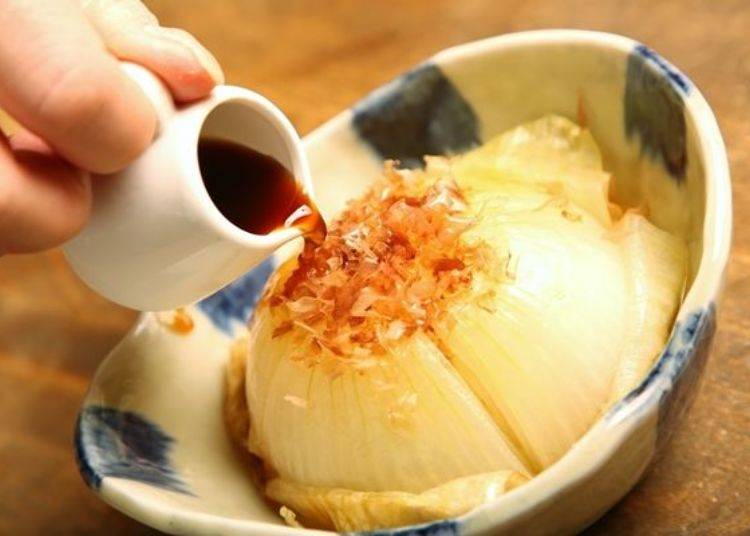 ▲ The onion is sweet and fresh with ponzu.
The abundance of delicious flavors in this meal ensure that you won't get bored while eating. In addition to the goodness of food itself, the synergistic effect between the master's baking technique and the secret sauce make this a highly valued meal.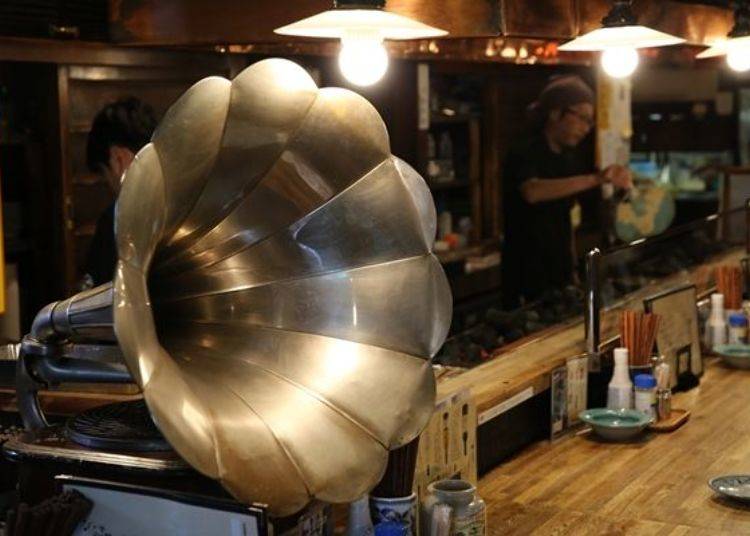 The restaurant is decorated with antique furniture and items that give it a romantically retro Taisho era atmosphere, and you can enjoy exquisite yakitori while the sound of soothing jazz flows through the shop.
Yakitori Ippei Main Store

やきとりの一平 本店

Address

1-17-3 Nakajimacho, Muroran City, Hokkaido

Phone Number

0143-44-4420

Hours: Monday - Saturday, 17:00 - 23:00 (L.O. food 22:15, drinks 22:30), Sundays & Holidays, 17:00 - 22:00 (L.O. food 21:15, drinks 21:30); closed December 30 - January 1
2. Yoshidaya: Loved by local regulars
Our second stop is Yoshidaya, about a 3-minute walk from JR Muroran Station. A long-established Muroran yakitori shop that was founded in 1946, but moved to its current location in 2017. If you're looking for food in Muroran, this is the spot for you.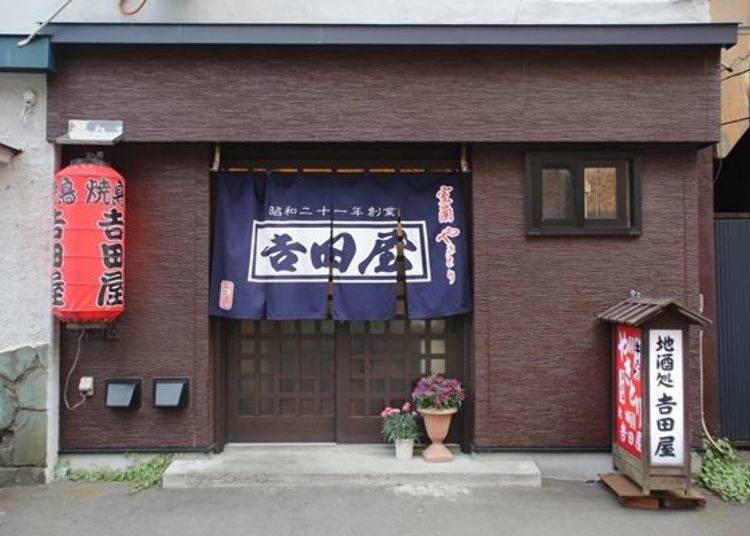 ▲ The restaurant looks new, but has a long history. Most of the yakitori served is pork-based.
▲ It was a bit empty, but the personality was still evident.
Ms. Shizue Yoshida, the 3rd landlady, operates the restaurant. While part-timers sometimes help, Ms. Yoshida usually handles basic cooking and customer service alone. There's a homey atmosphere, and regular customers sometimes serve dishes and pour beer when the shop is crowded.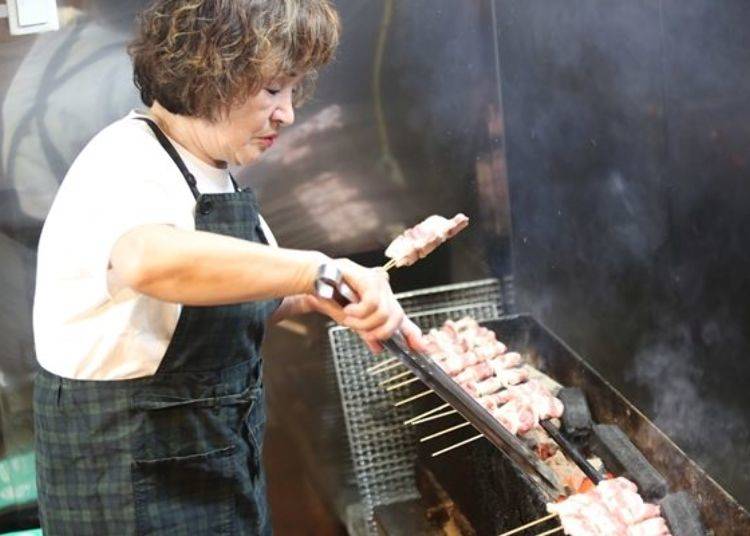 ▲ Ms.Yoshida preparing charcoal and grilling meat.
There are several popular menu items including "Muroran Yakitori."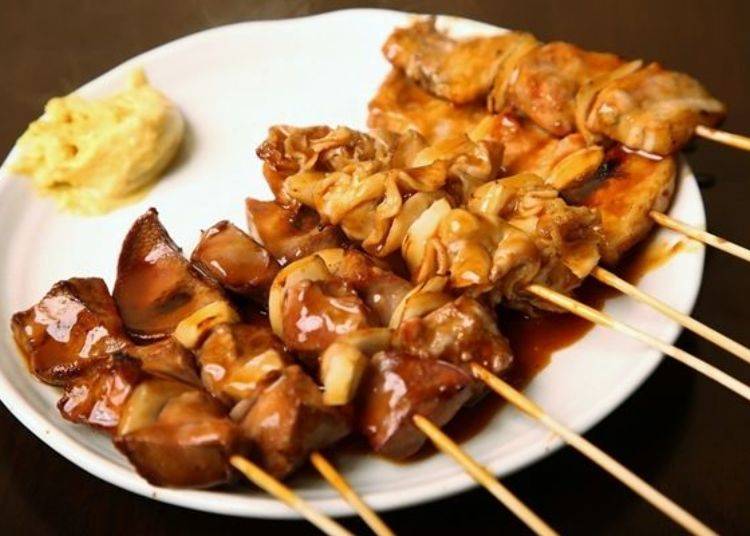 ▲Two pieces each from the left, liver (140 yen each), heart (140 yen each), white horumonyaki (offal) (140 yen each), and classic pork meat can't be forgotten (150 yen each) (each type of yakitori requires a minimum order two items).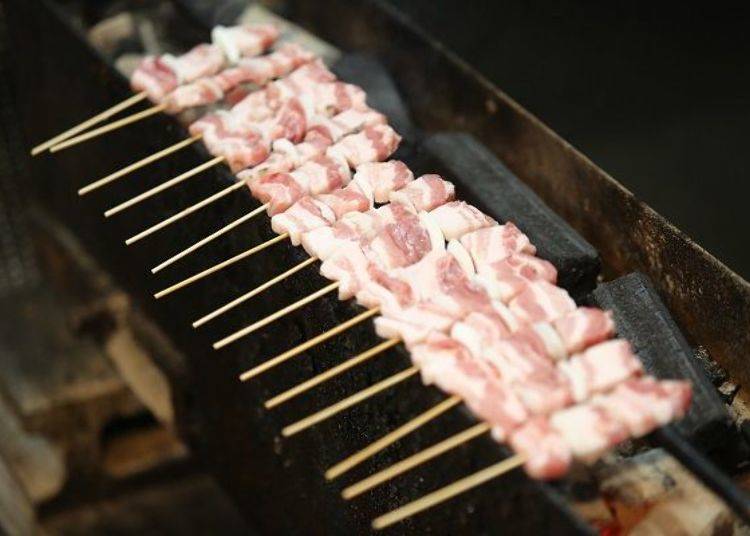 Other stores often use pork shoulder loin, but Yoshidaya uses pork belly. It seems that the previous manager simply declared that "Only pork belly is to be used for yakitori!" because it has a good balance between lean and fat, has a soft texture, and is delicious even when cooled.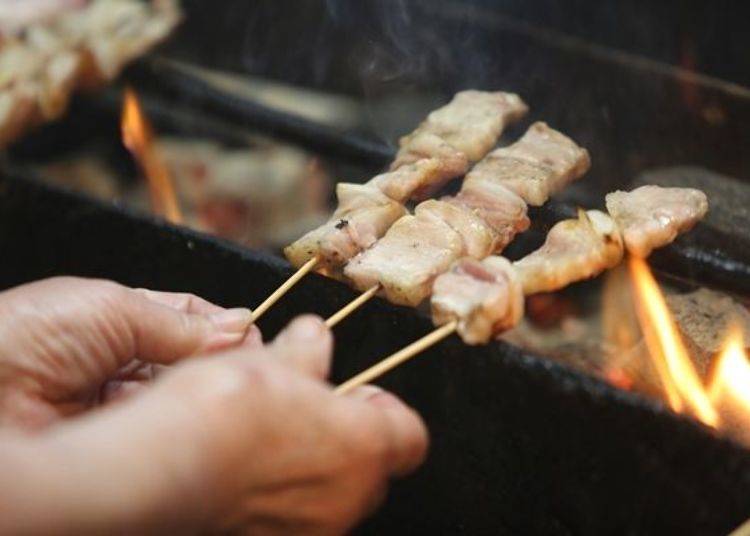 ▲Pork belly meat has more fat than shoulder loin, so it's challenging to grill evenly without burning it, and requires years of experience and intuition. True craftsmanship!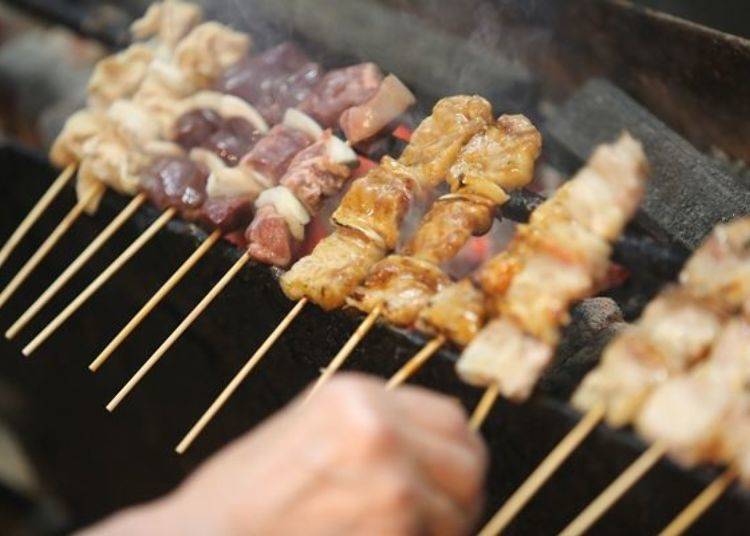 ▲ When it is almost grilled, apply the secret sauce and grill it a little longer.
Yoshidaya's sauce is a traditional recipe that was created by Kobayashi-san, who ran a yakitori shop near Yoshidaya when it was founded, and it has been handed down since.

Historically, it had a slightly stronger flavor but has gradually been changed to be milder in accordance with customers' changing tastes. Although the flavor has been adjusted, the basic ingredients haven't changed, just their respective measurements.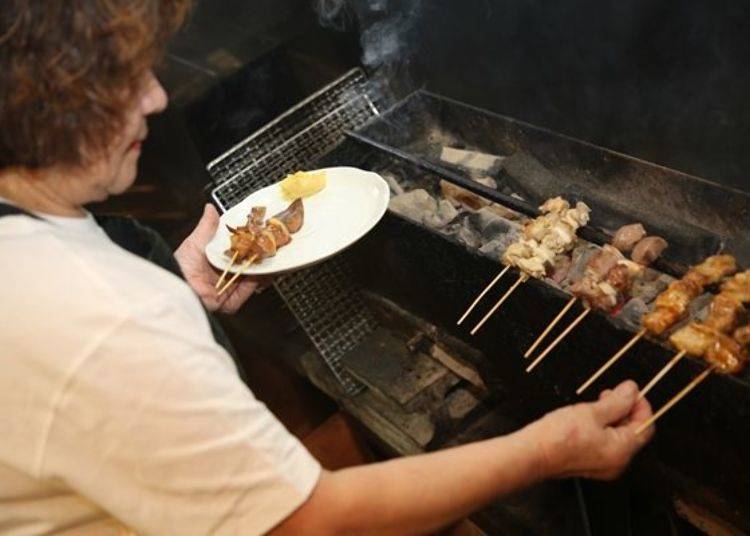 ▲Done! After adding a bit more sauce, serve with mustard.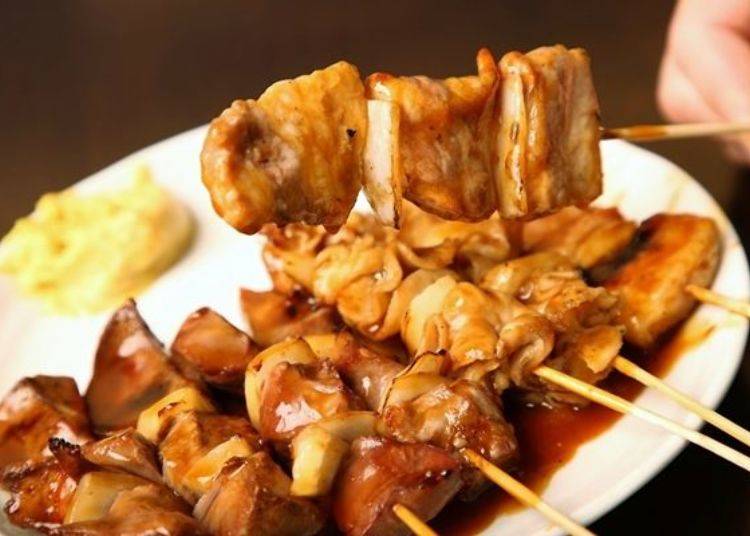 ▲ Let's eat!
Pork belly is savory and juicy! It's softer than shoulder loin because of its fat content. The sauce is not salty, sweet and mellow, and not too thick. The punch of the mustard, along with the sauce, enhance the taste of meat wonderfully.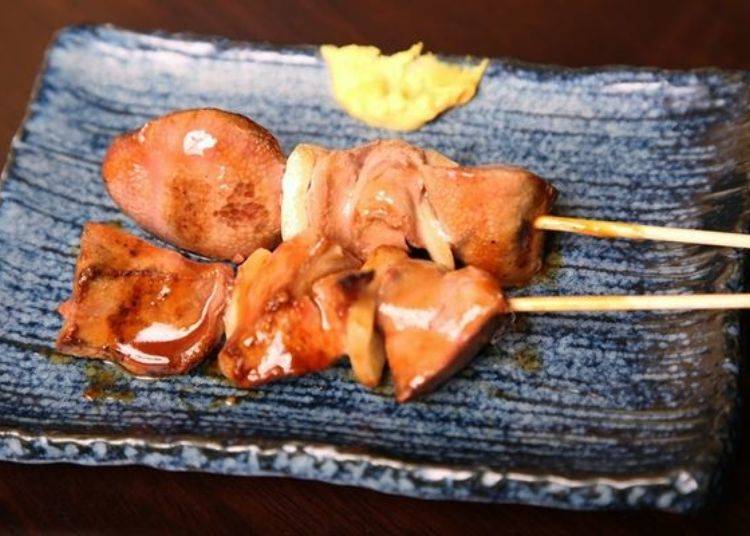 ▲The liver and sauce have the perfect balance of rich flavor.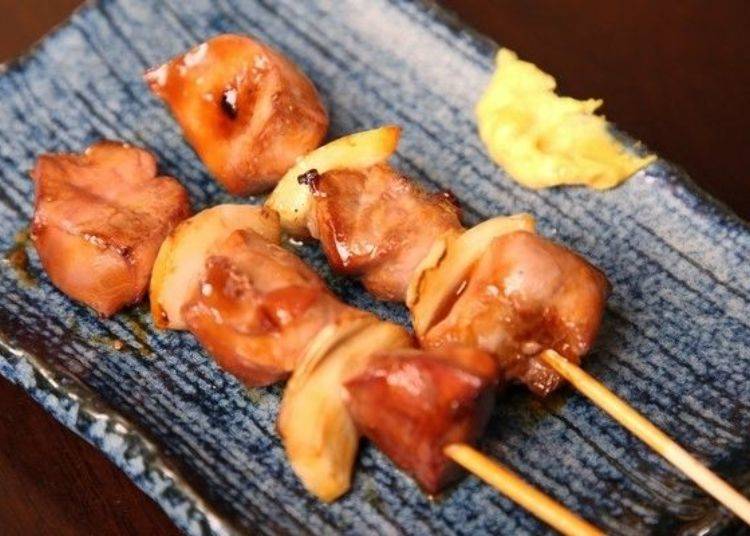 ▲ Slightly crispy, the more you eat, the more mellow the taste of the sauce will seem.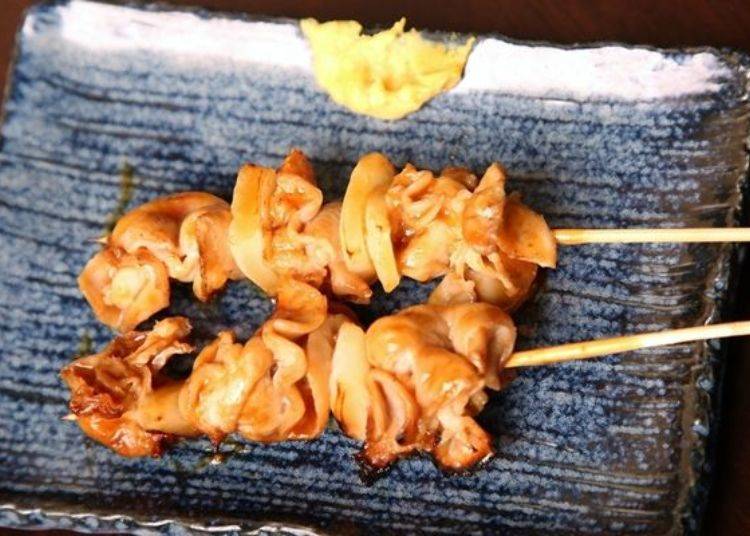 ▲ The tastes of mustard and horumon intermingle perfectly!
Aside from yakitori, there are other delicious menu items, the most popular of which is "Beef Strip Stew" (600 yen), featuring slow-stewed beef.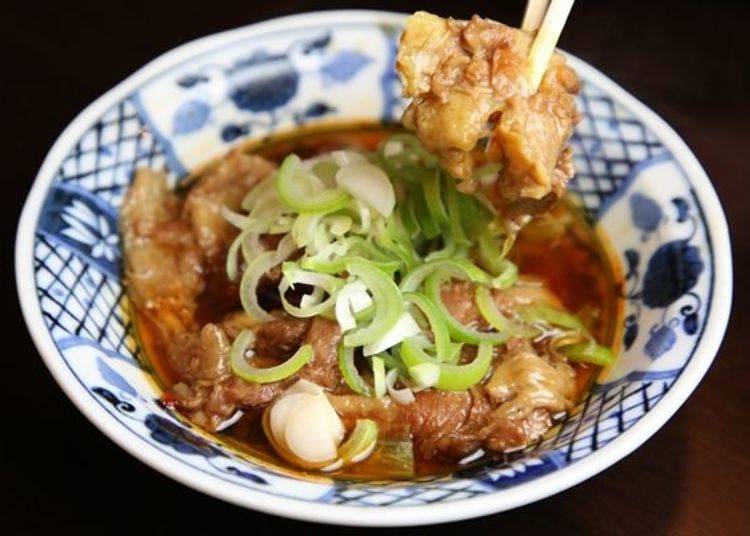 ▲ Beef strips in a light dashi stock are tender and lightly accented with pepper. You can enjoy another delicious kind of meat that's different from yakitori.
Lastly, "Yaki Onigiri" (180 yen) is perfect for finishing your meal. Rice balls are doused with yakitori sauce and baked. It's actually an off-menu item, but regular customers order it, so if you do, it may be "delivered."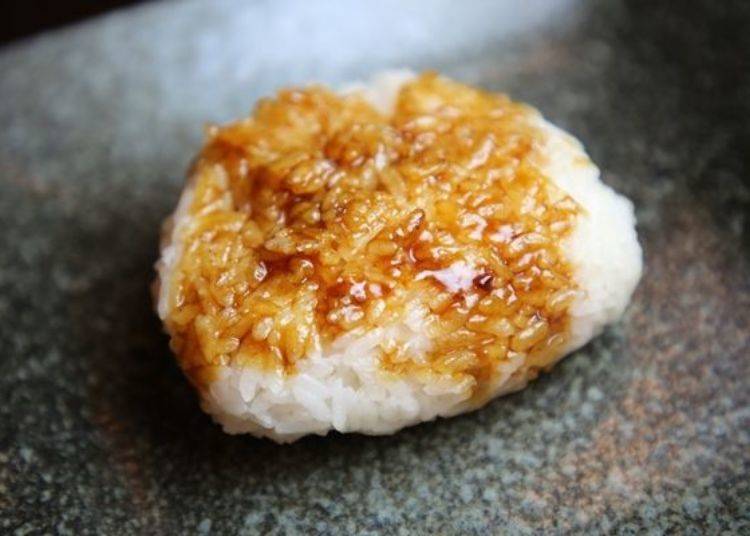 ▲ The deep flavor and fragrance of the sauce soaks through the rice! Perfect with Muroran Yakitori!
You can enjoy the deep flavor of the sauce that has been enriched with the umami of many years, and you'll be inspired by Ms. Yoshida's energy. The atmosphere is sure to make you want to come back, and the tastes are unforgettable.
吉田屋

Address

2-3-6 Chuo-cho, Muroran, Hokkaido

Phone Number

0143-23-2948

Hours: 17:00 - 23:00; Closed Sundays
So that's Muroran yakitori – pork and onions with sauce and mustard. When visiting Muroran, you'll want to try this awesome local food. While you can order pork with salt instead of sauce at many shops, the latter is the standard and it's no exaggeration to say that almost nobody orders the salted variety.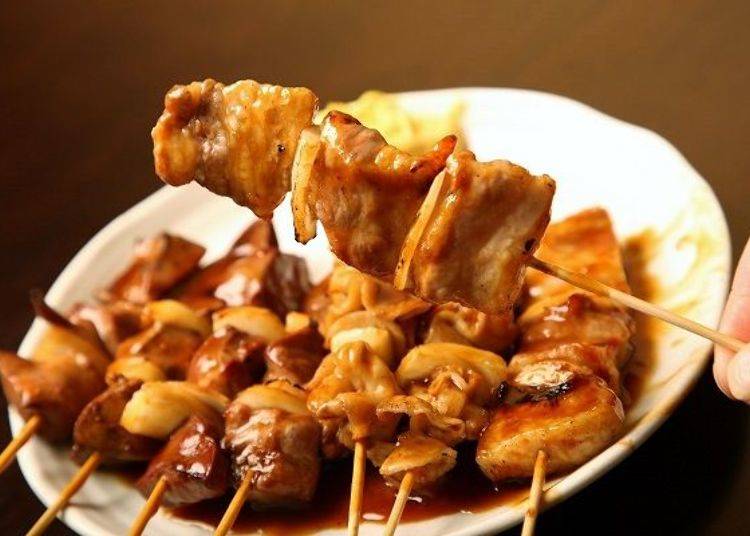 Yakitori Ippei's sauce is rich and sweet followed by a spicy aftertaste, and Yoshidaya's sauce is rich, mellow and not too heavy. While both soauces have been developed independently, they both pair perfectly with mustard and serve to enhance the flovor of the pork.

If you plan to do some sightseeing around Muroran like the city's night view, Noboribetsu Onsen or nearby Lake Toya, don't leave before you've have some Muroran yakitori!
*This information is from the time of this article's publication.
*Prices and options mentioned are subject to change.
*Unless stated otherwise, all prices include tax.