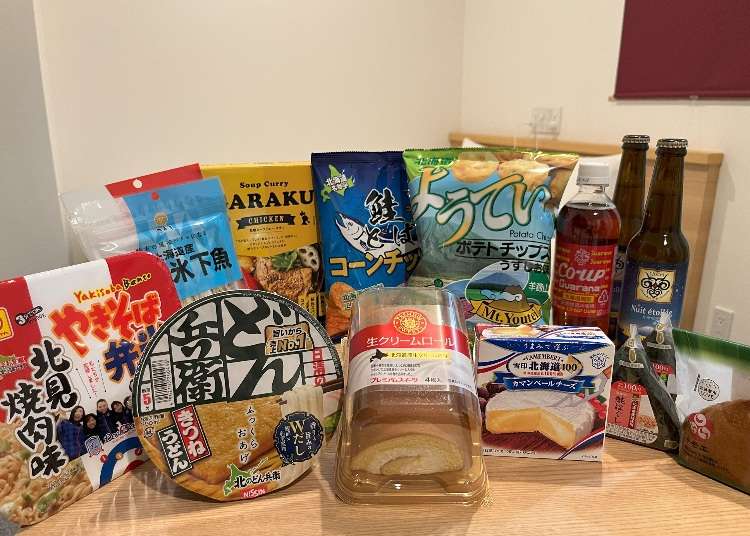 When traveling to Japan, one of the favorite things for visitors to do is to indulge in the local specialties. Convenience stores, which can be found everywhere, are a treasure trove of creative local snacks and beverages. Not only are the stores abundant and affordable, but some of them also stay open late, making it perfect for last-minute preparations and late-night snacking with friends.

The editors at LIVE JAPAN recently visited Hokkaido, a place beloved by the Japanese, to unbox and try out the local convenience store delicacies. They sought out Hokkaido-exclusive products, local delicacies, and food made with ingredients from Hokkaido. Which item became the editors' favorite? Let's find out as we dive in!
Introducing the Foodie Editors of LIVE JAPAN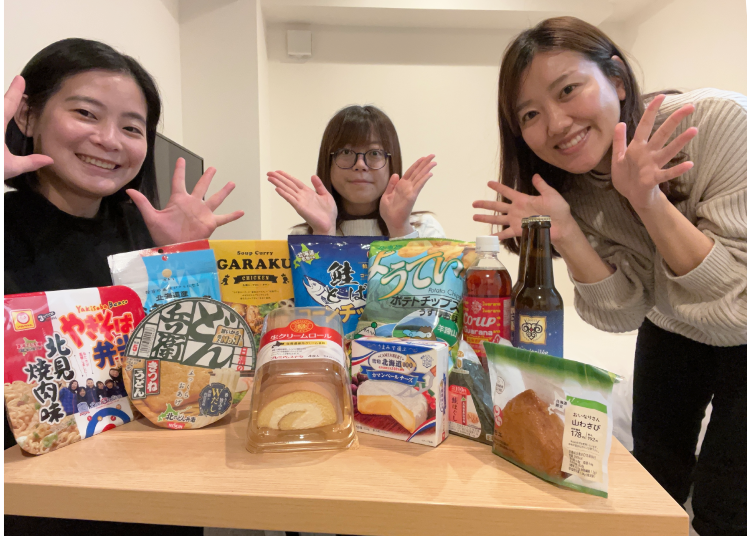 Chia-chi (left):
Originally from Taipei, Taiwan, Chia-chi has been living in Japan for 7 years. This is her first trip to Hokkaido. She has a sweet tooth and enjoys a little indulgence. Her main excitement for visiting Hokkaido is to discover local exclusive products. She is fully prepared to "heal" her taste buds with the culinary delights of Hokkaido!
Alice (middle):
A Taiwanese who has been living in Japan for 7 years, Alice loves cold places and dairy products. Although she's hesitant to indulge in the legendary delicious Hokkaido ice cream due to the current chilly weather, visiting Hokkaido, renowned for its dairy farming, is like stepping into her own paradise. She is fully prepared to embark on a food adventure and indulge herself to the fullest!
Rimi (right):
Hailing from Sapporo, Hokkaido, Rimi is passionate about fine wines and indulging in delicious food. She highly recommends trying various seafood, beers, vegetables, and dairy products that Hokkaido is famous for. According to Rimi, there is an abundance of delectable treats waiting to be discovered in the diverse range of products available at convenience stores.
Rimi's Food Recommendations from Hokkaido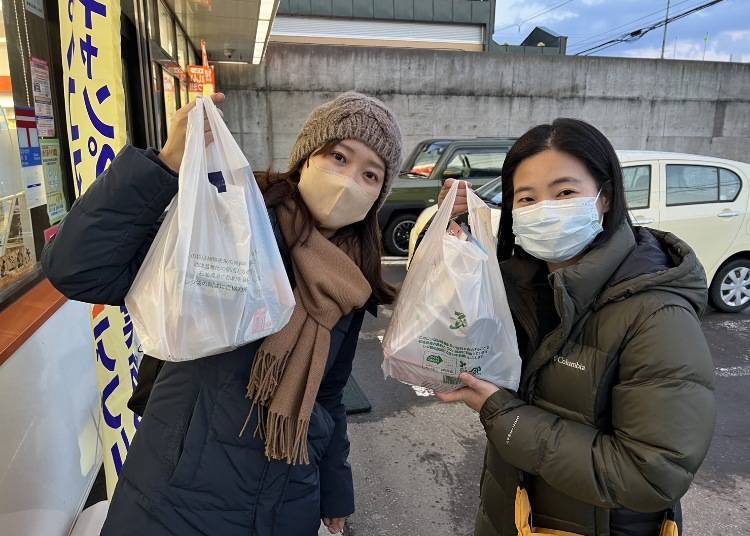 "Hokkaido is a treasure trove of culinary delights! In addition to the beloved seafood, the vegetables, dairy products, and local beers are all excellent. I highly recommend them!"

Not only tourists, but also many Japanese from various regions love to visit Hokkaido for its gastronomic pleasures. That's why there are numerous snack shops and souvenir stores in popular tourist spots like Sapporo and Otaru.

Some of these renowned establishments are even notoriously difficult to make reservations at! As a true Hokkaido local, our editor Rimi wants to recommend a more authentic and convenient way to savor the local specialties of Hokkaido, and that is through the ubiquitous convenience stores.

Rimi says, "Convenience stores across Japan often carry local specialty products, and of course, Hokkaido's convenience stores have a wide selection of 'Hokkaido-exclusive items.' Shopping here is like embarking on a treasure hunt."

Especially notable is the well-known local convenience store chain called "Seicomart," which offers many exclusive products from their own company. A lot of these exclusive items are made with local Hokkaido ingredients, making a visit to this convenience store a must on your trip to Hokkaido.

Rimi, who enjoys a good drink, particularly recommends trying Hokkaido's local beers, wines, unique flavored beverages, and snacks that pair well with alcohol. When in Hokkaido, you must give them a try!

And the best part is, you can easily find accompanying snacks to complement your drinks right at the convenience store. Stock up and enjoy a satisfying late-night feast at your hotel.
Revealing the Top 11 Convenience Store Snacks and Beverages
The editors went wild as they bought a plethora of snacks, instant noodles, beverages, and desserts from the convenience store, ready for an epic girls' party back at the hotel!

Many of these delectable treats are Rimi's recommended must-try and must-buy snacks from Hokkaido, which the Taiwanese editors are also eagerly looking forward to. So, let's dive in and discover the editors' favorites together!
Late-Night Essential: Ready-to-Eat Food Selection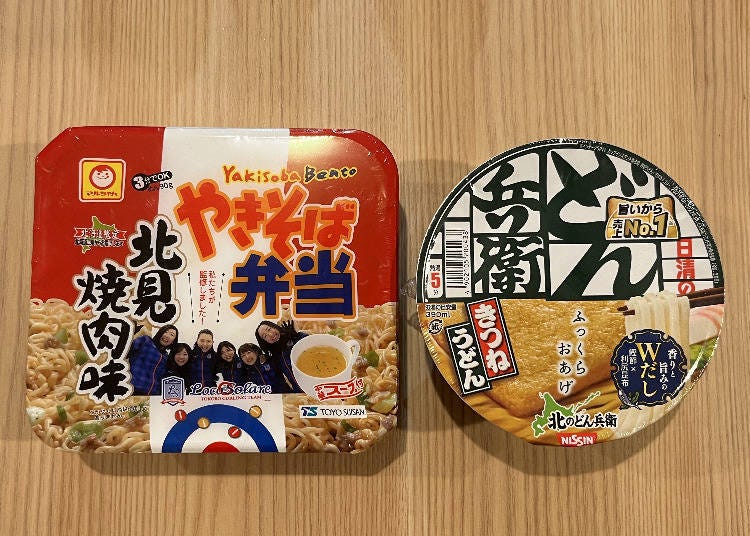 On the left: Chao Mian Bento - Kitami Yakiniku Flavor (炒麵便當 北見燒肉味)
If we were to say that Chao Mian Bento instant noodles are the soul food of Hokkaido, it wouldn't be an exaggeration. This time, the editors bought the limited-edition Kitami Yakiniku flavor. The thick, smooth noodles are paired with a ginger soy sauce flavoring made with onions, garlic, and apple juice, resulting in a rich yet refreshing taste that doesn't feel heavy. The ramen also comes with a Chinese-style soup base, offering both stir-fried noodle and soup experiences that leave you feeling satisfied.

On the right: Kitano Ume Udon (北のどん兵衛)
The Kitano Ume Udon is a well-known udon instant noodle in Japan. The packaging may look similar to other Donbei Udon noodles sold nationwide, so make sure to check the Hokkaido-shaped map at the bottom of the package when purchasing! The soup base of the noodles is made with both bonito and Rishiri kelp, providing a delightful combination of aroma and umami. Paired with fluffy tofu skin, the flavor is absolutely fantastic!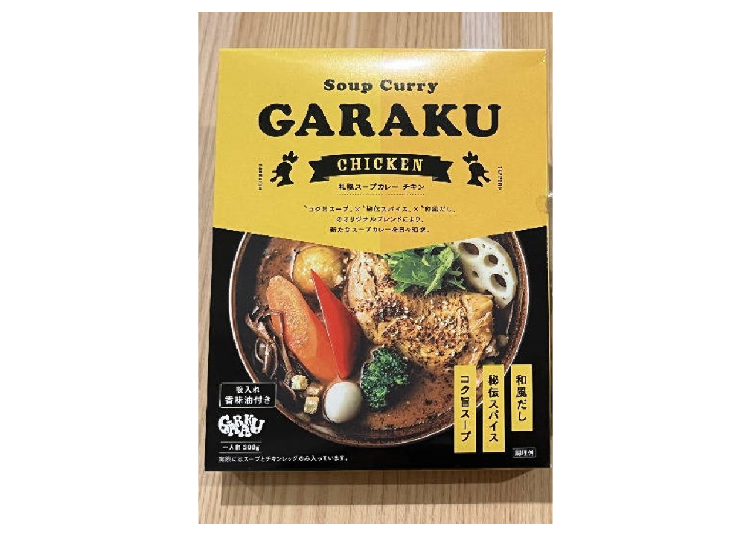 GARAKU Sapporo Soup Curry - Chicken Flavor (GARAKU札幌スープカレー チキン)
Soup curry is the soul food of Sapporo and is considered one of the must-try dishes for many visitors to the city. GARAKU is a popular restaurant known for its Sapporo-style soup curry! GARAKU Sapporo Soup Curry comes in a complete package, presenting a rich and flavorful sauce combined with a refreshing Japanese-style broth, capturing the essence of the famous restaurant. Simply heat it with hot water or microwave it, prepare some steamed rice, and upon opening the package, you'll find a large chicken leg. Enjoy the taste of a renowned restaurant right at home!
Perfect Companion for Binge-Watching: Snack Selection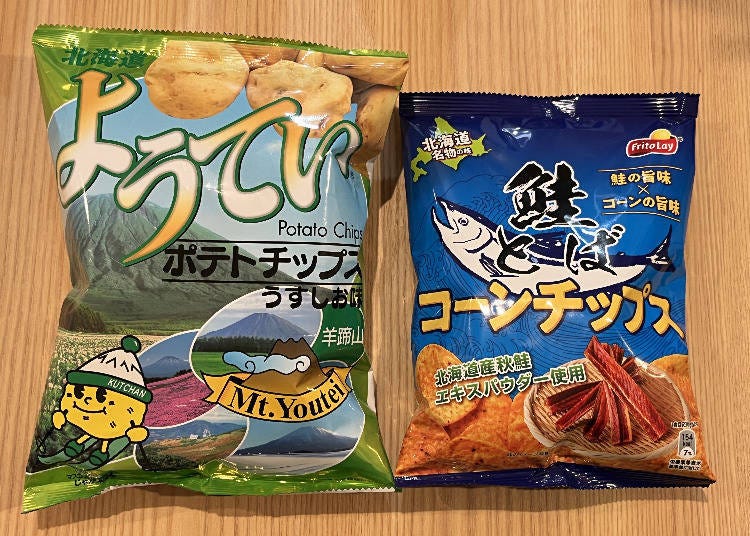 On the left: Yotei Potato Chips (ようていポテトチップス)
These potato chips, exclusive to Hokkaido, have garnered attention from popular TV programs. Made with locally grown Japanese potatoes, they are fried in vegetable oil and free from any chemical additives. With a simple salt flavor, they offer a refreshing option for late-night snacking when you prefer something lighter.

On the right: Japan Frito-lay Salmon Hontsuki Corn Chips (ジャパンフリトレー 鮭とばコーンチップス)
Featuring the flavor of Hokkaido's salmon hontsuki (※a traditional smoked and preserved food of the Ainu people of Hokkaido, known for its long-lasting and aromatic qualities), these corn chips provide a unique experience, combining the freshness of salmon with the deliciousness of corn. This distinctive flavor is definitely worth a try. It serves as a perfect accompaniment for drinks, and being available exclusively at Seicomart, if you manage to find them, consider yourself lucky!
Refreshing Sips: Beverage Selection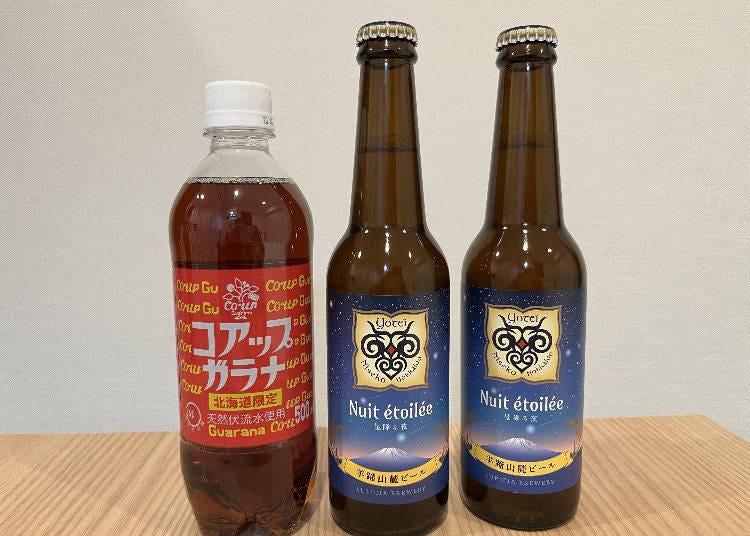 On the left: CO UP GUARANA (コアップガラナ)
CO UP GUARANA comes in both alcoholic and non-alcoholic versions. It is a carbonated beverage that uses extracts from the Guarana fruit found in Brazil and is enjoyed by almost every resident of Hokkaido. It is known for its high content of Guarana extract, which gives a refreshing boost of energy. This time, the Taiwanese editor chose to try the non-alcoholic version. Although it may resemble cola in appearance, it surprises with just the right amount of fizz and a pleasantly balanced sweetness, making it unexpectedly enjoyable.

In the middle and on the right: Yotei Sanroku Beer (羊蹄山麓ビール)
This local beer hails from Niseko, Hokkaido, and is crafted to achieve a juicy and refreshing taste. The main ingredients used are barley, hops, and water. During the cherry blossom season, they even release a sakura-flavored beer! It is important to note that the optimal consumption period is only 90 days, so be sure to enjoy it promptly.
A Must-Have for Late-Night Snacking: Appetizer Selection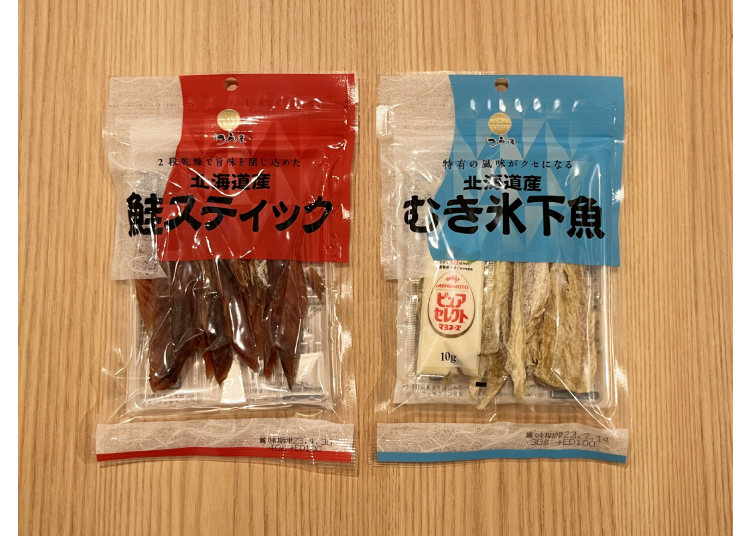 On the left: Edo-ya Salmon Stick (江戸屋 鮭スティック)
This snack features Hokkaido-produced salmon that has been dried and peeled before being cut into convenient, bite-sized sticks. It is perfectly seasoned and has a satisfying chewy texture, making it an ideal accompaniment for drinks. The overall texture is on the firm side, requiring patience to slowly savor. Enjoying the Edo-ya Salmon Stick while indulging in a binge-watching session is a perfect match!

On the right: Edo-ya Muki Thin-Wide Pollack (江戸屋 むき氷下魚)
The Muki Thin-Wide Pollack is a popular delicacy in Hokkaido, known for its unique and flavorful characteristics. It belongs to the cod family and has a slender and wide shape. The fish skin is tough and there are many bones, which can be troublesome for gourmands. However, there's no need to worry anymore. This product is meticulously peeled and deboned, allowing you to easily enjoy the distinctive flavors of Hokkaido. You can even pair it with mayonnaise for an extra delight!
Indulge in Desserts and Dairy Delights After Your Meal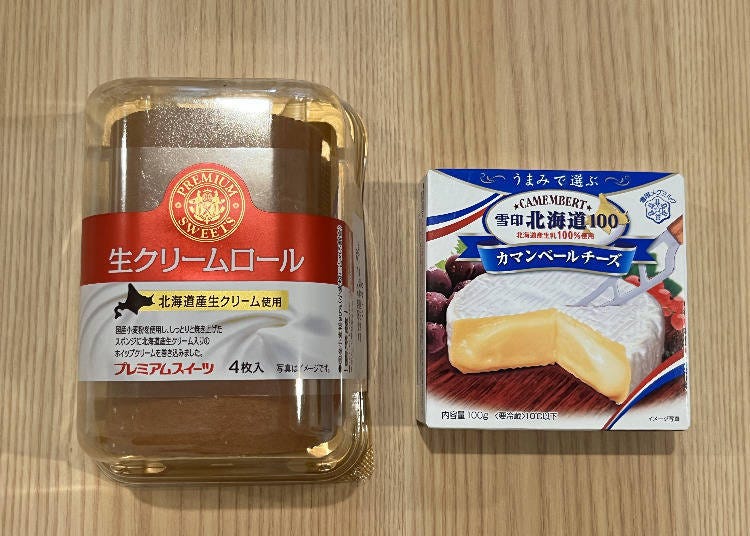 On the left: Yamazaki PREMIUM SWEETS Fresh Cream Roll (ヤマザキ PREMIUM SWEETS 生クリームロール)
When it comes to Hokkaido, dairy products are always the first thing that comes to mind! Although the convenience store we visited this time didn't have any Hokkaido-exclusive desserts, we still managed to find a product from the well-known Japanese bakery, "Yamazaki Baking." It's their meticulously crafted PREMIUM SWEETS Fresh Cream Roll, made with carefully selected ingredients.
The cake base, made with Japanese wheat flour, is baked to a fluffy and tender texture, and it's then rolled with Hokkaido-produced fresh cream. The combination is incredibly rich and sweet, showcasing the excellence of Hokkaido's dairy products.

On the right: Snow Brand Hokkaido 100 Camembert Cheese (雪印北海道100 カマンベールチーズ)
Snow Brand Hokkaido 100 is one of the cheese product lines from Snow Brand MEGMILK, a prominent dairy company representing Hokkaido. It emphasizes the use of 100% Hokkaido-produced milk. The one the editor purchased is the Camembert cheese, made with high-quality fresh milk using traditional methods and thorough quality control (in the uncut version). This cheese has a rich and intense flavor that cheese enthusiasts will definitely appreciate. It can be enjoyed on its own or paired with other snacks, allowing the rich cheese aroma to fill your senses.
Products Recommended by LIVE JAPAN Editors After Taste Testing!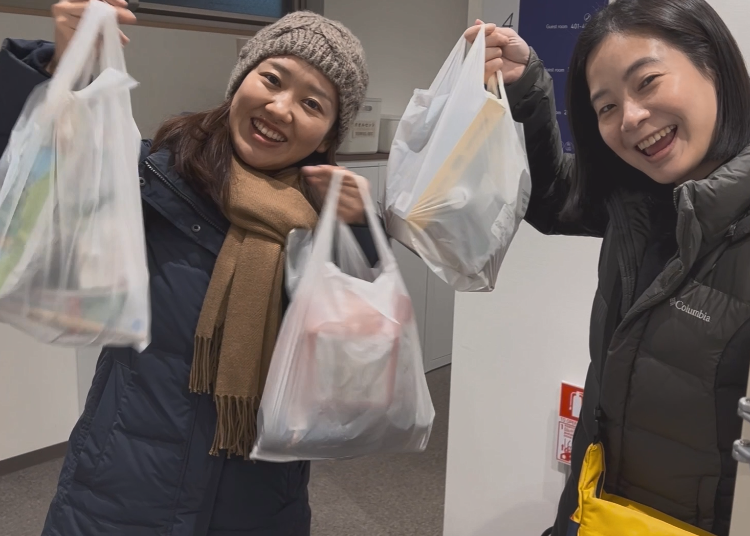 After going through the list of products that the editors actually purchased, it's time to reveal their highly personal recommendations based on their taste tests!
Chia-chi & Rimi's Personal Recommendation: Yotei Sanroku Beer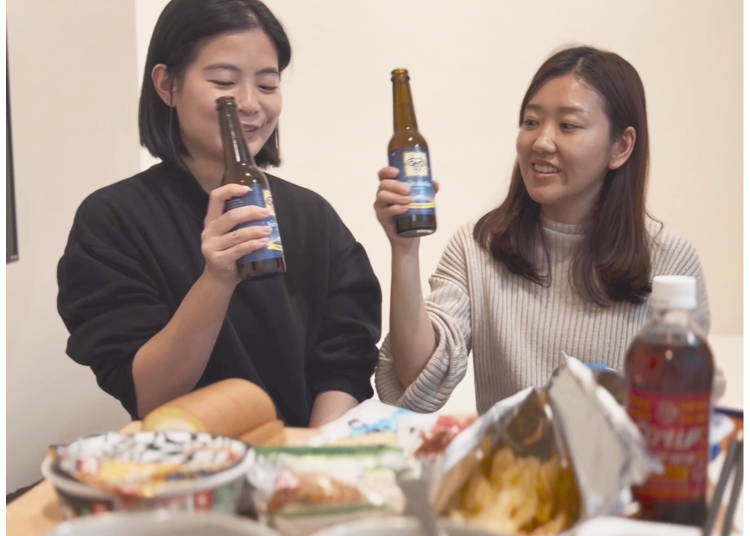 Chia-chi: "Although I don't usually drink alcohol and I'm not a fan of alcoholic flavors, I was pleasantly surprised by the taste of this beer produced from the pristine waters of Mount Yotei! It has a slight fruity note without being too bitter, and even I could easily finish a whole bottle without any hesitation."

Rimi: "This is the ultimate recommendation coming from a true Hokkaido local. It pairs well with potato chips, cheese, and appetizers. Especially after playing in the snow, having a glass of this beer is incredibly refreshing. It's like the concept of drinking milk after soaking in a hot spring!"

This beer receives a double recommendation from both Chia-chi, the beer novice, and Rimi, the beer enthusiast! With its balanced flavor that won't intimidate newcomers and a refreshing fruity aroma, it's no wonder that it captivates everyone who tries it.
Alice's Recommendation #1: GARAKU Sapporo Soup Curry - Chicken Flavor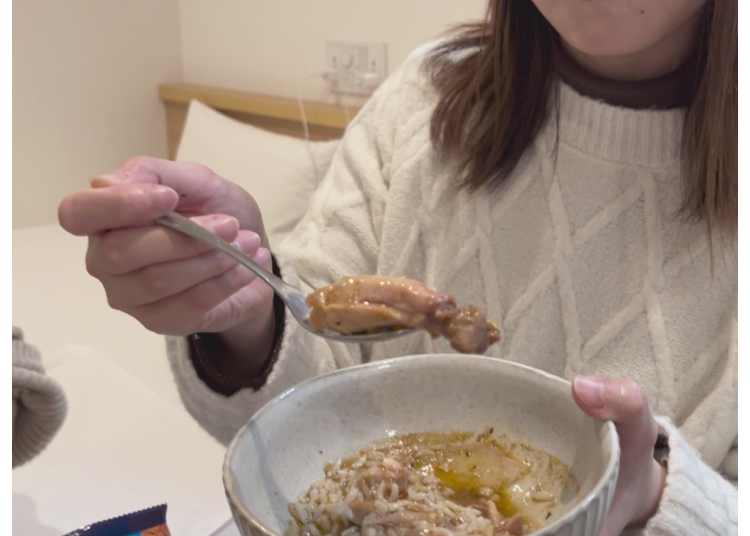 Alice: "I already have a great fondness for Hokkaido's soup curry, and the GARAKU Sapporo Soup Curry with its flavorful broth and various aromatic spices is truly satisfying, especially during the winter! Even though it's a microwaveable product, it's made with genuine effort, featuring a large chicken leg inside. Pair it with some steamed rice, and you'll have a satisfying and filling meal. It's perfect for busy working individuals who want a quick and satisfying meal solution!"
Alice's Recommendation #2: Snow Brand Hokkaido 100 Camembert Cheese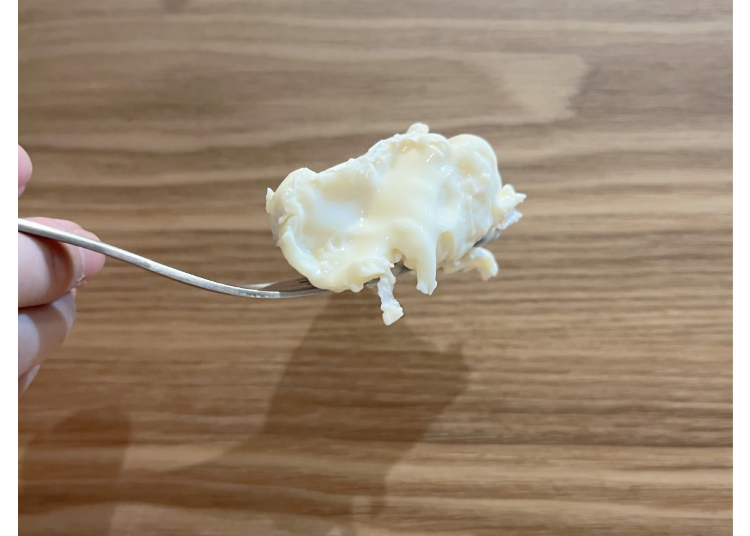 Alice: "At first, I found the flavor of the Camembert cheese to be quite intense, which initially surprised me. However, when I paired it with the Salmon Hontsuki Corn Chips that I bought alongside it, it was like discovering a whole new world of deliciousness! It's perfect for parties and trying out different combinations with friends."
Chia-chi's Recommendation: Japan Frito-lay Salmon Hontsuki Corn Chips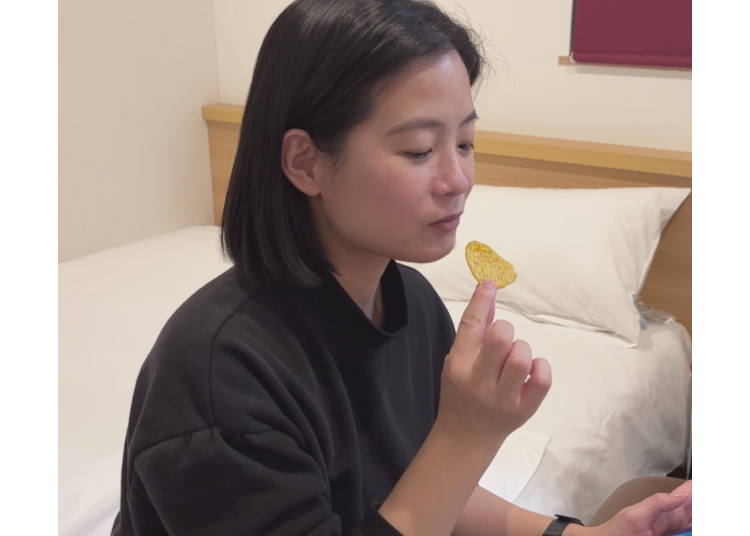 Chia-chi couldn't resist praising: "In my opinion, it's the perfect number one! I never imagined that seafood-flavored corn chips could taste this amazing! I regret not grabbing more packs to bring back to Tokyo. If only there was a magic door that could take me back to Hokkaido to stock up on more. I just couldn't stop eating them!"
Rimi's Recommendation #1: Yakisoba Bento - Kitami Yakiniku Flavor
Rimi: "This is a hometown flavor that I always buy when I return to Hokkaido, and this time I happened to come across a new flavor and decided to give it a try! Unlike the usual sauce flavor, this food item has the aroma and taste of grilled meat. Although it has a rich barbecue sauce, it surprisingly has a refreshing taste that lingers on the palate."
Rimi's Recommendation #2: Yotei Potato Chips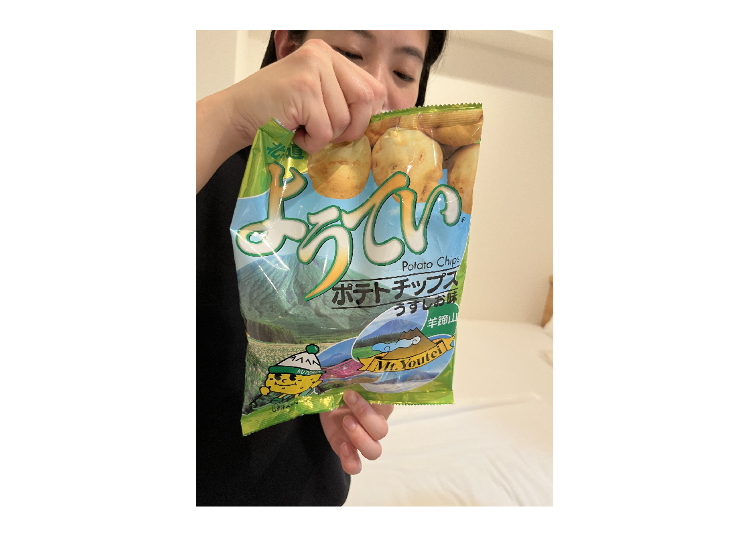 Rimi: "These potato chips have no added artificial flavors or seasonings; it's just the pure taste of potatoes! They are incredibly refreshing to eat, especially since they are made from potatoes grown around Mount Yotei, which have a particularly delicious flavor. It brings back childhood memories of digging up potatoes and enjoying their taste. I highly recommend them to all potato lovers!"
Indulge in Foodie Heaven On Your Next Hokkaido Trip!
Located in the northernmost part of Japan, Hokkaido not only offers breathtaking natural beauty but also a wide array of local delicacies. Even convenience stores are a treasure trove of culinary delights waiting to be discovered! Can't secure a reservation at a restaurant? Feeling hungry late at night? Planning a party at your hotel? Don't worry, convenience stores have got you covered. So, head to a convenience store and satisfy your cravings for delicious food!
*This information is from the time of this article's publication.
*Prices and options mentioned are subject to change.
*Unless stated otherwise, all prices include tax.
Limited time offer: 10% discount coupons available now!