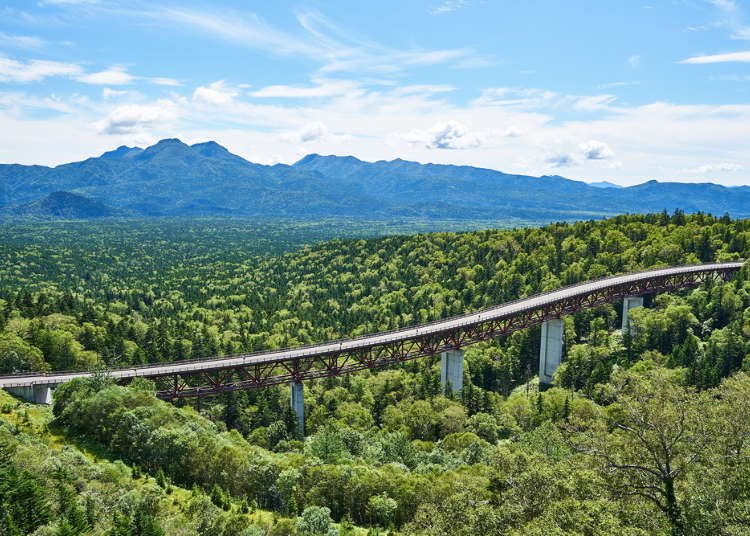 When people think about driving in Hokkaido, it immediately brings to mind that this region has the best, and biggest, areas of nature in Japan.

It may not sound so obvious, but one aspect of this beautiful prefecture that really allows you to enjoy its nature when traveling are the roads!

So, if you are planning to go driving in Hokkaido, then your trip will be that much better by choosing routes that allow you to take full advantage of what Hokkaido has to offer.

In Hokkaido, there are more than a few roads which seem made by design for leisure and sightseeing! Here we will look at 5 particular roads which simply can't be missed.
1. Are you brave enough for the Roller Coaster Road?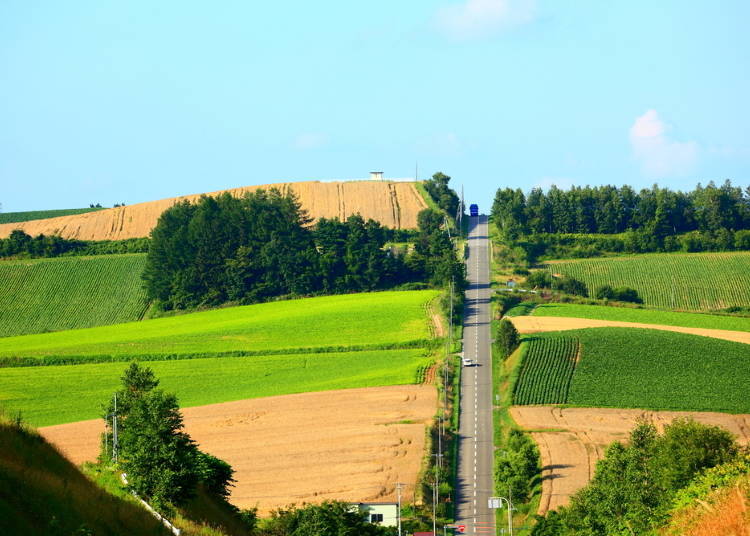 The very popular Furano and Biei areas in the center of Hokkaido are famous for their rolling and beautiful landscapes. Here you can drive down the Nishi 11-sen road!

This 2.5km long road, which starts after turning off Route 237, about 9.7 km from the JR Kamifurano Station, at the 'Nishi 11-sen Nomen Nodo' sign, goes in a straight line, but one that goes up and down. It repeatedly, and quite suddenly, ascends and descends, just like a ride on a roller coaster, and this led to it being nicknamed the "Roller Coaster Road".

The wide expanse of the surrounding area, which has the Tokachi-dake mountain range in the background, is absolutely superb! Regardless of whether you love roller coasters or not, this is one road that has to be driven on to be believed.
ジェットコースターの路

Address

Nishi 11-senkita, Sorachi Gun Kamifurano Cho, Hokkaido, 071-0511, Japan
2. The never-ending Road to the Sky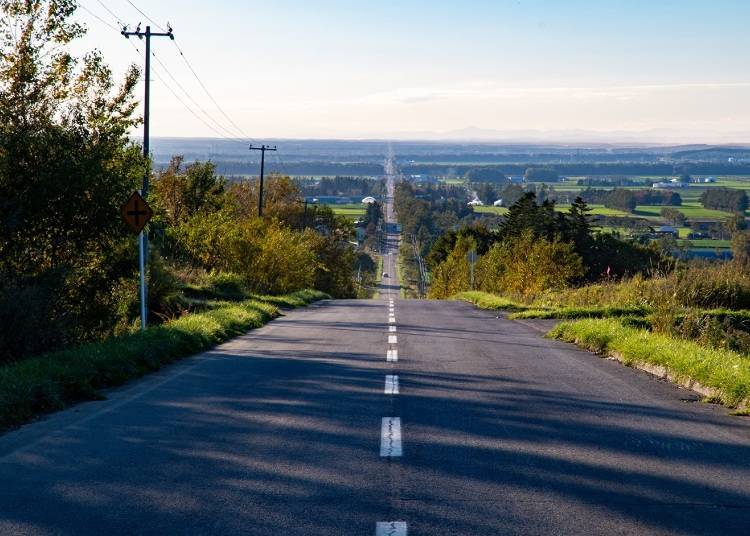 The popular Shiretoko Peninsula, in the north-east of Hokkaido, is also well-known for being on the World Heritage List thanks to its rich ecosystem.

If you are going from Shiretoko to the nearest airport, Memambetsu Airport, then driving in Hokkaido on this road is a no-brainer.

This straight road continues on for about 28.1 km from Minehama, an area on top of a hill in a town called Shari-cho, on National Routes 244 to 334, is called the "Road to the Sky" as from the hill it looks like the road goes straight towards the heavens. If your timing is good, then you can see the very impressive sight of the sunset at the end of the road.

As there are a parking lot and observation deck you can get out of your car and enjoy the sight at your leisure. Please note that it is dangerous to stop and take pictures while on the main road.
天に続く道

Address

Minehama, Shari Gun Shari Cho, Hokkaido, 099-4122, Japan
3. The pleasant sea breeze on the Sea of Japan Ororon Line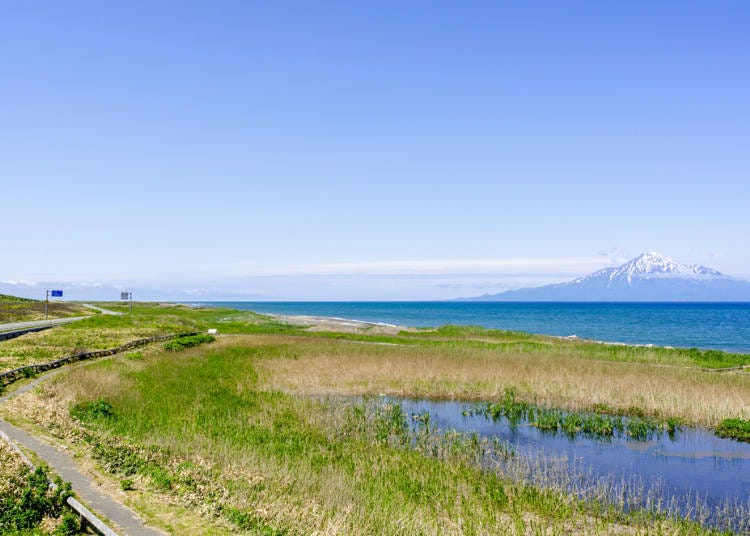 The "Sea of Japan Ororon Line" is a wide road that runs parallel to the Sea of Japan on a section of Prefectural Road 106 on National Route 5 between Otaru and Wakkanai. There is also beauty to be found along Prefectural Road 106 on National Route 231/232 between Ishihikari and Wakkanai.

It got the nickname of the Ororon Line because of its association with Teurito Island, which is also known as Ororon Island because of the Common Murre bird species that can be found living there.

On this Hokkaido drive, you can enjoy a variety of views, including the beautiful Cape Ogon where you can see astounding sunsets sinking into the Sea of Japan, Sarobetsu Plain with its spread of vast meadows, and Mt. Rishiri, which appears on packets of Shirobito, famous sweets in Hokkaido, and which has a commanding presence from its island offshore from Hokkaido.
It is also an area where you can see wind turbines standing in a row, with their blades gently turning with the wind
日本海オロロンライン

Address

Section of Prefectural Road 106 on National Route 5
4. The vast sea of trees at Mikuni Toge Pass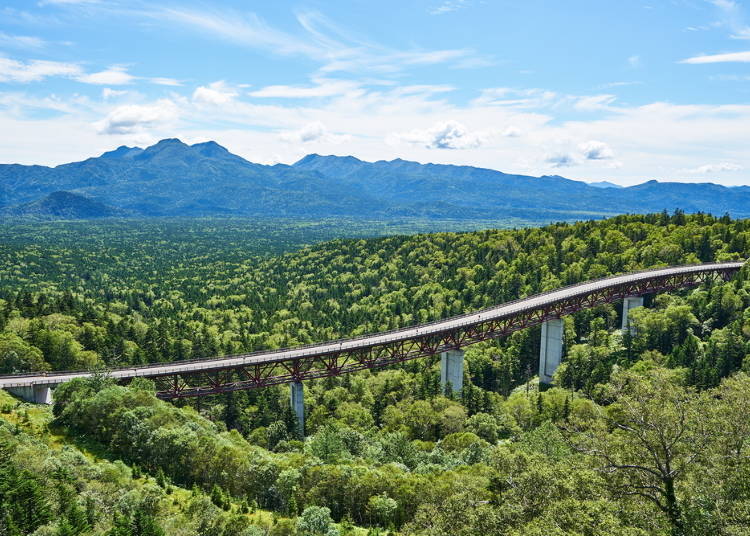 The Mikuni Toge Pass is at an altitude of 1,139 meters above sea level, and it has the highest national highway in Hokkaido. It can be found in the Daisetsuzan National Park, an area surrounded by lush rich nature. The landscape can only be described as a massive panoramic view of a sea of trees.

Driving in Hokkaido through here in spring is especially recommended, with the start of verdant green shoots and leaves, and in fall when there is a mosaic of colorful leaves.

There is also a cafe at the Mikuni Pass observatory. Without a doubt, it is really amazing to get out of your car and enjoy a nice cup of tea while admiring the view.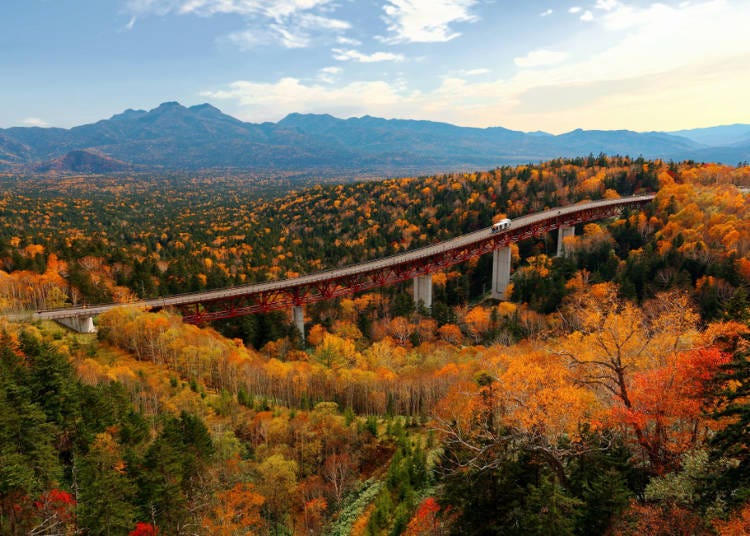 The sight of fall leaves is just like a painting, but more beautiful!
三国峠

Address

Mitsumata, Kato Gun Kamishihoro Cho, Hokkaido, 080-1401, Japan
5. The beautiful "Milk Road" which is special to Hokkaido - the dairy farm king!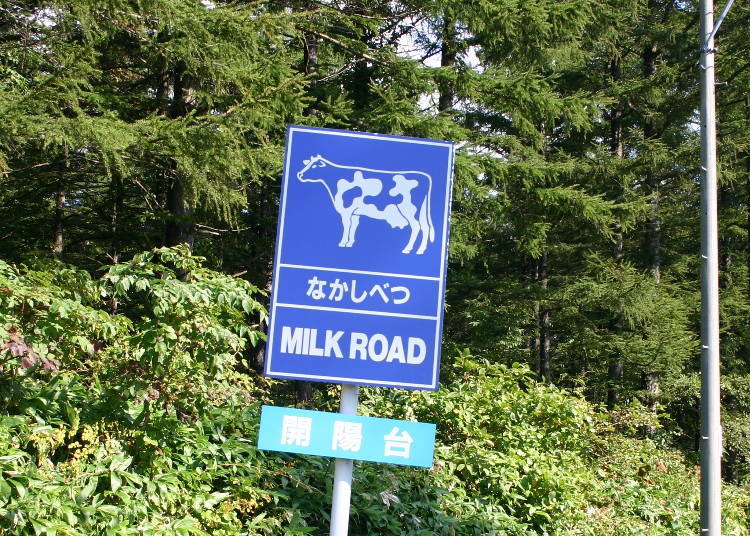 While there are several routes in Japan that have the affectionate name of "Milk Road", the Milk Road (Northern Road Route 19) of Nakashibetsu-cho is a very straight road famous for the many milk tanker trucks which travel on it.

This road, which is surrounded by the beauty of nature, has no traffic signals, and goes straight towards the horizon, is very popular with people driving in Hokkaido. There is a sightseeing spot called the Kaiyodai Observatory where it is possible to see a 360-degree view of the surrounding countryside.

While it is called the milk road for the milk tanker trucks that travel on it, of course from time to time you can see cattle grazing in the nearby fields. For Japanese drivers, it is common to say "this is Hokkaido!" when driving through here.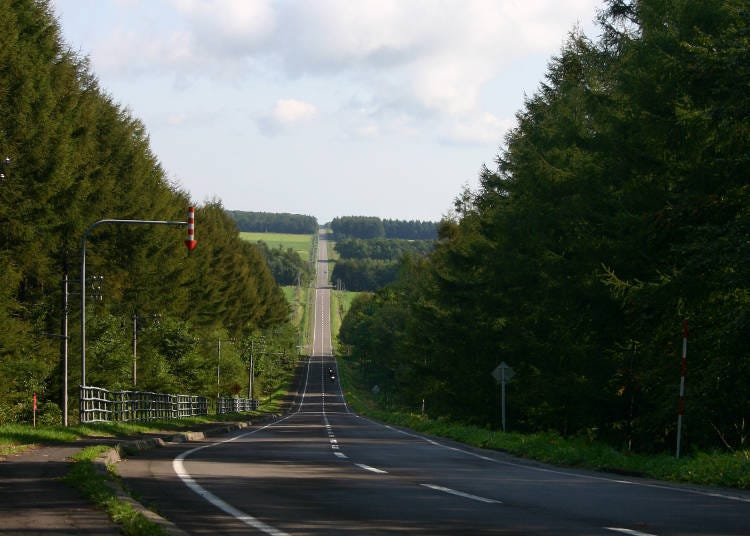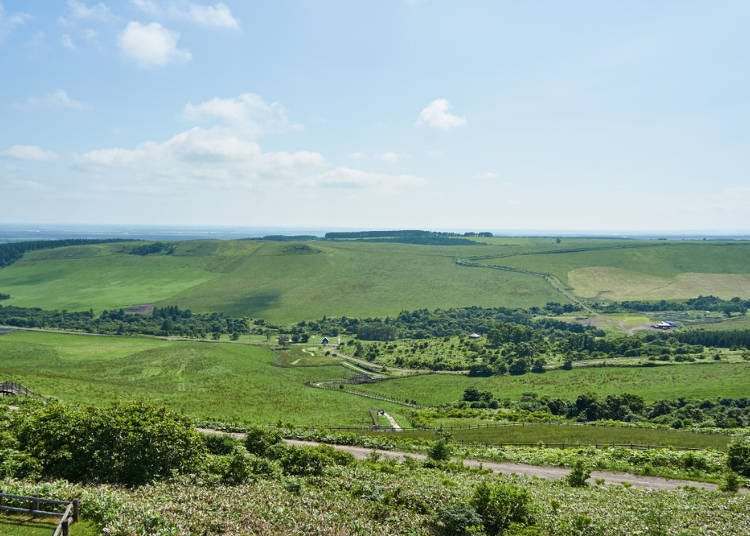 From the Kaiyodai Observatory the view can only be described as being as if you are surrounded by green as far as the eye can see
ミルクロード

Address

Kaiyo, Shibetsu Gun Nakashibetsu Cho, Hokkaido, 086-1272, Japan
Text by: Minna no Kotobasha
*This information is from the time of this article's publication.
*Prices and options mentioned are subject to change.
*Unless stated otherwise, all prices include tax.