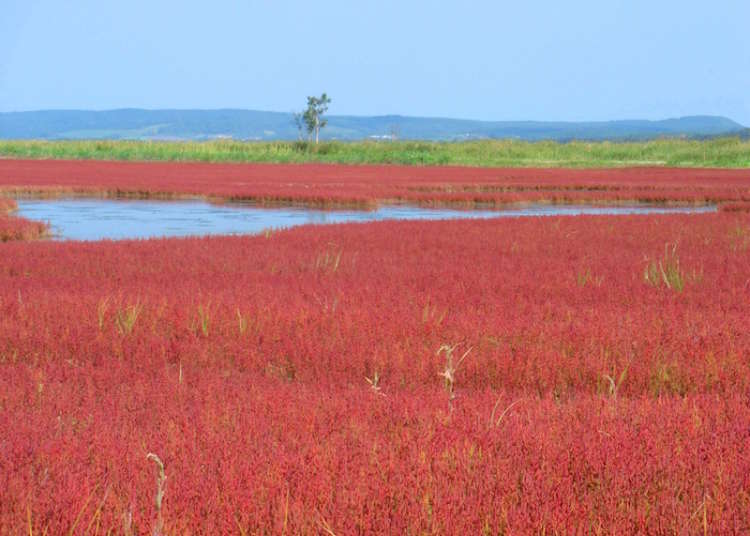 The changing leaves of autumn are one of Japan's most distinguishable markers of their four seasons, but is there something that goes even beyond the traditional foliage-viewing spots such as mountains and forests?

There is, and it's called 'coral grass,' a vividly-tinted, red field of grass that stretches into a beautiful expanse under the blue autumn sky comparable to a carpet of crimson. Here we'll introduce you to four towns in Japan with this gorgeous red grass.
Coral Grass: East Hokkaido's Fall Feature
Coral grass is an annual plant that grows to a height of about 15-30 centimeters. It's official name is Akkeshisou in Japanese (common glasswort in English). It was given its Japanese name because it was discovered around Lake Akkeshi, Kakijima Island, located in the eastern Pacific coastal town of Akkeshi.

When autumn comes around, the fleshy stalks branch out from the nodes and turn red, giving the grass an appearance similar to a coral reef, hence the nickname 'coral grass.'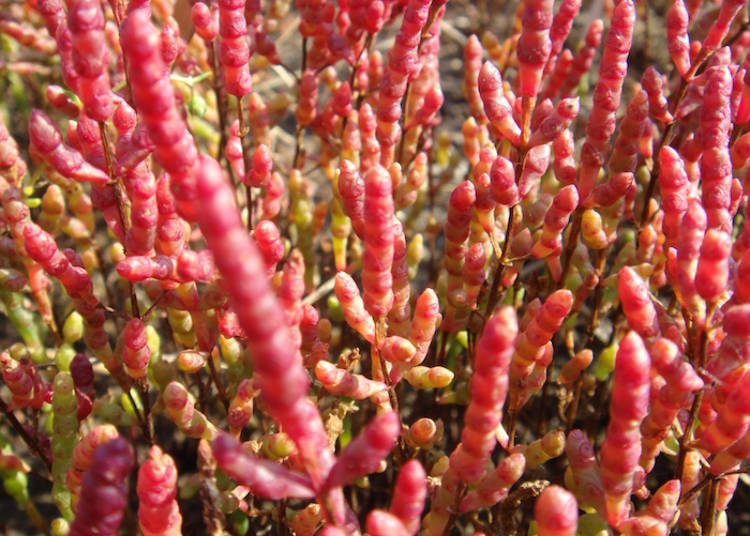 Coral grass thrives in salty environments such as wetlands that receive plenty of seawater from the incoming tides. Along the Sea of Okhotsk coast of Hokkaido lie many lakes that formed as remnants of the separated seas, and are home to plenty of coral grasses. The prime viewing time may vary depending on location and time of the year, but falls within the range of late August to early October.
Lake Notoro: Japan's Finest Coral Grass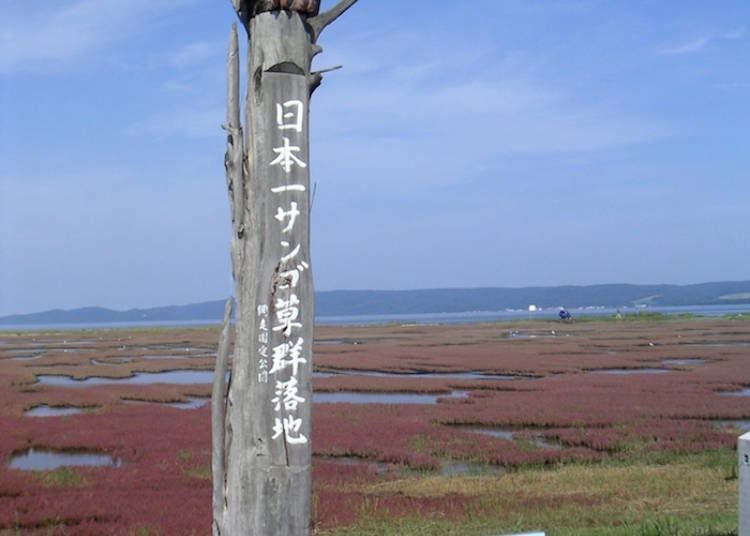 Lake Notoro in Abashiri City is said to house the largest expanse of coral grass in Japan. It is about 20 minutes by car or bus west of Abashiri Station, and can be accessed via Routes 39 and 238.

Though once facing endangerment of shrinkage due to the drying up of the wetlands, thanks to serious environmental protection efforts, this vast land now stretches out to about 3.8 hectares of land, creating a beautifully dyed red carpet that attracts tons of tourists and visitors mid-September every year.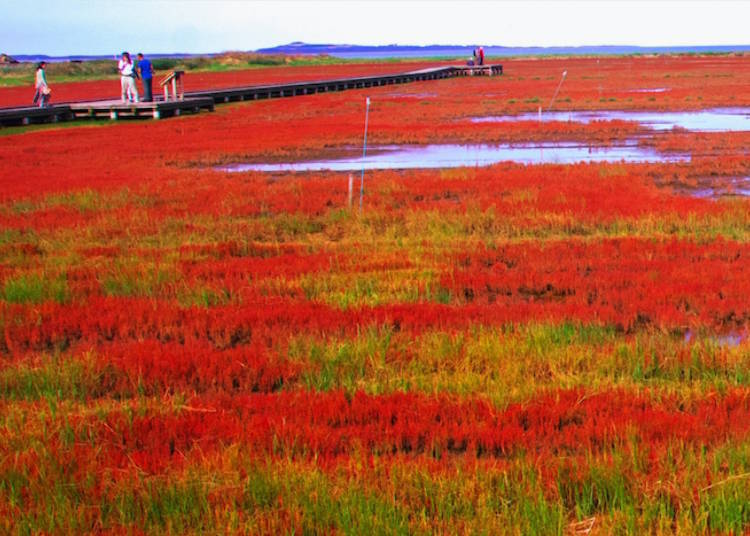 Because the coral grass is so highly protected, you cannot walk directly into it. Instead, there is a wooden pathway that cuts through the center of the fields that you can walk on. The color of the sky is reflected on the surface of the water, creating a stunning contrasted view that you can enjoy on clear days.
能取湖

Address

Abashiri, Hokkaido
Hokkaido Heritage Site Wakka Primeval Flower Garden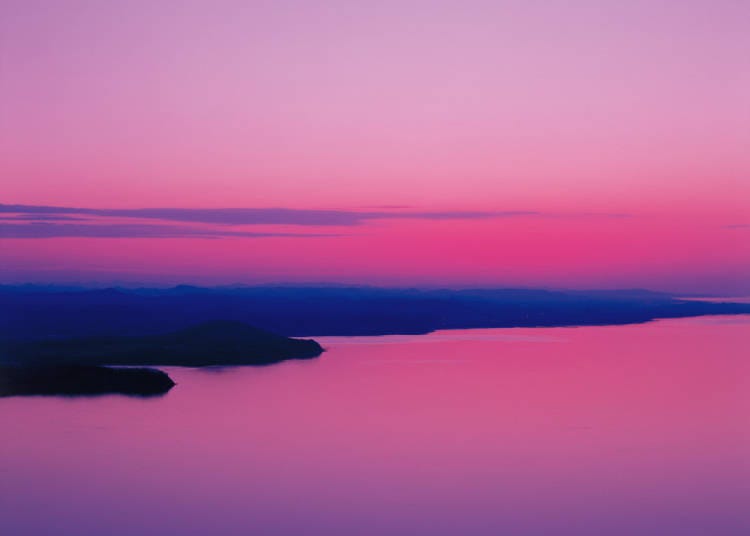 Straddling the cities of Kitami, Yubetsu, and Saroma lies Saroma Lake, the largest brackish lake in Japan. The Wakka Primeval Flower Garden is located on the sandbar between the Sea of Okhotsk and Lake Saroma, which lies in the town of Tokoro, Kitami City on the northeast bank of Lake Saroma.

This flower garden stretches out over approximately 700 hectares, and houses about 300 different species of plants including endemic species of Hokkaido that bloom from spring through autumn. It is about 50 minutes by car from Abashiri via National Highway Route 238.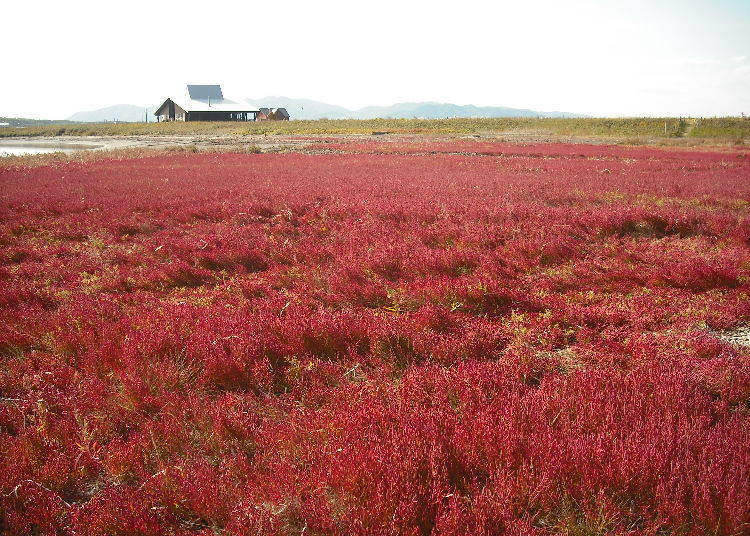 The coral grass colony is one of the autumn specialties of the Wakka Flower Garden, which you will find about a 10-minute walk into the park from the Saromako Wakka Nature Center. There is a wooden path here as well, allowing you to walk along and see it up close.
Saromako Wakka Nature Center

サロマ湖ワッカネイチャーセンター

Address

Sakaeura-242-1 Tokorocho, Kitami, Hokkaido 093-0216
Cape Kimuaneppu: Dyed Red with Sunset and Coral Grass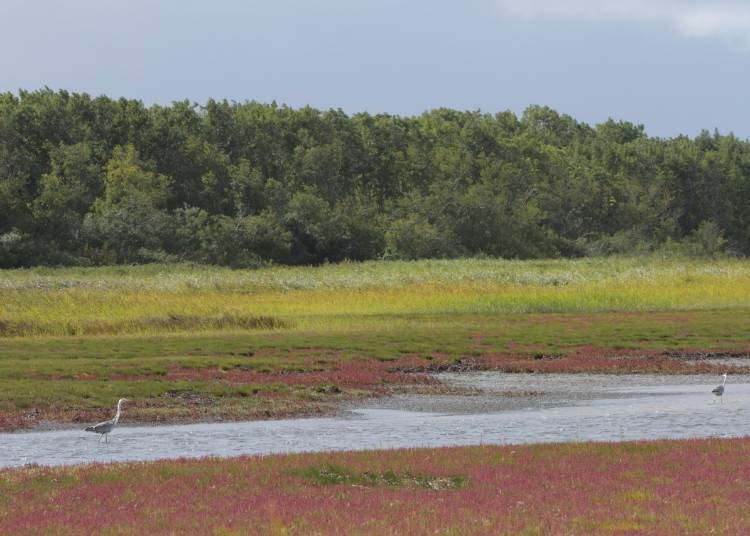 Cape Kimuaneppu protrudes from the southeast shore of Lake Saroma like a terrace, and is located about an hour away from Abashiri via Route 238. Though not as expansive as the others, you can still see the beautifully colored red earth carpeted in coral grass.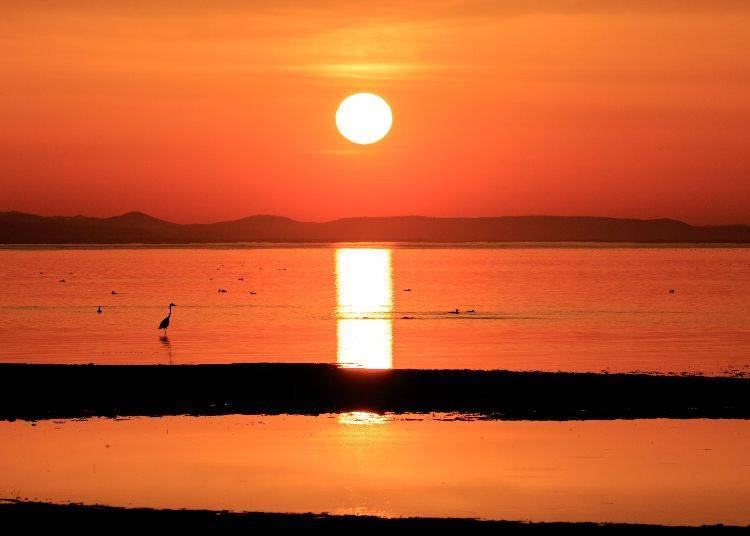 Cape Kimuaneppu is also a popular scenic spot for watching the sunset over Lake Saroma. Many people also enjoy the outdoor camping areas, which are open until mid-October. The color of the coral grass is amplified by the amber sunset, making this a magnificent scenery you will not want to miss!
キムアネップ岬

Address

Horoiwa, Saroma, Tokoro District, Hokkaido 093-0422
Lake Komuke: Nature Untouched
About 100 kilometers northwest of Abashiri lies another field of coral grass at Lake Komuke, Monbetsu City. A spot barely touched by tourism, it has completely retained its natural wetland landscape. Though a bit more tranquil and toned-down than other areas, this spot is nonetheless the kind of stunning scenery you could only find in Hokkaido.

Lake Komuke is also known locally as a paradise for wild birds, and is home to about 200 different species. There is also a motorhome campsite in the area, open until the end of October.
コムケ湖

Address

Mombetsu, Hokkaido
Protecting the Precious Autumn Landscape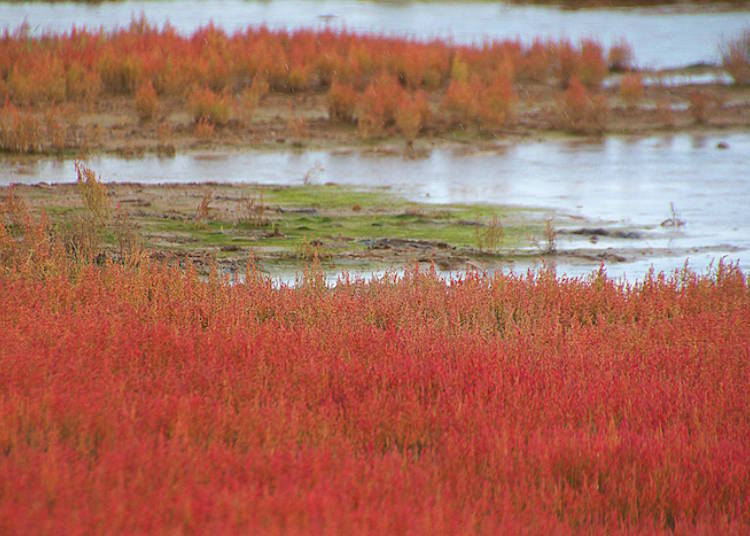 An annual plant, coral grass grows a new colony every year. However, just like the wetlands of Lake Notoro, there is the risk that this habitat may shrink as a result of wetland drying, changes in soil composition, weather and climate change, and the like. Because of this, coral grass has been designated an endangered species by the Ministry of the Environment.

Thankfully, being such a beloved plant as well as a familiar and popular autumn attraction, there have been many conservation efforts made to help revitalize these habitats, even in areas where colonies can no longer be seen.

To do your part, simply follow the rules: stay along the paths when viewing up close, and even if you come to an area where you can enter freely, avoid stepping on them at all costs!

Text by: Minanokotobasha
*This information is from the time of this article's publication.
*Prices and options mentioned are subject to change.
*Unless stated otherwise, all prices include tax.