To get on the highway
In many cases, the highway entrance differs depending if the car is heading towards the inbound or the outbound lane. There is a tollgate at the entrance. Almost 90% of the cars in Japan use the automatic fee payment system known as ETC. If you are riding a car equipped with ETC with a card inside, use the lane which says "ETC". The safety bar will automatically open and let you pass. If your car doesn't have ETC, follow the "ippan 一般" (general) lane to receive a ticket from an automatic ticket machine or staff. This ticket needs to be handed in when leaving the highway, so keep it safe during your trip.
The signs at the entrance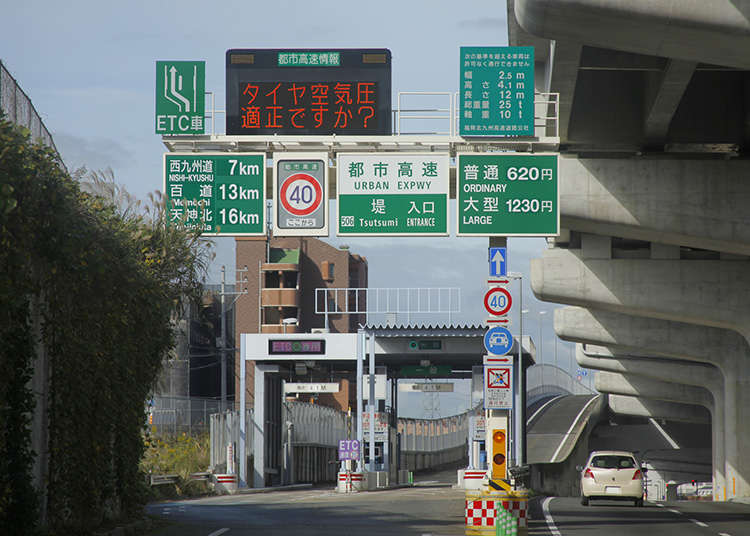 In the picture above numbers 7,13,16 on the bottom left indicate the distance from the highway entrance to each city. The 40 on their right is the speed limit of the current zone, which means to not go faster than 40 km per hour (25 mph). The next sign to the right is the name of the highway entrance. The 620 and 1230 on the rightmost indicate the fee for using the highway. It means that a general vehicle, such as a passenger car, is charged 620 yen.
From the highway entrance along the merge line
On the highway, cars and trucks run at a faster speed than on local roads. Use the acceleration lane to pick up speed and to merge smoothly - stopping on this lane is very dangerous. In general, the speed limit is 100 kilometers per hour (62 mph) for general vehicles and 80 kilometers per hour (50 mph) for light cars, meaning vehicles with a cubic capacity of 550 cc. or less, according to Japanese classifications. Be sure to stay within the given speed limit or you might get fined for speeding.
The different lanes
If there are several lanes, as in the two-lane highways or three-lane highways, the rightmost lane is the passing lane. Yet, at more complex highways such as the Metropolitan Expressway in Tokyo, it doesn't always work by that rule. Even if there are lanes without any indications, passing a car is always done via the right lane - never pass a car via the left.
Service areas
When you feel tired from driving, take a rest at a service area. When returning to the main lane after your rest, be sure to check the traffic sign for getting back on the main lane to make sure you are not accidentally driving in the opposite direction.
Getting off the highway
When you reach the interchange of your destination, you will need to pass the tollgate to get off the highway. Just like when driving on a highway, the lanes are divided into "ETC" and "ippan 一般", meaning general.
*This information is from the time of this article's publication.
---